There's nothing like New England in the Fall.
The weather is mild and the landscape explodes in the autumnal colors of golden yellow, burnt orange, deep red, and tan.
And practically everywhere you visit in this region, you'll find classic Autumn activities, like corn mazes, haunted houses, apple picking, pumpkin picking, and hiking trails.
If you're thinking of visiting my home region (and I hope you are!), keep reading for my guide to the best things to do in New England in the Fall.
Plan the perfect New England Fall road trip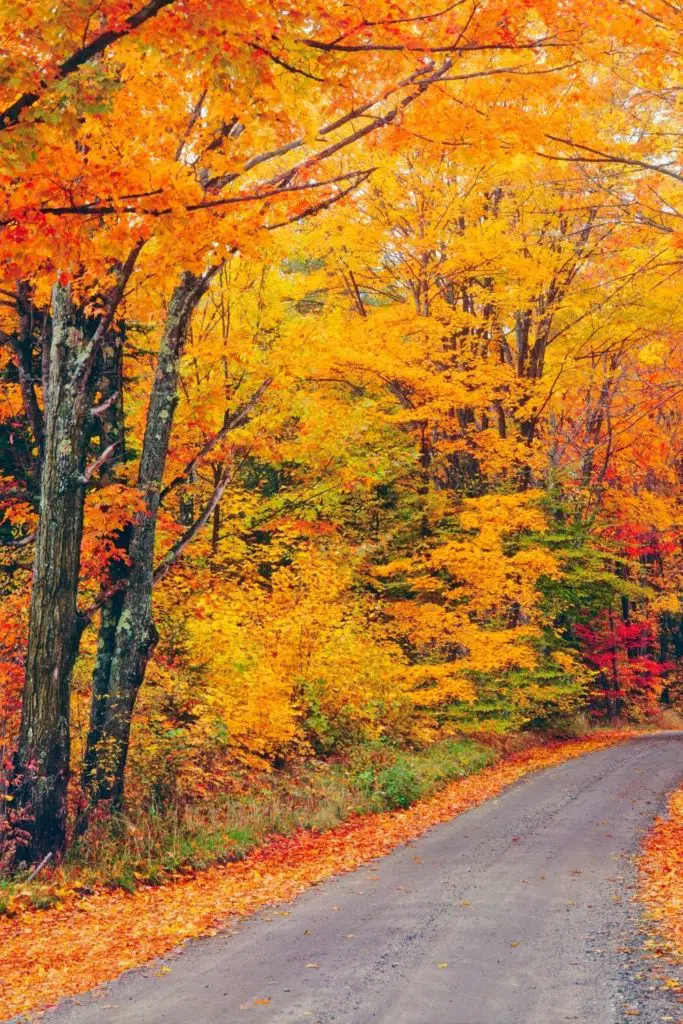 Whether you're headed out for a day, a week, or even longer, New England is perfect for a Fall road trip.
No matter where you are in New England, you'll be able to put together a great road trip itinerary to see the Fall foliage.
When I was a kid, one of my favorite things my family did was taking a Fall road trip up I-91 from Connecticut, through Massachusetts, and into Vermont.
We'd see the Fall foliage along the highway, stop off to shop at Vermont country stores, and sometimes visit other attractions along the way.
To help you plan your road trip, check out my post about the best road trip apps.
Explore a lighthouse on Maine Open Lighthouse Day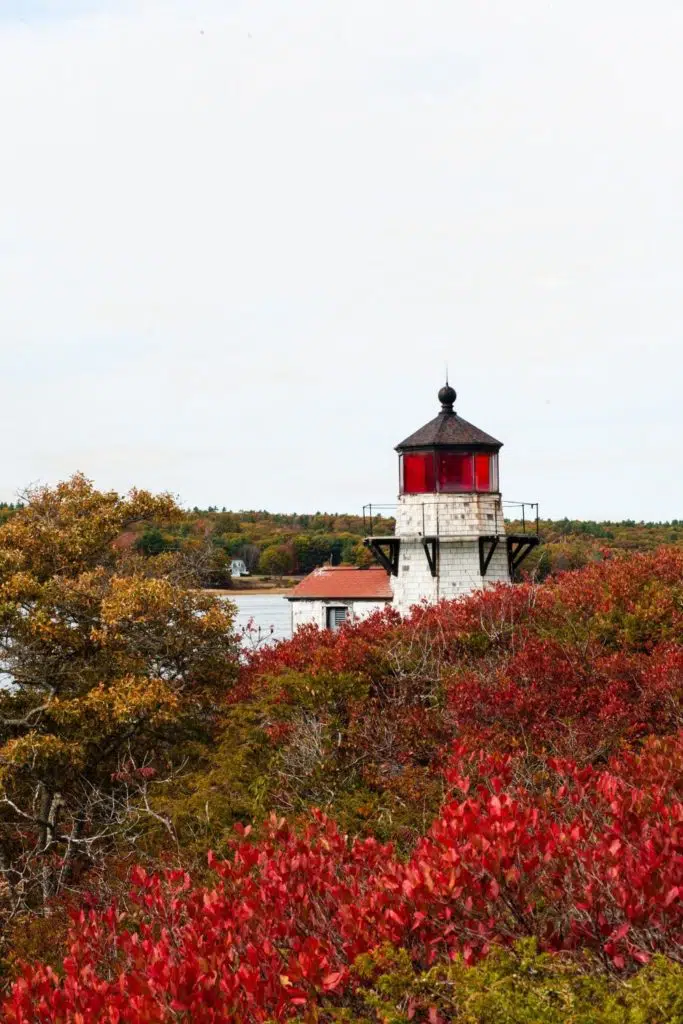 If you've ever wondered what the inside of a lighthouse looks like, you're in luck.
On Maine Open Lighthouse Day, lighthouses across the state open their doors and allow visitors inside.
Most visits are free, while some require a fee for transportation.
In 2023, Maine Open Lighthouse Day will take place on September 9.
Visit New England's Acadia National Park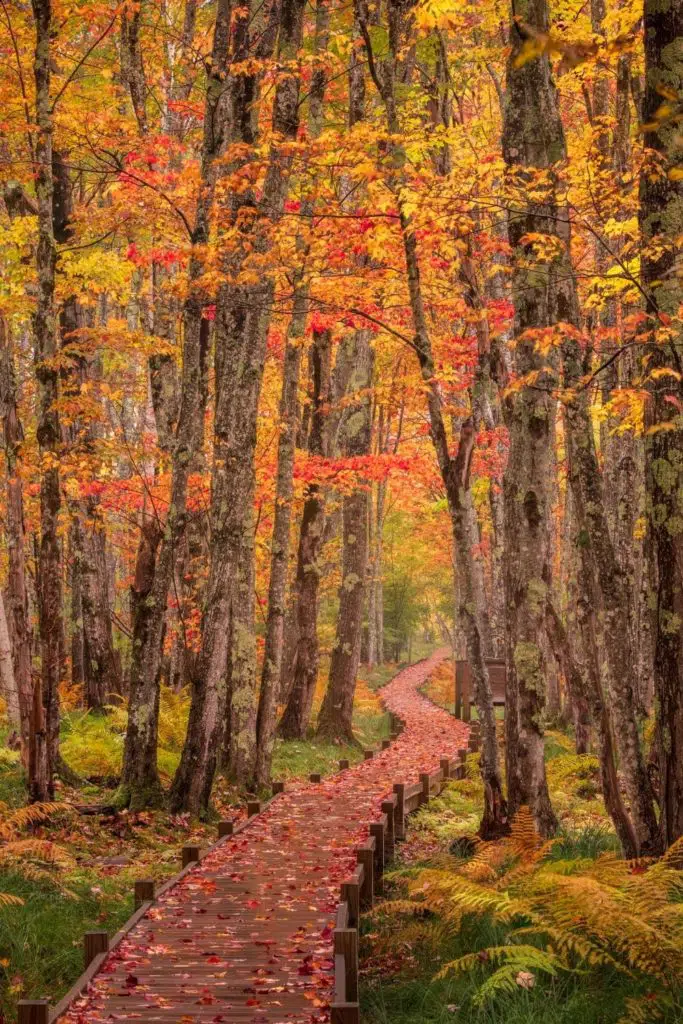 What better way to see the Autumn colors in New England than to visit a park?
I recommend heading to Bar Harbor, Maine to Acadia National Park, New England's only US national park.
This popular park is full of leaf peeping spots, plus tourist crowds are lower.
In addition, Acadia National Park is host to the Acadia Night Sky Festival, a week-long celebration of all things celestial and astronomical.
For tips on planning a trip to this beautiful New England park, check out my post on the best things to do in Acadia National Park.
Check out the New Hampshire Highland Games & Festival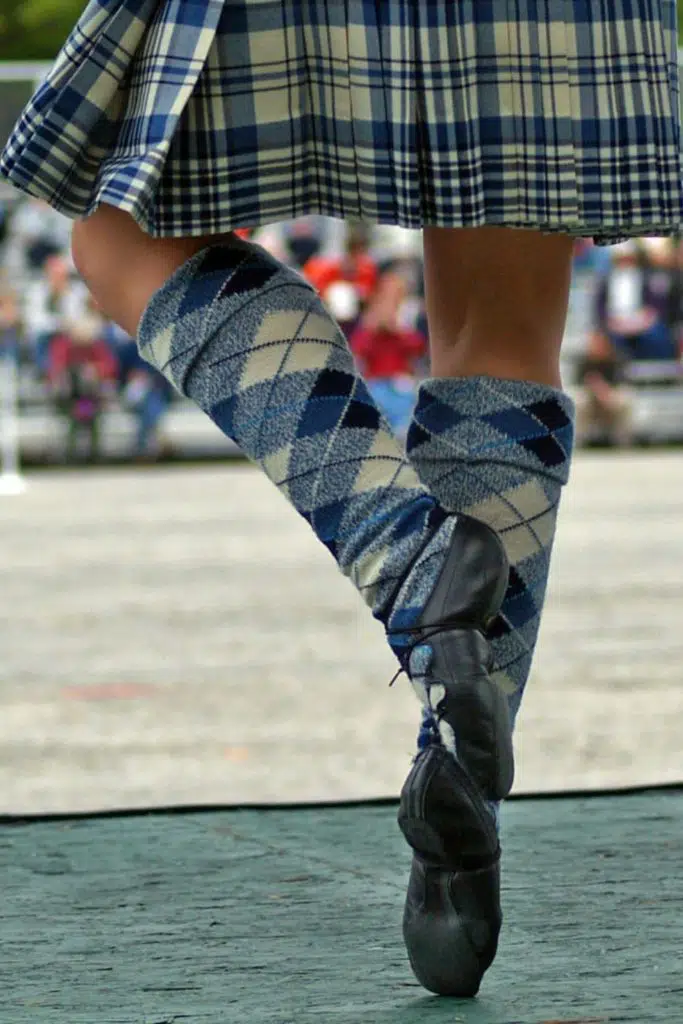 Celebrate all things Scottish at New Hampshire's Highland Games & Festival at Loon Mountain Resort in Lincoln.
The festival includes music, folk dancing, highland games competitions, whisky tastings, sheepdog trials, and Scottish-themed vendors.
In 2023, the New Hampshire Highland Games & Festival will take place September 15-17.
New Hampshire Highland Games & Festival @ Loon Mountain Resort
60 Loon Mountain Rd, Lincoln, NH
Enjoy the great outdoors on a camping trip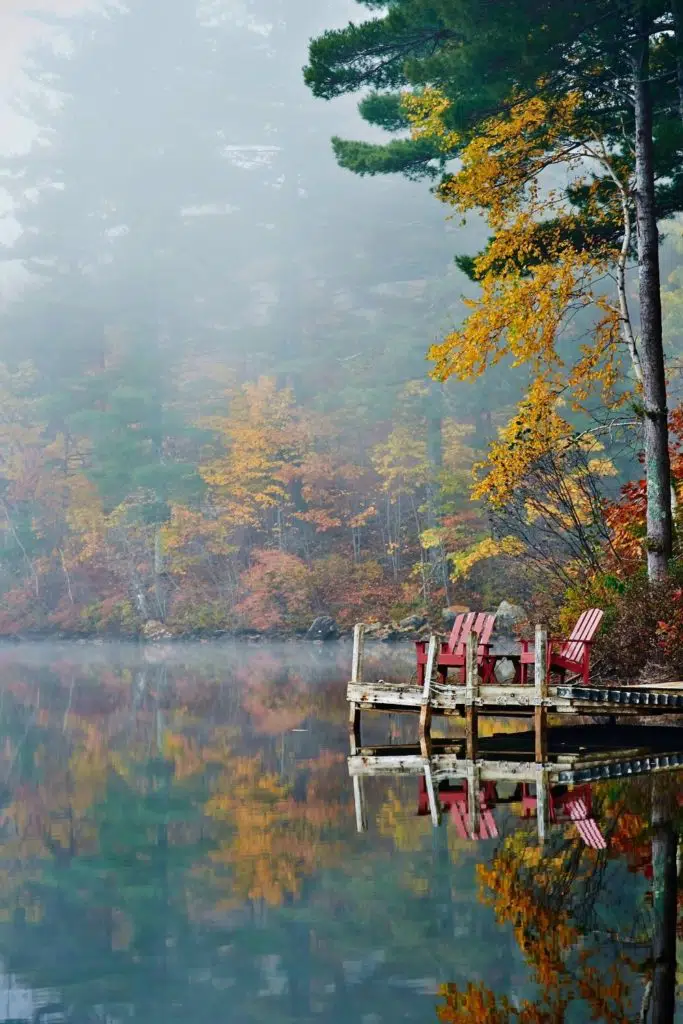 Pack up your tent, reserve an RV, or book a cabin – we're going camping!
New England is filled with beautiful campgrounds in every state, nearly all of which are open til mid-Fall.
Before the weather gets too cold, get in one last weekend of roasting marshmallows over an open fire, visiting local attractions, and admiring the surrounding views.
I recommend checking out the state parks in each state, as well as Acadia National Park for more woodsy campgrounds.
KOA is another great resource for finding reputable private campgrounds, as well.
Have fun at New England's biggest fair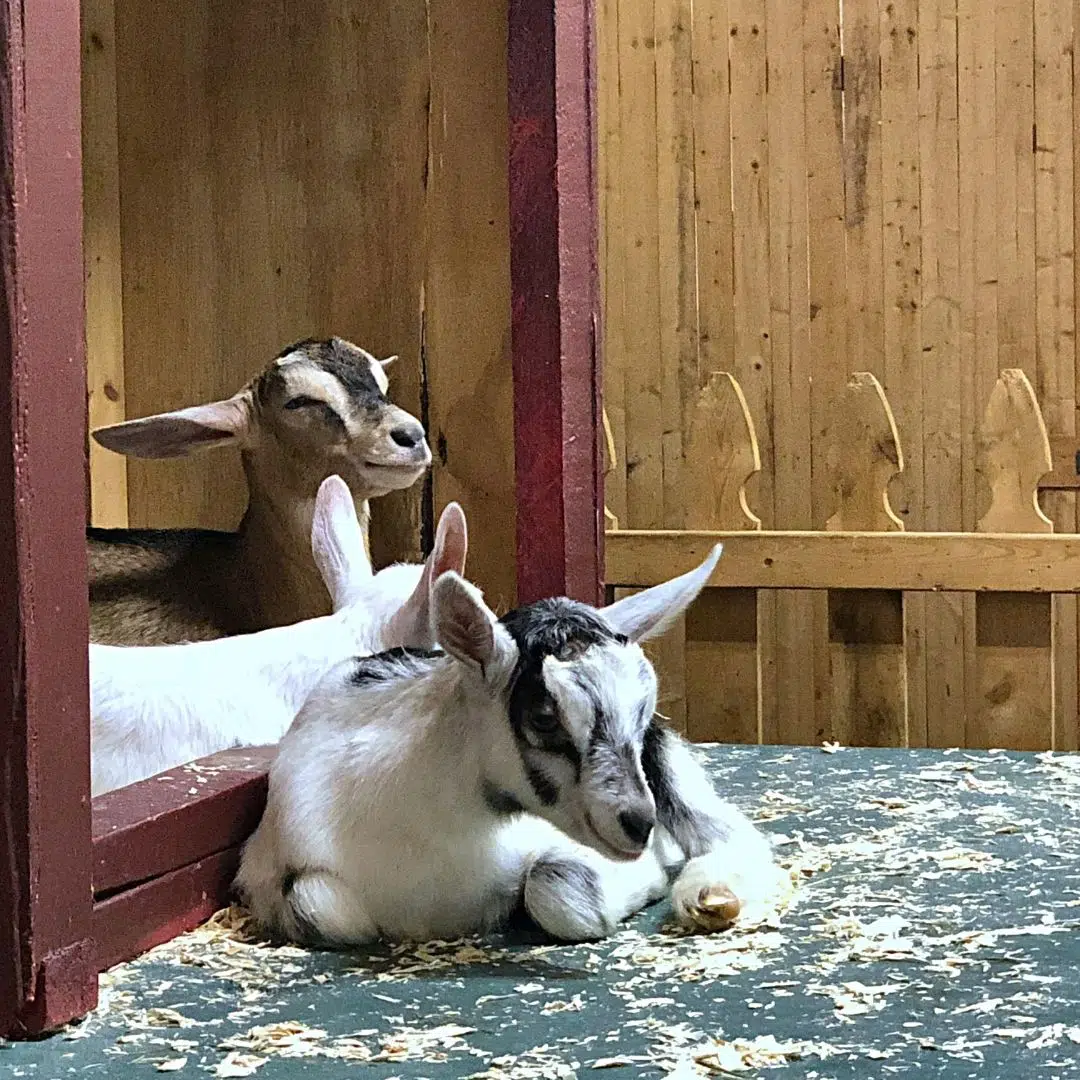 The Big E, located in West Springfield, MA, is New England's biggest fair.
Every Fall, The Big E hosts restaurants, artisans, and vendors from the New England area.
The Big E has agricultural competitions and demonstrations, tasty fair food, fun rides, competitive games, concerts, and other fair fun.
In 2023, The Big E will take place from September 15 through October 1.
To learn more about this gigantic New England event, check out my post about The Big E.
Visit a local farm or orchard
New England farms and orchards are a real treat, especially during the fall season!
It's the perfect time to visit, just in time for some pumpkin patches and apple picking. And don't even get me started on the apple cider donuts, because they are almost worth the trip alone.
But that's not all – hayrides and corn mazes are also in full swing during this time.
There are far too many farms and orchards to mention them all in this post, so I recommend hitting up good ol' Google for recommendations on farms or orchards near you.
Get outside and take a hike through Fall foliage
Another popular activity in New England in the Fall is hiking because it is a great way to see the Autumn colors.
Whether you're trekking up a mountain or journeying along an accessible nature path or trail, this popular New England pastime is perfect for viewing foliage up close.
To find a hiking trail or nature path that fits your needs, I recommend using the AllTrails app.
Download: AllTrails for iOS / AllTrails for Android
Celebrate Halloween in Salem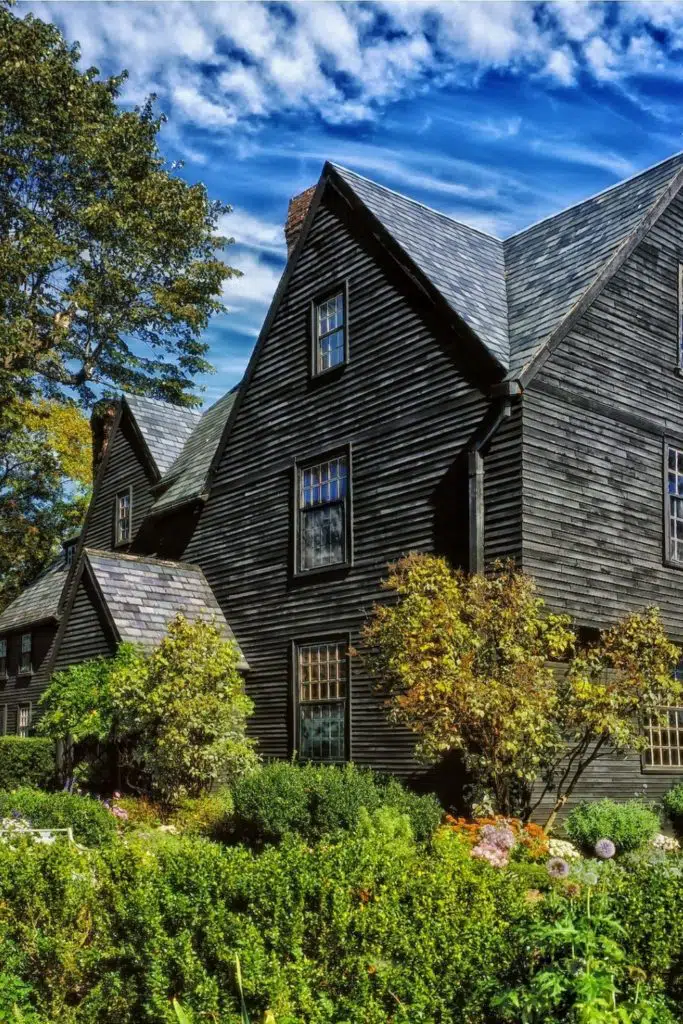 Head to Salem, MA for a month-long Halloween celebration, Salem Haunted Happenings.
The town-wide event features fair rides, food, a parade, concerts, races, and parties.
In addition to these events, Salem is host to many spooky and witchy activities, like ghost tours, tarot readings, witchy photoshoots, paranormal events, and all sorts of ways to learn about the infamous Salem Witch Trials.
To learn more about visiting during the Halloween season, check out my posts about Salem in October, best tours in Salem, MA, and best things to do in Salem, MA.
See Fall foliage from a unique vantage point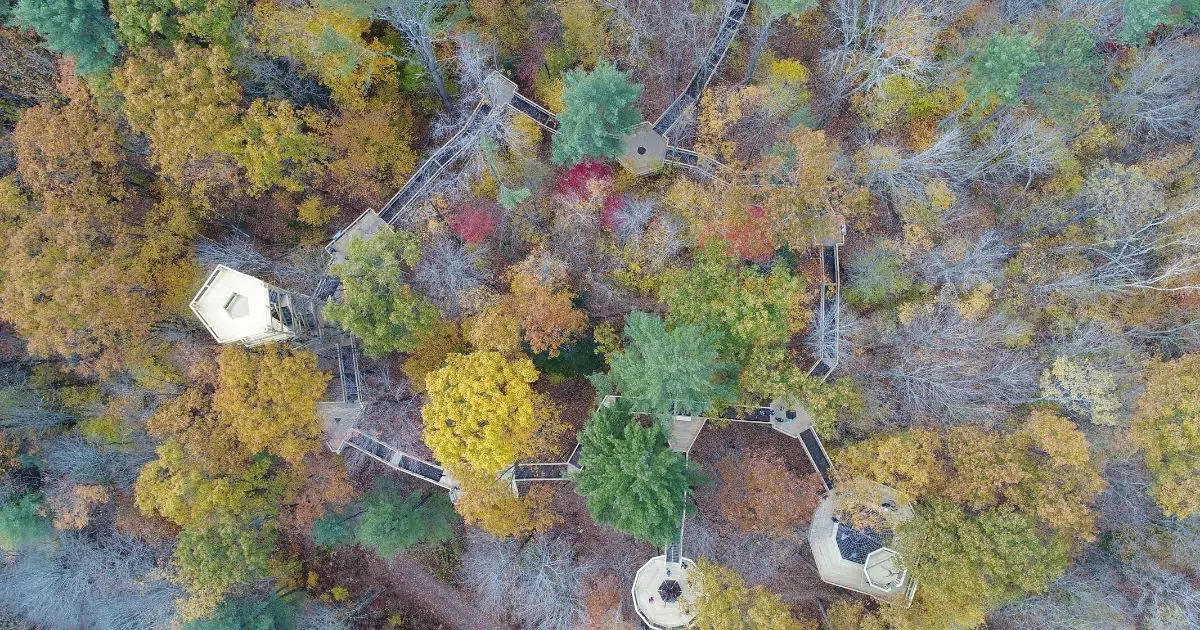 A brilliant way to see the New England autumnal colors is via the forest canopy walk at the Vermont Institute of Natural Science (VINS) Nature Center.
The forest canopy walk takes visitors up to the tops of the trees through bridges, towers, and a spider web-like rope feature.
Access to the forest canopy walk is included in general admission, so you can enjoy the center's other exhibits and features, such as their nature trails.
Vermont Institute of Natural Science Nature Center
149 Natures Way, Quechee, VT
Take a Fall foliage train ride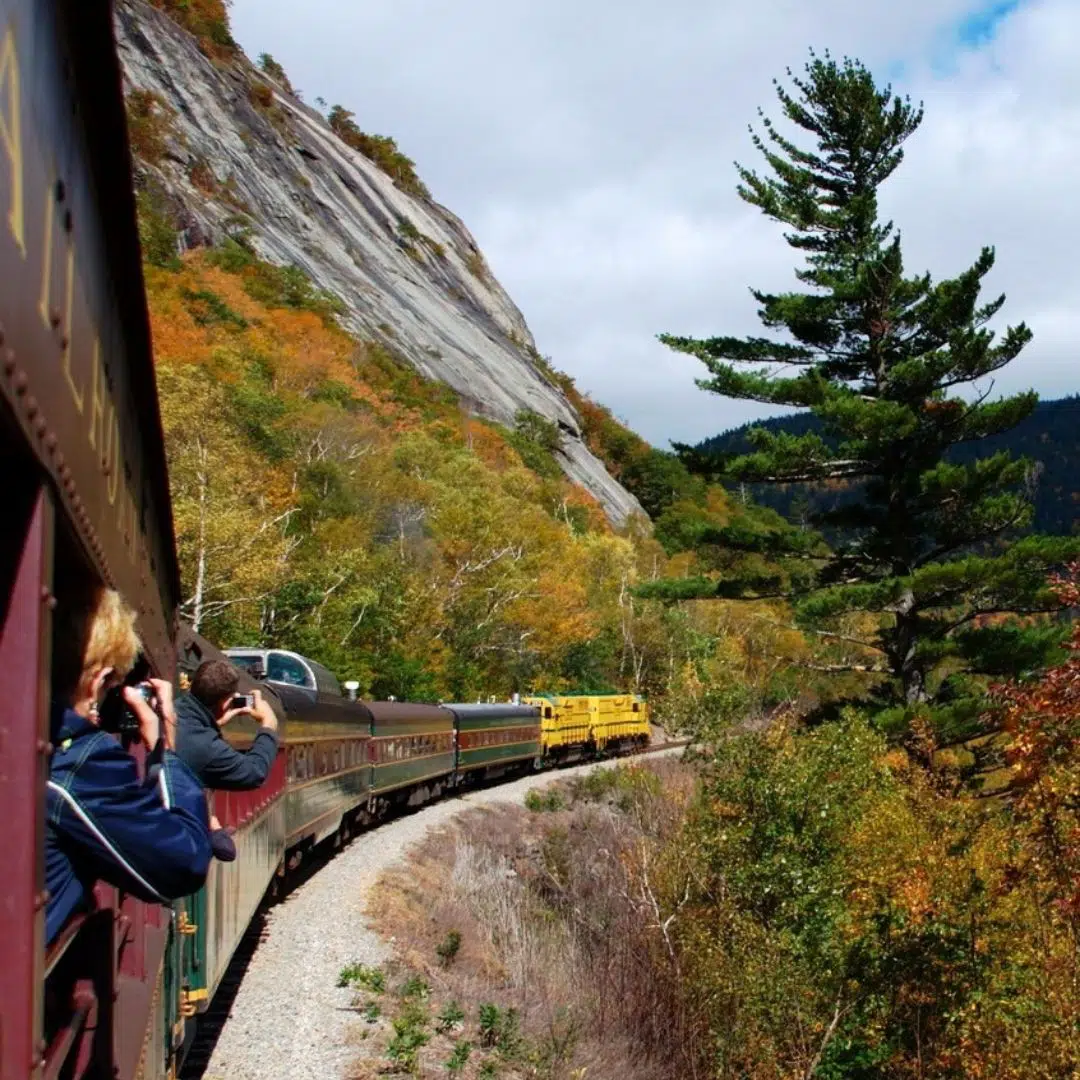 Another great way to see the colorful leaves in New England is via a scenic train ride.
Conway Scenic Railroad's Mountaineer tour in North Conway, New Hampshire is a lovely choice.
This tour takes you through Crawford Notch, surrounding you with gorgeous trees with red, orange, yellow, and brown trees during the Fall season.
The Essex Steam Train in Essex, Connecticut takes guests on a 12-mile tour through the Connecticut River Valley.
If you time your trip right, you'll also get excellent Fall foliage views of the valley.
Another recommendation is the Cape Cod Railroad with its tour along the Cape Cod Canal.
In addition to prime Fall foliage viewing, you'll see cranberry bogs, salt marshes, and maybe even some wildlife!
Have a Fall foliage picnic at a mansion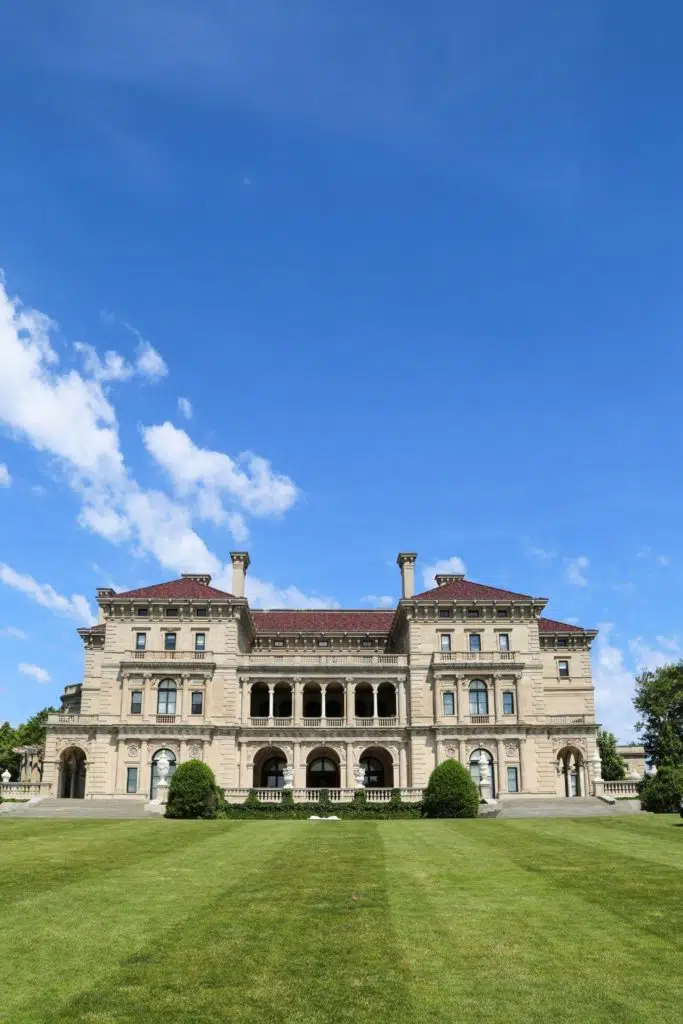 At least one good thing has come out of travel restrictions in early 2020s – the "Stroll the Gardens and Grounds" ticket option that allows guests to picnic on the grounds of several Newport mansions, The Breakers, The Elms, and Green Animals.
This new ticket doesn't give access to tour the inside of the mansions, but our goal here is to picnic, so we'll worry about that another day!
Pack a basket with insta-worthy Fall foods, like homemade applesauce, apple cider, cheese and crackers, maple candies, and whatever else your heart desires.
Grab a blanket and head on over to the mansion of your choice for beautiful views while you snack away.
The best part?
The ticket includes access to all 3 mansions and you can visit each on a different day.
It's like 3 picnics in one!
Visit these tourist towns in New England in the Fall
Many of New England's tourist towns are a bit unbearable for locals during the Summer.
But in the Fall? The crowds are much lower and more bearable.
Plus if you time your trip right, you'll have Fall foliage in the backdrop.
Here are the top New England tourist spots I recommend visiting in the Fall.
Bar Harbor, Maine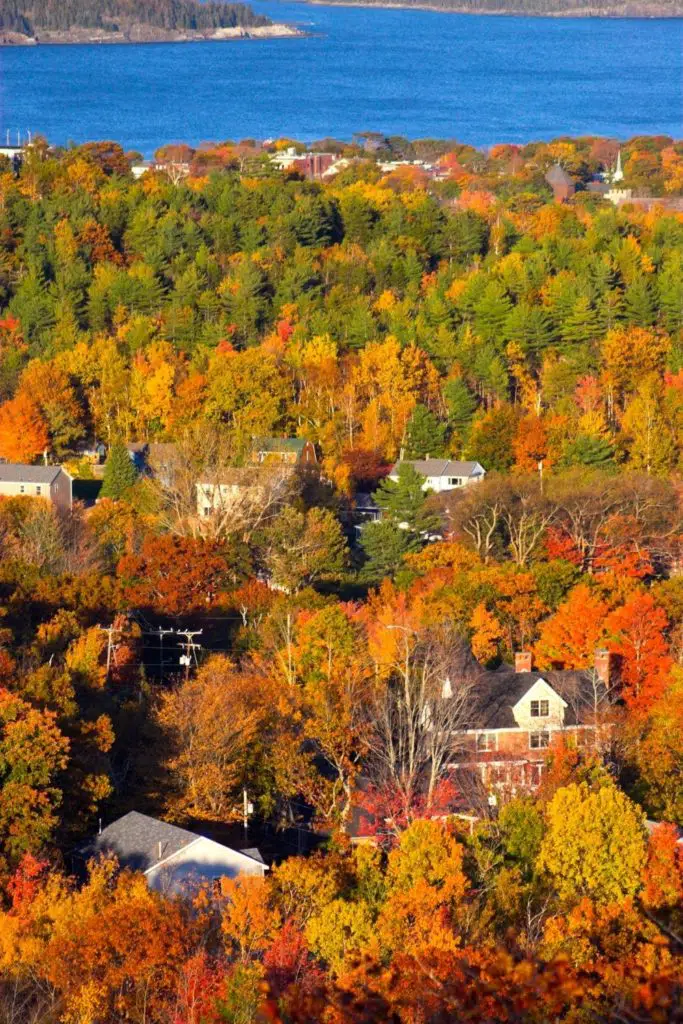 This quaint seaside town is my home away from home.
I spent many Summers and school vacations here growing up and still visit regularly.
Check out my posts on the best things to do in Bar Harbor, where to stay in Bar Harbor, best restaurants in Bar Harbor, and Maine in the Fall for help planning your trip.
Boston, Massachusetts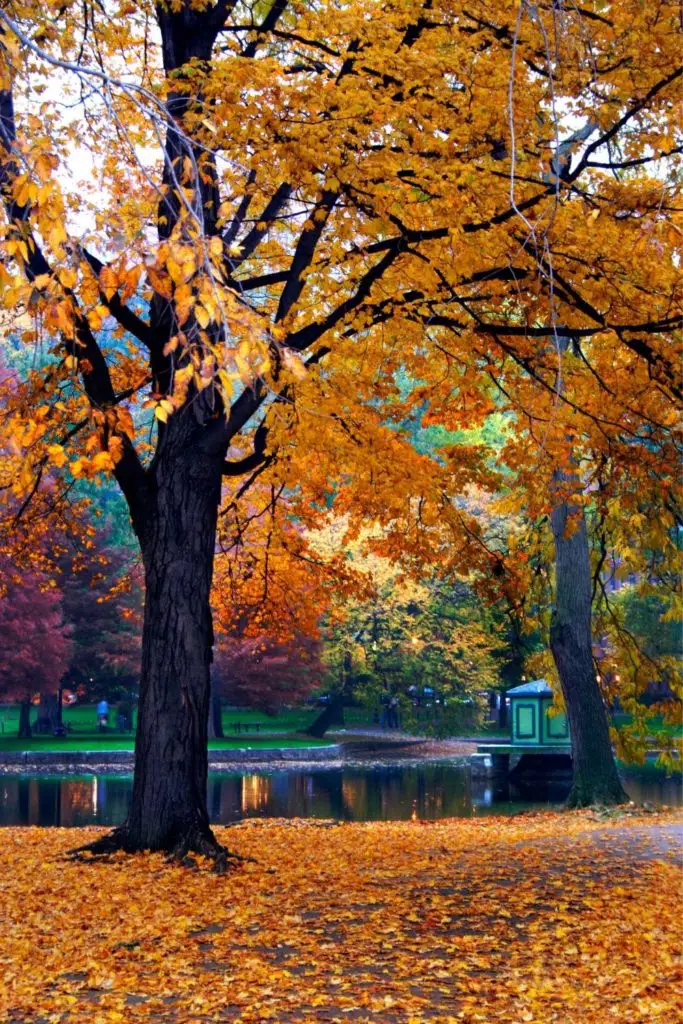 My home city is filled with things to do and makes a great home base while exploring New England via day trips.
Check out my posts about Massachusetts in the Fall, things to do in Boston, where to stay in Boston, tips for visiting Boston on a budget, and Boston in the Fall for help planning your trip.
Mystic, Connecticut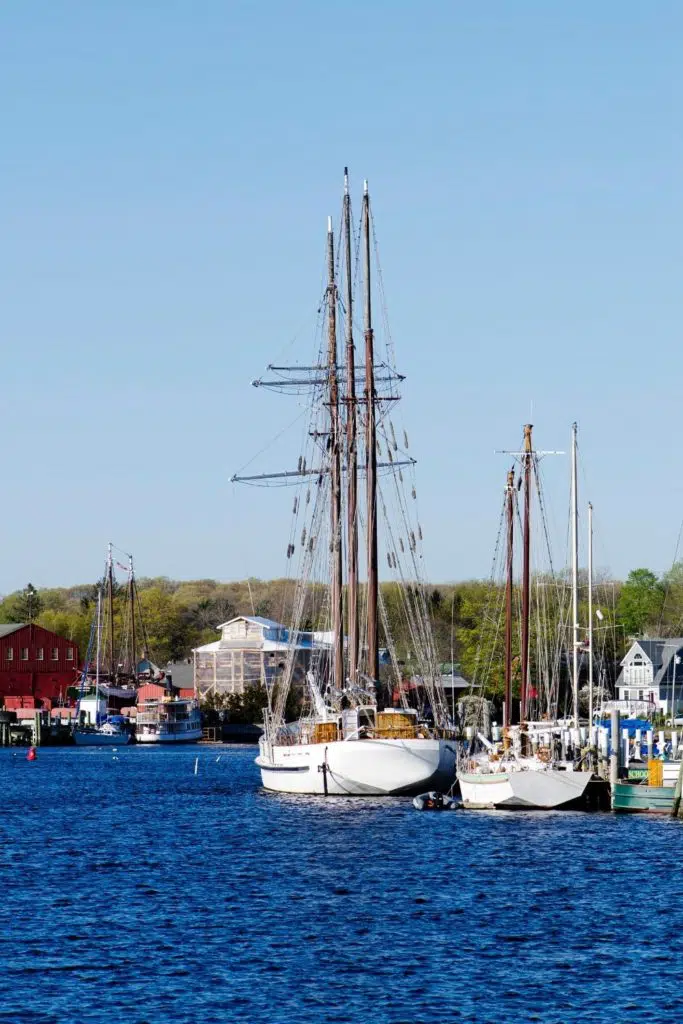 Another quaint seaside town in New England in the state where I grew up.
It's home to a seaport museum and aquarium. Plus it has some of Connecticut's best ghost tours!
For more help planning a weekend in Connecticut, check out my post about Connecticut in the Fall.
Newport, Rhode Island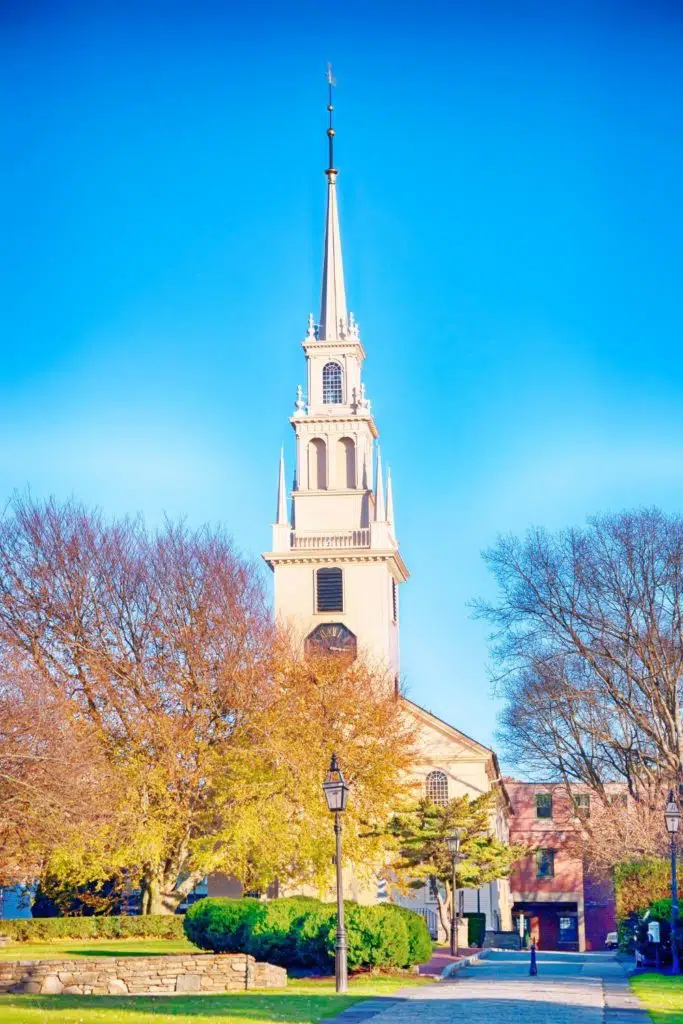 This oceanside town is home to some of New England's most beautiful mansions, most of which are open to the public.
In addition to the mansions, you'll have the pristine beaches all to yourself in the Fall.
North Conway, New Hampshire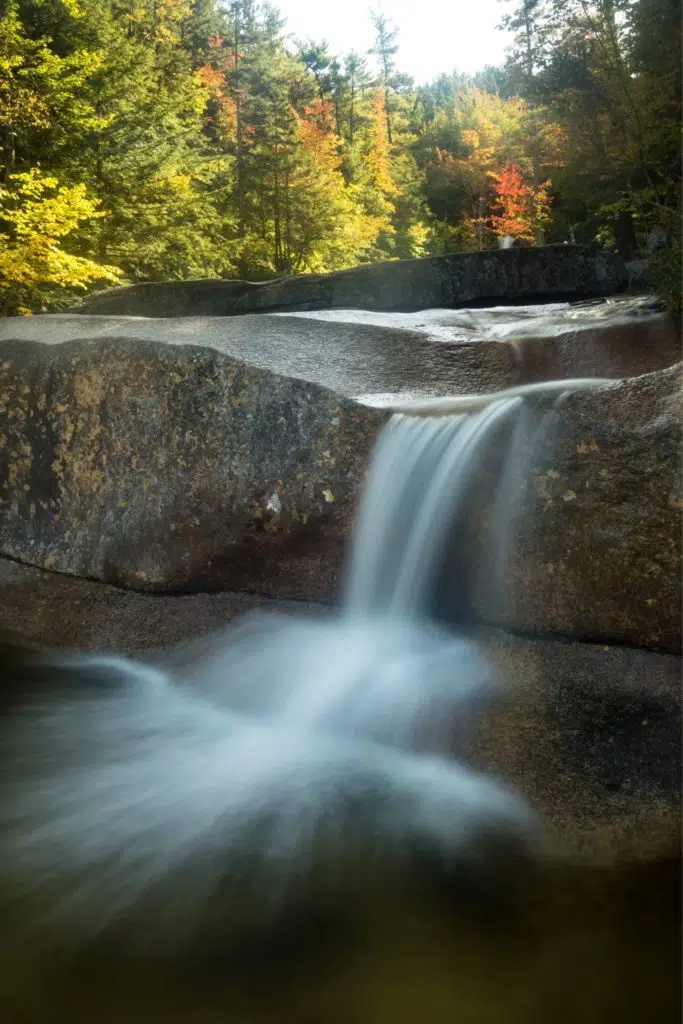 This small town in New Hampshire is the perfect base for a weekend filled with hiking, scenic train rides, and Story Land amusement park.
For tips on planning a trip to New Hampshire, check out my post about New Hampshire in the Fall.
Provincetown, Massachusetts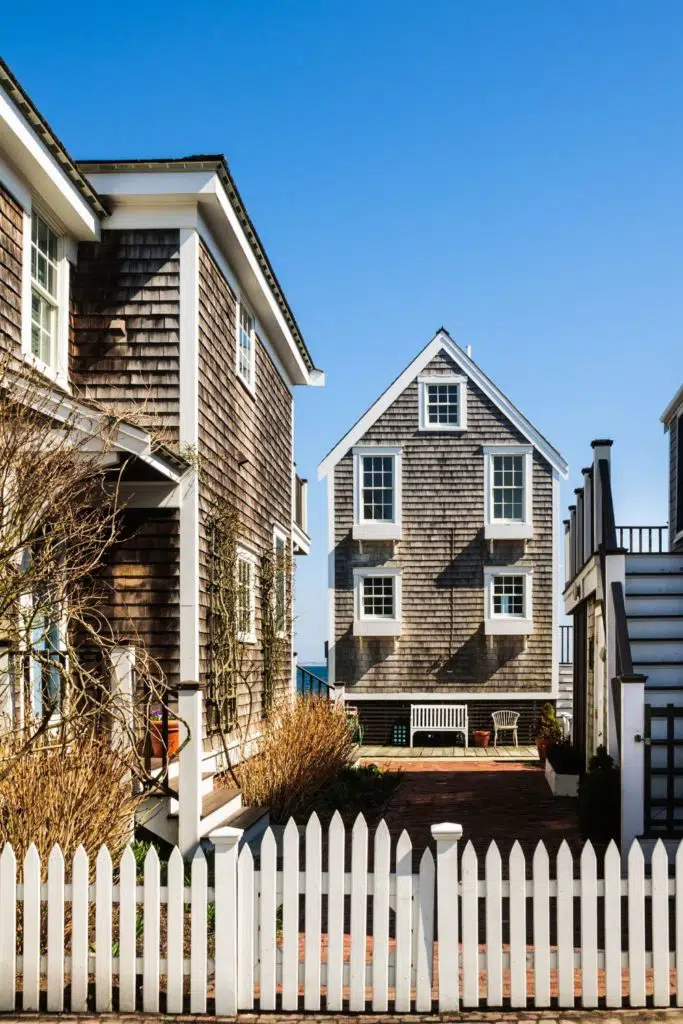 This lively town is situated at the tip of the Cape. I grew up visiting often in my childhood as my grandparents lived here.
Provincetown is considered one of the top LGBTQ vacation destinations in the US.
For more tips on planning a trip to Provincetown, check out my post about the best things to do in Cape Cod and where to get ice cream in Cape Cod.
Stowe, Vermont
Stowe is perfect for a Fall weekend in Vermont.
It has great access to hiking, shopping, a ski museum, biking, and scenic drives.
For tips on planning a trip to Stowe or elsewhere in Vermont, check out my post about Fall in Vermont.
What are your favorite things to do in New England in the Fall?
Up next, be sure to check out these posts:
---
About the author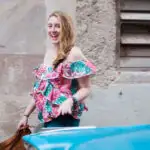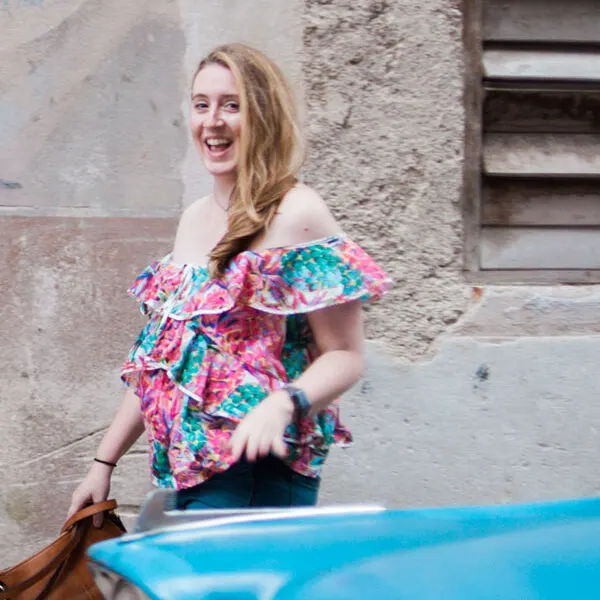 Meg Frost is a Boston-based travel blogger that helps people embrace technology to make vacation planning and traveling wicked easy, affordable, and fun.
She holds an M.A. in Journalism from Northeastern University and B.S. in Communication & American Studies from University of Miami.
---
This post was originally published on September 8, 2021. It was last updated August 16, 2023.