When I was growing up, my family would often take day trips up I-91 from Connecticut into Vermont in the Fall.
We'd visit local attractions, shop at Vermont country stores, and take in the gorgeous Vermont Fall foliage along the way.
But that's not all there is to do here during the Fall season! Keep reading for the ultimate guide to Vermont in the Fall for more ideas.
Have fun at the Champlain Valley Fair
The Champlain Valley Fair takes place at the end of August through the beginning of September, making it a fun way to close out Summer and welcome Fall.
In 2023, the Champlain Valley Fair will take place August 25 through September 3.
Go apple picking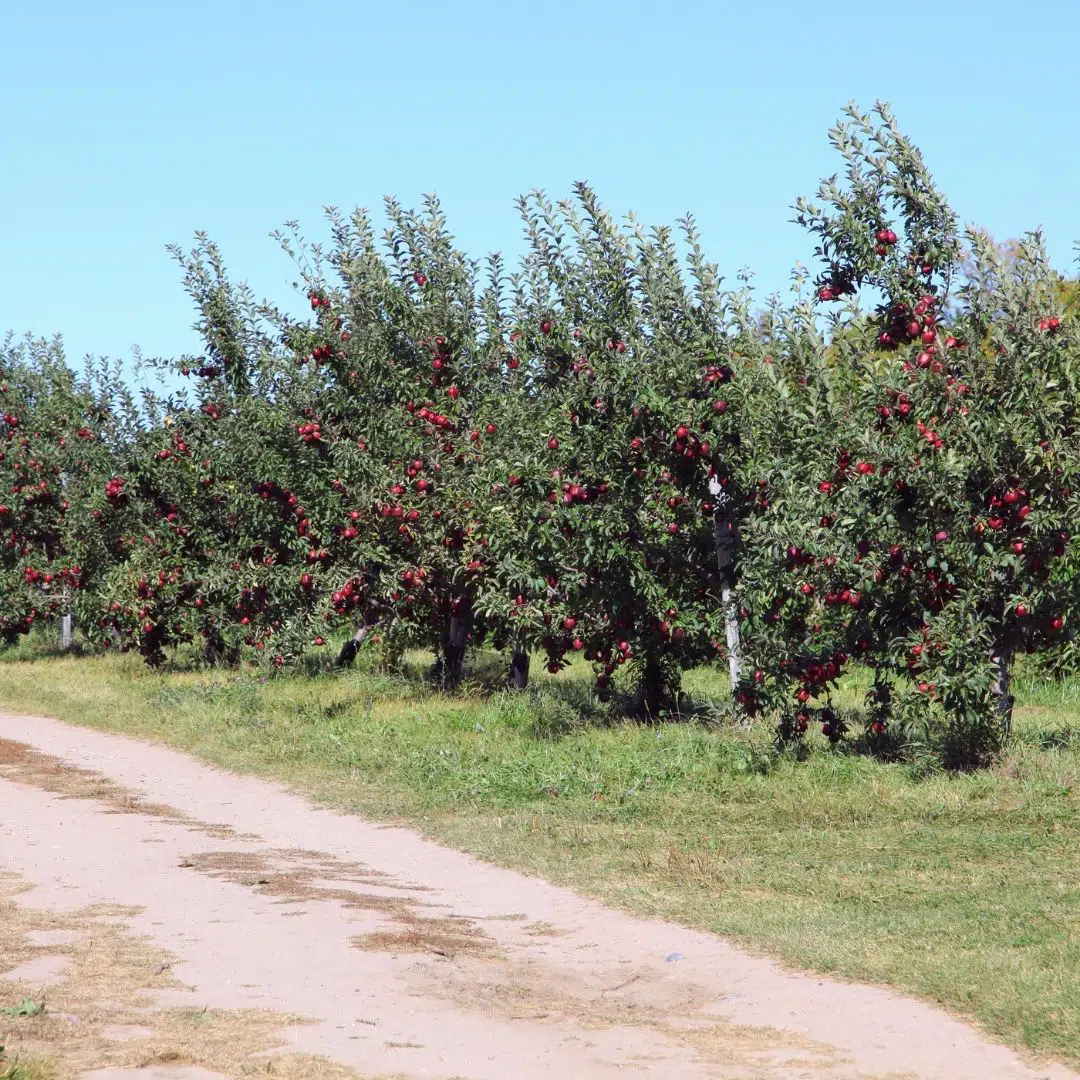 Perhaps one of the most popular things to do in New England during the Fall, including Vermont, is apple picking.
This family-friendly activity can be found across the state of Vermont.
Many orchards and farms also offer other Fall activities and have markets selling baked goods and local produce.
To find a place to go apple picking in Vermont, check out Vermont Apples' list of orchards and farms.
Visit a hard cider mill
While apple picking is certainly a popular event in every New England state, Vermont is home to a unique adults-only twist: hard cider mills!
First up is Stowe Cider Taproom in Stowe.
The alcoholic cider mill and tasting room is open year-round, but I'm sure you'll agree that a Fall visit takes the cake.
The Taproom at Stowe Cider is open every day, but visiting on the weekend is where it's at.
Thursday-Saturday, they are open from 4PM to close and Sunday from 12-5PM.
On the weekend, The Taproom at Stowe Cider features live music, food trucks, and plenty of boozy cider, hard seltzers, and beer to taste. The remainder of the week only includes drinks.
Another option is Cold Hollow Cider Mill in Waterbury Center.
In addition to their hard cider tasting room, you can pick up farm goods like apple cider, apple cider donuts, maple syrup, cheese, and other Vermont goodies.
Or if you're just feeling peckish, stop by their restaurant for breakfast or lunch.
Celebrate Oktoberfest at the Trapp Family Lodge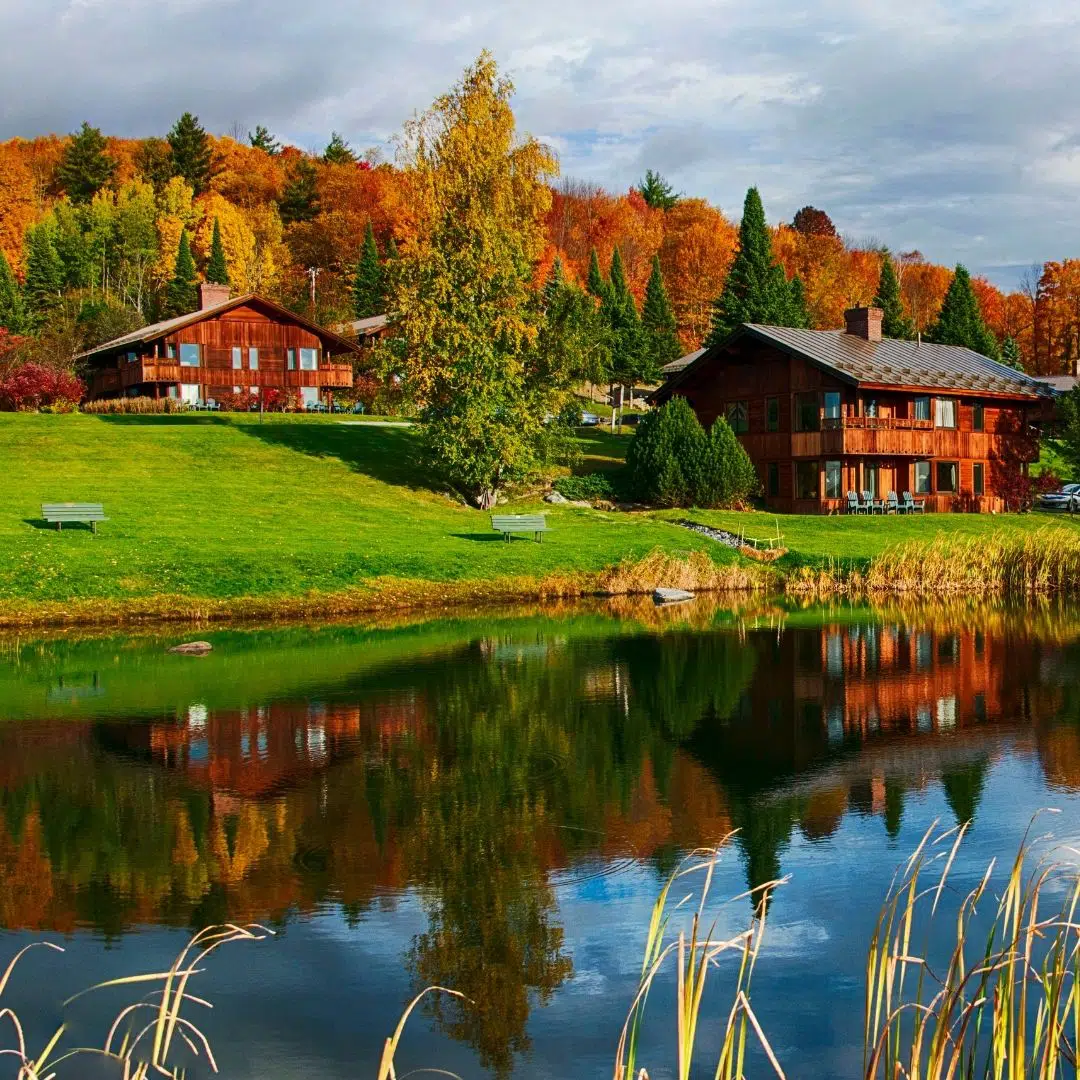 Yes, the Vermont ski lodge started by the family that inspired the class film, The Sound of Music, is a real thing!
Every year, the Trapp Family Lodge in Stowe puts on a spectacular Oktoberfest event complete with German food, costumes, and entertainment.
Guests can attend the event even if they aren't staying at the lodge.
However, I recommend booking a few nights so you can explore the Stowe area, which is magnificent in the Fall season.
In 2023, the Trapp Family Lodge Oktoberfest event will take place on September 16.
Trapp Family Lodge
700 Trapp Hill Rd
Stowe
Have fun at the Vermont Pumpkin Chuckin' Festival
The Vermont Pumpkin Chuckin' Festival is a hilariously fun, family-friendly event that benefits the Lamoille Family Center.
The event takes place at the Stoweflake Mountain Resort in Stowe.
It includes a pumpkin hurling contest using catapults, a chili cook-off, and live music.
In 2023, the Vermont Pumpkin Chuckin' Festival will take place on Sunday, October 1.
Vermont Pumpkin Chuckin' Festival @ Stoweflake Mountain Resort
1745 Mountain Rd
Stowe
Visit the Ben & Jerry's ice cream factory
Head to Waterbury, VT to tour the very first (and still operating!) Ben & Jerry's ice cream factory.
Here you can watch the iconic and delicious ice cream being made, as well as taste a variety of flavors.
You can also visit the flavor graveyard, which is kind-of like an altar than honors flavors that have been discontinued.
Have fun at the Tunbridge's World Fair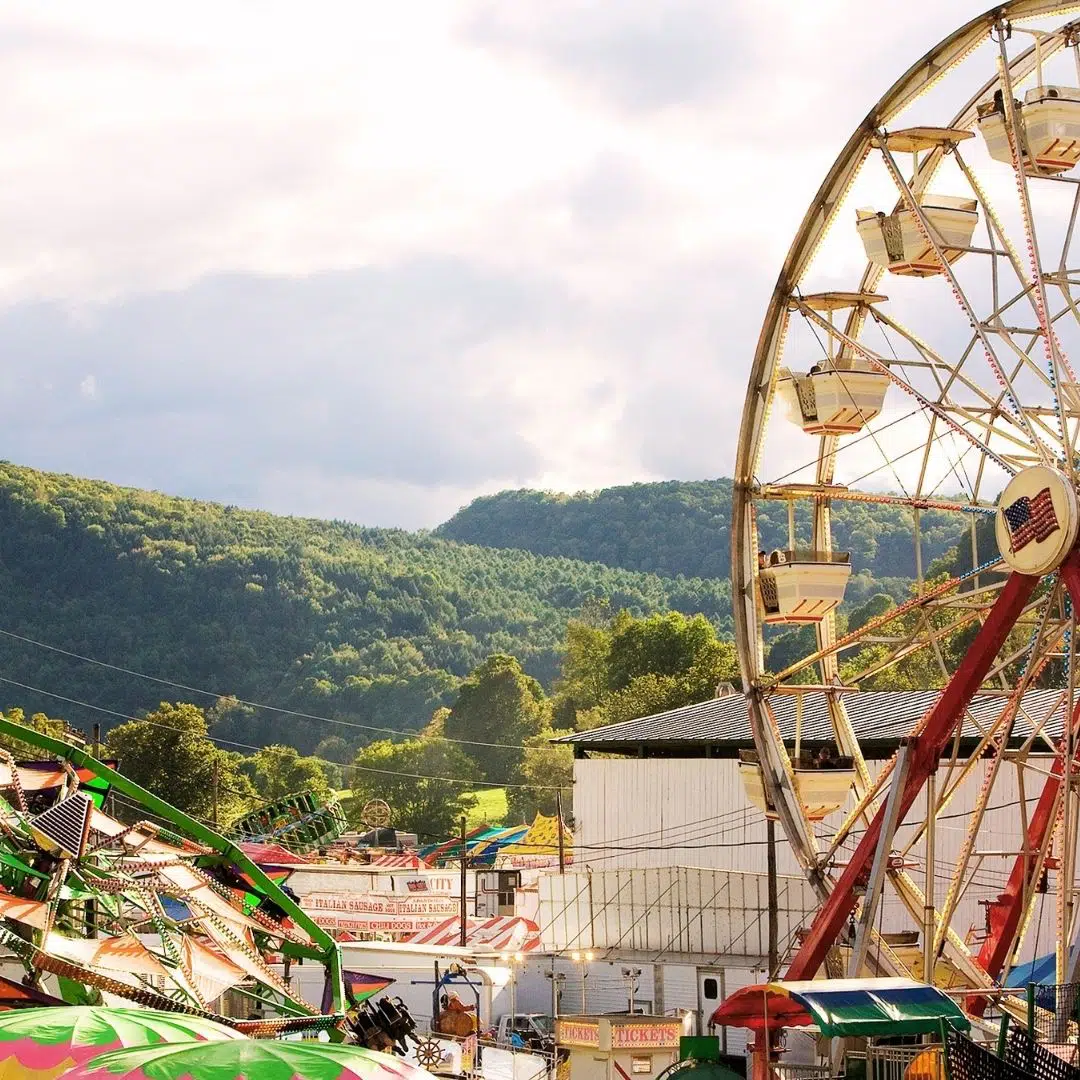 The Tunbridge World's Fair takes place in mid-September.
It features agricultural competitions and showcases, rides, music, food, and other fun activities.
In 2023, the Tunbridge World's Fair takes place September 14 – 17.
Go hiking or on nature walks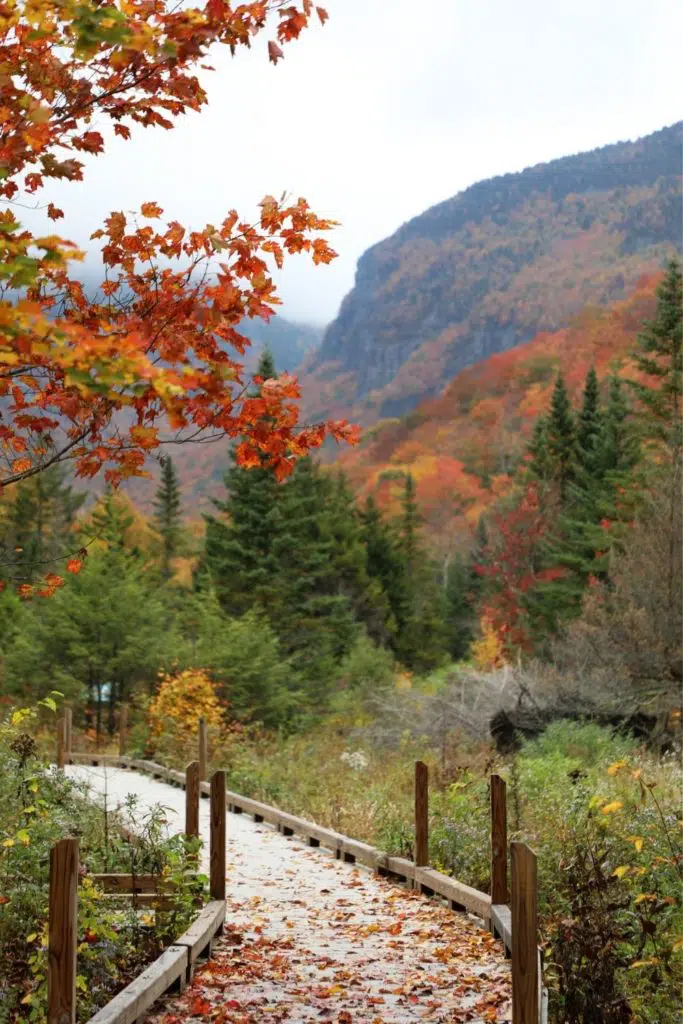 A classic way to go leaf peeping in Vermont is on one of Vermont's many beautiful hikes or nature walks.
Vermont has well over 700 trails and paths and all are worth a visit during the Autumn season.
Here are a few favorites to consider if you can't decide which one to do!
The Barnes Camp Loop in Smuggler's Notch State Park in Stowe is perfect for Fall foliage viewing.
A 5-foot wide boardwalk was added to a portion of the 1.3 mile trail in 2018, making some of it wheelchair and stroller friendly.
Sunset Ridge Trail is a 3.3-mile out-and-back trail that takes you to the top of Mount Mansfield for breathtaking views of the picturesque New England town of Stowe, Vermont.
Falls of Lana Trail is a 5-mile loop trail located in Moosalamoo State Park in Salisbury.
Features include a waterfall and gorgeous views of Lake Dunmore amidst the foliage.
Haystack Mountain Trail is a 5-mile out-and-back trail in Wilmington within the Green Mountain State Forest.
The trail takes you up to the top of Haystack Mountain, where you can catch a birds-eye view of the surrounding canopy and Haystack Pond.
Otter Creek Gorge Trail is a 2.6-mile loop trail in Middlebury.
While you won't get any high-up views of the foliage, this trail is great for beginners and is family-friendly.
You'll still get to enjoy the great outdoors all around you, including a suspension bridge over a creek.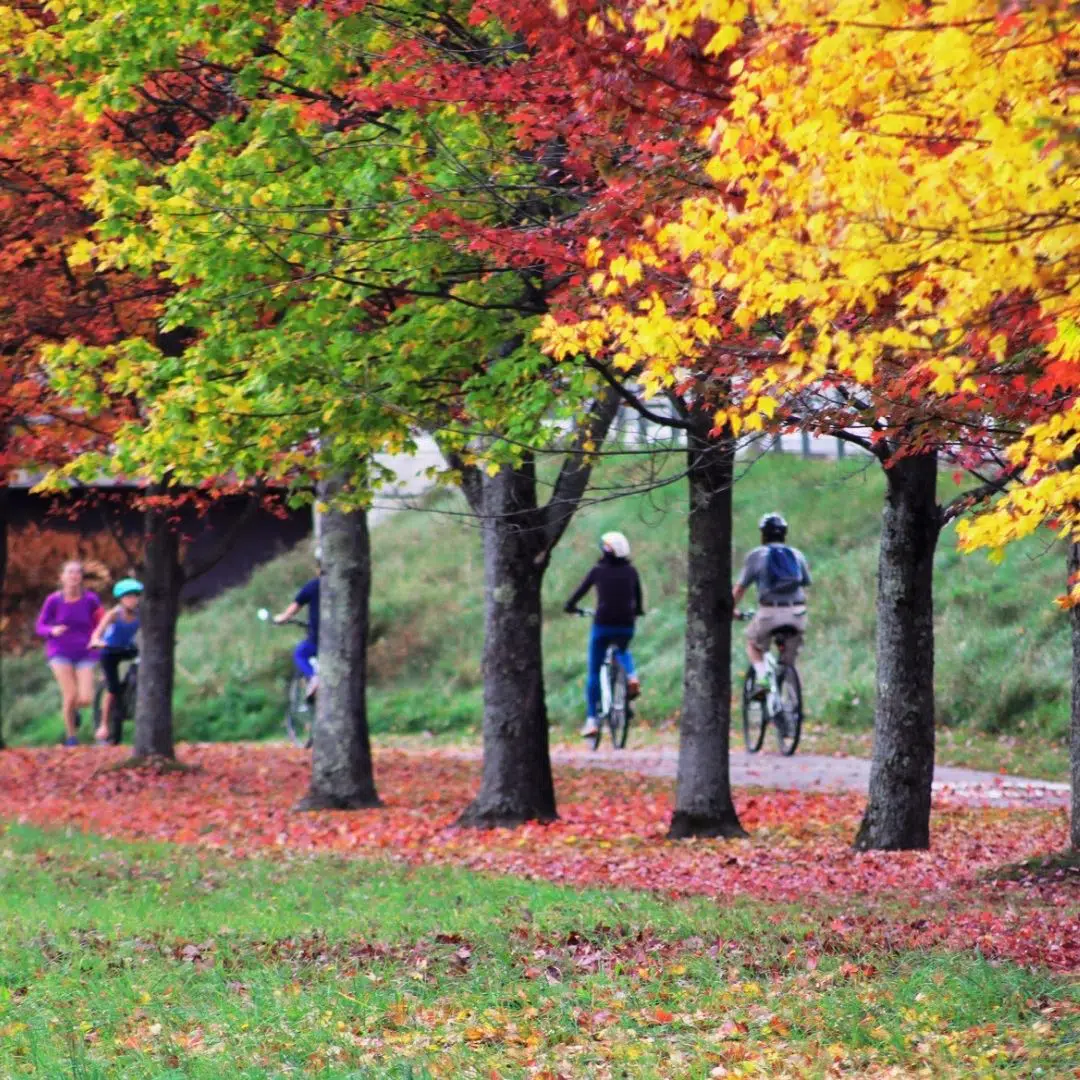 The Stowe Recreation Path is a 10.5 mile out-and-back path is another accessible, family-friendly asphalt trail. It also allows biking.
If the long length is off putting, keep in mind that you don't have to do the entire path to enjoy your time!
The Stowe Recreation Path is located in Stowe, not too far from the Trapp Family Lodge.
Last, but not least, for another accessible, family-friendly paved trail, check out the Burlington Bike Path along Lake Champlain.
Also known as the Burlington Greenway, this 8-mile path is frequented by walkers and bikers alike. It runs from Oakledge park up to the Winooski River.
Tour the town where Beetlejuice was made
Head to East Corinth to see all of the iconic spots where Beetlejuice was filmed, such as the bridge where the Maitlands met their fate, Lydia's school, the iconic church from the intro, and other locations.
Filming for the sequel, to star Jenna Ortega, was in the midst of filming until the Screen Actors Guild (SAG) went on strike. So it might be a good time to see some of the filming spots rebuilt for the new film!
Make your way through the Great Vermont Corn Maze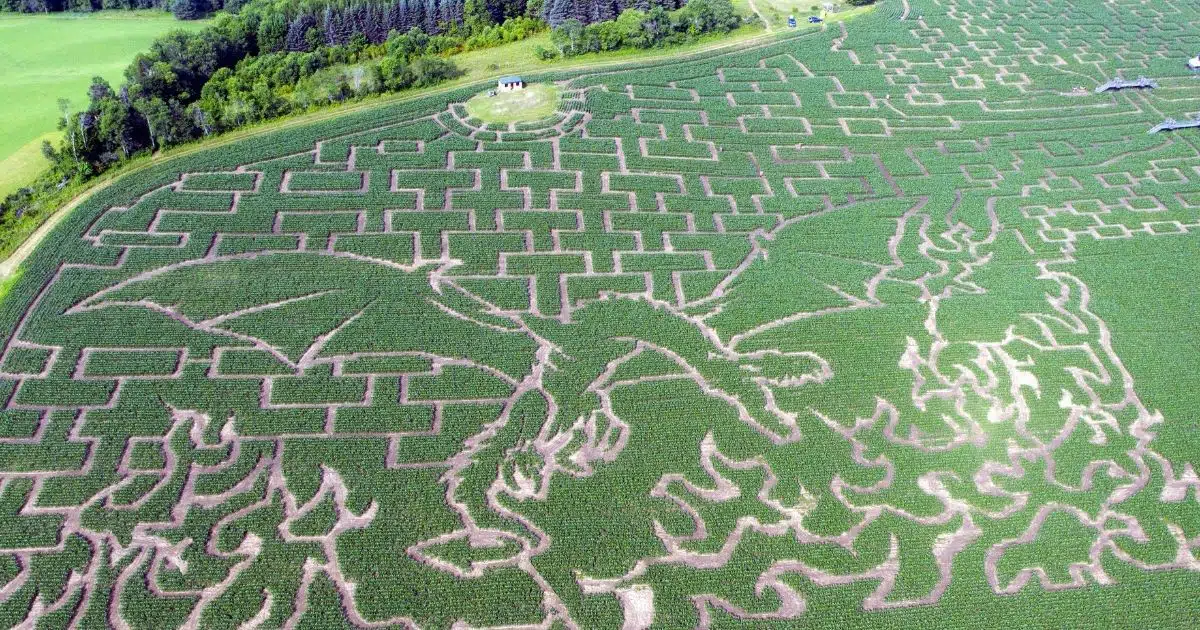 The largest corn maze in New England is in Northern Vermont, Danville to be exact.
The maze covers 24 acres and can take 2 hours or more to complete.
If you don't have the patience to escape the maze on your own, they have an option that provides clues so you can complete it in less than an hour.
In 2023, the Great Vermont Corn Maze opens July 29 and runs through October 15. It is open 7 days a week.
Great Vermont Corn Maze
1404 Wheelock Rd
Danville
Get spooked at Dead North: Farmland of Terror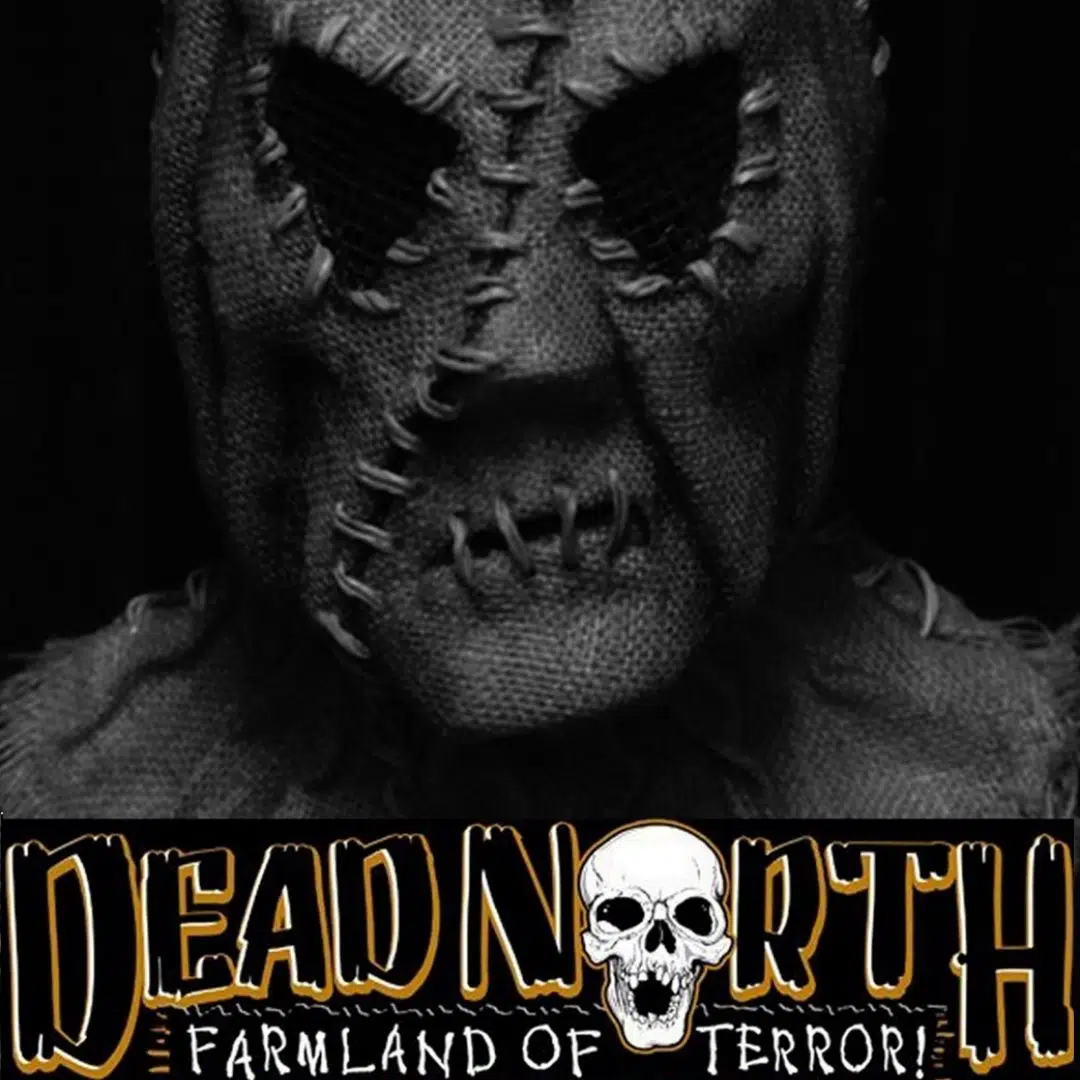 NOTE: Due to damage to several of the buildings, Dead North will not be running in 2023. It will be back in 2024 though!
Located at the Great Vermont Corn Maze is a limited event on select dates in October called Dead North: Farmland of Terror.
Dead North: Farmland of Terror is, in a nutshell, a haunted 1 mile trail through corn fields and a haunted house, featuring live actors.
There is also a concession stand that doubles as a fundraiser for a local Boy Scouts troop.
Tickets must be purchased in advance online and cannot be purchased at the event.
This event is so popular that it sells out EVERY YEAR – often times before the first night. Get your tickets ASAP!
Dead North: Farmland of Terror @ the Great Vermont Corn Maze
1404 Wheelock Rd
Danville
See the Fall foliage at the VINS Nature Center Canopy Walk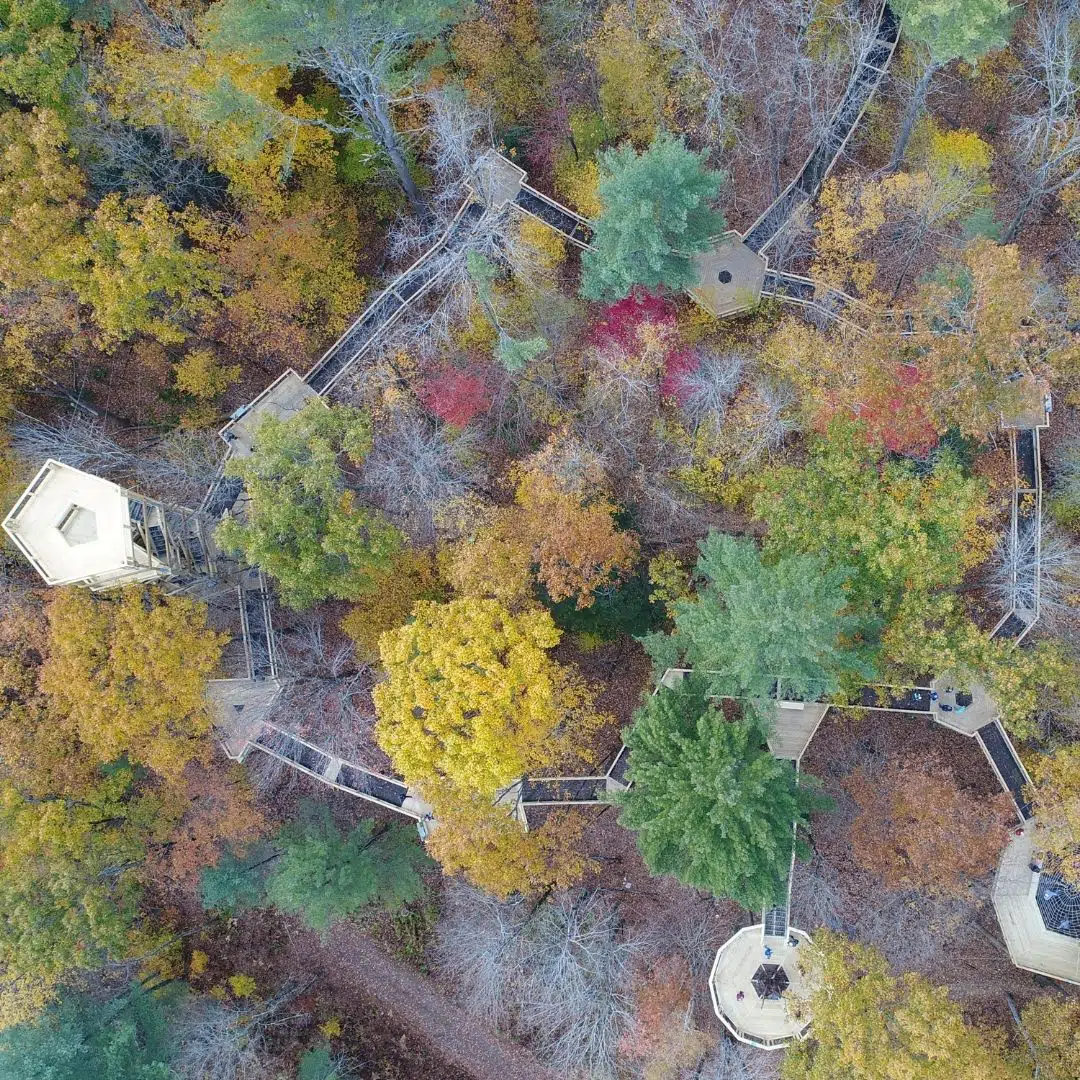 For a unique Fall foliage experience, head to the Vermont Institute of Natural Science (VINS) where you can embark on a Forest Canopy Walk.
Aside from its unique perspective for foliage viewing, the Canopy Walk features artwork, a rope "spider web," and a 360-degree platform.
The Canopy Walk is ADA accessible, as it utilizes a flat, even boardwalk that can accommodate wheelchairs, scooters, and other mobility devices.
For the best experience, I recommend visiting in late September through mid-October for the best foliage viewing.
Access to the Canopy Walk is included in general admission to the Nature Center, so while you're there, be sure to check out VINS' other wonderful demonstrations, exhibits, and nature trails.
Vermont Institute of Natural Science (VINS) Nature Center
149 Natures Way
Quechee
Go leaf peeping on the Mad River Glen Fall Foliage Sky Gondola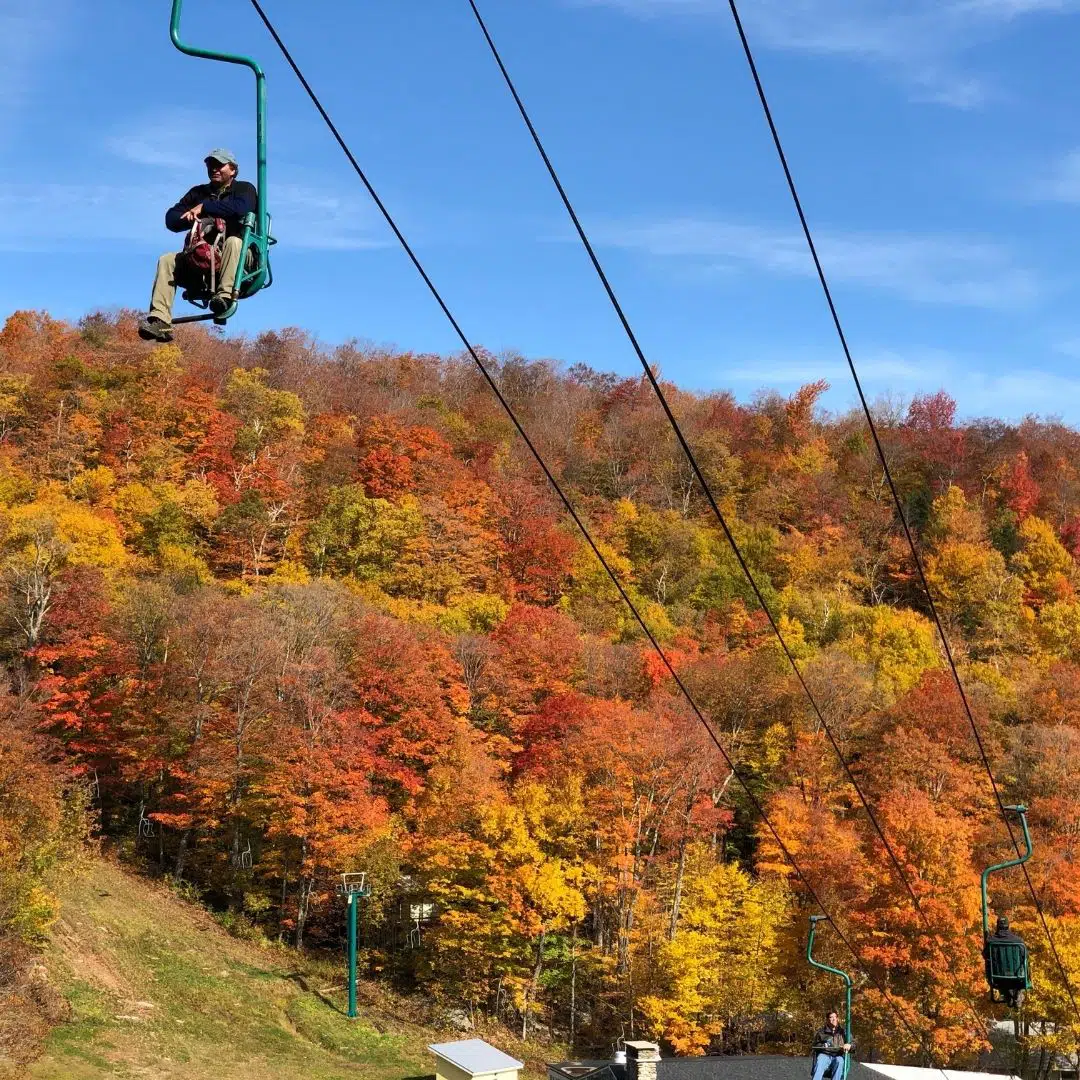 Another unique way to take in the beautiful colors of the Fall foliage is via sky gondola at Mad River Glen in Waitsfield.
During peak foliage time frame, Mad River Glen allows guests to visit this ski resort to ride the enclosed ski lifts to view the foliage from the sky.
In 2023, the Fall Foliage rides will take place on September 23 – 24, September 30 – October 1, and October 7 – 8.
Mad River Glen
57 Schuss Pass Road
Waitsfield
Have a spooky night at Nightmare Vermont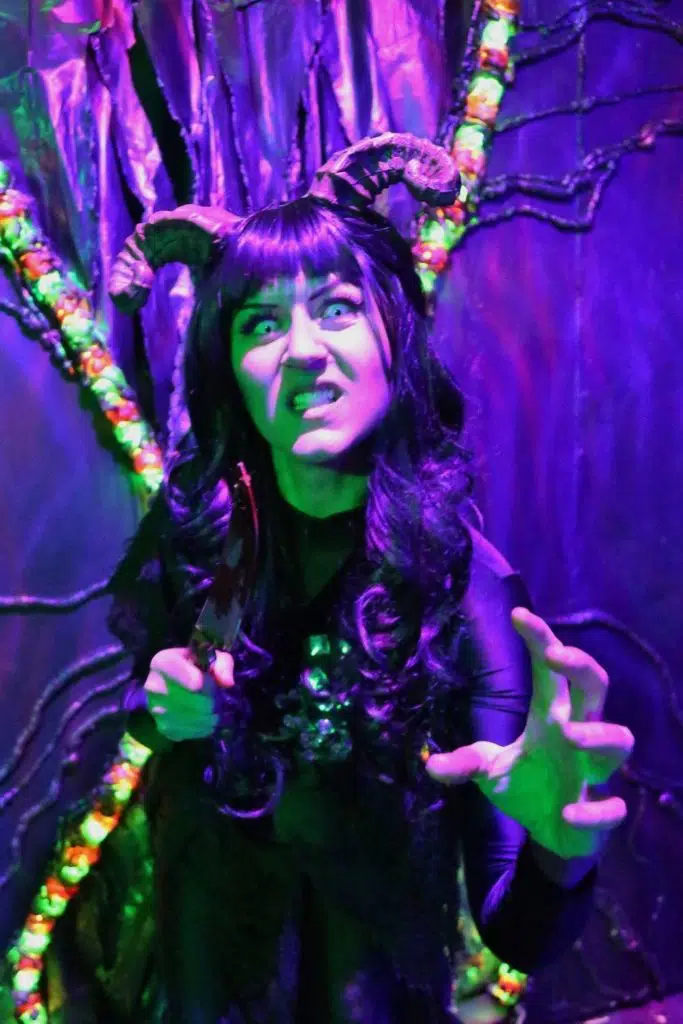 Unlike other spooky Halloween events, Nightmare Vermont is an all-volunteer theatrical experience that doubles as a charity event.
Each year a new immersive, theatrical experience is created that includes a show that culminates in a haunted maze exit.
Proceeds from the event are donated to local charities, such as Camp Exclamation Point, Champlain Valley Exposition, and Women Helping Battered Women.
For dates and tickets, check out the Nightmare Vermont website linked below.
Nightmare Vermont @ the Champlain Valley Expo
105 Pearl St
Essex Junction
What will you do in Vermont in the Fall?
As you've read, a Fall vacation is the perfect time of year to visit this beautiful New England state!
For more travel tips for New England and beyond, check out these posts:
---
About the author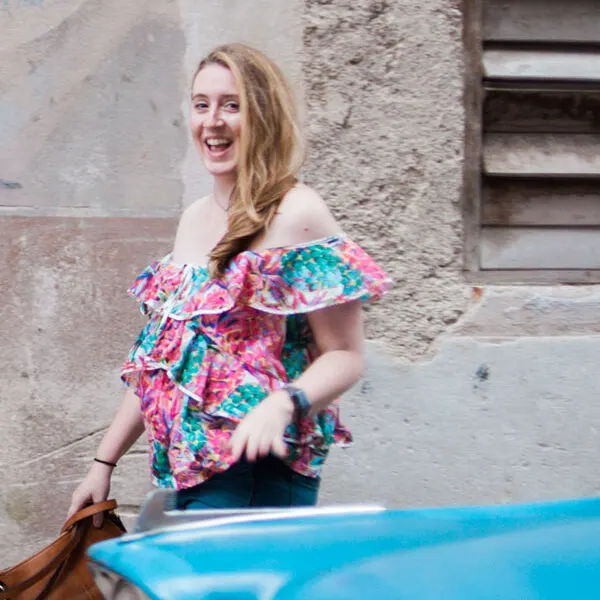 Meg Frost is a Boston-based travel blogger that helps people embrace technology to make vacation planning and traveling wicked easy, affordable, and fun.
She holds an M.A. in Journalism from Northeastern University and B.S. in Communication & American Studies from University of Miami.
---
This post was originally published on September 2, 2021. It was last updated on August 17, 2023.