I've lived in Boston for nearly two decades now. In my earlier years living here, I moved every year, always in search of the best neighborhood, the perfect apartment, and a stellar group of roommates.
I finally stayed put in an apartment when I figured out that living with roommates weren't for me, my apartment wouldn't be perfect right out the gate, and that the neighborhood was what mattered most to me.
So congrats, you've hit the best travel blog to help you decide where to rest your head at night!
Keep reading to learn more about where to stay in Boston, including the best neighborhoods and lodging in each one.
Back Bay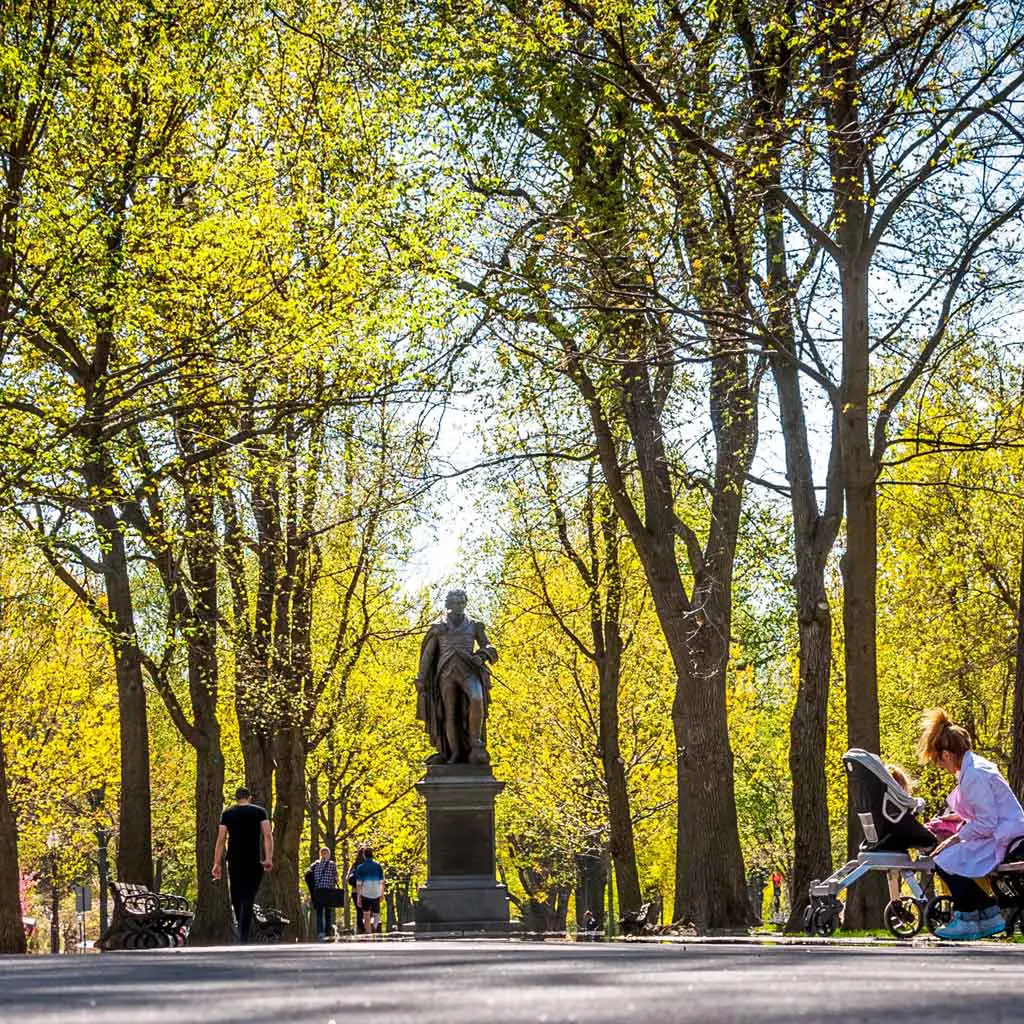 Back Bay is essentially the epicenter of Boston, so I just had to put it first!
In this neighborhood, you can find epic shopping, delicious restaurants, fun bars, and of course, tons of fabulous hotels.
This central neighborhood is also home to the main branch of the Boston Public Library, the finish line of the Boston Marathon, and Newbury Street shopping.
Hotels in Back Bay
You can't go wrong with a stay at the classic Fairmont Copley Plaza, which overlooks Copley Park. The Fairmont Copley Plaza is within walking distance from the Shops at Prudential, Copley Place, Newbury Street, and the Boston Public Library.
But the best thing about the Fairmont Copley Plaza is that they have a canine ambassador.
Yes, that's right, there's a pup on staff! Her name is Carly Copley and she's a very good girl.
Ms. Carly is a black Labrador Retriever who likes to hang out in the hotel lobby. Her job is to bring joy to the guests by greeting and playing with them, as well as showing them around the neighborhood.
Carly joined the hotel in 2015 after being adopted from the Animal Rescue League of Boston.
The Fairmont first added a canine ambassador to their staff in 2004 with Catie Copley. Catie sadly crossed the rainbow bridge in 2017.
TIP: The canine ambassador role isn't unique to the Fairmont Copley Plaza. At least a dozen more Fairmont locations in the US have canine ambassadors, too!
Another long-running hotel located in Back Bay is the Boston Park Plaza.
Renovated in 2016, the Boston Park Plaza has several top notch restaurants and is frequented by celebrities and public figures.
In fact, almost all US Presidents have stayed at the Boston Park Plaza since it opened in the 1920s, as it is rumored to be the only hotel in Boston with bulletproof windows.
Lastly, another great spot in Back Bay is The Lenox. Actress Judy Garland lived there in 1965 and now there's a luxury suite named after her!
Beacon Hill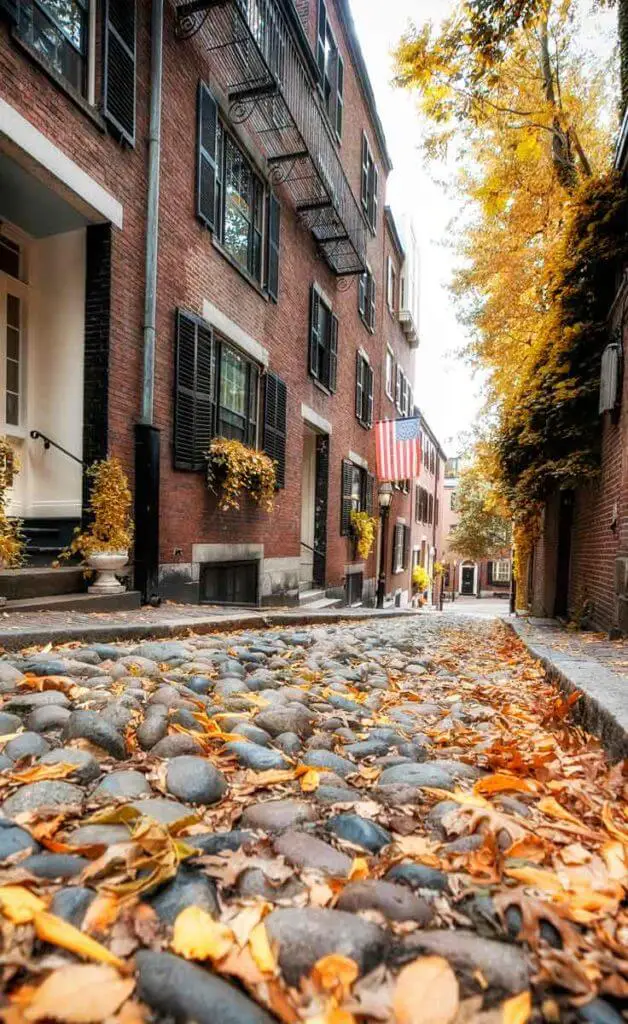 So you know that street, the one with all the brick townhouses and cobblestone street that everyone imagines when they think of Boston?
If not, just look above this sentence at that stellar photo. That's Acorn Street in Beacon Hill and it is arguably the worst kept secret spot in the city.
Beacon Hill is filled with gorgeous brick row houses and mansions. Yep, mansions. In a city.
It is also home to the Massachusetts State House, so you might sometimes hear locals refer to our state government as Beacon Hill.
Beacon Hill is a great spot to base yourself when visiting Boston, as you can easily access stops from the Red and Green MBTA lines from most spots in Beacon Hill.
Hotels near Beacon Hill Boston
One of the most unique hotels in Boston is The Liberty Hotel. Located in a former jail, The Liberty Hotel has several bars and restaurants on site, and is quite a popular spot on the weekends.
For those of you that travel by points, you'll be happy to hear that The Liberty Hotel is a BonVoy (aka what Marriott calls its loyalty club these days) Marriott hotel.
If you're looking to book a super luxury stay, consider XV Beacon Hotel
This super swanky boutique hotel has a very private and secluded vibe despite its central location.
The XV Beacon Hotel specializes in super personalized service for its guests, like the fancy picnic lunches they can pack up for you to take to nearby Boston Common or putting together a family movie night in your room, complete with the movie, pizza, and snacks.
Lastly, the XV Beacon Hotel is very dog friendly! Dogs are welcome – and even have their own treat menu and services like a pup-friendly party for their birthday.
Additionally, they don't charge a pet fee – but do encourage a donation for MSPCA Angell Memorial Hospital.
Hotels near Massachusetts General Hospital
Wyndham Beacon Hill is a no-frills spot next to Massachusetts General Hospital perfectly located in between the MGH stop on the Red line and the Government Center stop on the Green line.
I did a super last-minute staycation here in June 2019 and it was perfect for exploring different areas of the city with my family.
Allston and Brighton
Brighton is a quaint neighborhood that sits next to the suburb of Brookline. In past years, I wouldn't have recommended finding a place to stay in Boston, even though it's the neighborhood I've called home for over a decade.
Don't read into that wrong though – Brighton is GREAT (I mean, duh, *I* live there!). Up until recently, there just weren't any worthy accommodations.
But, Brighton is starting to get more recognition, so if you're looking for a spot that isn't too congested and has a lovely mix of city amenities, suburban appeal, and nature, this is the spot for you.
I liken Allston to Brighton's hipster sibling. The population in Allston is primarily college students and young professionals, so there are lots of bars and restaurants.
Brighton, MA hotels
Marriott BonVoy loyalty program members will be happy to hear that Marriott recently opened up a NEW hotel in Boston, the AC Hotel by Marriott Boston Cleveland Circle.
The Cleveland Circle area is an excellent location within Brighton, with lots of restaurants and the Chestnut Hill Reservoir park, about a block away from the hotel.
For those of you that don't mind using public transportation and are looking to save a little bit of money, staying at this hotel would be a great choice. While you're technically still in Boston, you'll be on the outskirts.
The AC Hotel by Marriott Boston Cleveland Circle is located across the street from the Reservoir stop on the Green D line and the Cleveland Circle stop on the Green C line.
If you don't mind walking a bit further down Chestnut Hill Ave, the street the hotel is on, you can also access the Chestnut Hill Ave stop on the Green B line.
Another bonus to staying at this hotel is its close proximity to Boston College. So if you're coming to Boston for a BC game or graduation, this is THE best spot for you to stay.
Allston, MA hotels
If you'd prefer to be on the Allston side, I recommend looking into a stay at Hotel Studio Allston.
This funky spot is full of studio-like hotel rooms with a super modern decor. It's a big departure from the typical historical look-and-feel to many properties in Boston, which is a good thing in my opinion.
Hotel Studio Allston is located close to the Charles River, with large green space along the riverbank. Also nearby is Harvard Stadium and Harvard Business School (yep, technically both located in Allston, not Cambridge!!).
Lastly, one of my top recommended brunch spots in Boston, The Breakfast Club, is located about a block down from Hotel Studio Allston, on Western Ave.
Fenway Park and Kenmore Square
The Fenway and Kenmore area is home to historical Fenway Park, as well as Boston University.
If you're in the city for a Red Sox game or concert at Fenway Park, consider basing yourself here for convenience.
The Fenway-Kenmore neighborhood has a lot of top notch restaurants and bars, such as Eastern Standard, Lansdowne Pub, The Hawthorne, and Sweet Cheeks BBQ.
Oh, and there's a killer Target with a Miniluxe nail salon and Blackbird Donuts next door. <– Any guesses what my pre trip tradition is?
It's also a big transportation hub, as the Kenmore stop is where the branches on the Green line merge. Many of the bus routes also run through Kenmore.
Hotels near Fenway Park and Kenmore Square
One of my favorite hotels in Boston, The Verb Hotel, is located in Fenway, with a ton of great stuff nearby.
The hilarious thing is, The Verb Hotel was originally a Howard Johnson motel and it was uh, pretty dire, around the time I first moved here. It has since been completely remodeled into an upscale, yet affordable, lodging option.
The decor is super retro and bright, with lots of vintage-looking furniture, old concert posters as framed art, and record players in each room. Needless to say, it is wicked instagrammable.
Located in Kenmore Square, around the corner from Fenway Park and House of Blues Boston, is Hotel Commonwealth.
Given its location, Hotel Commonwealth is a top notch spot to book if you're in the city for a game or concert at Fenway, or show at House of Blues Boston.
Hotel Commonwealth is also a great spot if you're in town for events at Boston University (which originally owned this hotel!).
North End and Waterfront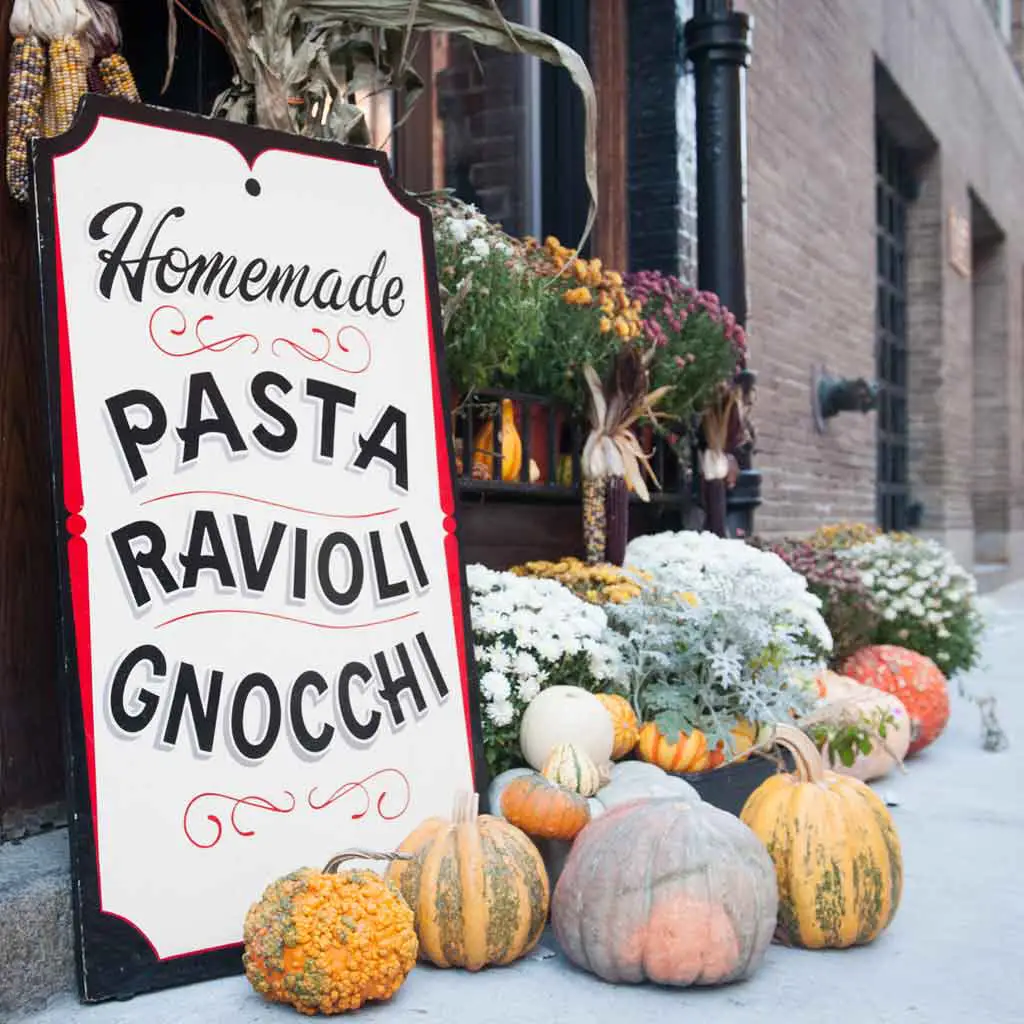 The North End is basically the "Little Italy" of Boston and also the city's oldest residential community.
This neighborhood is packed – and I mean PACKED, as it's very compact and tiny – with mom-and-pop style Italian restaurants and bakeries. There's also a handful of cafes and bars.
TIP: If you're a foodie, visiting the North End is a MUST DO! Before you go, check out my post about the best Italian restaurants in Boston.
While you can catch an AirBNB here and there in the North End, but not so much any hotels, more than likely you'll find better luck getting a good place to stay along the Waterfront.
The Waterfront is another small neighborhood that extends off the southeast corner of the North End.
The Waterfront neighborhood is where the New England Aquarium and Long Wharf (Tall Ships, ferry to the Boston Harbor Islands, whale watch tours) are located.
Also nearby is the Faneuil Hall area, where there are a TON of restaurants and shops, both local and chain.
Hotels near North End and the Waterfront
Located across from the New England Aquarium is the Harborside Inn, a boutique hotel built in a former warehouse.
Despite being a boutique hotel, pricing for a stay at the Harborside Inn is regularly lower than most options in the immediate area.
The Harborside Inn claims its pricing is usually 20% less than other properties in the area, but to be frank, I often see it discounted even more than 20%! It's a great steal, especially if you enjoy staying in well-designed boutique properties.
One of the most interesting places to stay in Boston is onboard the Liberty Fleet of Tall Ships. Yes, you read that right: a ship!
If this option sounds familiar, you're either well-versed in Boston history OR you've already hit up my post on my 10 best tips on visiting Boston on a budget.
The lodging on the Tall Ships is considered a hostel, so it's super budget-friendly. The only downside is that you have to leave the ship from 10:30 am – 8pm, as they run cruises during the day.
Seaport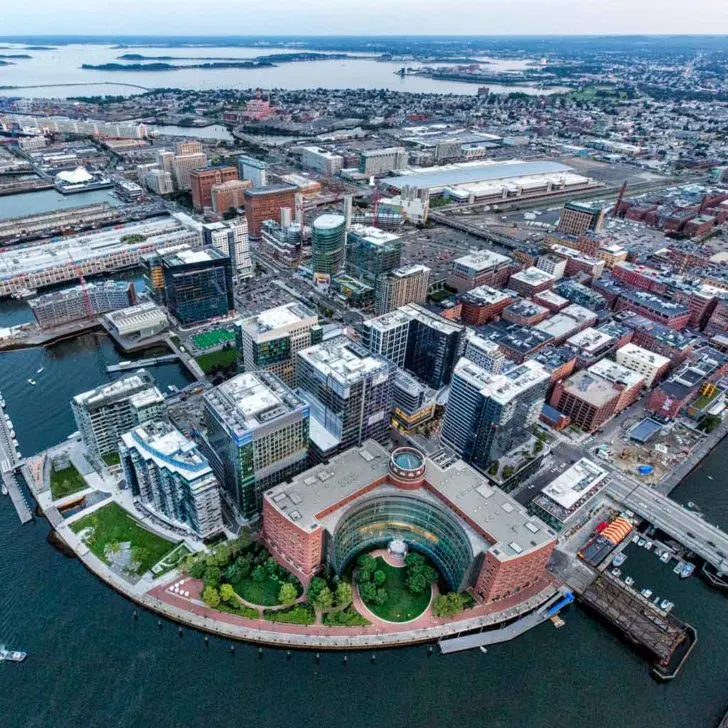 The Seaport is an old neighborhood going through a major resurgence at the moment.
Lots of startups are flocking to this area, which has resulted in new apartment complexes and super instagram friendly restaurants and bars.
I'm hoping that all of the work going on will mean better public transportation options in the Seaport area.
While there is a T stop in the Seaport area, it's along the Silver line, which is technically just a bus that you can catch from the airport or South Station stop on the Red line.
Thanks to revival going on in the Seaport, there's so much more to do in this neighborhood: Harpoon Brewery, Fan Pier Park, The Lawn on D, Institute of Contemporary Art museum, Showplace Icon movie theater, and King's bowling alley are just a few of the stellar options available.
So if you don't mind making a few transfers on the T to see what's outside of the Seaport, or don't mind hoofing it from South Station on the Red line or World Trade Center on the Silver line, the Seaport can be a great spot to stay.
Hotels in Seaport District
YOTEL Boston specializes in super efficient rooms inspired by Japan's capsule hotels.
While their rooms are most definitely not on par with the coffin-like capsule hotel rooms in Japan, the rooms at YOTEL are small.
To be honest, though, the stellar design makes you forget that they are smaller than the typical hotel.
What I love most about YOTEL Boston is its integration with LOTS of fun technology to make your stay super easy and pleasant.
For example, check-in is done via kiosks and concierge service is available via a mobile app. There's even a resident robot. FUN!
Another good hotel in the Seaport District is Element Boston Seaport District.
I first learned of Marriott's Element brand when I visited Ubud, Bali in Indonesia in 2018, so I was excited to see they had a location in my hometown, as well!
The Element hotels in general focus on sustainability and eco-friendly design. At the Element in Seaport, for example, you can borrow bicycles to get around the city and take a dip in an all-natural saline pool.
Hotels Outside of Boston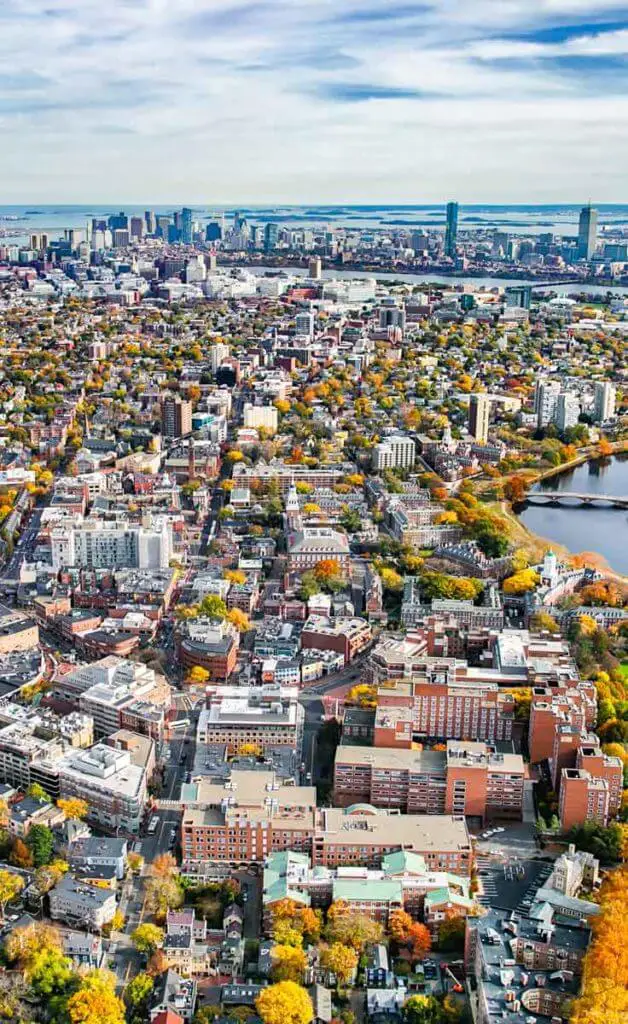 I've seen time and time again the not-so-great advice to stay in Boston's suburbs to save money. And yes, sometimes doing so can save you money, but usually not all that much.
Staying in the suburbs adds a big commute to get to where you really want to be, so you'll just end up missing out on doing more.
There are plenty of affordable options within Boston proper, so there's no need to waste precious vacation time by staying in the Metro area.
That said, there are 2 suburbs that are close enough that you won't be bogged down by a commute and might save a little bit in the process.
Brookline, MA
Brookline was once home to Boston's former sports royal couple, Tom Brady and Gisselle Bündchen. I lived in Brookline for few years, and am now in nearby Brighton.
It's a lovely town with massive houses and lots of rich people. But, don't let that shy you away from staying in Brookline.
There are a few good lodging options in Brookline, as well as a super cute neighborhood with good restaurants and bars called Coolidge Corner.
Two places I highly recommend in Coolidge Corner are one of my favorite brunch spots in Boston, Zaftig's, and one of my favorite spots for dessert in Boston, JP Licks.
Hotels in Brookline, MA
A handful of the mansions in Brookline have been converted into charming inns and bed & breakfast properties. I highly recommend a stay at the Samuel Sewall Inn.
A stay at this lovely Victorian home-turned-inn includes a homemade breakfast, as well as treats like fresh baked cookies throughout the day.
It's perfectly located a block away from the Saint Paul Street stop on the Green C line. Within walking distance is Trader Joe's, Brookline Booksmith, and the Coolidge Corner Theater, which shows lots of independent films.
Tucked behind a few shops Coolidge Corner is a Courtyard Marriott hotel. If you prefer larger lodging options with more amenities, the Courtyard Marriott Boston-Brookline is your best option in Brookline.
The Courtyard Marriott is not to far from the Samuel Sewall Inn, so staying here will still give you access to the variety of restaurants and things to do in Coolidge Corner.
The closest T stop for this hotel, is Coolidge Corner on the Green C line.
Cambridge, MA
Cambridge is right across the Charles River and connected to the Red line on Boston's T (aka subway system).
Not all of Cambridge is well-connected to the T, but you can find plenty of nice places to stay within walking distance of a T station. Not to mention, there's a lot of fun things to do in Cambridge, too!
Cambridge is home to the Massachusetts Institute of Technology (MIT) and Harvard University, 2 top universities in the USA.
These 2 powerhouse schools are a big reason why the Boston area is often referred to as a college town, as well as why it has a reputation as a top-notch medical and tech community.
Also in Cambridge is the American Repertory Theater (A.R.T.), which puts on a variety of unique shows, like The Donkey Show and Powerstrip.
Hotels in Cambridge, MA
If you decide to stay in Cambridge, The Kendall Hotel is pretty cool spot to go with.
The Kendall Hotel is located in Kendall Square, less than a block from the Kendall T stop on the Red line and next door to the MIT campus.
The Kendall Hotel was originally a firehouse. Various touches throughout the hotel play on this theme, but not to a point that it's overdone or kitschy.
All guests at The Kendall Hotel get free WiFi, free daily breakfast buffet, a wine happy hour, and access to a local gym.
Another alternative in Cambridge is the Hyatt Regency Cambridge.
Yes, another chain hotel. Let's be honest: affordable travel often involves travel hacking. And travel hacking often relies on loyalty programs with big travel brands.
Aside from the travel hacking perks of staying in a big chain hotel, is the location. This massive hotel sits along the riverbank of the Charles River, looking out to the Boston skyline. The view is just stunning and can't be beat, especially at sunrise.
Where is your favorite place to stay in Boston?
I'd love to hear how your vacation in Boston went, especially where you stayed! Let me know in the comments below.
Check out the posts below for more Boston travel tips:
---
About the author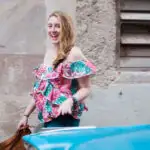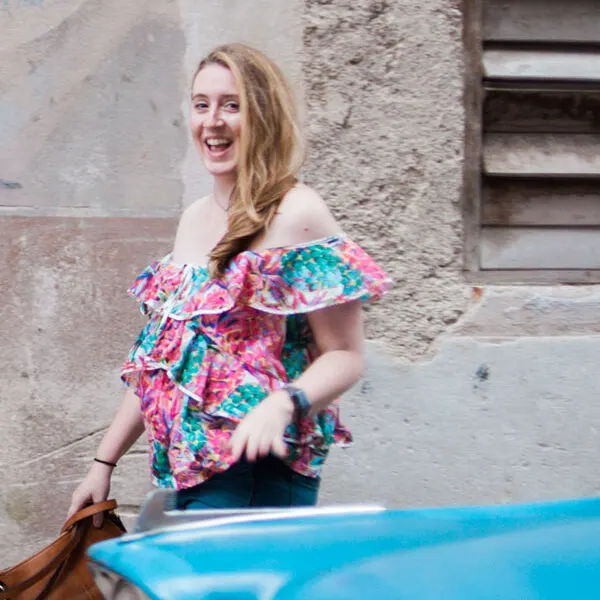 Meg Frost is a Boston-based travel blogger that helps people embrace technology to make vacation planning and traveling wicked easy, affordable, and fun.
She holds an M.A. in Journalism from Northeastern University and B.S. in Communication & American Studies from University of Miami.
---
This post was originally published on May 9, 2016. It was most recently updated on August 8, 2019.