As much as I love my home city of Boston, MA, getting out of the city is always welcome. Luckily there are TONS of fun day trips from Boston available.
Check out these 37 delightful day trips from Boston for ideas on what you can do when you want to explore the rest of New England.
Boston Harbor Islands National and State Park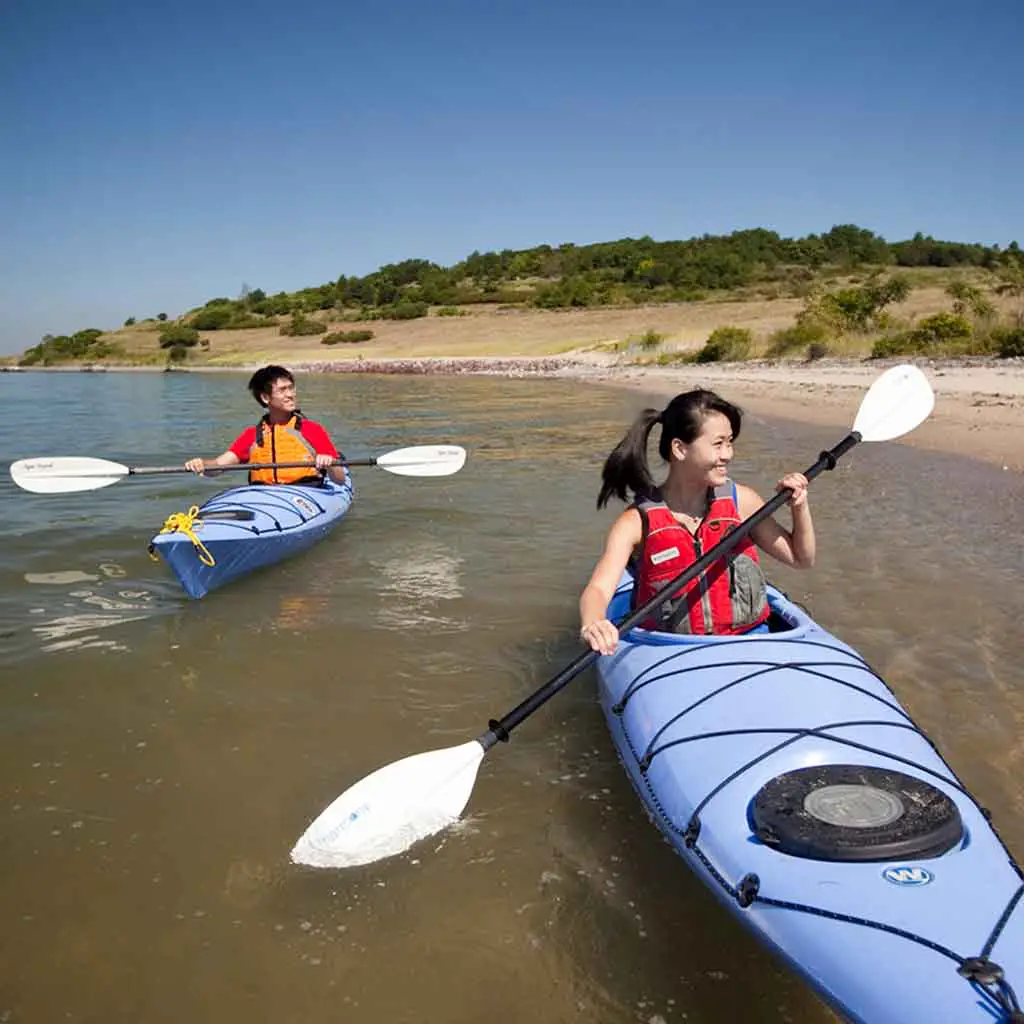 Boston Harbor Islands National & State Park is comprised of over 30 islands and peninsulas.
While some of the islands are technically still part of Boston proper, it's very much a step out of the city life, so I had to include it as a day trip from Boston!
Make your way to Georges Island to visit Fort Warren, a Civil War era fortress open to the public.
Or perhaps head to Brewster Island to tour the oldest lighthouse in the US.
Hiking, nature walks, boating, fishing, bird watching, and relaxing on the beach are popular activities for a day trip to Boston Harbor Islands National & State Park.
A few of the islands also offer camping (note: NOT glamping or modern camping!).
Ferry service to most islands is available at the dock next to the New England Aquarium from late Spring to mid Fall.
Fares are reasonable, ranging from free to less than $20, depending on whether you're an adult, student, member of the military, and so on.
For more information about ferry service, check out the BHI website.
deCordova Sculpture Park and Museum
Location: 51 Sandy Pond Rd, Lincoln, MA
Phone: (781) 259-8355
I have a special place in my heart for sculpture gardens because they combine my love of weird art and the great outdoors.
One of the best sculpture parks near Boston is the deCordova Sculpture Park and Museum, with more than 60 sculptures spread out over 30 acres. The museum itself holds over 3400 works of art.
The sculptures and artwork at the deCordova Sculpture Park rotate out, so chances are high that repeat visits will be a new experience each time.
Forest Park in Springfield, MA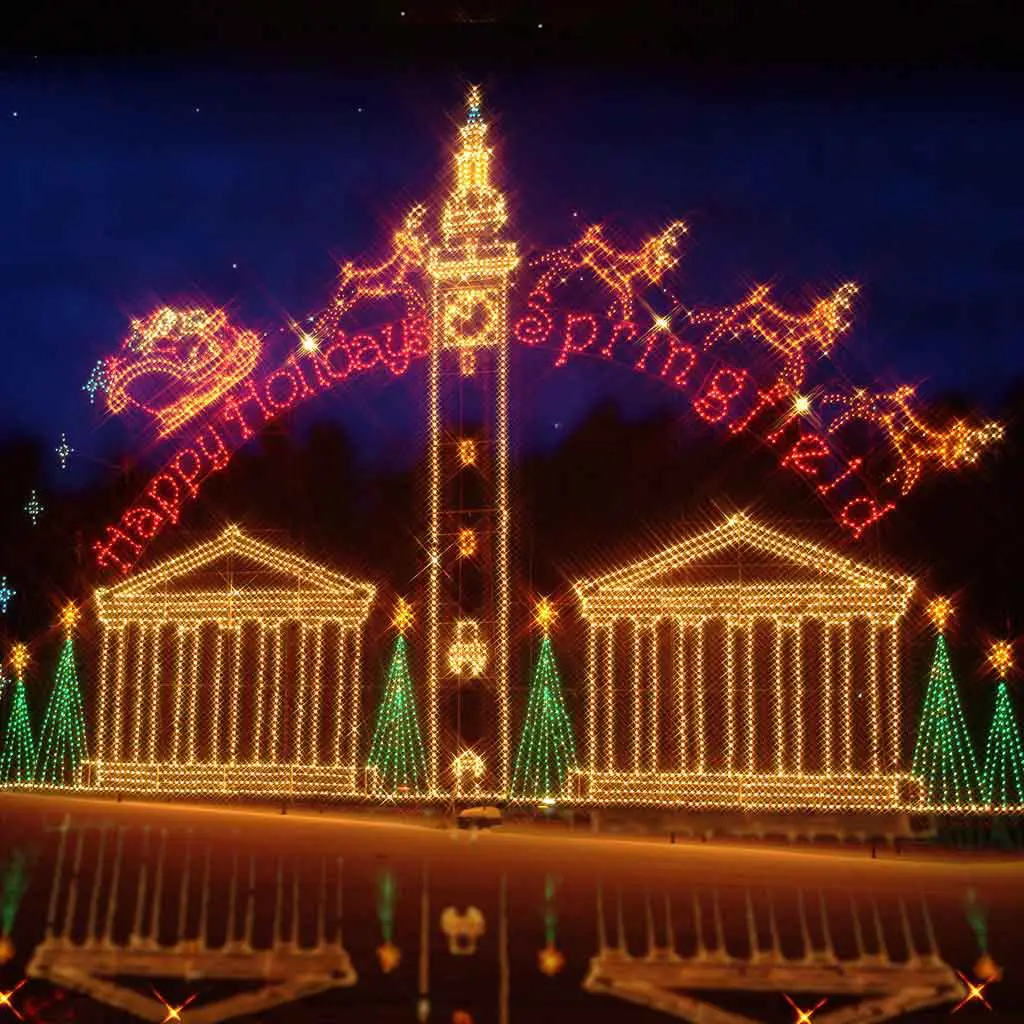 Forest Park, one of the largest city parks in the US, is another fun place to hangout.
There are several playgrounds, a public pool, sports fields, a rose garden, duck ponds, easy hiking trails, and more.
During the Winter holiday season, Forest Park is transformed into Bright Nights, a nighttime drive-thru attraction with lights displays depicting pop culture figures, winter scenery, local companies, and pop culture icons.
Foxwoods Casino & Resort
Location: 350 Trolley Line Blvd, Mashantucket, CT
Phone: 1-800-FOXWOODS
Foxwoods Casino is known for its nightlife options, but also has a softer side with a spa and a golf course.
The variety of activities available at Foxwoods makes it a great destination for group day trips from Boston for celebrations such as bachelorette parties or girls' getaways.
Oh and before I forget – they have their own outlet mall. An entire outlet mall! Who doesn't love shopping at a discount?
Freeport, Maine
Freeport has outlet shops set amid a quaint New England backdrop about 2 hours north of Boston.
It is also home to the flagship store for preppy outdoor brand, L.L. Bean, maker of the über popular duck boot gracing every New Englander's feet in the colder months.
Gillette Stadium & Patriot Place
Location: 1 Patriot Pl, Foxborough, MA
Phone: (508) 543-8200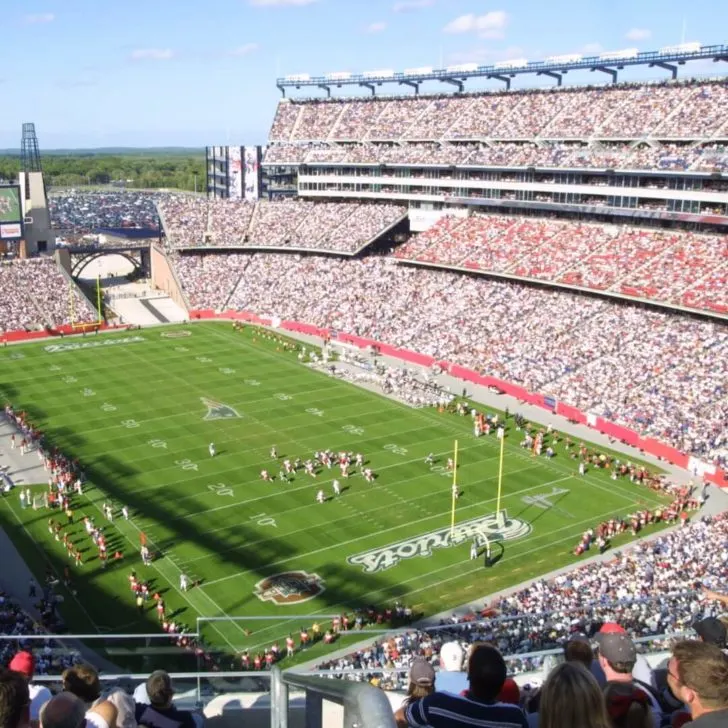 Boston is NUTS for sports, especially when it comes to the New England Patriots, who play at Gillette Stadium.
Do yourself a favor and make it to at least one game if you're here during NFL football season, which takes place between September and December. To see when the next game is, check out the New England Patriots schedule.
Not a football fan? Right next to Gillette Stadium is Patriot Place, which is packed with shopping, restaurants, and entertainment.
The fun also includes Splitsville Luxury Lanes bowling, Howl at the Moon piano bar, and a TopGolf Swing Suite.
Hampton Beach, NH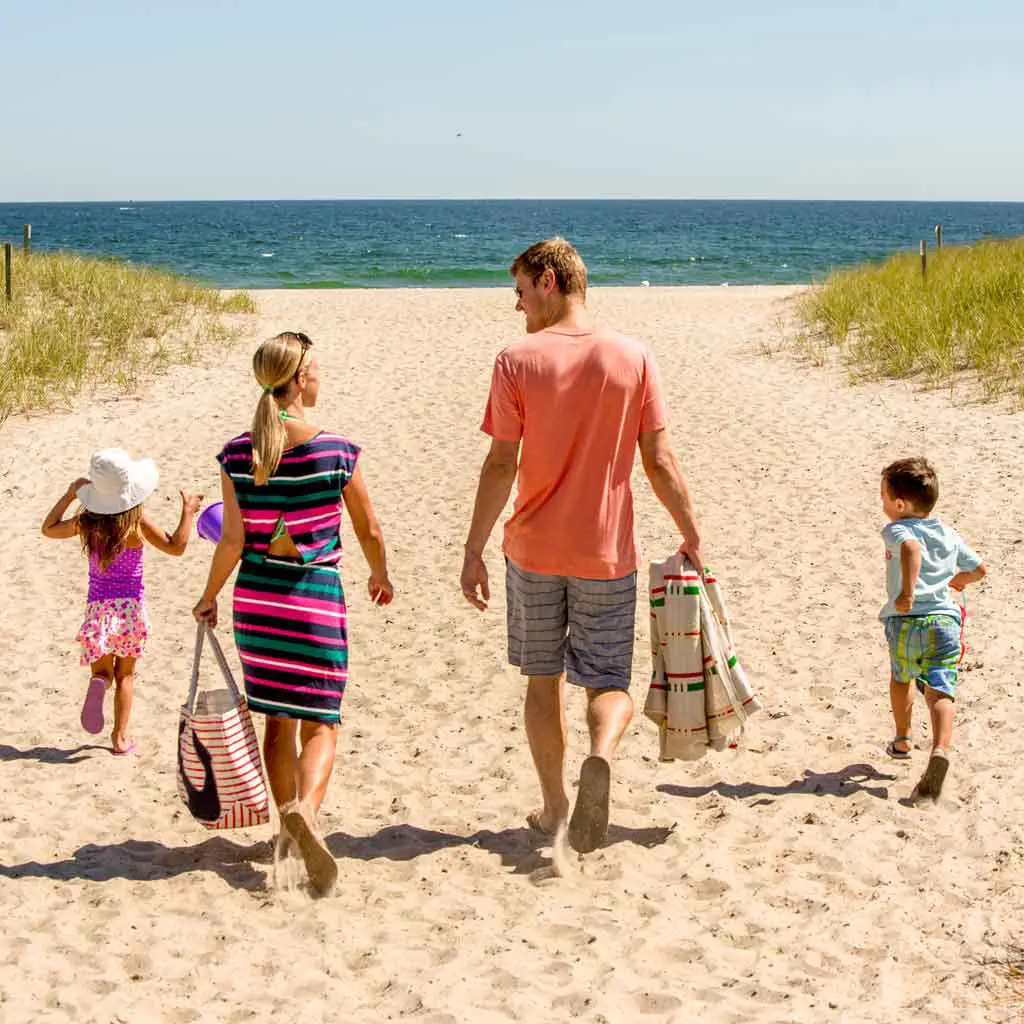 New Hampshire doesn't have much coastline, but what little exists is a popular spot for day trips from Boston. Hampton Beach, about 1 hour north, is the most popular.
Aside from the obvious benefits (sand, sun & water), Hampton Beach holds 2 popular events each year, the Hampton Beach Seafood Festival and the Hampton Beach Sand Sculpture Competition.
Hampton Beach also has a fireworks display every Wednesday evening during the Summer months.
Crane Beach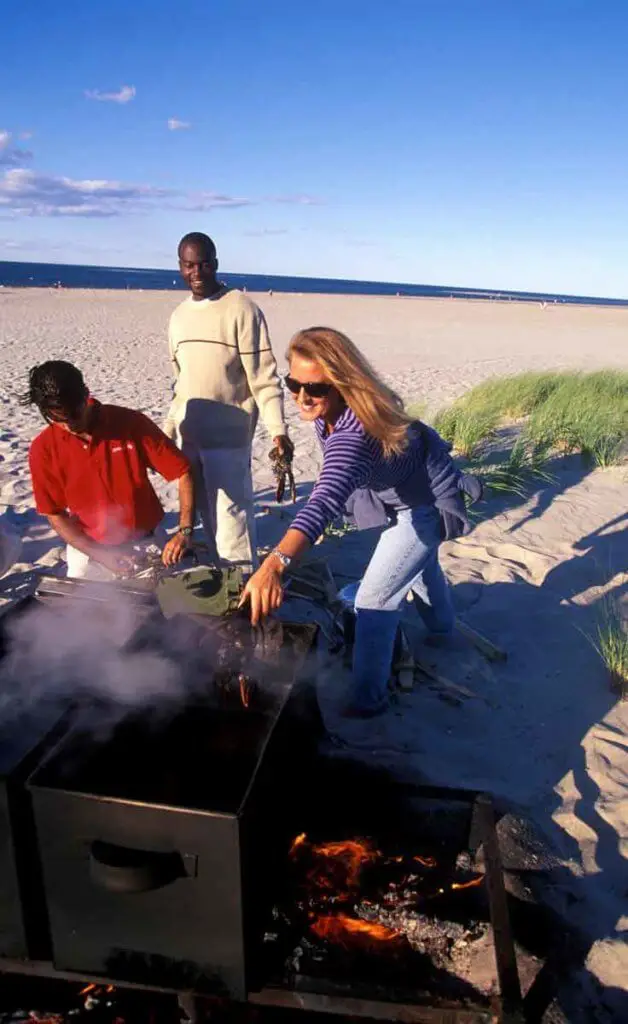 Want to hit the beach but don't want to deal with Boston-area traffic? Crane Beach in Ipswich, MA is easily accessible by public transport.
Take the MBTA Commuter Rail Newburyport line to Ipswich, then hop on board the Ipswich Essex Explorer shuttle to Crane Beach.
Getting to Crane Beach without a car is super convenient, not to mention cheap!
The Kittery Outlets
Growing up, I spent a lot of my school vacations in Bar Harbor, Maine.
The Kittery Outlets are located on the border of Maine and Massachusetts, so we'd often stop off on our way home to do some shopping.
The outlets are not in a single complex, which can be annoying since that makes it less walkable, but they are at least congregated to the same area.
Nonetheless, The Kittery Outlets always has good deals, so it's worth the stop.
A few popular shops and outlets in Kittery include:
Calvin Klein
Coach
J.Crew Factory & Crew Cuts
Kate Spade New York
Lululemon athletica
Nike Factory Store
For a complete list of shops, outlets, and restaurants in Kittery, check out this link.
Lake Winnipesaukee, NH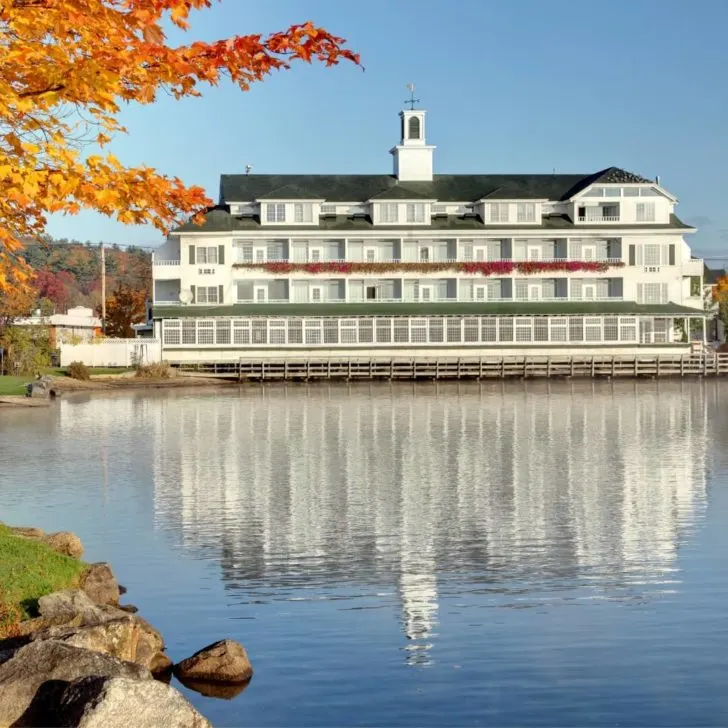 Lake Winnipesaukee is a popular vacation and day trip destination for families.
There are many towns surrounding the lake, located in central New Hampshire, but Gilford and Laconia are probably the easiest to get to from Boston.
Aside from the typical beach and lake recreation, there are tons of family-friendly activities available, such as go-karting, zip lining, a tie dye activity shop, and the NH Motor Speedway.
You might like: The Ultimate Guide to New Hampshire in the Fall
Lizzie Borden's House
Location: 230 Second St, Fall River, MA
Phone: (508) 675-7333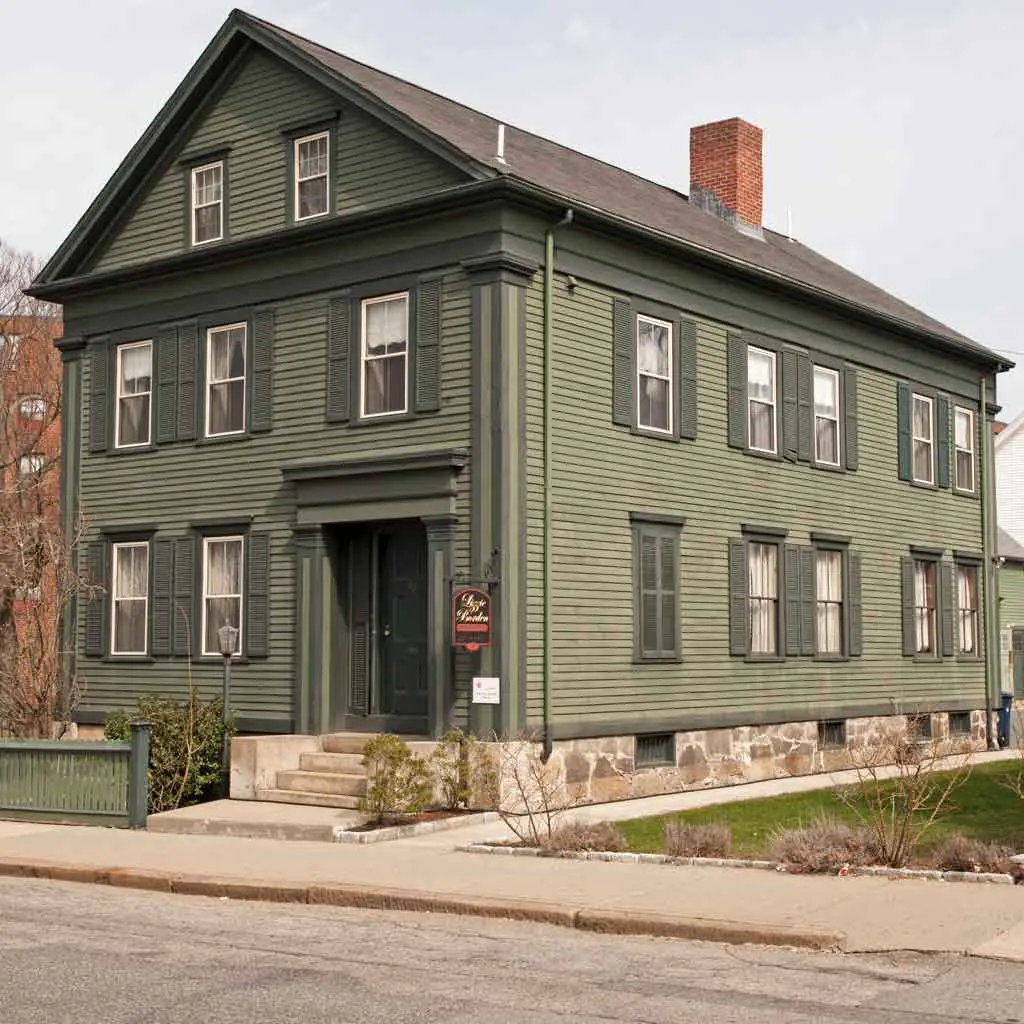 Fans of true life crime stories should hit up Fall River, MA, home of alleged murderer, Lizzie Borden.
Legend has it that Lizzie murdered her father and stepmother with an axe, but famously got away with it.
You can stay in the house where it all happened, as it now serves as a museum and bed and breakfast. Fall River is about 1 hour outside of Boston.
Singing Beach
Location: 121 Beach St, Manchester-by-the-Sea, MA
Phone: (978) 526-2019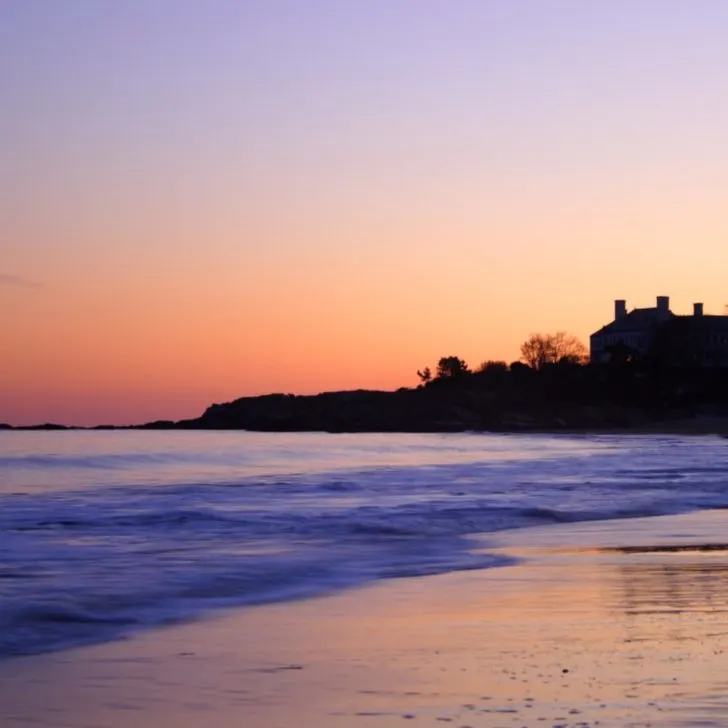 Singing Beach is a super family-friendly beach with sand that squeaks when you walk on it, hence its name. It is one of my favorite beaches in Massachusetts.
Accessing the beach can be a bit tricky, but works as follows:
During peak season (Memorial Day through Labor Day), parking is very limited for non-residents. In fact until about mid-June, non-residents can't park in the official lot at all!
From mid-June through the end of peak season, non-residents can park in the official lot for $30 during the weekdays, except on holidays.
Non-residents can always park nearby the train station, where spots are sold by the local Boy Scouts for $25. That said, you still need to pay to enter the beach, which is $10 daily or $35 for a season pass. People over the age of 65 are free.
Prices based on 2023 rates.
Martha's Vineyard, MA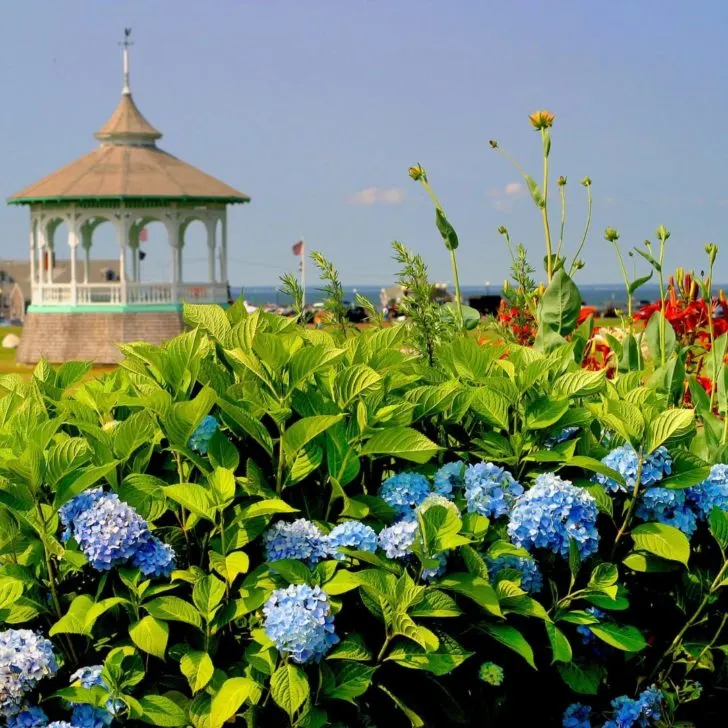 Originally called Noepe by the Wampanoag indigenous people, this small island off the coast of Cape Cod is known today as a beach vacation destination.
If you're coming from the Boston area, you can turn it into a day trip, though! Pop over for the day to lounge at one of the beaches, explore the small shops, and get homemade ice cream.
Martha's Vineyard can be accessed by ferry or plane. You can find more info in my post about getting from Boston to Cape Cod and the islands.
Minute Man National Park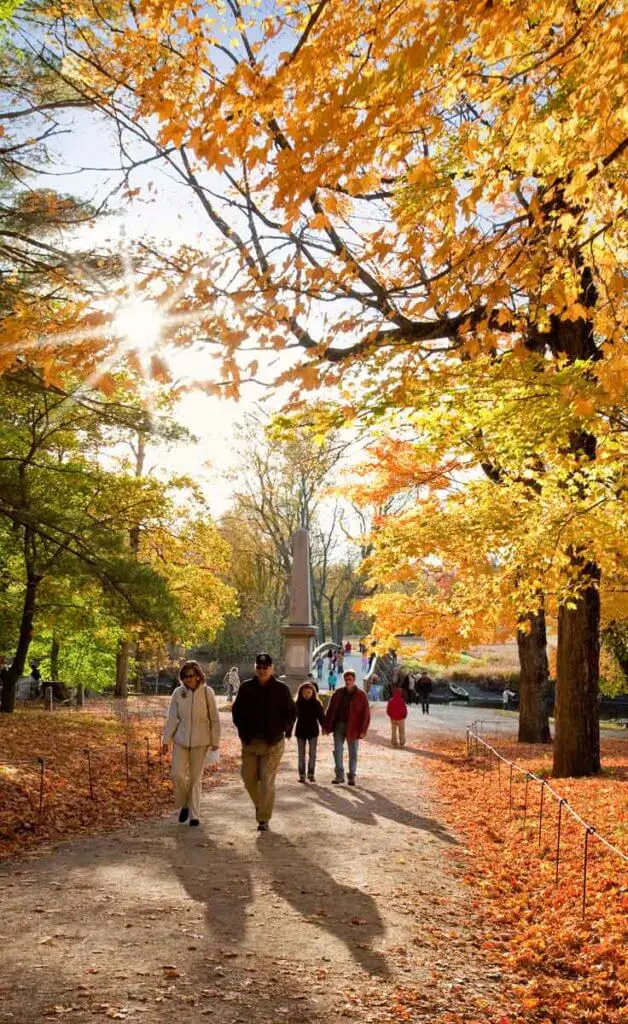 If you are interested in studying the Revolutionary War, head to Concord or Lexington, MA. Both towns, along with Lincoln, MA, are home to Minute Man National Historical Park.
Minute Man National Historical Park is a nationally protected park that includes the site of the Battle of Lexington.
You can also walk the 5-mile Battle Road Trail between Concord and Lexington. I recommend visiting between Spring and Fall to take advantage of the living history program to help learn the story of this important site of the Revolutionary War.
Also of interest in Concord are the tombs of many famous authors, such as Louisa May Alcott, Ralph Waldo Emerson, Nathaniel Hawthorne, and Henry David Thoreau. All of these authors are buried at Sleepy Hollow Cemetery in Concord.
You can also visit The Wayside, which was once home to Louisa May Alcott and Nathaniel Hawthorne, at separate times.
Interested in more military history travel? Check out these destinations, all in the USA.
MGM Springfield
Location: 1 MGM Way, Springfield, MA
Phone: (413) 273-5000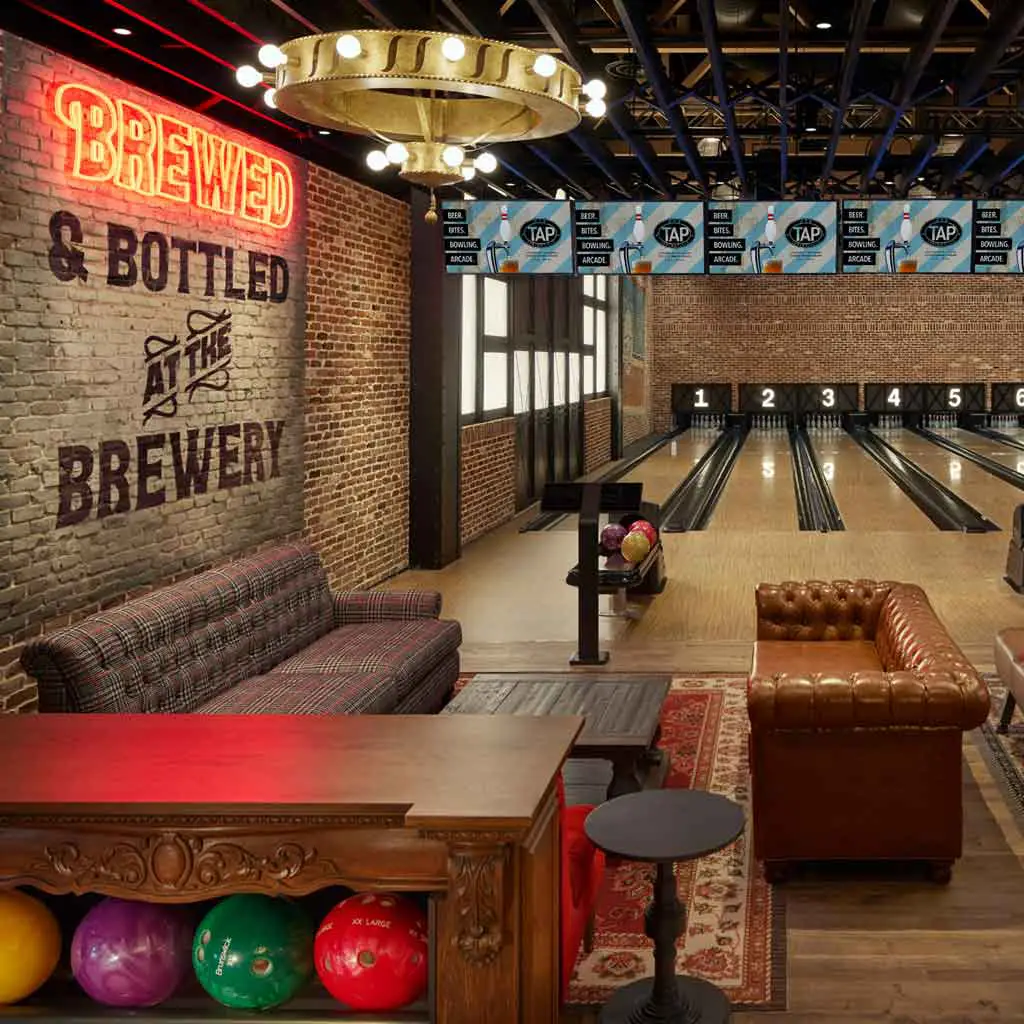 In 2018, MGM opened its newest casino resort, MGM Springfield.
MGM Springfield is home to a casino, venue hall, bars, restaurants, bowling lanes, and a luxury movie theater. It also has a nice hotel attached, so you can make a weekend trip out of it!
Mohegan Sun Casino
Location: 1 Mohegan Sun Blvd, Uncasville, CT
Phone: (888) 226-7711
Mohegan Sun is often rated by many as the top casino in the US. While I'm not a frequent traveler to casinos, I can definitely see why it tops many peoples' list.
Mohegan Sun is known for its amazing entertainment schedule, with concerts featuring popular acts, a comedy club, and theater shows, such as Cirque du Soleil.
They also have a golf course, 2 arcades (including 1 for kids under 12), an indoor go kart track, and a trampoline park.
If that's not all, they also own a WNBA team, the Connecticut Sun, which plays at their own sports arena. Connecticut's professional lacrosse team, the Black Wolves, also plays at the Mohegan Sun Arena.
Another reason to love Mohegan Sun is its variety of restaurants, bars, nightclubs, and shops.
My top pick is Connecticut's favorite pizza establishment, Frank Pepe's, which serves the most amazing pizza with super fresh ingredients!
Mount Tom State Reservation
Location: 125 Reservation Rd, Holyoke, MA
Phone: (413) 534-1186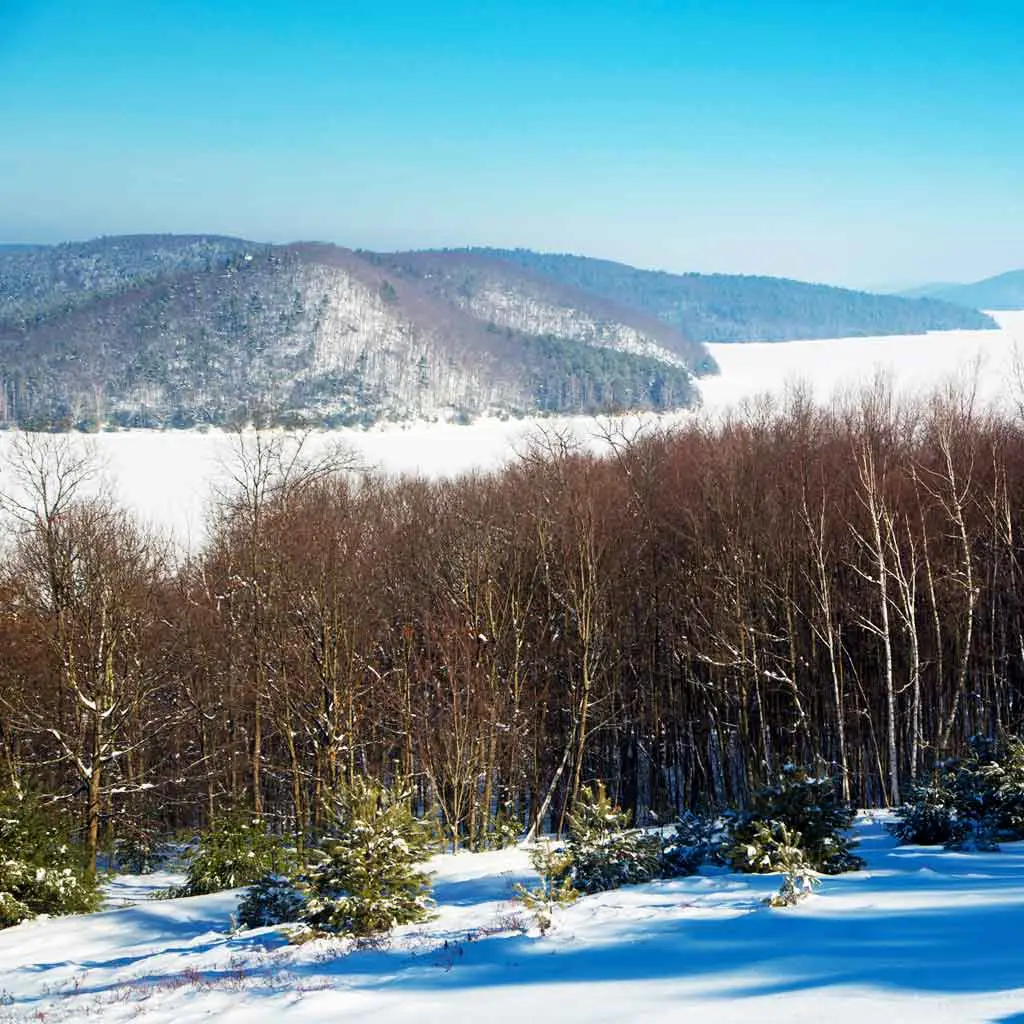 During my childhood, Mount Tom was a local place to go skiing when you were too lazy to drive to Vermont.
These days the ski resort is permanently closed, but the broader area, Mount Tom State Reservation, is still a popular place for cross country skiing, hiking, and mountain biking.
Mount Tom State Reservation also includes a playground, picnic tables, grills, and covered pavilions.
Naismith Memorial Basketball Hall of Fame
Location: 100 Hall of Fame Ave, Springfield, MA
Phone: (877) 446-6752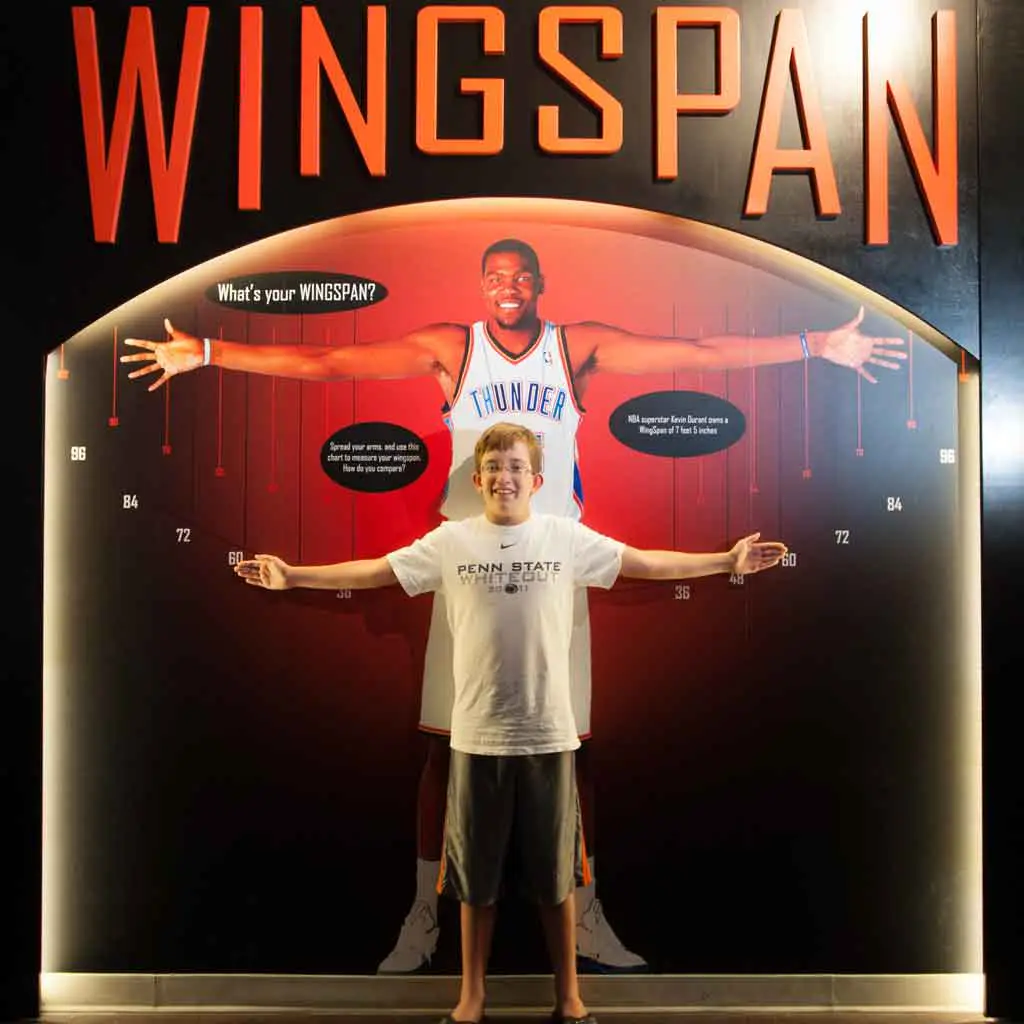 Did you know that basketball was invented in Springfield, MA?
Yep, it totally was! James Naismith, a Canadian teacher, invented it while teaching in this small New England city in western Massachusetts.
Given the history, the biggest year-round attraction in Springfield is the Naismith Memorial Basketball Hall of Fame, located right off of Interstate 91.
Nearby are a variety of restaurants, as well as several hotels if you'd like to stay the night.
Newport, RI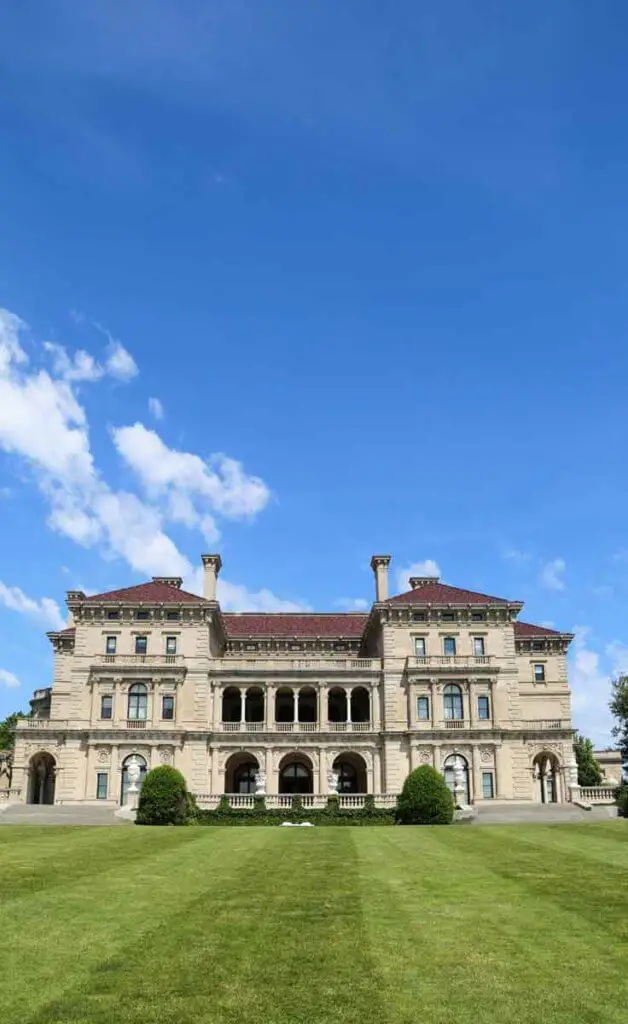 Newport is a small town on the coast of Rhode Island. It is well-known for its historic mansions, many of which are open to the public for a guided tour. They are absolutely astounding!
It also has several nice beaches, though some are quite loud thanks to the day clubs at a few of the on-shore bars. So if you're looking for a beach day, I recommend other areas in New England if the club scene is not for you.
Northampton, MA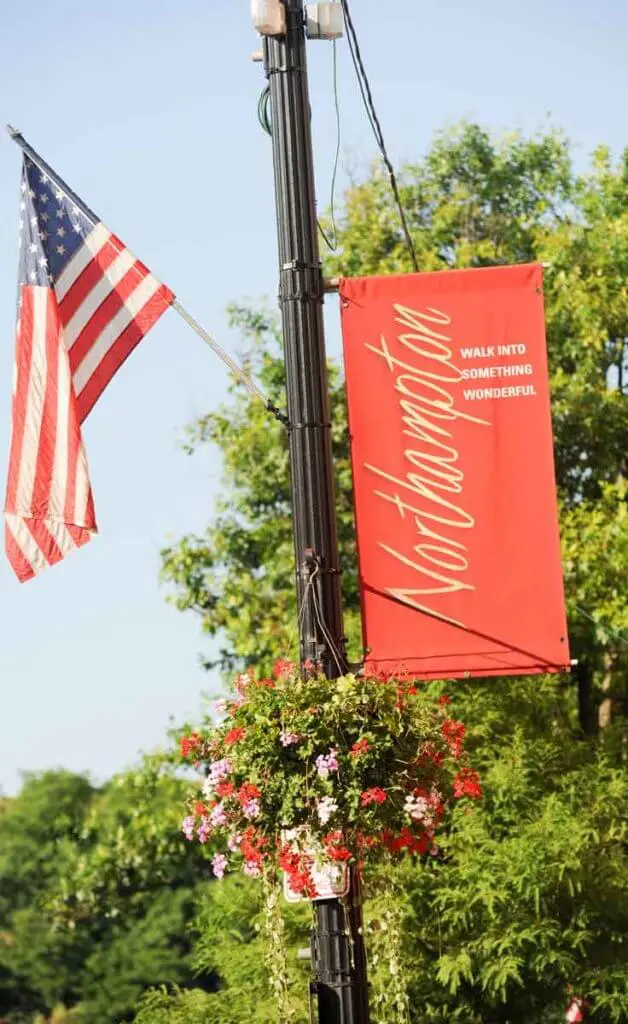 Northampton is a funky town in western Massachusetts known for its arts scene, as well as its thriving LGBT community.
It is home to the Northampton Independent Film Festival, the Calvin Coolidge Presidential Library & Museum, multiple art galleries, and indie music halls.
While you're there, be sure to stop by Ben & Bill's Chocolate Emporium, my favorite New England-based candy shop. I recommend the chocolate covered Oreos and chocolate covered fresh fruit (if they have 'em!).
Old Orchard Beach, ME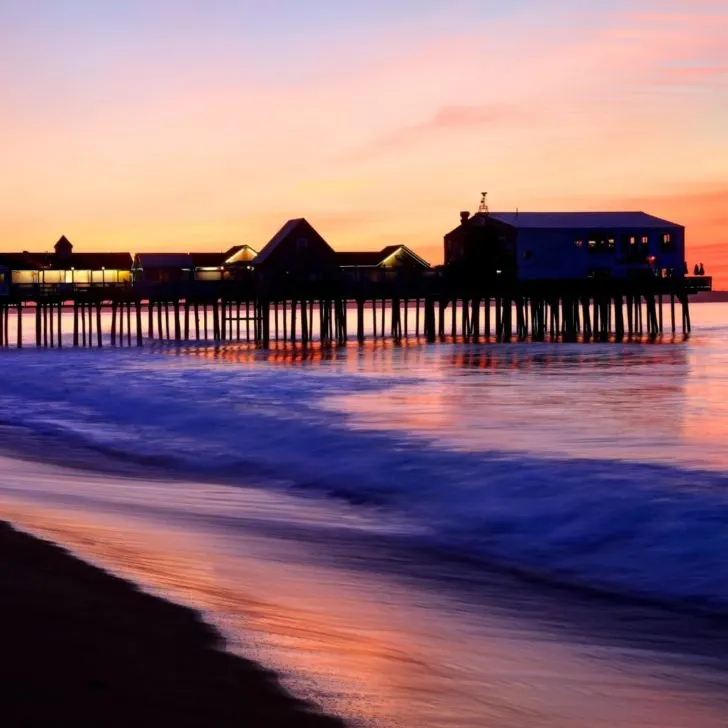 Old Orchard Beach is coastal town in southern Maine that is a popular spot for a beach day trip outside of Massachusetts.
The beaches in Old Orchard Beach can be quite busy during the summer, but there are lots of fun activities nearby, like Pirates Cove Adventure mini golf and a small amusement park.
Old Sturbridge Village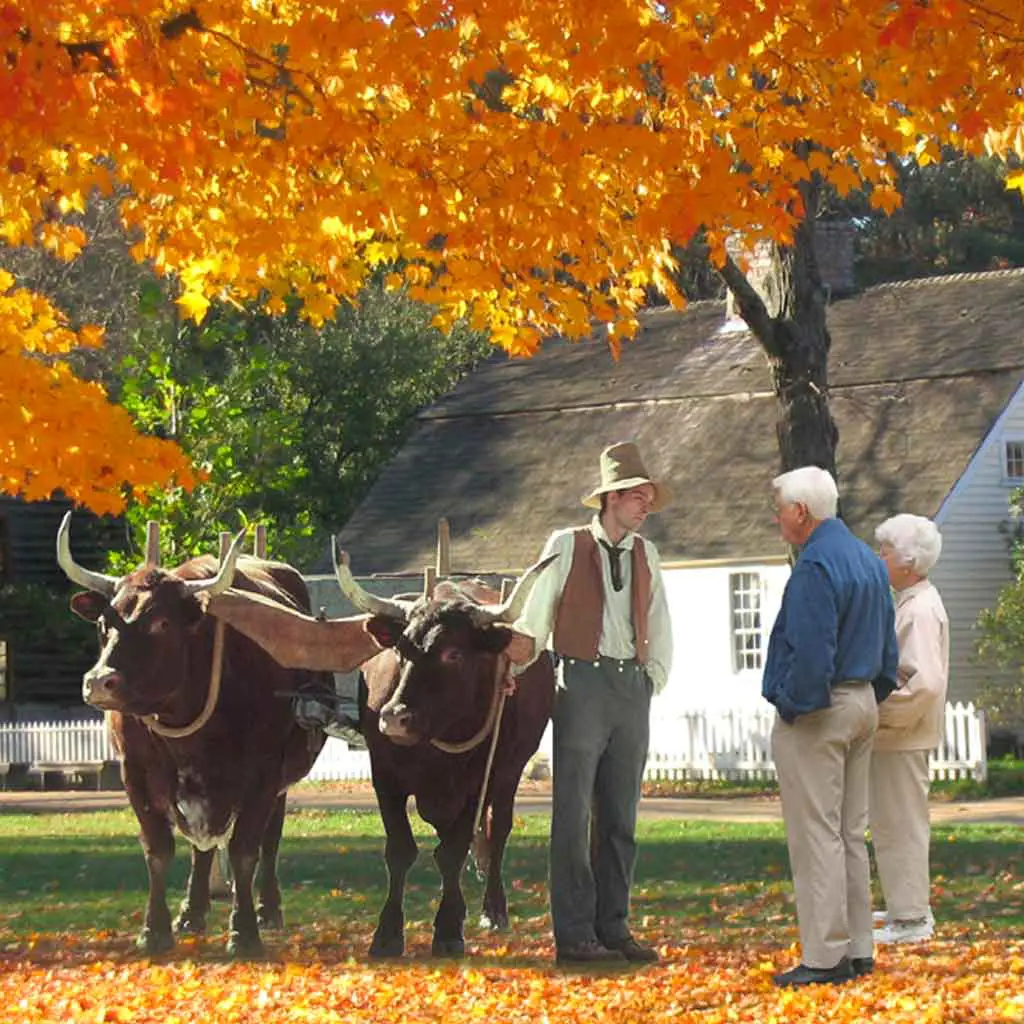 Sturbridge, MA is a teeny tiny town in Massachusetts, but it is a place I visited many times growing up.
This is thanks to Old Sturbridge Village, a living history museum that depicts life in New England in the 1830s.
At Old Sturbridge Village, you can see replicas of homes, businesses, churches, and even a farm from the early 1800s.
Live demonstrations are another highlight at Old Sturbridge Village. Demonstrations include shoemaking, cabinet making, printing, musket firing, and much more.
Lastly, Old Sturbridge Village has several pretty nature trails for exploring. River boat horse-drawn carriage rides are also available.
Plimouth Patuxet Museums
Location: 137 Warrent Ave, Plymouth, MA
Phone: (508) 746-1622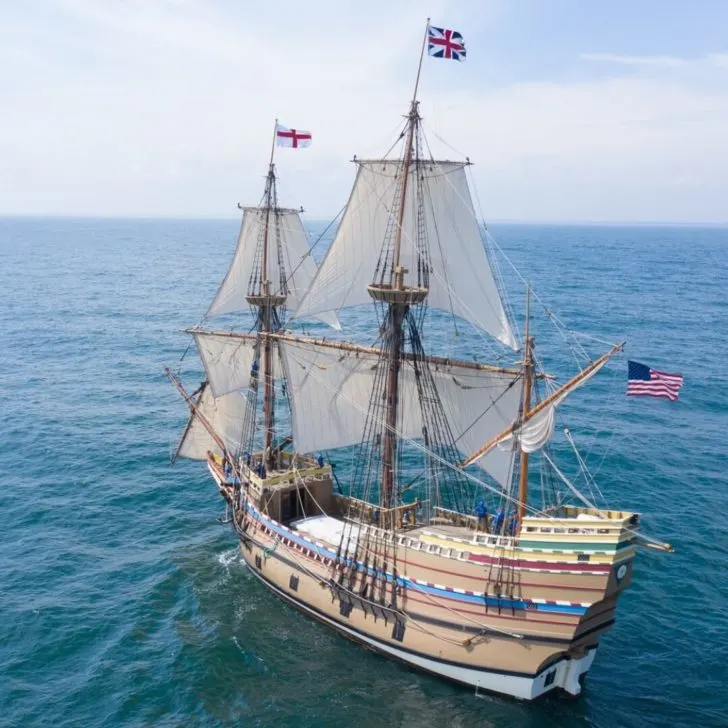 Previously known as Plimoth Plantation, Plimoth Patuxet Museums is a Smithsonian-affiliated collection of living history museums that depict indigenous and early colonial life.
The museums include:
17th Century Craft Center
17th Century English Village
Historic Patuxet
Mayflower II
Plimoth Grist Mill
At the 17th-Century Craft Center, you can learn about herbal remedies and crafts, such as pottery, from the early settlements.
The 17th-Century English Village is a recreation of Plymouth Colony that includes live actors who immerse you into the times.
Historic Patuxet is where you can learn about the indigenous people of the area, most notably the Wompanoag peoples. You can see a wetu, or house, canoe-making and cooking demonstrations, and more.
Mayflower II is a life-sized replica of the ship carrying English settlers in the 1600s. The replica was built in 1957, but restored in 2020. It was also added to the National Register of Historic Places in 2020.
Lastly, the Plimoth Grist Mill is a reconstruction of the original mill the Plymouth settlers used all the way back in 1636. The mill is still used today to create cornmeal, flour, grits, and other grains.
Admission is grouped into 3 options: Plimoth Patuxet (Craft Center, English Village, and Historic Patuxet), Mayflower II, and Plimoth Grist Mill.
A variety of ticket combos are available, so it is best to visit the Plimoth Patuxet Museums website for ticket info, including pricing.
NOTE: The Plimoth Patuxet Museums are closed during the winter season.
Plum Island's Parker River National Wildlife Refuge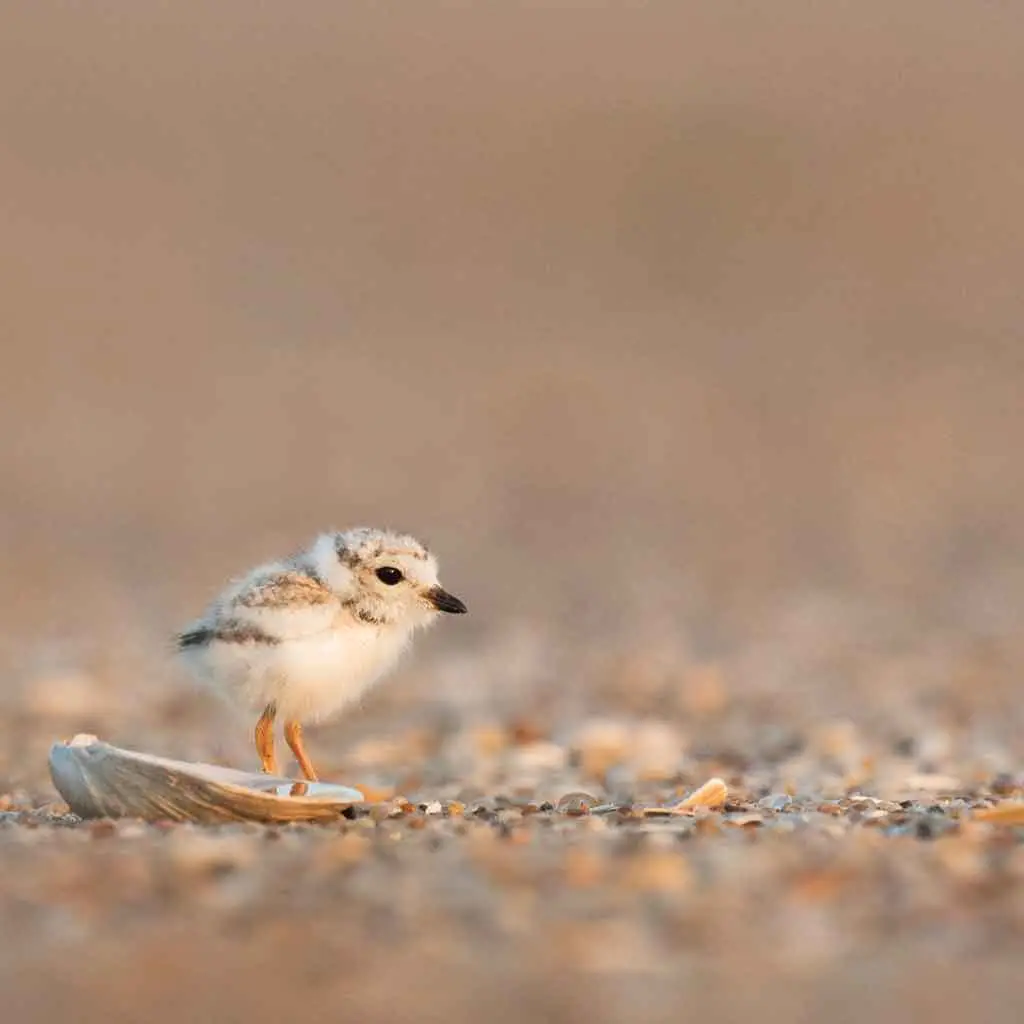 Plum Island is a small island off the coast of Newburyport, MA on the north shore area of metro Boston. Located on Plum Island is the Parker River National Wildlife Refuge, over 4600 acres of conservation land.
Parker River National Wildlife Refuge is a popular spot for birdwatching. Over 300 species of birds can be found there, such as piping plovers, saltmarsh sparrows, and blue herons.
As this is a national wildlife refuge, it is part of the US National Park network and your America the Beautiful Pass can be used for admission.
Otherwise, admission is $5 per car or $2 per bicycle. Season passes that cover entry for only the refuge are available for $20.
Portland, ME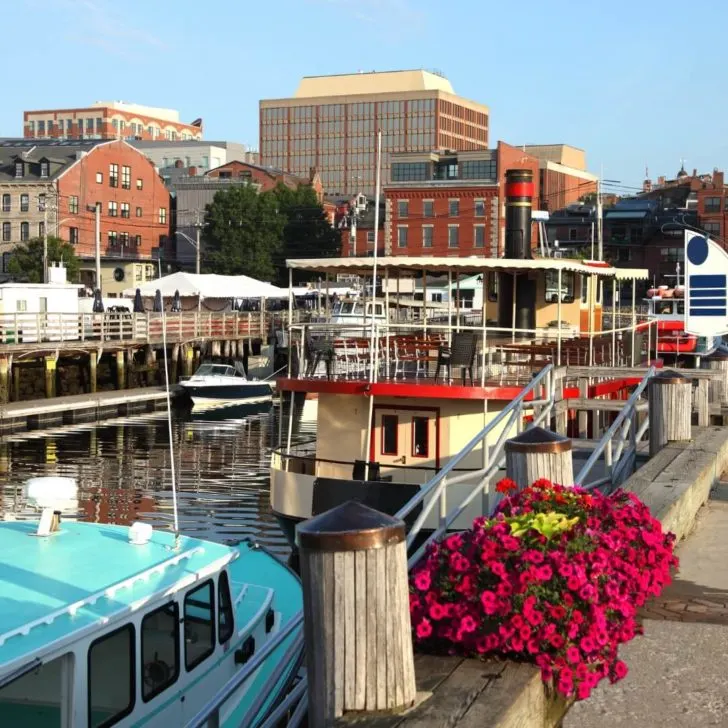 Portland, ME has a thriving food scene that is well worth a visit. It's doable in a day trip, but definitely makes for a great weekend getaway or even a longer trip.
One place you have to hit up at least once is The Holy Donut, which specializes in donuts made from potatoes. Yes, potatoes.
OTTO Pizza is another favorite of mine. They have a pizza made with mashed potatoes (I swear I eat more than potatoes!), scallions, and bacon that is to die for.
Another delicious combo OTTO Pizza serves up has butternut squash, ricotta, and cranberries. It's like an American Thanksgiving dinner on a pizza. YUM!
For something a little more formal than pizza and donuts, check out Central Provisions. I'm a sucker for tapas because it's a great way to try multiple dishes.
Central Provisions definitely knocks it out of the park with their tapas menu, which includes delicious ingredients like raw oysters, roasted peaches, and suckling pig (not all together, obviously).
Portsmouth, NH
Portsmouth, NH is another small New England coastal town with a bustling food scene.
Pop on over to Portsmouth Book & Bar for a new novel and a coffee or craft beer. Hungry? They have food too!
For food-baby worthy comfort food, check out Cure. Cure's menu is filled with classic dishes with a fancy twist. Think mac n cheese with lobster or pork chops with a honey-chipotle glaze.
Another interesting twist? The kitchen at Cure is open, so you can watch the executive chef and her team cook up a storm.
Providence, RI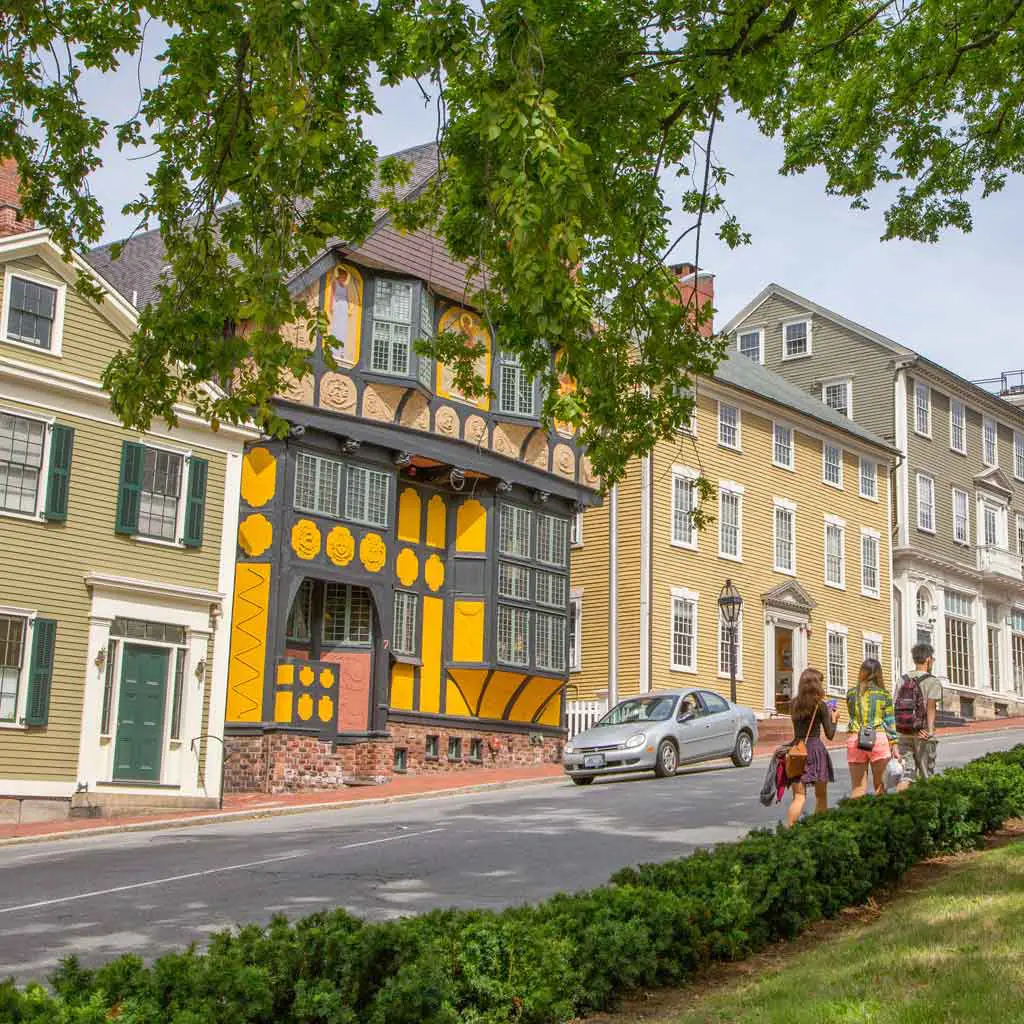 Providence, RI can be reached by car, MBTA, or coach bus. It has a growing foodie scene, as well as a fun arts scene.
Providence is well known for its waterfront entertainment and social district.
During the summer months, WaterFire Providence organizes tons of events, music, vendors, a fire sculpture installation, and more.
Lastly, Providence is also home to the International Tennis Hall of Fame. So stop by to meet Andy Roddick, not at all guaranteed.
Ok, but really, if you're tennis fan, stop by to check out all the fun historical artifacts, as well as their immaculate indoor and outdoor (grass!) tennis courts.
Provincetown, MA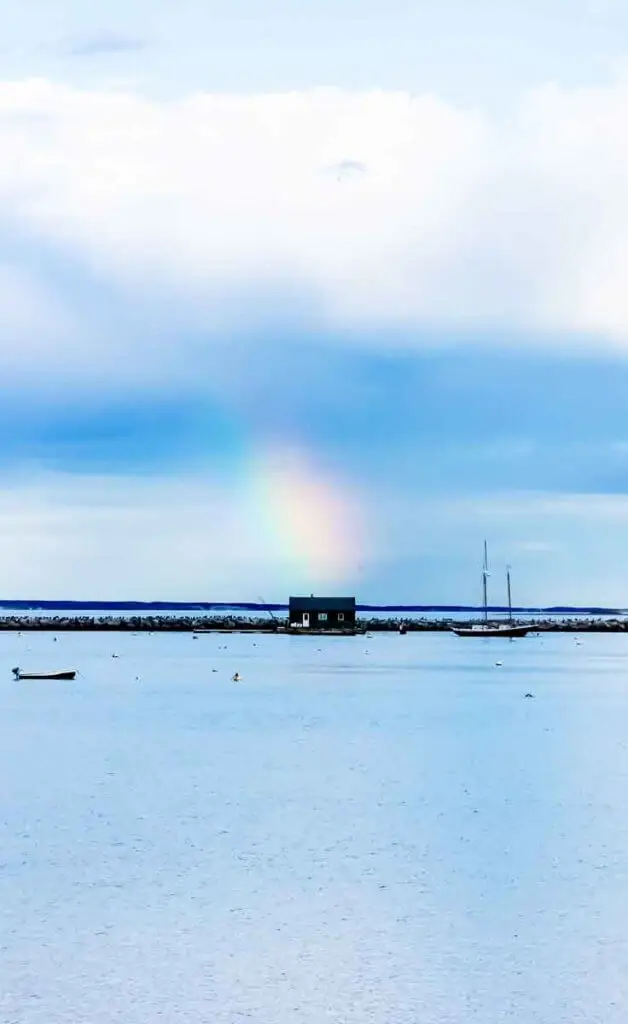 While Provincetown is part of Cape Cod, it deserves its own section. I couldn't leave you hanging without telling you more about this adorable town.
Provincetown is so lovely that my paternal grandparents made it their home for many years, up until their passing.
Located at the tip of the Cape, P-town, as it is affectionately called, is a summer haven for the LGBT community. It also has a robust Portuguese community (read: mouthwatering fooooood).
Provincetown is full of tasty seafood restaurants, funky coffee shops, ice cream bars, locally owned gift shops, and beautiful art galleries.
And given its shore location, there are plenty of beaches for fun in the sun. Lastly, P-town is a prime spot for whale watching, as well.
If you're looking for more things to do while in Provincetown, check out my post on things to do in Cape Cod.
Rocky Neck Art Colony
Location: 6 Wonson St, Gloucester, MA
Phone: (978) 515-7004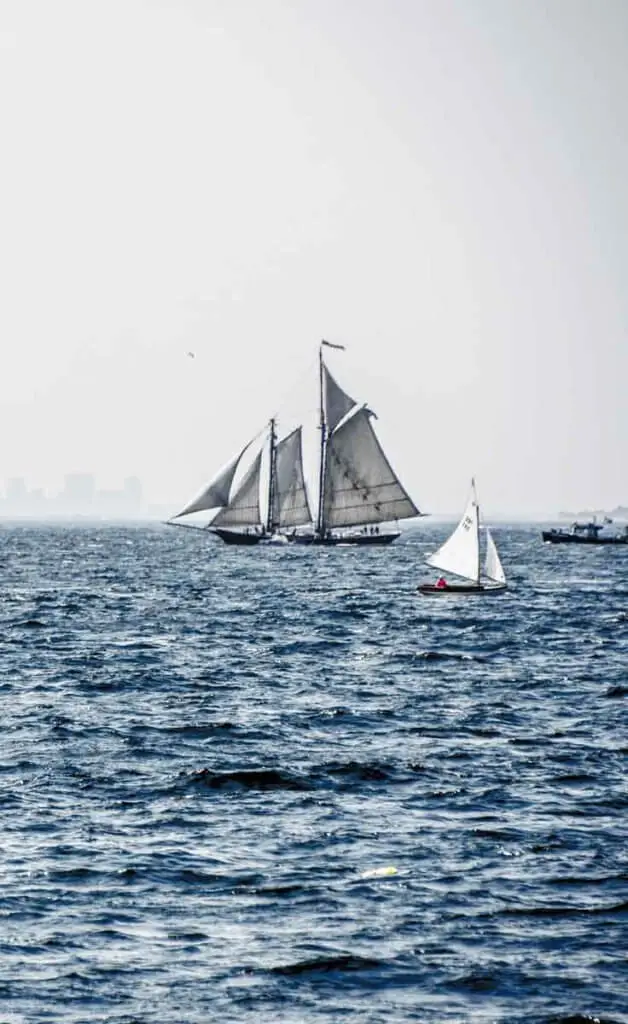 Most people know Gloucester as a big fishing town, as it's home to the reality show Wicked Tuna, as well as the inspiration for the movie The Perfect Storm.
Gloucester is an excellent day trip about 50 minutes north of Boston.
It's great for families with many options for kid-friendly activities, such as whale watching, beach walks, an aquarium (Maritime Gloucester), and a medieval castle (Hammond Castle).
Gloucester, and the surrounding Cape Ann area, is also home to the oldest art colony in the USA. Yep, true story!
The Rocky Neck Art Colony was established in the mid-1800s and is still kicking today.
The quirky and quaint colony is located on a peninsula and is full of art galleries, several restaurants, and a theater.
Salem, MA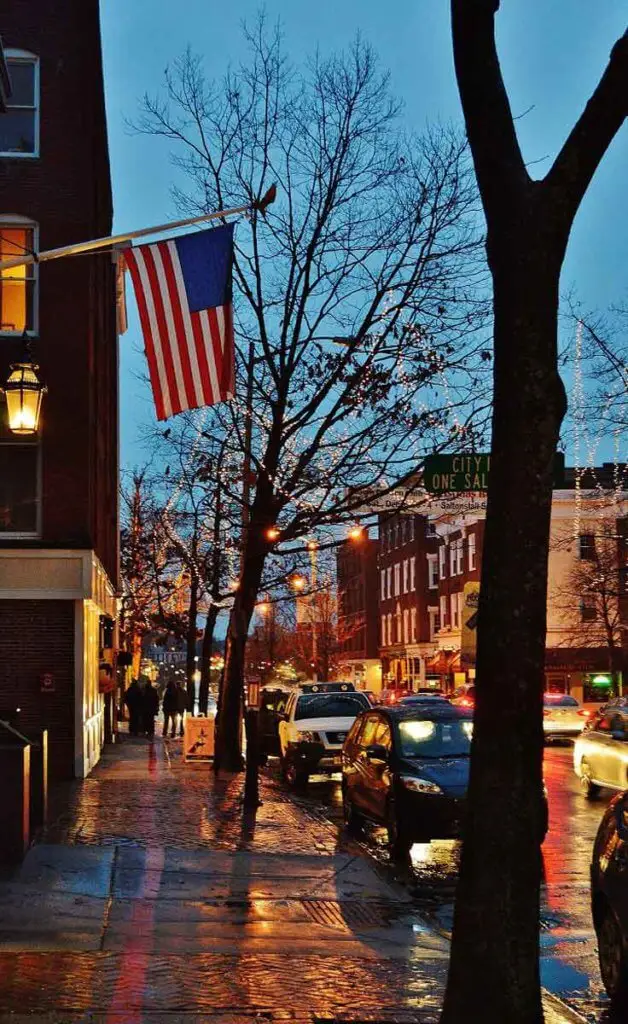 Salem, MA is one of my favorite towns in all of Massachusetts. It's a small suburb north of Boston, but it's a ton of fun.
This quaint coastal town is full of fun shops (including those of the supernatural variety), museums, historical sites, and restaurants.
It's also home to the famed House of Seven Gables, which you can learn more about in my post about the best things to do in Salem.
Lastly, Salem, along with nearby Danvers, is the site of the Salem Witch Trials. So naturally Salem is home to one badass month-long Halloween party. Just go!
Check out my itinerary for an October Weekend in Salem if you need ideas on how to make your trip the best.
Six Flags New England
Location: 1623 Main St, Agawam, MA
Phone: (413) 786-9300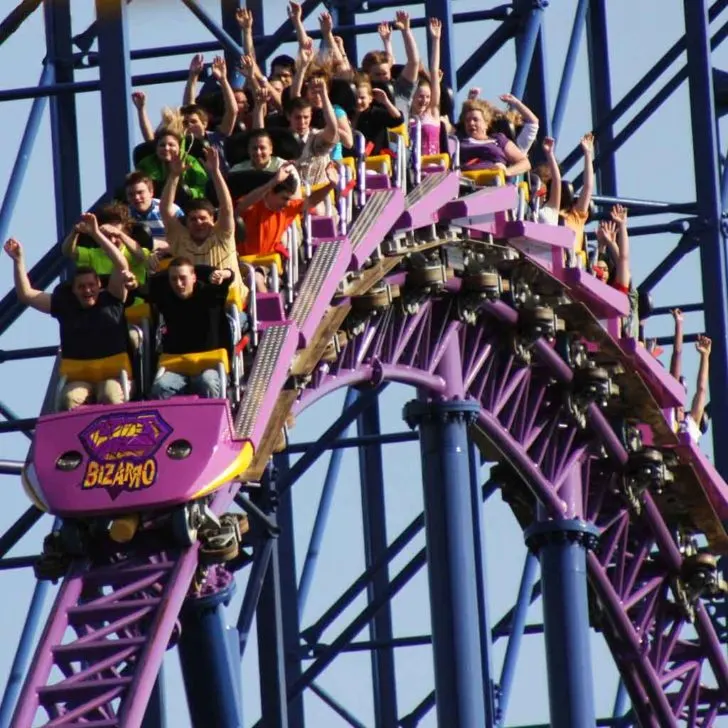 Previously known as Riverside Amusement Park during my childhood, Six Flags New England is a large theme park that sits along the Connecticut River.
Six Flags New England boasts 12 roller coasters and a huge water park. There are also several live shows, a dance party, and Looney Tunes characters and Gotham City villains meet-and-greets.
Six Flags New England is about 1 hour and 40 minutes southwest of Boston.
Springfield Museums
Location: 21 Edwards St, Springfield, MA
Phone: (413) 263-6800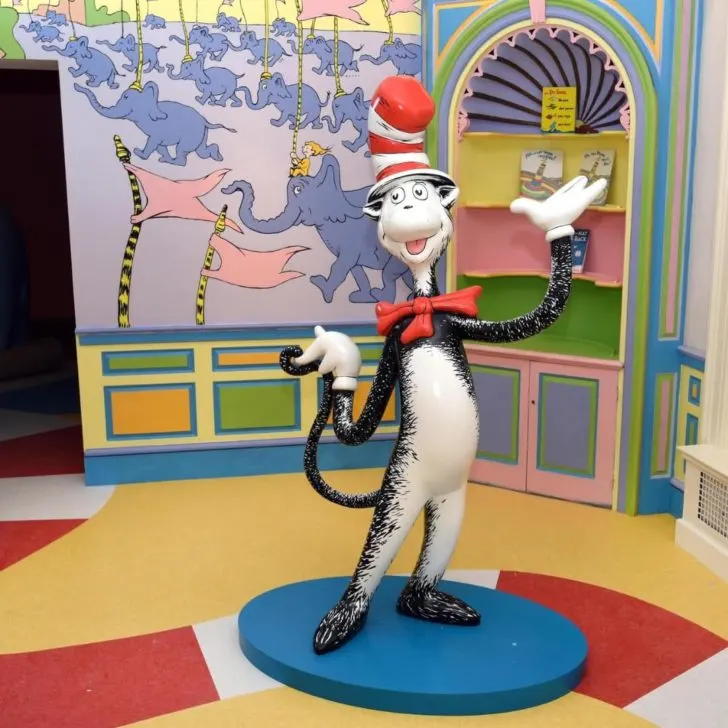 Tucked away in Western Massachusetts is Springfield Museums, a collection of 5 museums that surround a sculpture garden:
The Amazing World of Dr. Seuss Museum
Dr. Seuss National Memorial Sculpture Garden
George Walter Vincent Smith Art Museum
Lyman and Merrie Wood Museum of Springfield History
Michele and Donald D'Amour Museum of Fine Arts
Springfield Science Museum
Tickets include admission to all 5 museums. The Dr. Seuss National Memorial Sculpture Garden is free to visit.
Admission costs $25 for adults and $13 for kids 3-17. Kids under 3 and Springfield residents are free! Special pricing is also available for adults over 60 years and college students ($16.50).
Wachusett Mountain
Location: 499 Mountain Rd, Princeton, MA
Phone: (978) 464-2300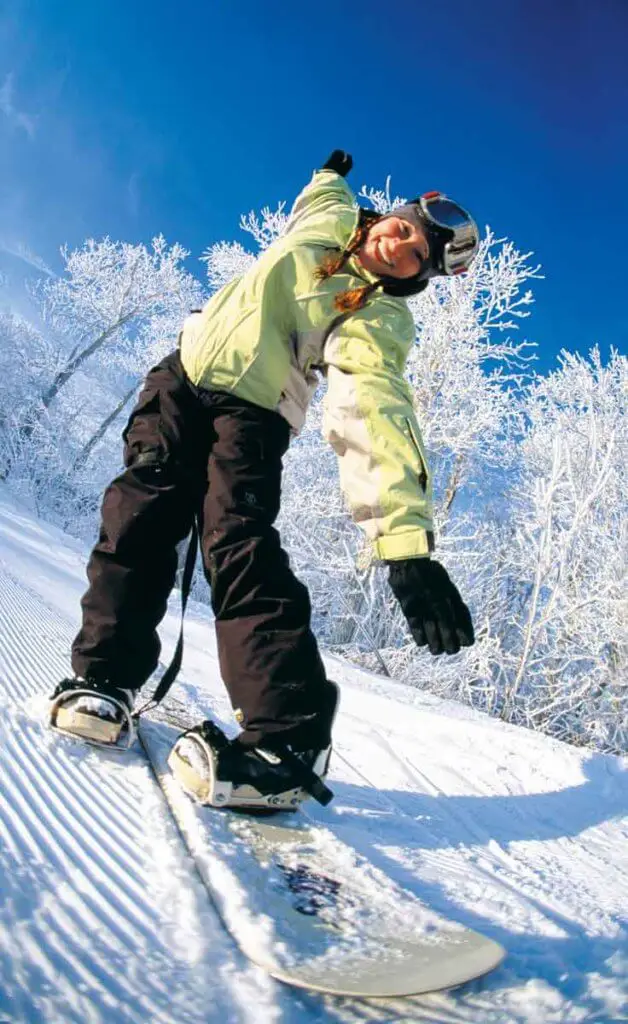 If you're jonesing to go skiing but don't want to deal with the long drive to the ski resorts in Vermont, take a day trip to Wachusett Mountain.
Wachusett offers both day and night trails, and can create their own snow, so there's no need to wait for a decent snowstorm to hit it up.
The best part? You can take the MBTA commuter rail Fitchburg line to get to Wachusett Mountain!
During the ski season, Wachusett Mountain also provides a free shuttle to the ski area on the weekends.
During the warmer months, Wachusett Mountain hosts a handful of fun events, such as a kids day camp, a food truck festival, and 2 craft beer festivals.
Walden Pond
Location: 915 Walden St, Concord, MA
Phone: (978) 369-3254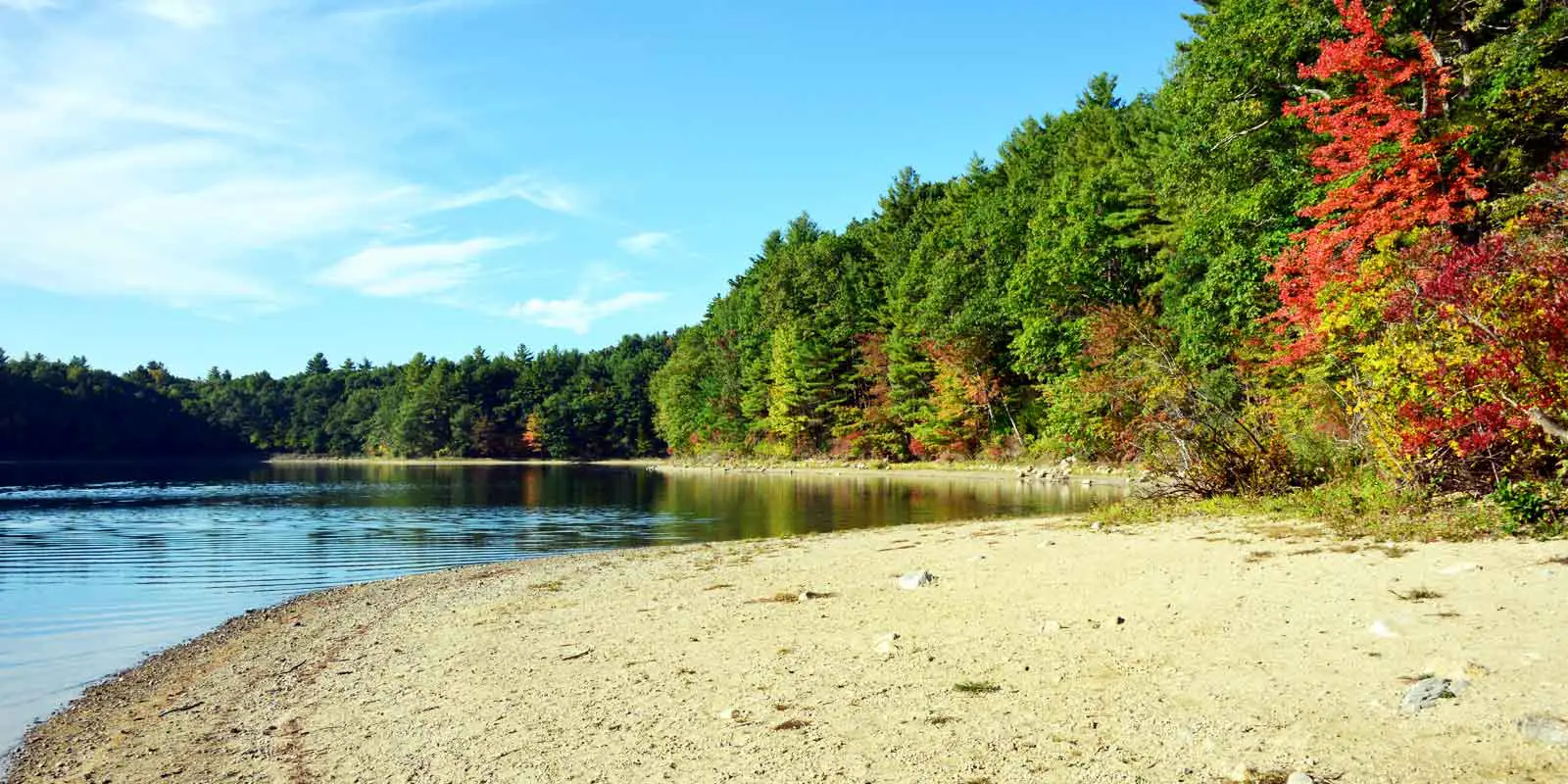 For an enjoyable, quiet day in nature, take a short drive out to Walden Pond State Reservation.
American transcendentalist writer Henry David Thoreau famously spent 2 years, 2 months, and 2 days in a tiny cabin on Walden Pond and wrote a book about it: Walden.
Today, you can relax on the pond's shore, go boating on the pond, and visit a replica of Thoreau's cabin. Concord is about 30 minutes outside of Boston.
Wellfleet, MA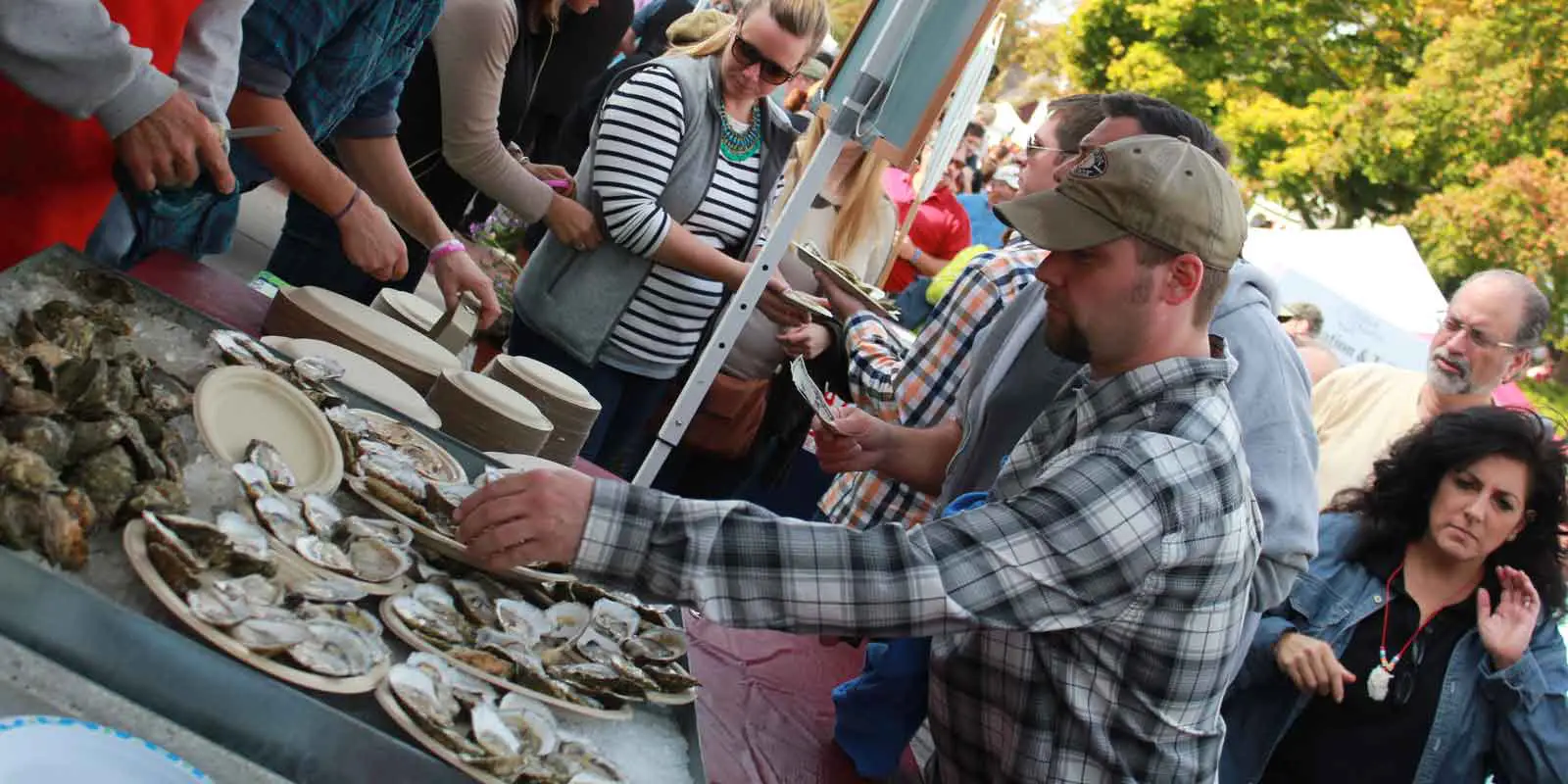 Wellfleet is known for its eponymous oysters, one of the most popular types of oysters unique to the east coast US.
Stop by The Wicked Oyster or one of the many seafood restaurants in town for a taste of these famous oysters.
Wellfleet is located in the Outer Cape, so if you're not up for making the trek out there just for oysters, combine it with a day trip to another fun Outer Cape town, Provincetown, MA.
Location: 1 Premium Outlet Blvd, Wrentham
Phone: (508) 384-0600
Wrentham Village Premium Outlets is a popular outlet mall in Massachusetts. It can be a bit confusing to get to from Boston, so don't rely on Google Maps to get there. I'm sure you can guess how I know.
Aside from that, the store selection is pretty good, so it's still worth the trip out from Boston. Popular stores at the Wrentham Village Premium Outlets include:
Burton
lululemon
Marc Jacobs
Superdry
Ted Baker London
Tory Burch
Vineyard Vines
For a full list of shops at this outlet, check out the Wrentham Village Premium Outlets stores list.
Yankee Candle Village
Location: 25 Greenfield Rd, South Deerfield
Phone: (877) 636-7707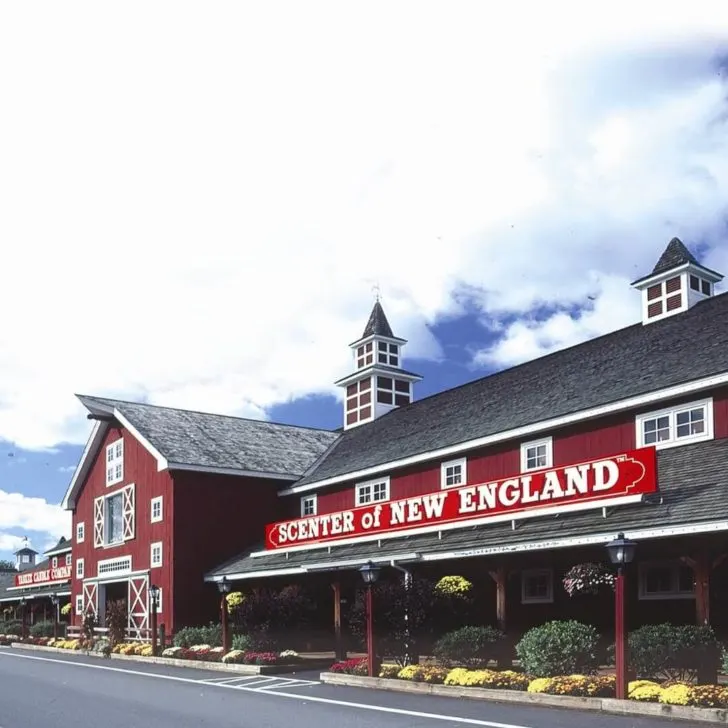 Located in South Deerfield, Yankee Candle Village makes for a fun day trip from Boston.
Yankee Candle Village includes a super New England-y collection of shops, such as The Candle Emporium, a General Store, the Fudge Shop, and Local Fare.
There's also a Christmas shop open year round that is jam-packed, top-to-bottom, with all things Christmas.
Aside from shopping, you can make your own candles or customize premade ones.
The also have Powder Hollow Brewery (originally started in my hometown of Enfield, CT!) and Hillside Pizza Café on site.
What are your favorite day trips from Boston?
So next time you visit Boston, which day trips will you work into your itinerary? Be sure to let me know below in the comments!
Next up, check out more of my favorite Boston and New England area travel guides:
---
About the author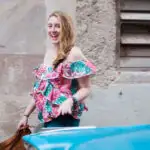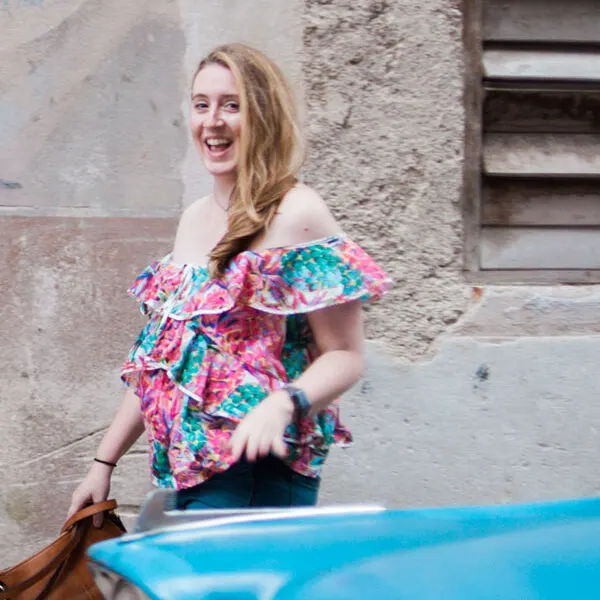 Meg Frost is a Boston-based travel blogger that helps people embrace technology to make vacation planning and traveling wicked easy, affordable, and fun.
She holds an M.A. in Journalism from Northeastern University and B.S. in Communication & American Studies from University of Miami.
---
This post was originally published on August 17, 2017. It was last updated on December 26, 2022.