Fall in Massachusetts is my favorite time of year in my home state.
From the witchy, historic town of Salem to the beautiful Fall foliage colors, there is so much to do this time of year.
Keep reading for my local tips on the best things to do in Massachusetts in the Fall.
Celebrate all things marshmallow at What the Fluff
For those of you who aren't New Englanders or have never heard of Fluff, Fluff is a spreadable marshmallow creme that was invented in Somerville, Massachusetts.
This brilliant food is celebrated in a festival in Somerville each year called What the Fluff.
The festival includes music, Fluff-centric merchandise, food made with Fluff, and other fun activities.
In 2023, What the Fluff took place September 24 in Somerville's Union Square. The 2024 date is not available yet.
Go back in time at King Richard's Faire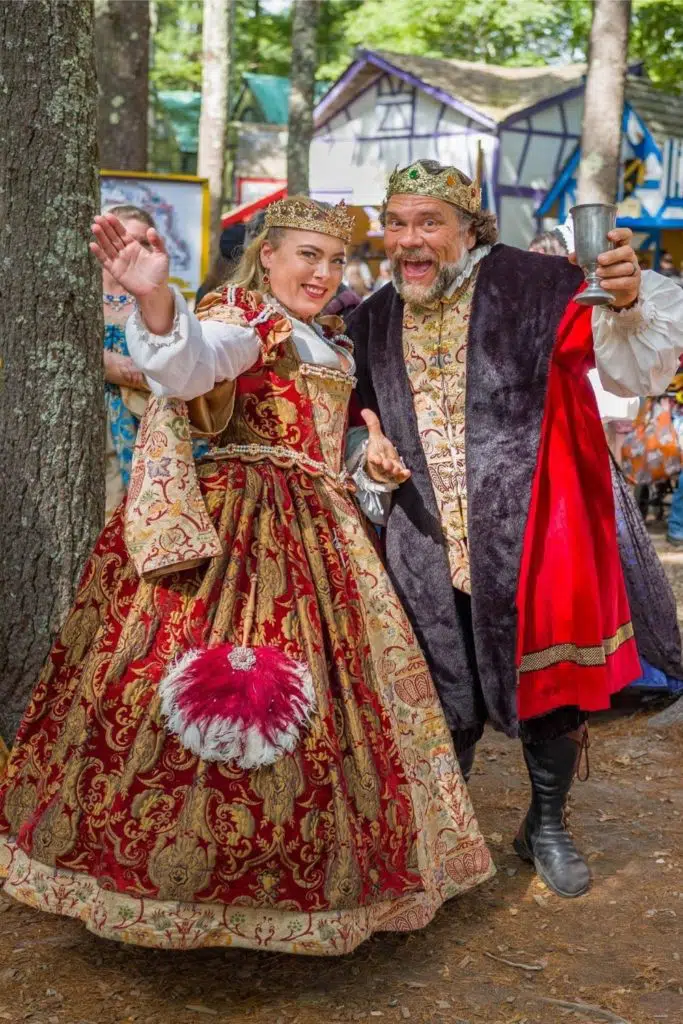 Visit King Richard's Faire, the largest Renaissance festival in New England, for a unique twist on Fall time activities.
King Richard's Faire features Renaissance-themed food, drink, games, rides, music, contests, and other entertainment. And yes, there is a jousting tournament!
Employees and many visitors dress head-to-toe in Renaissance garb, adding to the fun.
In 2023, King Richard's Faire will run on weekends from September 2 through October 22.
King Richard's Faire
235 Main St, Carver, MA
Have fun at Massachusetts largest fair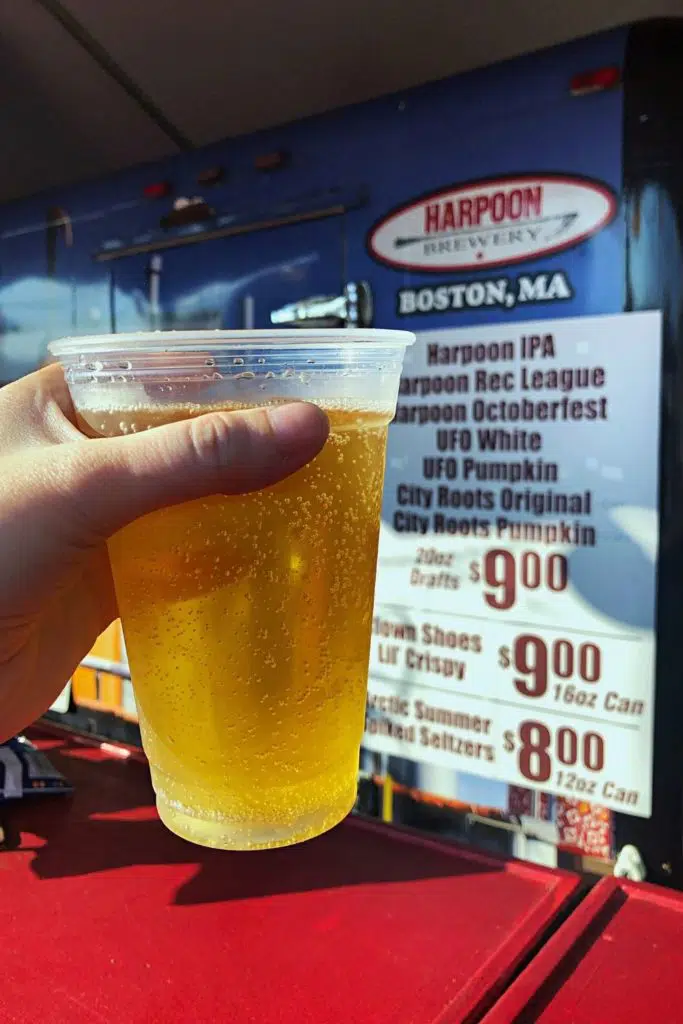 West Springfield, Massachusetts is home to Massachusetts and the New England region's biggest fair, The Big E.
The Big E celebrates all things New England with rides, fun fair food, agricultural competitions and demonstrations, craft booths, concerts, and more.
There's even a massive building dedicated to each of the New England states, Connecticut, Maine, Massachusetts, New Hampshire, Rhode Island, and Vermont.
In 2023, The Big E will run from September 15 through October 1. To learn more about this fun Fall fair, check out my post about The Big E.
Experience thrills and chills at Six Flags New England's Fright Fest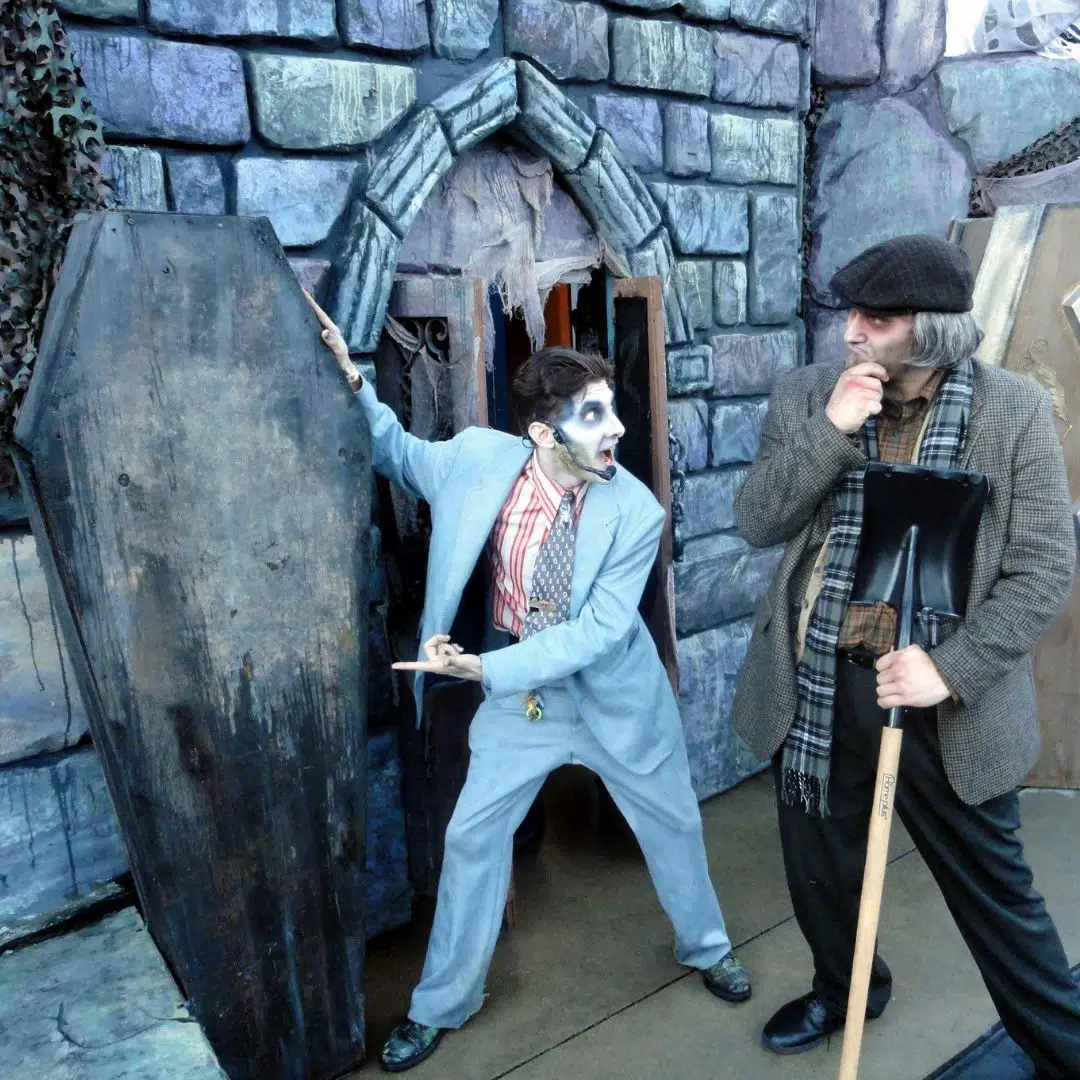 If you're in town for The Big E, make it a weekend trip so you can hit up Six Flags New England's Fright Fest for some extra Fall-time fun.
On Fright Fest dates, Six Flag New England features haunted attractions, scare zones (including spooky characters on rides!), trick-or-treating, a dance party, and other Halloween-themed shows and entertainment.
In 2023, Fright Fest at Six Flags New England will run on select nights between September 23 – November 5.
Fright Fest @ Six Flags New England
1623 Main St, Agawam, MA
Celebrate Halloween in Salem, Massachusetts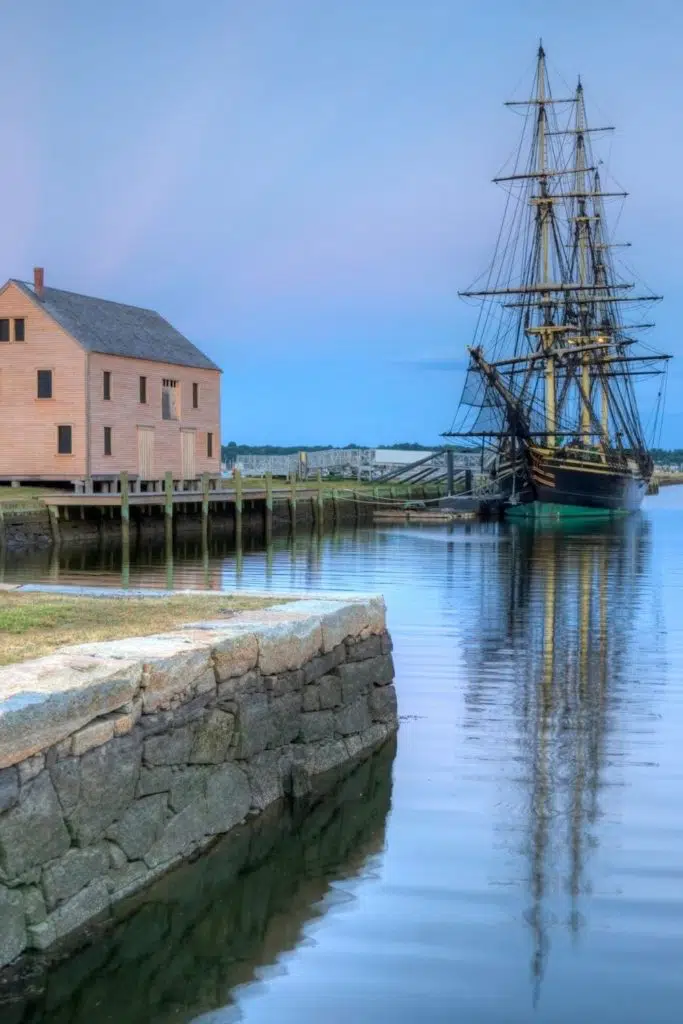 If you're super into Halloween, there's no doubt that Salem, Massachusetts is on your bucket list.
This adorable small town sits just north of Boston and is known for its involvement in the Salem Witch Trials of 1692.
Salem has embraced its notorious past and rebranded itself as a family-friendly Fall destination with its month-long Halloween celebration, Salem Haunted Happenings.
If you're considering a visit to Salem, check out my post about Salem, Massachusetts in October, the best tours in Salem, MA, and the best things to do in Salem, MA.
Eat, drink & be merry at AppleFest
A fun way to see the gorgeous Fall colors in Massachusetts is at AppleFest, Wachusett Mountain's mid-October festival.
AppleFest features food trucks, a farmer's market, music, lumberjack demonstrations, craft vendors, and best of all, ski lift rides through Fall foliage.
In 2023, AppleFest will run on two weekends: October 14-15 and 21-22.
AppleFest @ Wachusett Mountain
499 Mountain Rd, Princeton, MA
Get your prep on at the Head of the Charles Regatta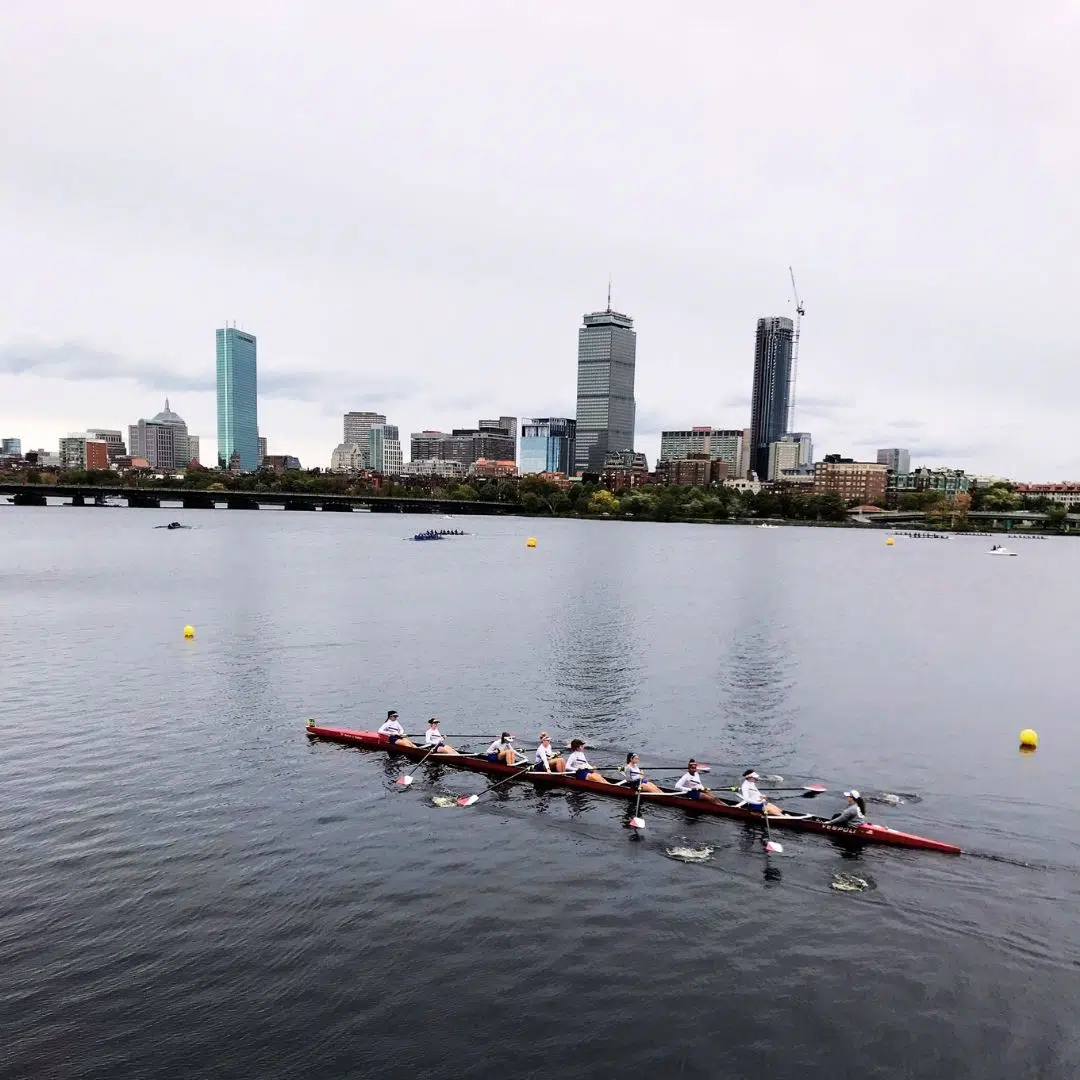 Don your preppiest Fall outfit and head over to the Charles River Esplanade to watch rowers from around the world compete in races.
The Head of the Charles is the largest 2-day rowing race in the world and features rowers and rowing teams from nearly all ages.
While the focus of the race is, of course, the rowers and teams, the people watching is just as good!
In 2023, the Head of the Charles Regatta will take place October 20 – 22.
Shop 'til you drop at SoWa Open Market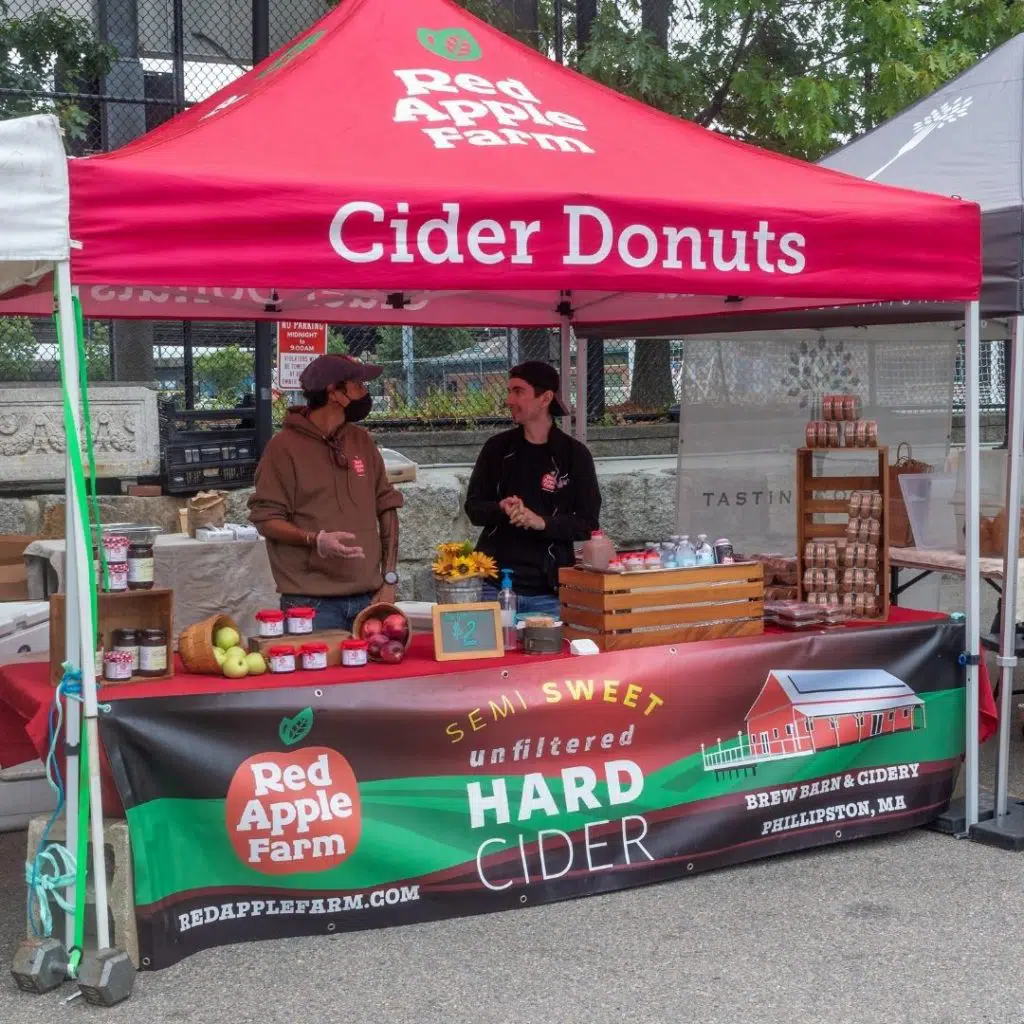 Get a jump on holiday shopping by shopping local at the SoWa Open Market.
Open through October, the SoWa open market features local artisans, food trucks, music, and a beer garden.
There's also a farmer's market with fresh produce, meat, and baked goods. Also nearby are lots of vintage shops and art galleries.
SoWa Open Market
530 Harrison Ave, Boston, MA
Drive the Mohawk Trail in Northwestern Massachusetts
The Mohawk Trail was originally a Native American trading route that enabled trade between Western Massachusetts and New York.
In 1914, it became one of the first scenic byways in New England.
The 69-mile drive stretches along Route 2 between Greenfield, MA to the Massachusetts-New York border.
This northern Massachusetts scenic byway is a lovely way to see Fall foliage and some of the area's best attractions, such as the Massachusetts Museum of Contemporary Art, concerts at Tanglewood, and the Berkshire Mountains.
Enjoy Massachusetts in the Fall on a day hike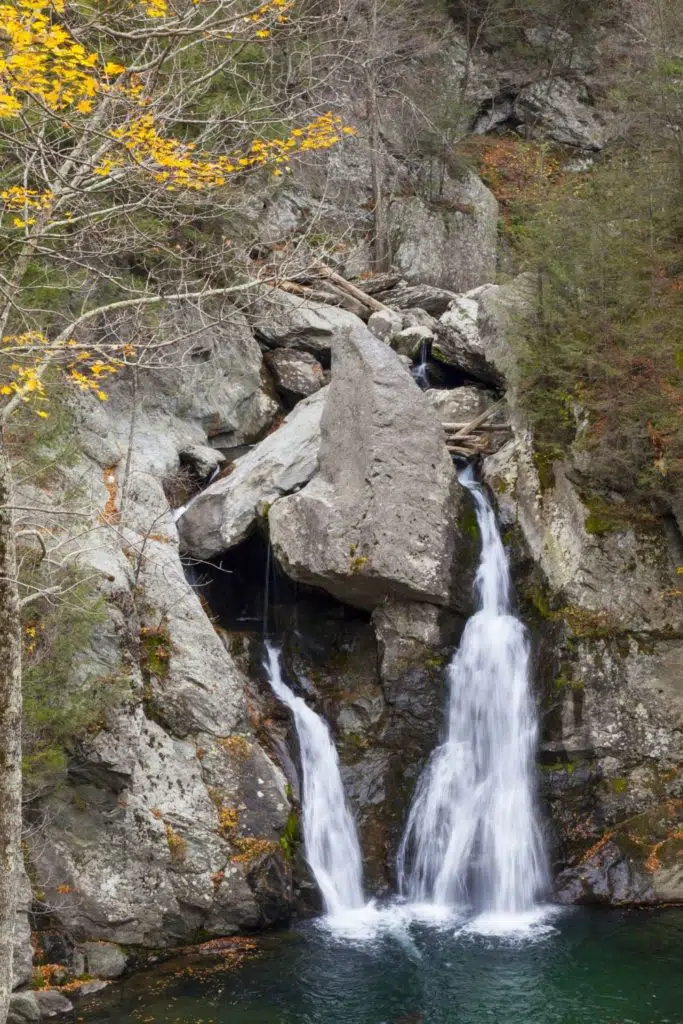 A classic Fall foliage activity in New England is doing a day hike to get epic views of the Fall colors.
Here are 5 Massachusetts hiking trails to consider for a Fall foliage hike.
Arnold Arboretum Trail
The Arnold Arboretum Trail is perfect if you're visiting Boston in the Fall, as it's located in the Jamaica Plains neighborhood.
This 3.7-mile loop trail takes you through Harvard University's Arnold Arboretum, where you'll see many different types of trees, plants, and flowers.
Bish Bash Falls Trail
For Fall foliage and a waterfall, check out the Bish Bash Falls Trail in Mt. Washington, MA.
The 2.1-mile out-and-back trail takes you to Massachusetts' tallest waterfall, Bish Bash Falls.
For a longer hike, access the trail from the New York border, rather than from within Bish Bash Falls State Park.
Cape Cod Rail Trail
The 26-mile paved Cape Cod Rail Trail can be picked up at a variety of points along the trail, so you can complete any length you want. It runs between Wellfleet and South Dennis.
This wide, paved trail is wheelchair accessible and also allows bikes and horseback riding.
Mount Greylock Overlook Trail
This 2.4-mile, moderate-level hike has several gorgeous viewpoints primed for leaf peeping.
It is one of the most popular hikes during Massachusetts Fall foliage season, so plan ahead for traffic. Better yet, go during the week to help ease the weekend congestion on the roads.
South Sugarloaf Mountain Trail
Head to Mount Sugarloaf State Reservation in South Deerfield to hike the .6 mi out-and-back South Sugarloaf Mountain trail.
At the summit, you'll see spectacular views of the Fall leaves across Massachusetts' Pioneer Valley and parts of the Connecticut River.
Don't feel like a hike? There's also a road up to the top that is open til mid-October.
Walden Pond Path
Get inspired by the Fall foliage like Henry David Thoreau with a walk around the Walden Pond Path.
The Walden Pond Path is a 1.7-mile loop around the famous pond, where you can also see Thoreau's cabin.
Most of the path is wheelchair accessible and if you contact Walden Pond State Reservation in advance, you can usually reserve an all-terrain beach wheelchair for use in the beach area.
The Innkeeper's Loop Trail at Wayside Inn
The Wayside Inn Innkeeper's Loop Trail is located in Sudbury, not far from Walden Pond.
The 1.5-mile trail loops around Longfellow's Wayside Inn, the oldest operating inn in the United States, and the surrounding area.
The Innkeeper's Loop Trail takes you by Carding Mill Pond, a cider mill, the water-powered stone grist mill, and a historic 1-room schoolhouse.
Stay at the (likely haunted) Lizzie Borden house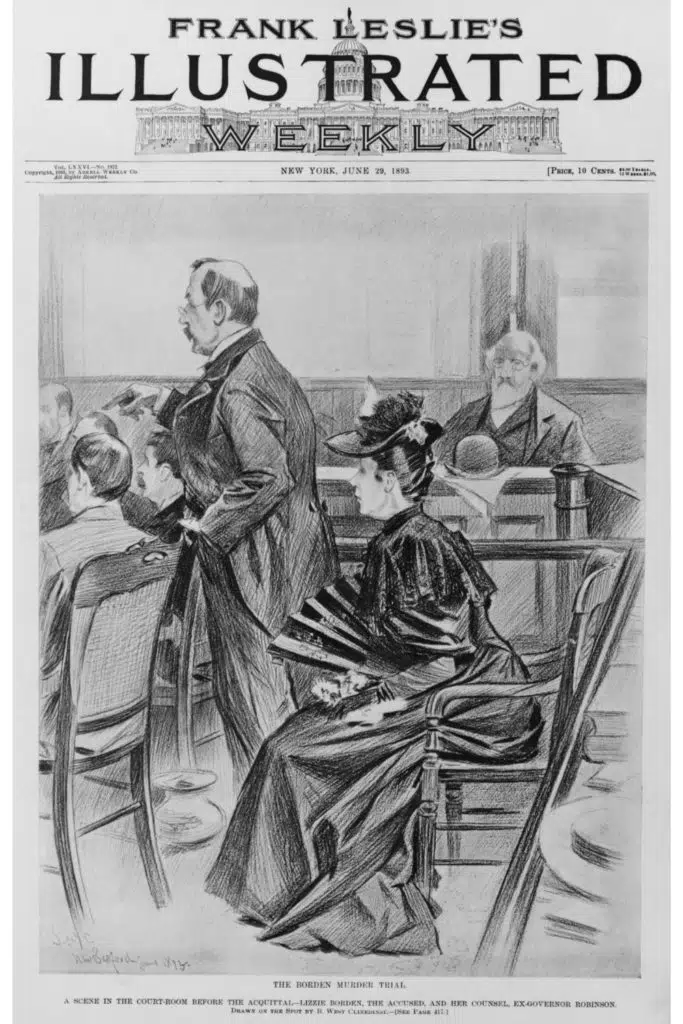 Rumor has it that Lizzie Borden killed her father and stepmother with an axe way back in 1892.
She was found not guilty, but the accusations and resulting bad reputation followed her to her death.
Today, the house where it all happened is preserved as a museum and inn.
Yes, that's right, you can spend the night at Lizzie Borden's house!
If you have the guts to stay in a haunted house, head over to The Historic Lizzie Borden House linked below to book your stay.
The Historic Lizzie Borden House
230 Second St, Fall River, MA
Get spooked at Massachusetts' best haunted house
Located in Holyoke, DementedFX produces 2 immersive haunted experiences, the Bio Med Corp. haunted house and The Meat Tank zombie-themed experience.
In 2023, Demented FX starts Friday, September 29 and runs Friday through Sunday. The last date is October 29. It will also be open Thursday, October 26.
DementedFX
530 Main St, Holyoke, MA
What's your favorite thing to do in Fall in Massachusetts?
Tell me about your favorite thing to do in Massachusetts in the Fall in the comments below.
For more fun things to do, check out these posts:
---
About the author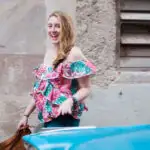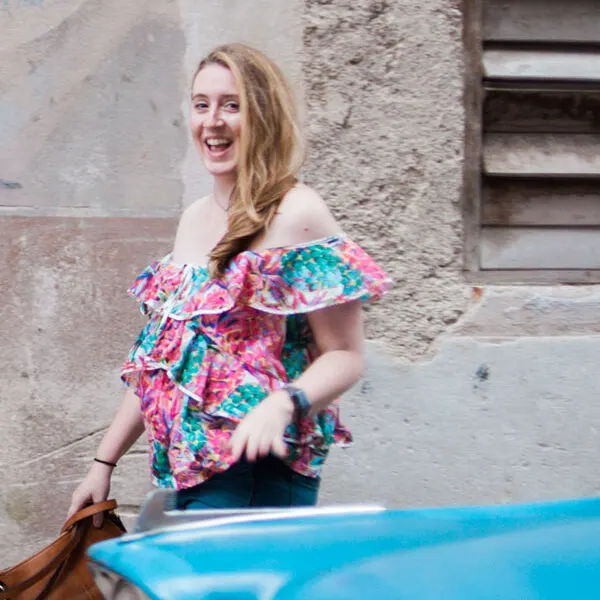 Meg Frost is a Boston-based travel blogger that helps people embrace technology to make vacation planning and traveling wicked easy, affordable, and fun.
She holds an M.A. in Journalism from Northeastern University and B.S. in Communication & American Studies from University of Miami.
---
This post was originally published September 5, 2021. It was last updated September 30, 2023.