Boston is one of the most expensive cities in the United States, but it's not impossible to see on a budget.
As a long time Boston resident (going on 16 years!), I know tons of tips and tricks for visiting Boston on a budget.
In this post, I share them all with you – for free!
Visit in the off season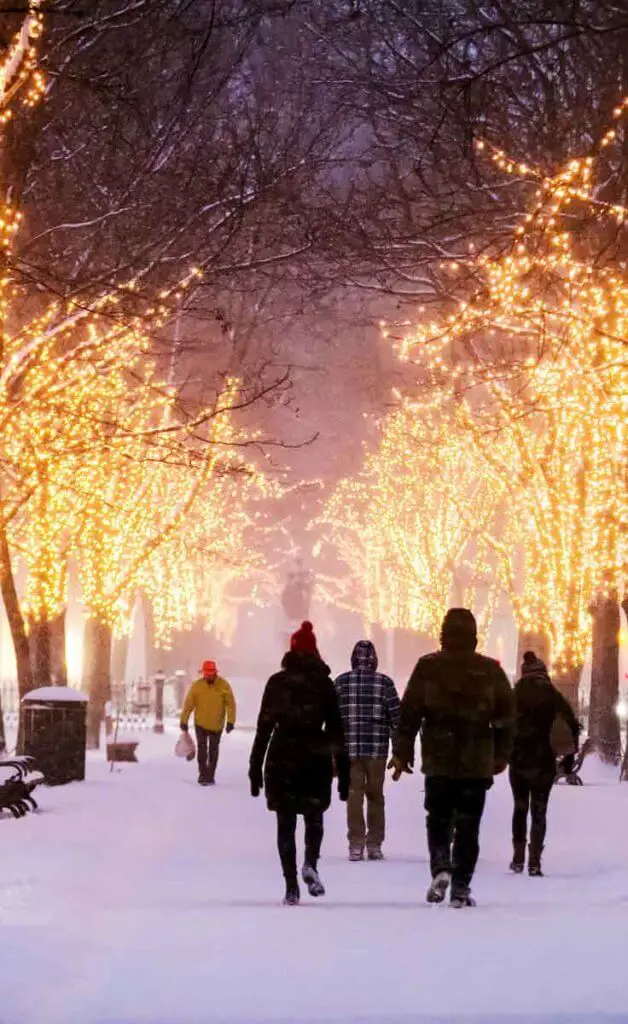 While my favorite season in Boston is Fall due to the mild weather and foliage, there are more deals available during the Winter months, aka the off-season.
This is especially true for hotels. The crowds in Boston are lower in the Winter, as well.
The plus side of visiting during the Winter season is that you'll get to see the city lit up for the holidays.
If you're lucky, you'll also get to see Boston with a blanket of fresh white snow on the ground.
At the same time, the one downside to visiting Boston in the Winter is the possibility of a big snow storm, which could cause flight delays or cancellations, restaurant and attraction closures, and all around misery (even if you're used to snow!).
Make sure your travel insurance covers cancellation or rescheduling due to inclement weather.
Consider cheap hotels in Boston
Boston hotels can be quite expensive. But if you can't visit Boston during the Winter, don't think you'll have to pay an arm and a leg for your hotel room! There are plenty of cheap hotels in Boston, as well as some fun hostels.
In addition to the recommendations below, read where to stay in Boston, MA for more accommodation tips.
YOTEL Boston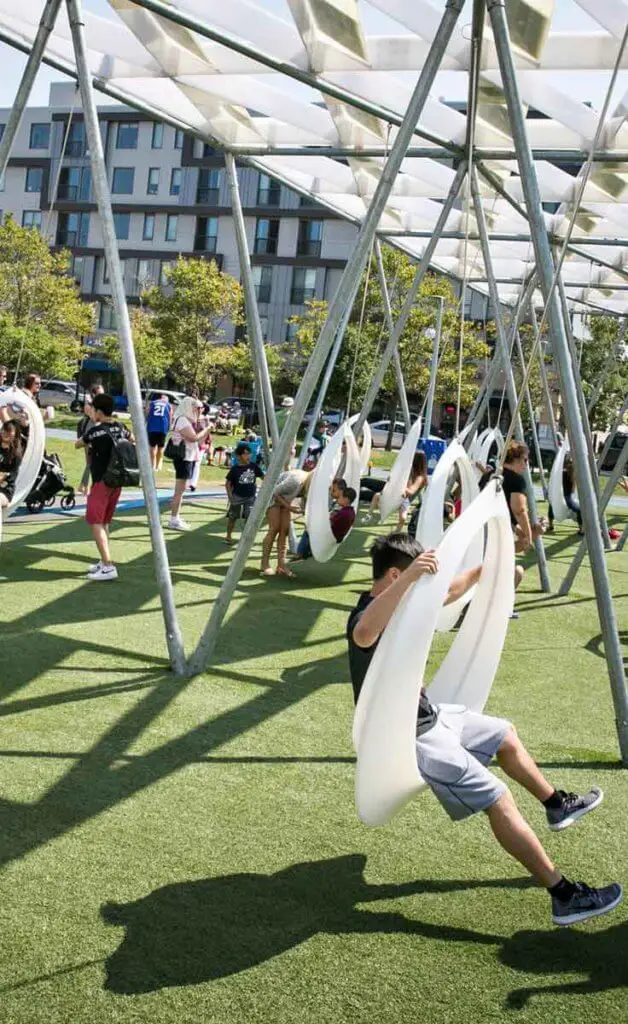 YOTEL Boston, a well-known budget chain, opened its first location in Boston in June 2017.
YOTEL Boston is located in the Seaport neighborhood, not too far from Fan Pier Park.
Seaport is the same neighborhood as the Harpoon Brewery, Lawn on D (as seen above), Taiyaki NYC ice cream, Institute of Contemporary Art (ICA) museum, and other popular attractions.
Liberty Fleet of Tall Ships Hostel
The Liberty Fleet of Tall Ships is also a hostel during the summer months! This fun hostel is available on Long Wharf in the North End & Waterfront neighborhood.
Yep – you can stay aboard a tall ship for under $150 per night. It's definitely one of the coolest Boston hostels.
The only negative to staying on the Liberty Fleet of Tall Ships is that you have to leave the ship during the day due to tours and it is not available during the Winter months.
HI Boston Hostel
HI Boston Hostel is another popular hostel available in the Theater District. This hostel is more like the traditional hostels with dorm-style rooms.
Hit up all the cheap eats in Boston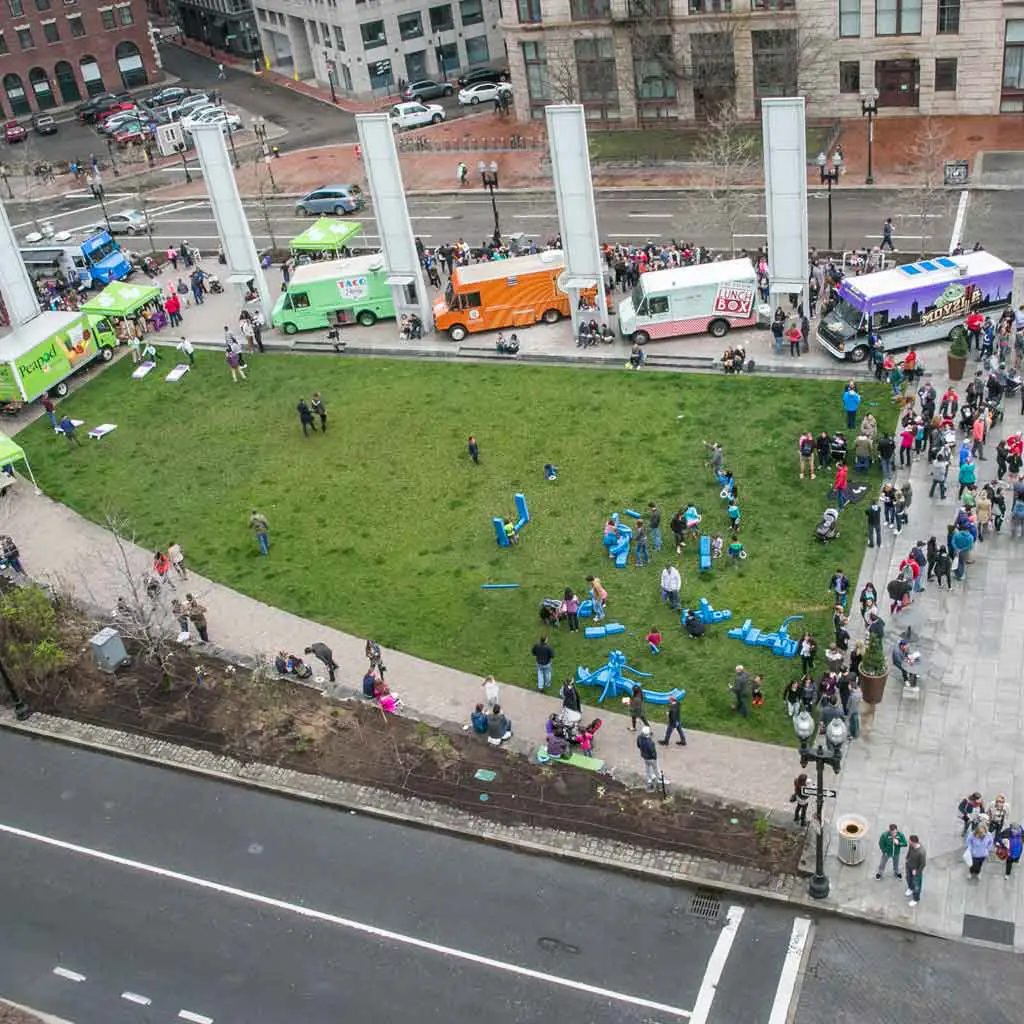 If your accommodations include a kitchen, cooking some meals on your own will help save money.
There are plenty of grocery stores throughout the city, such as Trader Joe's, Star Market, Stop & Shop, and Whole Foods.
For a real deal, though, hit up Haymarket, the city's oldest open-air market, on Blackstone St. This market is only open on Fridays at 3 AM and Saturdays at 4 AM.
And no, that's not a typo! They are open super early and close once their goods are sold. Get there early or lose out!
Boston's food trucks are a great option for sampling food from local restaurants at a lesser cost than a sit down meal.
You can find everything from sweets and fresh squeezed juice to full meals at a food truck. Check out my guide on the best food trucks in Boston for tips on which trucks to hit up while you're visiting.
Dine Out Boston, Boston's restaurant week, is another great way to sample the food at Boston's restaurants at a discount. Dine Out Boston happens twice a year at the tail end of Winter and Summer.
Last up is the Boston Public Market, Boston's year round local food market. The Boston Public Market is not necessarily the cheapest when it comes to groceries, but it is a good way to try local, gourmet food at a lesser price.
My favorite stops at the Boston Public Market include Red Apple Farm (cider donuts, yum!) and Mother Juice. Boston Public Market is also a great place to pick up edible souvenirs and gifts.
Learn how to get to Boston on a Budget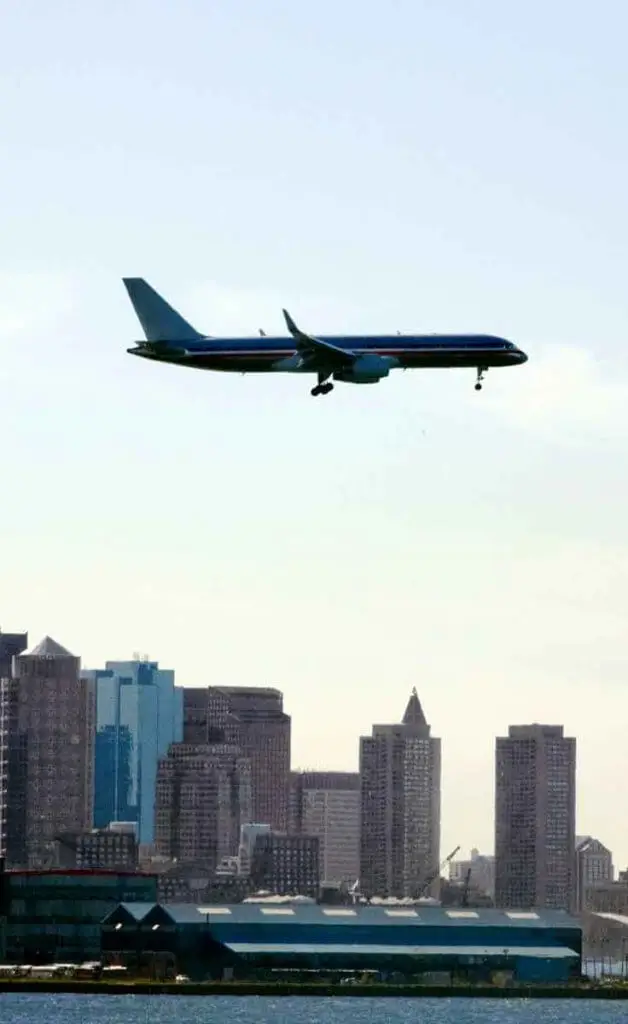 There are a handful of ways to travel to Boston on a budget. Let's go over them all.
Cheap flights
There are a number of low-cost airlines that fly to Boston, such as JetBlue, Southwest, Sun Country Airlines, and Thomas Cook Airlines.
I'm a big fan of Southwest because they are almost always the easiest airline to rack up enough points to cash in for free airfare.
Check out my post on how to get a free flight on Southwest if you aren't already aware on how to do it!
While they aren't guaranteed to be the cheapest (flash sale, anyone?), they are consistently less costly than other airlines that fly into Boston's Logan International Airport.
Commuter rail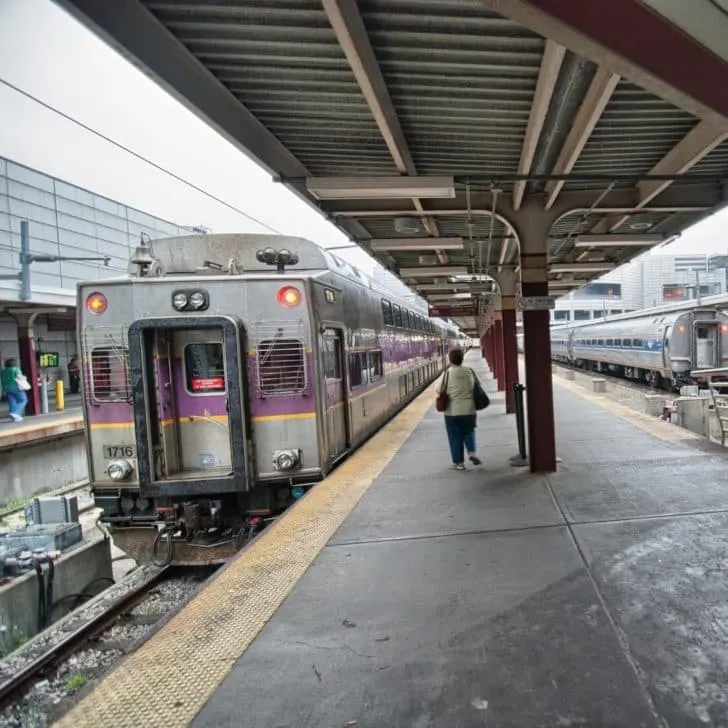 If you are staying in the suburbs of Boston, save yourself the wicked expensive parking fee and take the commuter rail into the city instead.
The commuter rail is an extension of the MBTA's public transportation line that reaches out north, south, and west of the city.
Ticket pricing depends on which zone you leave from to get to Boston, so check pricing online first.
TIP: Download the MBTA mTicket app so you can buy and store commuter rail tickets on your phone. No need to stop and print one when you get to the train station.
Downloading this app will save you a ton of time and money, as tickets purchased ON the train are more expensive.
Train transportation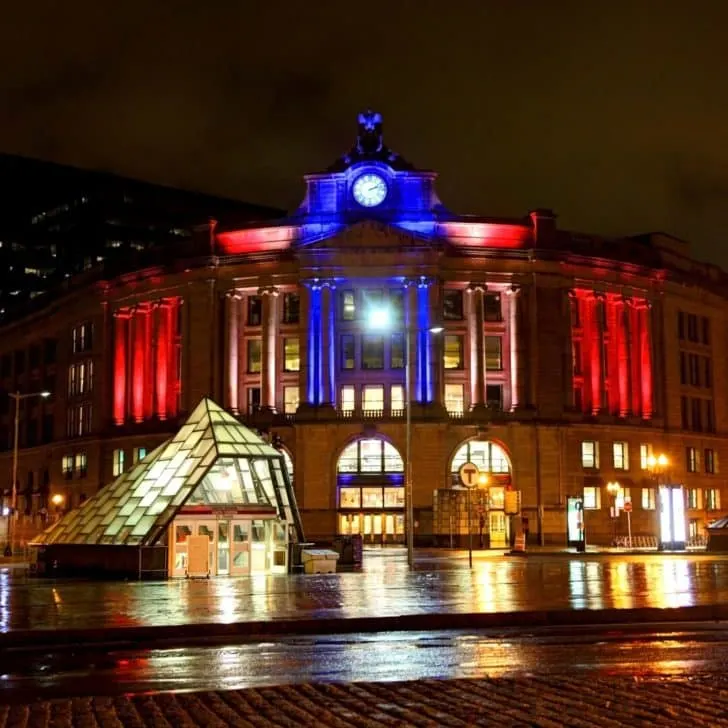 If you're a little further out than where the MBTA commuter rail reaches, Amtrak might be another option for traveling into the city sans car.
If you buy your Amtrak tickets a minimum of 2 weeks ahead, you can often save a good chunk of money.
TIP: Most Amtrak trains will leave out of North or South Station, though occasionally you can find routes that stop at Back Bay station, too.
Bus transportation
Last but not least, consider taking a bus into Boston, such as Greyhound, MegaBus, or Peter Pan, in order to save on transportation costs.
The savings will depend on where you are traveling from, but many cities within a comfortable distance of Boston, have great deals.
Ditch the rental car and use the "T" instead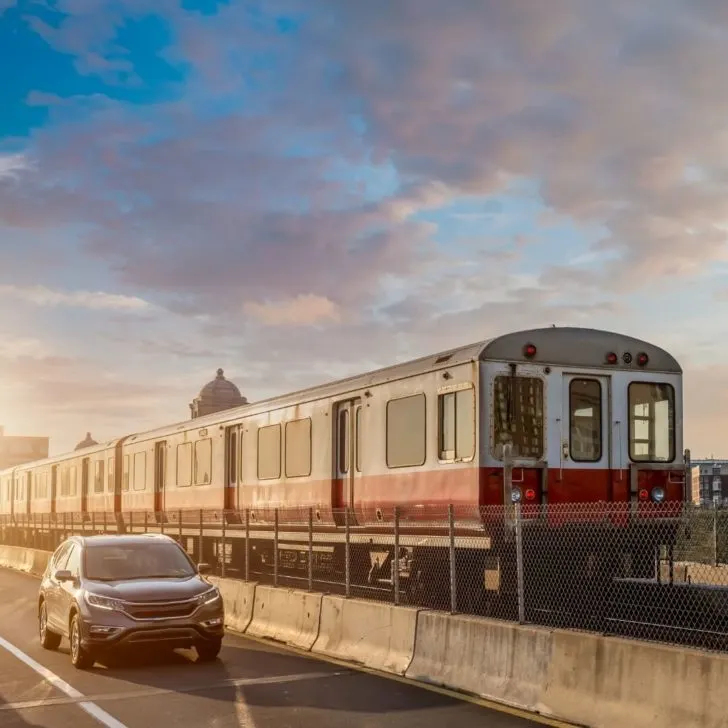 Do not bother with renting a car in Boston.
I repeat: DO NOT BOTHER WITH A CAR RENTAL IN BOSTON.
Parking is ridiculously expensive in Boston and you'll find driving more of a hassle than a convenience.
Boston is a very walkable city with plenty of sidewalks and crosswalks.
Plus, the layout of the city is more intuitive to walkers than drivers.
The public transportation system in Boston, affectionately known as the T, is also an excellent way to get around Boston on a budget.
The T includes subway trains and buses, but the train is sufficient for getting to the top attractions and activities around Boston.
You can save money on your fare by buying a daily, weekly or monthly pass.
If you feel you're better off paying each fare instead of using a pass, get a plastic Charlie Card from the customer service window, then load it with money.
Single tickets are more expensive on the paper Charlie tickets vs. the plastic Charlie cards.
Lastly, the T is free for children under 11 and active duty members of the military (with valid ID).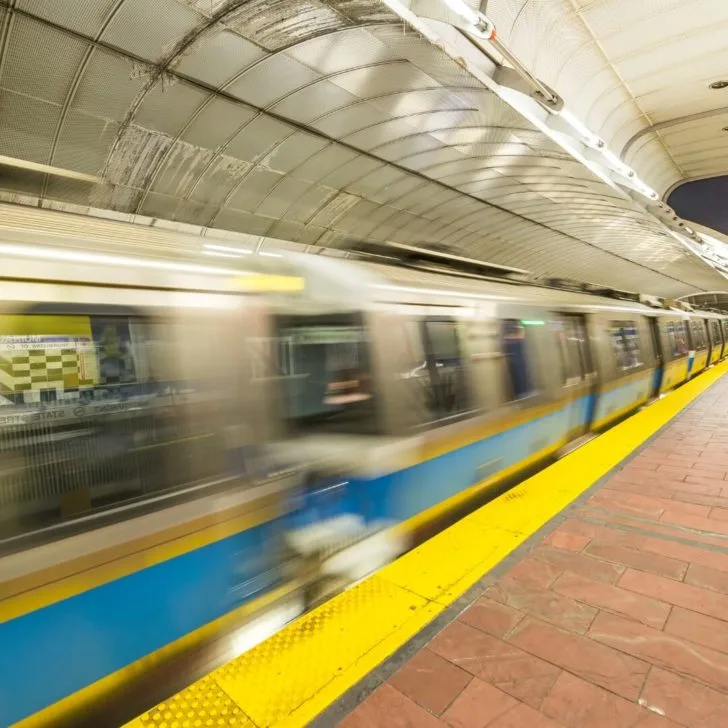 TIP: Skip the taxi, Uber or Lyft ride from the airport and take the T instead. "The T" is what we call our train and bus system here in Boston.
Leaving the airport, you can take the Silver Line, which will connect you to other lines to get around the city, such as the Green Line, Orange Line, or Red Line. Just follow the signs in the airport for the Silver Line and wait for the next bus.
Going to the airport, I recommend taking the Blue Line train to the Airport station. From there, you can hop on a shuttle that will take you to your desired terminal.
The Blue Line connects to the Green Line at Government Center or Orange Line at State. If you're starting off on the Red Line, take it to Park Street and transfer to the Green Line.
Hop on a blue bike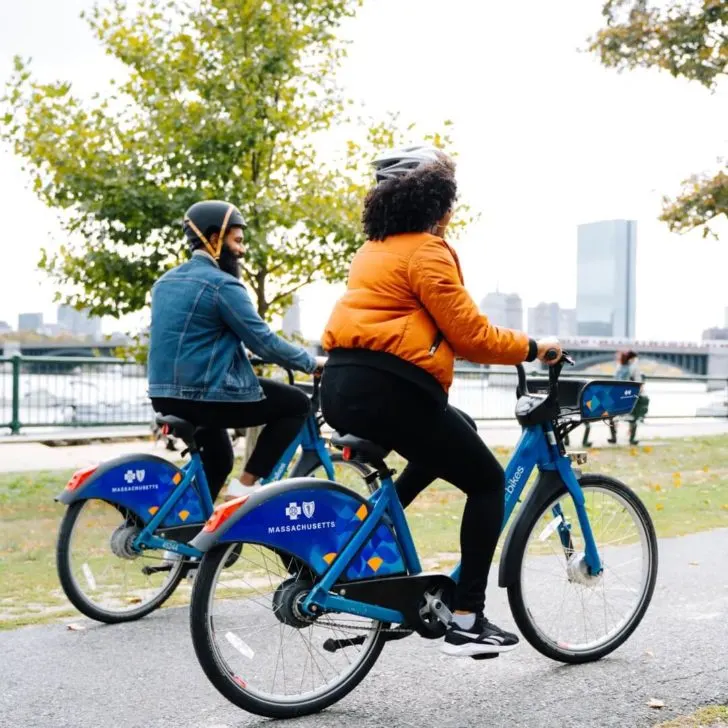 Another inexpensive (and healthy!) way to get around is on the Bluebikes, Boston's bike sharing program.
Bluebikes have multiple pricing options, so if you're local or visit frequently, you might want to consider a membership.
The bike racks can be found dispersed around the city and surrounding area. Simply check out your bike and return it to any rack within your allotted amount of time.
Use the Bluebike app to find the nearest station and manage your rental options (Apple / Google Play).
How to find free museums in Boston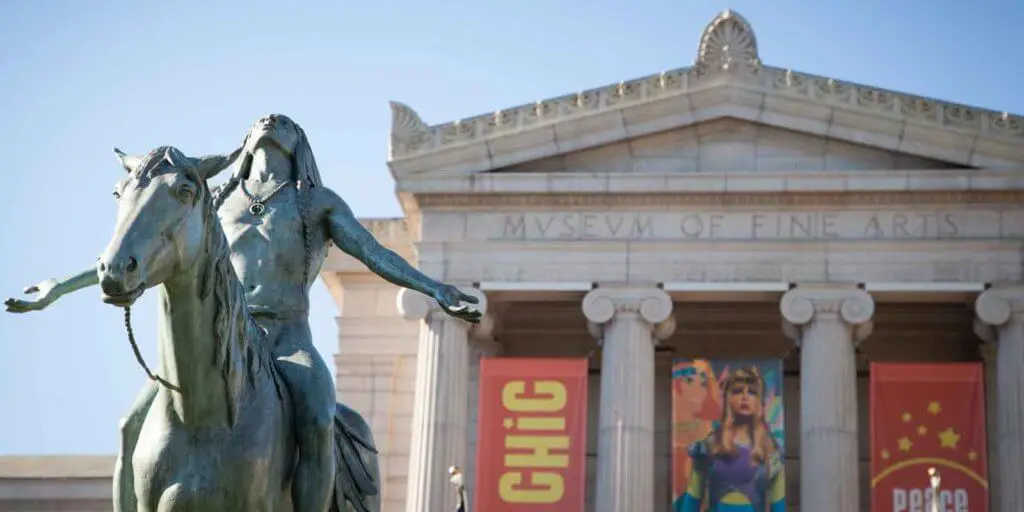 There are a few different ways to get into museums in Boston for FREE. Let's go over the best two.
Free Fun Fridays
During the Summer, some museums in Boston offer free admission on Fridays via to the Free Fun Fridays program with the Highland Street Foundation.
During the Summer, each Friday features a different museum or several museums with free admission.
The Free Fun Fridays program also includes a bunch of museums outside of Boston, so be sure to check it out if you're traveling anywhere in Massachusetts over the Summer.
P.S. Yes, this offer is for everyone, not just Boston or Massachusetts residents!
Free and reduced admission
If you happen to have a Boston Public Library (BPL) card, you can also reserve free or discounted passes to select museums.
You can reserve 1 pass per museum within a 30 day period, but that should be more than enough for most people.
The number of passes are limited, but even if you're traveling with a group, you'll still save money if you're only able to get 1 museum pass.
Find free things to do in Boston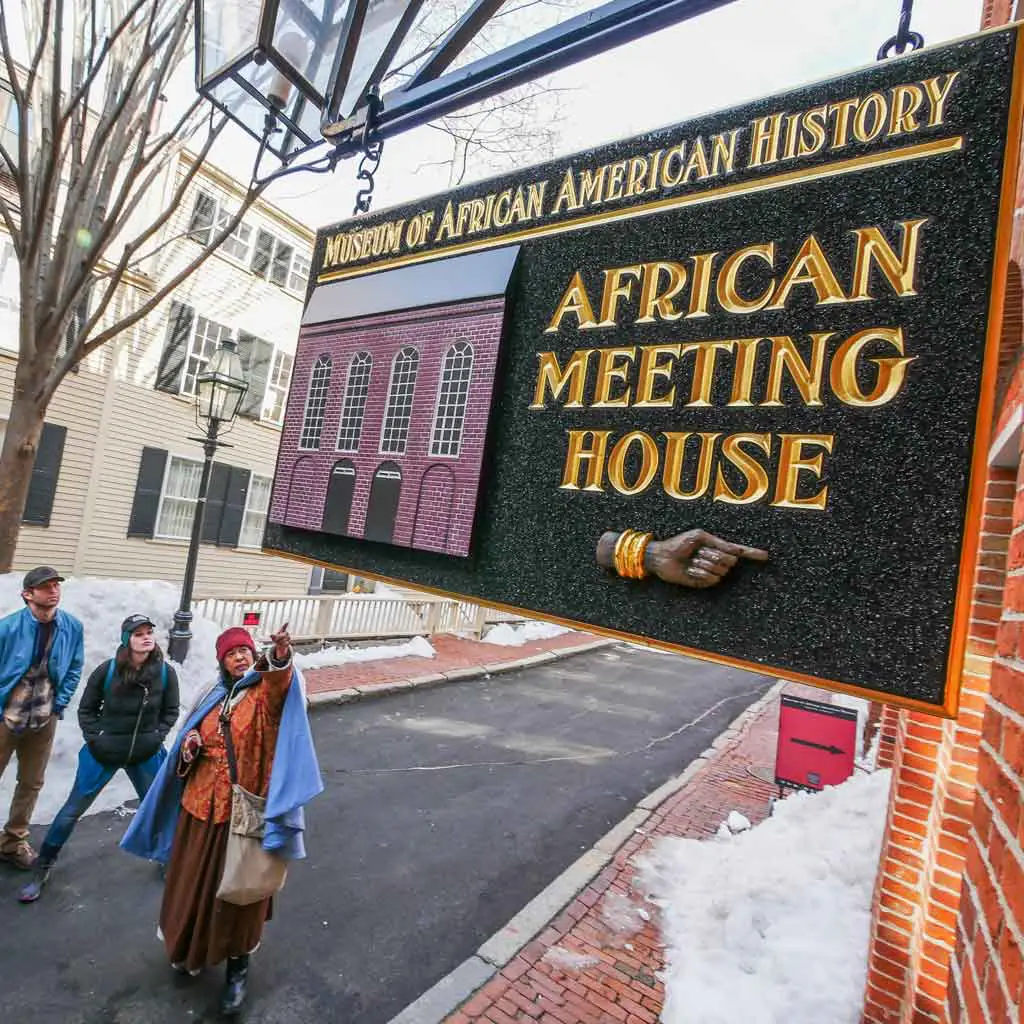 There are plenty of free things to do in Boston that don't require the hassle of reserving tickets. Most are available during all seasons, too.
The Freedom Trail, Black Heritage Trail, and Irish Heritage Trail are 3 free walks through the city that will teach you about the history of Boston through the lens of different groups of people and eras.
Check the sites linked above for free trail maps or apps to help you navigate these tours for free.
Occasionally there is a guided tour available for each of these 3 trails with information posted on their respective sites.
Boston also has lots of green space, such as gardens and parks, open to the public, all for free. The Boston Common, the Boston Public Garden, and Arnold Arboretum are probably the most well-known and definitely worth checking out.
However, my favorite is the Rose Kennedy Greenway, which curves its way from Chinatown up over to Haymarket.
I love this stretch of green space for many reasons. There are lots of funky and interesting art throughout, plus plenty of food trucks and activities like concerts and zip lining.
Another park I love is The Lawn on D in the Seaport area, next to the Aloft Hotel.
The Lawn on D has funky glow-in-the-dark circular swings that make for a fun Instagram moment.
Citizen's Bank often hosts public events and concerts at The Lawn on D, as well.
Free Tours by Foot offers SIX free walking tours in Boston, such as the Freedom Trail, North End, and a ghost tour. While these are free tours, I strongly encourage bringing cash to tip your tour guide.
Last up are the free family-friendly movies each Friday in the Summer at the Hatch Shell along the banks of the Charles River Esplanade.
TIP: For date or season-specific events in Boston, see my post about the classic Boston festivals and events, many of which are free to attend!
Save money with Boston CityPASS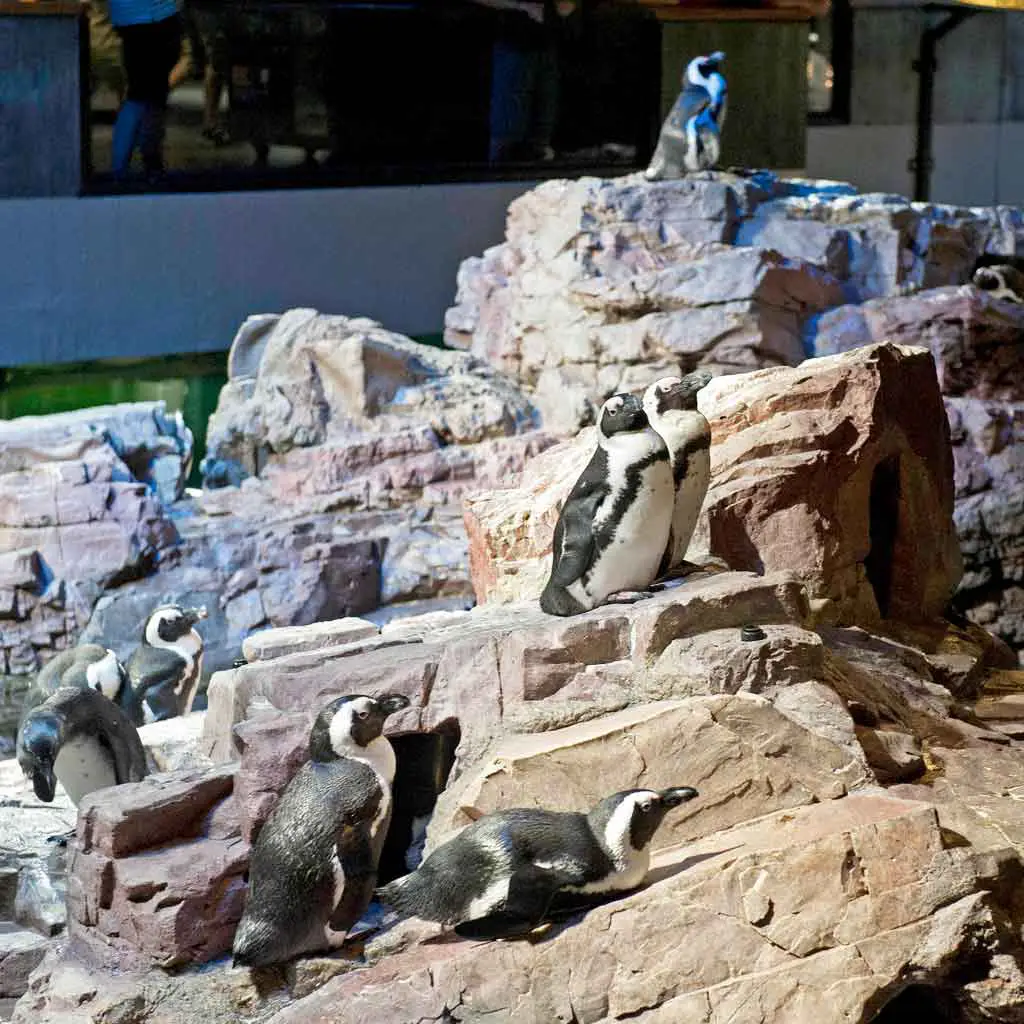 Save 45% on 4 of Boston's top attractions with a Boston CityPASS.
The Boston CityPASS provides discounted admission to the Museum of Science, the New England Aquarium (seen above), Skywalk Observatory, and a choice between a Boston Harbor Cruise or the Harvard Museum of Natural History.
If you plan to hit up these top attractions in Boston, and can't get free passes, the Boston CityPASS is the next best way to save money on admission.
Use BosTix to save money on shows
Save up to 50% on theater shows in Boston through ArtBoston's discount ticket program, BosTix.
BosTix deals are available on the BosTix website or at 2 kiosk locations: Copley Square (at the corner of Boylston St. and Dartmouth St.) and Faneuil Hall (outside Quincy Market).
Deals available includes shows like Blue Man Group and Shear Madness.
The discounted shows change regularly, so check the BosTix site for the latest deals.
Get discounted sports tickets (3 options)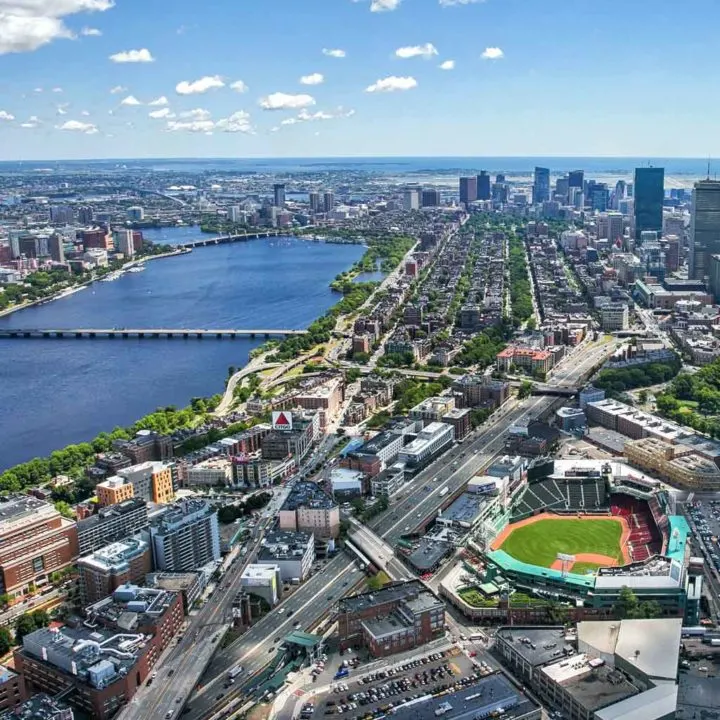 Deals on sports tickets in Boston aren't super easy to come by.
Boston is a HUGE sports city and the local sports teams know fans will pay full price. That said, with some patience you might come across a few deals.
If you wait until the day of to get tickets, you're more likely to get a discount straight from the team's box office.
The upside is that you avoid scams by buying direct, the downside is that you might not get tickets and might not save money.
If you have a specific game in mind, check out the resale market. Avoid scalpers outside the game and Craig's List, as there's no protection if you're scammed.
Try official ticket brokers, like StubHub instead. Some of the bigger professional teams let fans resell their tickets through the team's website or a partnership with a broker, too.
Members of the military, fire departments, first responders, and law enforcement can get discounts on most Boston sports tickets through GovX.
These deals are available to active, reserve, veteran and retired military members. In order to get these deals, you have to sign up for GovX in order to be verified first.
Lastly, the Boston RedSox offer student discounts through the free MLB Ballpark app. So if you're a student, sign up for the app to get notified so you can see the Sox play at iconic Fenway Park without paying an arm and a leg.
Which tips will you use when visiting Boston on a budget?
I hope my tips will help you reign in your budget for visiting Boston. Let me know how you fared with these tips by leaving a comment below.
---
About the author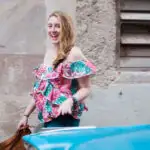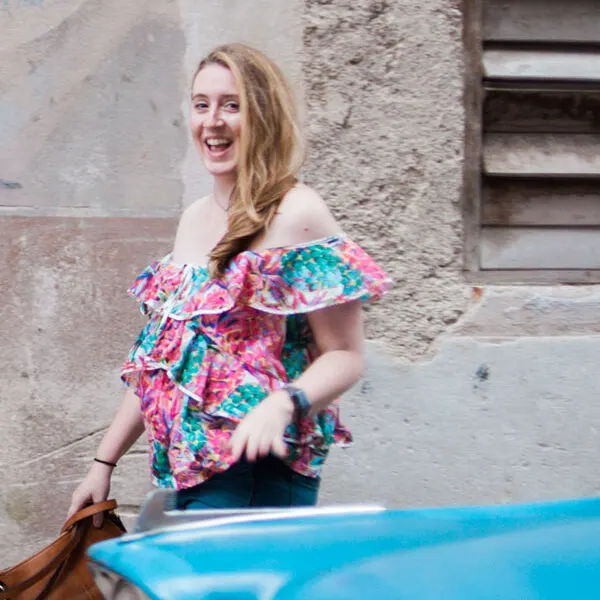 Meg Frost is a Boston-based travel blogger that helps people embrace technology to make vacation planning and traveling wicked easy, affordable, and fun.
She holds an M.A. in Journalism from Northeastern University and B.S. in Communication & American Studies from University of Miami.
---
This post was originally published on July 4, 2017. It was last updated on November 3, 2022.