Looking to visit Connecticut in the Fall this year? I grew up there and still visit countless times each year, so I've got all the scoop on the best things to do.
Keep reading for the best ways to see Fall foliage in Connecticut, the best haunted houses and hayrides, fun apple orchards, and more.
Check out the Hollowed Harvest display
A family-friendly Halloween activity in Connecticut is the Hollowed Harvest lights display.
Hollowed Harvest uses jack-o-lanterns to create spooky (but kid-friendly) scenes, like dinosaurs and aliens.
It's a bit like a walk-through Christmas lights display, but Halloween themed!
TIP: Hollowed Harvest events are also available in Massachusetts, New York, and Virginia.
Hollowed Harvest @ Camp Mattatuck
221 Mt. Tobe Rd
Plymouth, CT
Watch the Spooky Popcorn film series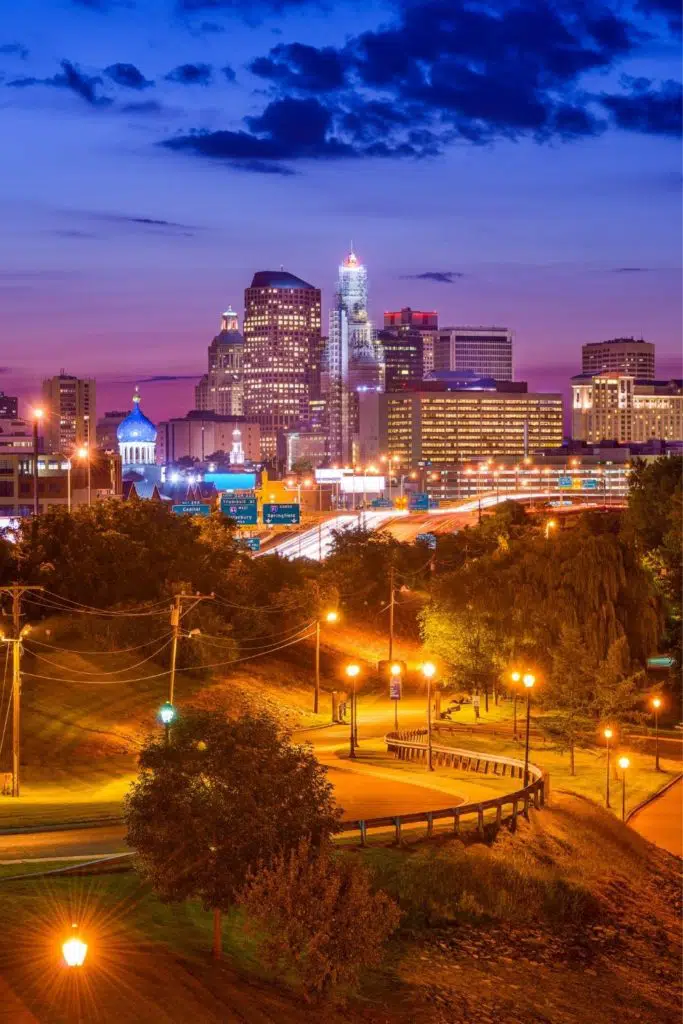 If you're a fan of scary movies, check out Hartford's Spooky Popcorn event.
On select nights in October, a scary movie is screened at Hartford's Constitution Plaza.
A sampling of movies include Stephen King's Misery, Pan's Labyrinth, and Coraline.
Check out the Spooky Popcorn webpage linked below for dates, times, and complete movie listing.
Spooky Popcorn @ Constitution Plaza
1 Constitution Plaza
Hartford
Go on a hot air balloon ride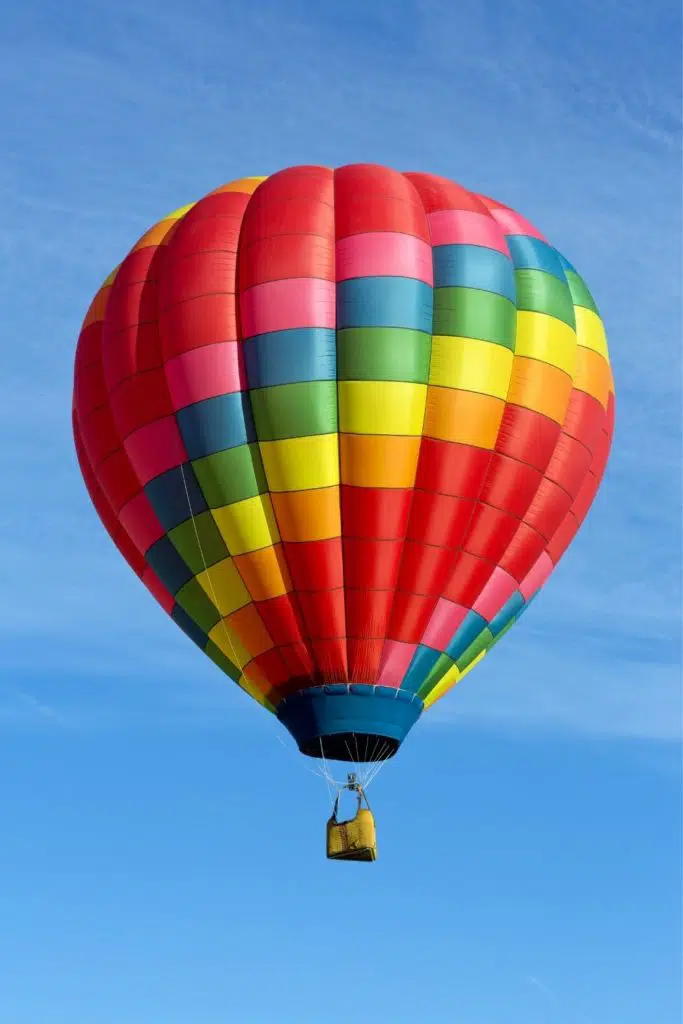 A unique way to experience Fall foliage in Connecticut is on a hot air balloon ride with Berkshire Balloons.
Berkshire Balloons runs their early morning flights from 5 different locations across Connecticut, including Bethlehem, New Hartford, and Southington.
Advanced reservations are recommended and can be made by calling (860) 620-3754.
Challenge yourself at The Adventure Park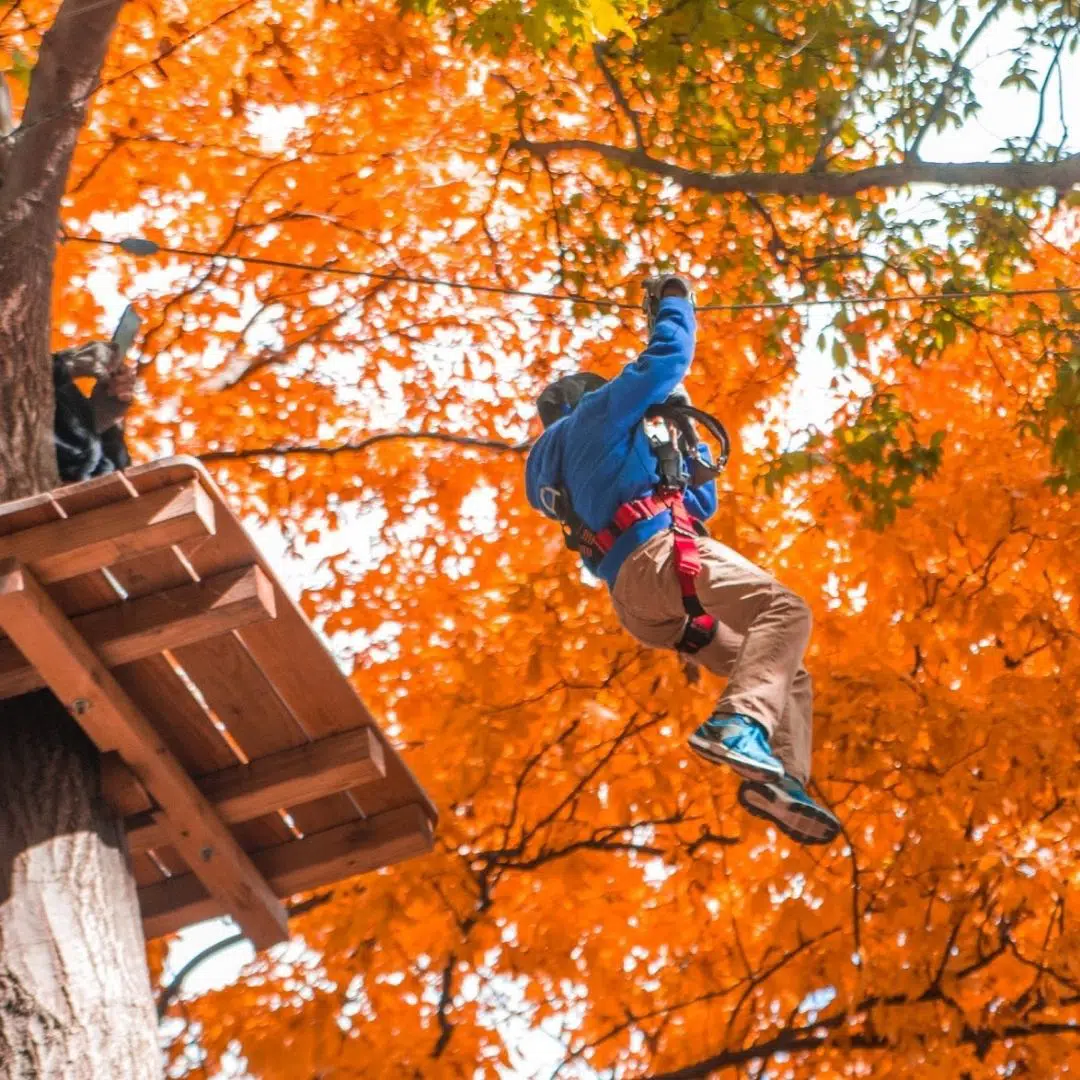 Another unique way to immerse yourself in the gorgeous Fall colors in Connecticut is to spend a day at The Adventure Park in Storrs.
The Adventure Park includes several adventure courses of varying difficulty.
The courses include rope climbing, ziplining, and bridges, all built up in the trees.
Another activity available at The Adventure Park is axe throwing, which can be reserved for parties as well.
The Adventure Park at Storrs, CT
2007 Storrs Rd
Storrs
Go apple picking at Bishop's Orchards
Located in Guilford, Bishop's Orchards offers a ton of Fall activities for family fun or an adults-only outing.
First up is their pick-your-own offerings. Depending on when you visit in the Fall, you can pick your own apples, peaches, pears, raspberries, and pumpkins.
In addition, the on-site farm market offers pre-made meals, apple cider, fruit, veggies, baked goods, cheese, edible cookie dough, and other goodies. There's also an ice cream stand next to the market.
Last, but not least, Bishop's Orchards also has a winery where you can do wine and hard cider tastings, as well winery tours on the weekend.
Bishop's Orchards
1355 Boston Post Rd
Guilford
Get lost in the wine maze at Holmberg Winery
If you like wine and adore Fall, head to Holmberg Winery in Gales Ferry.
Holmberg Winery hosts a wine maze on select dates in August and September.
The premise is that in order to do a wine tasting, you must find each tasting set up in several locations throughout a corn maze. How fun!
If you're more interested in the wine or hard cider tasting without the maze, their wine barn is open Friday-Sun through the end of October.
Visit their website below for more information, including dates for the wine maze
Holmberg Winery
1990 CT-12
Gales Ferry
Do a rail bike tour
Another fun way to see Fall foliage in Connecticut is via rail bike.
Never heard of a rail bike? Neither had I until recently!
In a nutshell, a rail bike is like a paddleboat, except instead of being in water, you're on railroad tracks.
The Essex Steam Train & Riverboat runs 2 rail bike tours, one over moderate terrain and one over more difficult terrain.
The tours take 1.5-2 hours and are priced per bike with 2 and 4-person bikes available.
Visit their website linked below for more information, including dates and prices.
Rail bikes @ Essex Steam Train & Riverboat
1 Railroad Ave
Essex
Check out the fall foliage at Talcott Mountain State Park
If you haven't visited Talcott Mountain State Park in Simsbury during the fall season, then you're missing out.
Seriously, it's like nature decided to have a party and invited all the autumn colors to show up. The park's foliage is so breathtaking, you'll feel like you're walking through a painting.
And if that's not enough to convince you, let's talk about the Heublein Tower at the top of the mountain.
Yeah, you can hike up there any old time, but during fall, the view is extra spectacular. You'll want to snap some pictures for Instagram, trust me.
So grab your hiking boots and let's get to Talcott Mountain State Park before the season ends. You won't regret it.
Talcott Mountain State Park
1 Summit Ridge Dr.
Simsbury
Get spooked on a ghost tour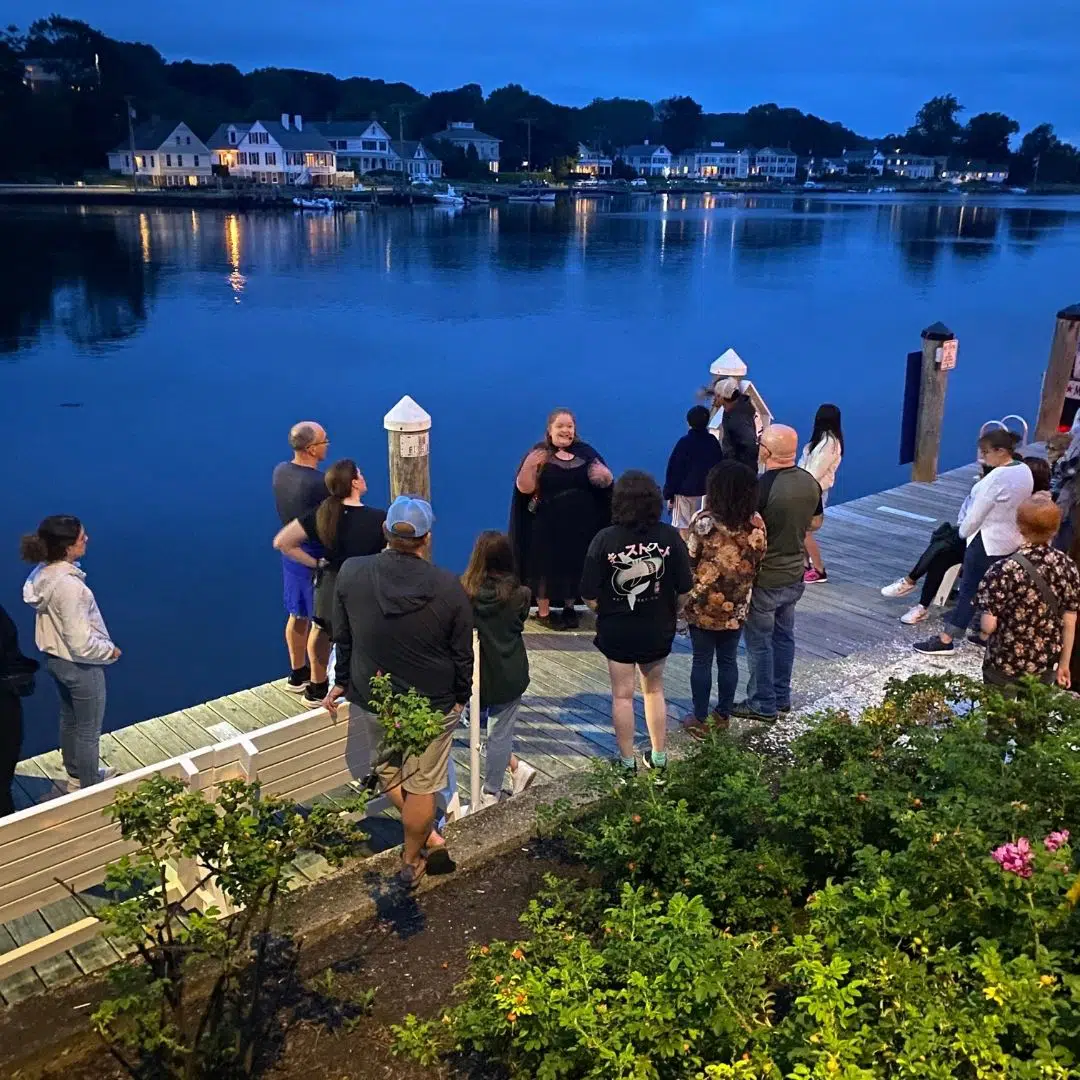 What better way to get into the Halloween spirit than a ghost tour?
There are 2 companies that run ghost tours that I recommend.
First up is Ghosts of New Haven, which takes guests on a ghost tour of New Haven, home of Yale University.
Ghosts of New Haven also arranges private ghost pub crawls in New Haven, as well.
Another fun tour company offering ghost tours in Connecticut is Seaside Shadows Tours in Mystic.
Seaside Shadows offers several haunted tours including a downtown Mystic ghost tour, 2 separate graveyard tours, and 2 separate ghost tours aboard boats.
They also host a paranormal investigation on Halloween weekend at a local cemetery.
Explore Gillette Castle State Park
Ah, the crisp autumn air, the sound of leaves crunching underfoot, and the majesty of Gillette Castle State Park in East Haddam.
If you want to truly immerse yourself in the beauty of this historic spot, there's no better time than Fall.
The colors of the trees lining the Connecticut River are breathtaking (and super Instagram-worthy).
Plus, the cooler temperatures mean you can comfortably explore the castle without working up a sweat.
Gillette Castle State Park
67 River Rd
East Haddam
Try not to get scared at Legends of Fear
Legends of Fear is not for the faint of heart – and really only for preteens and older!
This spooky experience, located in Shelton, features 2 haunted experiences, a haunted hayride and a haunted trail (which also includes access to haunted houses!).
Guests can pick 1 or both experiences, depending on how much scaring they can take in 1 night!
Please visit their website linked below for exact dates and ticket pricing.
Legends of Fear
2 Saw Mill City Rd
Shelton
Ride Rails to the Darkside
Head to the Connecticut Trolley in Museum in East Windsor for a haunted train ride that will cause nightmares, Rails to the Darkside.
And while you might think, hmm trains, this must be for kids, you are sorely mistaken. Rails to the Darkside is great at using darkness, sounds, and spooky characters to really get you screaming.
NOTE: This event is only open to those aged 16 and over.
Rails to the Darkside @ the Connecticut Trolley Museum
58 North Rd
East Windsor
What will you do in Connecticut in the Fall?
Let me know what your favorite thing to do in Connecticut in the Fall is in the comments below.
For more fun things to do in the Fall, check out my posts about New England in the Fall and Where to Visit in the Fall in the USA.
---
About the author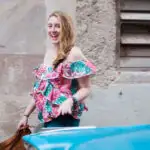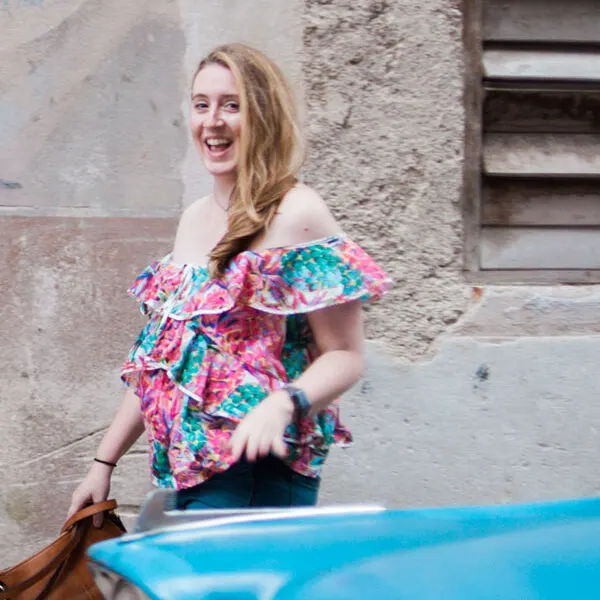 Meg Frost is a Boston-based travel blogger that helps people embrace technology to make vacation planning and traveling wicked easy, affordable, and fun.
She holds an M.A. in Journalism from Northeastern University and B.S. in Communication & American Studies from University of Miami.
---
This post was originally published on September 7, 2021. It was last updated August 17, 2023.