It may be true that there's no sight quite as beautiful as the leaves turning from green to a blaze of fiery colors in autumn.
New York City offers plenty of leaf-peeping opportunities throughout, but it's so much more than picturesque foliage – there are lots of fun activities unique to this time of year!
From classic favorites like visiting Central Park and grabbing an iconic bagel with lox to offbeat selections such as storm-watching at The Battery, get ready for a packed NYC itinerary when you come here in fall.
Read on for 15 must-do picks that both locals and tourists love in my guide to Fall in New York City!
Hang out at the Feast of San Gennaro
San Gennaro was an Italian Bishop who is now known as the patron saint of Little Italy NYC.
Little Italy honors him each year with a week-long celebration filled with concerts, vendors, a parade, and eating competitions (cannolis, meatballs, and zeppole).
In 2023, the Feast of San Gennaro runs from September 14 – 24.
Check out the fall foliage in Central Park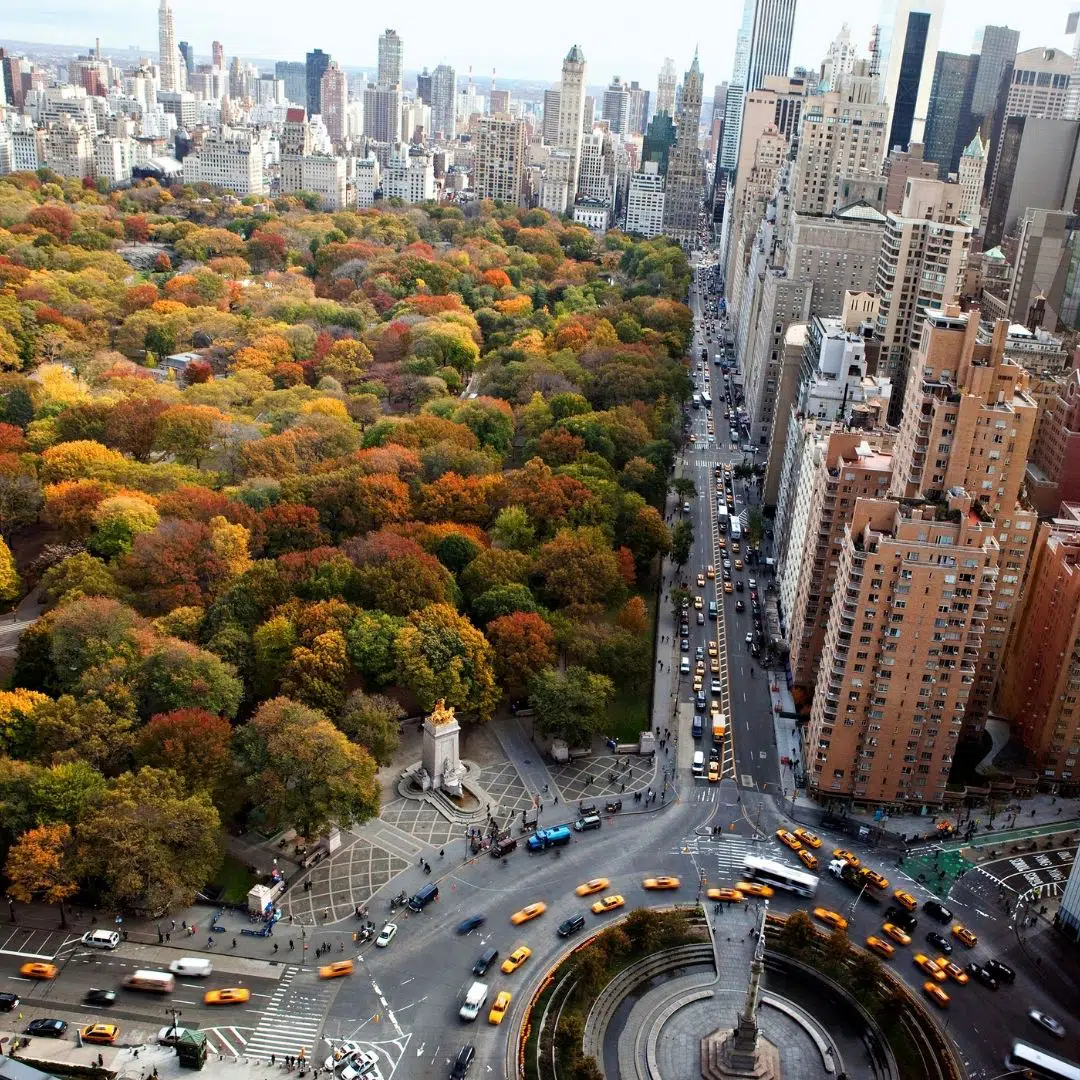 While NYC may be known as the concrete jungle, it is not devoid of the gorgeous Fall colors you'll see in the Northeastern part of the US, especially upstate New York or the New England region.
Head to the famous Central Park to see the Fall colors around October through early November.
This 843-acre park in the heart of Manhattan has over 700 types of plants and trees that you can admire any time of year, but especially in the Fall.
Enjoy the foliage on a picnic, leisurely stroll, bike ride, or carousel ride.
TIP: Two of my favorite spots to get an aerial view of the city are Rockefeller Center's Top of the Rock observation deck and the High Line park.
Geek out at New York Comic Con
Calling all geeks – New York is home to one of many major comic cons in the US!
The NY Comic Con features meet-and-greets, discussion panels, screenings, and other fun comic and anime-focused events.
Perhaps my favorite part is the many attendees who show up in cosplay that is just as good, if not better, than what you see in books or on screen.
In 2023, New York Comic Con will take place October 12 – 15 at the Javits Center.
Enjoy the Village Halloween Parade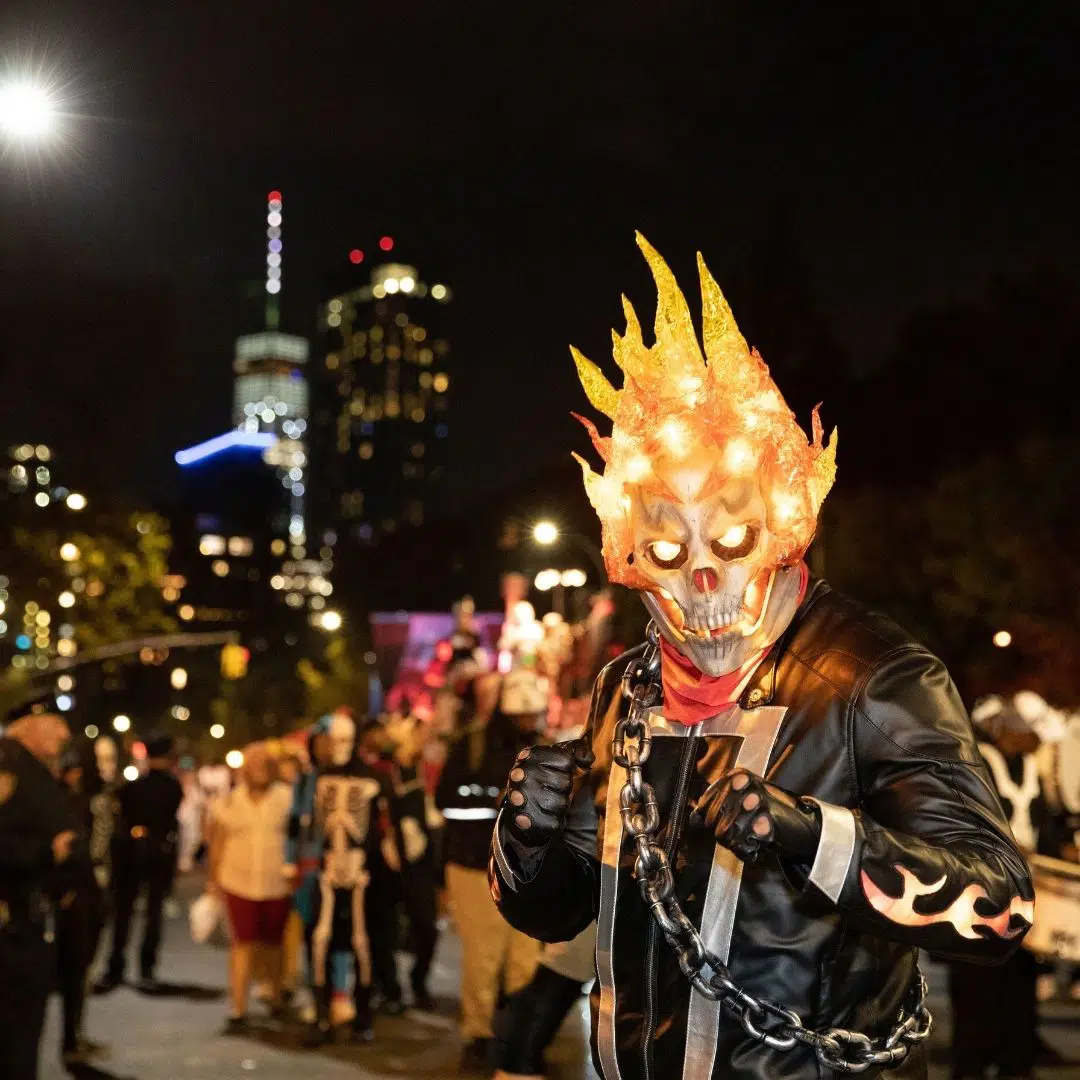 If you ever find yourself in Greenwich Village on Halloween evening, you'll probably witness New York City's only nighttime parade.
Held every year since 1973, the Village Halloween Parade features marching bands, themed puppets, and other entertainment.
Every year there's a different theme for the participants and spectators to inspire creativity, although it is not required to match the theme in order to participate in the parade.
Watch the Tompkins Square Halloween Dog Parade
Each year, New York City's cutest doggos and their owners dress up for the holiday and put on a parade. There's even a contest and prizes for a variety of categories!
The 2023 date hasn't been confirmed yet, but suspected to be Saturday, October 21. I'll be sure to update this post once it's confirmed.
Watch scary films at the Brooklyn Horror Film Festival
Get into the Halloween spirit with a spooky film or 2 at the Brooklyn Horror Film Festival.
Started in 2016, the Brooklyn Horror Film Festival is, as you probably guessed, dedicated to films of the horror genre.
It specializes, however, in films that push the boundaries of what most think of as horror.
The Brooklyn Horror Film Festival takes place across a week with most events on the weekends.
In 2023, the Brooklyn Horror Film Festival will run from October 12 – 19.
Events take place at a variety of venues across Brooklyn, so be sure to visit the Brooklyn Horror Fest site for more information.
Wander the New York Botanical Garden
Another perfect spot to see Fall foliage without leaving city limits is the New York Botanical Garden in the Bronx.
This 256-acre botanical garden has over 1 million plants and trees, many of which explode with gorgeous Fall colors.
If you plan to visit the New York Botanical Garden in the Fall, I recommend visiting the wetland trail, forest, seasonal walk, perennial garden, azalea garden, and the children's adventure garden.
In the Fall, the New York Botanical Garden is open Tuesday through Sunday from 10 AM to 6 PM, as well as on Mondays that are federal holidays.
New York Botanical Garden
2900 Southern Boulevard
Bronx
See new films at the New York Film Festival
For more than six decades, people have gathered in New York City to see some of the best new films.
The festival also includes screenings of restored films, as well as talks and panels with celebrity guests.
In 2023, the festival will take place September 29 – October 15. Most screenings will take place in and around Lincoln Center, but some will take place elsewhere in the city.
Laugh your socks off at the New York Comedy Festival
For two decades now, hundreds of the best comedians gather in New York City to put on around 100 shows across all 5 boroughs, as part of the New York Comedy Festival.
Performers include up-and-comers, as well as veterans like Bill Burr, Brett Goldstein, Nicole Byer, and Margaret Cho.
Venues include Madison Square Garden, the Apollo Theater, Carnegie Hall, and more.
In 2023, the festival runs from November 3 – 12.
Watch the Macy's Thanksgiving Day Parade LIVE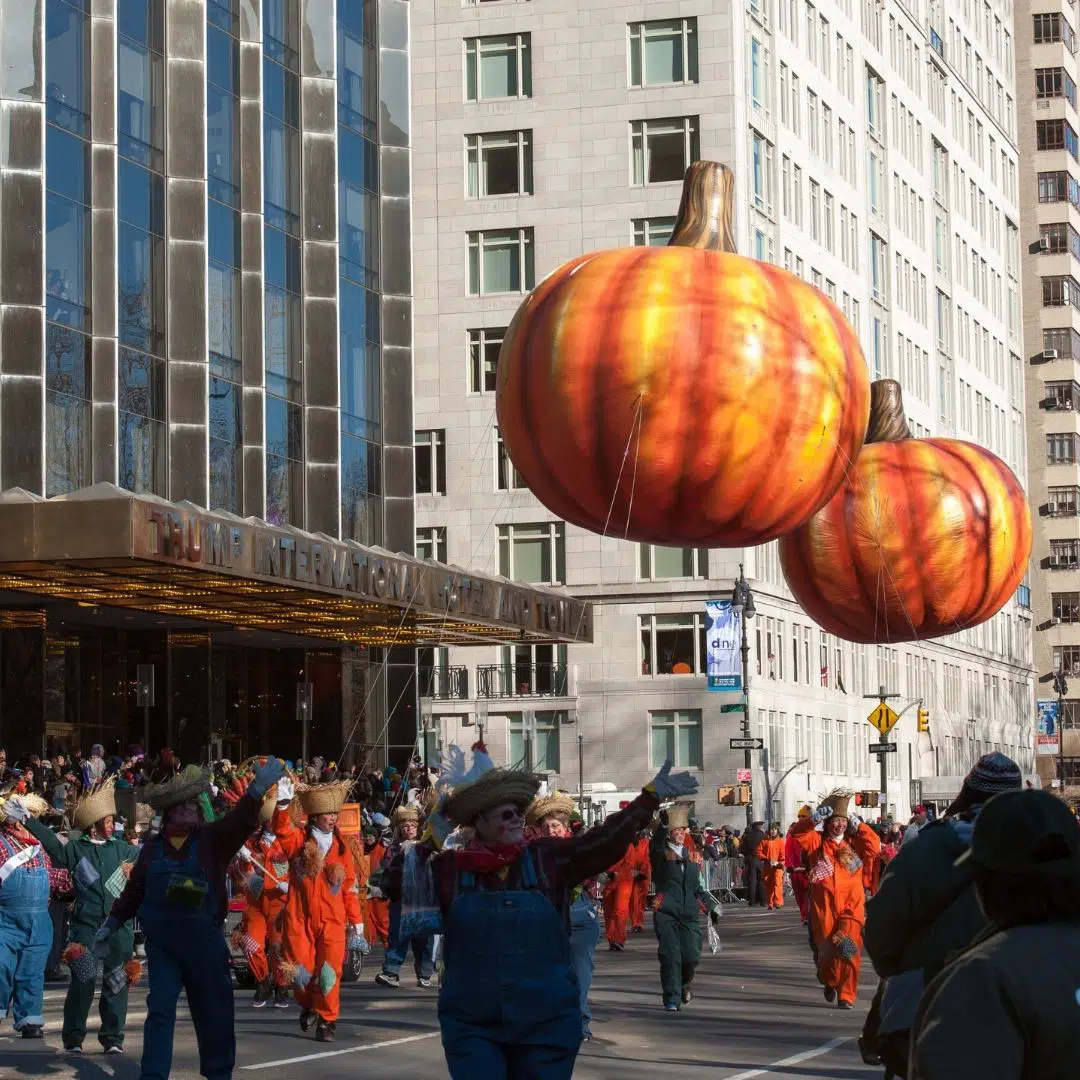 If you're in the city on Thanksgiving Day, join in on the fun with Macy's Thanksgiving parade, the largest parade in the world.
It features marching bands, musicians, Broadway performers, dancers, floats, and giant balloons of your favorite characters.
If you can't make it to see the parade in person, NBC airs it on its local affiliate channels across the US.
The Macy's Thanksgiving Day parade runs from 9 AM to 12 PM annually on Thanksgiving Day.
Get spooked at Blood Manor
If you thought you'd have to leave the city to get a good haunted house experience, you're mistaken!
Blood Manor is a long-running haunted house right in Manhattan that's regularly rated one of the best spooky experiences in the US.
It's even been featured on The Tonight Show with Jimmy Fallon!
Blood Manor features creepy clowns, murderous villains, demons, zombies, ghosts, and other disgustingly creepy and haunted encounters.
Blood Manor
359 Broadway
Manhattan, New York City
Go apple picking
While you could head to a farmer's market for some fresh, native apples, why not make a day trip of it?
Long Island and the Hudson Valley in New York have plenty of cute farms and orchards that offer apple picking, along with other in-season produce and goodies.
Check out my post about New York state in the Fall for tips on where to go apple picking in NY state.
Visit the legendary Green-Wood Cemetery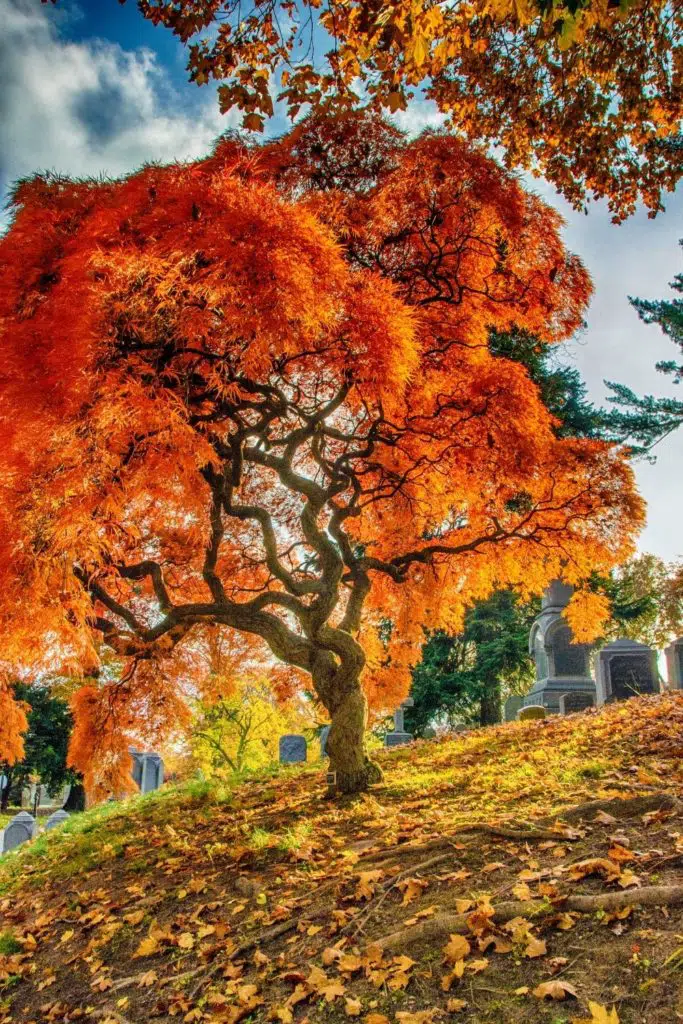 The Green-Wood Cemetery in Brooklyn is unlike any cemetery I've ever heard of.
This 478 acre wonder celebrates life with a series of art programs, such as concerts, art installations, and an annual gala.
In one art installation, which has been at the cemetery for 25 years, visitors are invited to write their secrets and drop it into a grave created by artist Sophie Calle.
The grave is transcribed with the saying "Here Lie the Secrets of the Visitors of Green-Wood Cemetery." It's like a real-world version of Post Secret!
Green-Wood is open to the public 7 days a week. Check out their website linked below for a complete list of programs and hours, as they change periodically.
Green-Wood Cemetery
500 25th St
Brooklyn
Go for a walk along the East River
The East River is the body of water between Manhattan and Brooklyn. It's adorned with wide walkways at multiple points on both sides.
The location makes it a great spot for views of either part of the Big Apple, especially the Brooklyn Bridge, which crosses the East River.
I love going for long, contemplative walks, but love it the most in the Fall season.
There's nothing better than grabbing a warm cup of tea or coffee and leisurely strolling alongside a river or lake, with Autumn leaves crunching under your feet.
Do a haunted ghost tour
See the city of New York through a haunted lens on a ghost tour.
There are 2 reputable tour companies that offer several different ghost tours in NYC: Boroughs of the Dead and Haunted Manhattan.
Boroughs of the Dead offers 4 tours:
The Ultimate Greenwich Village Ghost Tour
West Village Ghosts
The Forgotten Dark Histories of Lower Manhattan
Island of Lost Souls
Island of Lost Souls is perhaps the most unique of the tours, as there aren't many tours featuring Roosevelt Island, which was once home to an asylum, smallpox hospital, and a penitentiary.
Haunted Manhattan also offers 4 tours:
East Village
West Village
Greenwich Village
Five Points / Downtown Manhattan
The Five Points tour includes stories involving mob bosses, Lenape Native Americans, actors, and more.
Watch Harry Potter and the Curse Child
Head to the city to see Harry Potter and the Cursed Child, a Broadway play that picks up in the world of Potter and friends 19 years after the books end.
Harry is the head of the Department of Magical Law Enforcement at the Ministry of Magic and his son is about to enter Hogwarts.
You'll have to see the play to learn what happens!
Visit the Harry Potter New York shop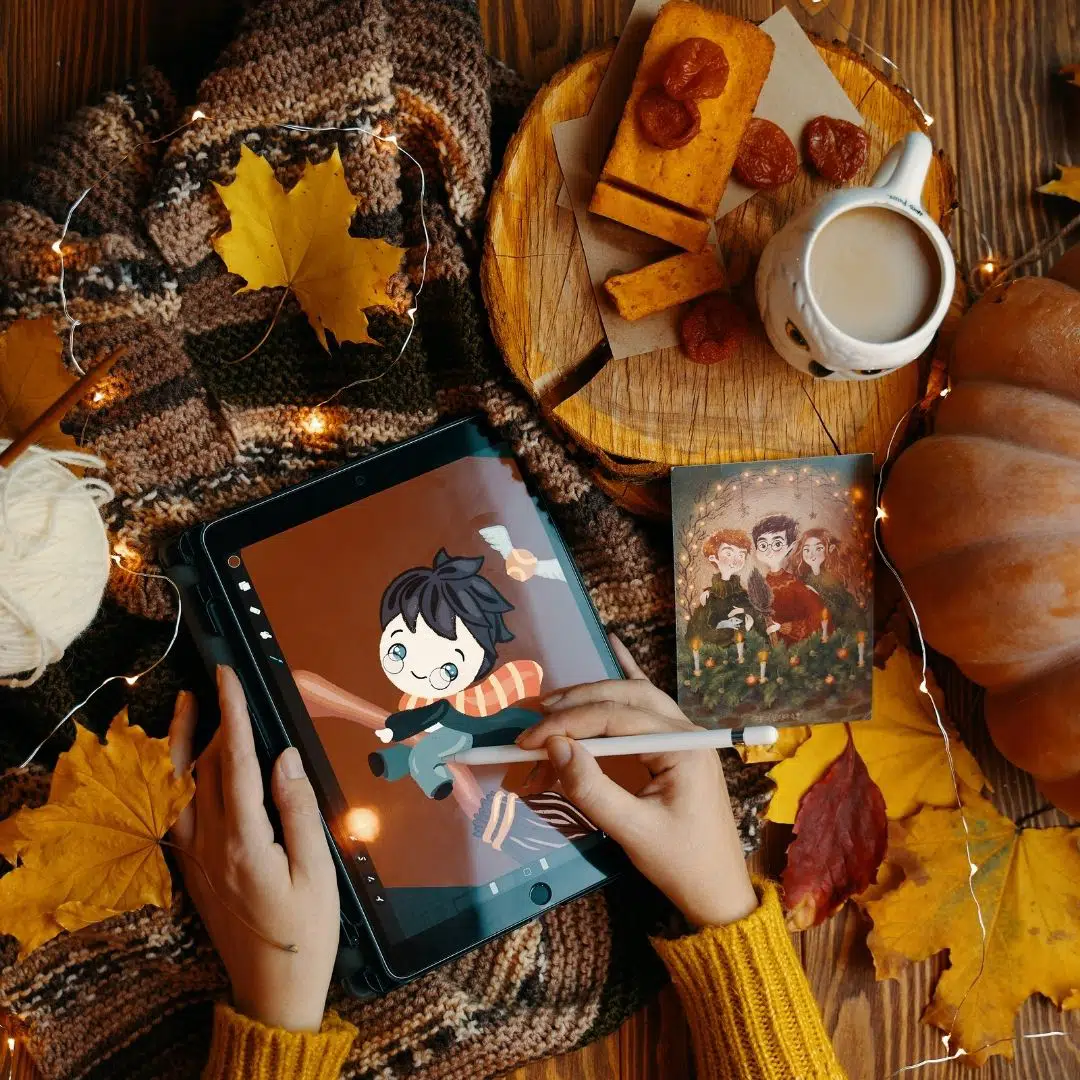 There's also an impressive Harry Potter themed shop, called Harry Potter New York, that features a butterbeer bar and Harry Potter themed virtual reality experiences, in addition to merchandise.
The store operates on a timed-entry system at the moment.
Here's how it works: stop by the store as early as 7 AM to scan a QR code and get your entry time.
Return to the store within an hour of your assigned entry time.
There are a limited number of slots available and you can't make reservations online or by phone, so if you have your heart set on going, get there early to scan the code!
Hang out at The Cauldron bar
Last up is The Cauldron NYC, a potion-themed bar that features a potion making class for an extra cost.
While the Cauldron is a bar, they host family-friendly non-alcoholic potion making classes so the kiddos can get in on the potion making fun.
What will you do this Fall in New York City?
Let me know what you get up to this Fall in New York City in the comments below.
For more travel tips, check out these posts:
---
About the author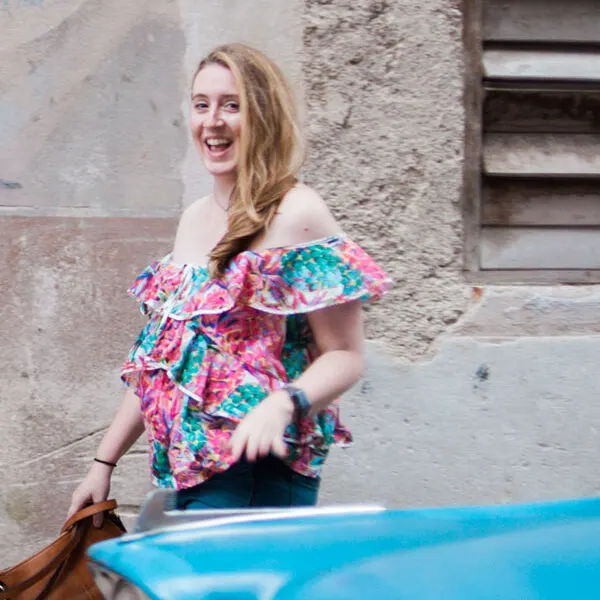 Meg Frost is a Boston-based travel blogger that helps people embrace technology to make vacation planning and traveling wicked easy, affordable, and fun.
She holds an M.A. in Journalism from Northeastern University and B.S. in Communication & American Studies from University of Miami.
---
This post was originally published on September 15, 2021. It was last updated August 17, 2023.