For a small New England town, there sure are a lot of things to do in Salem, MA.
Planning a trip to the Witch City can be a bit overwhelming due to this, but that's what I'm here for.
In this post, I'll go over the best things to do in historic Salem, plus a few attractions that you can skip.
1. Peabody Essex Museum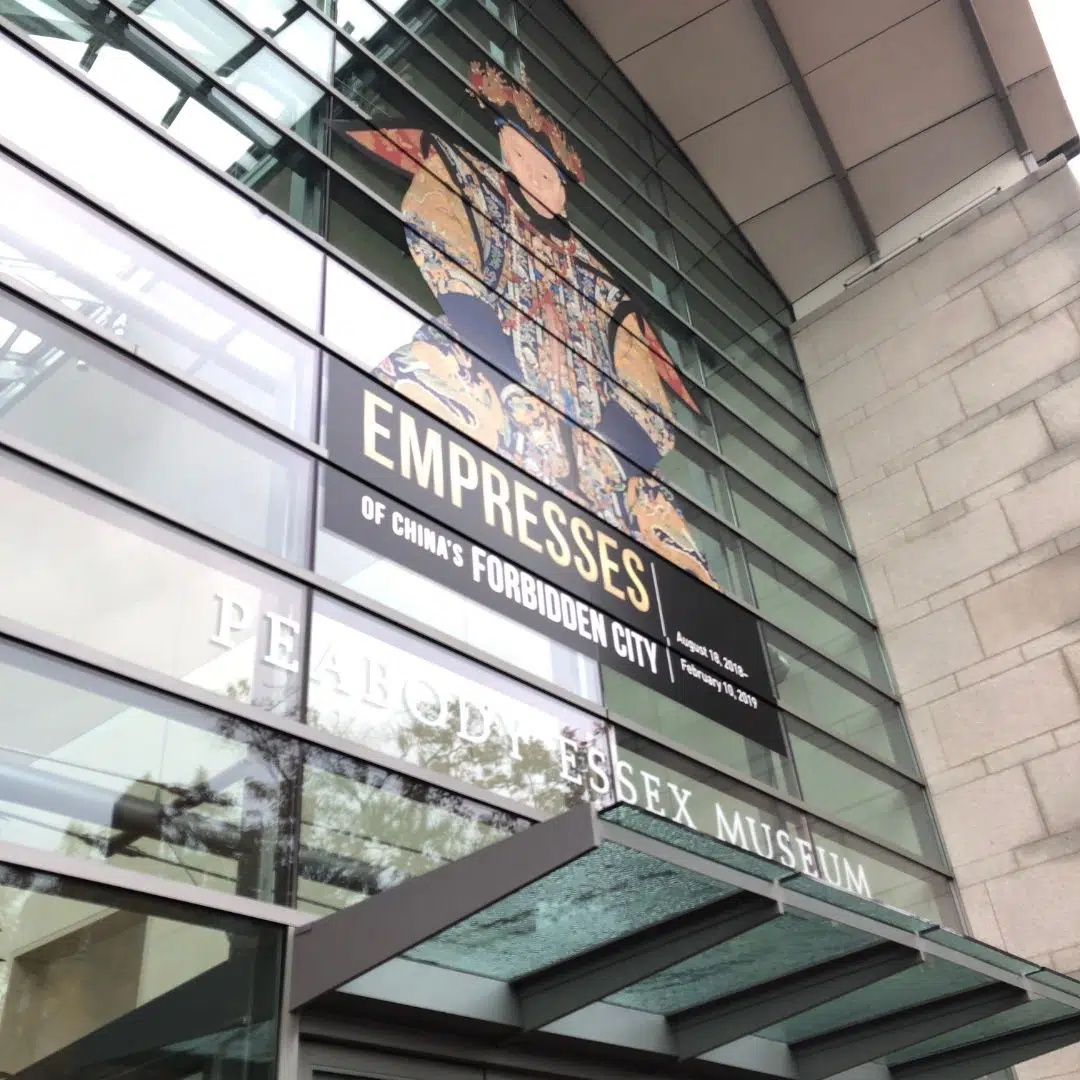 One of my favorite art museums in downtown Salem, Massachusetts is the Peabody Essex Museum.
This museum not only collects and preserves art, but interprets and displays them in a way that invites visitors to explore the connection between art, culture, and history.
In addition to its art, the Peabody Essex Museum's collection includes historic homes, such as the John Ward house, and a library filled with important artifacts.
Location: 161 Essex St
Contact: (978) 745-1876
2. Salem Trolley tour
Guided tours are a quick and easy way to get to know a destination that I've never traveled to before. I almost always find something to do that I hadn't considered when planning my trip.
The Salem Trolley tour takes guests on an 8-mile journey through the town, showing you key locations, such as the historic waterfront, Chestnut Street, and various locations connected to the Witch Trials of 1692.
For some extra fun, book their Tales & Tombstones haunted nighttime tour.
Or if you're visiting during the Winter holiday season, check out their collaboration with The Gallows Hill Theatre that combines a trolley tour with a live performance of Charles Dickens' A Christmas Carol.
3. Walking tours
If you're rather explore Salem on foot, check out a walking tour. There are tons of walking tours available in Salem, so if you're looking for some recommendations, check out my post about the best tours in Salem, Massachusetts.
4. House of Seven Gables
Visit the House of the Seven Gables, the home that inspired Nathaniel Hawthorne's novel of the same name.
The home and grounds are impeccably preserved and it's a great place to learn about life in Salem's early years.
The House of Seven Gables hosts a wide variety of events and activities, such as film screenings, lectures, and even yoga classes!
Location: 115 Derby St
Contact: (978) 744-0991
5. Gallows Hill
Gallows Hill includes several attractions and tours, which can be accessed separately or via combo tickets.
First up is The Gallows Hill Main Show, a 22-minute retelling of the area's witchy history using 4D effects, such as rumbling seats and holograms.
In addition to the main show, they have interactive experience, Guilty! A Salem Witch Trial. In this 45-minute show, the audience is on trial for witchcraft.
Aside from the shows, Gallows Hill is also home to The Lost Museum. The Lost Museum is less of a museum and more of a haunted house/escape room type experience.
On select nights, Gallows Hill hosts a paranormal ghost hunt where guests learn about and participate in a ghost hunt throughout the museum.
Lastly, Gallows Hill hosts 2 tours, the Tales & Ales brewery tour and Ghosts & Legends haunted trolley tour.
Location: 7 Lynde St
Contact: (978) 825-0222
6. Witch Pix photoshoot
A fun way to celebrate your visit is with a photoshoot at Witch Pix, located at the Witch City Mall.
In this experience, there are a variety of scenes or backgrounds to choose from, along with coordinating costumes.
It's like playing dress-up for grown ups, except you walk away with photos to remember it all!
Location: 172 Essex St
Contact: (978) 745-2021
7. Visit a psychic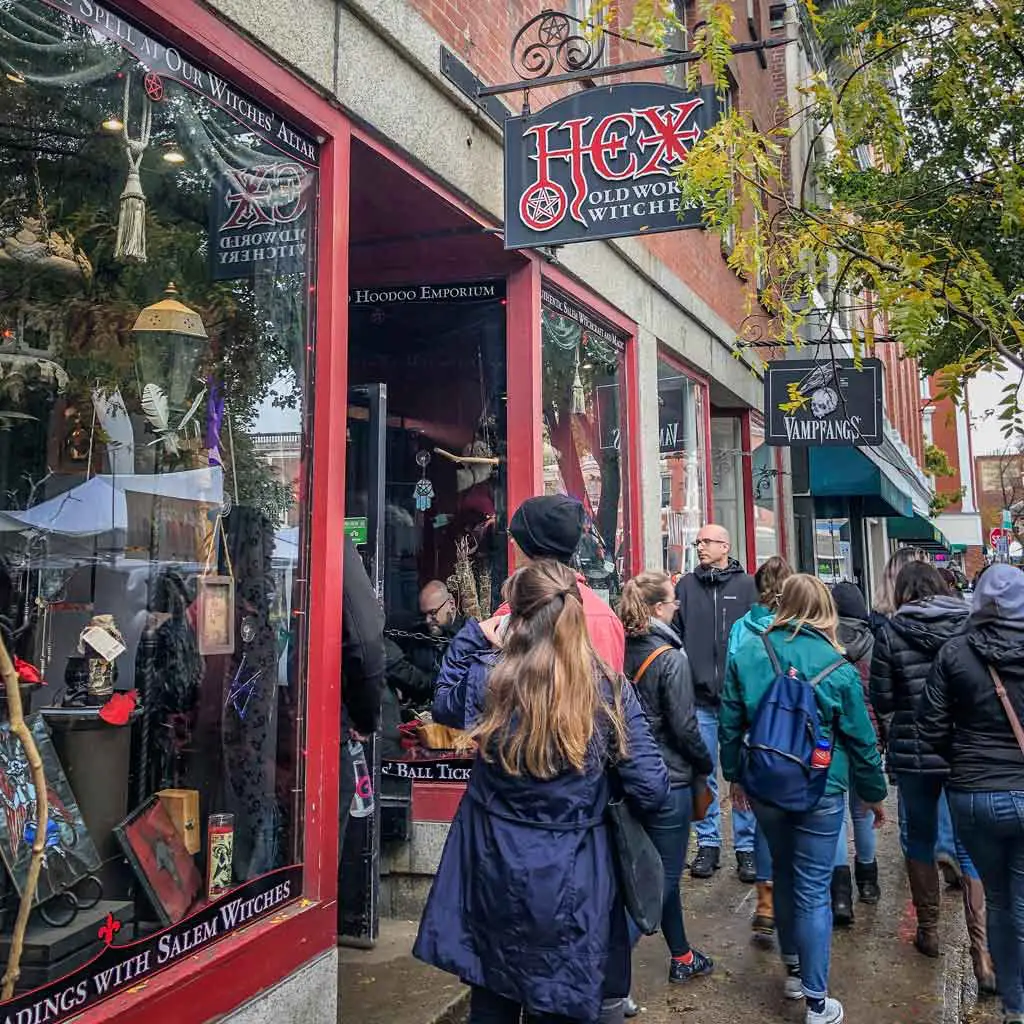 A visit to Salem, Massachusetts cannot be done without a visit to a witchcraft shop or getting a psychic reading!
Here's a list of the most popular establishments in the area that offer readings and sell artifacts for your practice or enjoyment:
Crow Haven Corner – 125 Essex St
Hex – 246 Essex St
Magicka – 107 Federal St
Omen – 184 Essex St
TIP: If you're intent on a psychic or palm reading during the month of October, I highly recommend making an appointment, as there is often a line at these establishments due to the high volume of tourists.
8. Elizabeth Montgomery "Bewitched" Statue
For a fun photo op, take a photo with the Elizabeth Montgomery statue near the corner of Essex and Washington streets in Lappin Park.
Montgomery is an actress who played a witch named Samantha in a 1960s television show, Bewitched. The statue is sponsored by TV Land, a cable channel that often shows reruns of this beloved show.
9. Essex Street Pedestrian Mall
Running through the heart of the town is the Essex Street Pedestrian Mall, a cobblestone street closed to traffic that is filled with shops, restaurants, and museums. It is also home to the Salem Visitors Center.
During the month of October, this section of the street is lined with local vendors selling crafts and other fun handmade wares.
10. The Pickering House
The Pickering House is Salem's oldest house. It was built in 1660 by John Pickering, a carpenter from Coventry, England.
It was home to the Pickering family for many generations over a span of 350 years.
As you can imagine, the house expanded over the years to meet the ever-evolving needs of each generation.
You can tour the home, along with historical artifacts from throughout the generations that lived there.
Location: 18 Broad St
Contact: (978) 744-4777
11. Joshua Ward House
The Joshua Ward House holds a heck of a lot of history!
Built in 1784, it is one of the first brick houses in town. It was built in the same spot where Sheriff George Corwin, who is associated with the witch trials, once had a home.
As if that isn't enough significance, George Washington, the first president of the United States, is said to have stayed there, too. It has also had past lives as a tavern and a rare bookshop.
These days, the Joshua Ward House is known as The Merchant, a luxurious boutique hotel.
12. Salem Maritime National Historic Site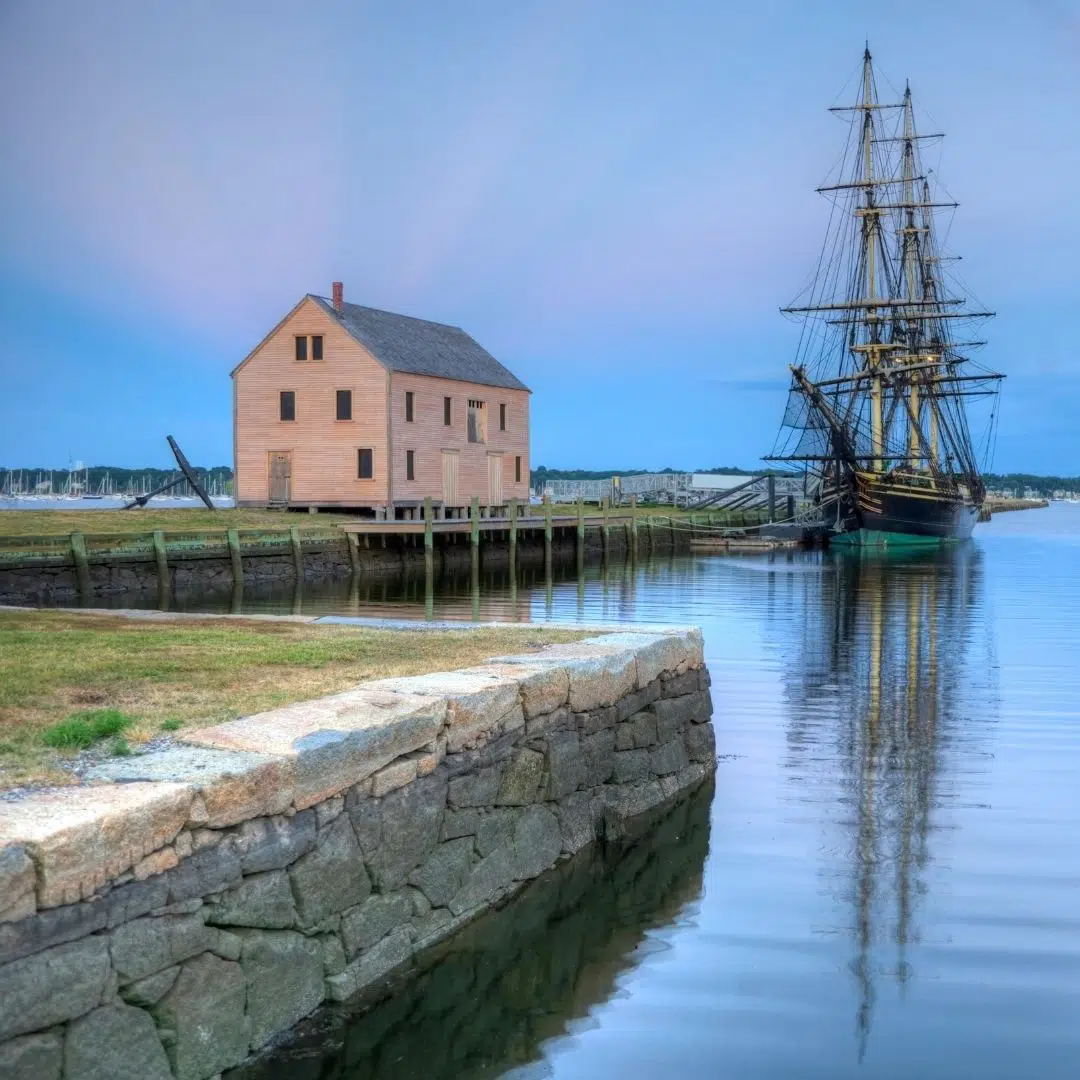 The Salem Maritime National Historic Site is the first national historic site in the United States.
It includes 12 structures where you can learn about Salem's maritime history, including historic homes and buildings, a replica tall ship, and a lighthouse, across 9 acres on the Salem Harbor waterfront.
Unlike some national parks and sites, this one is free to visit!
Location: 2 New Liberty St
Contact: (978) 740-1650
13. Count Orlok's Nightmare Gallery
If you're a fan of classic horror films, Count Orlok's Nightmare Gallery will be worth your while.
The museum is filled with displays and memorabilia from horror films old and new.
There's a gift shop with souvenirs featuring classic horror films or characters, as well.
Location: 217 Essex St
Contact: (978) 740-0500
14. McIntire Historic District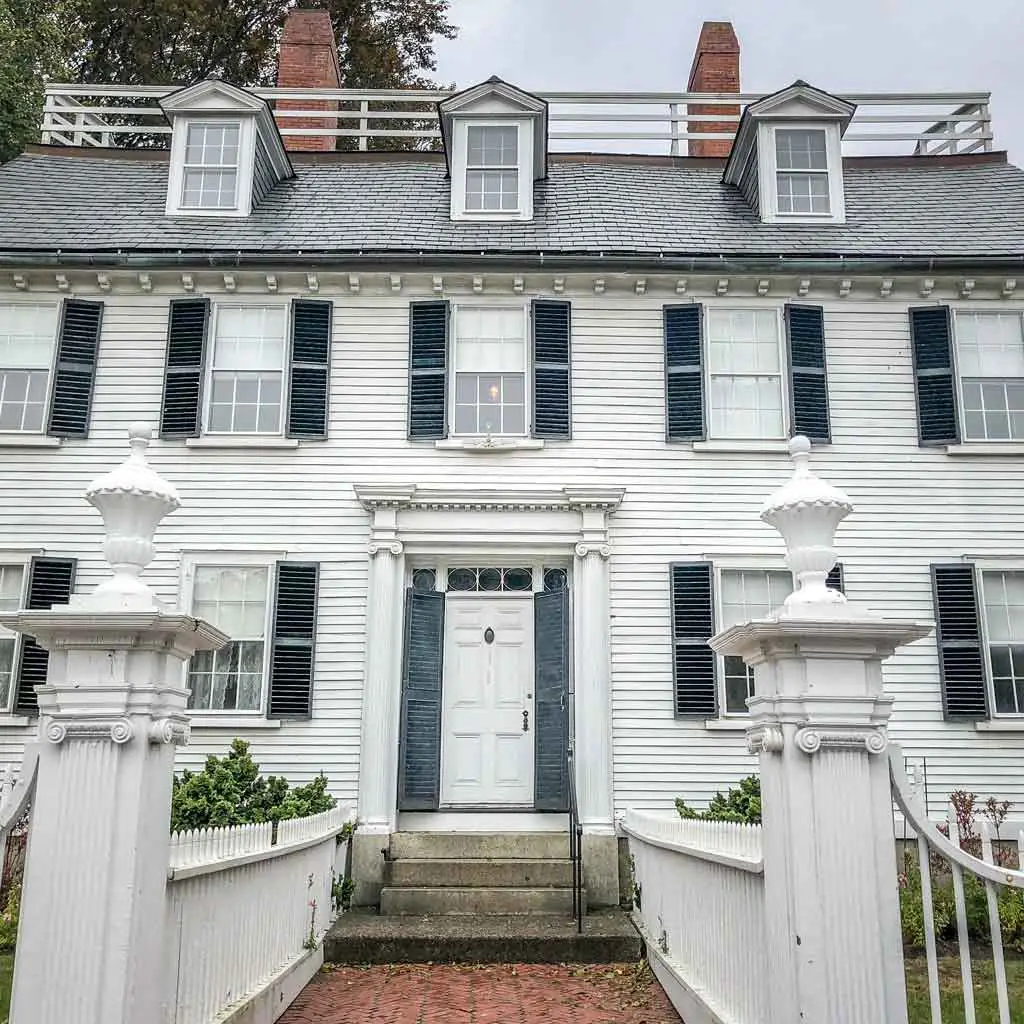 Head to the McIntire Historic District to see beautiful homes featuring Georgian and Federal style homes designed by Samuel McIntire.
To narrow it down, head to the historic Chestnut Street District, a small section of the larger national historic landmark district.
Some well-known homes in this neighborhood include the Stephen Phillips House, Thomas Saunders House, Hamilton Hall, the Pickering House, and the Pierce-Nichols House.
While all of the homes listed above are famous, perhaps the most interesting to you is The Ropes Mansion (pictured above). This building is better-known as Allison's house in the cult-favorite Disney movie, Hocus Pocus!
15. Salem Common
Settled in the middle of downtown Salem, the Salem Common is a typical New England town green with monuments, a playground, and 8 acres of green space.
During the month of October, food stalls and fair rides are available to celebrate Halloween.
Winter Island includes boating and camping for both RVs and tents, plus access to Waikiki Beach.
Salem Willows Arcade & Park includes an arcade, bumper cars, wiffle ball batting cages, air hockey, food stands, and access to nearby Fort Pickering Beach.
Salem Common is a typical New England town green with monuments, a playground, and plenty of green space.
16. Salem Willows Arcade & Park
Salem Willows Arcade & Park is a 35-acre park that was created in 1858.
Today it includes an arcade with air hockey, bumper cars, carousel, dance dance revolution, fruit ninja, temple run, wiffle ball batting cages, and other games.
There are also several food stands with pizza, ice cream, clam chowder, fried clams, lobster, and other tasty treats.
Lastly, you can access Fort Pickering Beach from the park.
Location: 165 Fort Ave
Phone: (978) 745-0251
17. Artist's Row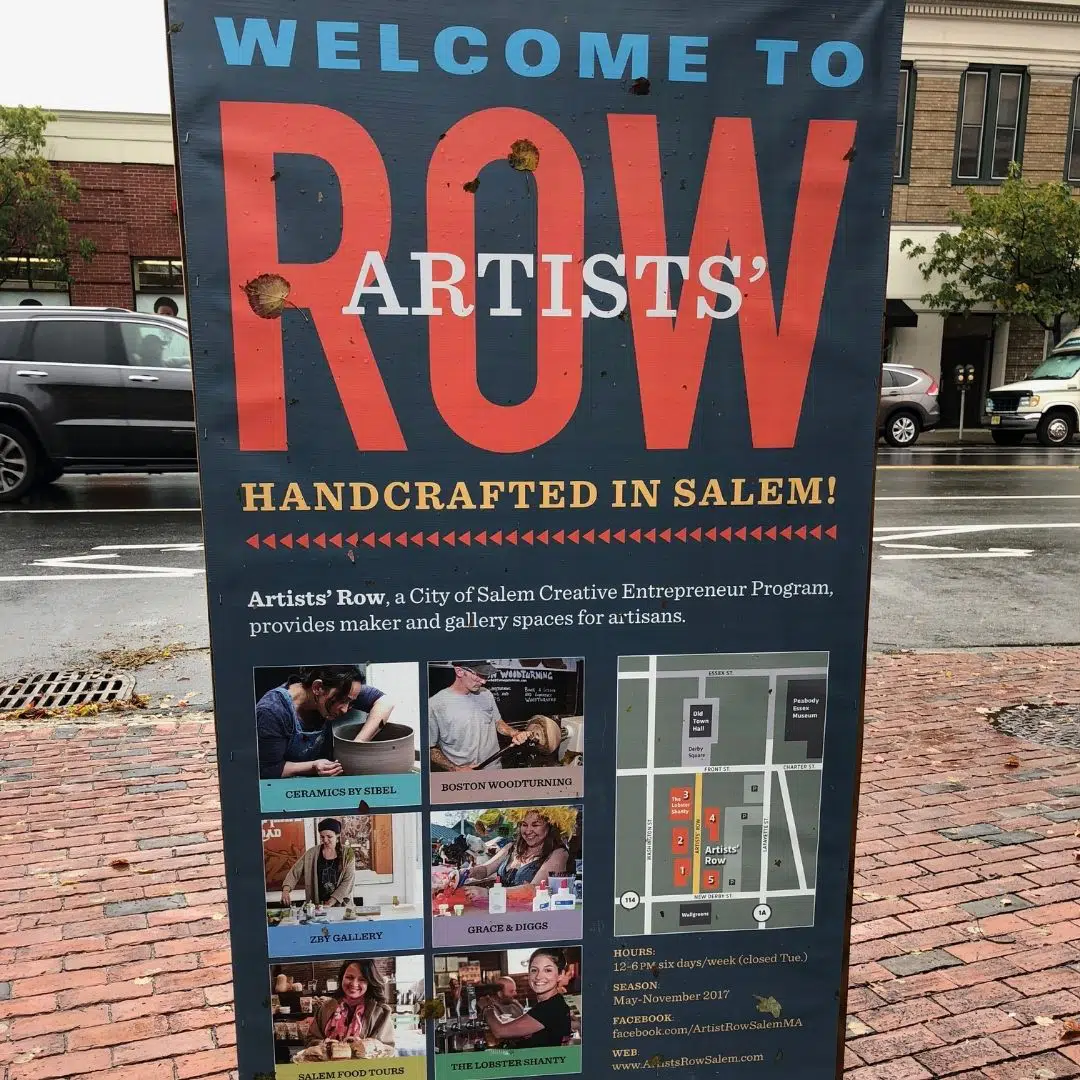 Artists' Row is a small alley-like plaza that features local creatives and artists.
There are several small buildings where artists-in-residence create and display their work. Some also sell their goods.
In addition, there are frequent art installations, music performances, and other entertainment.
I always make a point to stop by when in town to see what's happening!
NOTE: Artists' Row is a seasonal attraction. It opens in late Spring and runs through mid Fall. Be sure to check out their website below for hours and and event schedule.
Location: 24 New Derby St
Contact: (978) 619-5685
18. Punto Urban Art Museum
One of my favorite things to do in Salem, Massachusetts is head over to the Punto Urban Art Museum.
This open air museum was dreamed up as a unique way to spread the tourism dollars for Salem to the El Punto neighborhood and feature local and international artists.
Currently there are 75 large scale murals spread across a 3 block radius. Given its public location, it is 100% free to visit!
Most of the murals are located between Peabody St and Ward St. To find a specific mural, check out the free printable map.
NOTE: In the past, several walking tours were offered, but they are on hold due to Covid-19. As of December 2022, there is no word yet on when they'll be available again.
19. History Alive
A unique way to learn about the town's history is by watching a performance from History Alive.
History Alive has several performances running at a time, so there are plenty of stories to choose from.
One of their flagship shows is Cry, Innocent: The People vs. Bridget Bishop, an immersive experience in which a young woman accused of witchcraft is set before a jury, which also happens to be you – the audience.
Shows take place at various spots across town, so check out their website linked above for more information about tickets and show locations.
20. Real Pirates
Real Pirates tells the story of Whydah Gally, a galley ship that was once used in human trafficking of the enslaved.
Whydah Gally was seized by pirate Black Sam Bellamy in early 1717 only to be shipwrecked near Cape Cod in Massachusetts a month later.
Real Pirates originally started as a traveling museum exhibit and toured the US from 2007-2014. It features actual artifacts from the shipwreck and occasionally hosts live, interactive performances.
Location: 285 Derby St
Contact: (978) 259-1717
21. Salem Witch Trials Memorial
Pay your respects to the innocent victims of the Salem Witch Trials at 24 Liberty Street.
The memorial debuted in 1992 and includes 20 benches made of granite to represent the 20 people who were executed.
Each bench is inscribed with the name of an individual wrongfully killed during the hysteria of this infamous era.
22. Charter Street Cemetery (aka Old Burying Point)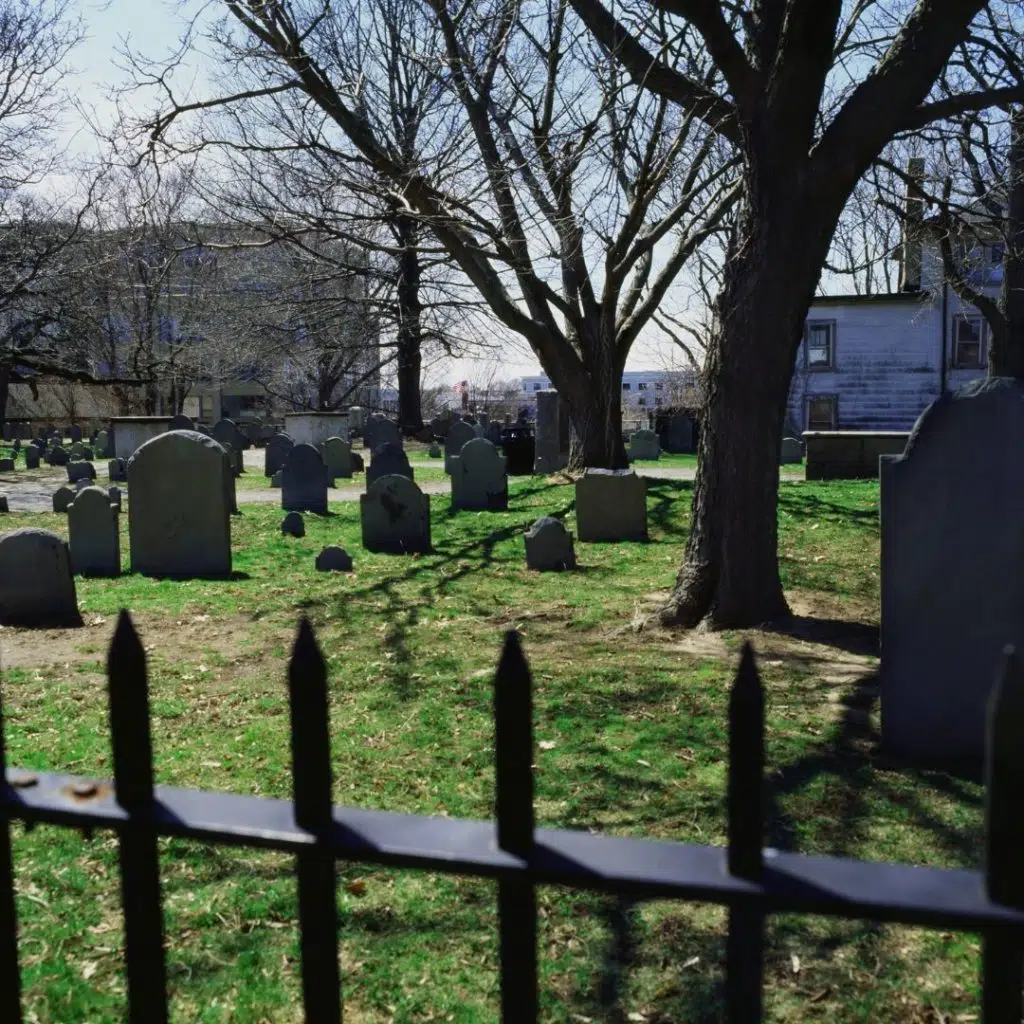 The Charter Street Cemetery, sometimes referred to as Old Burying Point Cemetery, is the oldest cemetery in Salem, Massachusetts, as well as one of the oldest cemeteries in the United States.
Located at 51 Charter Street, it opened in 1637 and contains the graves of several historical figures, such as Judge John Hathorne, and Governor Simon Bradstreet.
Several women, such as Mary Corey, who were wrongfully hanged during the Salem Witch Trials are also buried at The Old Burying Point.
Given its historical significance, there is a small house on site that includes a gift shop and exhibits so you can learn more about its history.
They also hosts events from time to time, so be sure to check out their website linked below.
23. Proctor's Ledge Memorial
Another spot to pay your respects to the people who lost their lives to the hysteria of the Salem Witch Trials is Proctor's Ledge Memorial at 7 Pope Street.
Proctor's Ledge is the actual site where the 20 people accused of witchcraft were hanged or executed.
It's a very unassuming site, especially if you visit outside of the Fall season, as it simply looks like a stone garden wall.
However, once you get closer, you'll see the names of each victim carved into the stone.
24. The Witch House
The Jonathan Corwin House, aka The Witch House, is the only structure from the Salem Witch Trials that still exists today.
It was home to Judge Jonathan Corwin, one of the judges that participated in the trials.
You can tour The Witch House with or without a guide, as well as participate in regular events that take place at the home.
Location: 310 ½ Essex St
Contact: (978) 744-8815
25. Pioneer Village
If you've ever wondered what life was like during Salem's early years, you can get a glimpse at Pioneer Village.
This living history museum showcases homes from Native Americans and British settlers, as well as people reenacting life during this era.
It was also used in the opening scenes of Disney's popular Halloween film, Hocus Pocus.
Pioneer Village is only open on Saturdays and Sundays and is closed completely from late Fall through Winter. Admission is $5.
26. Salem Witch Village & Wax Museum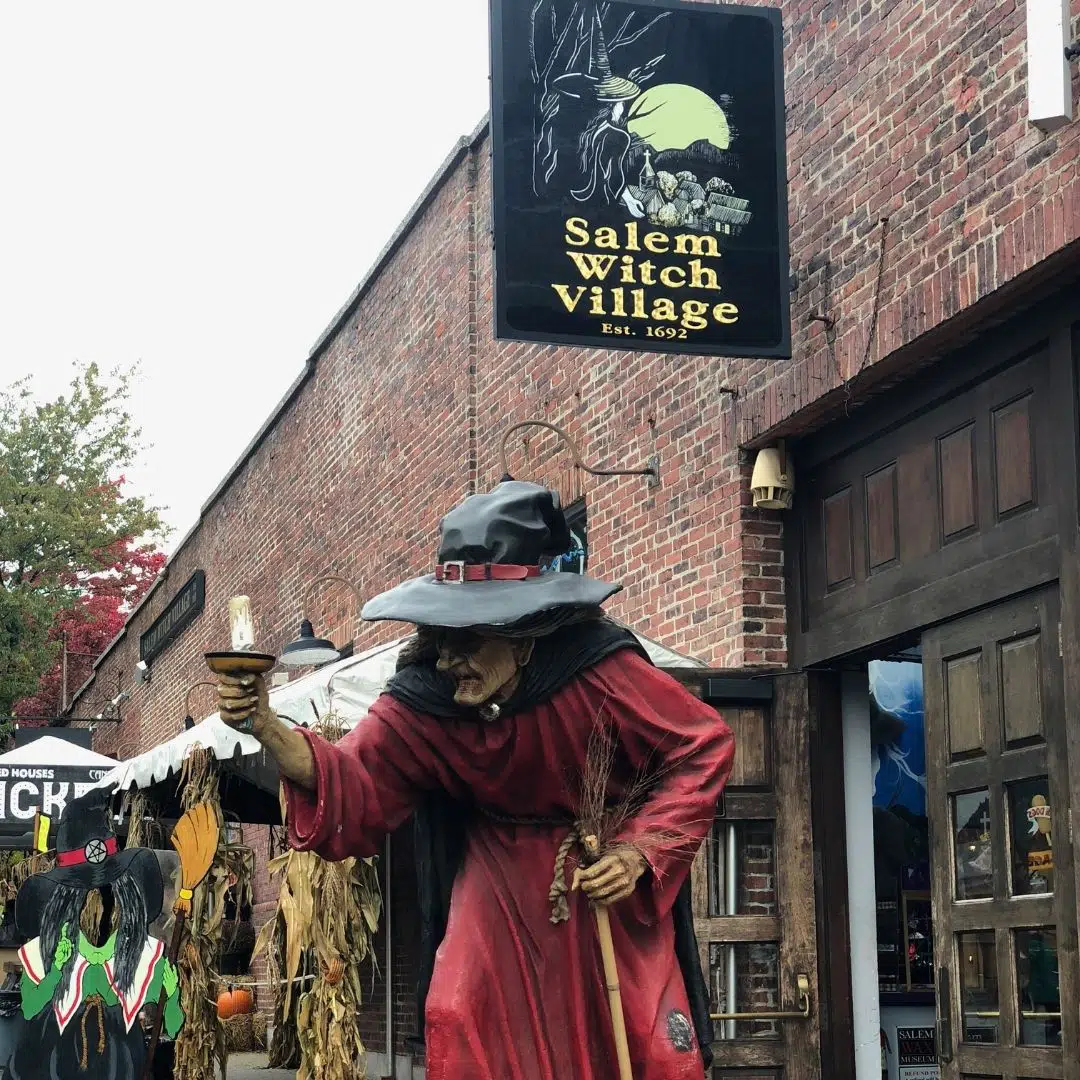 The Salem Witch Village, Salem Wax Museum, and Frankenstein's Castle are technically 3 separate tourist attractions.
To be honest, they aren't my favorite things to do in Salem, MA, but if you're a first time visitor or are traveling with kids, they might be right up your alley.
The Witch Village teaches you about history and modern day witchcraft.
The Salem Wax Museum includes wax figures of historical residents.
Lastly, Frankenstein's Castle is a haunted house open during the Halloween season. It's not that spooky and will probably take you less than 5 minutes to walk through.
In my opinion, none of these attractions are worth your money considering everything else available in the area.
NOTE: All 3 attractions are closed during part of the Winter season. Check their website to ensure they are open before visiting during the Winter.
Location: 288 Derby St
Contact: (978) 740-2929
27. New England Pirate Museum
Yet another meh option in my opinion, yet is still popular with visitors, is the New England Pirate Museum. It's located around the corner from the Salem Witch Village, so if you're going there, it might be worth it for you due to convenience.
Personally, I'd pick Real Pirates over this attraction if you're looking to learn more about pirates specific to the area.
Location: 274 Derby St
Contact: (978) 741-2800
28. Salem Witch Dungeon Museum
The Salem Witch Dungeon Museum includes a live reenactment of a witch trial that is based on historical transcripts from the trials.
After the reenactment, you get to tour a replica of a dungeon used to keep the accused hostage during the trials.
This is another thing to do in Salem that isn't my favorite, but I recognize that some people may enjoy it.
Location: 16 Lynde St
Contact: (978) 741-3570
29. Salem Witch Museum
The Salem Witch Museum is a bit dated and cheesy, but if you don't know anything about the town's witchy history, then it might be worth it for you.
In addition to their exhibit about the trials, they also have an exhibit that explores modern day witchcraft and the evolution of public perception of witchcraft throughout time.
Location: 19 ½ N. Washington Sq
Contact: (978) 744-1692
What are your favorite things to do in Salem, MA?
Let me know what you like to do when visiting Salem, MA in the comments below.
For more top travel tips, check out these posts:
---
About the author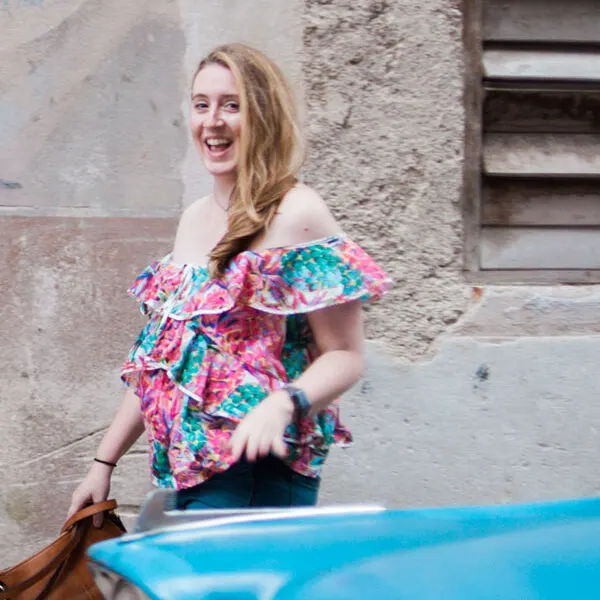 Meg Frost is a Boston-based travel blogger that helps people embrace technology to make vacation planning and traveling wicked easy, affordable, and fun.
She holds an M.A. in Journalism from Northeastern University and B.S. in Communication & American Studies from University of Miami.
---
This post was originally published in September 19, 2021. It was last updated December 26, 2022.