Acadia National Park in Maine is my favorite national park in the US and arguably the best one on the entire East Coast.
It's also the first place I traveled to, when I was just a few months old.
My summer and school vacations were often spent on Mount Desert Island, visiting family in Bar Harbor.
After spending so much time over the years in the area, I knew I had to put together a guide about all the best things to do in Acadia National Park.
Let's jump in, shall we?
Planning a trip to Acadia National Park in Maine
Before we get to all of the amazing things to do in Acadia National Park, let's go over the basics for planning a trip here.
Where is it located?
Acadia National Park is located along the northern end of Maine's coastal region.
The majority of it is on Mount Desert Island, with Bar Harbor as the closest town to the main entrance.
There are areas off the island that are part of Acadia, such as the Schoodic Peninsula and Isle au Haut, as well.
For the Schoodic Peninsula, the closest town is Winter Harbor and for the Isle au Haut, the closest town is Stonington.
When is the best time to visit?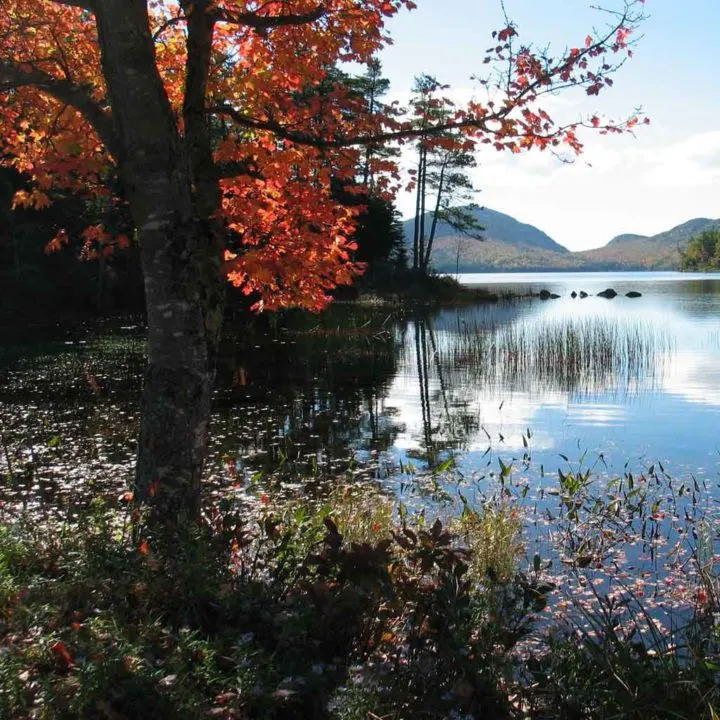 While peak tourist season is June through August, the best time to visit Acadia National Park is in the Fall.
In September and October, crowds and hotels near Acadia are less than during the Summer.
The weather in the Fall is great, as well. While you might still have the occasional Summer-like temps, the deeper you get into Fall, the milder the days will be.
Last, but not least, one of the best things to do in Acadia National Park is leaf peeping during the Fall foliage change. The range of colors in the trees is just stunning!
There really isn't anything formal to leaf peeping.
You can go for a hike through a wooded area to check out the magnificent colors, schedule a shoreline boat tour, or even just appreciate the leaves while driving around or riding the park's bus.
If visiting during the Fall season is not possible, consider visiting the Schoodic Peninsula part of the park, if your vacation will take place during peak tourist season.
Given that the Schoodic Peninsula is on the mainland, it tends to be less crowded, even during the peak season.
How much does it cost?
One non-commercial vehicle with up to 15 seats costs $30 per week; motorcycles are $25.
If you are on foot or bike, the weekly pass is $15.
An annual pass for Acadia National Park is $55 and valid for 1 year from the purchase date. An annual pass for all US national parks and recreation areas is $80.
Single day passes are not available, only weekly or annual passes.
TIP: Don't forget, there are a few ways you can get a FREE annual national park pass for entry into all US National Parks.
What's the best way to get around?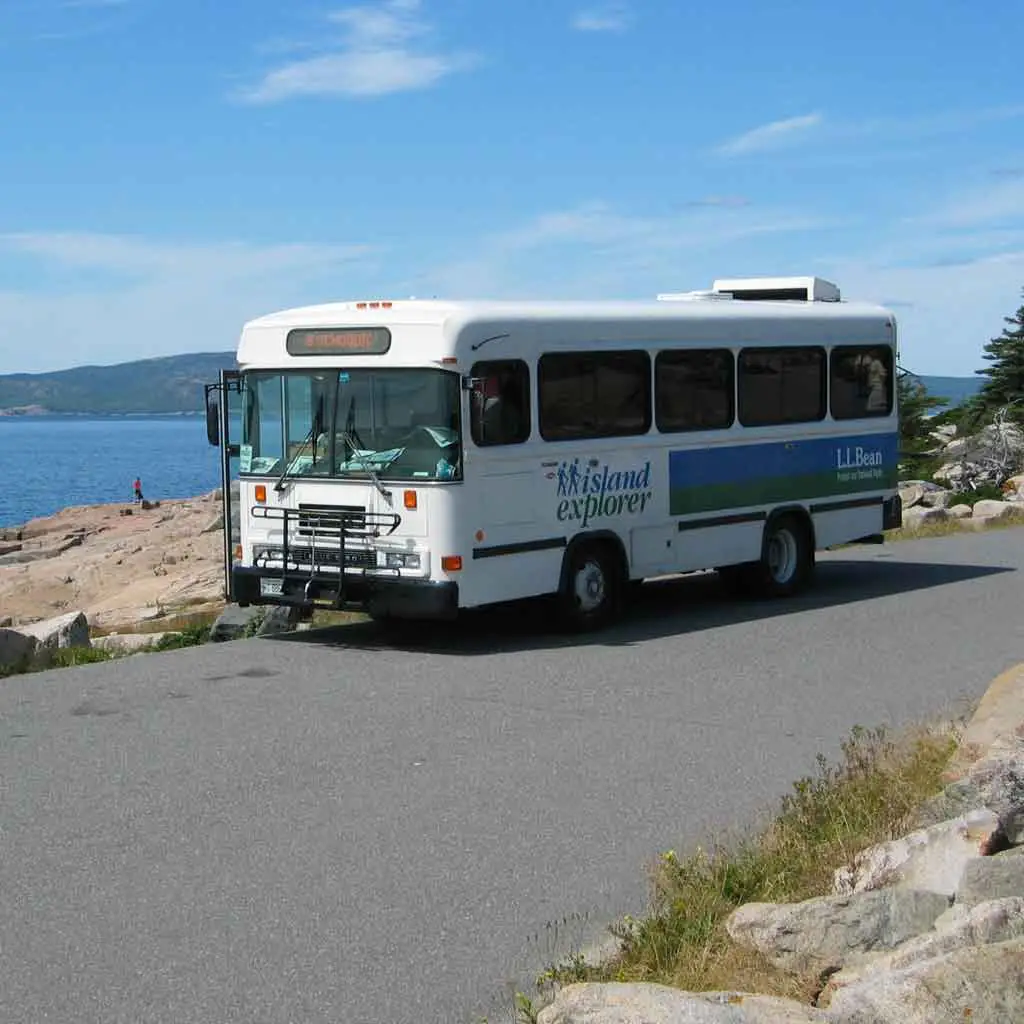 Acadia National Park has a free passenger bus with several routes called the Island Explorer shuttle.
The bus system was created in the late '90s in an effort to reduce traffic, parking congestion, and pollution in the area.
You can learn more about this shuttle, including maps and timetables at the Explore Acadia website.
The Best Things to Do in Acadia National Park
Now that we have the basic trip planning information out of the way, let's dig into all of the amazing activities and sightseeing available.
Take a drive around Park Loop Road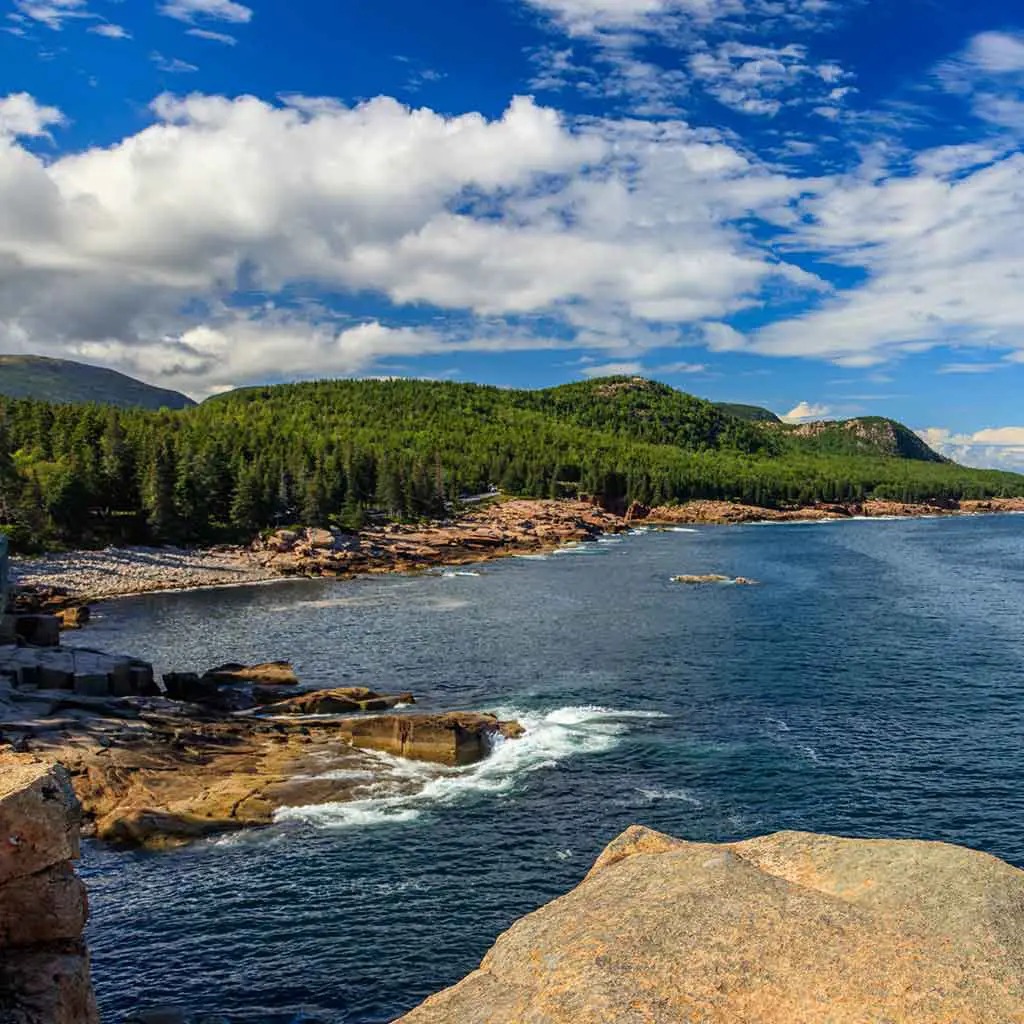 Take a leisurely drive through Acadia National Park via Park Loop Road. This scenic drive starts at Hulls Cove Visitor Center in Bar Harbor and loops around for 27 miles.
If you're only in Bar Harbor for a short time, you can see the best of Acadia National Park via Park Loop Road. You can also make stops when you want, rather than being stuck to only seeing what is on an organized tour.
Have popovers at Jordan Pond House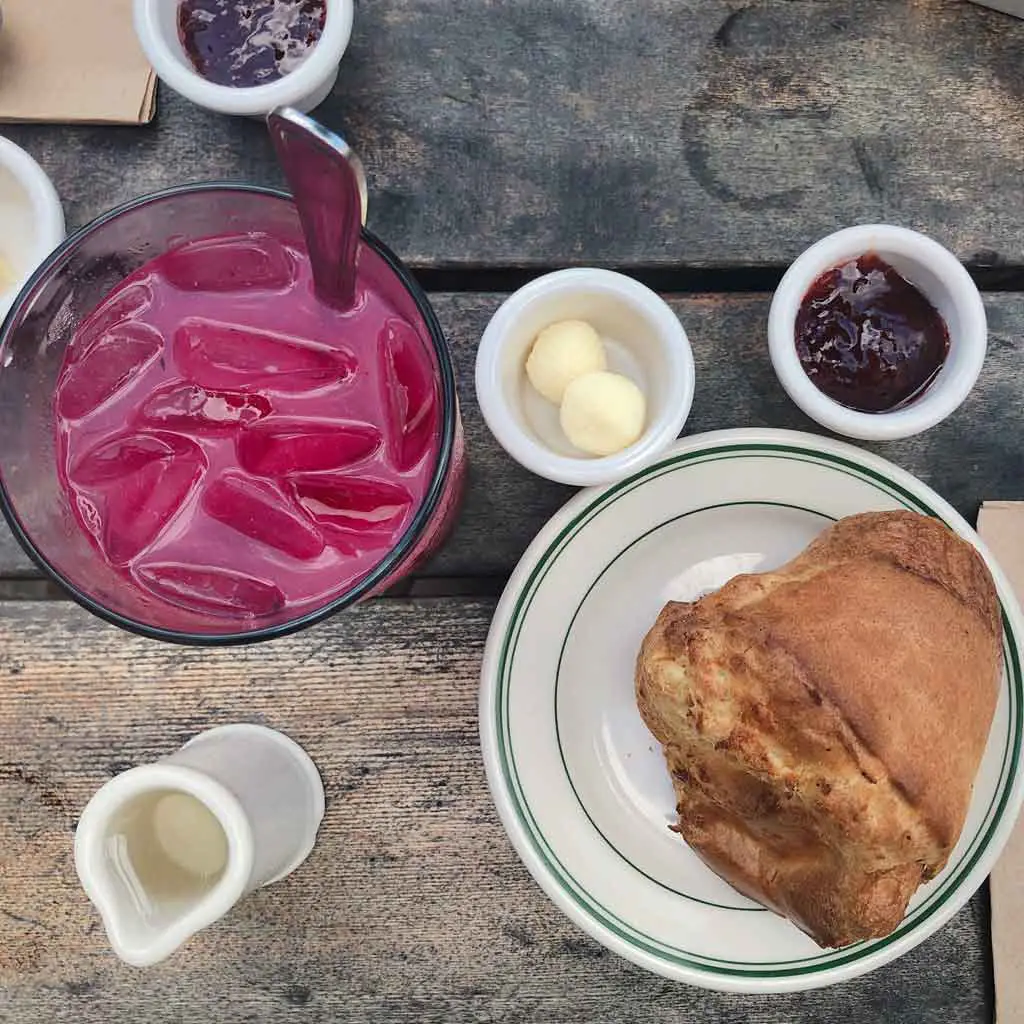 Yes, tea time sounds a bit frou-frou, but with beautiful views of Jordan Pond, you can't go wrong!
The most popular time to go to Jordan Pond House is for afternoon tea (3-5 pm).
No matter what time you visit, ask for a table on the lawn. And before you even ask – yes, tables on the lawn are worth the wait!
There's a gift shop next door, so while you wait, browse for souvenirs, such as a bag of Jordan Pond popover mix and blueberry jam.
Fresh, hot popovers are their signature item, along with a tall glass of lemonade or a tea-based cocktail to cool down.
Lastly, check out the easy and short Jordan Pond Trail, which loops around the pond after you eat!
Wildlife spotting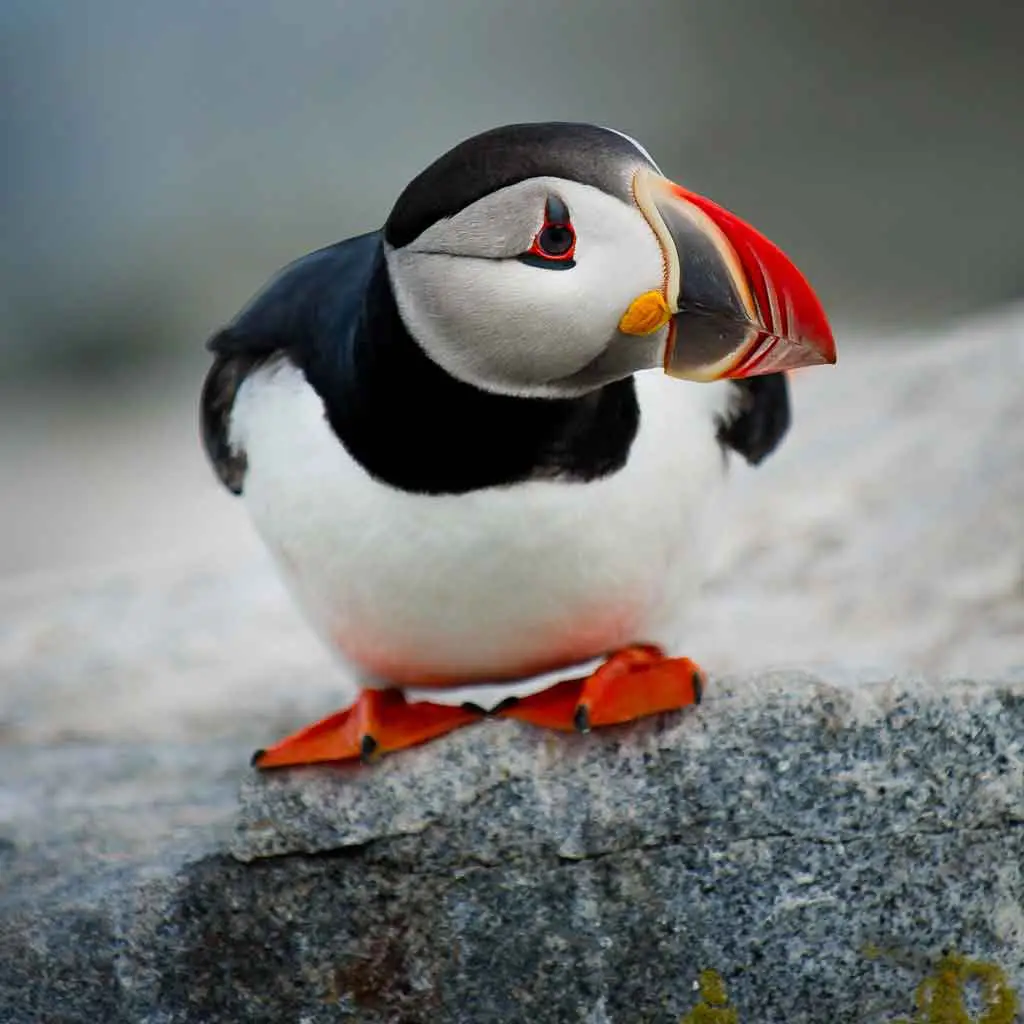 Acadia National Park is a great place for wildlife spotting.
It's important to always keep a respectful distance from any wildlife you might come across.
You can watch and take photos from afar, but please don't approach or feed the wildlife.
For bird watching, Precipice Trail is great for watching falcons and Cadillac Mountain is known for spotting hawks.
Atlantic Puffins are my favorite species of bird in the area. Your best chance of spotting these adorable sea birds is on a boat tour.
Boat tours are also great for spotting whales, seals, and other sea life.
Humpback whales, minke whales, finback whales, harbor seals, grey seals, and walruses are many of the marine animals that you might spot on a boat tour within Acadia's borders.
Aside from birds and marine animals, a few other animals you might spot are moose, black bears, foxes, wolves, and deer.
Spotting these animals is not common (except for maybe deer), but don't be surprised if you see one or find tracks while out on a hike.
Visit Isle au Haut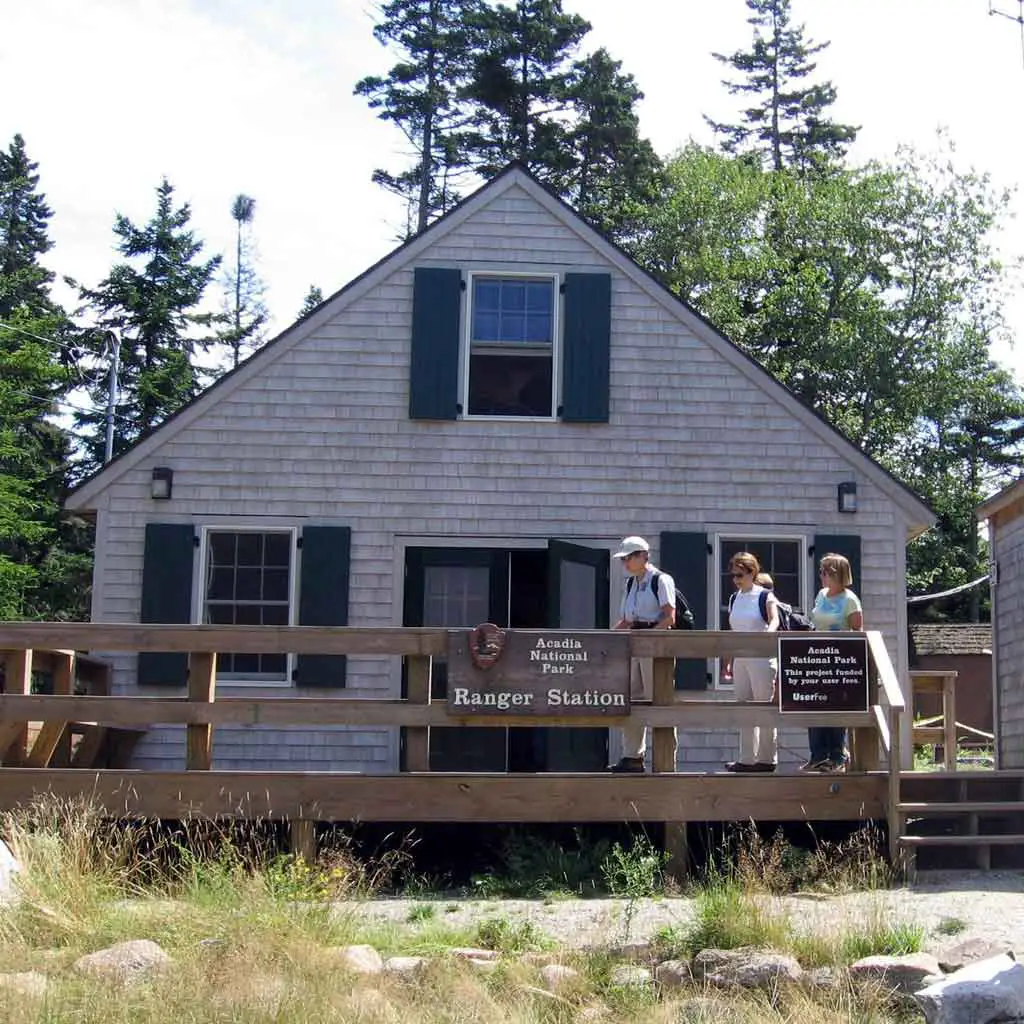 Roughly half of Isle au Haut is part of Acadia National Park, while the other half is private property.
Isle au Haut is reachable via ferry from Stonington, Maine. You can find more information about the ferry on the Isle au Haut Boat Services website.
On Isle au Haut, you can find the usual outdoor activities available elsewhere in the park, such as bicycling, camping, fishing, and hiking.
Go on a horse-drawn carriage ride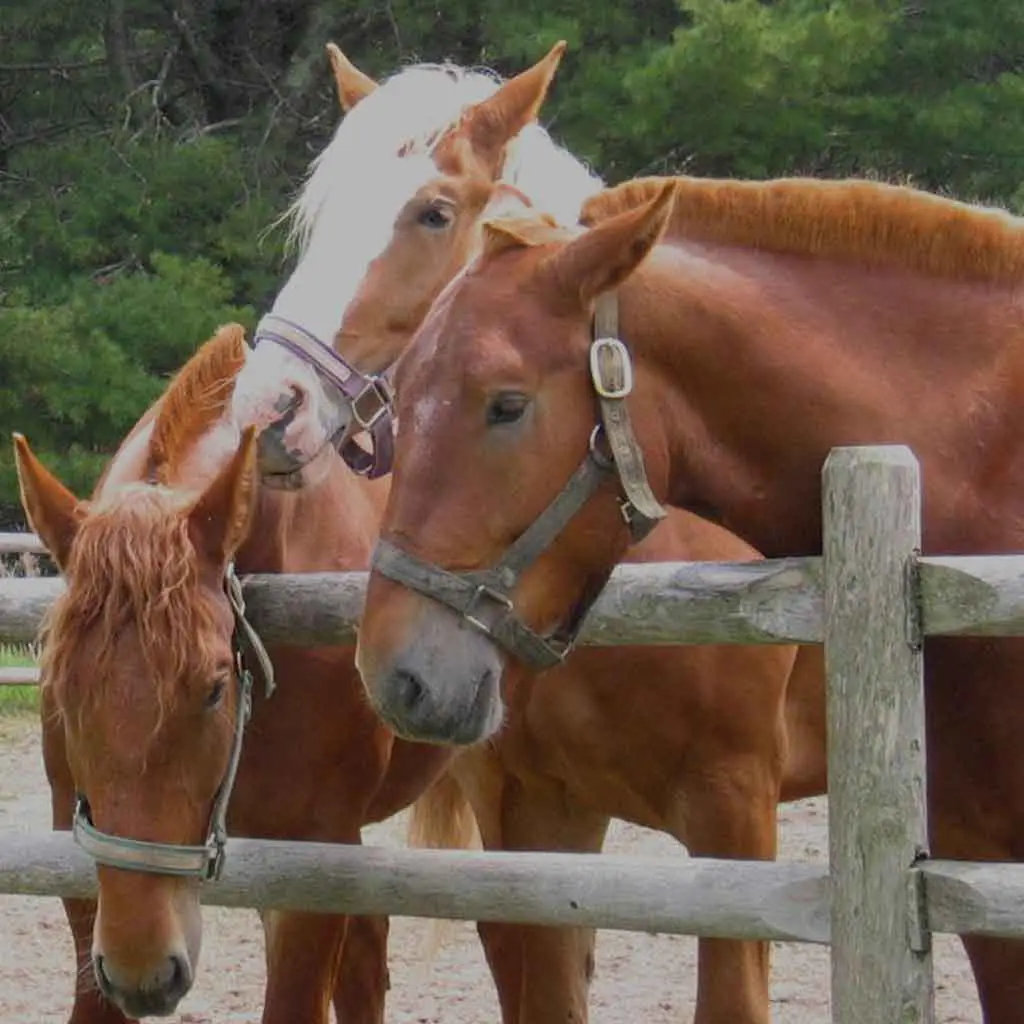 Carriages of Acadia is the only place that offers carriage rides. The rides last 1-2 hours, with private tours available.
Acadia National Park includes 45 miles of carriage roads that do not allow cars or other vehicles, so you only have to share the roads with bikes and people on foot.
The tours fill up super quick, so if you're dead set on doing one, be sure to reserve your preferred tour date in advance.
Go biking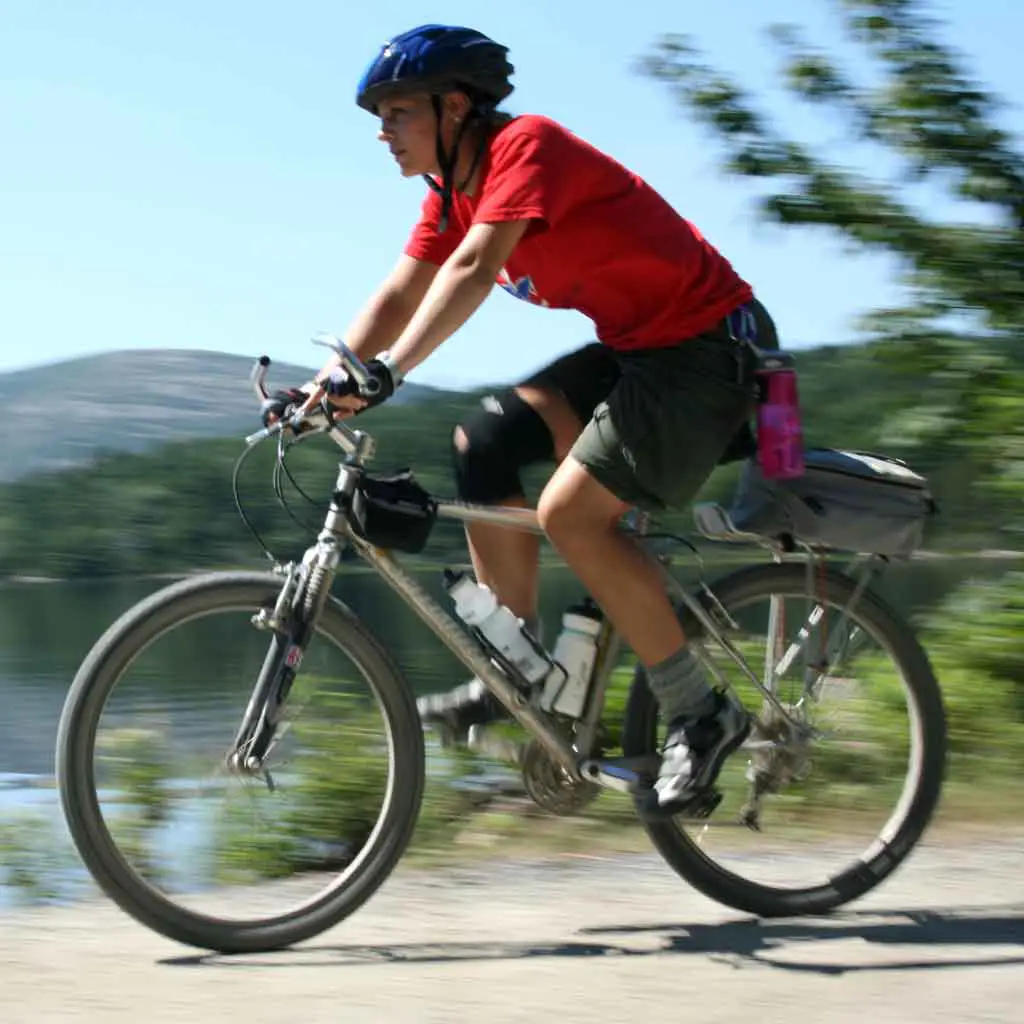 Biking is a popular activity in the area. The carriage roads are the perfect spot for biking as they are car-free.
Park Loop Road is another popular spot for bicyclists, as is the road up Cadillac Mountain.
Check out the views from Cadillac Mountain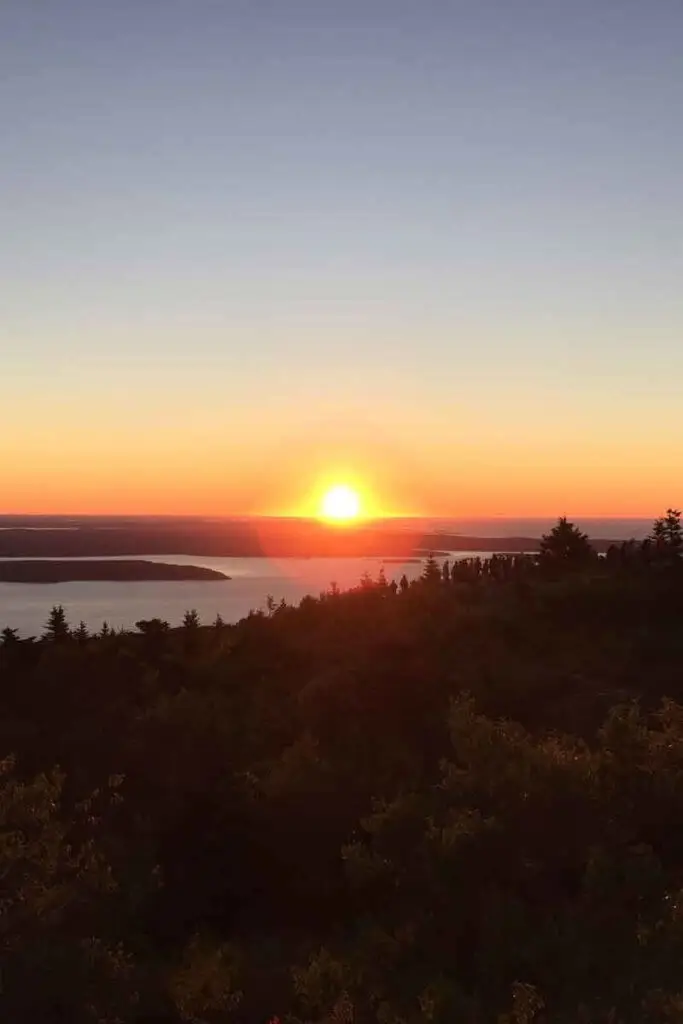 The sunrise from the top of Cadillac Mountain is gorgeous any time of the year. But, in the Fall and Winter seasons, Cadillac Mountain is the very first spot to see the sunrise in the United States.
How's that for a bucket list item?
Watching the sunrise from Cadillac Mountain is a super popular activity with visitors, which means it gets quite crowded.
From May 26 to October 29, visiting Cadillac Mountain requires an extra pass in addition to admission. There are 2 passes available, 1 pass for sunrise and 1 pass for daytime.
Visitors can reserve 1 of each pass type within a 7 day span. The pass costs $6 and can only be reserved online.
Approximately 30% of passes are made available to reserve 90 days ahead while the remaining are made available 2 days ahead.
Go stargazing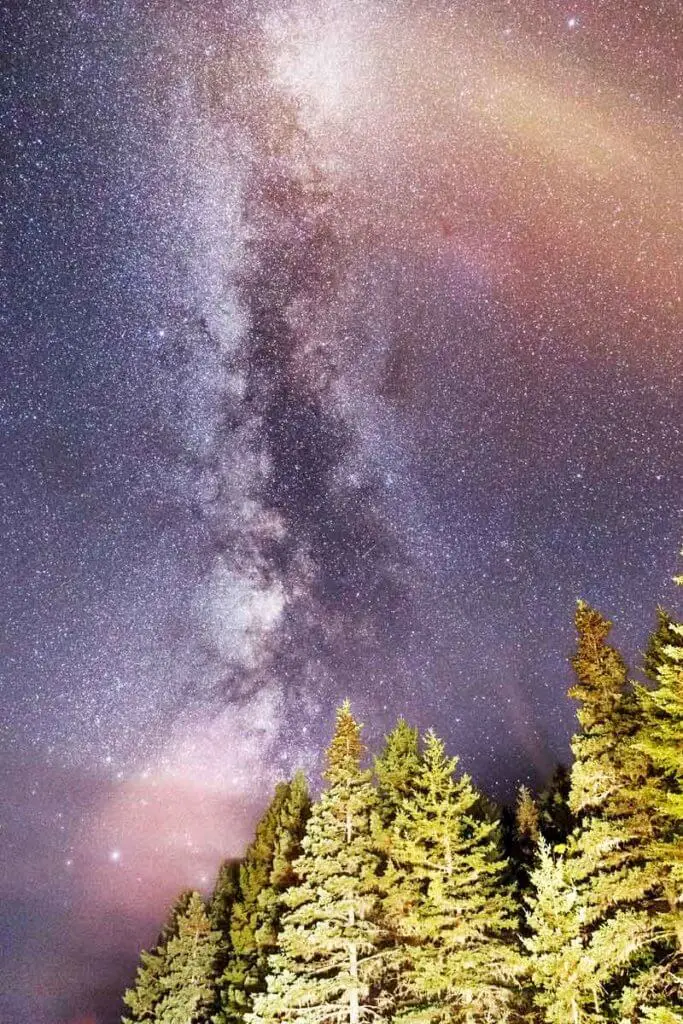 Acadia National Park is open 24 hours. After dark it is less crowded, plus there is no light pollution, making it the perfect spot for stargazing.
I recommend Cadillac Mountain, Sand Beach, or Little Hunters Beach for prime stargazing spots.
To make your stargazing adventure even better, I recommend using the SkyView app (iOS/Android).
The SkyView app can help you identify major stars, constellations, and planets.
Visit Bar Island
During low tide, Bar Island is accessible by foot or vehicle due to a gravel sand bar at the end of Bridge Street that appears when the tide recedes.
Bar Island has a short hiking path that makes for a fun afternoon of exploring a different part of Acadia. You can learn more about this in my post about hiking Bar Island Trail.
I recommend walking across, not driving, to avoid any chance of damaging your car or getting stuck (because yes, it happens!).
To make sure you have the most accurate information about tidal schedules for Bar Island, check out the Tide Alert app for iOS or Tides Near Me app for Android.
Visit Thunder Hole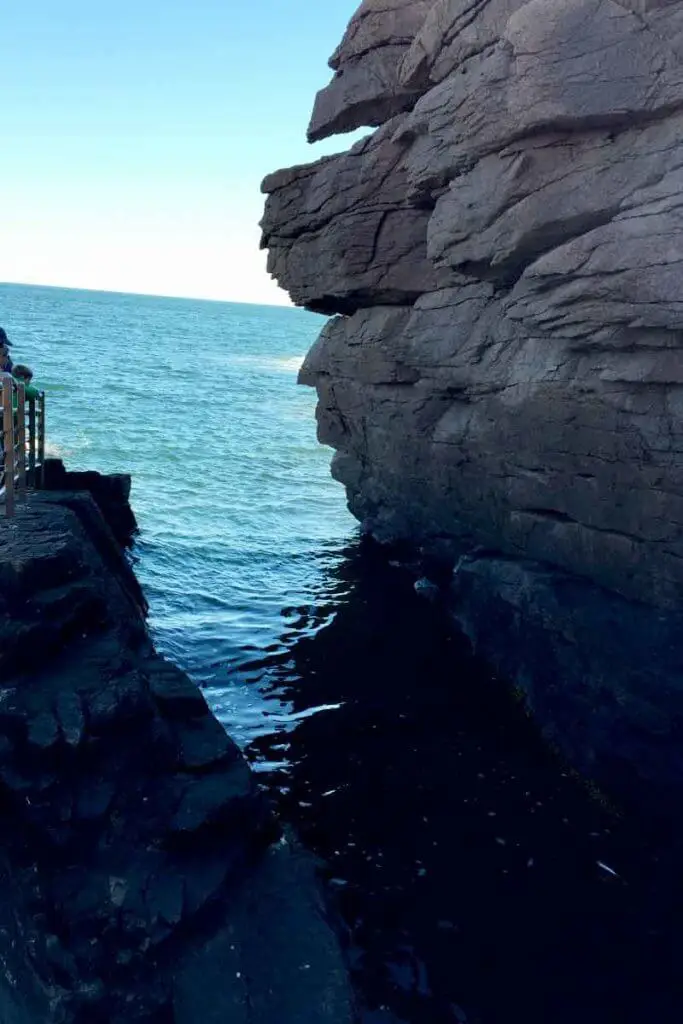 Thunder Hole is a natural rock inlet that makes a loud thunder-like sound when the waves roll in. It is definitely a must-do and won't take too much time to experience.
The key is to visit during high tide, as you won't get much of a show during low tide.
Use the tide apps linked in the above section to figure out the best time to see Thunder Hole.
Go camping
Camping is a great way to add to your experience exploring the great outdoors.
If you're more into glamping, consider choosing a campground that has cabins.
There are 4 campgrounds within Acadia itself, as well as many throughout Mount Desert Island.
Blackwoods Campground
Duck Harbor Campground
Schoodic Woods Campground
Seawall Campground
You can learn more about camping and other lodging options for Acadia in my post about where to stay in Bar Harbor, Maine.
Go hiking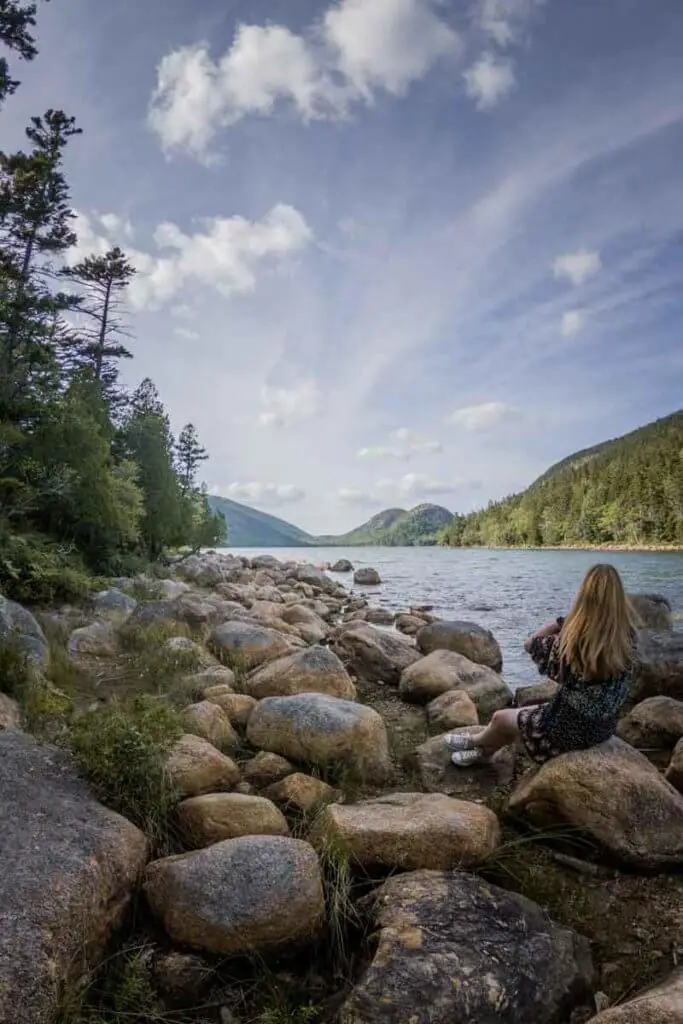 There are just under 2 dozen hiking trails and nature paths to explore in Acadia National Park.
The trails range from 1 to 5 miles, with difficulty ranging from easy to super hard (ex: scaling rungs on a rock).
Some of the top trails include:
Cadillac Summit Loop Trail
Great Head Trail
Precipice Trail
South Bubble Trail
A few easy trails include:
Ocean Path Trail
For more ideas, check out my post about the best hikes in Acadia National Park.
Visit the Bass Harbor Head Lighthouse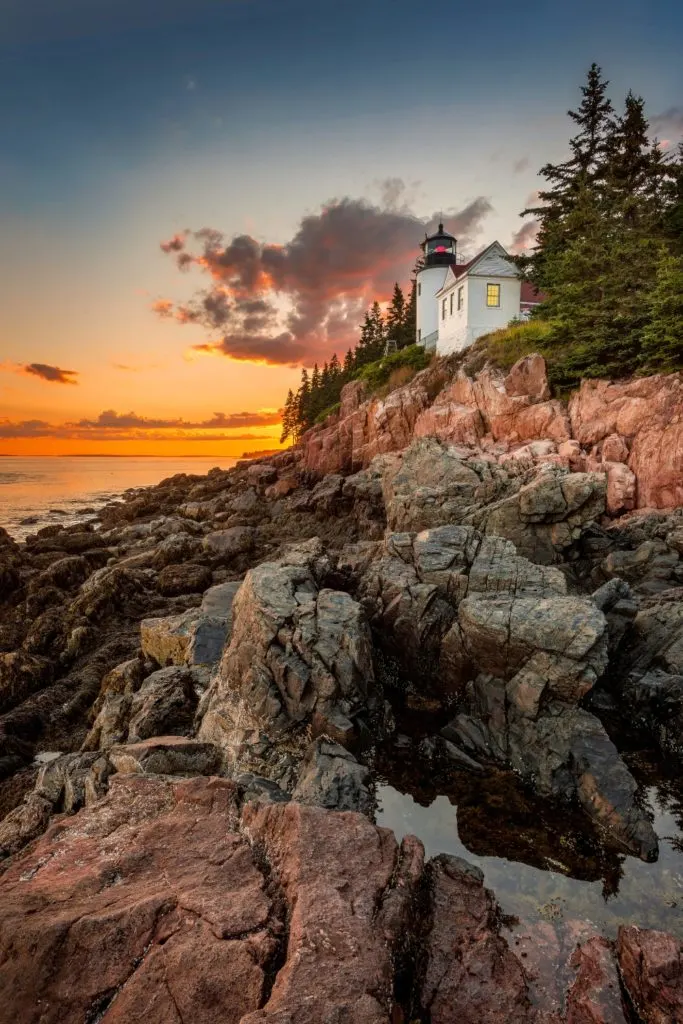 Take a drive down to the Bass Harbor Head Lighthouse, about 25 minutes outside of Bar Harbor, toward the southwest part of Mount Desert Island.
Bass Harbor Head Lighthouse was built in 1858 and added to the National Register of Historic Places in 1988.
Although this picturesque lighthouse is located outside of the main park grounds, it can get quite busy.
While the lighthouse isn't in operation today, it is used as a home for a Coast Guard service member, so be mindful of noise, litter, and privacy!
TIP: Make it a day trip so you can explore other spots in the area, like Wonderland Trail and Southwest Harbor.
Go rock climbing
There are several areas that are great for rock climbing, such as Otter Cliff.
I recommend going with a guided group, such as the one through Atlantic Climbing School, for safety reasons.
The Atlantic Climbing School can also provide lessons, if you are not an experienced climber.
Go kayaking, canoeing, or paddleboarding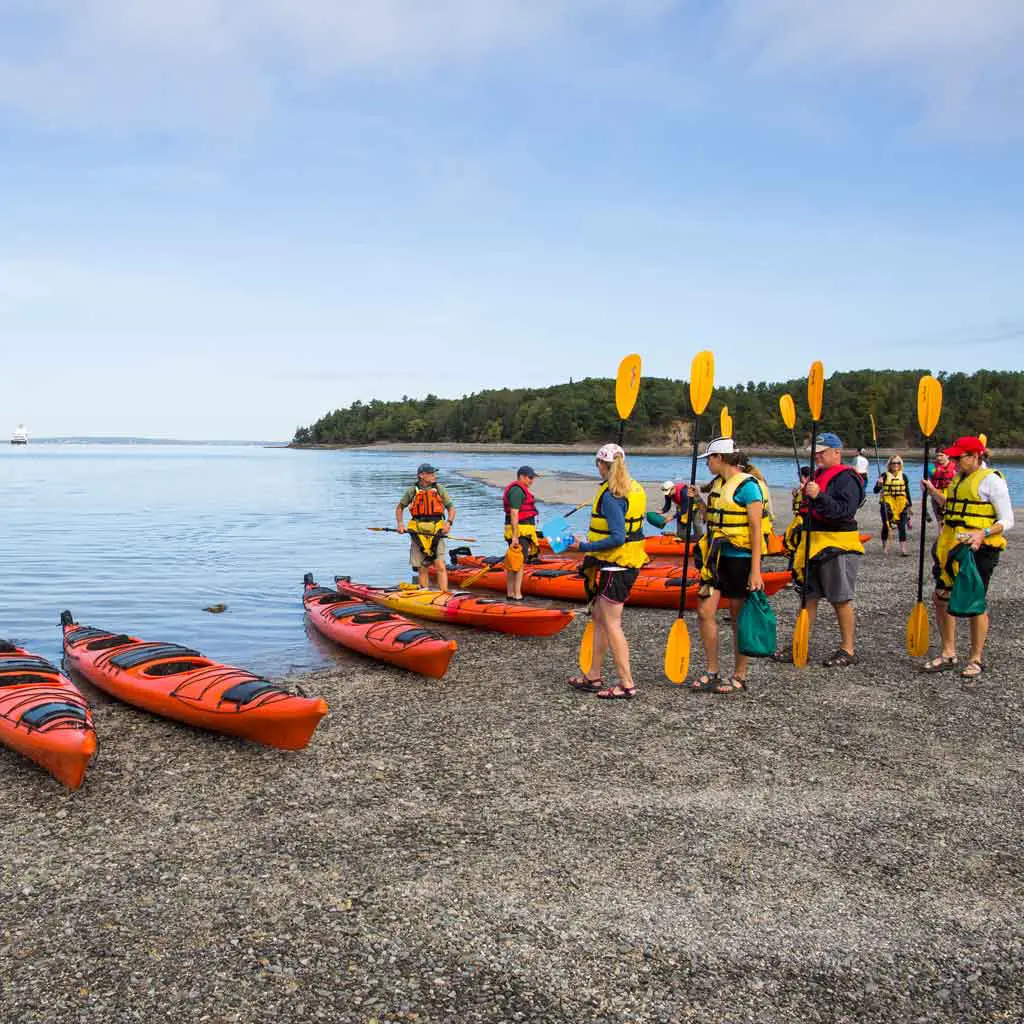 National Park Canoe & Kayak Rentals rents out canoes, kayaks, and stand up paddleboards (SUP) at 3 hour, 6 hour, daily, and weekly increments.
While they will provide instruction on using their equipment, I only recommend going the rental route if you have at least a little experience using the equipment you're renting.
Otherwise, you can also join ocean kayaking tours through National Park Sea Kayak Tours.
Tours with this company will take you through waters that are considered part of Acadia National Park, such as Somes Sound, Blue Hill Bay, or Western Bay.
National Park Sea Kayak Tours has been in business for just under 30 years and is owned by a Mount Desert Island native.
Chill out at Little Hunter's Beach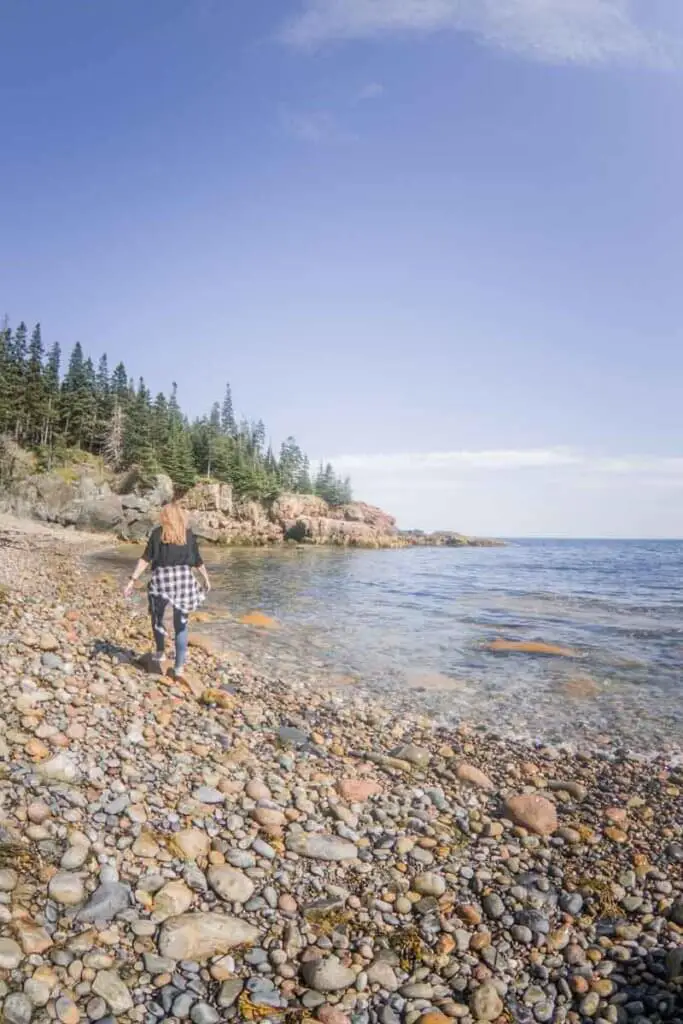 Little Hunters Beach is one of my favorite spots in Acadia National Park, mainly because it is secluded and doesn't have a lot of visitors. It's a wonderful place to get away from the crowds.
Aside from its hidden location, I also love that it is made up of smoothed over rocks, rather than sand. Be careful when walking on the rocks, though. They can get very slippery!!
Relax at Sand Beach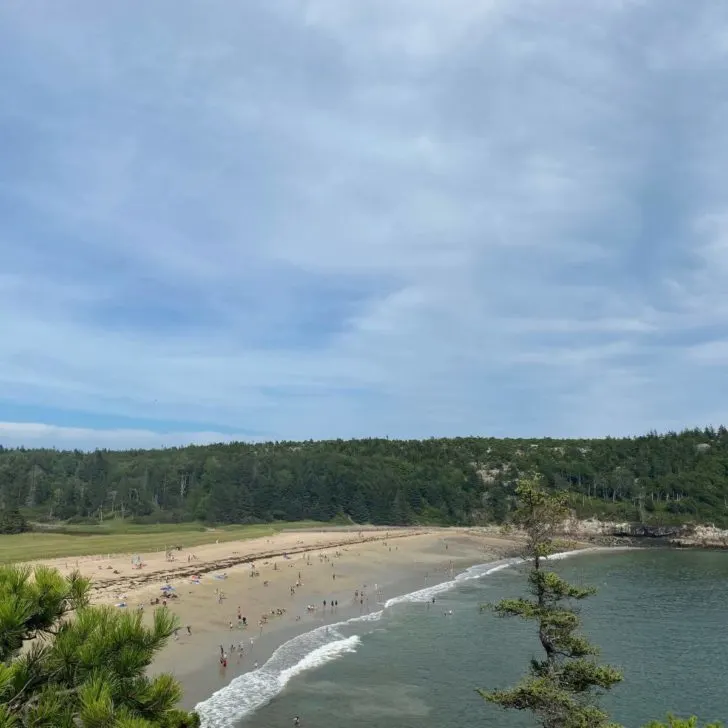 If you're looking for a more traditional beach experience, check out Sand Beach.
Sand Beach is one of 2 beaches at Acadia National Park that has a lifeguard during the summer months.
During the summer, the water is still too cold for most people, but if you're looking for a typical beach day, this is as close as you'll get in these parts of Maine.
Sand Beach also includes changing stalls and restrooms.
Enjoy Eagle Lake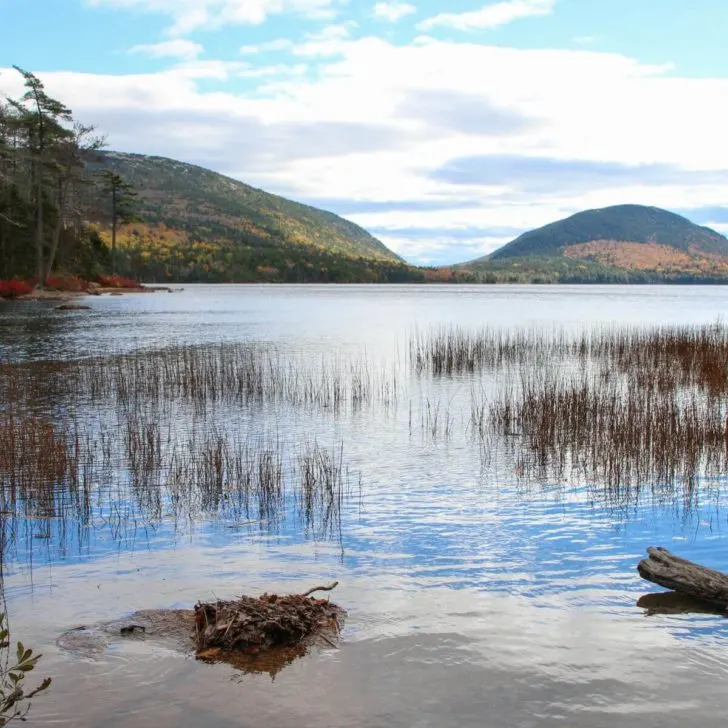 There are many beautiful ponds and lakes in Acadia National Park, such as the picturesque Eagle Lake.
It's a lovely place to sit and read outside or practice landscape photography, as it's more quiet than other areas within the park.
Swimming, paddleboarding, and oarboarding are not allowed in Eagle Lake because it provides water supply for the area.
However, you can go canoeing or boating. Motorized boats are allowed but only up to 10 mph.
Another popular activity at Eagle Lake is hiking the perimeter of the lake on Eagle Lake Trail and carriage road.
Visit Echo Lake Beach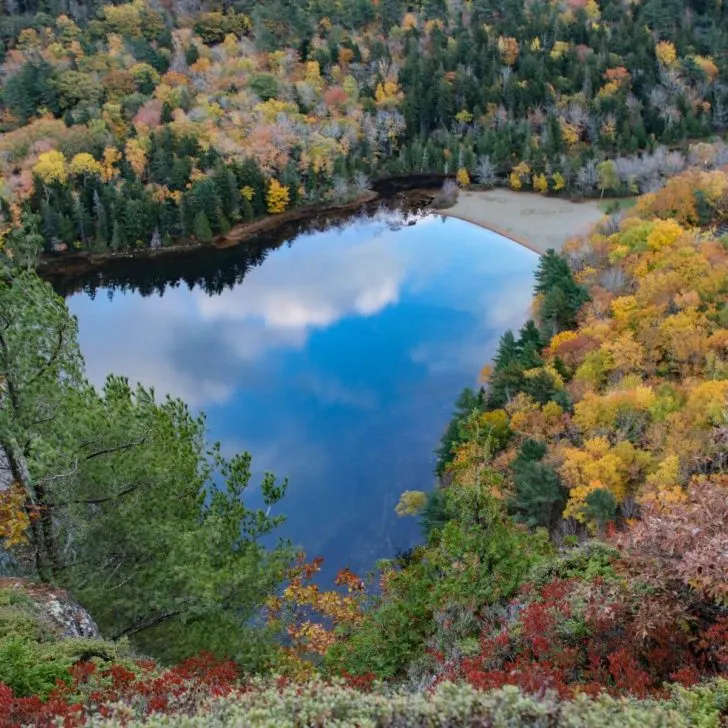 Located between Somesville and Southwest Harbor, Echo Lake is a lovely lake at the bottom of Beech Mountain.
Unlike Eagle Lake, it allows swimming and during the summer season, is staffed with a lifeguard. Canoeing, kayaking, and small boats are allowed, as well.
In addition, you can access a hiking trail that goes up Beech Mountain from the Echo Lake parking lot.
Go cross-country skiing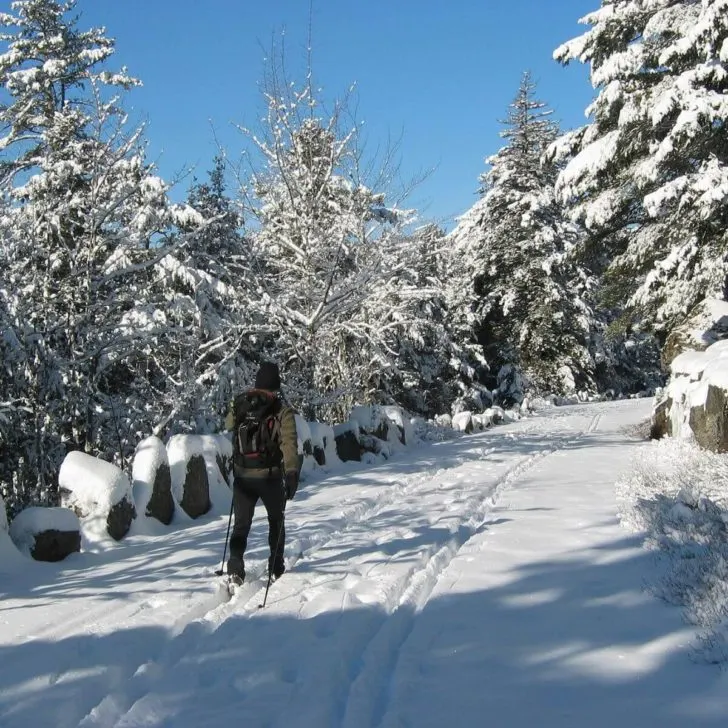 While the park has lots of restrictions during the winter, there are still some fun things to do in Acadia National Park – such as cross-country skiing.
As I mentioned in the beginning of this post, I've been visiting Bar Harbor and Acadia since I was born. One of my fondest memories is visiting during school breaks, such as in the winter.
I was terrified of downhill skiing, but cross-country skiing? Right up my alley! The historic carriage roads in Acadia are perfect for this!
Some of the carriage roads can still be accessed during the winter, although which ones depends on whether a storm has affected road conditions and safety.
You'll need to access the official Acadia website for alerts to confirm whether a particular carriage road you want to access is indeed open.
Visit the Wild Gardens of Acadia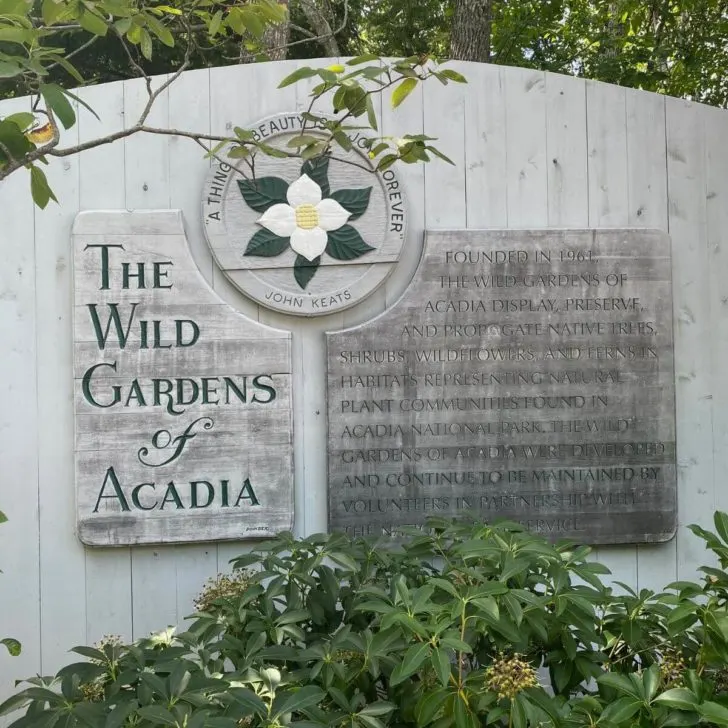 I love the Wild Gardens of Acadia botanical garden nearby the Sieur de Monts Nature Centre.
It has lots of lovely flowers, trees, herbs, and other plants. Plus there are several trails and nature paths that you can browse, such as Jesup Path.
While some of the paths are paved or have boardwalks, there are still sections that are dirt and get quite muddy if it has rained. There are bogs nearby, too, so the grounds tend to remain soggy longer than other areas in the park.
What are your favorite things to do in Acadia National Park?
I hope you enjoyed my guide to Acadia National Park and found lots of activities to add to your itinerary.
For more travel tips, check out the posts below:
---
About the author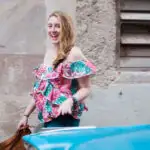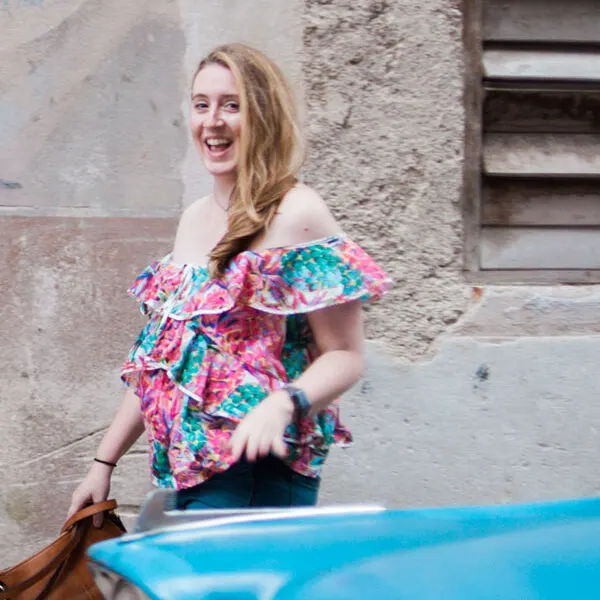 Meg Frost is a Boston-based travel blogger that helps people embrace technology to make vacation planning and traveling wicked easy, affordable, and fun.
She holds an M.A. in Journalism from Northeastern University and B.S. in Communication & American Studies from University of Miami.
---
This post was originally published September 4, 2016 and last updated April 25, 2023.