Don't you just love attending fairs – especially in the Fall?
There's one fair I love in particular that I've been attending since I was a little girl: The Big E, a multi-state event representing the 6 New England states, Connecticut, Maine, Massachusetts, New Hampshire, Rhode Island, and Vermont.
This massive fair takes place at the Eastern States Exposition grounds every Fall in West Springfield, Massachusetts.
If there was ever a time to visit my favorite region of the US, Fall is it!
The weather is mild, the foliage is painting landscapes with red, orange, and yellow, and there are fairs popping up nearly every weekend in adorable small towns.
The Big E is like one last outdoors hurrah before the doom and gloom of Winter take over for a few months. It makes for an excellent day trip from Boston or pit stop on a New England road trip.
In this guide to the Big E fair in New England, I'll share the best hotels, parking tips, events to partake in, concerts to scope out, and food to try.
When is The Big E?
The Big E always starts on the 3rd Friday of September and runs for a little over 2 weeks.
In 2023, the Big E fair runs from September 15 through October 1.
Gates open at 8 AM every day, but not much is kicking until 10 AM and runs through 11 PM. The Avenue of States closes a bit early at 9 PM, while other buildings close between 10-11 PM.
How much does The Big E cost?
Admission is $20 for adults and $12 for children age 6-12. Children age 5 and under are free.
A number of discounts are available as follows:
Adult 2023 season pass: $70 for unlimited admission in 2023
Child 2023 season pass: $35 for unlimited admission in 2023
Opening day admission: $12 (for all ages over 5)
Military Appreciation Day admission: Free on September 15 (opening day)
In addition to discount admission, you can save on tickets for rides at the Midway with the Midway Magic Pass.
The Midway Magic Pass is $35 for unlimited rides Monday through Friday or worth 26 tickets on Saturday and Sunday.
Are there any hotels near The Big E?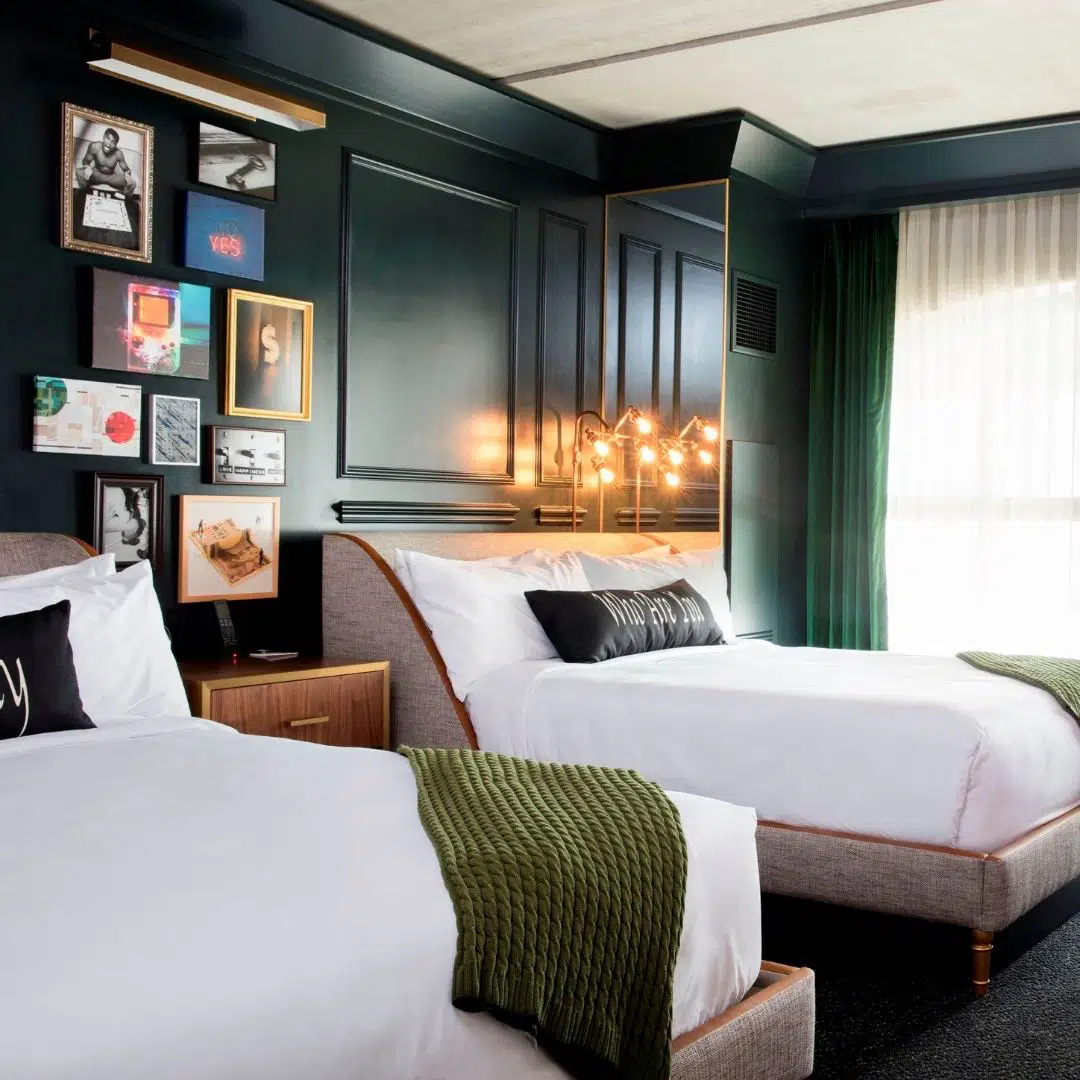 There's only 1 hotel within walking distance to the Big E. The rest are across the Connecticut River in Springfield. While not walkable, it is a short drive.
Here are a few hotels near the Big E to consider if you're coming from out of state:
The Regency Inn & Suites is located across the street from the fairgrounds at 19 Baldwin St. It's nothing fancy, but if close proximity is most important, this is it.
If you're interested in seeing more of the area, Hilton Garden Inn is a great pick, as it's right next to the Naismith Memorial Basketball Hall of Fame in Springfield.
Across the street from the Hilton is the Hampton Inn & Suites, another major hotel chain option for my fellow travel hackers.
Another choice with additional entertainment options is the MGM Springfield (pictured above), with a casino, concert venue, and fancy movie theater.
Last up is the Sheraton Springfield Monarch Place Hotel, which has decent rooms and is within walking distance from the Amtrak and bus station.
Do you have any tips for Big E Parking?
Parking at the Big E can be a bit of a hassle. It fills up super quick and traffic getting out at the end of the night is difficult.
Official parking is $10 for automobiles in Lot 9. Motorcycles can park in Lot 7 for $5. Bicycles can park in Lot 7 for free.
Local businesses leading up to the entrance gates often offer parking at an upcharge. Sometimes they allow local organizations or school groups to use their property to fundraise via the parking fee, as well.
You might be tempted to park and walk to avoid the traffic leading in and out. That's usually what my family and I end up doing! While it is more expensive than official parking, we don't mind paying more if it's going to a local organization or school.
What kind of events are there?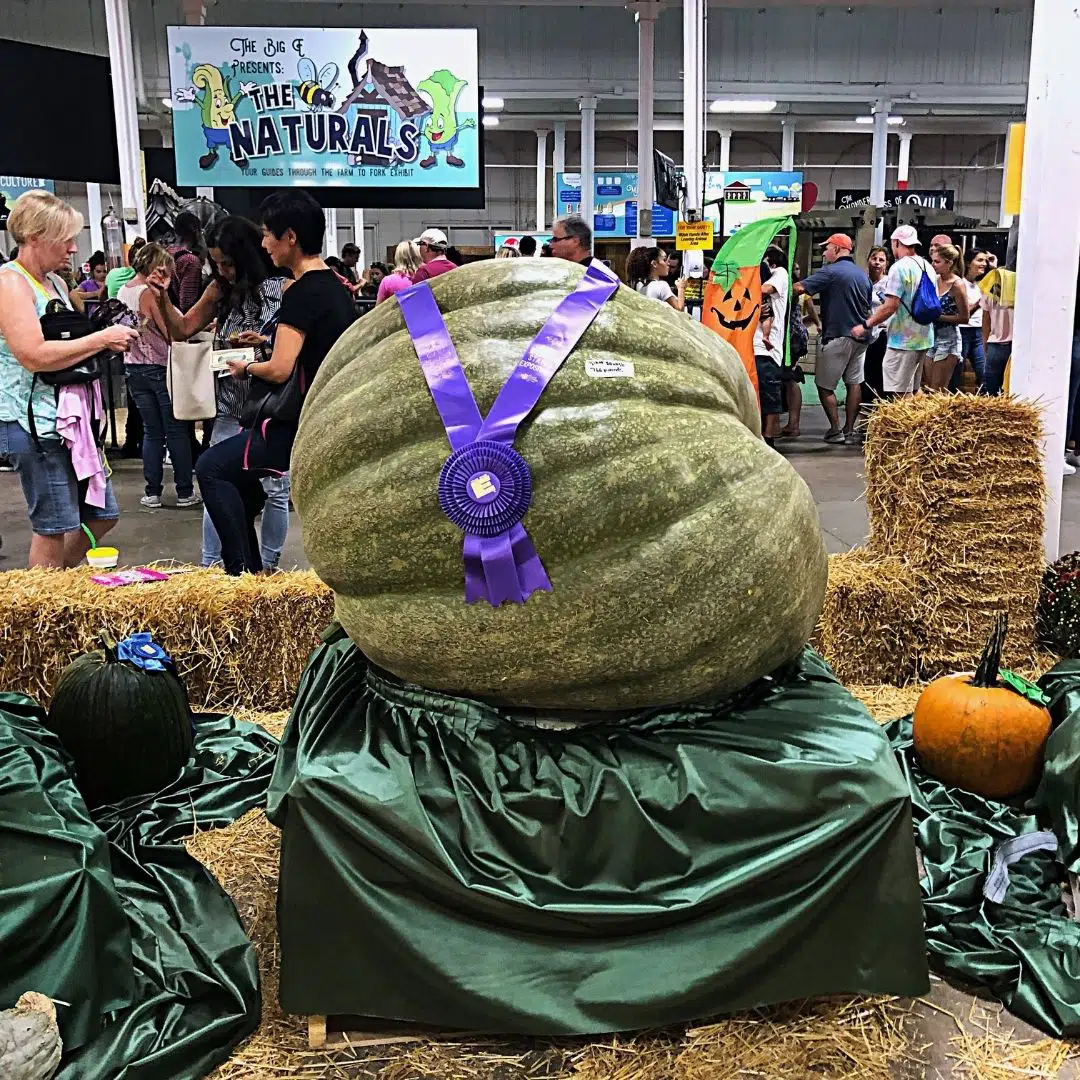 There are a variety of events that occur throughout the 2 weeks of The Big E fair. Let's take a look!
First off, as with most major fairs, the Big E has a TON of agricultural events and competitions, such as a pumpkin and squash weigh off, livestock demonstrations, and horse shows.
Another staple is the Avenue of States, where all 6 of the New England states have a dedicated building to showcase local artisans, businesses, and food.
Food is a huge part of the Big E – although isn't that the case for all fairs??
For more on this delicious point, skip to the section on Big E food to find out which snacks are worth your money.
A traditional circus runs several performances throughout the day with daredevil stunts, clowns, and the like.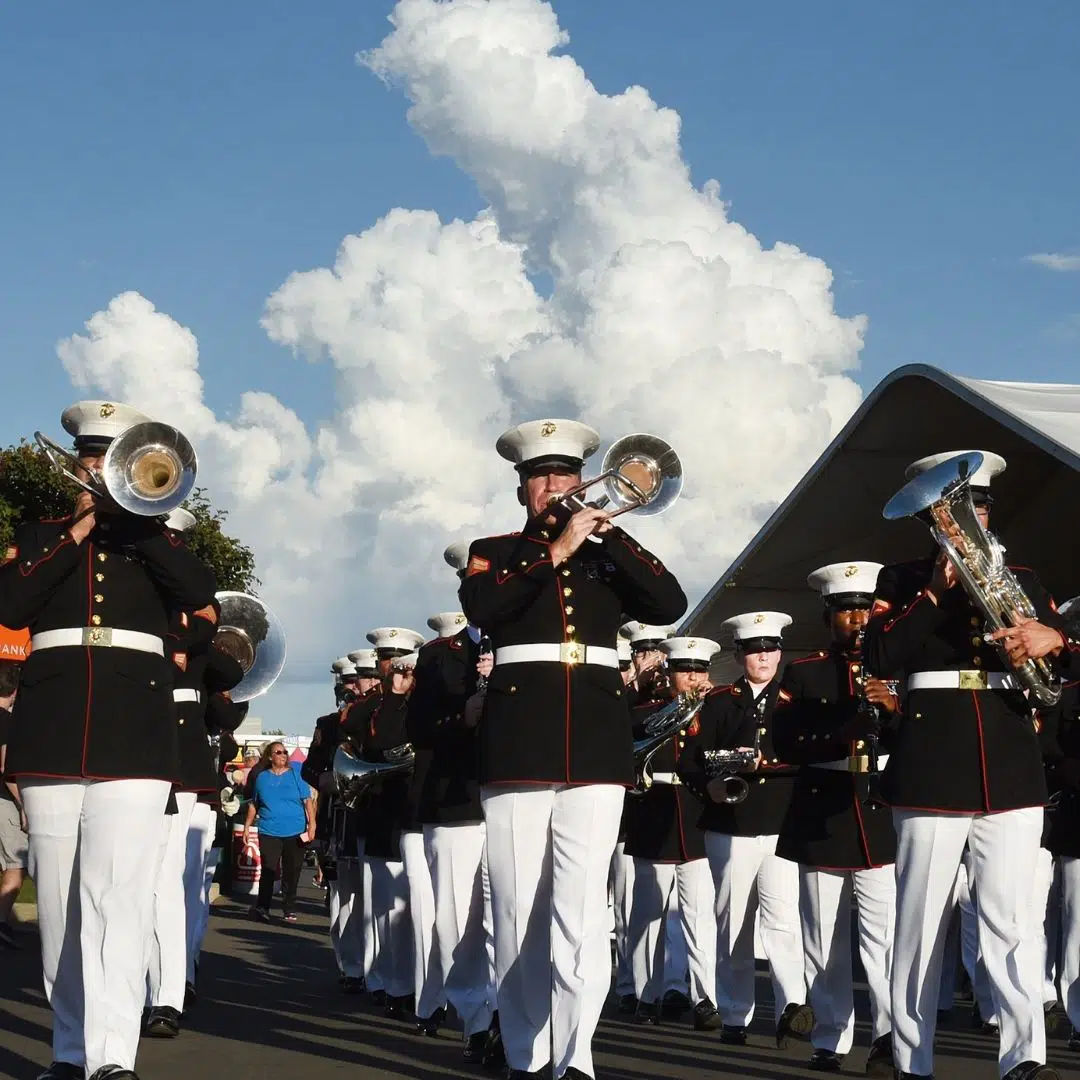 Every single day, the Grand Parade snakes through the grounds with parade performers, local marching bands, Mardi Gras style floats, and more. The parade kicks off at 6 PM daily.
Shopping is a massive draw, with hundreds of artisans, crafters, and retailers with booths full of clothing, jewelry, food, crafts, and home goods to stock up on.
Last up, are daily concerts featuring yesterday and today's musical acts. Jump to the next section for more information about who's performing this year.
What are the Big E Concerts this year?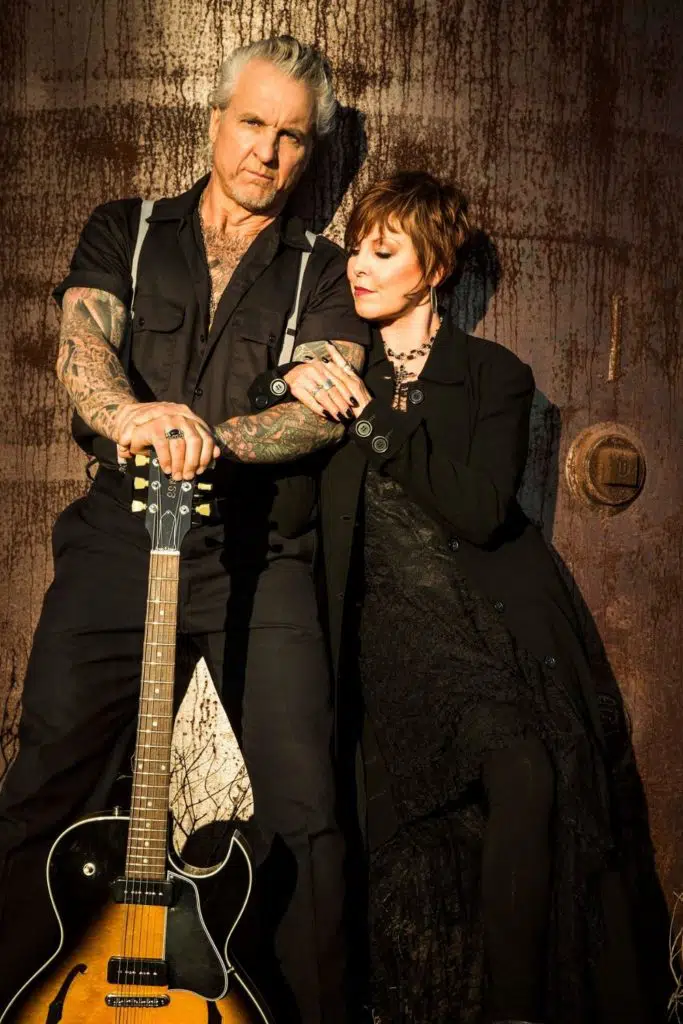 While The Big E initially started as an agricultural fair, over the years, it has become a hot spot for concerts.
The concerts take place across 3 stages: the Big E Arena, the Court of Honor stage, and the E stage.
The Big E Arena hosts bigger names and festivals, while the Court of Honor specializes in regularly tour acts or those making a comeback, and the E stage features up and coming acts.
To check out this year's lineup at each stage, check out these links:
Storrowton Village
Storrowton Village is a recreation of New England style town village from the 18th and 19th centuries.
What's unique about Storrowton is that the buildings are all original structures that were purchased and moved in order to build a village. How cool!
The village is located on the fairgrounds and is open as part of the fair. There's a restaurant, shops, and of course, food.
What Big E food is worth it?
Did you even visit if you didn't sample the food? Let's dig in to the best Big E food.
Food from the Avenue of States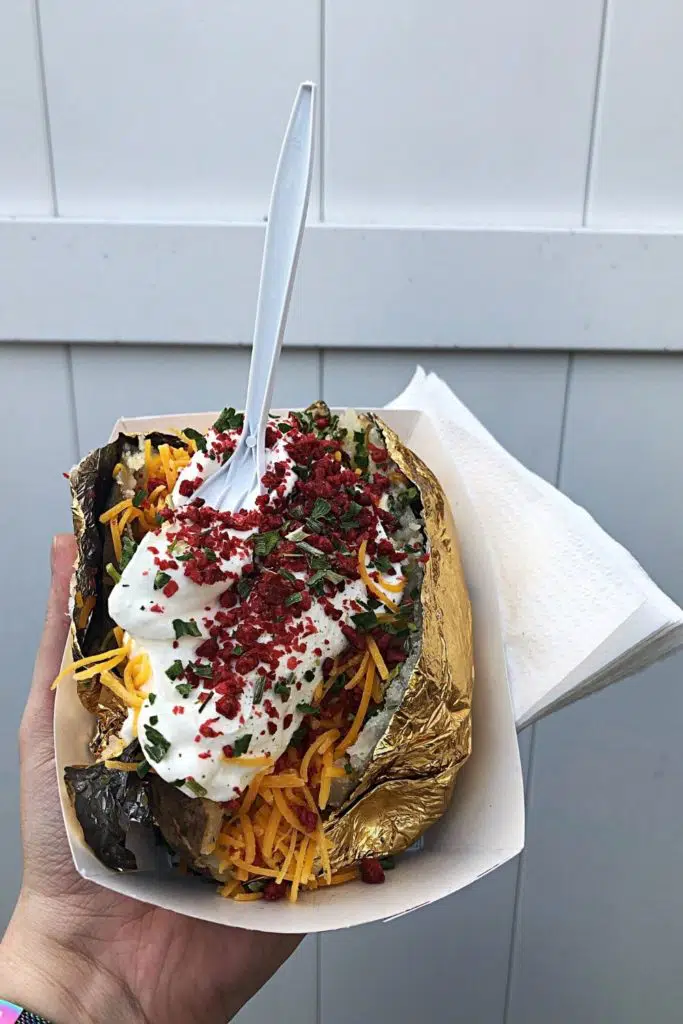 Let's start off with food from the Avenue of States buildings.
While you'll find food vendors on the fairgrounds that sell baked potatoes, nothing beats the gigantic baked potatoes from the Maine building, smothered in cheese sauce, sour cream, chives, and bacon. This is my go-to meal when I go to the Big E!
At the Vermont building, get ready for a slice of warm apple pie with Vermont cheddar cheese or apple cider donut.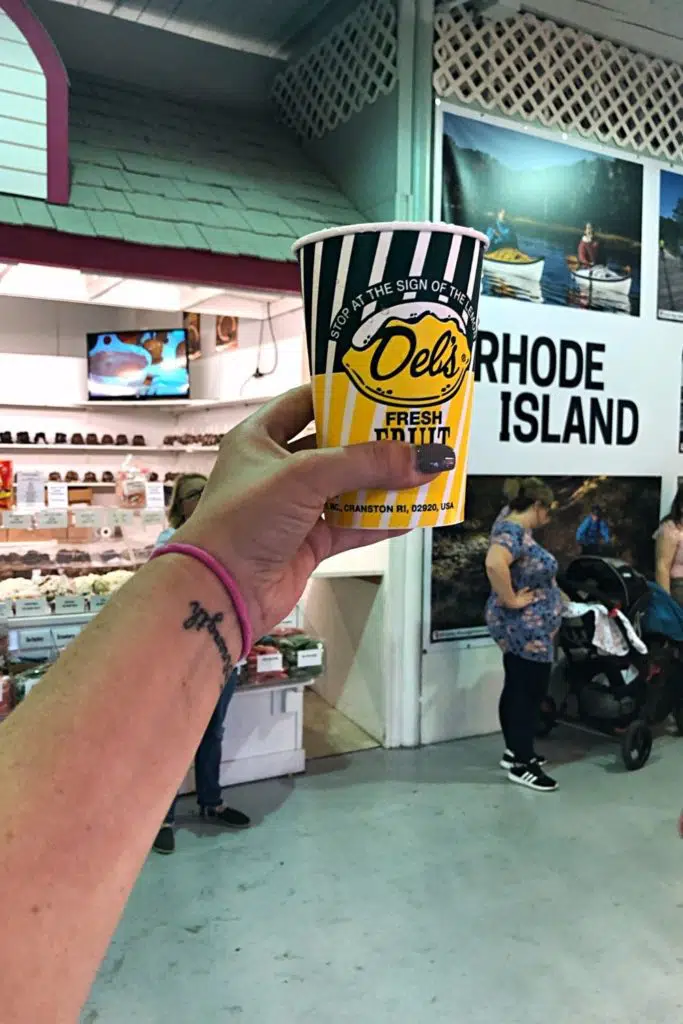 Stop for a refreshing lemonade slushy from Del's Lemonade in the Rhode Island building.
One sip takes me back to beach days at Misquamicut Beach in Rhode Island during my childhood. We always stop by to get some!
For a light snack, grab some maple cotton candy at the New Hampshire or Maine buildings.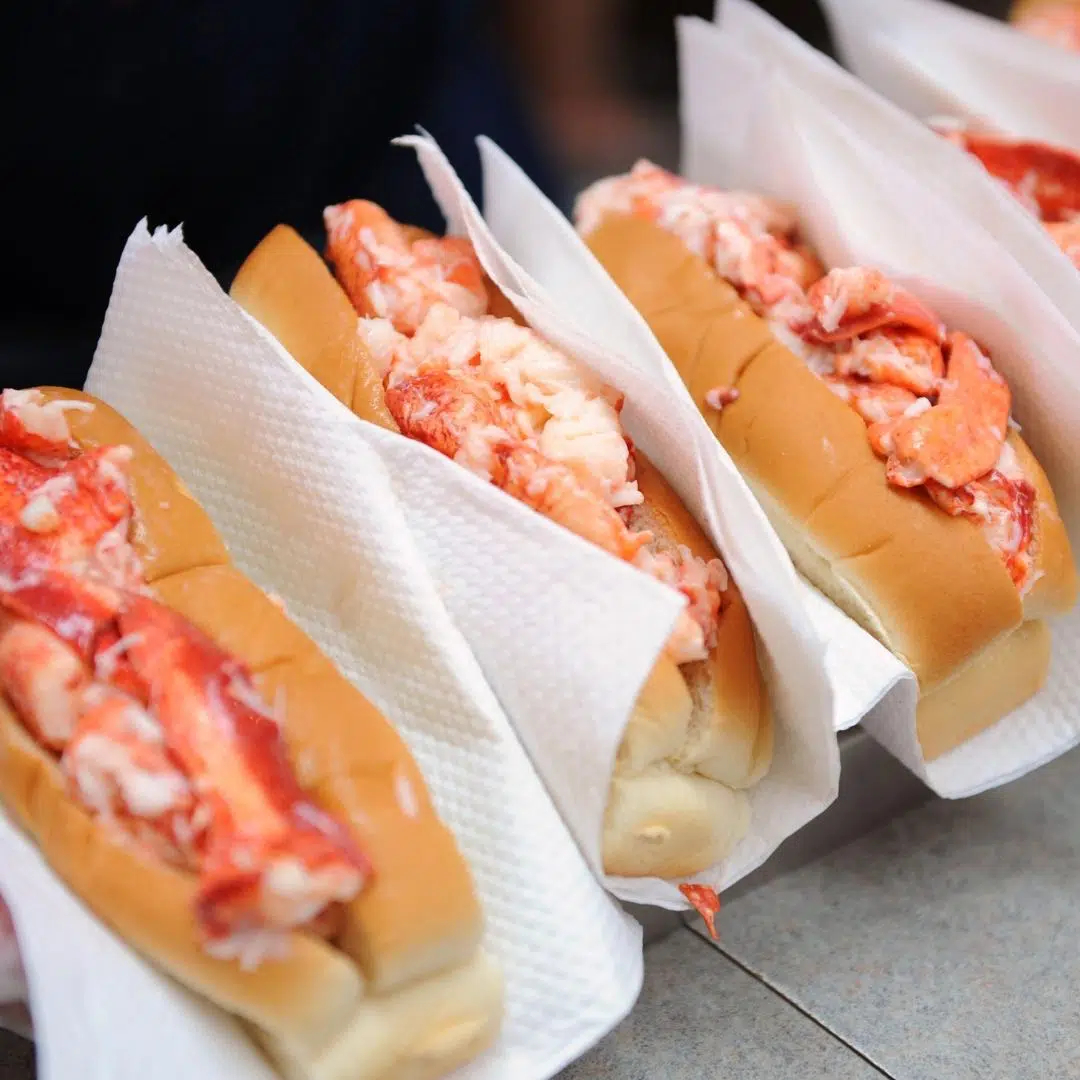 When in New England, lobster is a must. Try a lobster roll at the Maine or Massachusetts buildings.
Did you know that the classic PEZ candy was made in Connecticut? True story! Grab a fun PEZ dispenser with candy refills for a fun souvenir at the Connecticut state building.
Food from the fairgrounds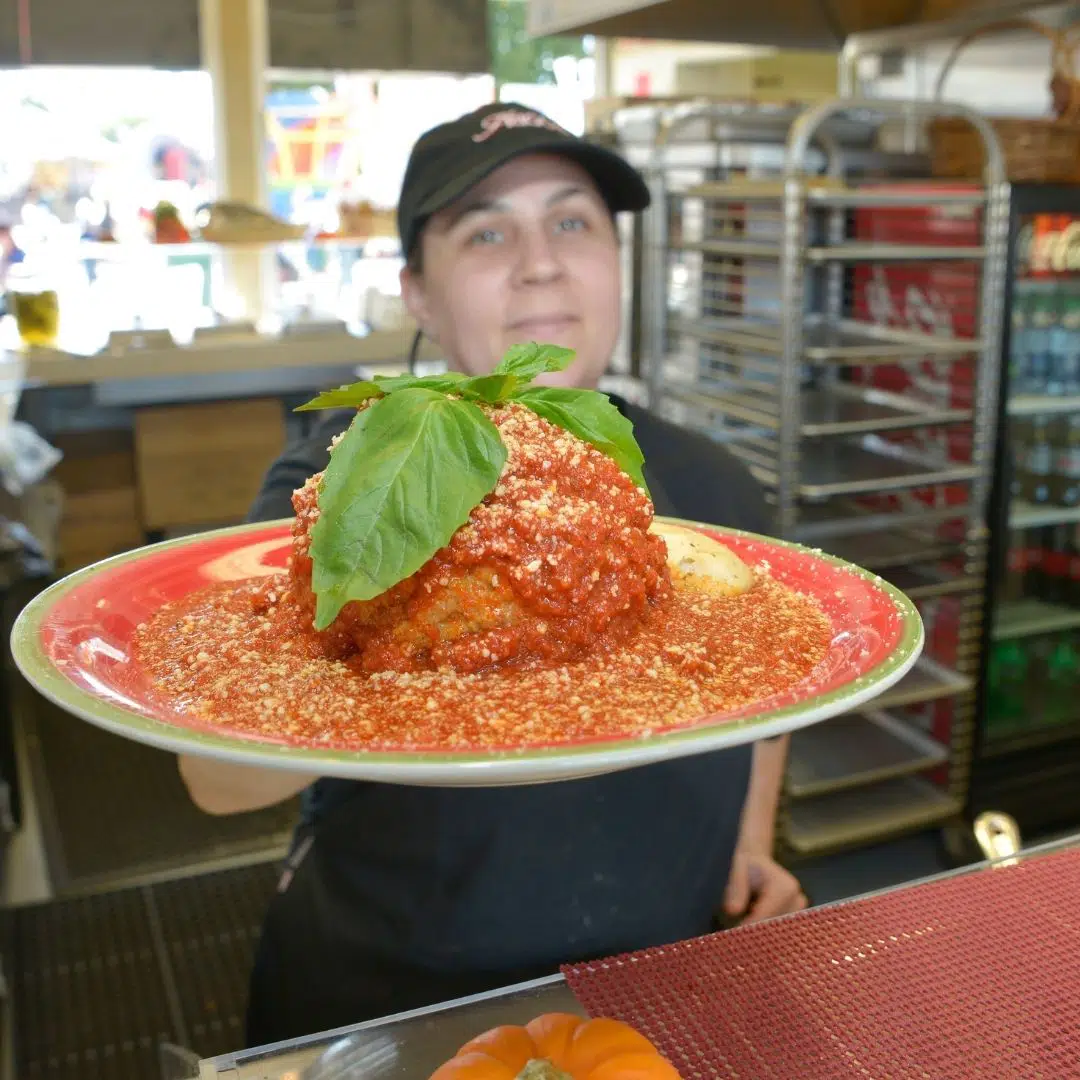 Moving on from the state buildings, look out for these delicious Big E foods throughout the fairgrounds.
Head to Frigo's for a mammoth 1 pound meatball smothered in tomato sauce.
Grandma's Sunday spaghetti with meatballs has nothing on Frigo's!
For a full meal in one-go, try the BBQ sundae from Porky's.
The BBQ Sundae is your classic BBQ plate layered into a tall sundae-style cup. It includes layers of cornbread, baked beans, mashed potatoes, cole slaw, and pulled pork.
If you're craving ice cream, head to Amy's Sweet Treats for the maple bacon waffle sundae.
Another sweet option are the freshly made mini donuts doused in cinnamon and sugar from The Donut Family.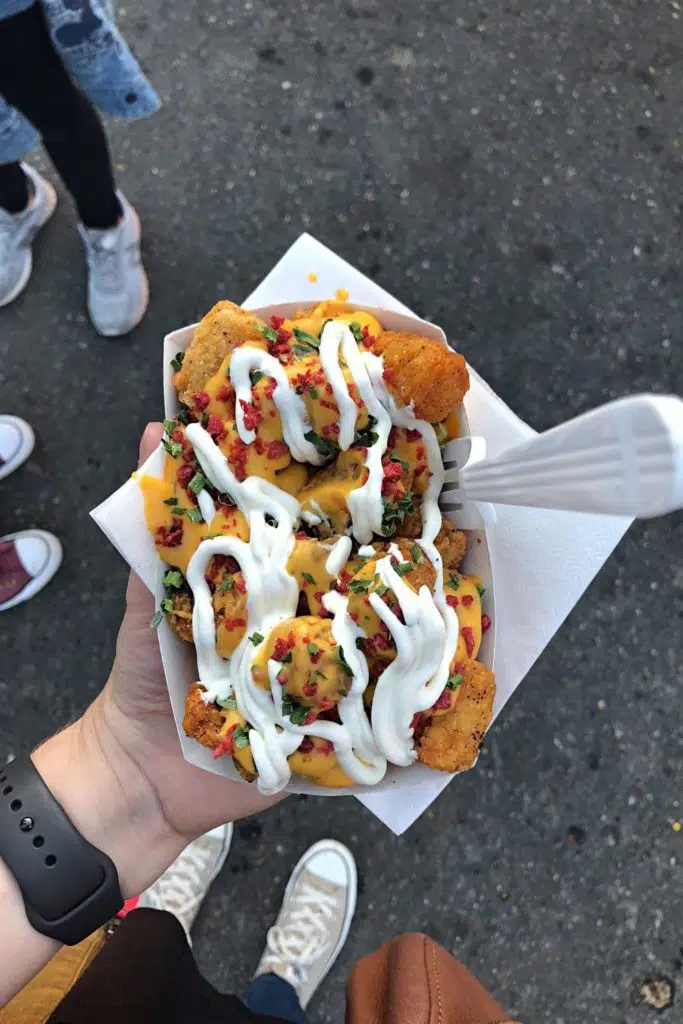 Next up is Tots-a-Lot, where you can get your choice of dressed up tater tots, like Shepherd's Pie Tots, Loaded Baked Potato Tots, or Buffalo Tots.
Fried foods and fairs go hand in hand. And at The Big E, there are tons of fried foods to try, such as Fried Oreos, Fried Pop Tarts, Fried vodka, Fried Samoa cookies, and Fried Kool-Aid.
There are 2 fried foods that stand out: Fried dough with Maple syrup and bacon from Pop 'n' Fresh Fried Dough and Fried Fluffernutter sandwiches from The Coffee Break.
Both are as New England as you can get, so if you only pick 1 or 2 fried foods to try, go for these!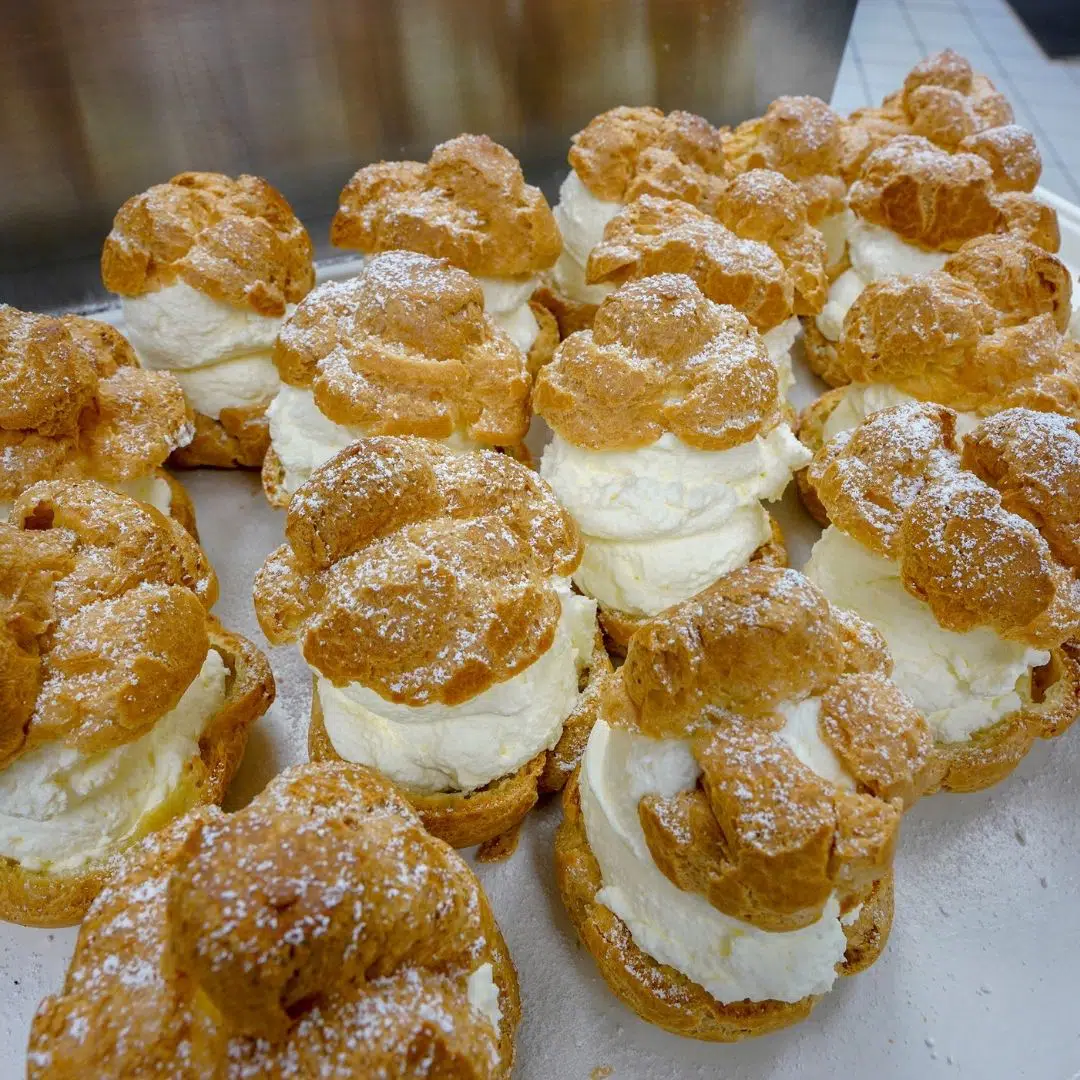 Last but not least are the iconic Big E Cream Puffs and Eclairs.
The cream in the cream puffs is light and sweet while the pastry shell is flaky and buttery. It's the perfect combo. You can also get cream puffs with chocolate ganache on top.
The Eclairs have a perfectly doughy shell with a custard filling and sugary chocolate frosting on top.
Will you be headed to The Big E fair this Fall?
Now that you've gotten a run-down of the US' only multi-state fair, will you be visiting Western Massachusetts for The Big E this Fall? Let me know in the comments below!
Up next, check out more of my favorite travel tips for New England and beyond:
---
About the author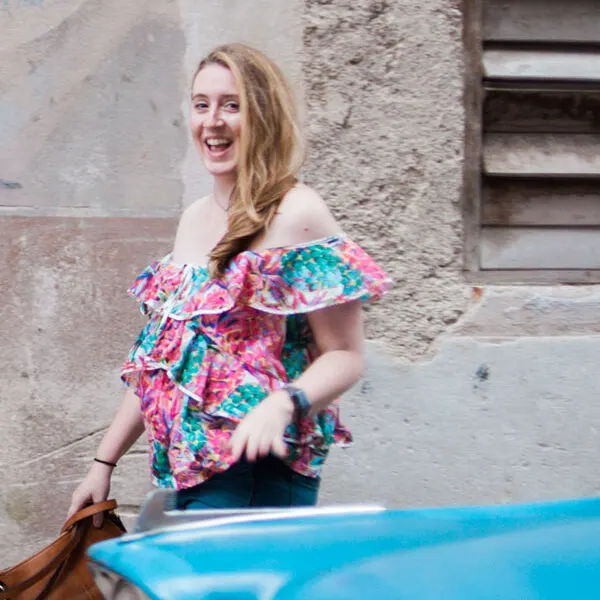 Meg Frost is a Boston-based travel blogger that helps people embrace technology to make vacation planning and traveling wicked easy, affordable, and fun.
She holds an M.A. in Journalism from Northeastern University and B.S. in Communication & American Studies from University of Miami.
---
This post was originally published on August 2, 2021. It was last updated August 16, 2023.