Fall in the USA is my absolute favorite time of year. Gorgeous red and golden hues dot the landscape, the temperatures cool down, and everyone starts pulling out sweaters and boots.
Before it's time to hibernate for the winter, don't forget to pencil in a weekend getaway.
In this post, I'll share my favorite places to visit in the Fall in the USA.
Bar Harbor, ME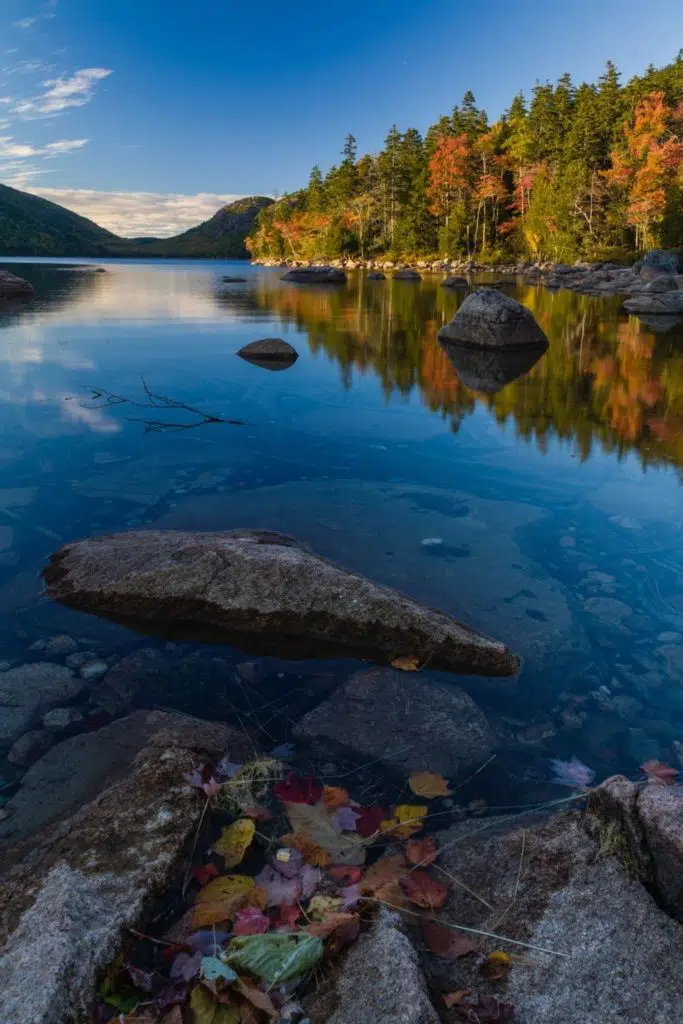 Bar Harbor is home to New England's only US national park, Acadia National Park.
Acadia has an abundance of views with Fall foliage, but that's not the only special show in Acadia during the Fall season.
Between early October and early March, Cadillac Mountain is the first place on the east coast to see the sun rise.
Access to Cadillac Mountain requires a pass to get to the summit via vehicle, although the pass is only required from late May to mid October.
For more tips, check out these posts:
Boston, MA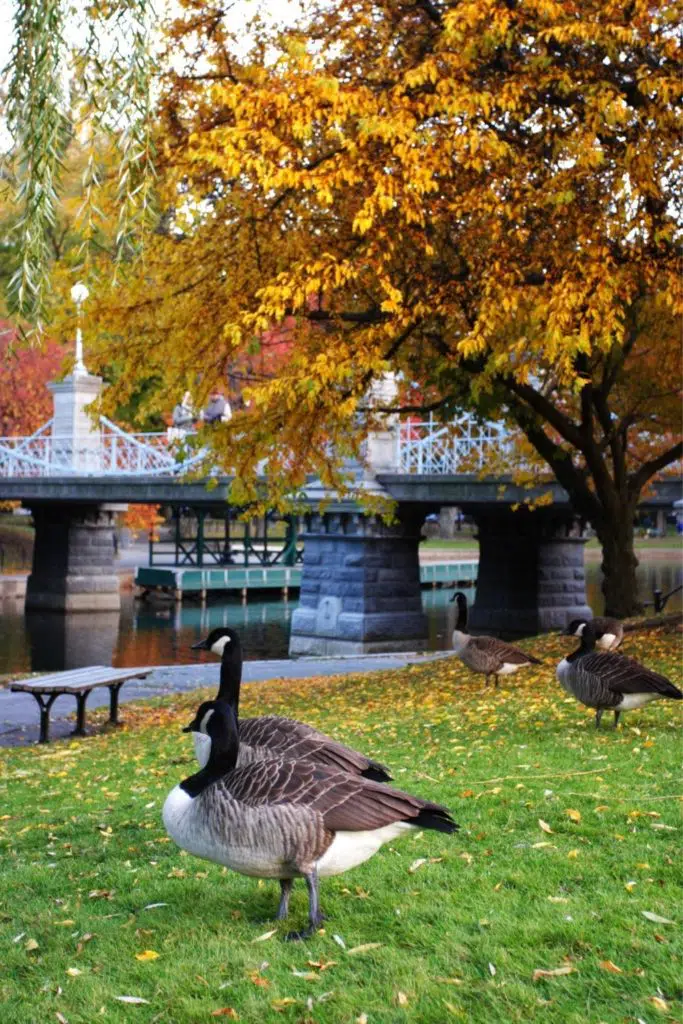 One of my favorite places to spend Fall in the USA is the city I call home, Boston, MA.
All of the historic brick buildings combined with the Fall foliage is just stunning. Plus there are less tourists and the weather is very mild.
Check out my post about Boston in the Fall for more tips on planning a trip during my favorite season. You might also like my post about where to stay in Boston, too.
Cincinnati, OH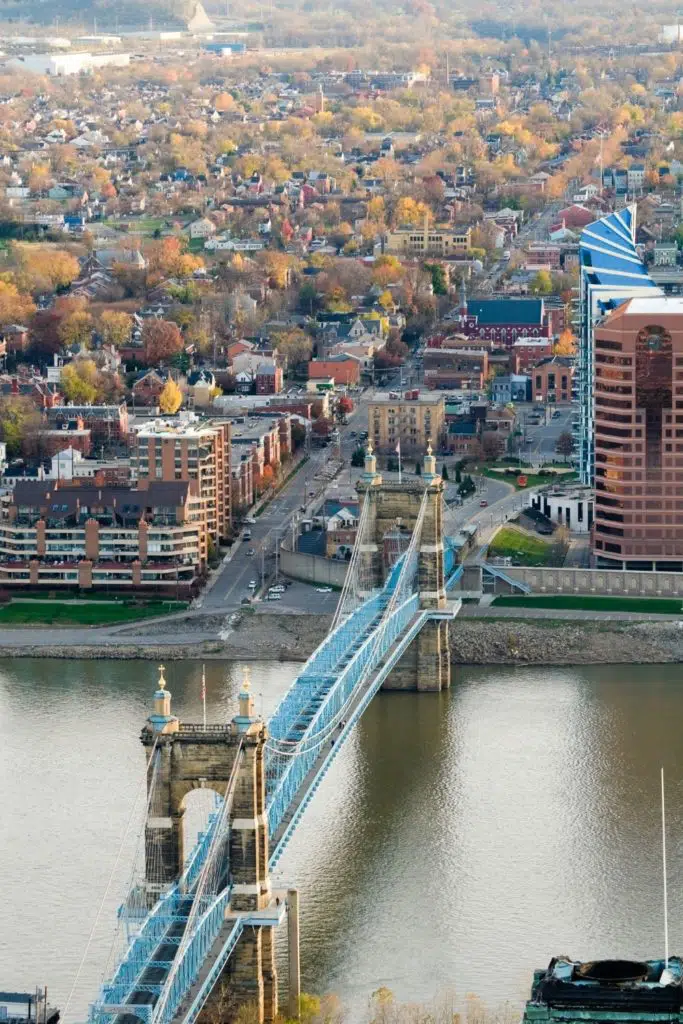 Oktoberfest Zinzinnati is the largest Oktoberfest celebration in the US and second largest in the world.
Held annually in Cincinnati since 1976, this weekend festival features live music, dancing, German food, and of course, beer.
In addition, there are several competitions such as a dachshund dog race and a bratwurst eating competition.
For more details, including this year's dates, check out the Zinzinnati website.
Columbia River Gorge, OR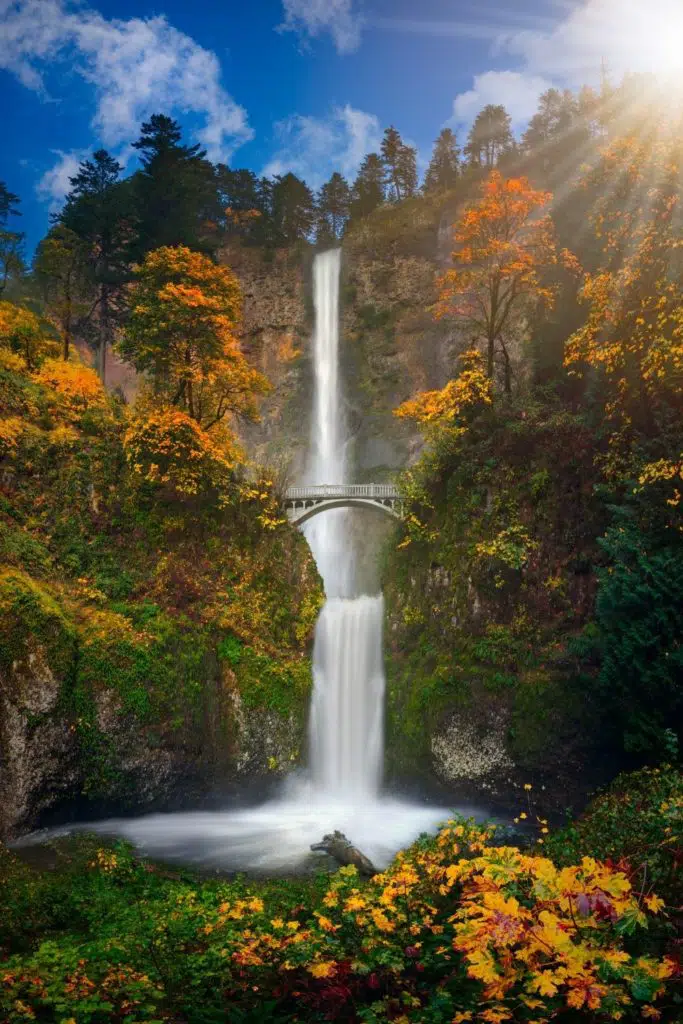 Pretty much anywhere in the Pacific Northwest area of the US is a sure bet for a good Fall vacation.
But there's one spot that always blows me away – Columbia River Gorge.
This National Scenic Area features a 4,000 foot deep canyon with nearly 80 waterfalls.
The star of the show, at least in my opinion, is Multnomah Falls, a 620-foot waterfall surrounded by deciduous trees that put on quite the show in mid-Fall.
Conway, NH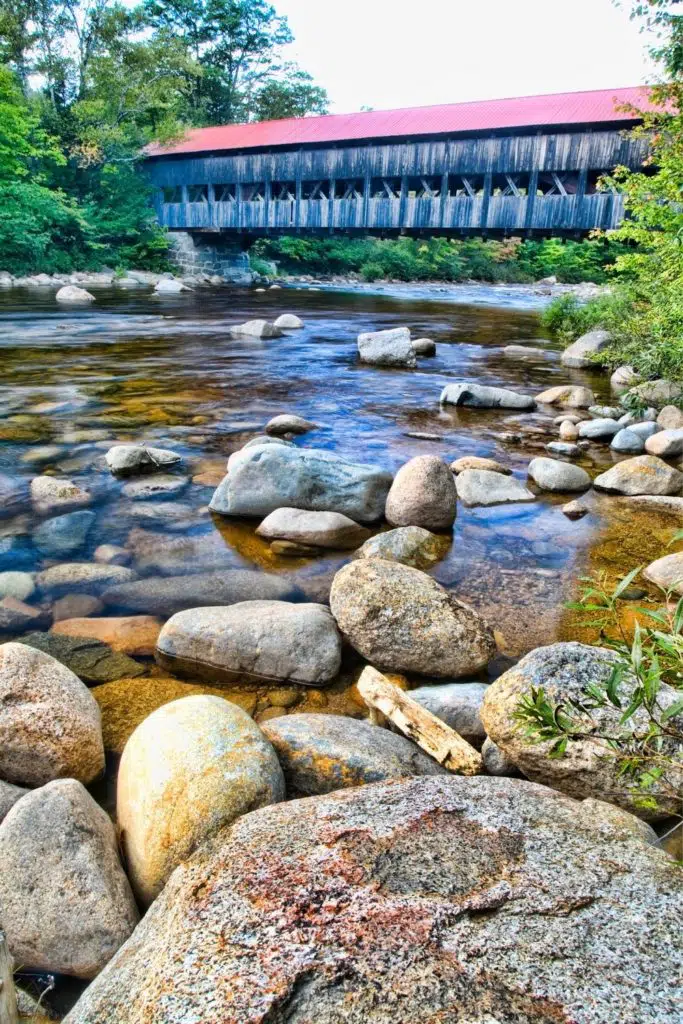 Head to Conway in the White Mountains of New Hampshire for more Fall fun.
Around Conway you'll find hiking, waterfalls, zip lining, an indoor water park, covered bridges, scenic railroads, horseback riding, leaf peeping, and other fun Autumn activities.
Also nearby is Story Land, a small amusement park themed after fairy tales and other childhood stories.
Check out my post about New Hampshire in the Fall for more tips on planning your trip.
Glacier National Park in Montana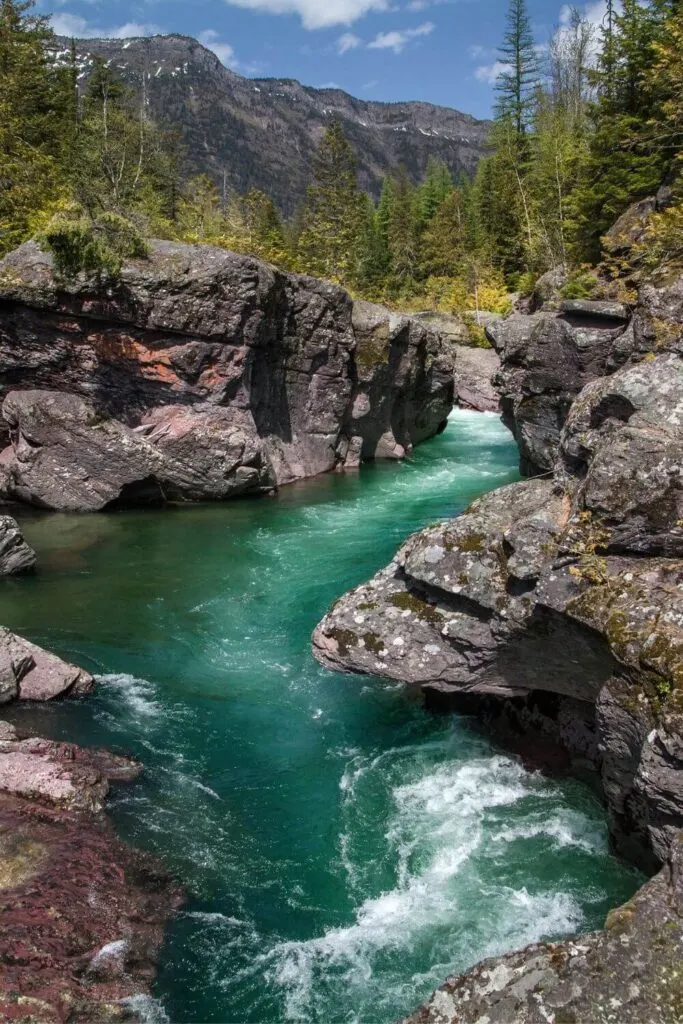 Looking for a place to hike that isn't too sappy? Well, look no further than Glacier National Park in Montana!
This picturesque spot is perfect for a Fall visit, boasting breathtaking views of Hidden Lake and plenty of opportunities for hiking and camping.
Take a dip in the lake, set up camp, and enjoy some quality time with Mother Nature – minus that pesky Summer crowd.
Trust me, your Instagram feed will thank you for the stunning photoshoot backdrop!
Grand Teton National Park in Wyoming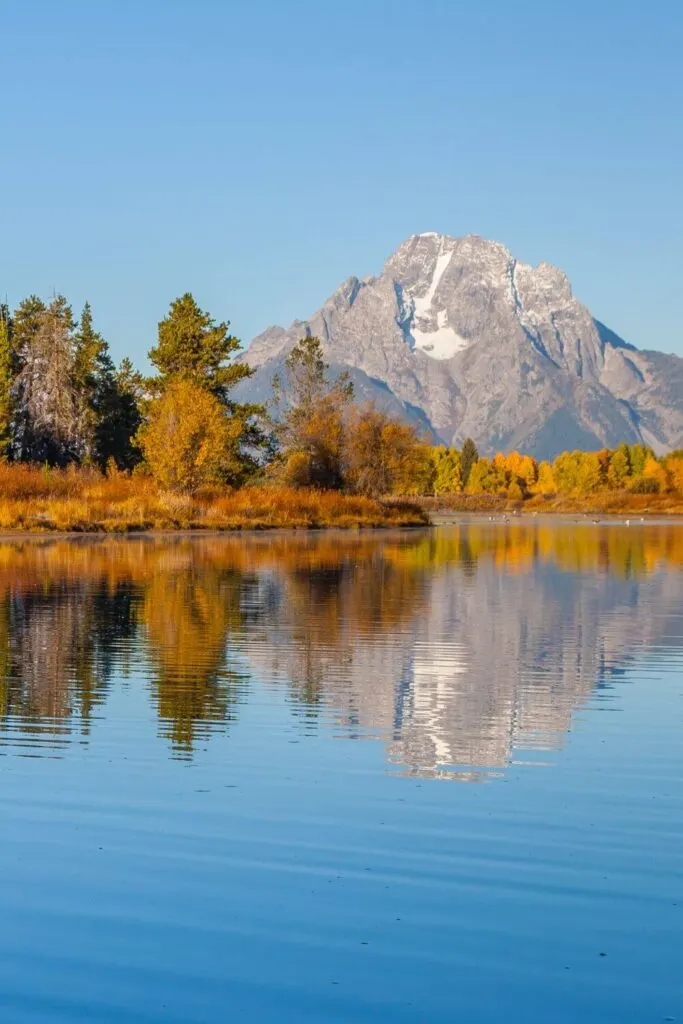 Let me tell you something – if you're looking for adventure mixed with breathtaking views, then Grand Teton National Park in Wyoming is calling your name!
And what better time to visit than in the Fall season? You can hike through the gorgeous trails and witness the leaves changing colors right before your eyes.
Take a scenic drive and be mesmerized by the picturesque landscape, or saddle up for a little horseback riding action.
Are you a fishing enthusiast? Well, you're in luck, because Grand Teton offers some of the best fishing spots around.
This gorgeous park in northern Wyoming is just begging to be explored during the Fall season!
Great Smoky Mountains National Park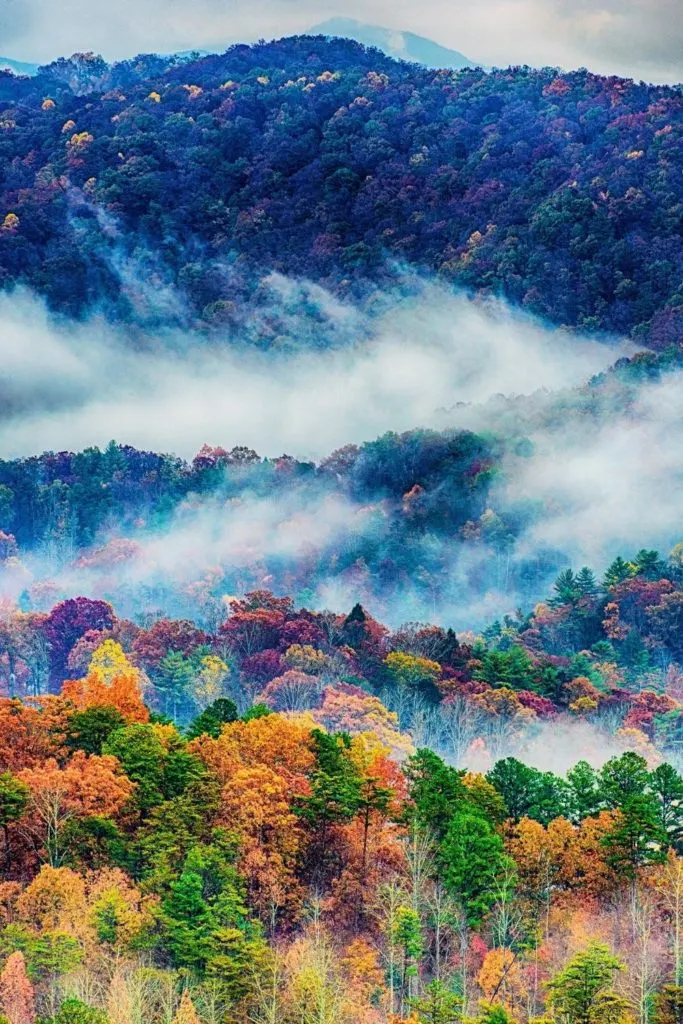 Nestled right between North Carolina and Tennessee border is one of the most stunning US national parks to visit in the Fall: Great Smoky Mountains National Park.
To make your visit even more epic, drive the Blue Ridge Parkway in North Carolina that runs between Shenandoah National Park to the NC side of Great Smoky Mountains National Park.
Who doesn't love a good scenic drive or road trip for some leaf peeping to admire all the beautiful sunset and fire-hued yellows, oranges, and reds adoring the trees?
Mackinac Island, MI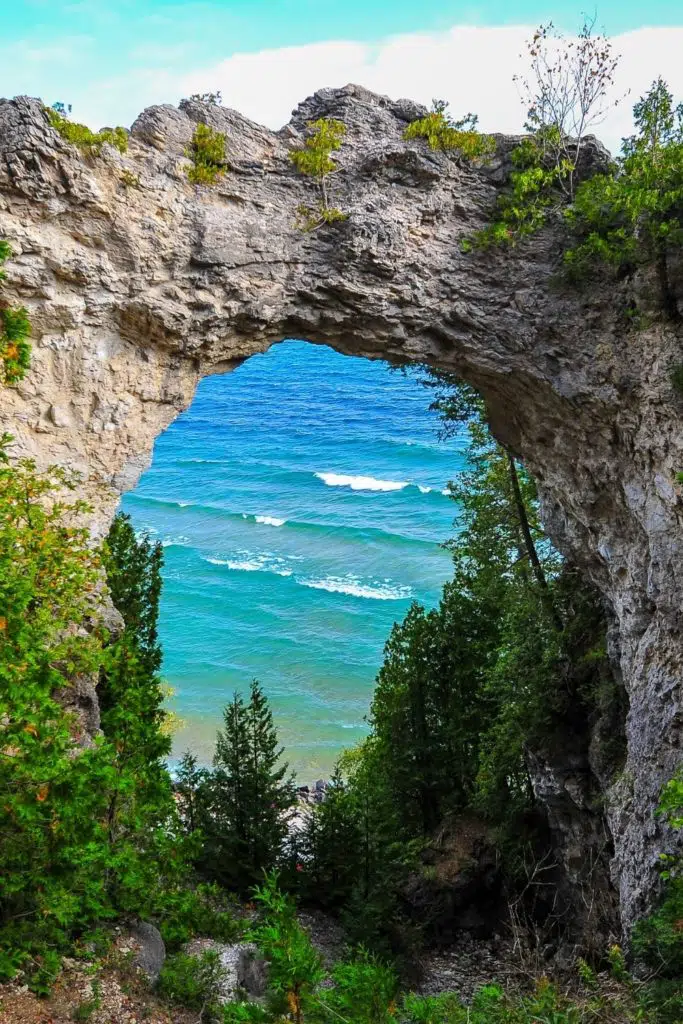 If you really want to enjoy the great outdoors in the Fall, head to Mackinac Island where there will be plenty of gorgeous Fall colors and no cars!
This tiny island is located in Lake Huron and can only be reached via ferry.
Once there, you can explore the island by foot, bike, or horse drawn carriage.
Mackinac Island has trails, parks, art galleries, shops, and historical attractions. It's also well-known for fudge and its butterfly conservatory.
New Orleans, LA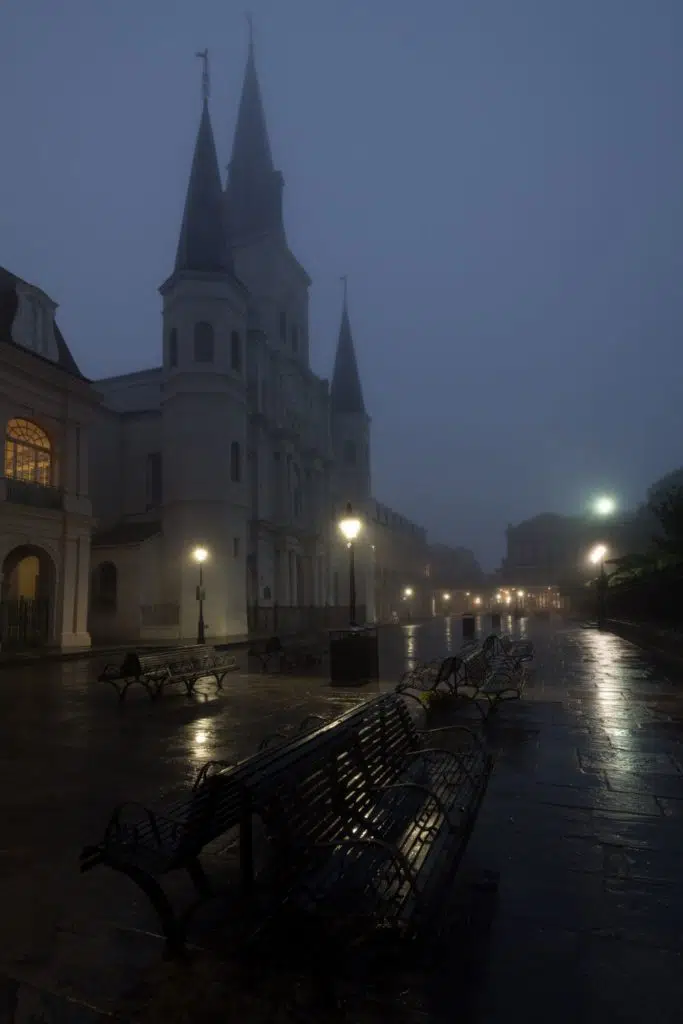 Arguably the most haunted city in all of the United States, visiting New Orleans is another must-do for Halloween lovers.
New Orleans is filled with delicious food, stunning architecture, super fun parties, and interesting history.
During Halloween, the whole city goes all out with decorations, parades, second lines, extra spooky ghost tours, paranormal investigations, and other fun Halloween-y activities.
For more tips, check out these posts:
New York City, NY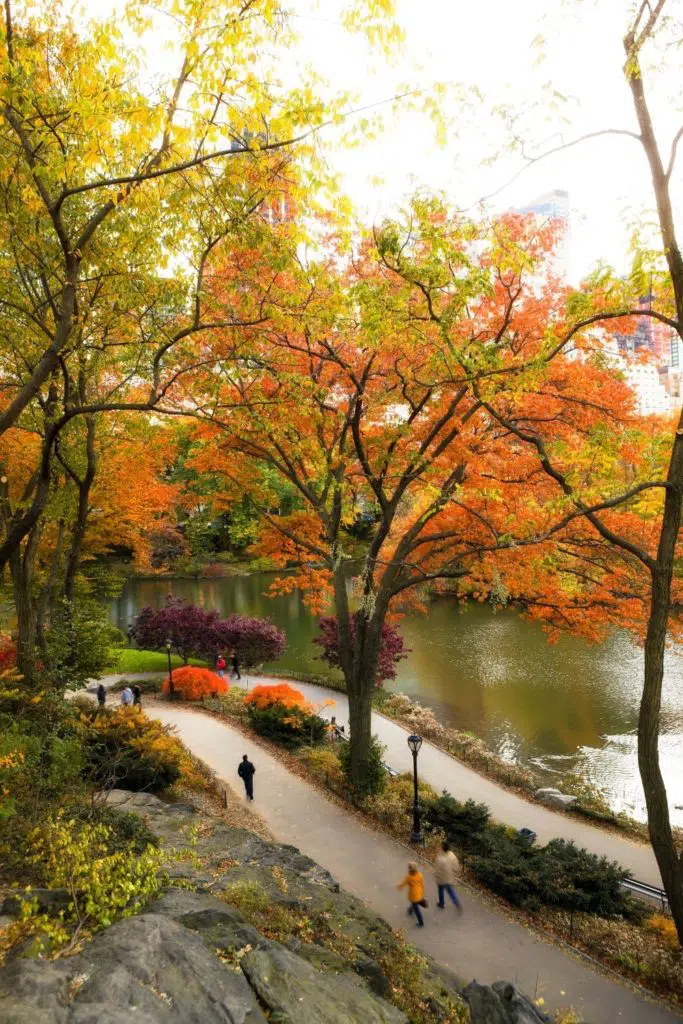 Another great city break in the Fall is New York City.
New York City is packed with fantasmical Halloween events in addition to gorgeous green spaces filled with Fall foliage in mid-Fall.
Yes, that's right – there are several places for excellent leaf peeping right in the city!
In addition to beautiful Autumn colors, New York has plenty of spooky and witch activities to fill up your itinerary.
For tips on planning a trip to the city that never sleeps, check out my post about NYC in the Fall.
Ozark National Forest in Arkansas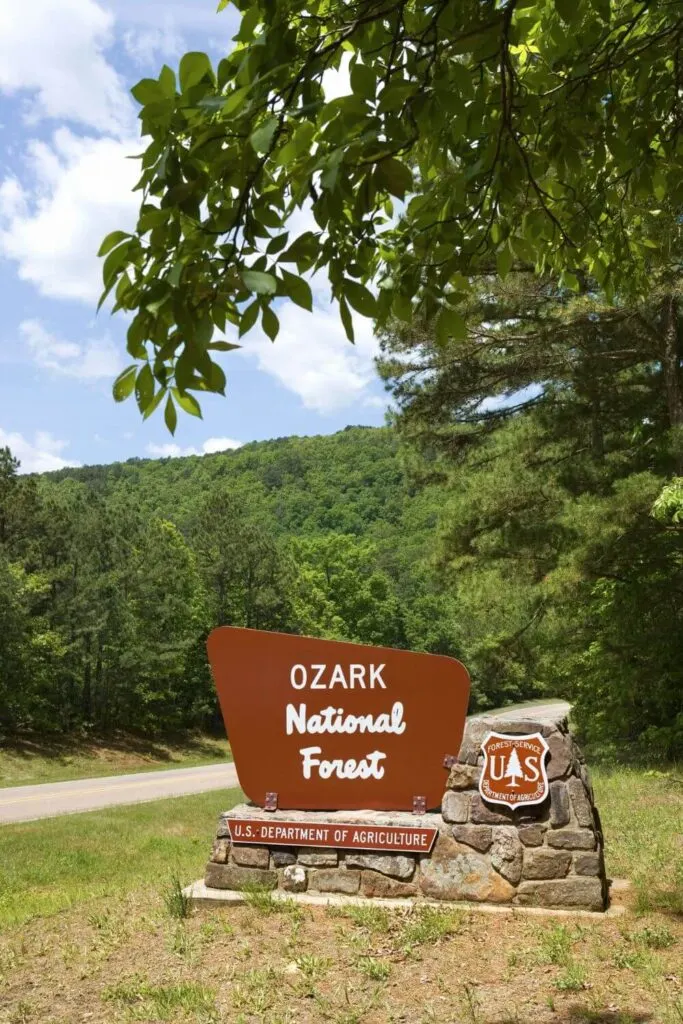 Are you sick of being cooped up inside all day? Do you want to experience some autumnal bliss, but are tired of pumpkin spice everything? Well, I have a unique recommendation for you!
North of Little Rock, Arkansas lies the picturesque Ozark National Forest, a perfect destination for all the fall foliage admirers out there.
Not only is it the ideal spot for hiking, kayaking, and camping, but it may ring a bell for viewers of the Netflix show starring Jason Bateman (yes, it's that Ozark).
So grab your flannel and your sense of adventure, and head on over to the Ozark Mountains for a fall experience that will make even autumn-haters swoon.
Rocky Mountain National Park in Colorado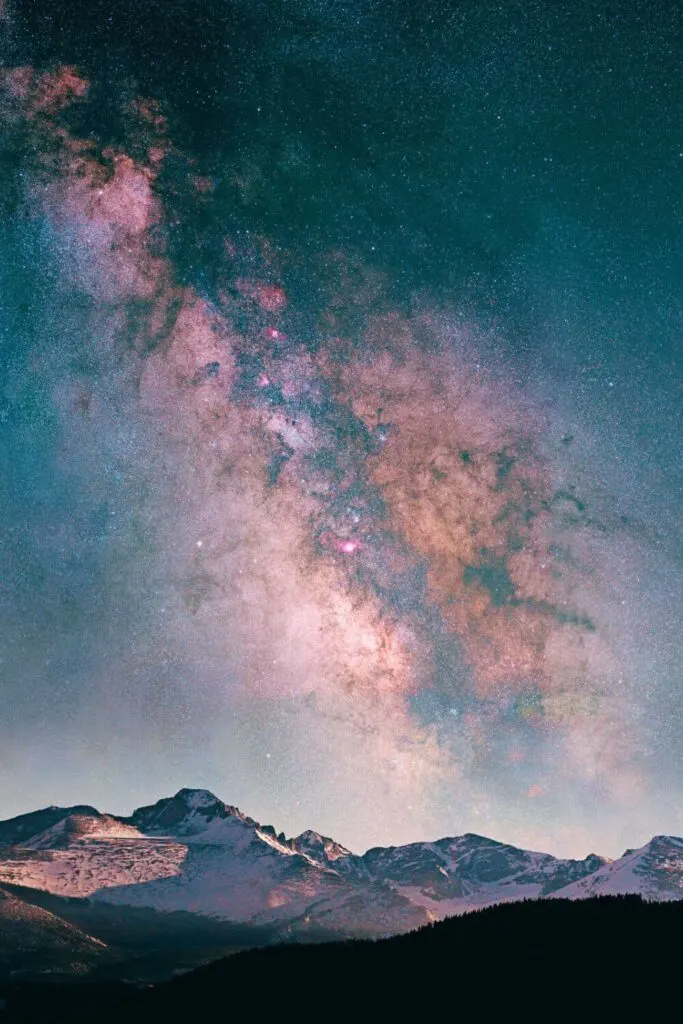 If you're looking for a fall getaway that's equal parts stunning and adventurous, then Rocky Mountain National Park in Colorado is the perfect spot.
Why, you ask? Well, for starters, there's the granddaddy of all hikes – Longs Peak. Take on this bad boy if you dare and enjoy some mind-blowing views along the way
Or, if you're in the mood for something a little more chill, check out the beauty that is Bear Lake. You won't regret it!
Oh and did I mention the scenic drives? Get ready to have your socks knocked off by Mother Nature in all her splendor, especially in the Autumn season.
Salem, MA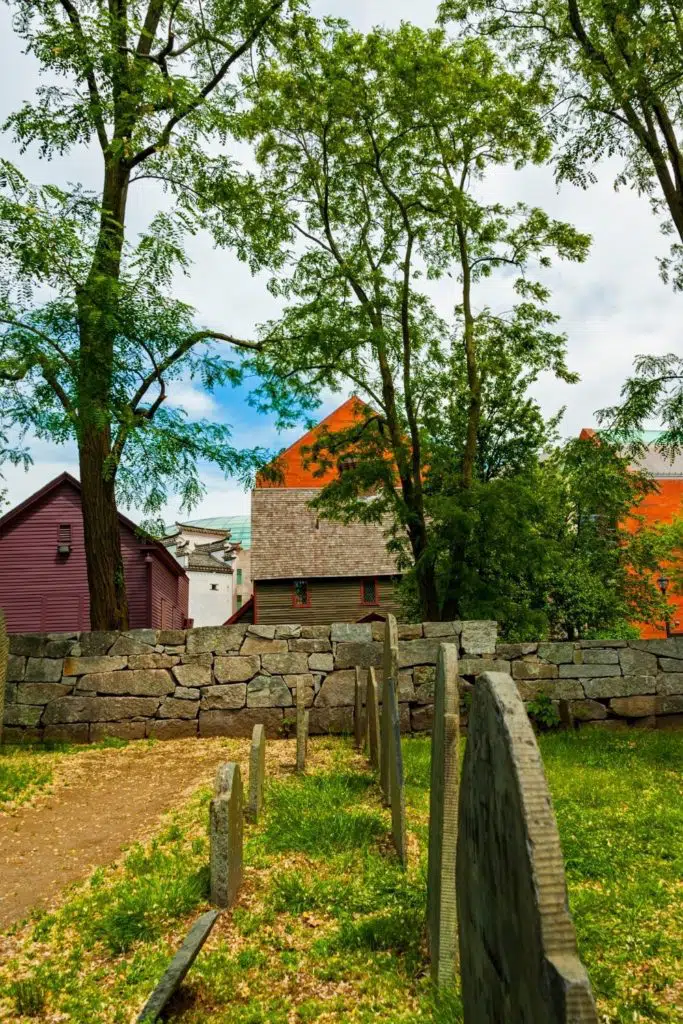 Known as Witch City due to its entanglement with the Salem Witch Trials of 1692, Salem hosts a month-long Halloween celebration every year.
There are costume balls, arts and crafts vendors, fair rides, concerts, races, and other Halloween-themed events throughout the month of October.
For more tips, check out these posts:
Savannah, GA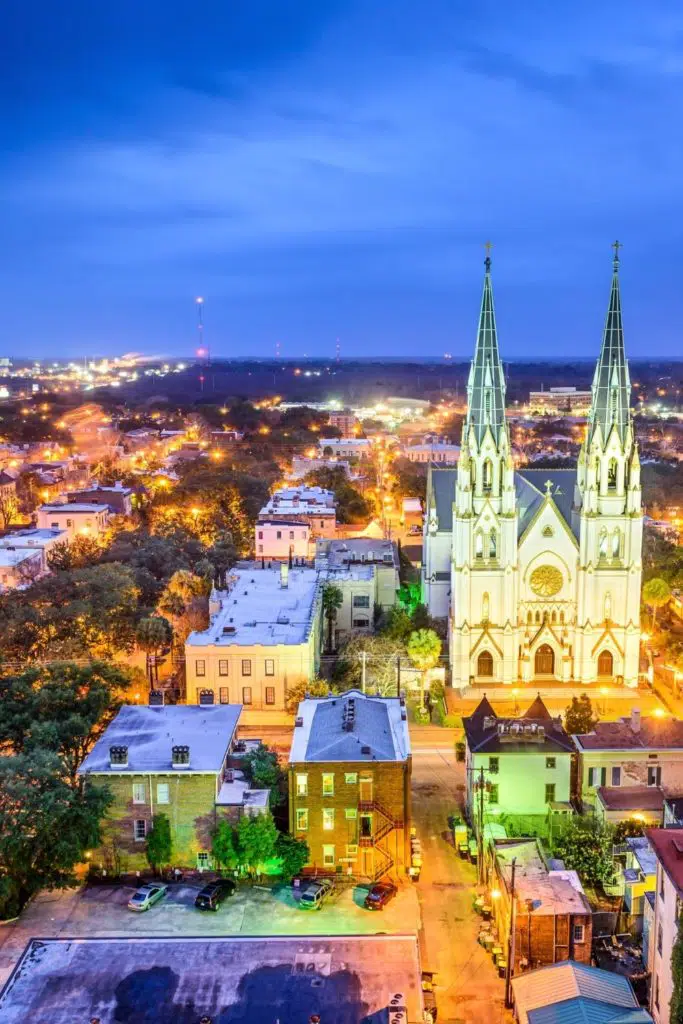 This small city is another rumored ghost haunt in the Southern US.
Whether you believe in ghosts or not, Savannah is still a great place to visit in the Fall.
Savannah has tons of great restaurants and small shops, historical (and ghost) tours, and beautiful architecture. In late September, there's the Savannah Jazz Festival, too.
Lastly, Fall is a great time to visit to avoid the muggy Summer heat. The later in the Fall you visit, the better!
Sleepy Hollow, NY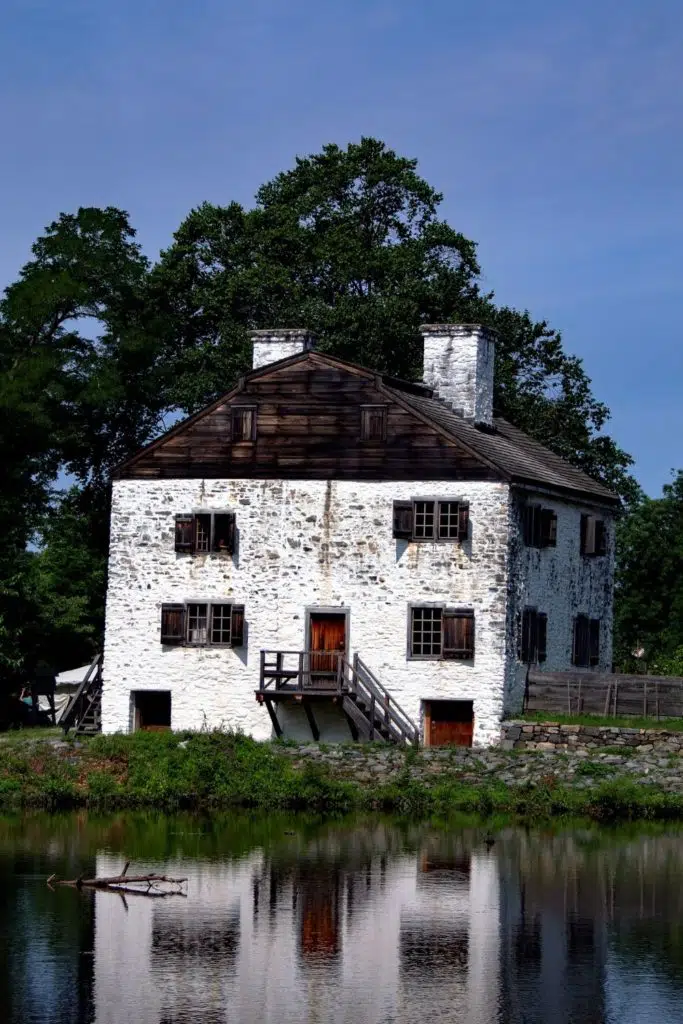 Technically a village within the town of Mount Pleasant, Sleepy Hollow is home of the mythical headless horseman.
This small New York village embraces its spooky legend, much like Salem.
The Fall season includes parties, ghost tours, a parade, a film festival, concerts, Fall crafts, and other fun Autumn activities.
For more haunted places to visit, check out my post about the most haunted places in the USA.
Stowe, VT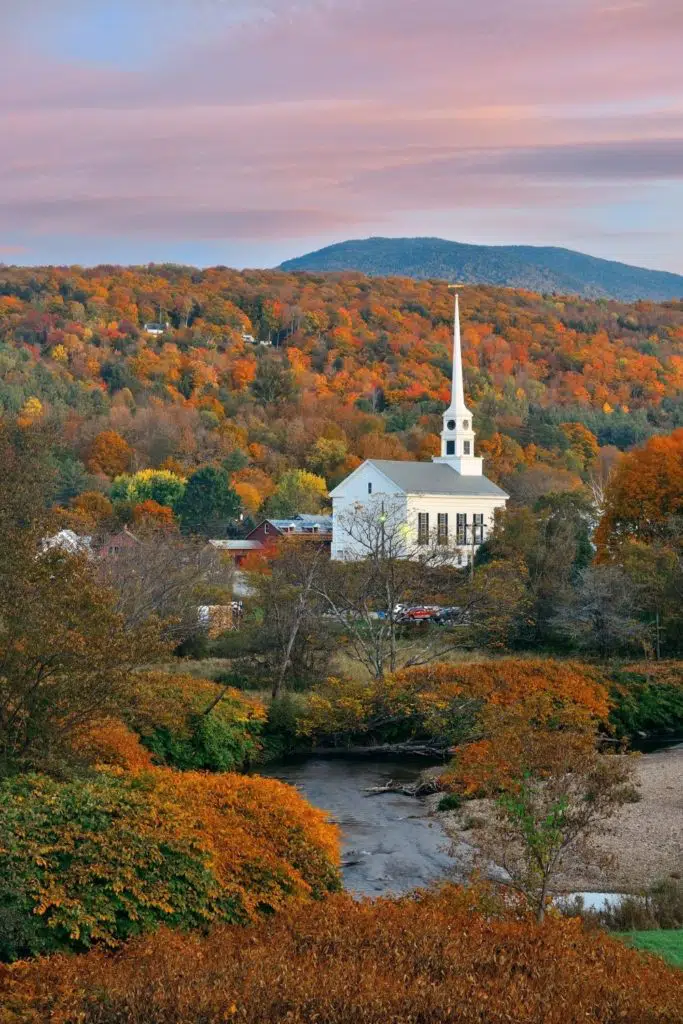 Located in Northern Vermont, Stowe is perfect for a Fall weekend getaway in New England.
From Stowe, you can access hiking trails, ski resorts, a ski museum, breweries and cideries, and the Ben & Jerry's factory.
Stowe is also perfectly situated halfway between Burlington, a small city on the banks of Lake Champlain, and Montpelier, Vermont's capital, where you'll be able to access even more activities and events.
For more tips, check out my post on Vermont in the Fall.
Zion National Park in Utah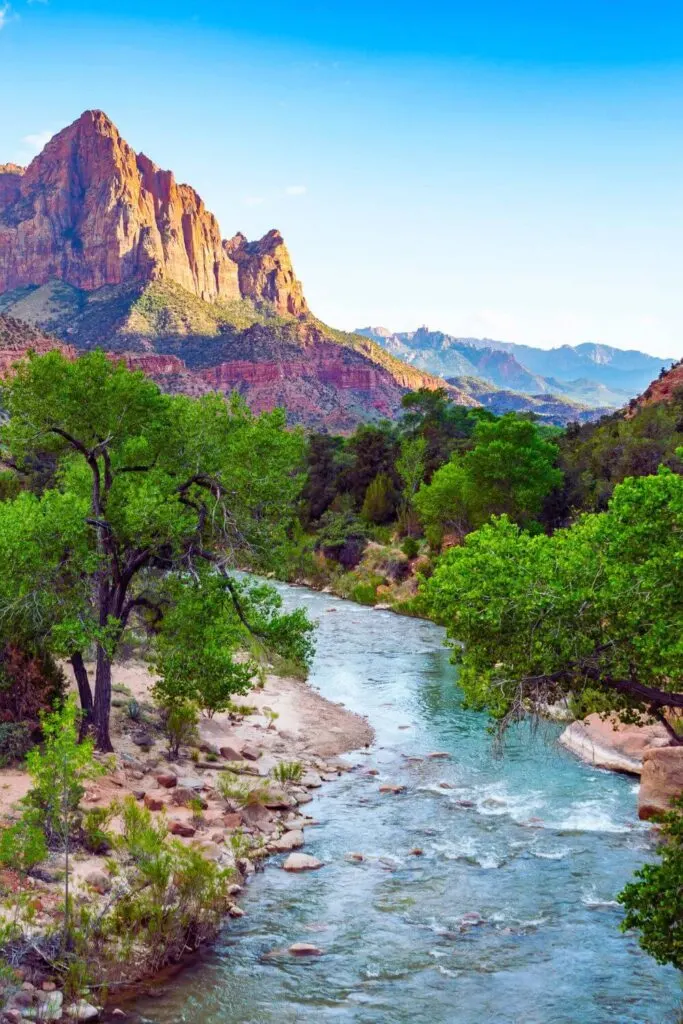 If you're looking for a perfect spot to witness the glory of Fall in the southwest, you can't go wrong with Zion National Park in Utah.
There are a ton of things to see and explore, but for all you sweethearts who are short on time, make sure to check out the Zion Narrows and Emerald Pools.
While you won't get your typical Fall foliage at this spot, the Fall season has far less crowds, making it a much more enjoyable experience at this über-popular national park.
Where is your favorite place to visit in the Fall in the USA?
Let me know what your favorite Fall travel destination in the US is in the comments below.
For more Fall fun activities, check out these posts:
---
About the author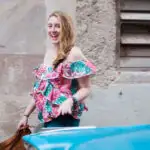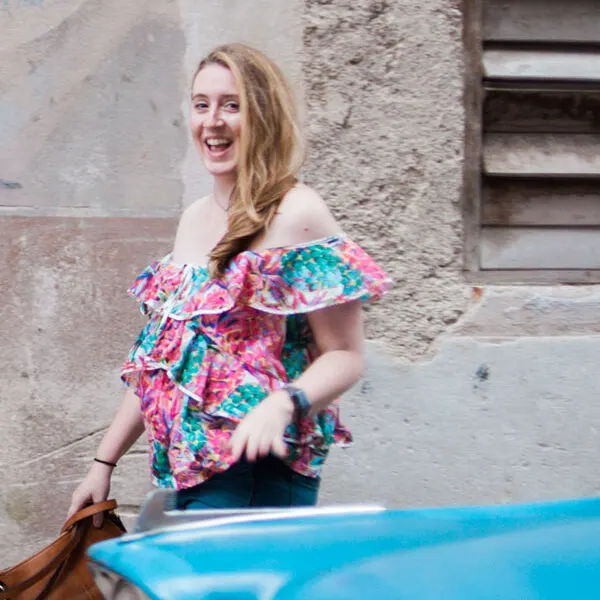 Meg Frost is a Boston-based travel blogger that helps people embrace technology to make vacation planning and traveling wicked easy, affordable, and fun.
She holds an M.A. in Journalism from Northeastern University and B.S. in Communication & American Studies from University of Miami.
---
This post was originally published on September 16, 2021. It was last updated on August 16, 2023.