New Orleans is my favorite food travel destination.
From savory muffuletta sandwiches to sugary sweet beignets, New Orleans' food scene has something for everyone.
Keep reading for the best food in New Orleans, plus a few classic drinks in New Orleans to try on your next visit.
Alligator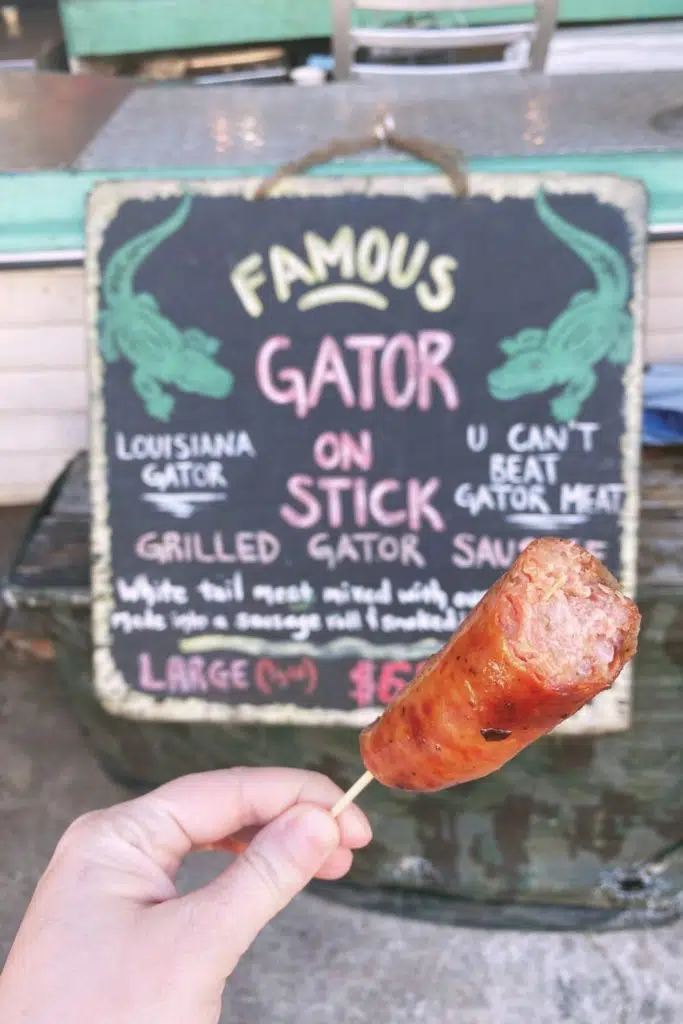 Alligator isn't common across the US, but it is in New Orleans and surrounding areas of the South.
Gator doesn't have a weird taste in my opinion, but can be a bit chewy, depending on how it is served.
The first time I tried gator was in fried rice way back on my very first visit to New Orleans when I was in high school.
It was a bit too rubbery and salty for my liking. However, I tried it as a sausage on my most recent visit and actually quite liked it prepared that way!
Another option for trying alligator is a fried gator po boy sandwich. It's a little bit like a fried clam sandwich.
Bananas foster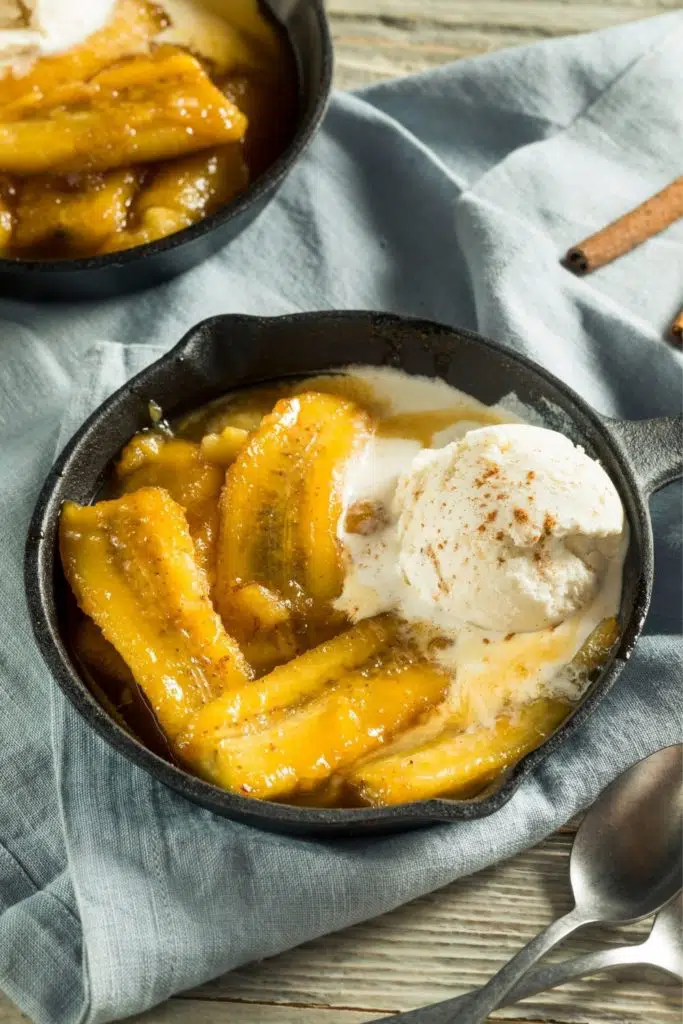 If ice cream is your thing, add Bananas Foster to your New Orleans bucket list.
Bananas foster was created at Brennan's, a long-standing French Quarter restaurant, in 1951.
This yummy ice cream sundae combines creamy vanilla ice cream with warm, gooey cooked bananas and a super sweet sauce made with brown sugar, cinnamon, dark rum, and banana liqueur.
Many restaurants in New Orleans serve bananas foster, but I recommend you try it where it all started: Brennan's Restaurant at 417 Royal Street in the French Quarter.
Beignets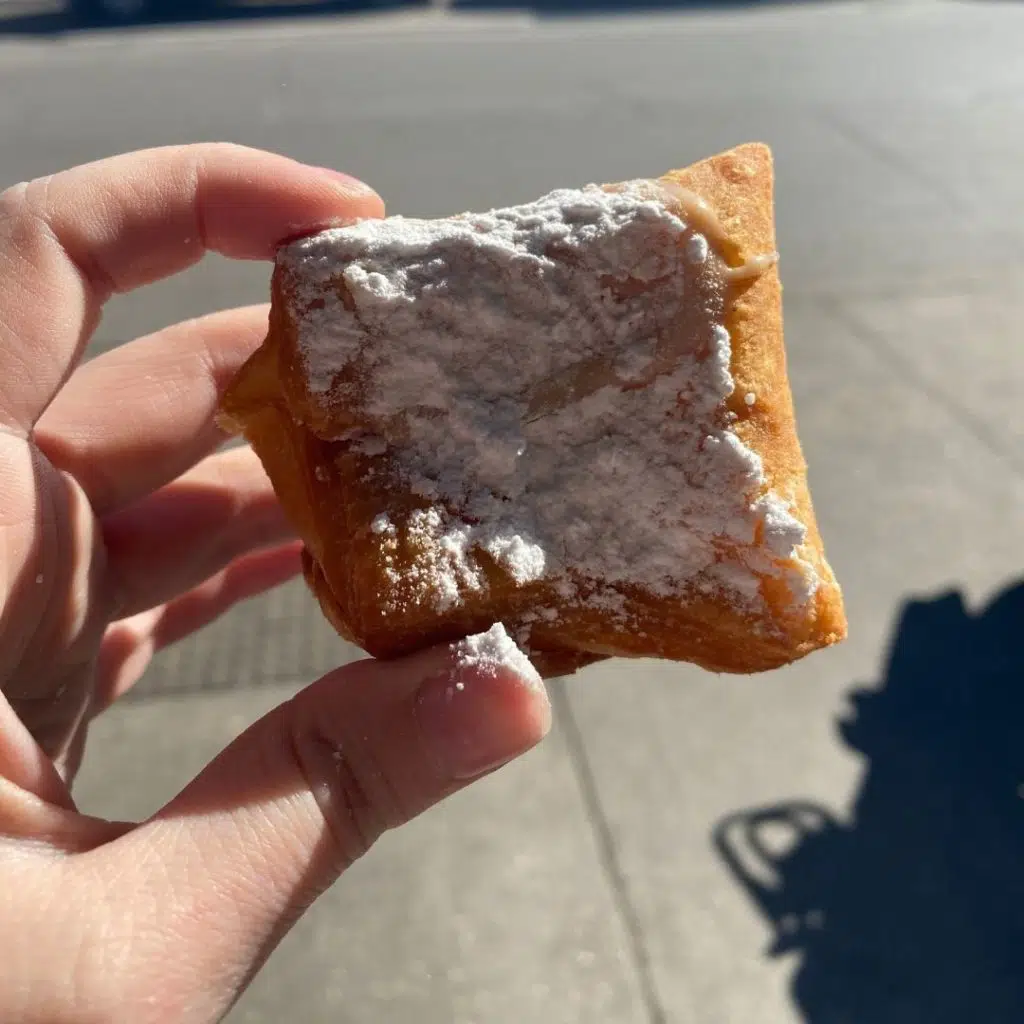 Beignets are like a cross between a donut and fried dough.
They are best enjoyed with a café au lait or chicory coffee to balance out the sweetness.
This delicious treat is drowned in powdered sugar, making them a bit messy, but I promise they are totally worth it.
The premier spot to get beignets is at Café du Monde at 1039 Decatur St along the Riverwalk in the French Quarter.
If you encounter a long line, try Cafe Fleur de Lis at 307 Chartres St or Cafe Beignet at 334 Royal St. Both are located in the French quarter, not far from Café du Monde.
Alternatively, there is another Café du Monde's location at The Outlet Collection at Riverwalk mall between the Central Business and Warehouse districts.
Last, but not least, grab a fresh bag on your way home at Café du Monde's outpost in the domestic terminal at the New Orleans airport.
Boudin sausage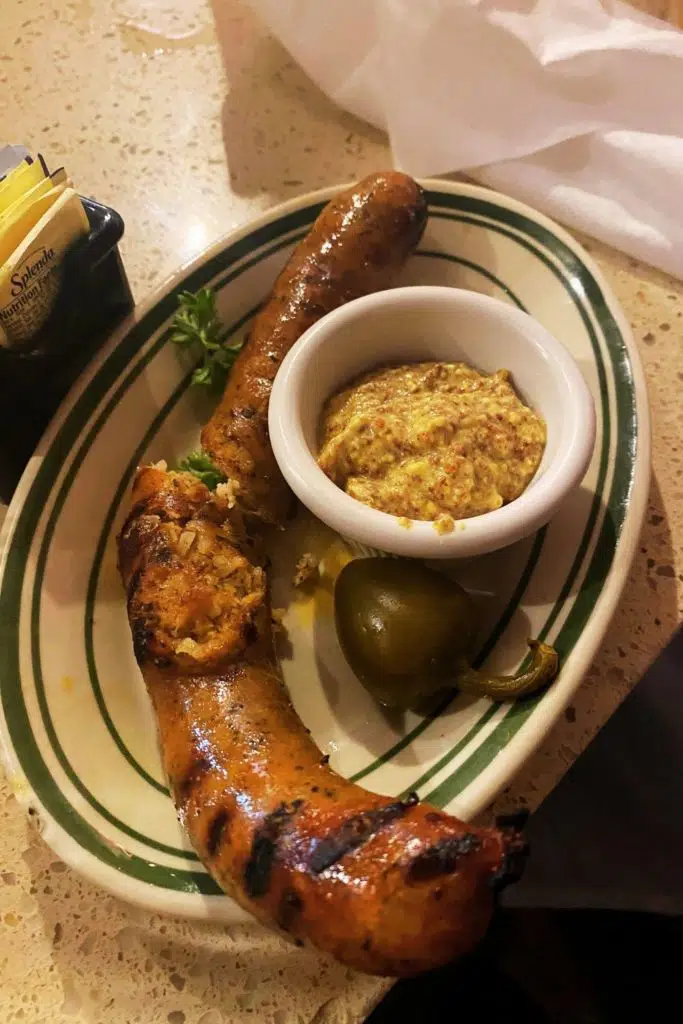 Boudin is a Cajun pork sausage stuffed with rice. This tasty sausage is typically served with spicy mustard.
Due to the addition of rice, it is super filling, even in small amounts. At least for me it is!
While you can certainly eat it with veggies as a meal, it's usually served as an appetizer or snack.
Coffee with chicory root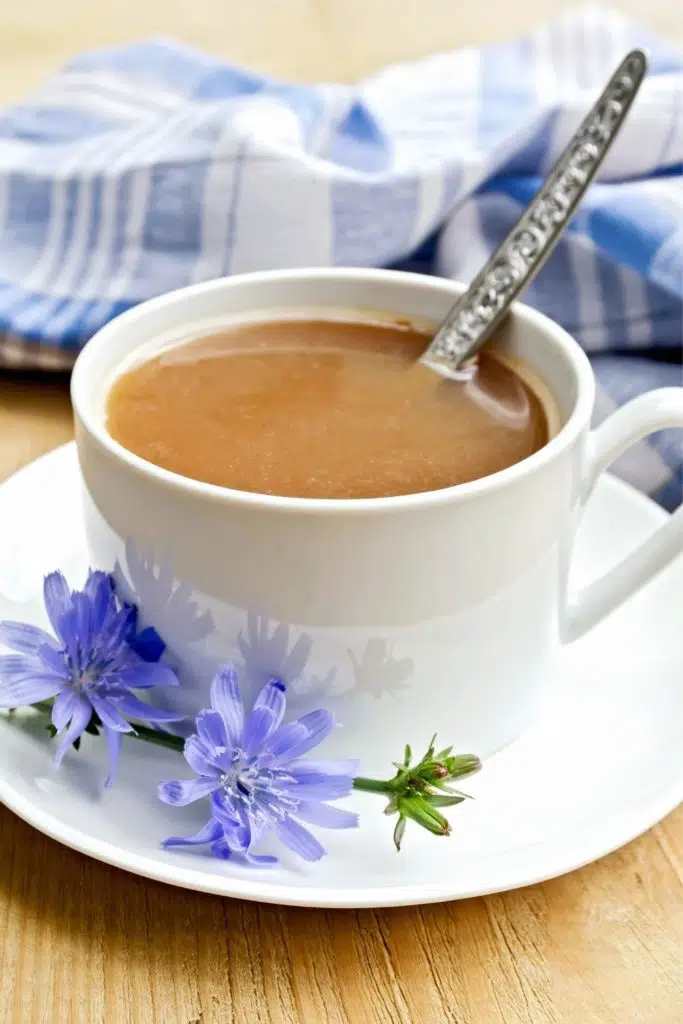 During the Civil War, people in New Orleans had to ration their coffee, so they mixed it with chicory root to make their coffee supply last longer.
The practice became so commonplace that even outside of Louisiana, coffee shops will sell "New Orleans style coffee" with chicory syrup.
The addition of chicory is an acquired taste in my opinion, but admittedly pairs well with something sweet, like beignets.
The most popular way to have coffee with chicory root in New Orleans is a café au lait, which is coffee mixed with hot milk. However, I like iced coffee with chicory syrup better!
Étoufée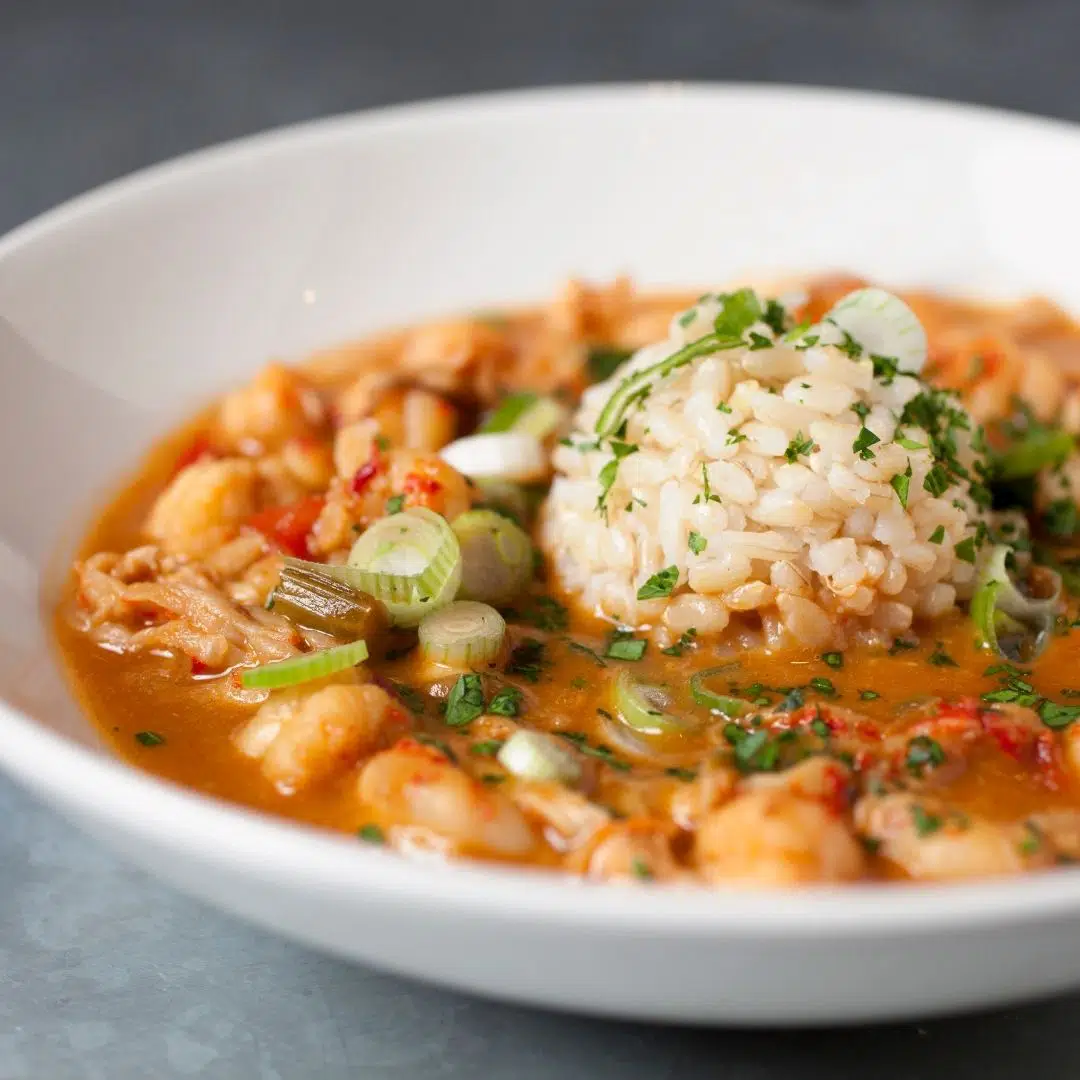 Étoufée is a classic Cajun and Creole stew, 2 popular types of food in New Orleans and the surrounding area.
It is similar to gumbo, but sweeter and lighter in color.
Étoufée is also typically made with crawfish or shrimp, whereas gumbo can be made with shellfish, sausage, or veggies – sometimes even a combination of those things.
Gumbo
Gumbo is a thick stew of meat or shrimp with veggies, spices, and stock flavored with secret Creole or Cajun ingredients.
You'll probably only want to try this dish during the cooler months, given its hearty consistency.
Some restaurants serve gumbo with rice, but I like it best with a scoop of potato salad, which is common with locals.
Hurricane cocktail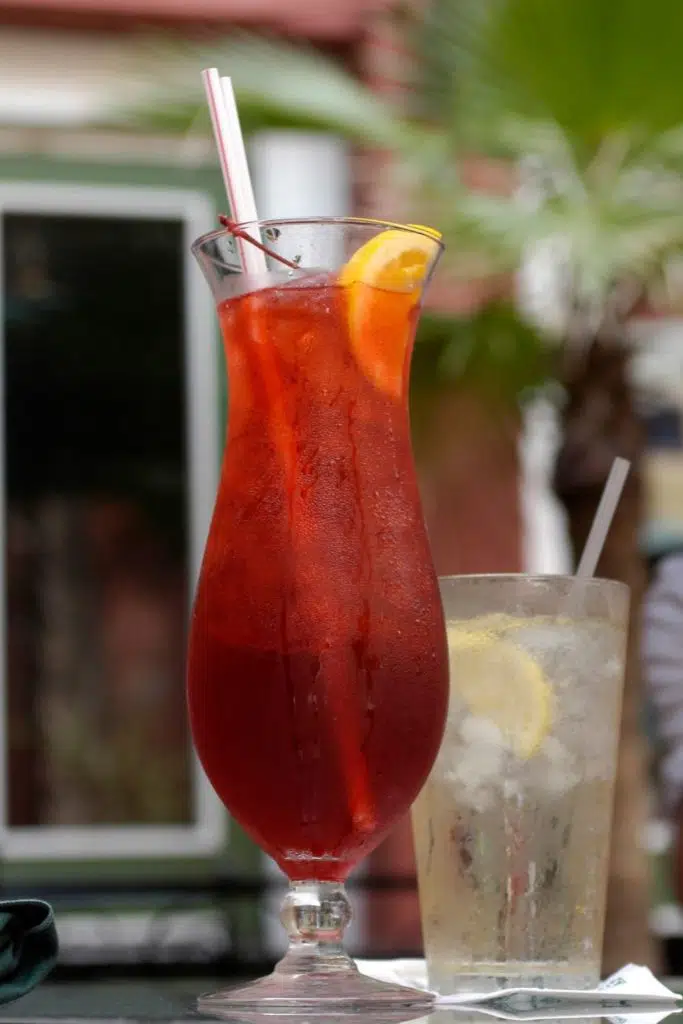 The Hurricane is a rum-based cocktail that combines passion fruit and lemon juice with grenadine, along with the rum for a deliciously refreshing punch.
Some bars also add grenadine syrup and orange juice instead of lemon.
Perhaps the most popular place to try this New Orleans is Pat O'Brien's, which is where the cocktail was created in the 1940s.
Pat O'Brien's has 2 locations in New Orleans – 718 St. Peter Street and 624 Bourbon Street, both in the French Quarter.
TIP: For a fun New Orleans souvenir, snag a bottle of Pat O'Brien's Hurricane Mix to make them at home with your favorite rum.
Jambalaya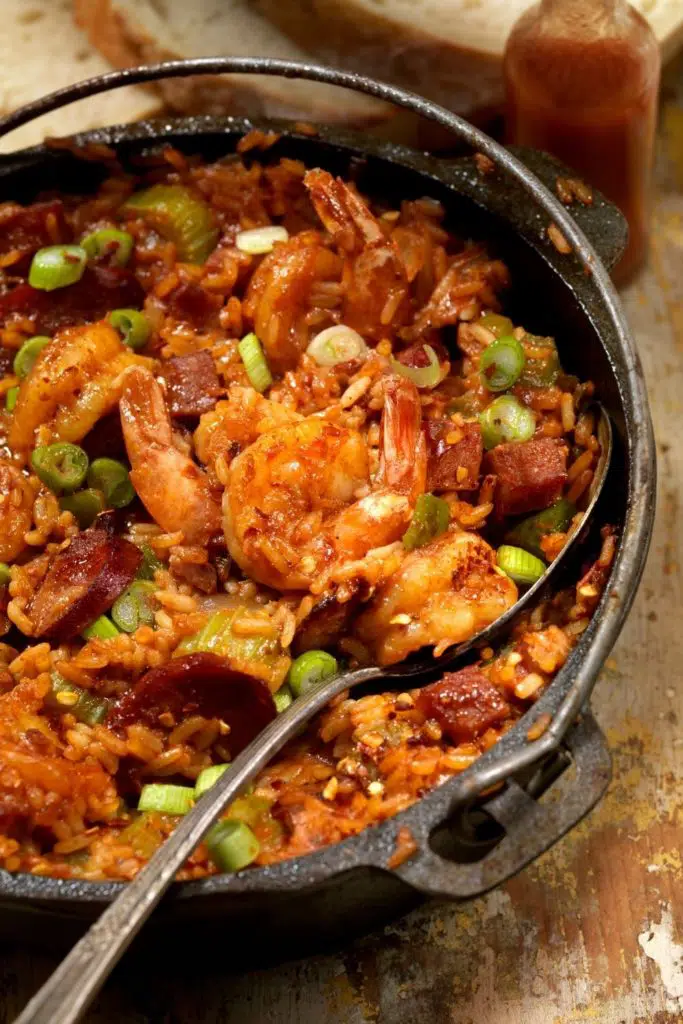 Jambalaya is a delicious rice dish that includes veggies, Cajun or Creole spices, and andouille sausage, chicken, or shrimp.
Unlike gumbo and étoufée, Jambalaya is cooked with rice, whereas the others are served with rice cooked separately.
King cake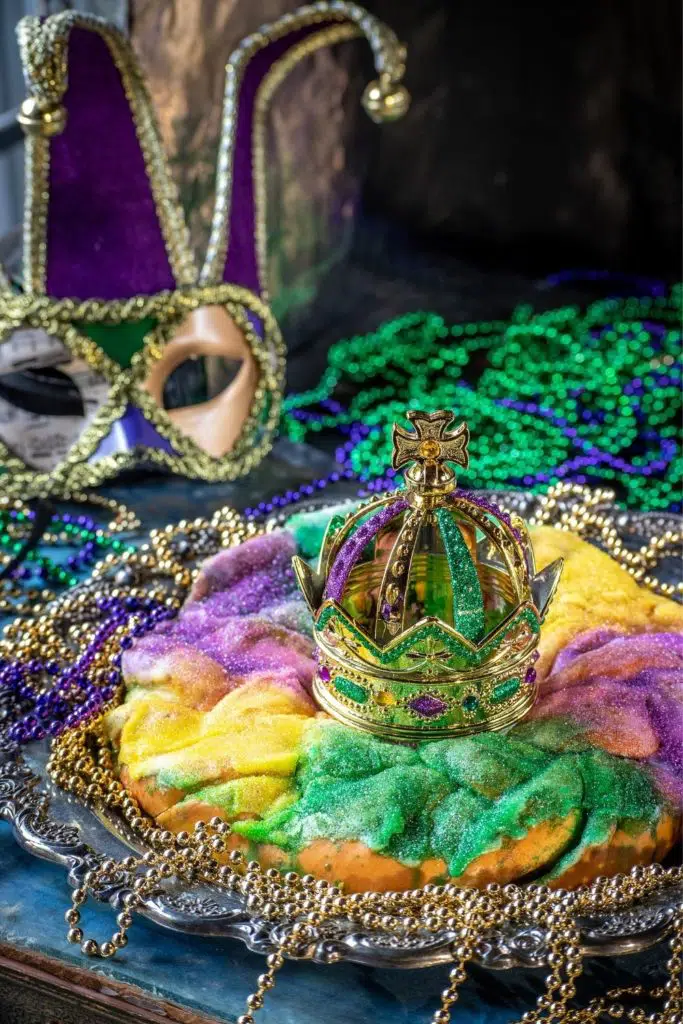 Starting January 6 through Mardi Gras season, King Cake is served at parties in Louisiana to celebrate the time before the Christian observance of Lent begins.
A small plastic baby (or bean) is hidden inside or underneath a slice of King Cake. Whoever finds it is said to have good luck in the upcoming year.
It's like finding a prize in a cereal or Cracker Jack box! Or is it?
In some social circles, this person also has to provide the cake for the next year's party, as well!
This seasonal treat is so popular that you can even find King Cake-flavored vodka in liquor stores in New Orleans and the surrounding area.
Muffuletta sandwiches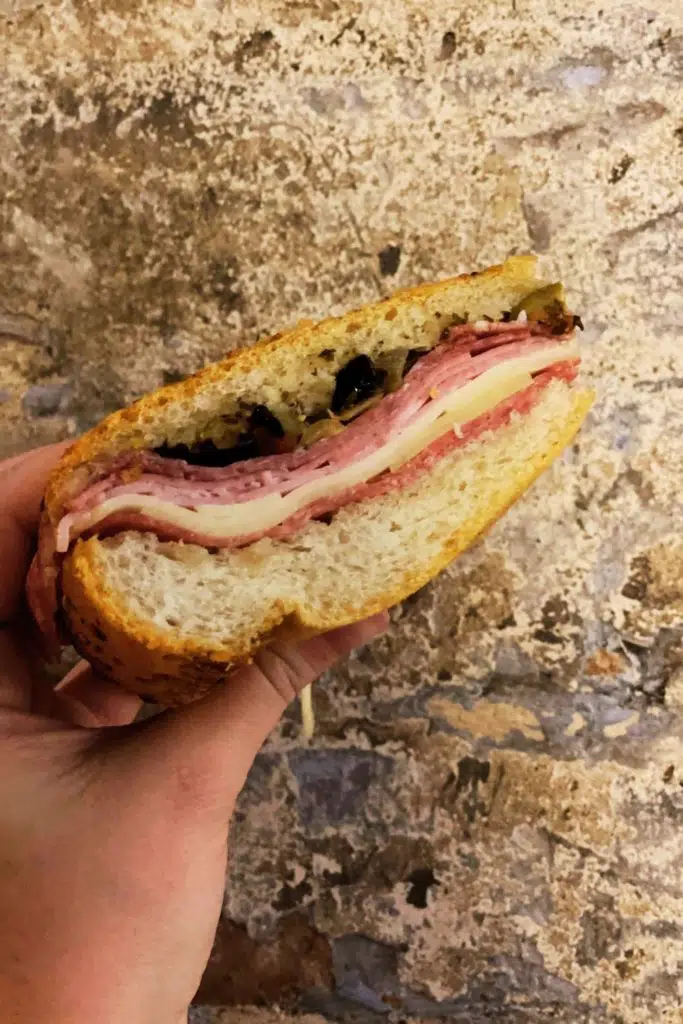 Muffulettas are similar to classic Italian sandwiches, but with a local twist.
This tasty sandwich combines ham, mortadella, salami, mozzarella, provolone, and olive spread on top of Sicilian sesame seed bread.
The most popular place to get muffulettas is Central Grocery & Deli, an Italian grocer in the French Quarter, where the sandwich is said to originate.
The muffuletta sandwich at Central Grocery & Deli is MASSIVE.
You can buy a half or whole sandwich at Central Grocery. Even with the half, you'll want to split with another person!
Oysters Rockefeller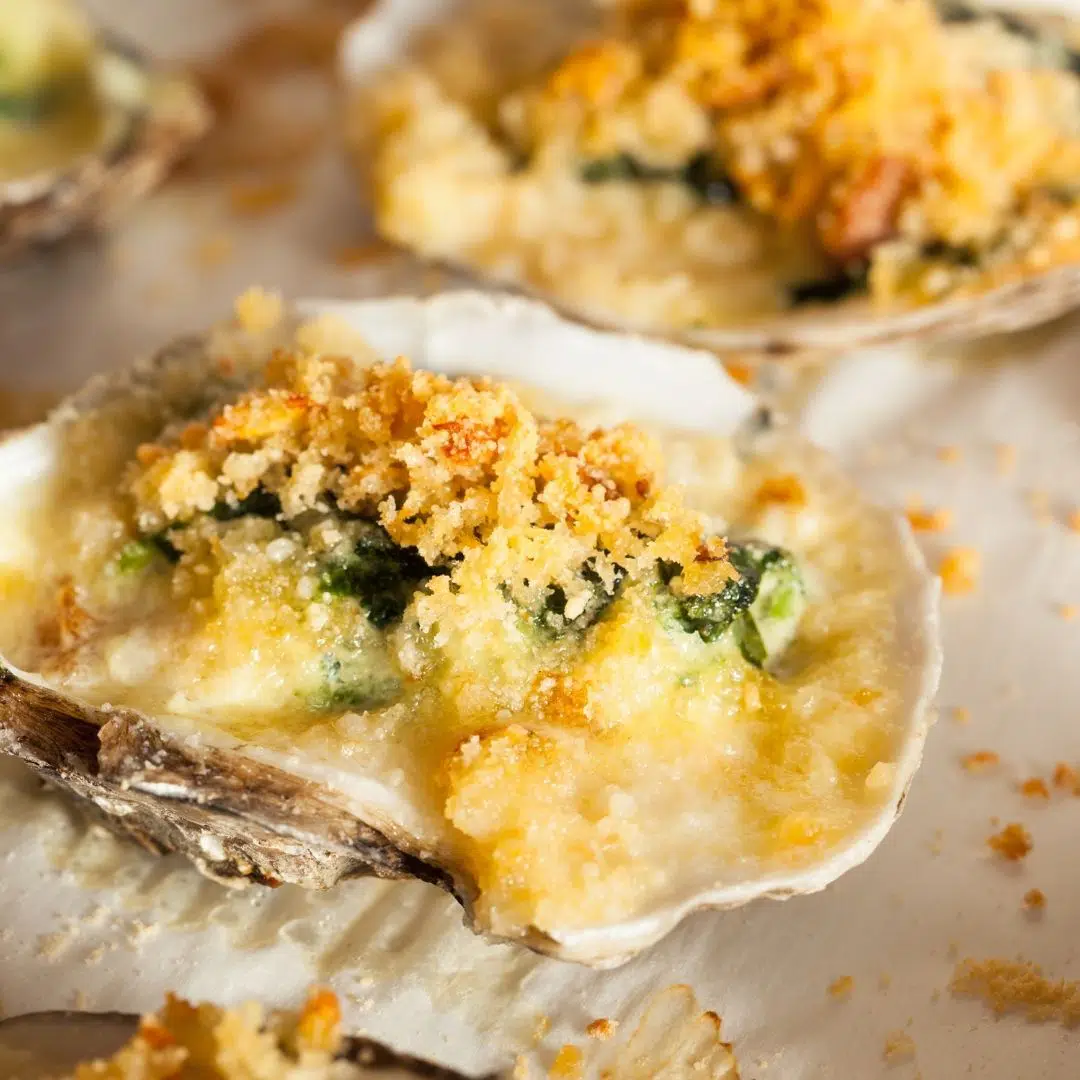 Oysters are a great bet if you can't decide what to eat when dining out in New Orleans, since they are freshly caught in the Gulf of Mexico.
If you're leaning in that direction, I recommend trying Oysters Rockefeller.
Oysters Rockefeller, one of many popular foods in New Orleans, was created at Antoine's in the French Quarter.
This seafood dish combines herbs, butter and bread crumbs in a half oyster. It is then baked or broiled to perfection.
It is so simple, but absolutely decadent and delicious.
Po Boy sandwiches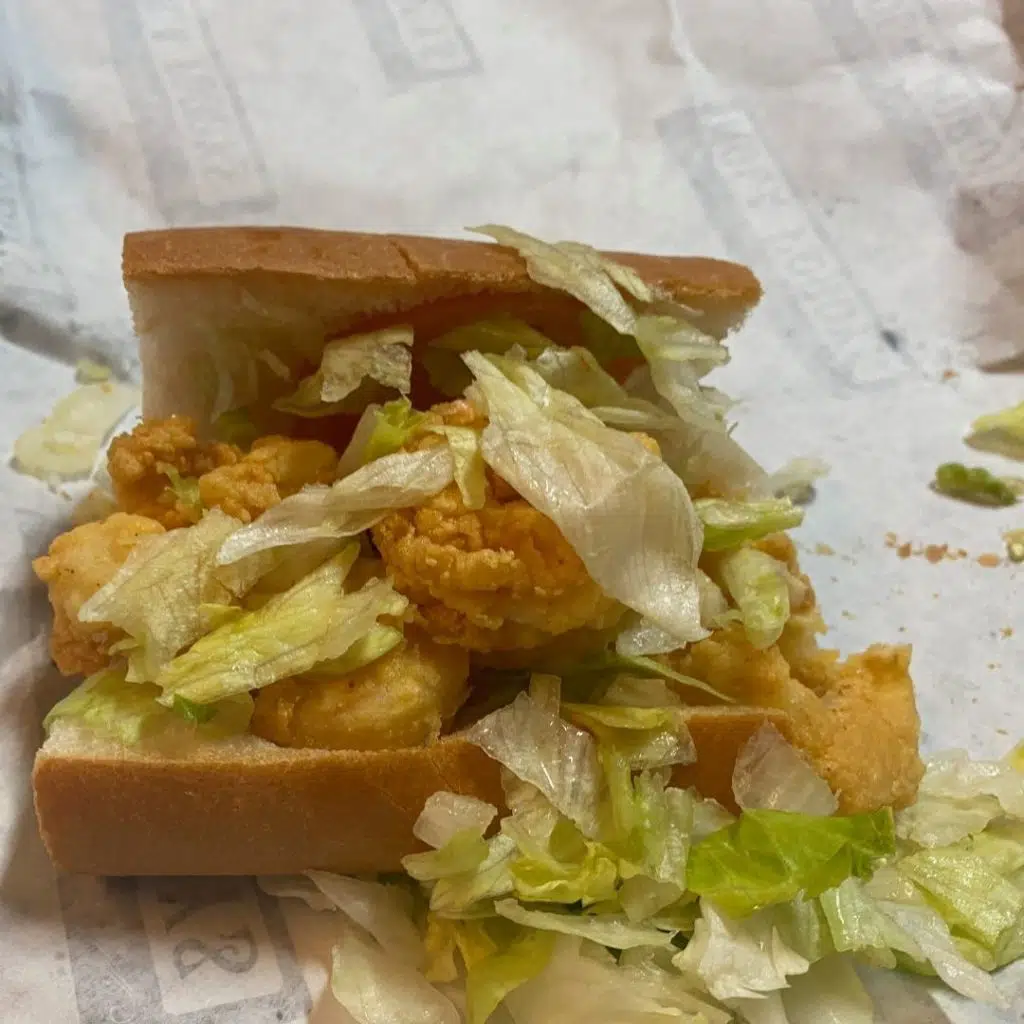 A po boy is a New Orleans style sub sandwich. What makes it unique are its combination of ingredients.
The most common type is fried shrimp or fried oysters combined with melted butter, pickles, and a sliced French baguette.
Another common option is roast beef, creole mustard, gravy, and french fries. Yep, french fries!
There are tons of places you can get super filling po boys.
My favorite spot in the French Quarter is Killer Po Boys, which is little fancier than usual, but still very delicious. My favorite option here is the BBQ Chicken Confit with a coffee BBQ sauce.
For a more classic combination of ingredients, like the yankee-style fried shrimp po boy seen above, head to NOLA PoBoys on Bourbon Street.
Pralines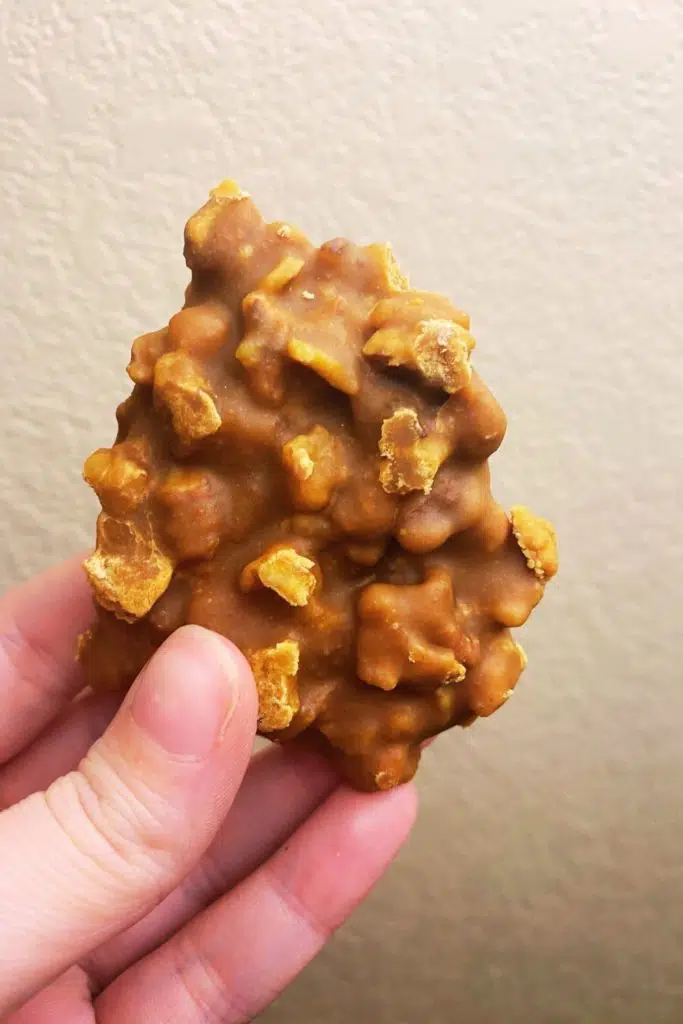 Pecans, caramelized sugar, and cream equals one tasty sweet treat called pralines.
Pralines are great paired with a cup of tea or a café au lait.
This sweet treat is best fresh, but you can also purchase pre-packaged pralines to take home with you as an edible souvenir.
Aunt Sally's and Loretta's Pralines, both in the French Quarter, are the most popular shops to get pralines.
Ramos gin fizz cocktail
The ramos gin fizz cocktail was created by Henry C. Ramos, New Orleans bartender, in 1888.
This citrusy cocktail combines gin, lemon and lime juice, orange flower water, sugar, cream, soda water, and egg white.
The egg white is the secret ingredient that gives this New Orleans cocktail its frothy topper.
Red beans and rice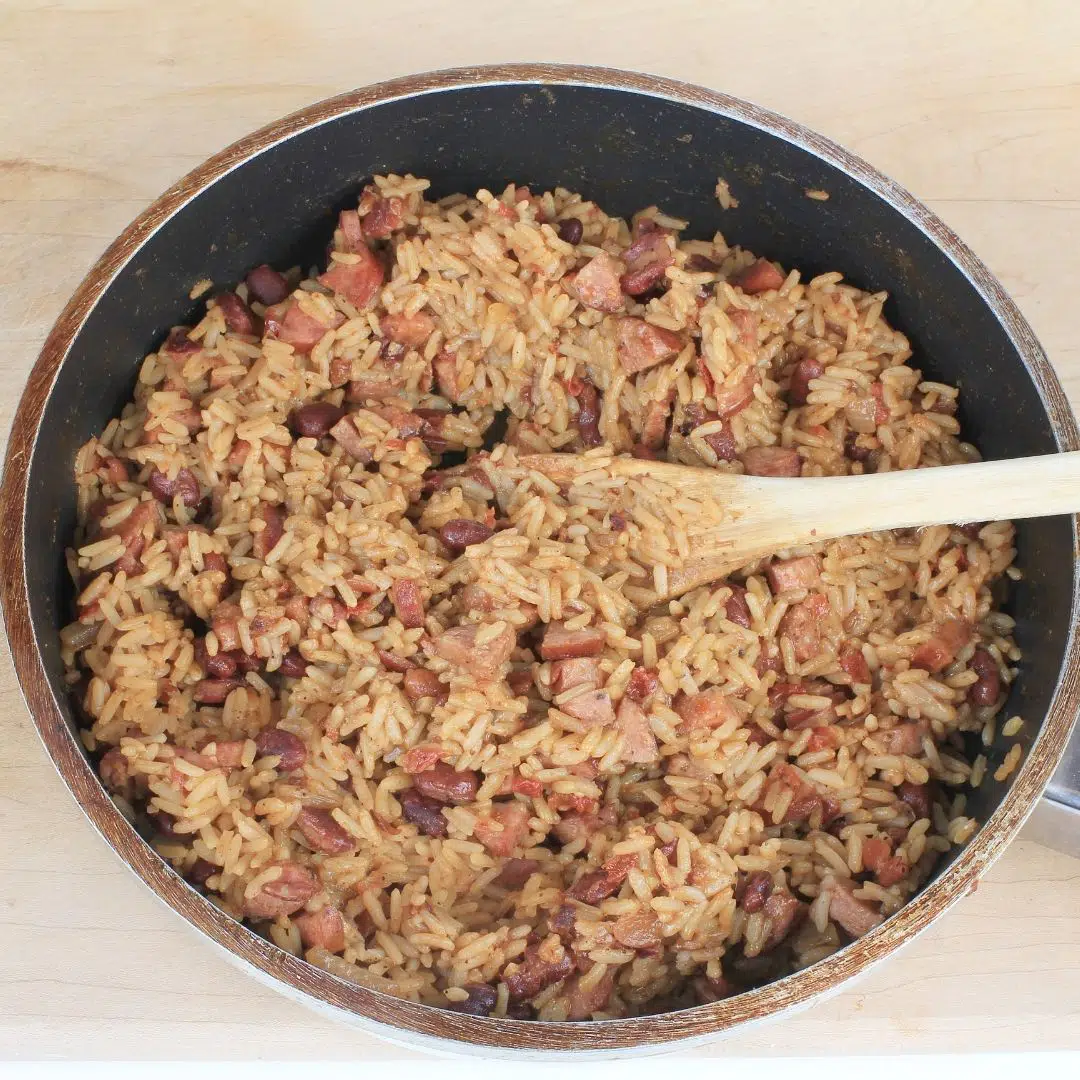 This simple dish combines a savory red bean mix with rice. Some people even add sausage to make it a full meal.
The red beans are combined with peppers, onions, celery, spices, and ham bone and slowly simmered in a pot or slow cooker.
The long cooking process leads to mushy, sauce-like beans, making them a perfect pair for a spoonful or 2 of white rice.
Sazerac cocktail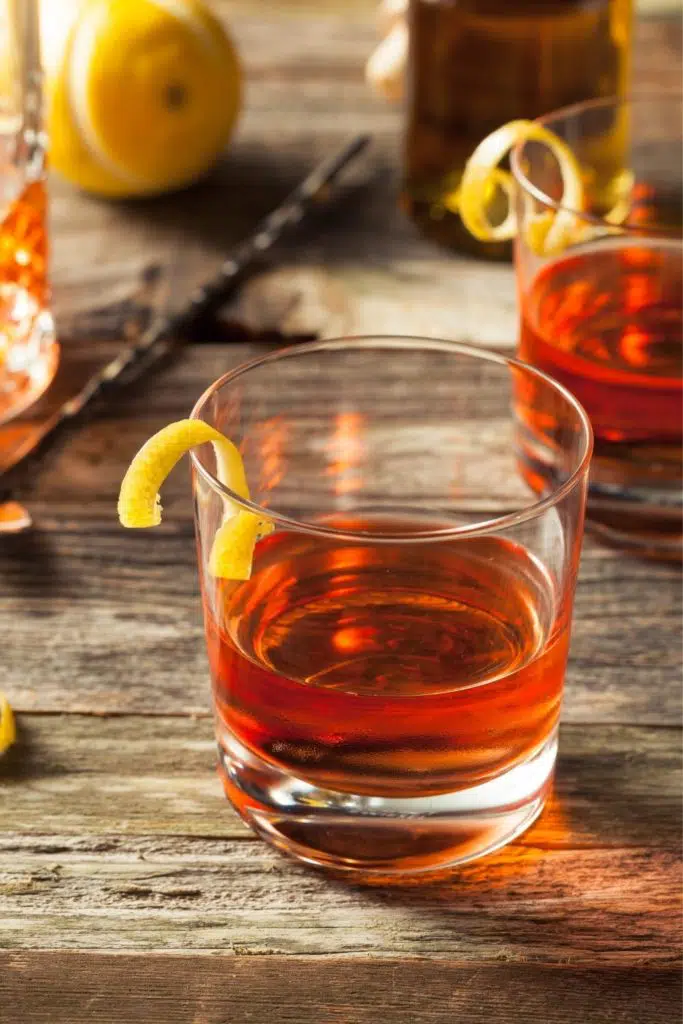 This classic New Orleans cocktail features rye whiskey or cognac with a splash of bitters and a bit of absinthe.
It is so synonymous with New Orleans that it became the official state cocktail of Louisiana in 2008.
Typically Peychaud's bitters is used to make this cocktail, as Peychaud's is a longtime local brand.
It is also said to be the original bitters used when the Sazerac cocktail was first created in New Orleans.
Soft shell crab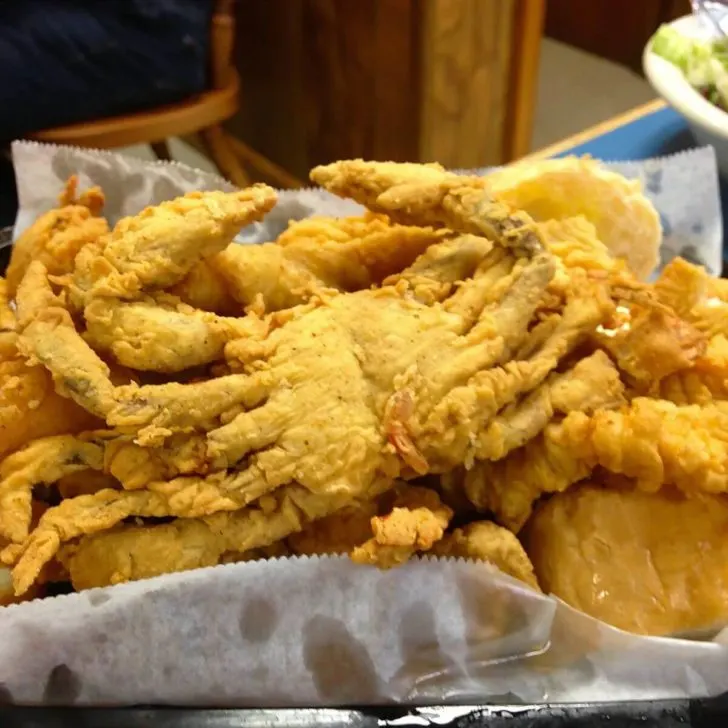 Soft Shell Crabs, or softies as they are often called, are a popular way to eat crab in the Gulf area, including New Orleans.
Soft shell crabs aren't a type of crab. Instead, it's when a blue crab sheds, or molts, its shell and is caught before the shell grows back.
Since it's dependent on when blue crabs molt, they are only available in the Spring and Summer.
The benefit is obvious: no need to crack the shell and get all messy!
The most often served fried or sautéed in butter (my preference).
Turtle soup
Yes, this is exactly what you think it is – soup made from turtles!
I tried this on my last trip in New Orleans and personally didn't care for it.
However, it's a local dish, so I still recommend trying this unique food in New Orleans.
This soup combines beef stock with tomatoes, carrots, celery, and onion, spices, sherry, and snapping turtle meat.
There are a few places in New Orleans where you can get this soup. I recommend Brennan's in the French Quarter and Commander's Palace in the Garden District.
Zapp's potato chips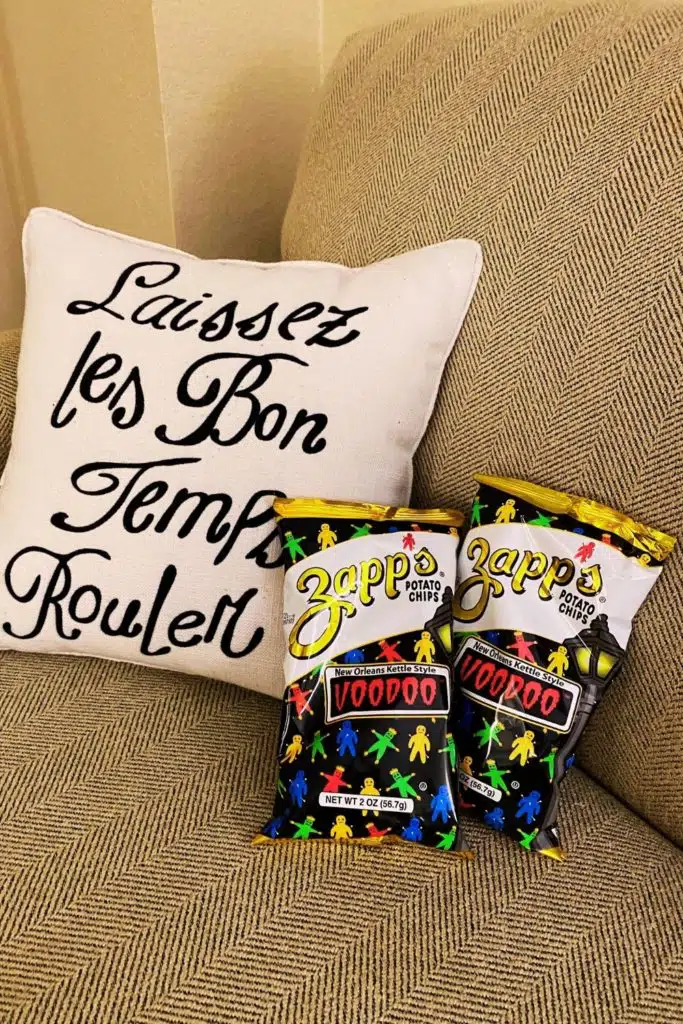 One of my absolute favorite foods in New Orleans are Zapp's potato chips.
This New Orleans brand makes many flavors of potato chips, but the Voodoo flavor is hands down, the best!
They taste like a mix of barbecue and salt and vinegar chips, combined into one bag. I like to have them with a po boy or muffuletta sandwich.
In fact, this is almost always the first meal I have when I visit New Orleans!
Which food in New Orleans are you looking forward to?
Share your favorite food in New Orleans in the comments below!
For more travel tips for New Orleans and beyond, check out these posts:
---
About the author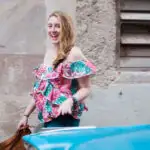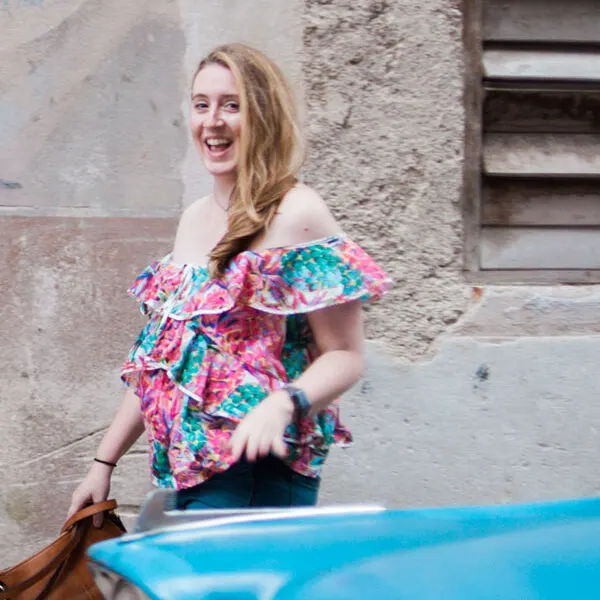 Meg Frost is a Boston-based travel blogger that helps people embrace technology to make vacation planning and traveling wicked easy, affordable, and fun.
She holds an M.A. in Journalism from Northeastern University and B.S. in Communication & American Studies from University of Miami.
---
This post was originally published on October 25, 2016. It was last updated January 25, 2023.