The state of New York in the Fall is full of surprises!
From slick events in New York City to hiking upstate and snowstorms farther north, there's so much going on.
It can be really hard to decide what to do or really easy to feel major FOMO when hearing of something cool after it happens.
With this guide, I'll show you the best places to see Fall foliage in New York, share the best haunted houses, invite you to the best festivals, and other fun events and attractions in New York in the Fall.
Before you know it, you'll be planning your trip with ease.
Geek out at New York Comic Con
Calling all geeks! Did you know there was an east coast comic and anime convention?
The event, New York Comic Con, includes autograph signings, discussion panels, a cosplay competition, and screenings.
In 2023, New York Comic Con will take place at the Javits Center from October 12 – 15.
Have fun at Six Flags: The Great Escape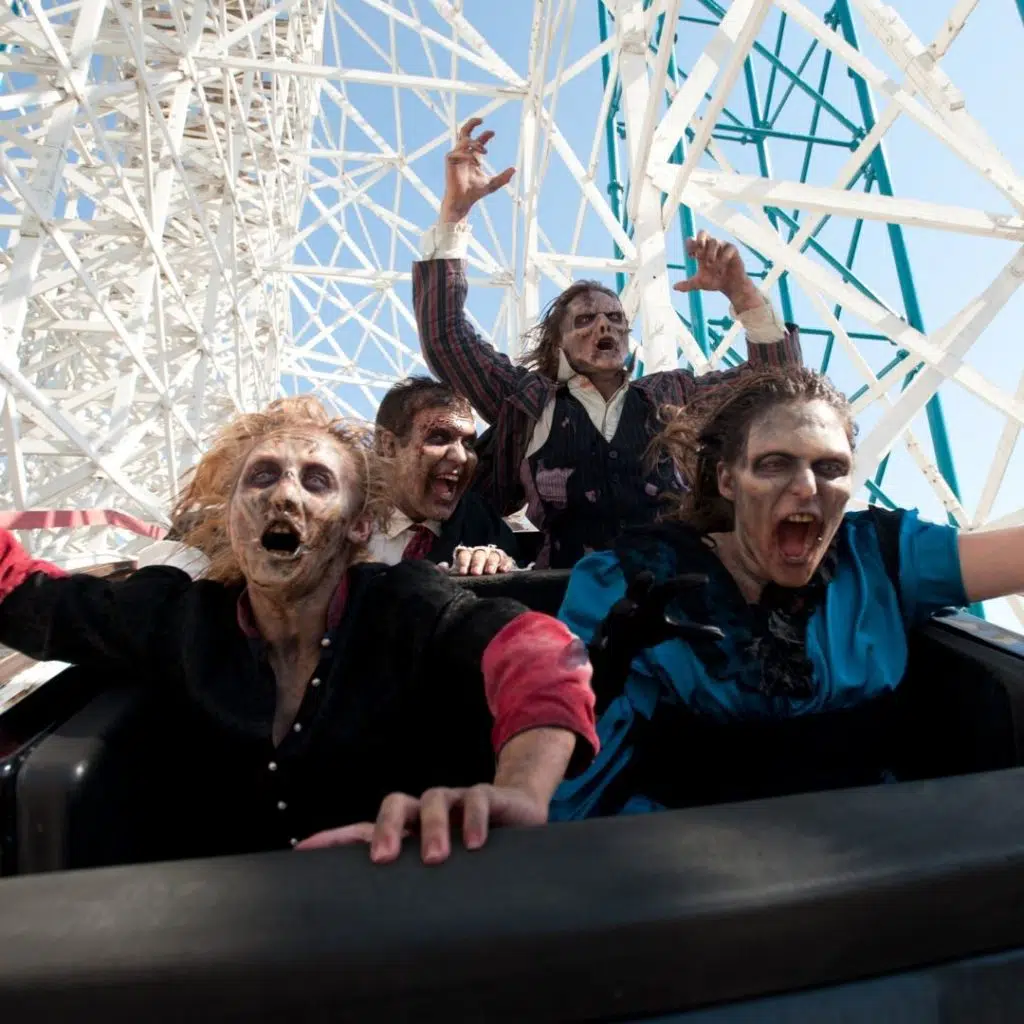 Fall is a great time to visit Six Flags: The Great Escape thanks to lower crowds.
Make a plan to stay at their lodge, where you can book a suite with a cabin inside the room for kids!
Plus, they have an indoor waterpark with waterslides and a lazy river.
Six Flags: The Great Escape also has some fun Fall events to consider attending: Oktoberfest and Fright Fest.
As if you need more reason to get in another trip or 2 before the parks close for the season, right?
Six Flags: The Great Escape Lodge & Indoor Waterpark
89 Six Flags Dr
Queensbury
Take a day trip to Sleepy Hollow, NY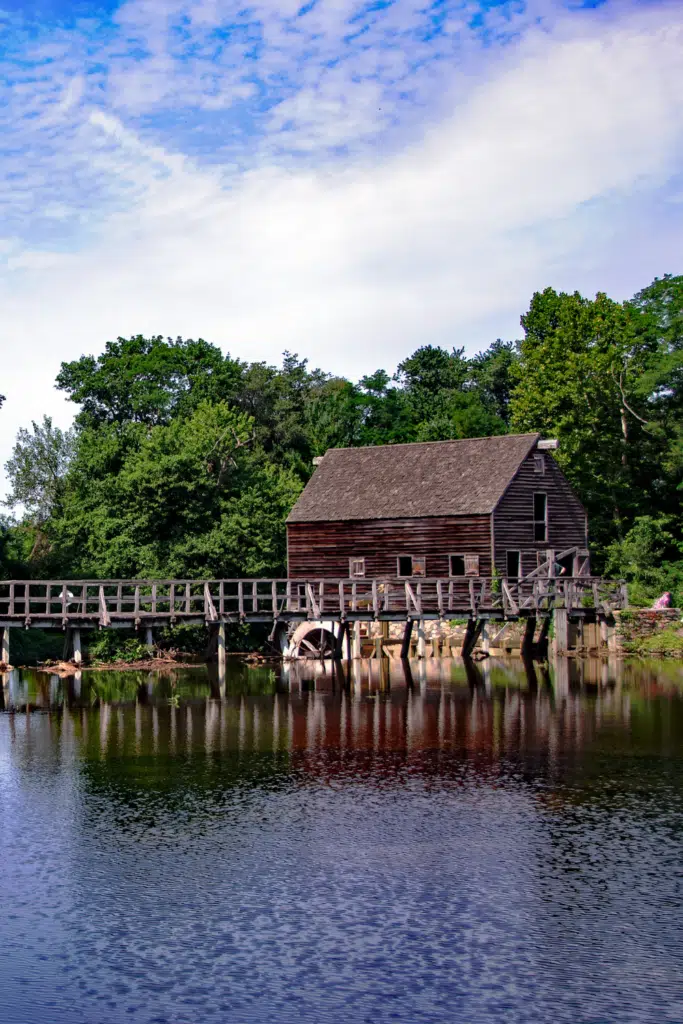 Head to Mount Pleasant, NY where the village Sleepy Hollow from the tales of the headless horseman.
Sleepy Hollow embraces its infamous roots and transforms into a Halloween hotspot in the Fall, much like Salem, MA.
During the Fall, you'll find farmer's markets, ghost tours, a scary movie film festival, a 5K race, a parade, and much more.
Have Fall-time fun at Barton Orchards
This adorable farm and orchard in Poughquag, about a half hour outside of Poughkeepsie, is jam packed with things to do in the Fall.
First up is pick-your-own fruits and vegetables, where you can pick apples, pumpkins, tomatoes, peaches, and other seasonal produce.
They also have a farm stand where you can purchase fresh produce if you don't want to pick it yourself, as well as buy fresh apple cider donuts.
In addition to apple picking and pumpkins, they have a ton of family-friendly fun available.
They have live music, hay rides, a corn maze, a haunted house, a petting zoo, and a dog park.
In addition, they have an aerial adventure park with bridges, climbing walls, and ziplining that is open on the weekends.
To top it all off, they have a tap room at the farm where you can try local craft beers and hard ciders.
Barton Orchards
63 Apple Tree Lane
Poughquag
Watch the Macy's Thanksgiving Day Parade LIVE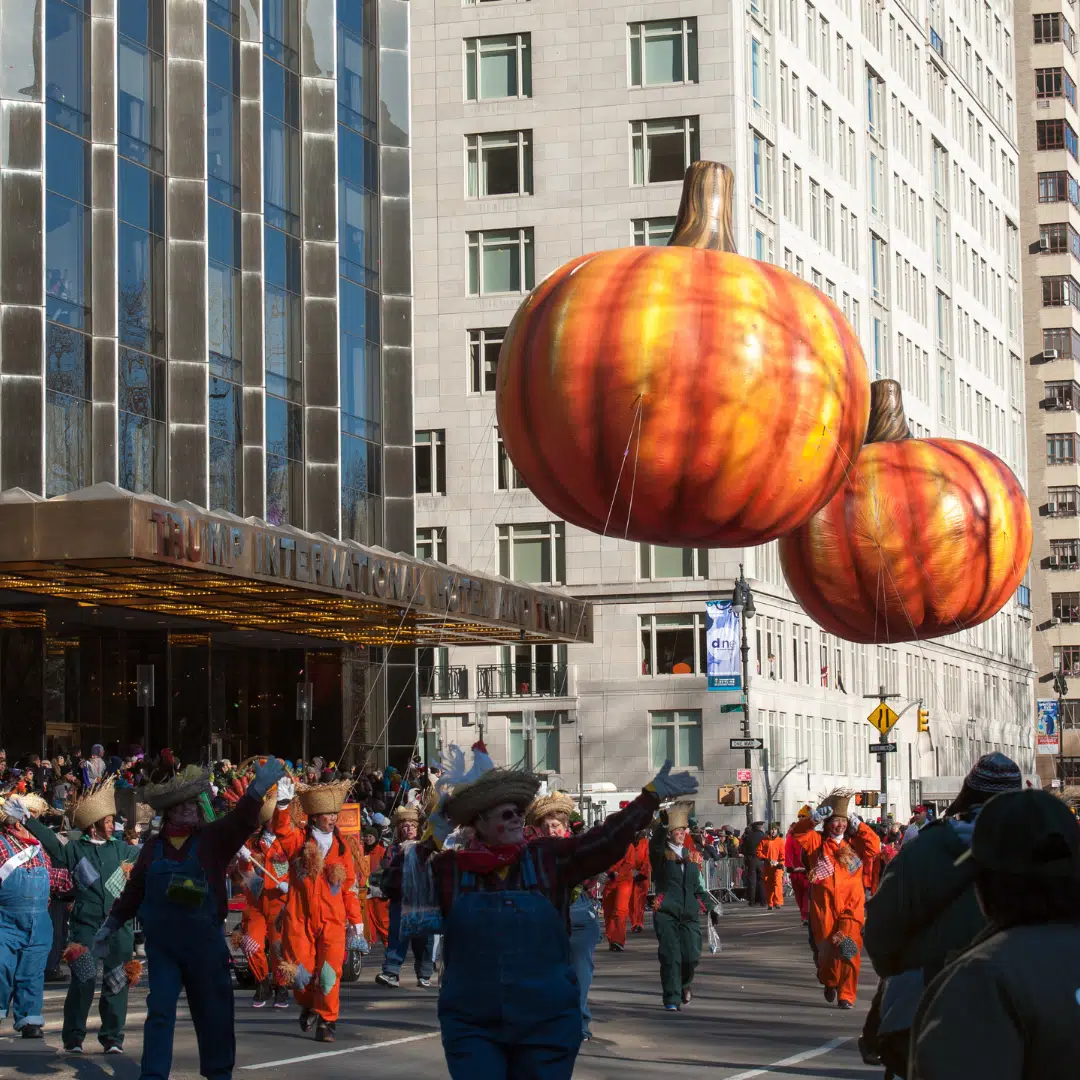 Every year on Thanksgiving Day, Macy's hosts the world's largest parade through the streets of Manhattan from 9 AM to 12 PM.
The parade features performances from famous musicians, Broadway performers, marching bands, floats, and dozens of massive balloons designed after characters and other pop culture items.
For those that can't watch the parade in person, NBC broadcasts it live across the country.
My family always has it on in the background while preparing our Thanksgiving feast!
In 2023, the Macy's Thanksgiving Day Parade will take place on Thursday, November 23.
Catch a sports game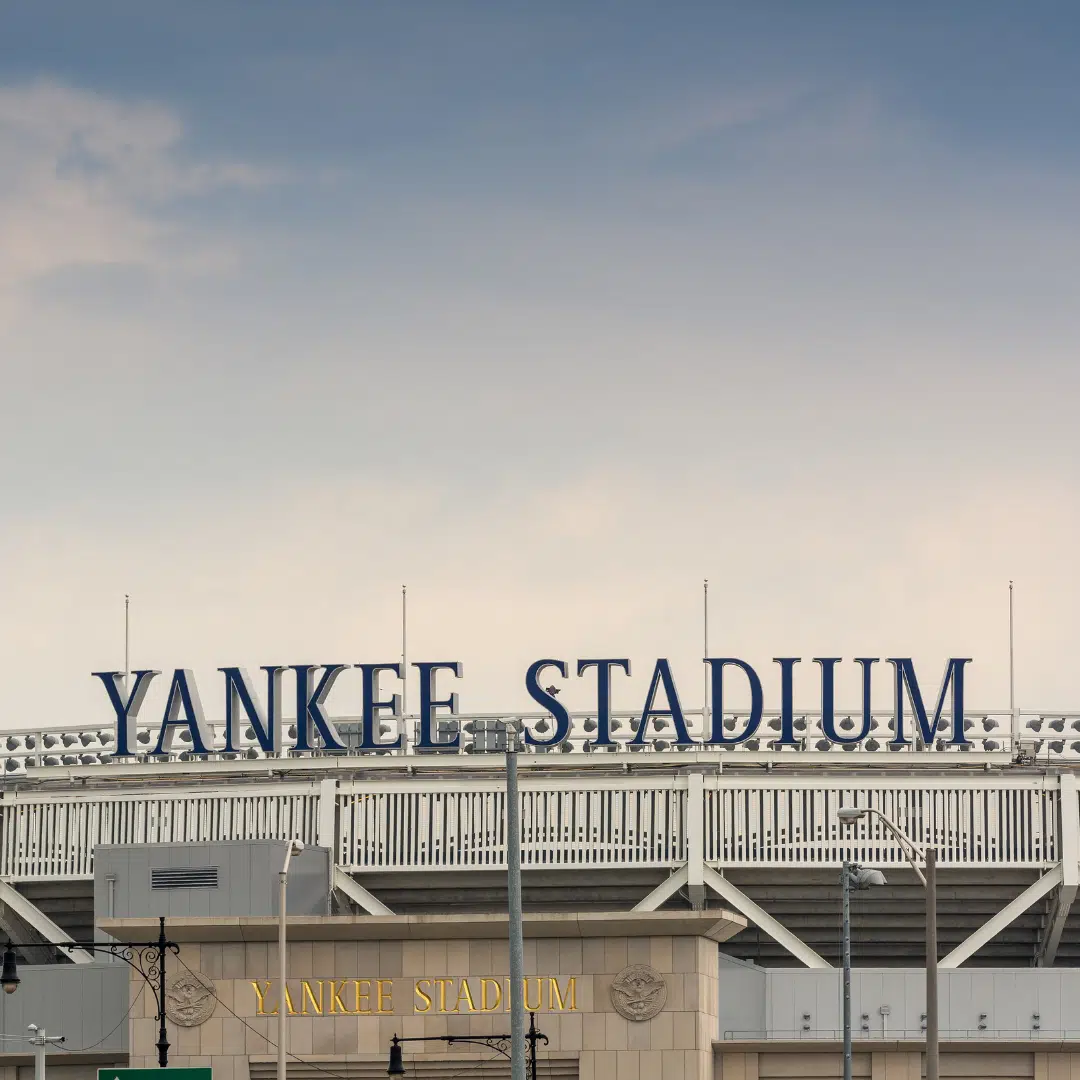 As a Bostonian, it's tough for me to recommend this (I kid…sort of), but many professional sports teams play at least a portion of the Fall season.
With New York being much larger than even several New England states combined, they have many professional sports teams to choose from.
Professional baseball, basketball, football, hockey, and soccer leagues are all in session at some point during the Fall season, so you're bound to find a sports game to attend.
Check out the following teams' websites to see if they'll be playing during your visit to New York in the Fall.
Baseball: New York Mets, New York Yankees
Basketball: Brooklyn Nets, New York Knicks
Football: Buffalo Bills, New York Giants, and New York Jets*
Hockey: Buffalo Sabres, New York Islanders, New York Rangers
Soccer: New York City FC, New York Red Bulls*
*Although the Giants, Jets, and Red Bulls are New York teams, both teams play out of stadiums in New Jersey.
Witness the monarch butterfly migration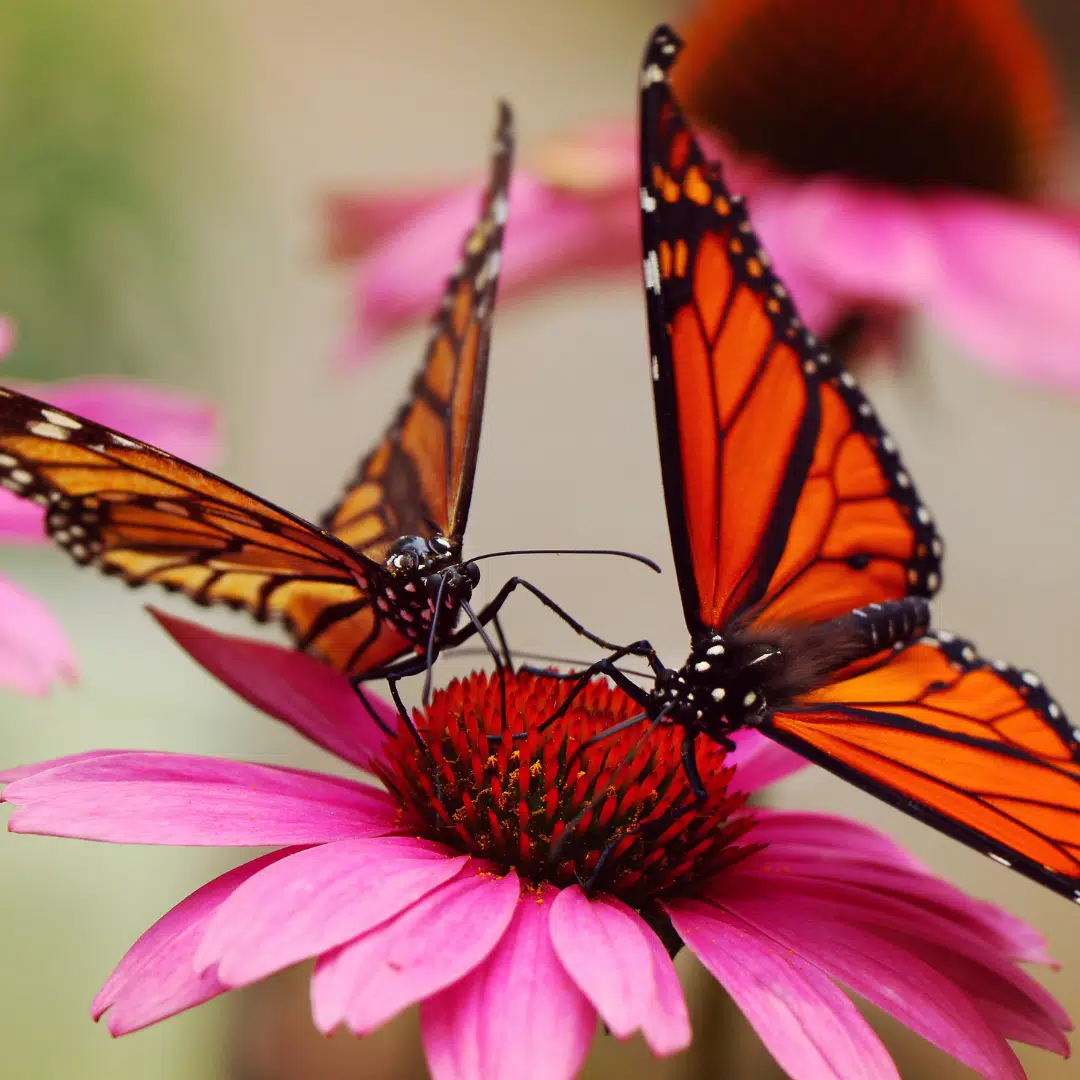 From late summer to early Fall, monarch butterflies migrate south for the season.
Their migratory path goes over Fire Island National Seashore, where many lay eggs along the way.
Be sure to schedule one last beach trip to Fire Island before the Fall cold snap rolls in to enjoy the scenery, complete with these gorgeous orange-and-black butterflies.
Go on a fall foliage cruise
New England isn't the only hot spot for Fall foliage cruises.
A number of NYC tour operators, such as Sail NYC, offer Fall foliage cruises along the Hudson River. It's the perfect Fall afternoon activity!
Hudson River Cruises is another option for sightseeing and sunset cruises in the Hudson River Valley area. Check out the Hudson River Cruises website for more information on their cruise options.
Get spooked at Frightmare Farms
At Frightmare Farms, there are 4 spooky experiences to choose from:
Frightmare Forest Haunted Hayride
The Professor's Estate Haunted House
The Condemned Mine Trail
The Twisted Labyrinth.
The big stand out at Frightmare Farms is their new partnership with Kulture City that provides sensory inclusive accommodations for people with different sensory needs or processing issues, such as autism, anxiety, or PTSD.
Frightmare Farms
4816 State Rt 49
Palermo
Visit the haunted Blood Manor
Located right in the heart of New York City, Blood Manor is perfect for those visiting NYC in the Fall.
This top-notch haunted house features 10,000 square feet packed with all of your worst nightmares, like zombies, killer clowns, creepy crawly bugs, and spooky ghosts.
You can up the creep factor by attending their "lights out" nights where you have a single glow stick per group to help you navigate the manor in complete darkness.
It's proven to be so popular that they've expanded to Long Beach to host a haunted dining experience called Nightmare on Beech Street.
Blood Manor
359 Broadway
New York City
Have a spooky-fun night at Ever Haunt
Located in the Buffalo area, Ever Haunt features 8 attractions guaranteed to get you into the Halloween spirit.
In addition to 2 traditional haunted houses, Delaware Creek Estate and Rosewood County Asylum, 6 of the attractions are quite unique compared to most spooky attractions.
First up is Escape from Frankenstein, a virtual reality experience where you must escape from the classic lab monster.
Next is Escape from Holland Road, a 5 minute escape room, where you have to figure out how to bust out of an old camper before you become a victim of a local urban legend.
Another fun experience is Buried Alive: The Last Ride, a short pitch black motion ride that simulates what it's like to be buried alive.
At the Awakening Public Library, hear stories about the most haunted places in Western New York.
Lastly, Back Alley Games, a spooky twist on a few carnival games, and The Scream Booth, a spooky photo booth experience, are also available.
Ever Haunt
144 Lake St
Angola
Have even more spooky fun at Headless Horseman in Ulster Park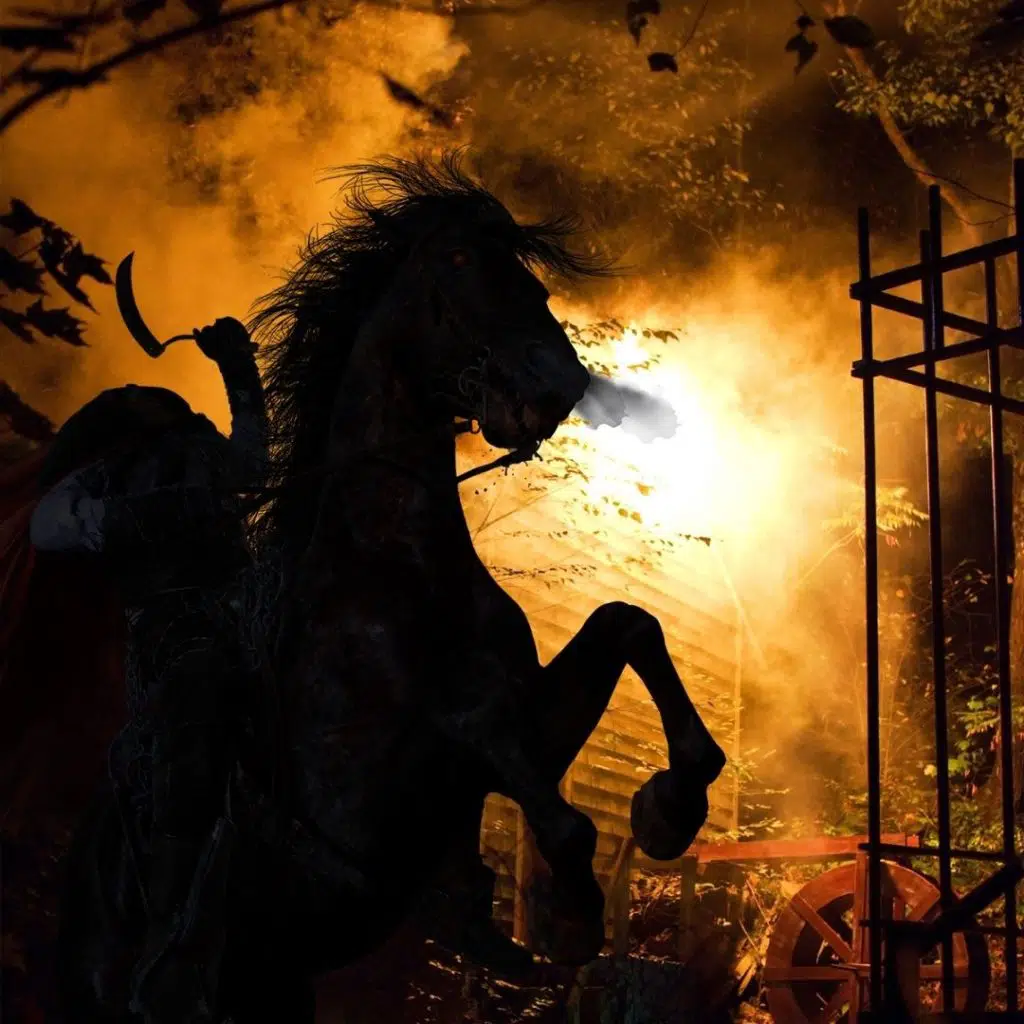 The Headless Horseman haunted attractions in Ulster Park feature several spooky experiences.
Typically their main attraction is their haunted hayride, but in recent years, it's been reimagined as a walking trail called The Haunting of Pumpkin Jack, to maintain social distancing amongst guests.
There are also 9 additional haunted houses and mazes to choose from:
Blood Thirsty
Dr. Dark's Circus Sideshow
Evil Reaping Dark Harvest
Glutton's Diner & Slaughterhouse
Horseman's Tomb
Two Raven Manor
Mama Rosie's Swamp Shack
Night Shade Nursery & Greenhouse
The Lunar Motel
Headless Horseman
78 Broadway, Rt. 9 W
Ulster Park
Catch a new film at the New York Film Festival
Head to Lincoln Center in Manhattan for the latest films presented at the annual New York Film Festival.
Each year new films are presented, some of which are premiered for the first time. The festival also includes talks, as well as screenings of older films that have been restored.
In 2023, the festival takes place from September 29 – October 15.
Check the NYFF website for the full lineup and screening locations (some of which take place outside of Manhattan).
Go for a hike or nature walk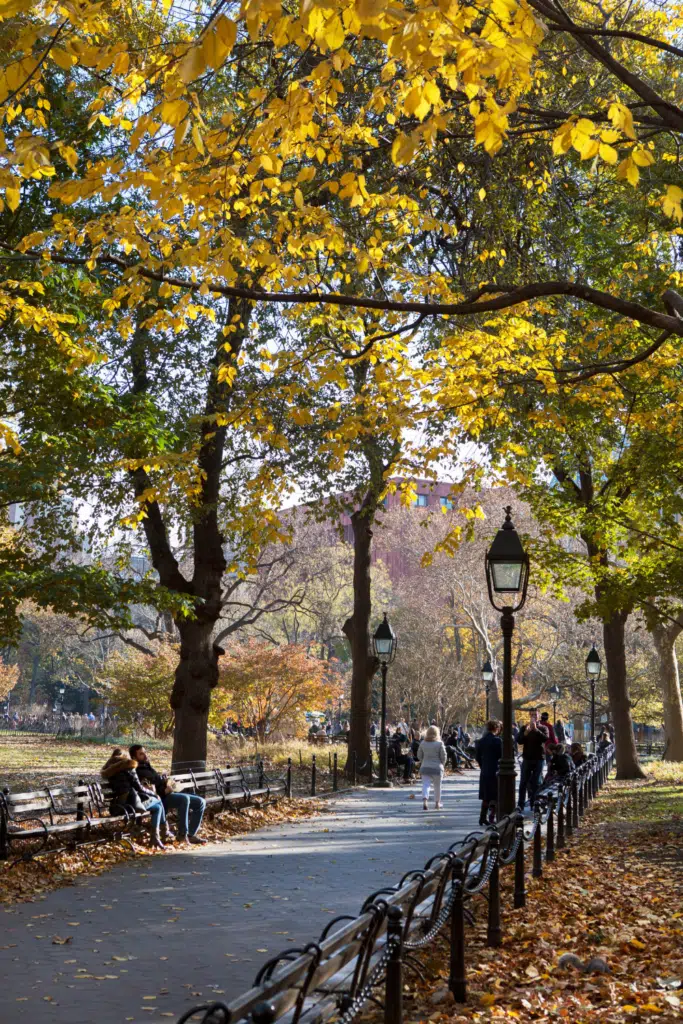 Hiking is always an excellent way to see the beautiful Fall colors, no matter where you are in the US.
New York is packed with beautiful trails and nature paths that have impressive views.
Here are a few to consider for leaf peeping.
If you're in New York City, head for Central Park for a walk around the park's perimeter, a bit over 6 miles.
Aside from gorgeous Fall colors right in the middle of the city, the paths around and throughout the park are stroller and wheelchair accessible.
Cornish Estate Trail in Hudson Highlands State Park is a unique 1.8-mile out-and-back trail that takes you to the stone ruins of a former mansion.
The ruins are a little bit creepy and mysterious – perfect for the season of Halloween!
For a more challenging hike, consider the Letchworth State Park Gorge Trail in Portageville.
This trail is 14 miles out-and-back and takes you past 2 waterfalls, in addition to being surrounded by colorful foliage if you visit in mid-Fall.
If leisurely walks are more your thing, head to Prospect Park in Brooklyn for fire-hued Autumn leaves that practically take over the park.
Cheer on the New York City Marathon
Each year, thousands of brave souls run the New York City Marathon – some do it as athletes and others do it to raise money for charity.
I'm definitely not one of those people, but more power to them (or you) for running over 26 miles for funsies.
If you're in the same boat, why not cheer on the runners instead?
In 2023, the race takes place November 5. Check the NYCM website for more details, include the race map, so you can decide where to camp out for the day!
See the Great Jack-o-Lantern Blaze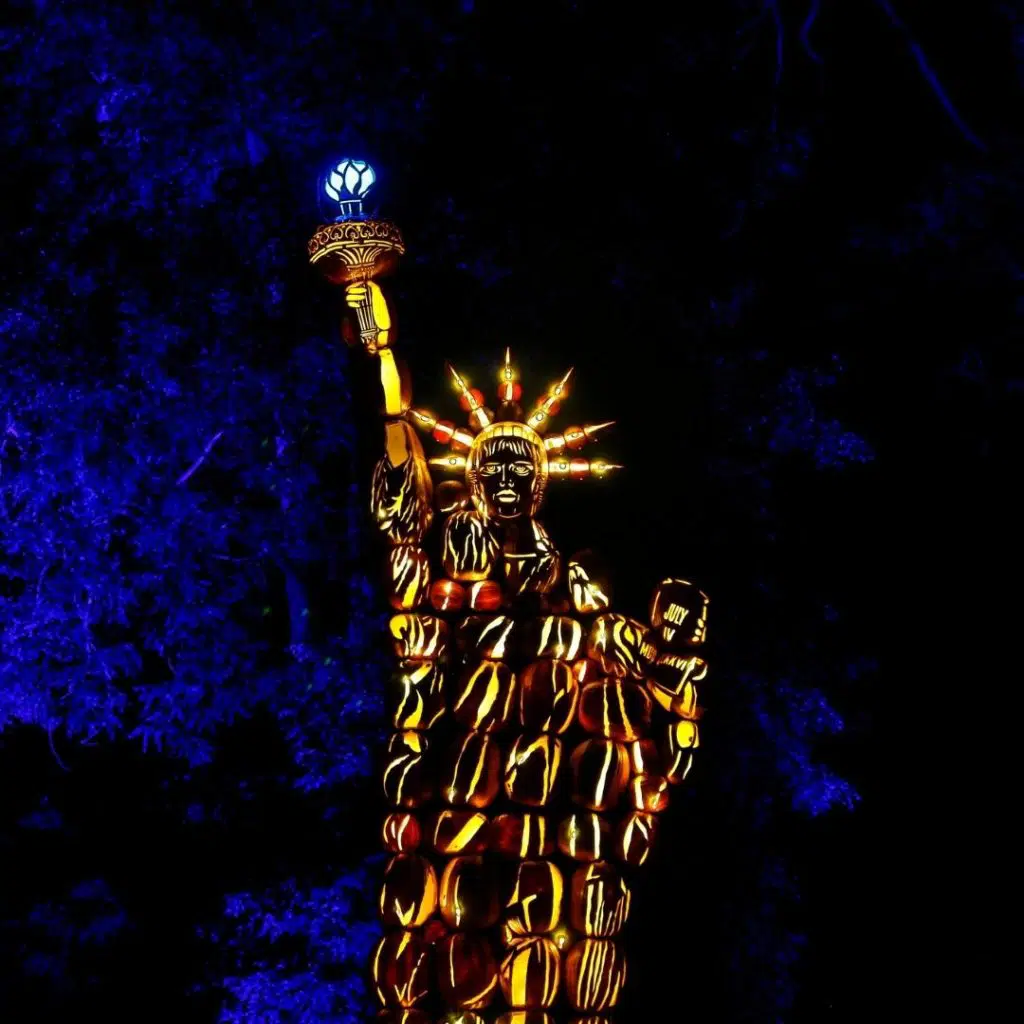 Perhaps one of the coolest Halloween events in New York is the Great Jack-o-Lantern Blaze.
At this seasonal attraction, visitors can walk through the grounds to see giant sculpture-like displays, such as a Statue of Liberty replica, created from over 7,000 hand-carved pumpkins.
It is such a cool, family-friendly event that has become so popular that it is available in two locations: Old Bethpage Village Restoration in Old Bethpage and Van Cortlandt Manor in Croton-on-Hudson.
Blaze Long Island
Old Bethpage Village Restoration
1303 Round Swamp Rd
Old Bethpage

Blaze Hudson Valley
Van Cortlandt Manor
525 S Riverside
Croton-on-Hudson
What will you do in New York in the Fall?
Let me know what your favorite activities or events in New York in the Fall are in the comments below.
Looking for more Fall travel destinations? Check out these posts:
---
About the author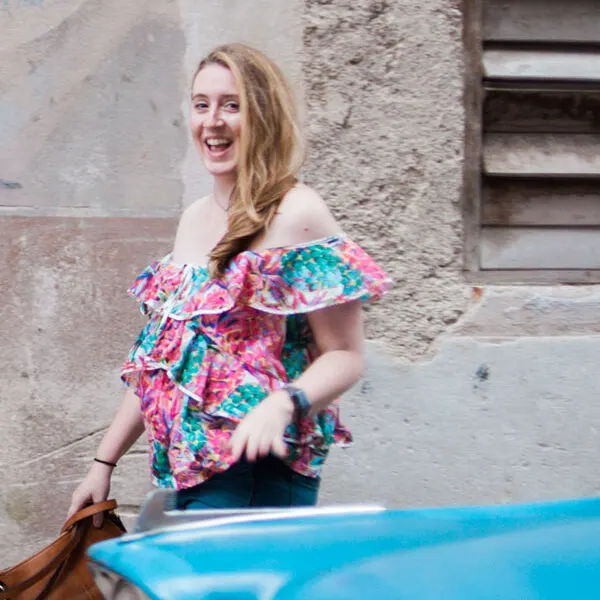 Meg Frost is a Boston-based travel blogger that helps people embrace technology to make vacation planning and traveling wicked easy, affordable, and fun.
She holds an M.A. in Journalism from Northeastern University and B.S. in Communication & American Studies from University of Miami.
---
This post was originally published September 18, 2021. It was last updated August 17, 2023.