Boston is jam-packed with fabulous restaurants, so naturally it has tons of fun food festivals, too.
From local seafood and an Italian Catholic street fest to all-you-can-eat ice cream and marshmallow Fluff, here are 11 Boston food festivals worth a visit.
Dine Out Boston
Dine Out Boston is a fantastic way to try out some of Boston's best restaurants, such as Bistro du Midi, Top of the Hub Restaurant & Skywalk, and Union Oyster House.
It's my favorite in this list of Boston food festivals, as it often leads me to try new dishes that I wouldn't usually.
Formerly known as Restaurant Week Boston, Dine Out Boston is held twice a year: March and August.
Dine Out Boston works like this: For one week, participating restaurants create a tasting menu for lunch and/or dinner.
There is also a set price tier, as chosen by the Greater Boston Convention & Visitors Bureau, that restaurants pick from for their tasting menu.
To find out which restaurants are participating in the next Dine Out Boston, check out their site.
Boston Seafood Festival
The Boston Seafood Festival takes place in annually in August.
This festival is a day full of delicious local seafood bites, a traditional New England clambake (mussels, lobster, crab, clams, corn on the cob, slaw…), chef demos, and contests (slicing fish and shucking oysters).
And of course, there's a beer garden from Harpoon Brewery.
If you can't make it to Boston during the Seafood Festival, check out my post on the best places to get seafood in Boston.
Boston Phantom Gourmet Food Festival
The Phantom Gourmet started off as a local television show that reviewed restaurants.
Now they produce several of the top food & wine events in the city!
Each summer, they host the Phantom Gourmet Food Festival, a tasting of local food and restaurants that takes place on 2 streets bordering historic Fenway Park, home of the Boston Red Sox.
At the Phantom Gourmet Food Festival, you can taste food from the Phantom Gourmet's top 100 favorite local food companies and restaurants such as The Summer Shack, Utz Snacks, The Sausage Guy, and Dunkin' Donuts.
St. Anthony's Feast
If you plan to visit Boston to visit the historic North End, schedule it during the weekend of the last Sunday in August, when St. Anthony's Feast is held.
This 3-day event is the largest Italian street festival in New England.
St. Anthony's Feast features parades, daily Catholic church services, kids' games, crafts, and of course, lots of food stalls with the tastiest Italian food you'll ever have.
This is one of the most unique Boston food festivals of the bunch.
If you can't make it to Boston when this festival takes place, check out my post about the best places to get Italian food in Boston.
Boston Local Food Festival
The Boston Local Food Festival is a free food festival that takes place on the Rose Kennedy Greenway on a September weekend afternoon.
The event features local farmers, restaurants, fisherman, food products, and food trucks.
The festival also features culinary demos, contests, music, and fun for kids.
The best part is that it is a zero-waste event, which means they convert 100% of the energy used and divert 91% of waste (via reuse and sourcing locally, for example).
Lilac Sunday
One Sunday in May, the Friends of the Arnold Arboretum holds Lilac Sunday, a day amongst the 167 kinds of lilacs throughout the Arnold Arboretum.
The event also features Boston food trucks, such as Cameo Macaron, Roxy's Grilled Cheese, Zinnekan's Waffles, and The Bacon Truck.
It's a lovely way to spend a leisurely Sunday in the Arnold Arboretum.
Jimmy Fund Scooper Bowl
Calling all ice cream fans: Get all-you-can-eat ice cream and frozen treats with a ticket to the Jimmy Fund Scooper Bowl.
The Scooper Bowl is the largest all-you-can-eat ice cream event in the world.
This event has raised over $5 million in the past 33 years for the Dana Farber Cancer Institute, a local cancer research organization.
The 3-day event takes place at Boston's City Hall Plaza.
In the past, the Scooper Bowl has included ice cream and frozen treats from such companies as Ciao Bella Gelato, Ben & Jerry's, and SoCo Creamery.
Boston Jerkfest
The Boston JerkFest is expanding to 2 days in June 2016.
The first night will feature a rum and beer tasting event for those over 21 at the Benjamin Franklin Institute of Technology in the South End.
Day two of the Boston JerkFest is split into lunch and dinner sessions (you can buy tickets to one or both), both of which feature Caribbean and Jamaican jerk spiced food, music, and culinary demos.
The Taste of WGBH: Food & Wine Festival
WGBH is Boston's local PBS television station. Each September, they put on the The Taste of WGBH: Food & Wine Festival, a long weekend full of panel discussions, culinary demos, music, tastings, and education opportunities (learn how to use everything in your CSA box, for example).
Taste of the North End
The Taste of the North End is a 1 day event in April at the Steriti Memorial Rink in the North End.
The Taste of the North End features food from many of the delicious authentic Italian restaurants from Boston's North End, such as Neptune Oyster, Lucca, and Mike's Pastry.
The event started in the early 90s as a fundraiser for a local North End charity that provided housing for families in Boston seeking medical treatment.
The tradition of supporting a North End charity each year continues, with 2016's event supporting North End Waterfront Health.
What the Fluff?
What the Fluff?, aka the Fluff Festival, is a celebration of the most amazing food invented in the Boston area: Marshmallow Fluff.
The 1 day celebration takes place in Union Square, Somerville, MA, a town over from Boston.
What the Fluff? features music, crafts, games, activities, and of course, plenty of treats made with Fluff.
What are your favorite Boston food festivals?
For more Boston travel tips, check out the posts in the list below:
---
About the author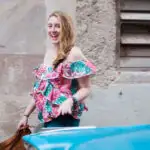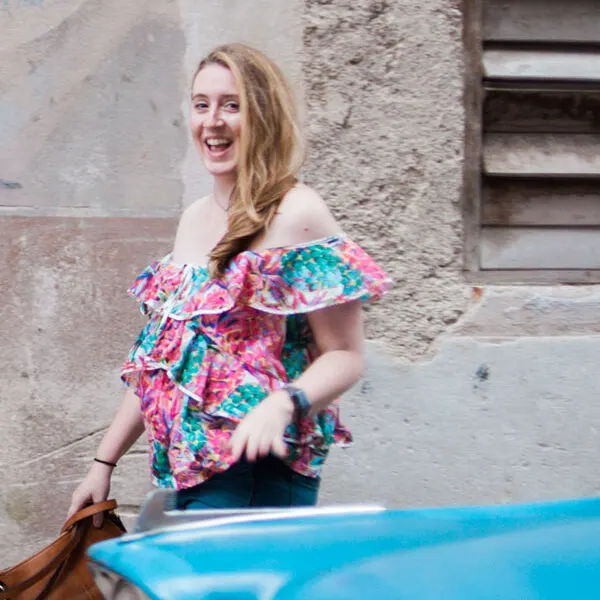 Meg Frost is a Boston-based travel blogger that helps people embrace technology to make vacation planning and traveling wicked easy, affordable, and fun.
She holds an M.A. in Journalism from Northeastern University and B.S. in Communication & American Studies from University of Miami.
---
This post was originally published on April 21, 2016. It was last updated November 2, 2022.