If you're visiting Bar Harbor and Acadia National Park in Maine, one hike you don't want to miss is the Bar Island Trail.
This beautiful trail takes you out to Bar Island, offering stunning views of Frenchman Bay, downtown Bar Harbor, and the coastline of Mount Desert Island.
Here's everything you need to know about visiting Bar Island and hiking the Bar Island Trail.
A quick history of Bar Island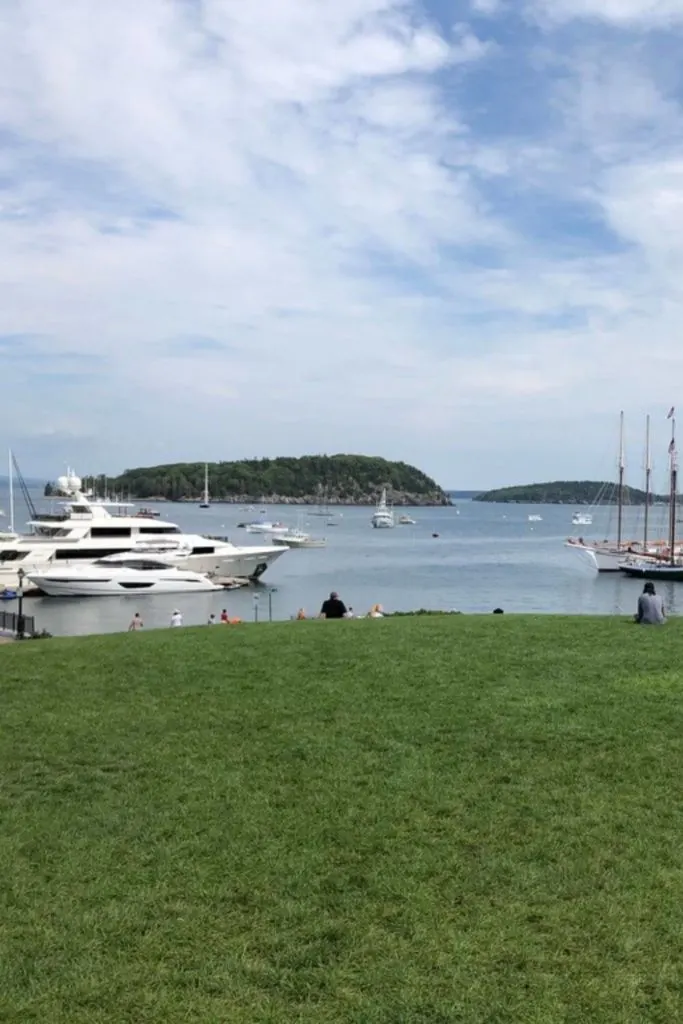 The 68-acre Bar Island is technically considered part of Gouldsboro, Maine.
Most would think it was part of Bar Harbor, since the trail starts off from there, but it isn't. In fact, this has been a point of contention for decades!
While Bar Island is currently uninhabited, it had several residents dating all the way back to the late 1700s.
The Rodick family settled there in the late 1700s where they had a farm and raised sheep for wool for over 100 years.
Back then, the island was known as Rodick Island or Rodick's Island.
They left the island in the early 1900s and a banker, Edward Stotesbury purchased most of the land.
Stotesbury later sold it to John D. Rockefeller, who then donated the land to Acadia National Park.
The last inhabitants of the island were Mary Jo and Jack Perkins, who owned the last 12 acres of private land on the island.
Jack was an Emmy Award-winning television journalist for NBC and A&E. He and his wife left L.A. to live on Bar Island as they both wanted a more simple, quiet life.
They sold their property to Acadia National Park in 2003, officially making the entire island part of the park system.
Hiking the Bar Island Trail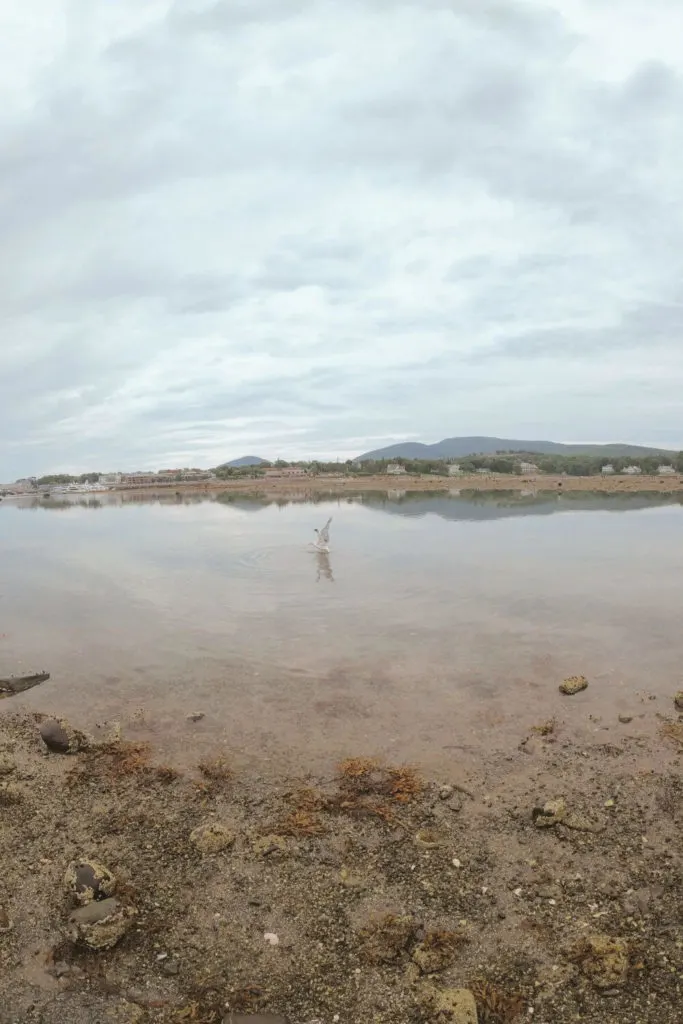 The Bar Island trail is only available twice a day, as the beginning of the trail is a gravel sand bar that is exposed during low tide. Visitors can access it from about 1.5 hours before and after peak low tide time.
The full trail is 1.9 miles total, making it a nice leisurely trek for nature lovers. It is NOT accessible to wheelchairs and most mobility devices, as well as most strollers.
Once you cross the gravel sand bar and reach the island, the trail gradually ascends up into the forest to an old dirt road, with pine and birch trees providing some lovely shade.
This portion of the trail route is just under 1 mile out and back. The ascent isn't major, either; the highest point tops out at about 210 feet.
Of course, the entirety of the trail doesn't need to be traversed to enjoy your visit, either.
Many folks simply walk the land bridge, checking out the small tide pools along the way, search for sea glass, go kayaking, or simply admire the view of Bar Harbor and Frenchman Bay.
If you only walk from the start of the trail and across the sand bar, it's about 1 mile round trip.
What to bring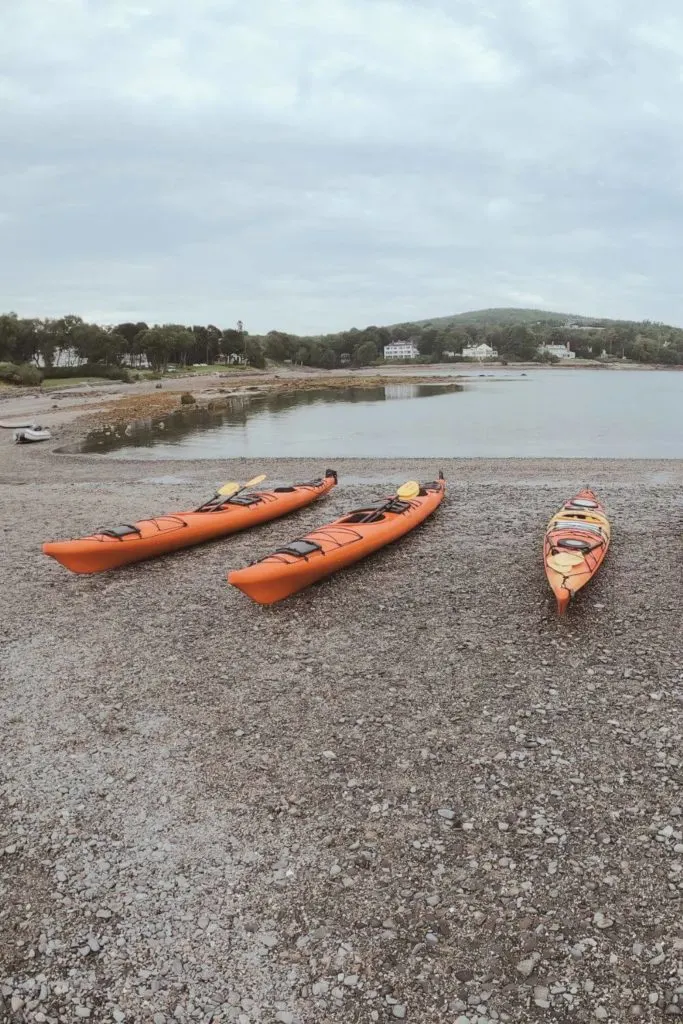 While this is an easy hike, there are a few things you'll want to plan ahead for.
First off, make sure you're wearing appropriate footwear.
Whether you only intend to hang out on the gravel sand bar area or hike onto the island, the trail is going to be rocky and muddy.
Hiking boots are fine, but not totally necessary for this trail. Comfortable, supportive sneakers will do just fine. I was wearing a pair of classic Van sneakers and did just fine!
I'd shy away from sandals, even trail sandals, as you can easily get cut on the rocks.
Next, have your smartphone with you so that you can keep track of the tide. Plus, you can use it to take photos to remember your day!
It's never a bad idea to have a portable charge on you, as well. I love the iWalk 4500mAh ultra compact power bank.
This portable battery pack is super tiny but can charge up your phone several times before it needs to be recharged itself.
Lastly, water and snacks are another good thing to consider, especially if you're diabetic, like I am.
Since the island is uninhabited, there are no stores or restaurants there – or restrooms, for that matter!
How to get there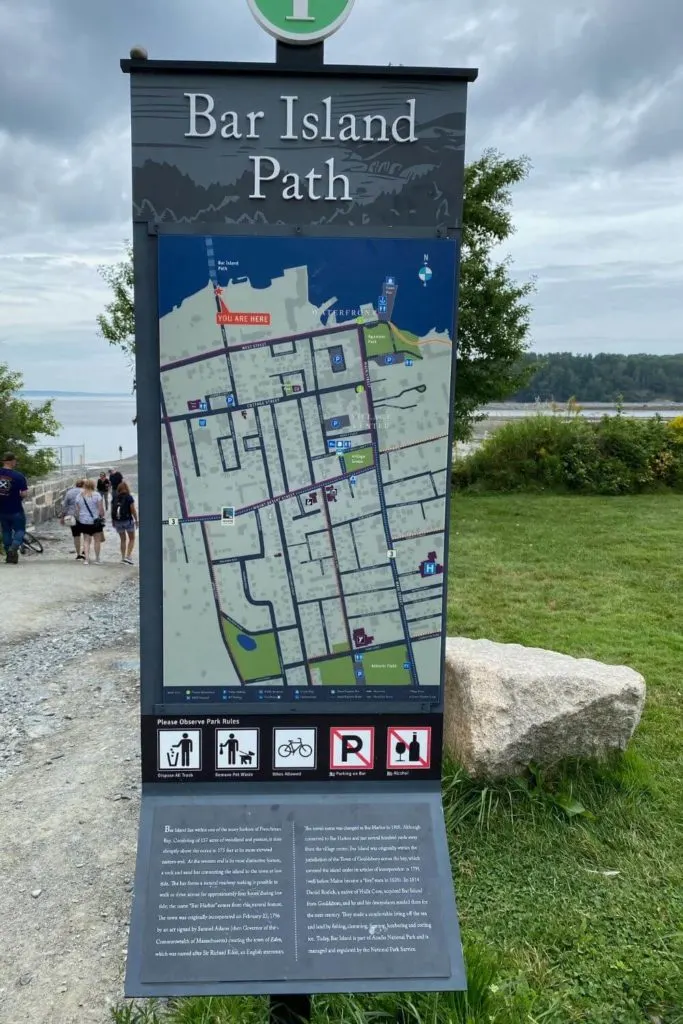 While Bar Island is a part of Acadia National Park, it is located closer to downtown Bar Harbor, outside of the main area of the park.
The biggest parking lot in downtown is located behind the village green. This is also the location of an Island Explorer bus stop.
To get there from this area, walk down Rodick Street or Main Street, then take a left on West Street. From there, keep walking til you reach Bridge Street, then take a right.
This is where the trail starts. Well, provided that it's low tide! Otherwise all you're going to see is Frenchman Bay.
Alternatively, there's a smaller parking lot at the corner of Bridge and Cottage Streets. If you're able to find parking there, you can just walk straight down Bridge Street, right onto the trail.
Bar Island tide chart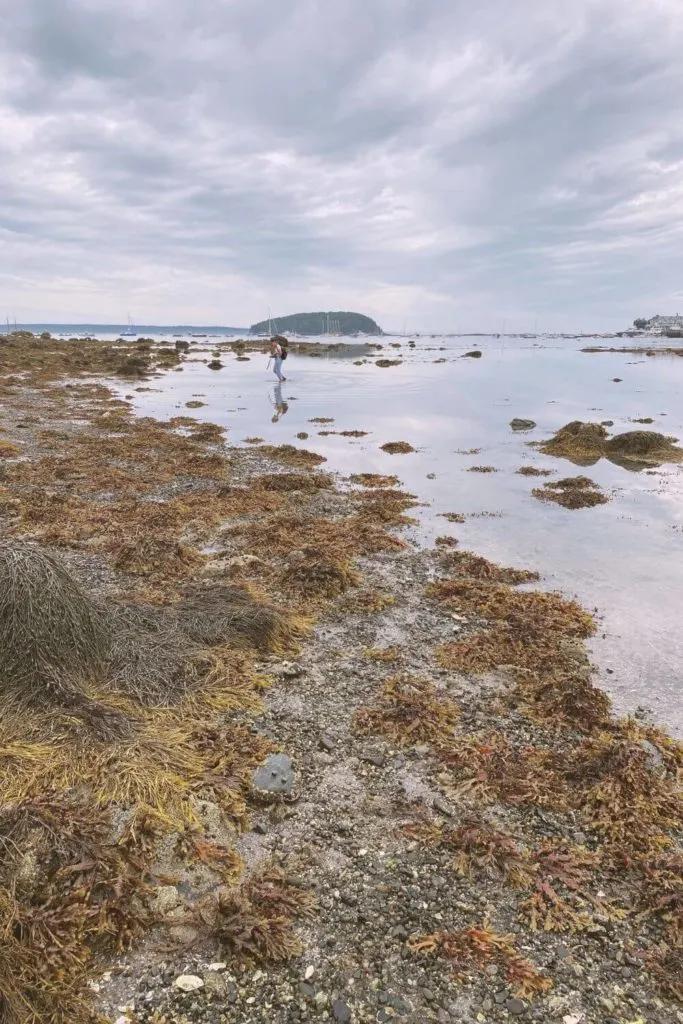 Since the trail is only available around low tide, it's important to plan your visit by consulting tide charts. To do this, I recommend downloading a tide chart app for your phone.
For the iPhone and Apple Watch, I recommend the Tide Alert (NOAA) app.
This app uses data straight from the National Oceanic and Atmospheric Administration (NOAA), so you'll get super accurate data.
Not only can you use it to plan your visit, but you can set it up to send you alerts when it is time to go, as well as when to leave.
That way you don't miss your chance to visit, but more importantly, it'll prevent you from getting stuck on the island!
Unfortunately this app does not have an Android version, so if you're using an Android device, I recommend the Tides Near Me app.
If you don't download an app, you can scan a QR code off of a sign post on Bridge Street which will take you to a website with a tidal chart for the area.
What to do if you get stuck on Bar Island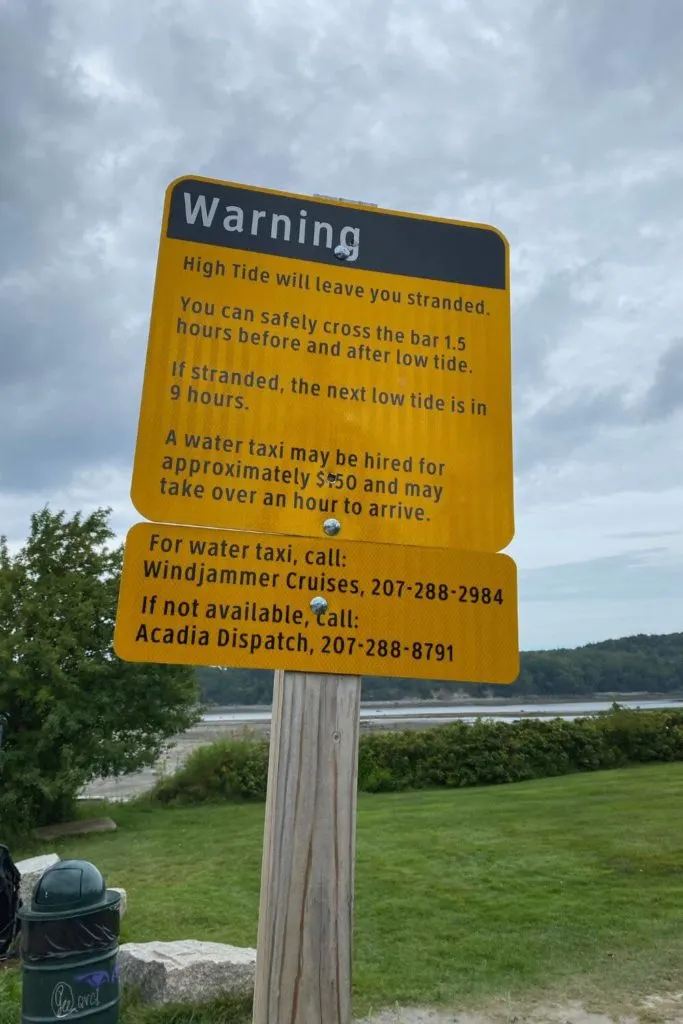 High tide covers the land bridge in about 4-8 feet of water, so make sure you are off the island and land bridge no later than 1.5 hours from the peak of low tide.
If by chance you get stuck on Bar Island, you have 2 options: wait 'til the next low tide or call a water taxi.
The National Park Service (NPS) will not send rescue unless it is an emergency. And simply flaking about the tide isn't an emergency, my friends.
Depending on when you accessed the island, waiting it out 'til the next low tide will be upwards of 9 hours.
If you've got snacks, water, and are dressed appropriately for the weather, I suppose this is the cheapest and least embarrassing option.
As for a water taxi, the NPS recommends calling Downeast Windjammer Cruises at (207) 288-2984. The ride will cost you at least $150, if not more.
What to do next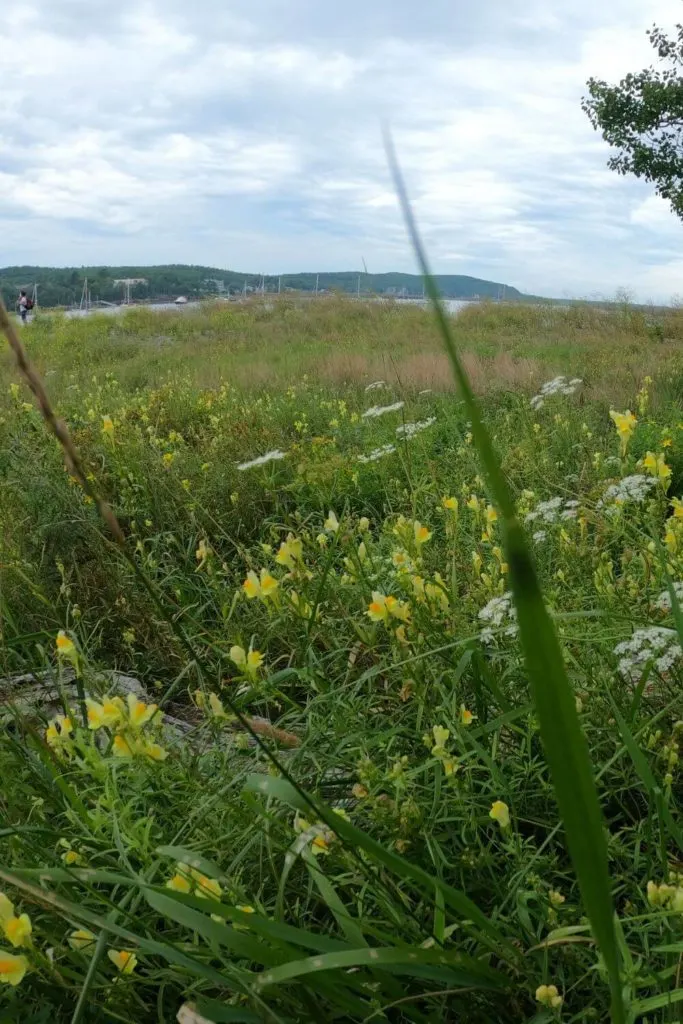 After an hour or 2 of exploring Bar Island, head back into the town of Bar Harbor for some delicious food or drink.
Whether you're in the mood for lobster roll, clam chowder, or something else, you'll be sure to find something that satisfies your taste buds.
There are tons of amazing restaurants in downtown Bar Harbor that offer a wide variety of options, so definitely set aside time to check them out.
For tips on where to go, check out my post about the best restaurants in Bar Harbor, as well as the best bars.
Are you ready to hike the Bar Island Trail?
The Bar Island Trail is a must-do hike for anyone visiting Acadia National Park.
With its stunning views and interesting history, it's definitely worth the trek. And at only 1.9 miles long, it's perfect for families or those looking for a shorter hike.
So what are you waiting for? Lace up your shoes, track the tide, and hit the trail!
Next up, check out these posts:
---
About the author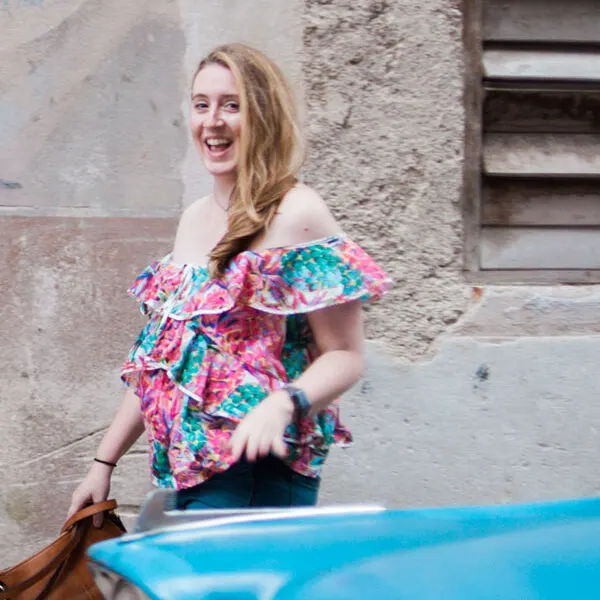 Meg Frost is a Boston-based travel blogger that helps people embrace technology to make vacation planning and traveling wicked easy, affordable, and fun.
She holds an M.A. in Journalism from Northeastern University and B.S. in Communication & American Studies from University of Miami.
---