Experience the breathtaking beauty of Acadia National Park in Maine by taking a trek along the Jordan Pond Trail.
With stunning views of some of the park's most famous natural landmarks, this easy hike will surely leave you with unforgettable memories.
It is a fantastic introduction to all that Acadia has to offer.
Let's jump right into this guide to hiking Jordan Pond Trail in Maine's Acadia National Park.
Hiking the Jordan Pond Trail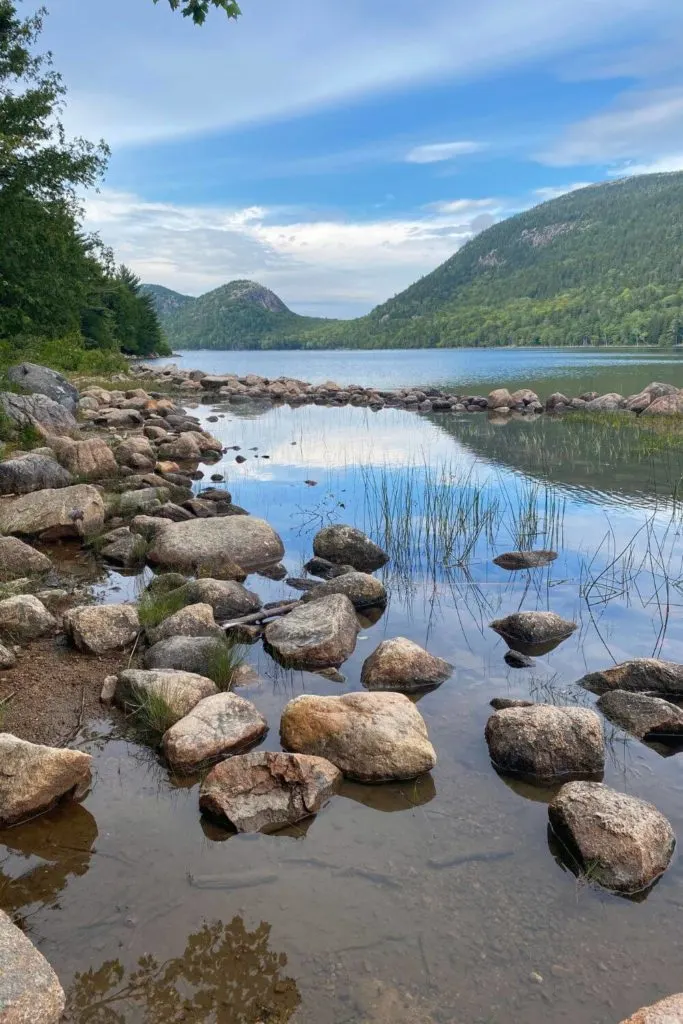 The Jordan Pond Trail, formally named Jordan Pond Path, loops around the pond it is named after.
The entire trail totals 3.3-miles and is open year-round. However, the best time to visit are in the Summer and Fall seasons.
During the Summer, the trail is less muddy and you don't have to deal with icy conditions.
However, this trail is an excellent spot for Fall foliage viewing because it goes through a forest, so you'll see lots of beautiful autumnal colors along the way, as well as up in the mountains nearby.
The trail itself is not accessible nor stroller-friendly. It is very uneven and rocky terrain, as well as with exposed roots.
On the west of the pond, a section of the path is made out of wooden planks and it is quite narrow.
That said, the stunning views along this trail are some of my favorite in the park.
You'll see the Bubbles, two rounded mountains that sit behind the pond. There are also views of Pemetic Mountain, Penobscot Mountain, and Sargent Mountain.
Lastly, there are lots of large rocks that line the water's edge, as well.
We like to stop and take a rest on them every now and then. Just be careful not to go in the water, as it is used for public water supply.
Nearby trails
There are several hiking trails that connect to this one, which are excellent hikes – though more intense than this one.
Bubbles Trail
Follow the Jordan Pond Path north, then take a right and veer left to continue onto Bubbles Trail. This will take you up the South Bubble, where you can see Bubble Rock.
You can continue to the North Bubble by taking a right onto the Bubbles Divide Trail, then left back onto the Bubbles Trail.
Or if you want to continue the Jordan Pond Path, take a left, which will drop you not far from where you started your side journey.
Bubbles Divide Trail
You can access this trail twice from the Jordan Pond Path.
The first option is to veer off onto Bubbles Trail, where you can pick up the Bubbles Divide Trail.
The second option is to take a right before you cross the north end of the pond.
Deer Brook Trail
Once you get to the northern end of the trail before it loops around the pond, take a right onto another trail and continue to walk northwest. This will take you up to a carriage road and Deer Brook Bridge.
NOTE: The Bubbles Divide Trail also branches off nearby, so make sure you have crossed the north end of the pond and are just about to go left to continue the loop before continuing.
Built in 1925, Deer Brook Bridge is one of several stone bridges commissioned by John D. Rockefeller. It features 2 arches and there's also a waterfall nearby.
You can continue walking along the carriage road, as cars are not allowed. Or you can hike back down after seeing the bridge and waterfall and continue the loop around the pond.
I highly recommend making this side journey – but if you do, be sure to wear proper sneakers or hiking boots!
What to bring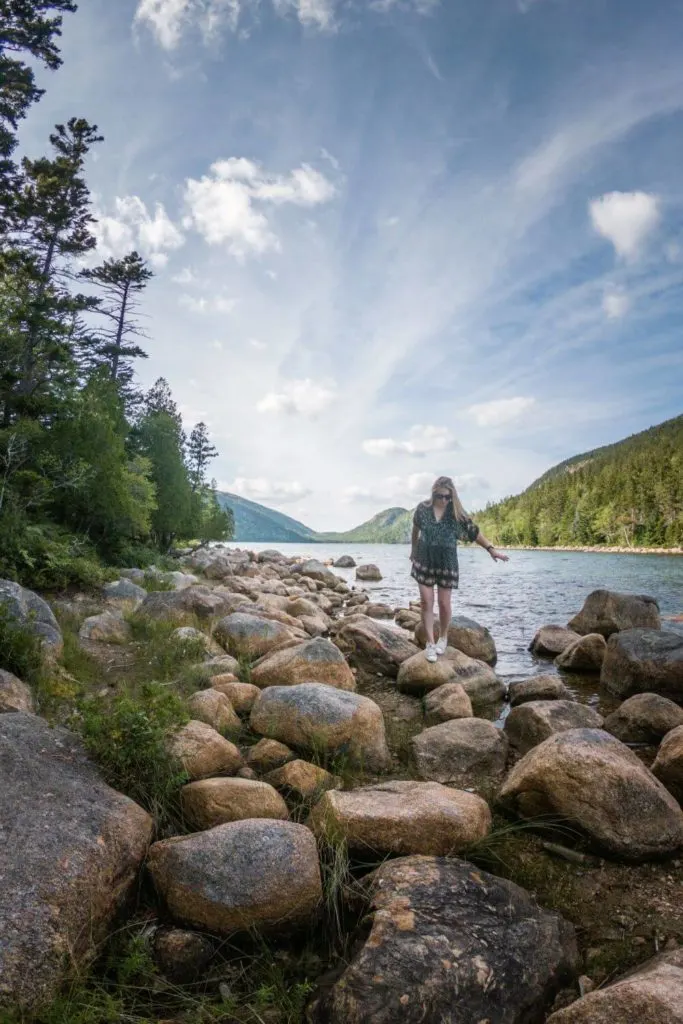 Although it may be tempting to skip packing for this hike and jump into the car or onto the Island Explorer bus, there are several must-haves you will want to take along.
First, you'll want to be sure to wear suitable shoes. While this isn't a formal hike, the terrain is uneven in some spots. Plus it gets muddy quite easily, given that it loops around a large pond.
Trail sneakers, or really, any sneakers will do just fine for this hike. I've worn classic Converse and Vans sneakers on this hike and my feet were fine.
I recommend not wearing sandals due to uneven terrain, as well as to help prevent tick bites on your feet.
As for clothes, check out the weather ahead of time as New England weather is unpredictable, especially up North.
I usually stick to leggings or jeans and a t-shirt and bring a flannel or sweatshirt along for the ride. A light jacket or fleece will be better for cooler weather.
The hike goes through a forest and with ticks being very common in New England, you'll likely want to avoid wearing shorts. Or at the very least, wear tall socks to help prevent tick bites.
Water is also a good idea, especially if you're going to do the full loop or veer off onto other trails. A small snack or money for dining out before or after are also ideal.
Lastly, bring along your smartphone or camera and portable charger so you can snap pics of all the beautiful views along the way.
How to get there
The Jordan Pond Path is in the town of Seal Harbor, which is located in the southern part of Acadia National Park.
Your first option for getting there is via the Island Explorer bus.
The Island Explorer bus has stops at the Hulls Cove Visitor Center, as well as the Village Green in downtown Bar Harbor, and Jordan Pond House restaurant – amongst many others.
If you intend to drive, there are two ways to get to the trail, one shorter than the other – but it's not necessarily the best option.
The first option is to take Route ME 3 to Park Loop Road, then take a right and continue straight on Park Loop Road til you get to Jordan Pond House or the Jordan Pond North Parking Lot right after it.
You can only park at the restaurant if you will be dining there. The Jordan Pond North lot is for both diners and visitors.
The second option is to hop onto Park Loop Road much earlier and just follow it until you get there. This will take you longer, but it's a lovely scenic drive.
We usually do this, but leave in the morning and make stops along the way, like Sand Beach, Little Hunter's Beach, Thunder Hole, and so on.
We basically time our itinerary to end up here around lunch time and do the hike afterward.
Since we always dine at Jordan Pond House when doing this hike, we typically will park in the South Parking Lot at the restaurant. However, it fills up very quickly, so on a few occasions, we've parked at the North lot.
Eating at Jordan Pond House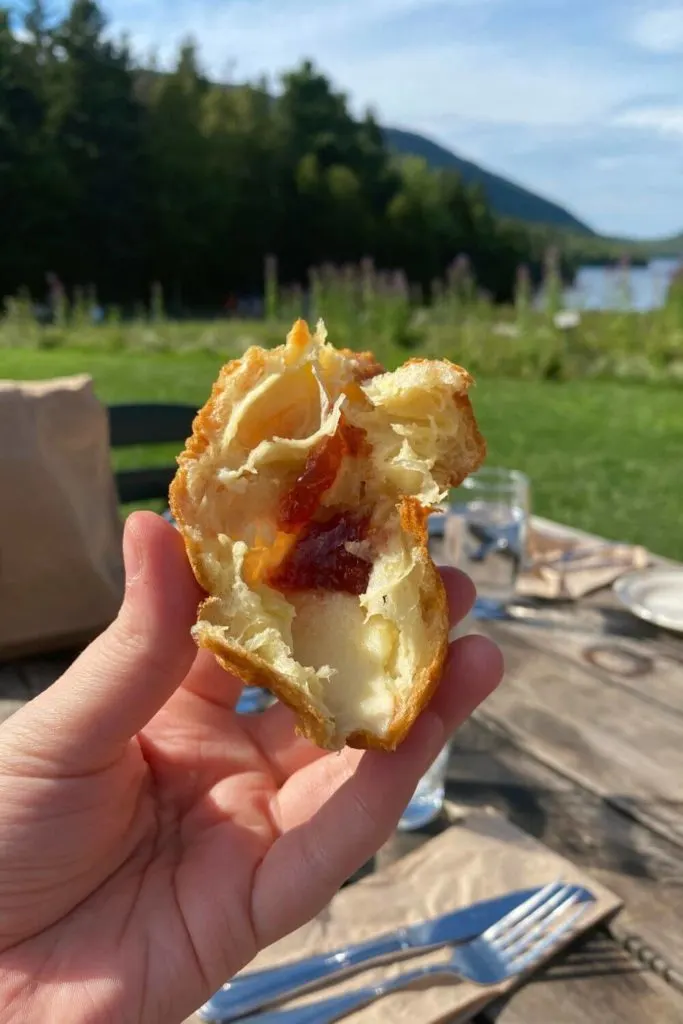 If you're looking for a place to get a bite to eat before or after your hike, look no further than Jordan Pond House.
This is, hands-down, my favorite restaurant on Mount Desert Island and I go every single time I visit.
The restaurant is known for its freshly baked popovers with jam, which pair perfectly with tea (hot or iced!) or blueberry lemonade.
They also serve other yummy dishes, like lobster rolls, seafood chowder, and shepherd's pie.
Ask for a seat on the lawn, even if there's a wait. You'll be treated to views of Jordan Pond, the Bubbles, and other surrounding mountains.
Relatively new to the restaurant is their carry-out window, where you can get pre-made sandwiches, salads, and drinks. You can also get popovers sundaes and pup cups!
Frequently Asked Questions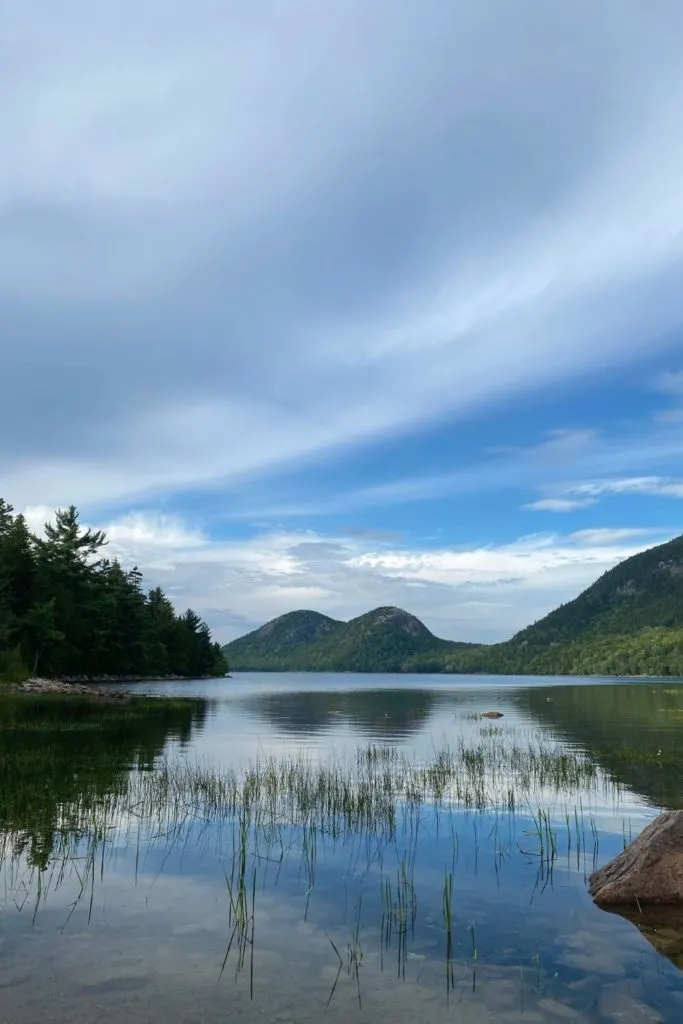 If you have more questions, I've collected some of the most frequently asked questions about Jordan Pond Path, listed below.
Otherwise, please leave a comment and I'll get back to you and update the post.
Can I swim in Jordan Pond?
No, you cannot go swimming in Jordan Pond or use it to rinse your hands or dip your feet in to cool off.
Jordan Pond is used for public water supply, so it is illegal to go in the water.
How long does it take to complete the hike?
The Jordan Pond Path is a little over 3 miles long, so it shouldn't take you more than an hour to complete.
Unless you stop along the way for photos, veer off onto another trail, go to see the Deer Brook Bridge, or stop for a picnic lunch.
Are you ready to hike the Jordan Pond Trail?
All in all, the Jordan Pond Path is a lovely, leisurely hike with iconic views of Acadia National Park. Whether you're a seasoned hiker or just starting out, this trail should not be overlooked.
Aside from the gorgeous scenery, it is also next to the Jordan Pond House, which serves delicious popovers and tea – as well as other yummy bites to fill you up.
Next up, check out these posts:
---
About the author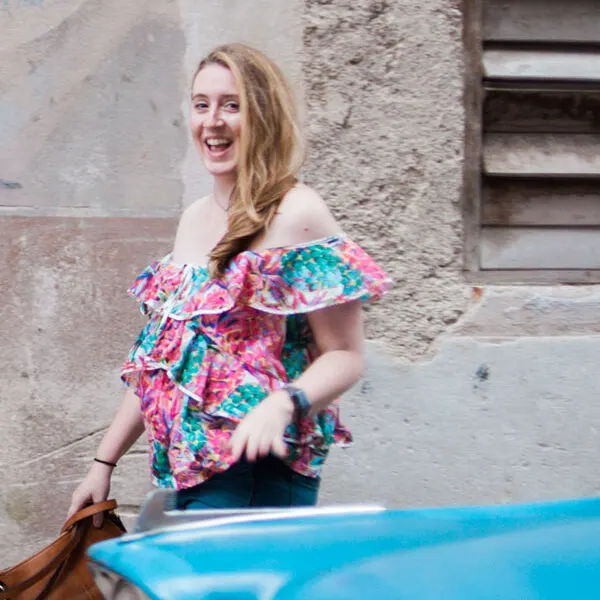 Meg Frost is a Boston-based travel blogger that helps people embrace technology to make vacation planning and traveling wicked easy, affordable, and fun.
She holds an M.A. in Journalism from Northeastern University and B.S. in Communication & American Studies from University of Miami.
---