There's so much more to do in Las Vegas than partying and gambling.
Check out more than 100 things to do in Las Vegas, from fine art and top-notch shows to relaxing spas and plenty of adventure.
Be sure to check local travel regulations before you book a trip. Some destinations are blocked from visitors or have drastically altered schedules or availability due to COVID-19. Always wear a mask and wash your hands frequently.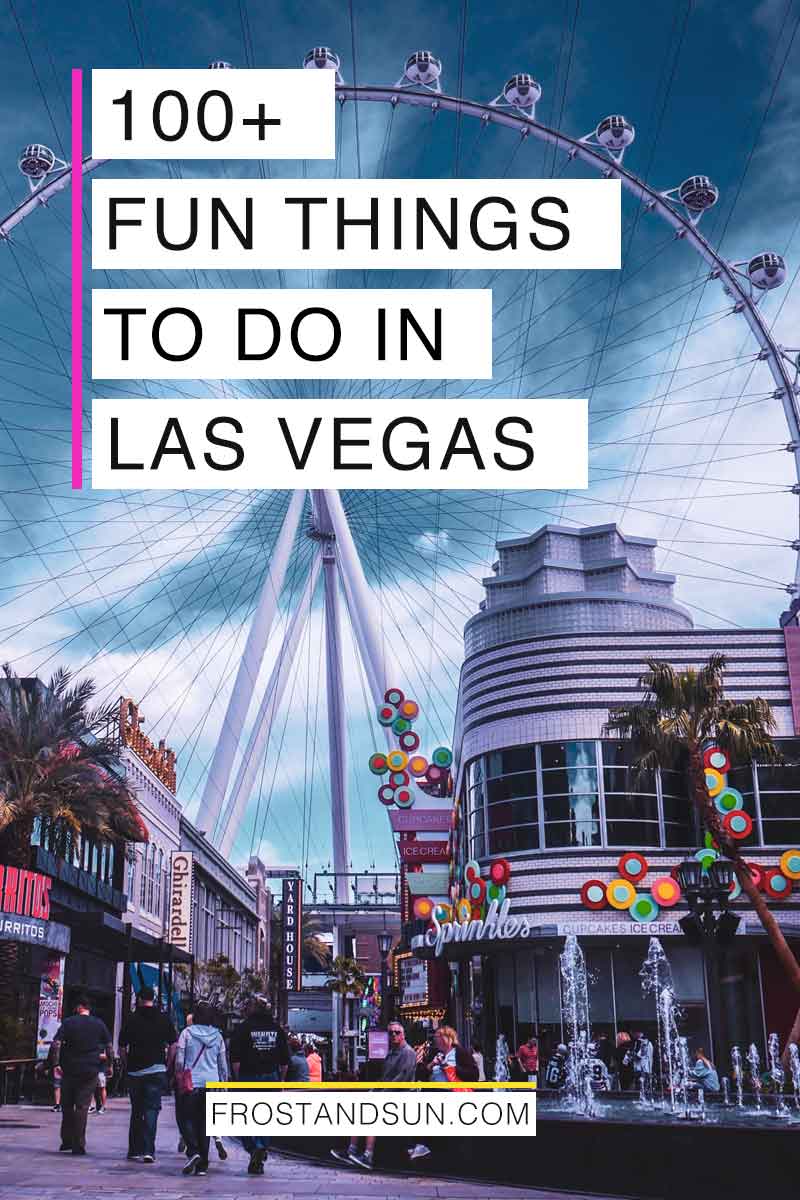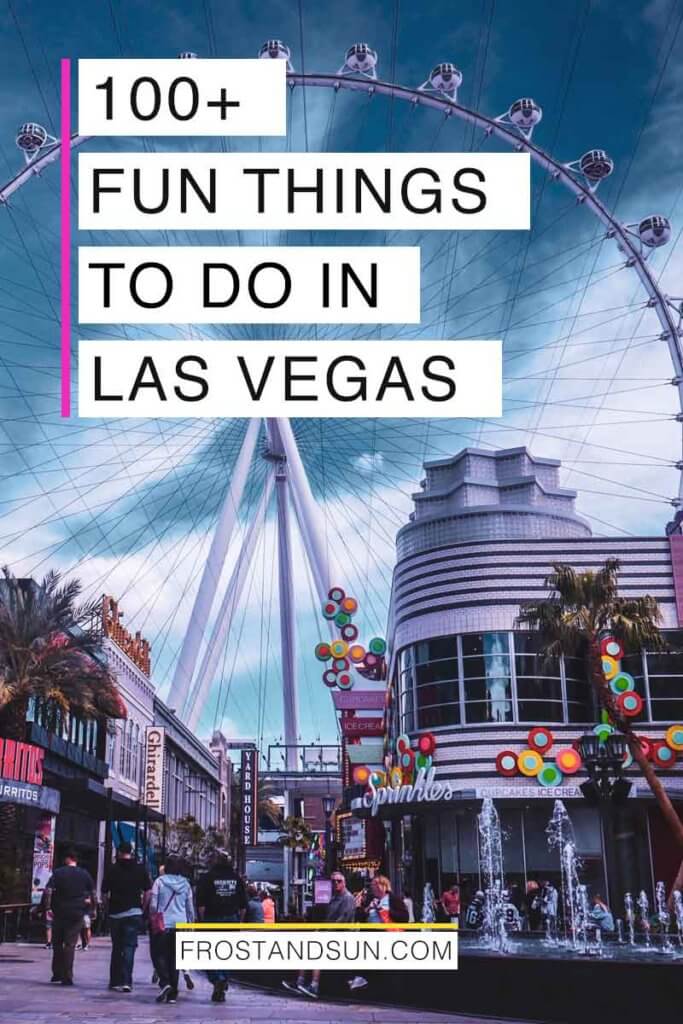 This post includes affiliate links. If you click on or make a purchase from an affiliate link, I might earn a commission payment at no extra cost to you.
Browse the art galleries
Yes, you read that right – you can admire fine art in Las Vegas!
The Gallery of Fine Art at the Bellagio features a curated show that changes a few times per year.
Past themes have included Picasso, Contemporary Art, female artists, and even artifacts from Muhammad Ali.
Aside from the Bellagio's Gallery, you can also dine among authentic Picasso artwork at Bellagio's Picasso restaurant.
Head to The Park next to the New York – New York hotel for an interesting outdoor twist on an art gallery experience.
Take a day trip
If you need a break from the glitz and glamour of Vegas, there are lots of natural parks outside the city that are perfect for a day trip, such as Grand Canyon National Park.
Check out my post on 13 Fun Day Trips from Las Vegas for a few more ideas on where you can go.
Check out the best views in Vegas
While many of the hotels on the strip offer impressive views of the city, there are a few standouts.
My top pick for best view in Las Vegas is the High Roller, the largest ferris wheel in the world.
Top of the World restaurant at The Stratosphere is well-known for its view from the top of the Strip and serves a decent dinner.
Mandarin Bar at Mandarin Oriental and the Eiffel Tower observation deck and restaurant at Paris Las Vegas have great mid-strip views.
Explore the BODIES exhibit
If you're into the nerdy side of knowing the human body, check out REAL BODIES at Bally's and Bodies The Exhibition at the Luxor, where you can see preserved human bodies and body parts. It's absolutely fascinating!
Watch the Fountains of Bellagio
You can't miss the Fountains of Bellagio show outside the magnificent Bellagio hotel.
Not only is it a classic Vegas attraction, but it takes place in an 8-acre lake that you literally can't miss if you're walking down the strip.
Check out the Fremont Street Experience
The Fremont Street Experience is a pedestrian mall built around downtown Las Vegas.
It includes shopping, restaurants, gambling, ziplining, hotels, and an LED screen that covers the street like a canopy.
Gamble in Las Vegas
Most of the hotels on the Strip (and off strip) have gambling of some sort, such as card games, slots, and sports betting.
My top tip for gambling is to set a limit before your trip of how much you'll spend on gambling AND be strict about sticking to that limit!
Most of the hotels on the Strip use a card system that allows you to preload a card with money.
Not only do these cards make it easier to stick to a limit, they also act as a customer loyalty card, where you can earn things like coupons and meals or even rack up points for a free night's stay.
Play old-fashioned games
Looking for some good ol' fashioned fun? Vegas has that too! Win some fun prizes at the Coney Island Emporium at the New York-New York Hotel.
Play table games, like ping-pong at MGM Grand's Level Up bar.
Go bowling in Las Vegas
Have fun bowling or see a concert at Brooklyn Bowl at the LINQ Promenade.
Ride motorcycles in Las Vegas
The Las Vegas strip includes its own Harley-Davidson dealership, where you can buy or rent a motorcycle.
Don't know how to ride? You can take lessons, too!
Play golf in Vegas
Get some tee time in at one of Vegas' many golf courses, such as the one attached to Wynn Las Vegas.
If you're looking to just practice your swing, head to Topgolf, behind the MGM Grand's Signature Towers.
Or how about a round of mini golf at KISS by Monster Mini Golf?
Get a makeover
Many of the larger hotels have a salon on-site where you can get your hair and makeup done. If your hotel doesn't, don't fret!
Get your hair expertly styled at Drybar at the Miracle Mile Shops. Then pop over to one of 4 Sephora locations on the strip to get a new makeup look.
If you don't want to leave your hotel room, hook up with La'Bella MAFIA to have a makeup artist and/or hair stylist sent to you.
Grab your honey and get married
Getting married Las Vegas doesn't need to be cheesy or impulsive, but no judging if it is!
Check out my list of unique places to get married in Las Vegas to find the perfect venue.
Explore the museums in Las Vegas
Las Vegas's museum game has seriously stepped up over the past few years.
My top 2 recommendations are the Neon Museum, where you can see old Las Vegas signs and neon lights, and the Mob Museum, a museum devoted to the history of organized crime and law enforcement.
For some naughty fun, check out the Erotic Heritage Museum or Burlesque Hall of Fame.
If those make you blush, perhaps the Marvel Avengers S.T.A.T.I.O.N. or Madame Tussaud's Wax Museum are more your speed.
Race cars in Las Vegas
If you've ever dreamed of being a Nascar race driver, Vegas is the place to live out that fantasy.
At the Las Vegas Motor Speedway, you can watch different races, drive a racecar with the Richard Petty Driving Experience, or drive dune buggies or ATVs through the Nellis Dunes.
Step it up a notch and take a lap in an exotic car, such as a Lamborghini Gallardo or McLaren 5705, at Speed Vegas.
If you're more into go-karts, check out the Pole Position Raceway across from the Palms.
Party in Las Vegas like a rock star
Las Vegas is home to some of the world's best nightclubs, such as Hakkasan, Marquee or XS, where you can party the night away.
More of a day person? Check out Rehab and Wet Republic, 2 of Las Vegas' best dayclubs.
If ballin' out like a rock star is your #1 goal of things to do in Las Vegas, go in on a luxury suite with a group of friends, such as the Fantasy Suites at the Palms or Skylofts at MGM, and throw a party with your nearest and dearest.
Just don't be a jerk and trash the place, ok? The dudes from The Hangover already have that covered.
Have some poolside fun
Las Vegas has some of the best pools where you can relax, swim or even party.
Check out my guide on the pools in Vegas to find the best pools that aren't day clubs.
Visit a spa in Las Vegas
Treat yo' self to a day at your hotel's spa.
Get a massage or facial, relax in the sauna, get a mani/pedi or whatever else you find relaxing.
Ride the Venetian gondolas
Pretend you're in romantic Venice, Italy on a gondola ride through the Venetian canals.
Visit the Titanic exhibit in Las Vegas
See artifacts from the most famous passenger ship in the world, The Titanic, at the Luxor hotel.
Go shopping in Las Vegas
Las Vegas has some of the best shopping! For high-end retail, hit up Crystals at City Center.
For a good mix of luxury and affordable, try the Forum Shops at Caesars Palace or Fashion Show mall.
If you don't want to be tempted by the luxury shops, check out Miracle Mile Shops at Planet Hollywood or hit up the Las Vegas Premium Outlets (2 locations available: North and South) for a good deal.
Catch a show in Las Vegas
Las Vegas is filled with dozens of entertaining shows that are funny, flashy, weird, and sexy.
To whittle it down, check out my list of the best shows in Vegas.
Ride all the thrill rides
Zip through the city skyline at Rio Hotel and Casino's VooDoo Zip Line or through old Vegas at the Fremont Street Experience's Slotzilla.
Ride the X Scream roller coaster at the Stratosphere Hotel or the Big Apple Coaster at the New York – New York Hotel.
Experience sky diving at Vegas Indoor Skydiving.
If you're not quite ready for sky diving, try SkyJump at the Stratosphere. It's a bit more controlled, kind of like a cross between sky diving and bungee jumping.
For an entire day's worth of thrill rides, hit up Adventuredome at Circus Circus, where you can ride 2 coasters, go bungee jumping, play laser tag, and more.
Tour the Las Vegas strip
There are a few ways to tour the strip, but the best way is by helicopter. Maverick Helicopters offers a night tour and a sunset/night combo tour of the Hoover Dam and the Strip.
Looking to stay on land? Check out the ubiquitous hop-on/hop-off bus tour or a private tour led by Elvis in a pink Cadillac.
Book your trip to Las Vegas
If you've made it this far down the list, bless your heart! There really are a TON of things to do in Las Vegas, right?
Are you ready to book your trip to Las Vegas now that you know all the awesome things you can do?
Check out these Las Vegas travel deals.
What are your favorite things to do in Las Vegas?
And remember what they say about Vegas… What happens in Vegas, stays in Vegas!