Partying and gambling in Vegas can get old real fast.
But don't be too quick to write off this destination. I promise there's a ton more to do in Sin City.
People don't call it the Entertainment capital of the US for nothin'!
Go shopping in Las Vegas
Las Vegas has some of the best shopping in the US!
For high-end retail, hit up Crystals at City Center.
For a good mix of luxury and affordable, try the Forum Shops at Caesars Palace or Fashion Show mall.
If you don't want to be tempted by the luxury shops, check out Miracle Mile Shops at Planet Hollywood or hit up the Las Vegas Premium Outlets (2 locations available: North and South) for a good deal.
Hit up the LINQ Promenade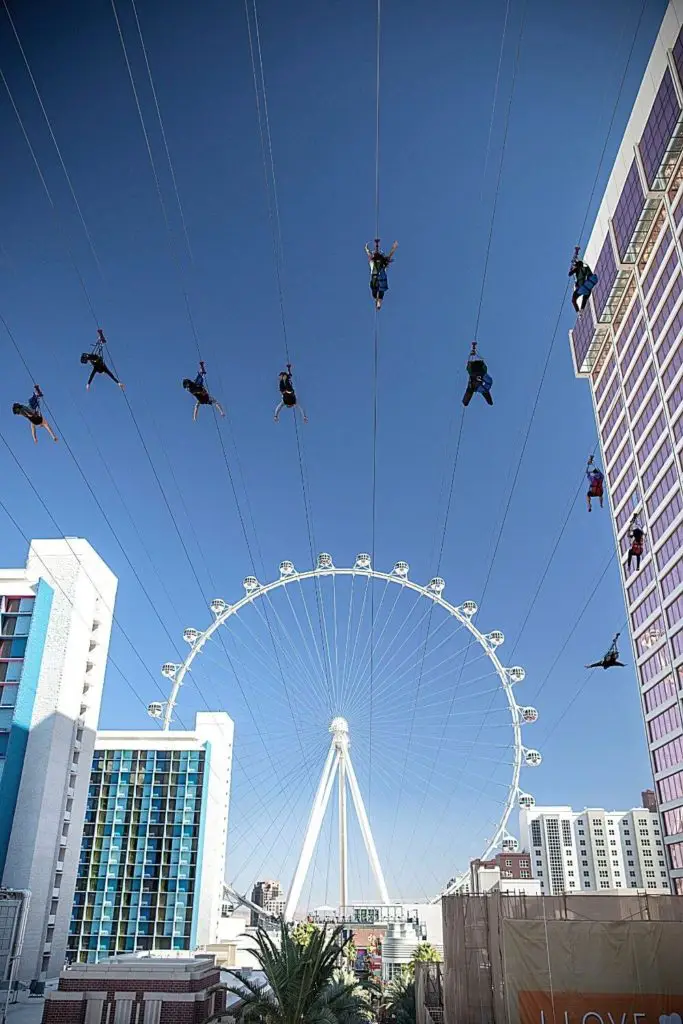 Strolling along the LINQ Promenade is one of my favorite things to do in Las Vegas. Located right in the center, the LINQ Promenade is packed with attractions.
First up, have fun bowling or see a concert at Brooklyn Bowl at the LINQ Promenade.
Across from Brooklyn Bowl is Jimmy Kimmel's Comedy Club featuring the hottest comedians.
Carry on the party with drinks at one of several bars at the Promenade, like O'Shea's or AmeriCAN Beer & Cocktails.
Shop for souvenirs at stores like Goorin Brothers Hat Shop, Nectar Bath Treats, and Welcome to Las Vegas.
Take a walk on the wild side and get at tattoo at Club Tattoo.
Leave the Strip without actually leaving the Strip on a virtual reality experience at VR Adventures.
For the daring, zoom down the Promenade via the FLY LINQ zipline.
Last up, the most recognizable attractions on the strip, the High Roller Observation Wheel invites you to view the city skyline from the sky.
At night, take in a neon light show on the High Roller and Promenade fountains, set to popular music. It's basically a modern version of the Bellagio fountain show.
Hangout at the Downtown Container Park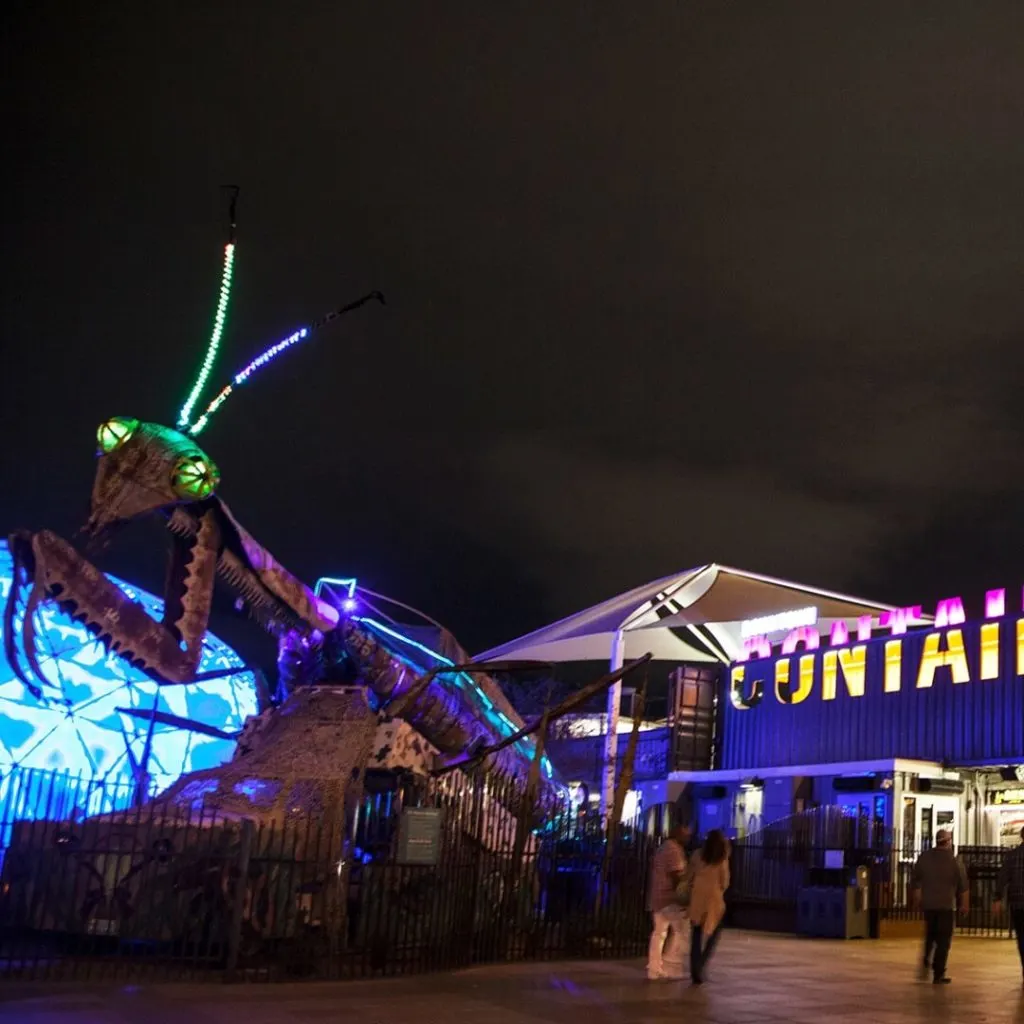 Not far from Fremont Street is the Downtown Container Park. As the name suggests, all of the shops and restaurants are made out of reused shipping containers!
The Downtown Container Park includes souvenir shops, restaurants, cafes, bars & lounges, a dance studio, and pole fitness studio.
There's also a stage and large lawn where they often hold fitness and yoga classes.
Lastly, don't forget to peep the giant praying mantis designed by aerospace engineer, Kirk Jellum.
The mantis is an impressive 6-stories high and shoots flames out of her mouth at night. It's definitely a sight to see!
Tour the Las Vegas strip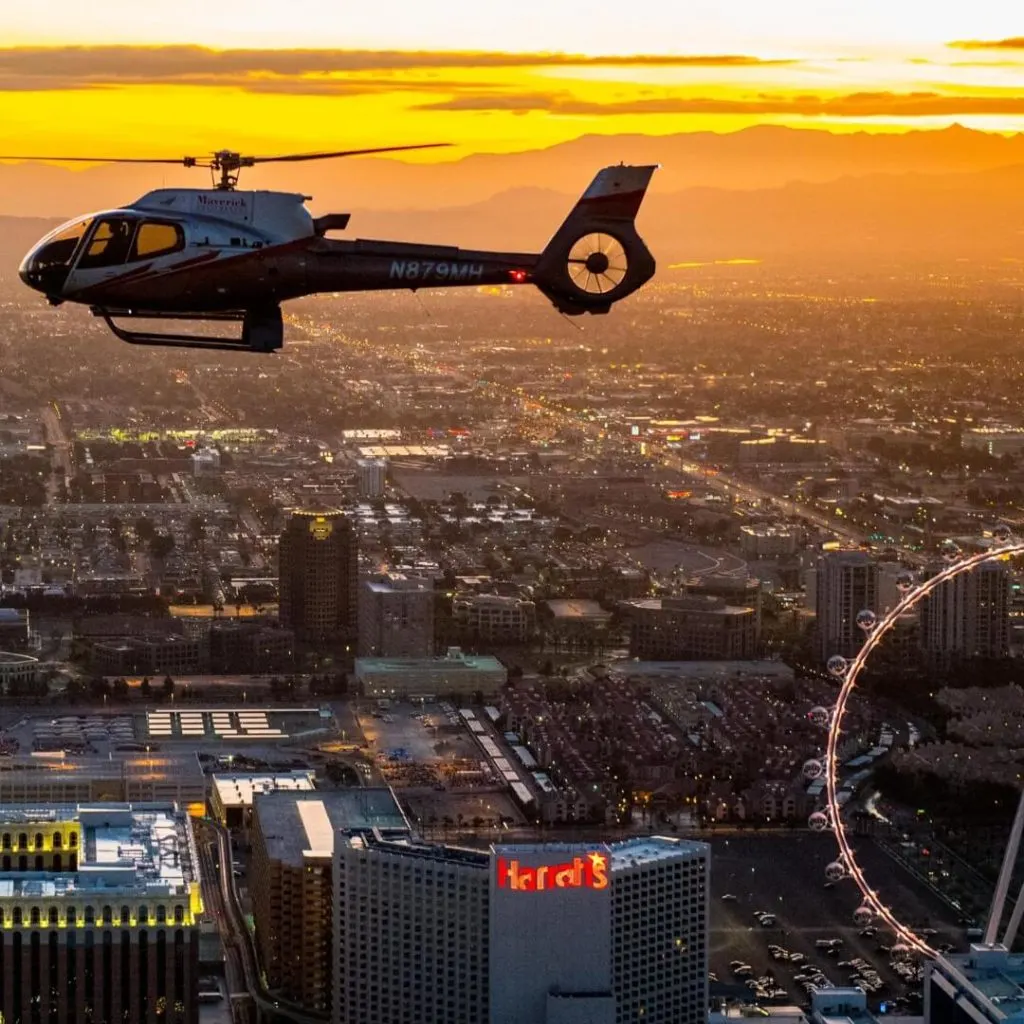 There are a few ways to tour Las Vegas Boulevard, aka The Strip, but the best way is by helicopter. Maverick Helicopters offers a nighttime helicopter tour and a sunset/night combo tour of the Hoover Dam and the Strip.
This top night tour can be a bit pricey, but it is absolutely worth it, especially if you're in Vegas celebrating something big, like a milestone birthday or anniversary.
Looking for guided tours on land? Check out the ubiquitous Big Bus Las Vegas hop-on/hop-off bus tour. The Big Bus Las Vegas tour is a great way to get the lay of the land on your first day in Vegas, in case you see something you want to explore more later in your trip.
Another fun Vegas tour option is a food tour. There are 2 food tours that I recommend, Secret Food Tours' Vegas Strip food tour, where you'll get tastings from many celebrity chef restaurants, or the Downtown Las Vegas food tour, where you'll also see Fremont Street!
Lastly, for a one-of-a-kind, only-in-Vegas kind of experience, try a private guided tour led by Elvis in a pink Cadillac.
Have some poolside fun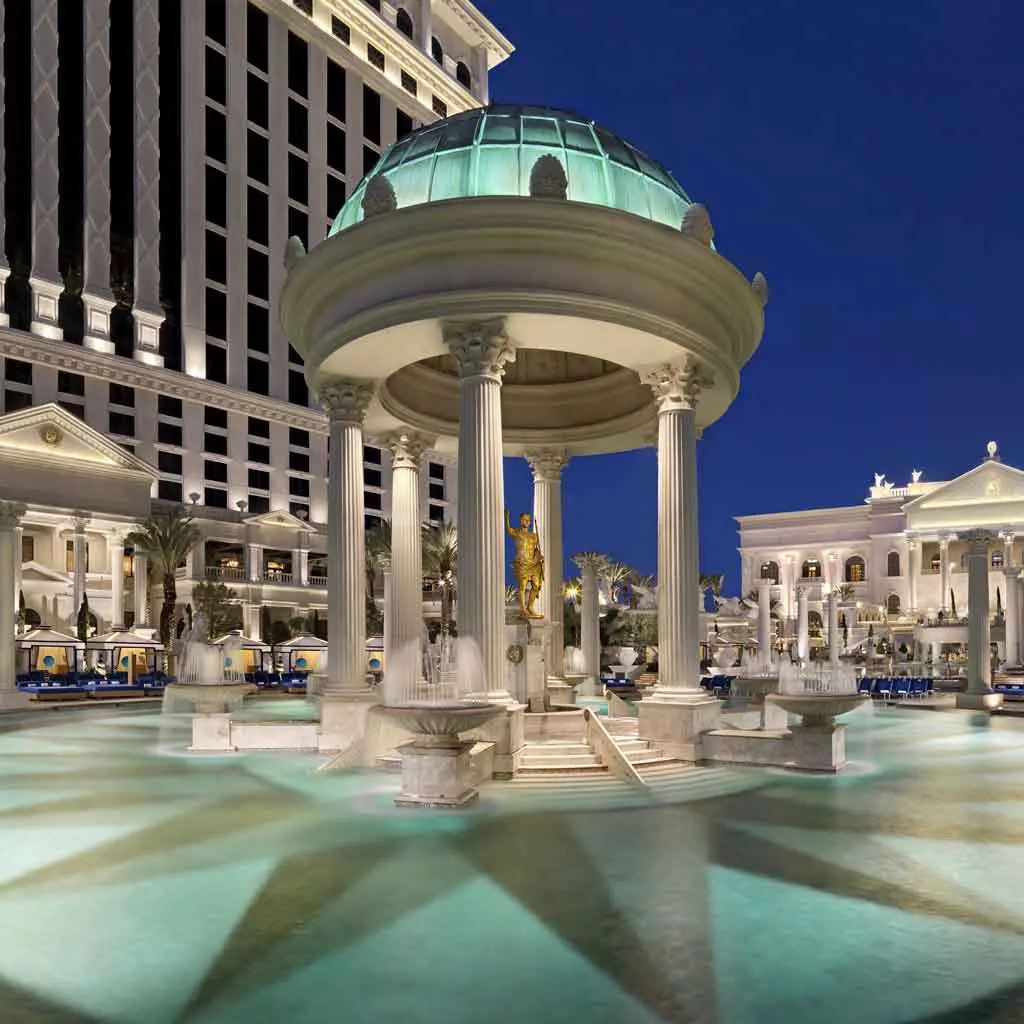 Las Vegas has some of the best pools where you can relax, swim or even party.
A few of the resorts and hotels have additional water attractions, like a lazy river or surfing simulator.
Check out my guide on pools in Vegas to find the best pools that aren't day clubs.
Watch the Bellagio Fountains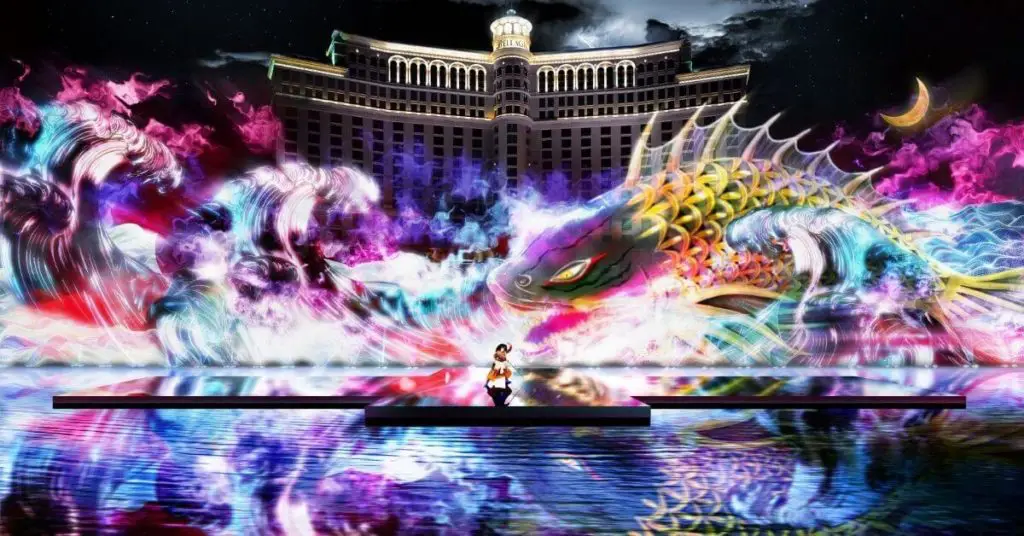 You can't miss the Fountains of Bellagio show outside the magnificent Bellagio hotel.
Not only is it a classic Sin City attraction, but it takes place in an 8-acre lake that you literally can't miss if you're walking down the Strip.
See the Bellagio Conservatory and Botanical Gardens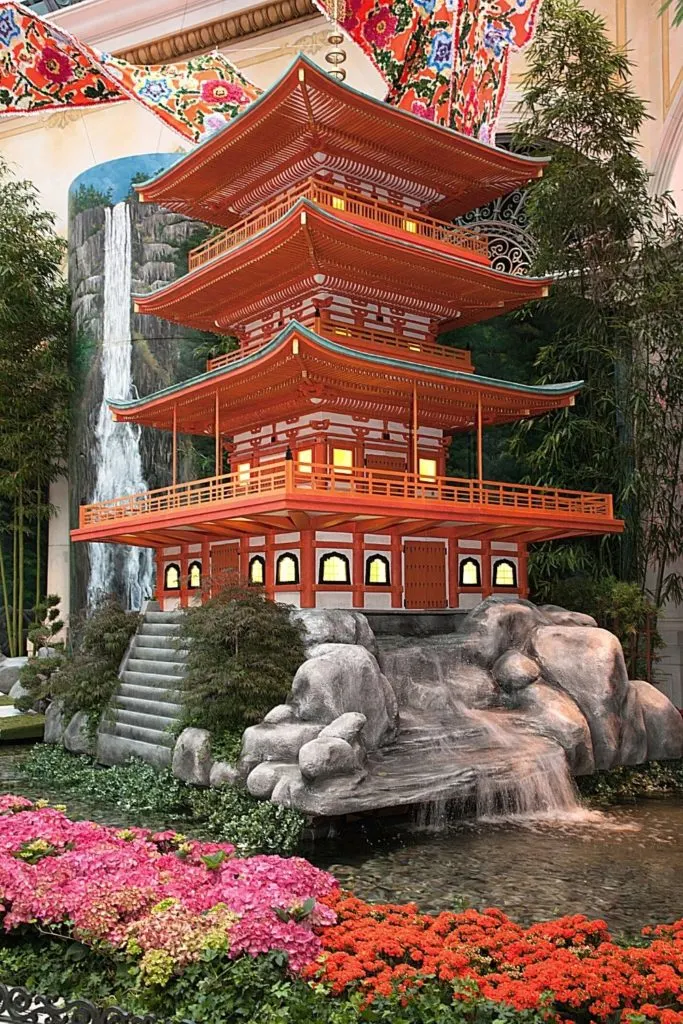 After you watch the magnificent fountain show outside the Bellagio, head inside to see the Bellagio Conservatory & Botanical Gardens.
Each season, the Bellagio designs elaborate 14,000 square feet of botanical displays to celebrate the season at hand: Lunar New Year, Spring, Summer, and Winter holidays.
The Bellagio Botanical Gardens & Conservatory closes in between seasons for up to 1 week, so be sure to check the Bellagio website to see if the display will be up while you're there.
The best part is that it's completely free to see!
Check out the Fremont Street Experience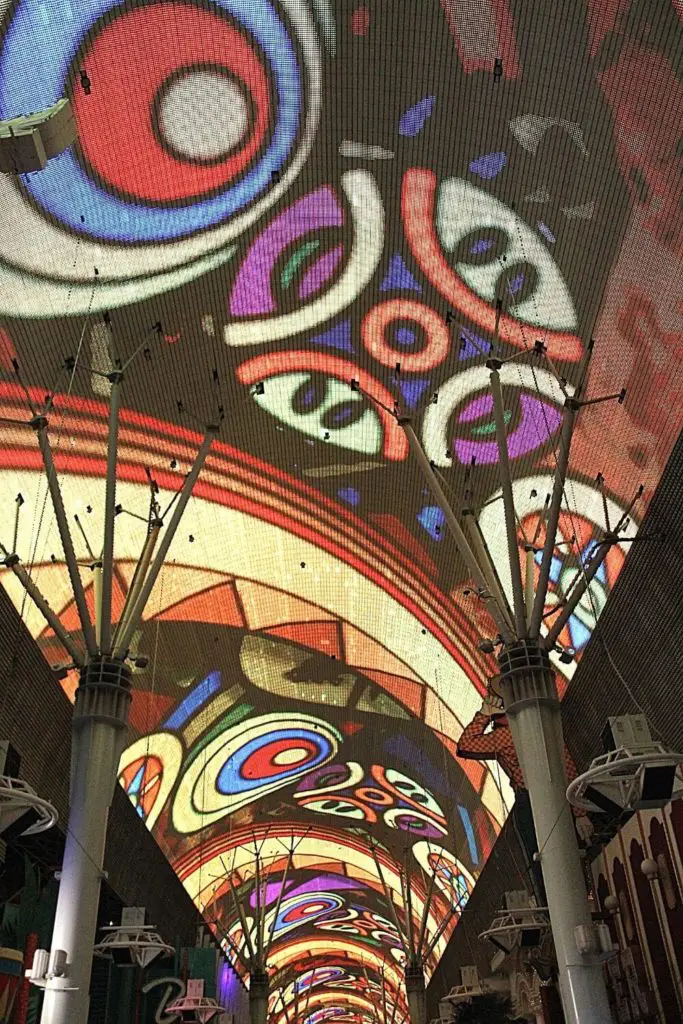 The Fremont Street Experience is a pedestrian mall built around downtown Las Vegas, north of the Strip.
It includes shopping, restaurants, gambling, zip lining, bars, and hotels. Above the street is an LED screen canopy that plays digital shows.
Keep reading for the ultimate guide on things to do in Las Vegas, NV.
Get a makeover
Many of the larger hotels have a salon on-site where you can get your hair and makeup done. If your hotel doesn't, don't fret!
Get your hair expertly styled at Drybar at the Miracle Mile Shops. Then pop over to one of 4 Sephora locations on the strip to get a new makeup look.
If you don't want to leave your hotel room, hook up with La'Bella MAFIA to have a makeup artist and hair stylist sent to you.
Party in Las Vegas like a rock star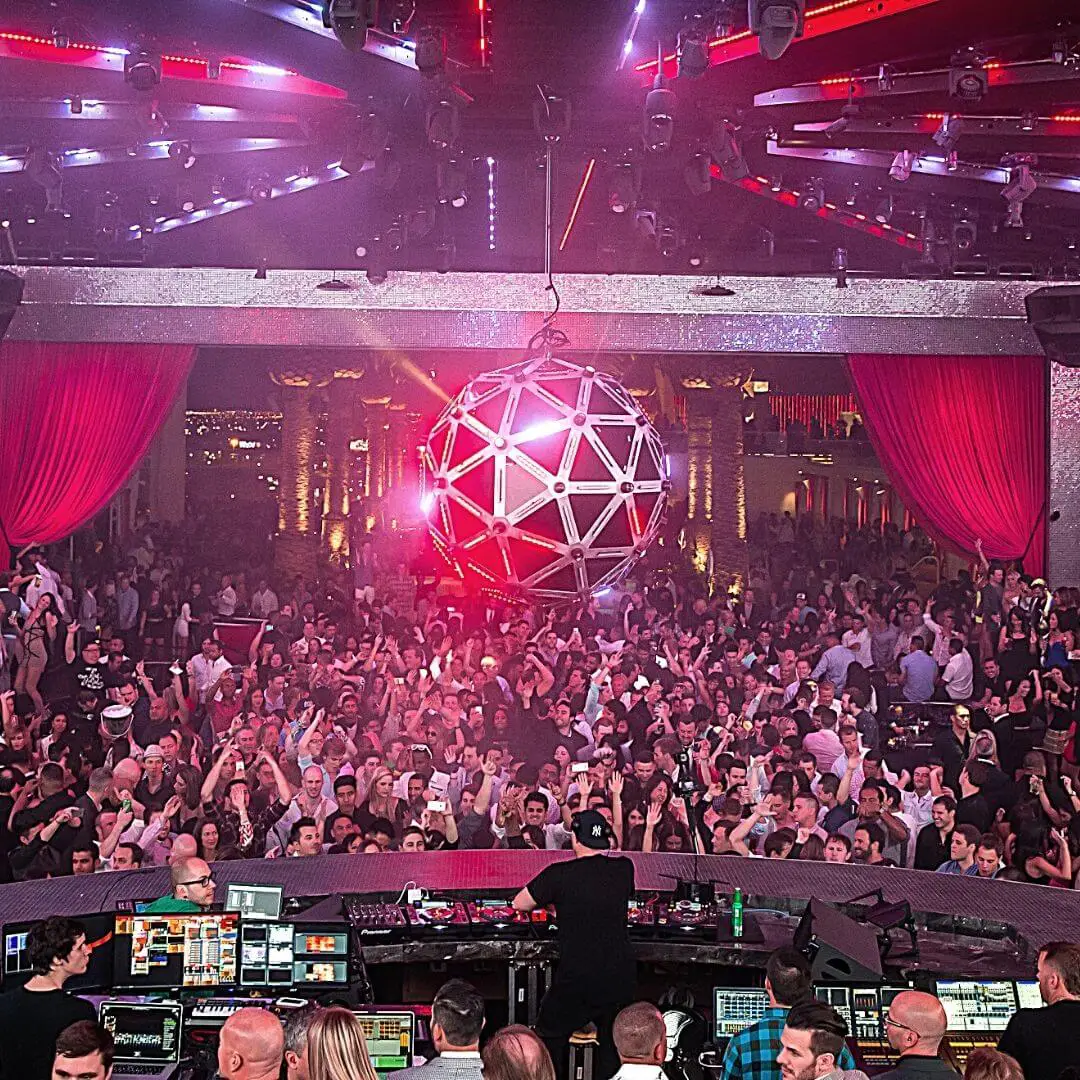 Las Vegas is home to some of the world's best nightclubs, such as Drai's, Hakkasan, Marquee or XS, where you can party the night away.
More of a day person? Check out Rehab and Wet Republic, 2 of the city's best day clubs.
If ballin' like a rock star is on your Las Vegas bucket list, go in on a luxury suite with a group of friends, such as the Fantasy Suites at the Palms or Skylofts at MGM, and throw a party with your nearest and dearest.
Just don't be a jerk and trash the place, ok? The dudes from The Hangover already have that covered.
Visit a spa in Las Vegas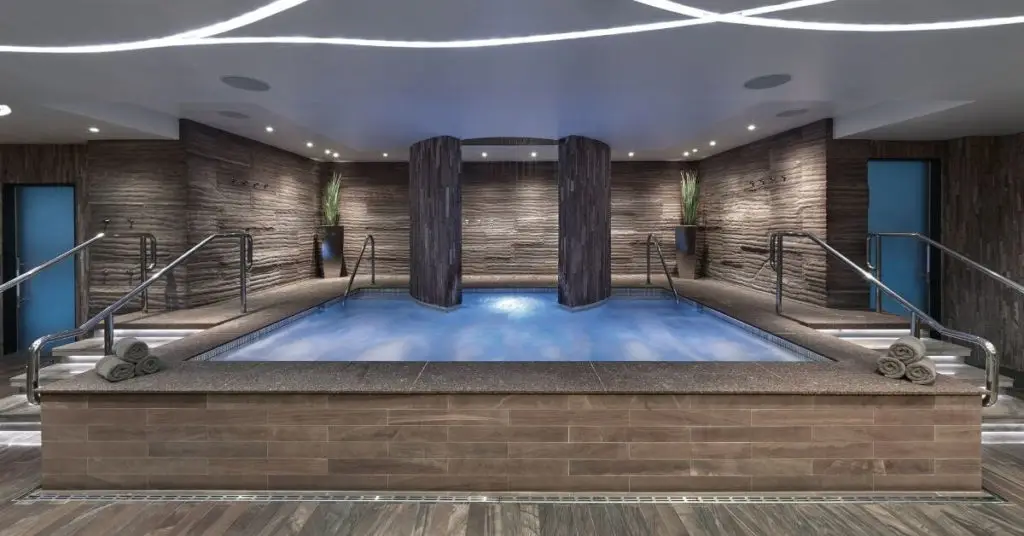 For a luxurious activity, treat yourself to a day at your hotel's spa.
Get a massage or facial, relax in the sauna, get a manicure and pedicure or whatever else you find relaxing.
Get hitched or renew your wedding vows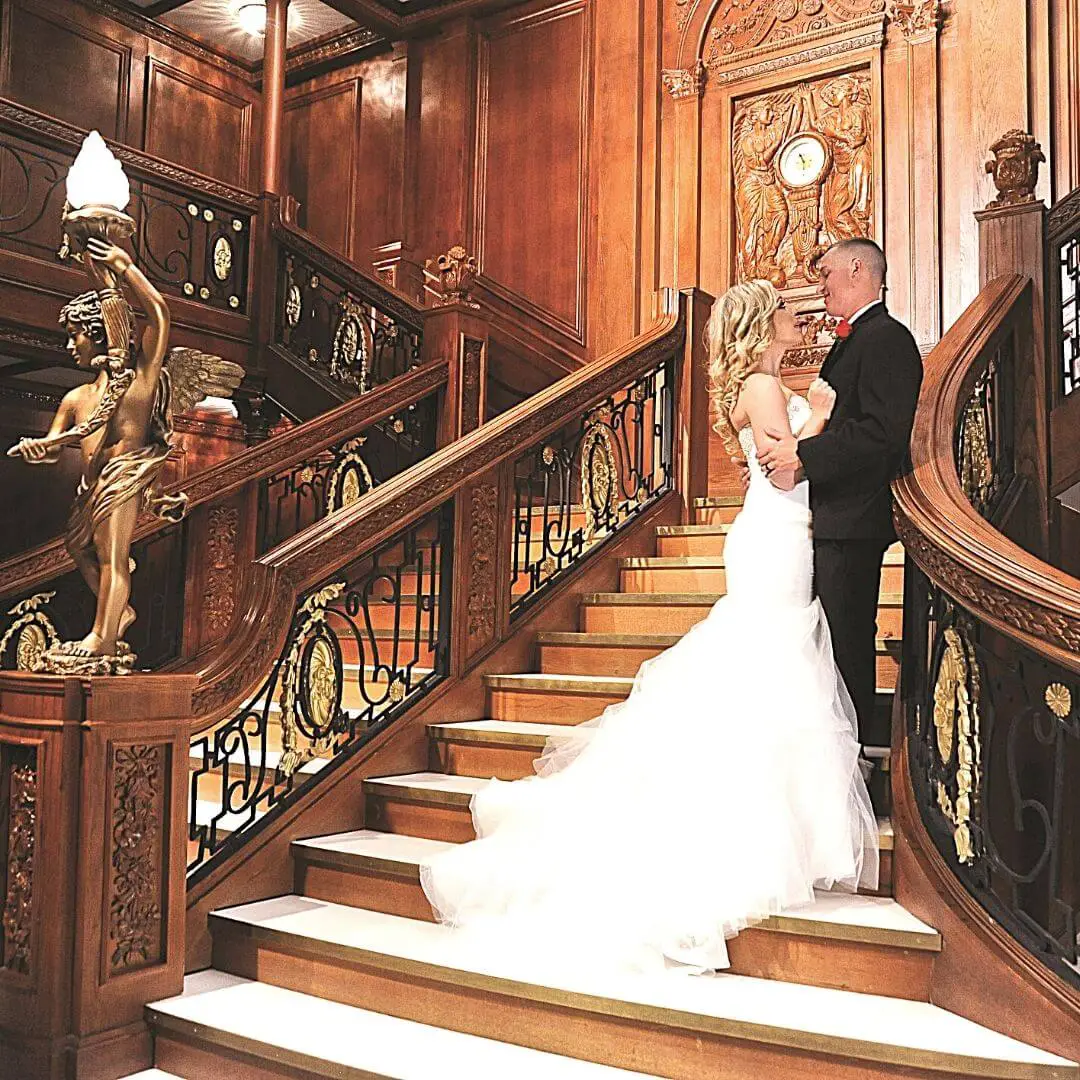 Renewing your vows, eloping, or getting married in Las Vegas doesn't need to be cheesy or impulsive, but no judging if it is!
Check out my list of unique wedding venues in Las Vegas to find the perfect venue, plus tips on how to get a marriage license.
Browse the art galleries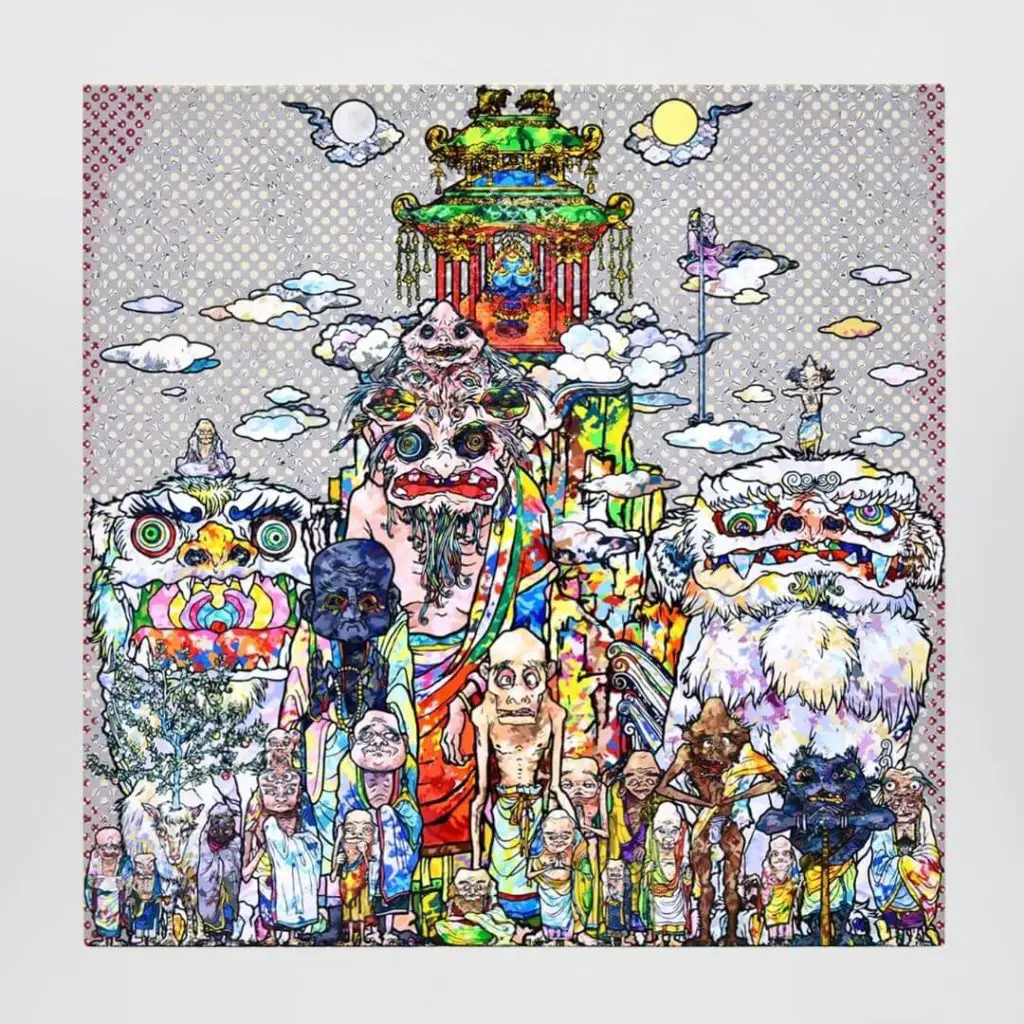 The Gallery of Fine Art at the Bellagio features a curated show that changes a few times per year.
Past themes have included Picasso, Contemporary Art, female artists, and even artifacts from Muhammad Ali.
Aside from the Bellagio's Gallery, you can also dine among authentic Picasso artwork at Bellagio's Picasso restaurant.
Head to The Park next to the New York – New York hotel for an interesting outdoor twist on an art gallery experience.
At Park MGM, check out the Haus of Gaga exhibit featuring costumes and other sartorial artwork from Lady Gaga.
Have fun at the Marvel Avengers S.T.A.T.I.O.N. exhibit
Location: Treasure Island Hotel & Casino, 3300 S Las Vegas Blvd
Phone: (800) 944-7444
Head to Treasure Island for some Marvel fun at the Marvel Avengers' Scientific Training and Tactical Intelligence Operative Network (aka S.T.A.T.I.O.N.) to train to become an agent of your favorite comic and cinematic universe.
When you're all done, be sure to hit up the 8,000 sq. ft gift shop for some Marvel goodies.
Tickets are $40 for ages 12 and up. Kids age 4-11 are $30, while kids under 4 are free. Discounts are available for Nevada residents, 65+, and military.
In addition, for a limited time, TI is offering a 2-for-1 ticket deal if you're staying at their hotel.
Explore the BODIES exhibit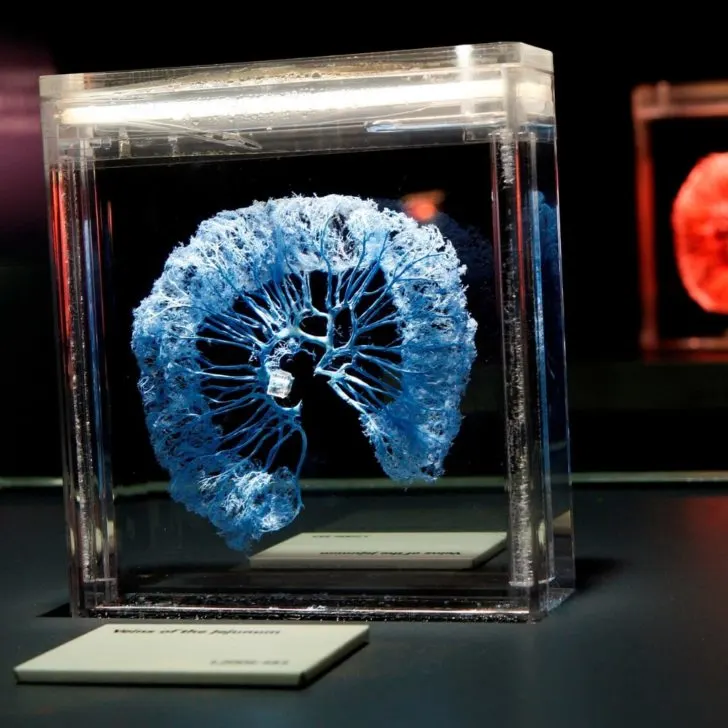 If you're into the nerdy side of knowing the human body, check out REAL BODIES at Bally's and Bodies The Exhibition at the Luxor, where you can see preserved human bodies and body parts.
I've seen the Bodies exhibit before and it's absolutely fascinating. Though I will admit it is not for the faint!
Visit a museum
For a city with a world-renown party reputation, Vegas surprisingly has a nice, growing collection of museums, both in the city and within driving distance.
Check out these fun museums in Vegas.
Burlesque Hall of Fame
Location: 1027 S Main St #110
Phone: (888) 661-6465
The Burlesque Hall of Fame in Vegas is surprisingly the world's only museum dedicated to the history and art of burlesque.
It includes rotating educational exhibits and burlesque classes and shows. The venue can also be rented out for events.
At this time, they only accept timed-entry, so be sure to visit their website for information about tickets and time slots. Tickets start at $15, with discounts available for Nevada residents, students, military, or anyone 65+.
They also participate in Museums for All, Roam, and Narm, so if you are a member of any of those programs, entry is free – but you still need to reserve a time slot.
Clark County Museum
Location: 1830 S. Boulder Hwy in Henderson
Phone: (702) 455-7955
For another fun day trip, head out to Henderson, Nevada, to check out the Clark County Museum, where you can learn more about the history of Clark County.
Its most notable exhibit is Heritage Street, where you can see restored historic homes, an old wedding chapel, and other old-timey buildings. There's even a replica ghost town and mining trail!
Erotic Heritage Museum
Location: 3275 Sammy Davis Jr. Drive
Phone: (702) 794-4000
The Erotic Heritage Museum includes 24, 00 square feet of permanent and rotating exhibits on the art, history, and science of erotica. It is also home to the hilarious Puppetry of the Penis show.
Museum entry starts at $24, while the show tickets start at $39.99. Museum entry is not required for the show.
Las Vegas Natural History Museum
Location: 900 N Las Vegas Blvd
Phone: (702) 384-3466
The Las Vegas Natural History Museum includes exhibits on dinosaurs, prehistoric life, local wildlife, geology, and ancient Egypt.
It's a great option for a rainy day – especially if you're in Vegas with kids.
Madam Tussaud's Wax Museum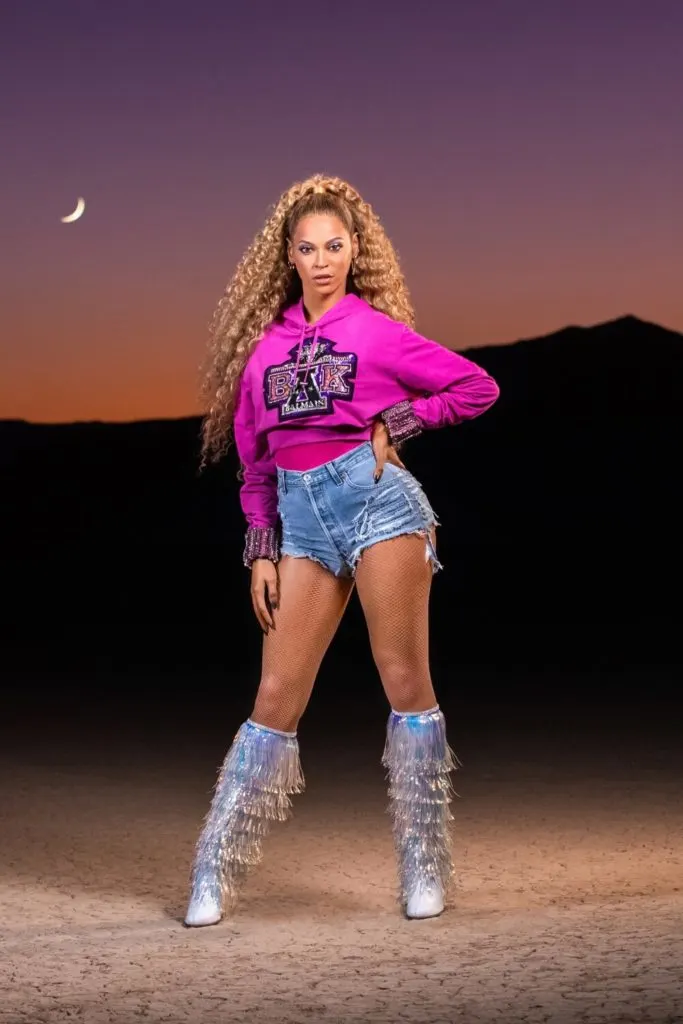 Located at The Venetian Las Vegas, Madam Tussaud's Wax Museum includes lifelike replicas of celebrities and historical figures everyone knows and loves.
The quality is surprisingly quite accurate that you can't tell that the figure is a statue from your usual photo!
National Atomic Testing Museum
Location: 755 E. Flamingo Rd
Phone: (702) 409-7366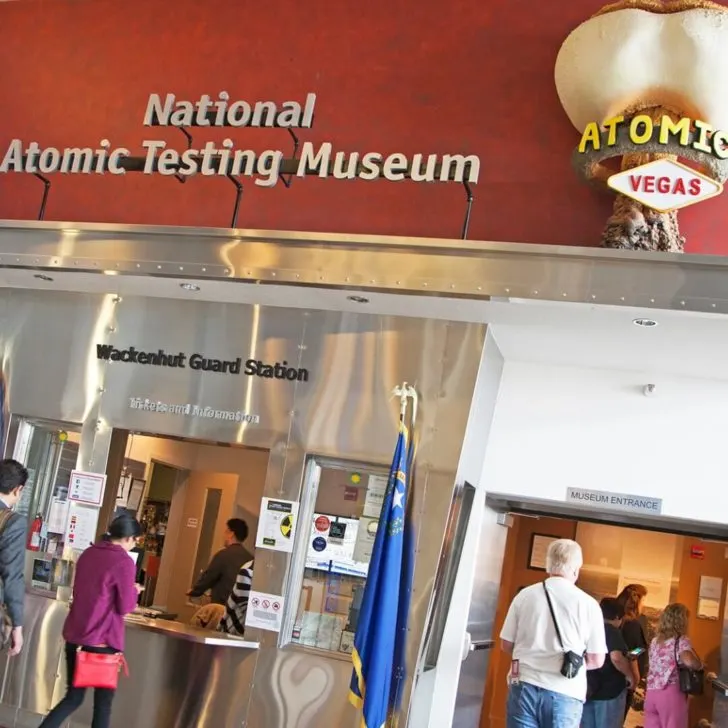 One of the most unique attractions in Las Vegas is the National Atomic Testing Museum.
This Smithsonian-affiliated museum is dedicated to understanding the history and impact of nuclear testing locally and worldwide.
Tickets are $29, with discounts available for 65+, military, first responders, and Nevada residents. Kids under 6 are free, while kids 7-17 are $15.
Neon Museum
Location: 770 N Las Vegas Blvd
Phone: (702) 387-6366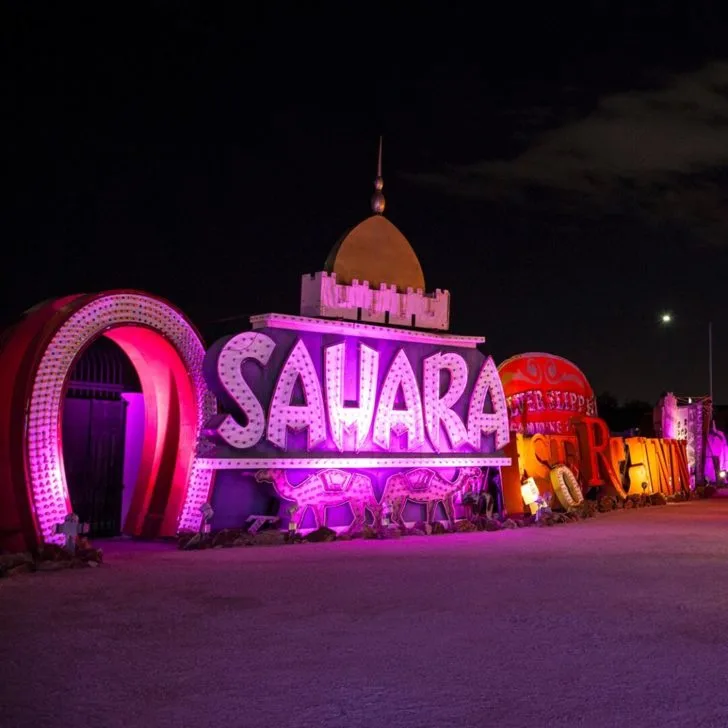 At the Neon Museum, you can see old Las Vegas signs and neon lights.
For the best experience, I recommend visiting at nighttime for the Brilliant! show that illuminates some of the old neon signs. It's so cool to see them glitter up close!
Mob Museum
Location: 300 Stewart Ave.
Phone: (702) 229-2734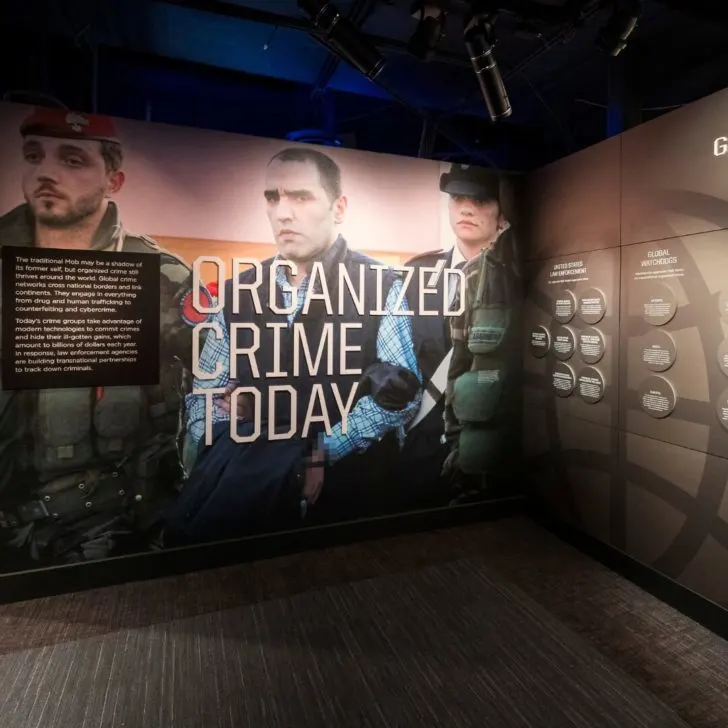 Learn more about the history of organized crime and law enforcement, both in Vegas and around the world at the National Museum of Organized Crime and Law Enforcement, better known as the Mob Museum.
The museum also includes a prohibition-era inspired cocktail bar called The Speakeasy and an on-site distillery that makes moonshine. How on-brand!
Visit the Titanic exhibit in Las Vegas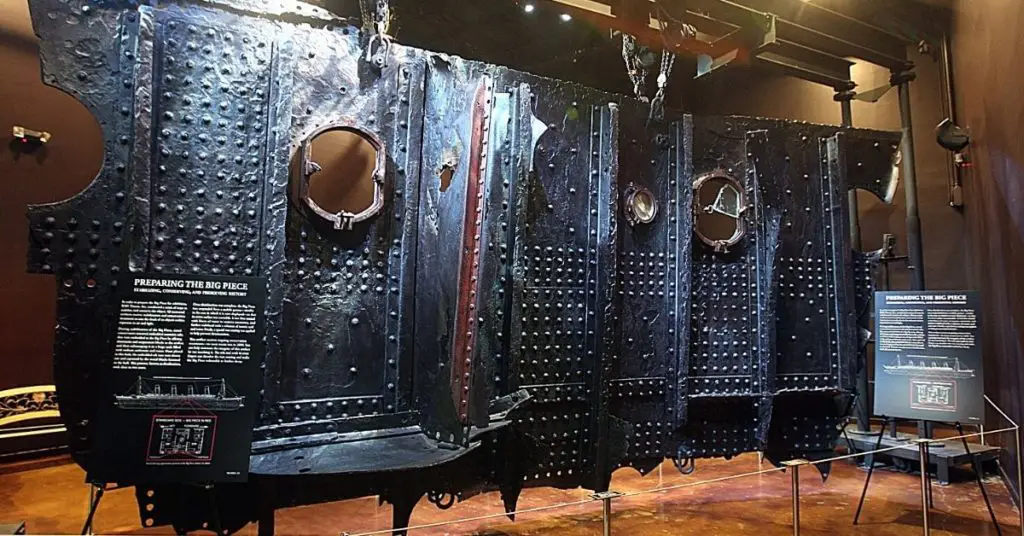 See artifacts from the most famous passenger ship in the world, The Titanic, at the Luxor hotel.
This long-running exhibit includes more than 250 genuine artifacts from the Titanic wreckage.
Also included are recreations of some of the ocean liner's rooms, so you can better imagine what it was like on this famed ship.
See sharks & other marine life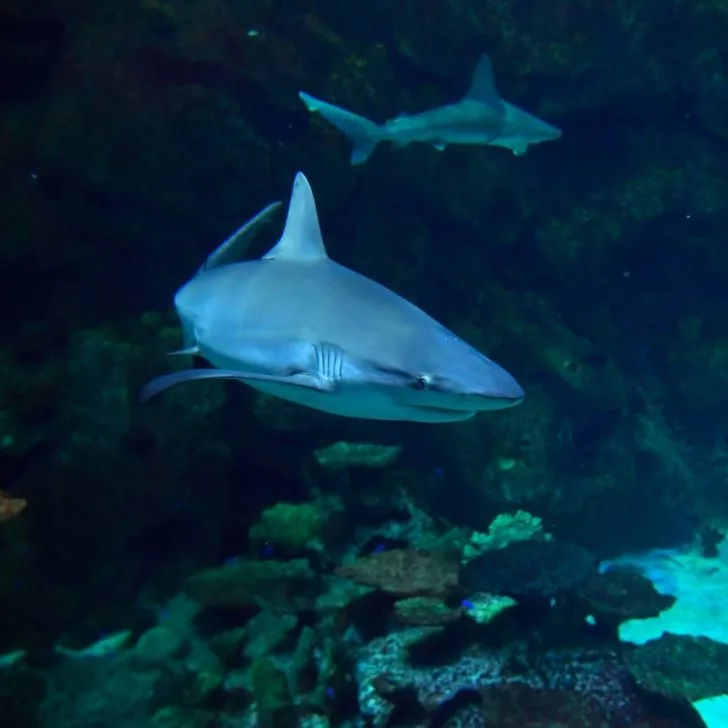 Head to the Shark Reef Aquarium at Mandalay Bay to see sharks, green sea turtles, manta rays, piranhas, and even a Komodo dragon!
In addition to walking through the aquarium, you can participate in manta ray or shark feedings for an additional fee.
Tickets start at $29. Feedings start at $65 in addition to general entry.
Play old-fashioned games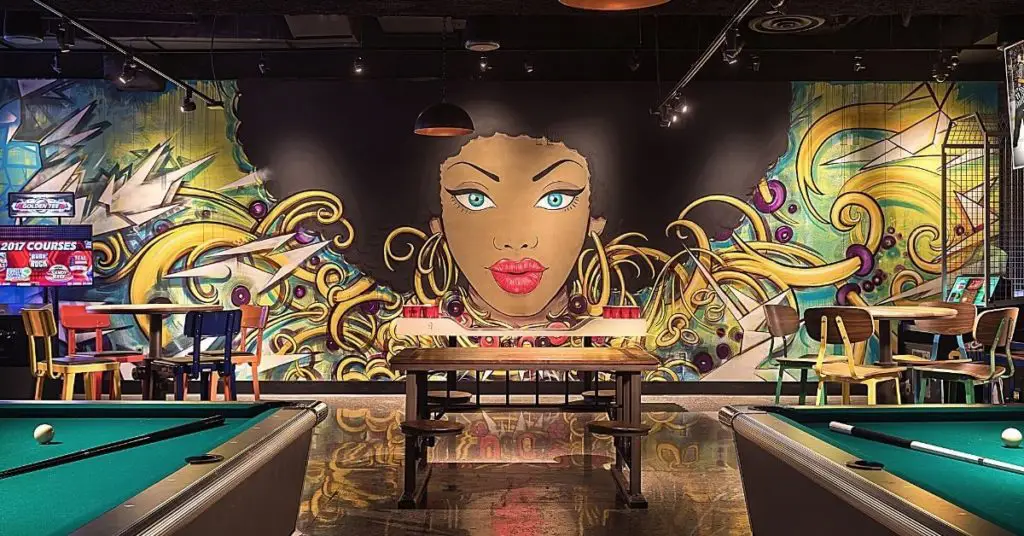 Looking for some good ol' fashioned fun? Vegas has that too!
Win some fun prizes at the Coney Island Emporium at the New York-New York Hotel.
Or relive your college days by mixing table games, like ping-pong, and drinks at MGM Grand's Level Up bar.
Ride the Venetian gondolas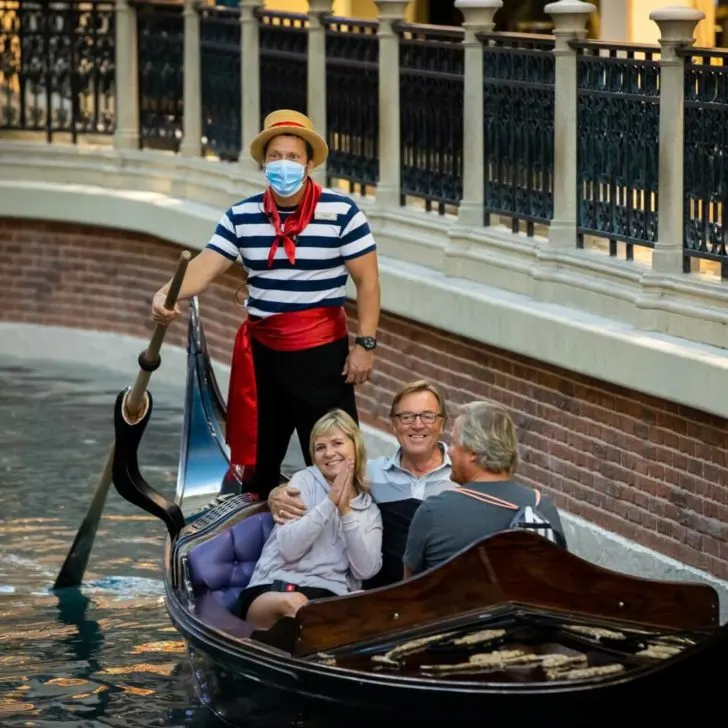 Pretend you're in romantic Venice, Italy on a gondola ride through the Venetian canals at The Venetian Resort.
Tickets start at $34 per person, with a surcharge during holiday seasons. Photo packages are also available and start at $32.
Get a photo with the iconic Las Vegas sign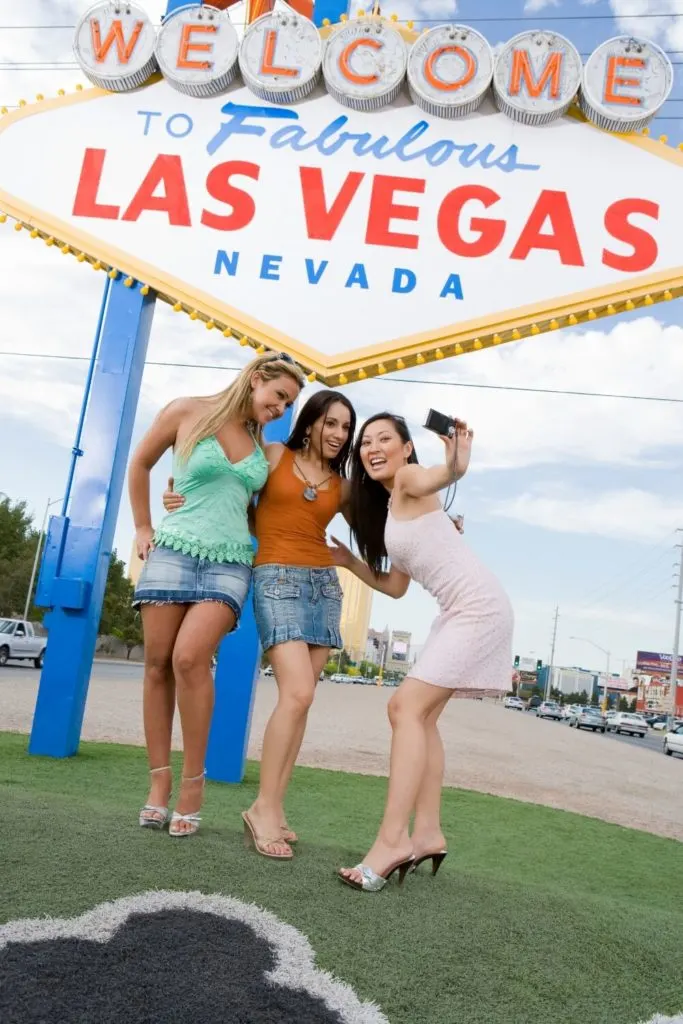 Just before the south end of Las Vegas Blvd. is the iconic Welcome to Fabulous Las Vegas sign.
If you're going to visit, you'll need a rental car or ride share to get there, as it's not safe to do so on foot without walking in traffic. Don't do it!
See the Seven Magic Mountains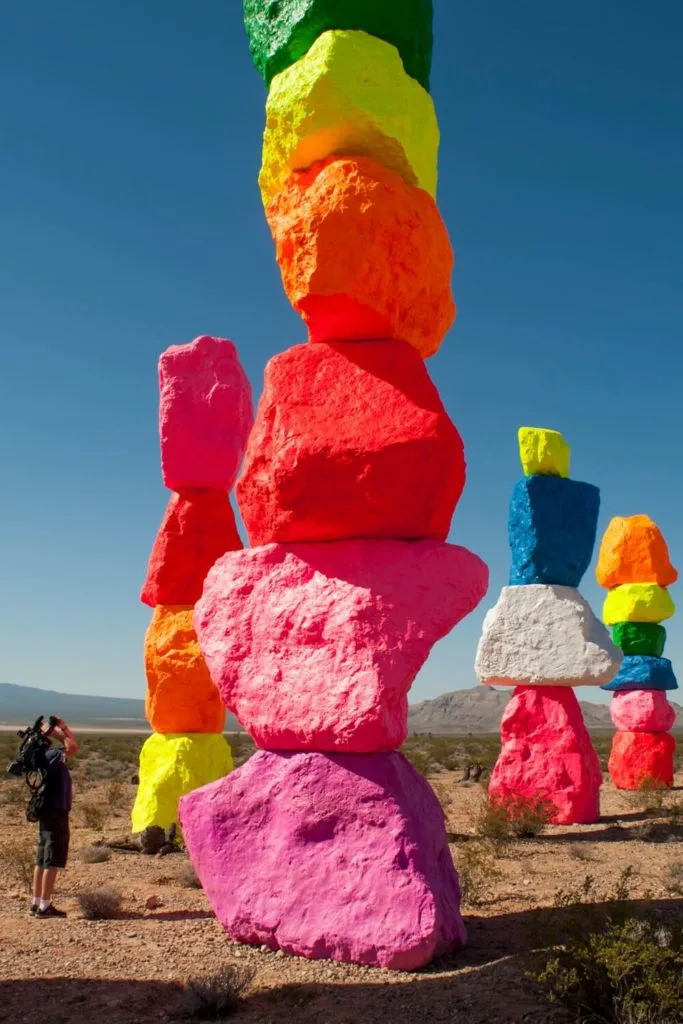 Another fun day trip to to take a drive out to see the Seven Magic Mountains public art installation by Ugo Rondinone.
This outdoor attraction is made up of stacks of colorfully painted boulders, stacked vertically – out in the middle of nowhere! It sounds simple, but it's a lot of fun and makes for a great photo.
TIP: If you have a rental car, you could add this, the Las Vegas sign, and other nearby attractions to your day trip itinerary!
Challenge yourself at an Escape Room
Escape rooms are still all the rage – even in Las Vegas. There are a bunch to choose from – including a risqué, XXX-themed one; it is Vegas, after all!
Mind Twist at the Fashion Show Mall, PanIQ Escape Room & Lounge at The Grand Canal Shoppes, and The Escape Game at The Forum Shops are all located on Las Vegas Blvd, so you don't even have to leave the strip!
For adults-only, check out Escape Vegas XXX to try to escape Mr Grey's Red Room of Pain or Reefer Madness.
Ride motorcycles down the strip
The Las Vegas strip includes its own Harley-Davidson dealership, where you can buy or rent a motorcycle.
Don't know how to ride? You can take lessons, too!
Play golf in Vegas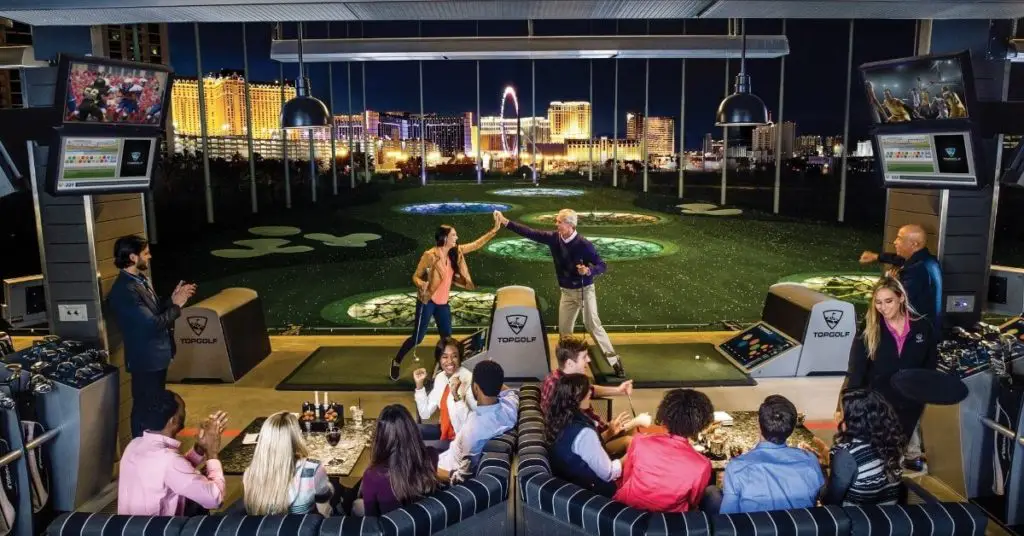 Get some tee time in at one of Sin City's many golf courses, such as the one attached to Wynn.
If you're looking to just practice your swing, head to Topgolf, behind the MGM Grand's Signature Towers.
Or how about a round of mini golf at KISS by Monster Mini Golf?
Race cars in Las Vegas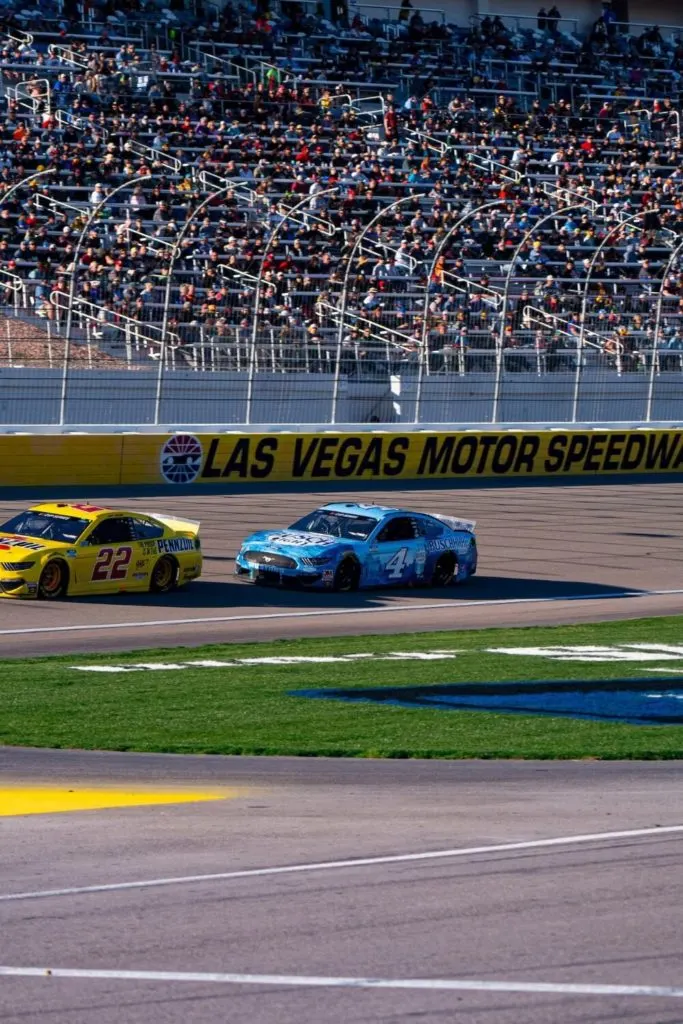 If you've ever dreamed of being a Nascar race driver, Vegas is the place to live out that fantasy.
At the Las Vegas Motor Speedway, you can watch different races, drive a race car with the Richard Petty Driving Experience, or drive dune buggies or ATVs through the Nellis Dunes.
Step it up a notch and take a lap in a super luxury car, such as a Lamborghini Gallardo or McLaren 5705, at Speed Vegas.
If you're more into go-karts, check out the Pole Position Raceway across from the Palms.
Ride all the thrill rides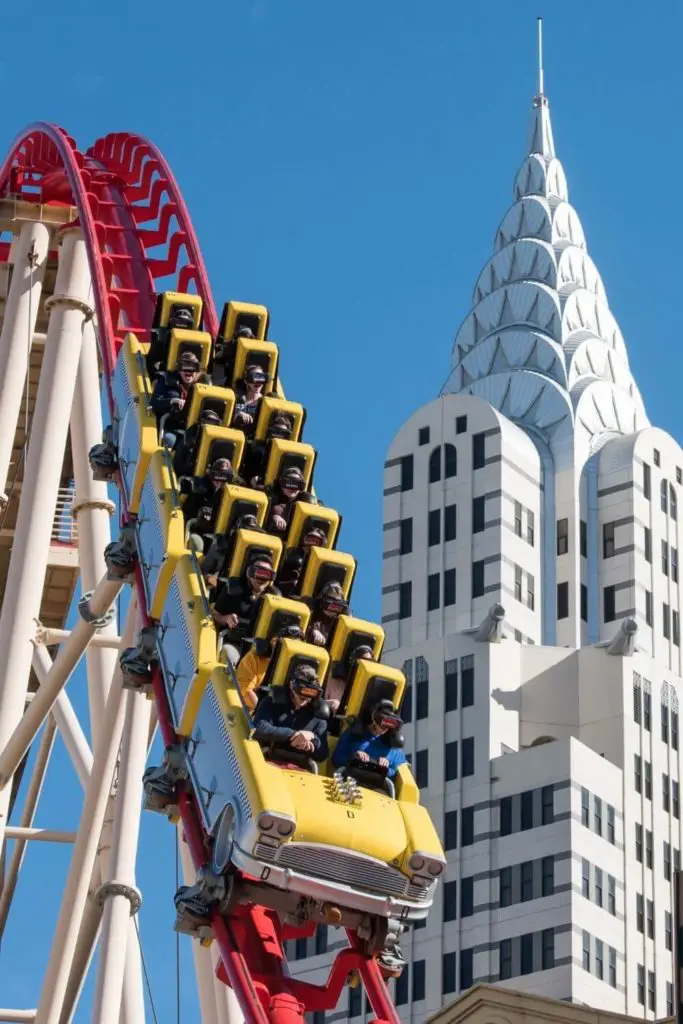 Zip through the city skyline at Rio Hotel and Casino's VooDoo Zip Line or through downtown at the Fremont Street Experience's Slotzilla.
Ride the X Scream roller coaster at the Stratosphere Hotel or the Big Apple Coaster at the New York – New York Hotel.
Experience sky diving at Vegas Indoor Skydiving.
If you're not quite ready for sky diving, try SkyJump at the Stratosphere. It's a bit more controlled, kind of like a cross between sky diving and bungee jumping.
For an entire day's worth of thrill rides, hit up Adventuredome at Circus Circus, where you can ride 2 coasters, go bungee jumping, play laser tag, and more.
Play at Area15
Location: 3215 S Rancho Dr
Phone: (702) 846-1900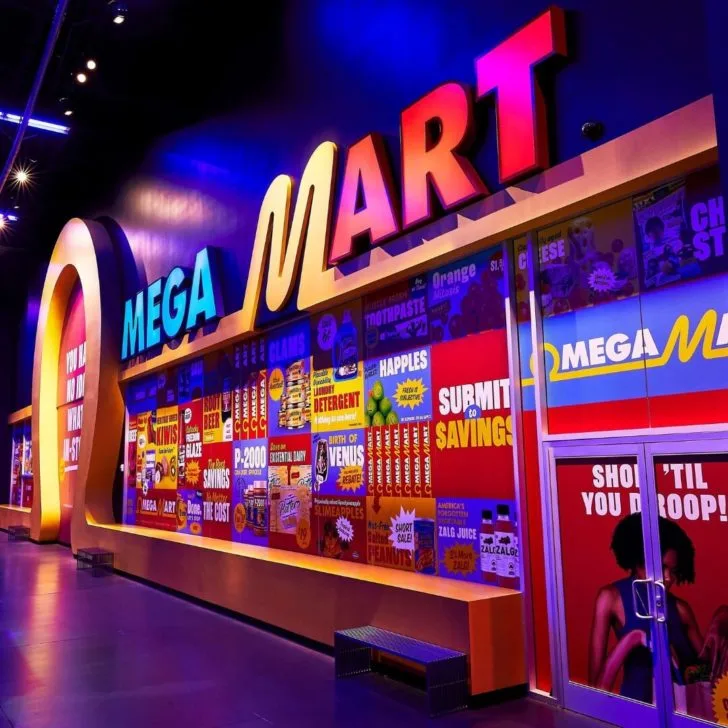 Area15 is a bit hard to describe, but in a nutshell, it's a trippy adult playground.
It has virtual reality rides, immersive experiences, and interactive exhibits, like Dueling Axes, Illuminarium, Omega Mart, and Wink World.
Area15 also hosts some pretty epic events, like a Shrek themed rave, Little Miss Nasty (Rock & Metal Burlesque!), and Happy Camper, a Summer camp themed rave.
Visit Las Vegas' Art District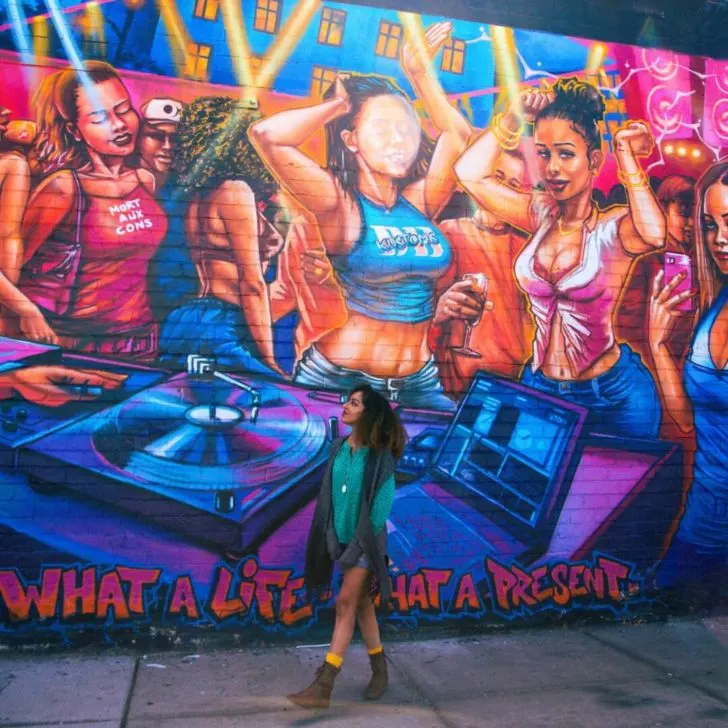 If you love public art, head over to Las Vegas' Art District, just south of downtown Vegas, Fremont Street, and the container park area.
This neighborhood has been transformed into an outdoor street art and mural gallery. In addition to the public art, there are tons of art galleries, performing arts spaces, bars, lounges, and shops.
Wandering the streets in this neighborhood to find new murals has quickly become on of my favorite things to do in Las Vegas!
Check out the best views in Vegas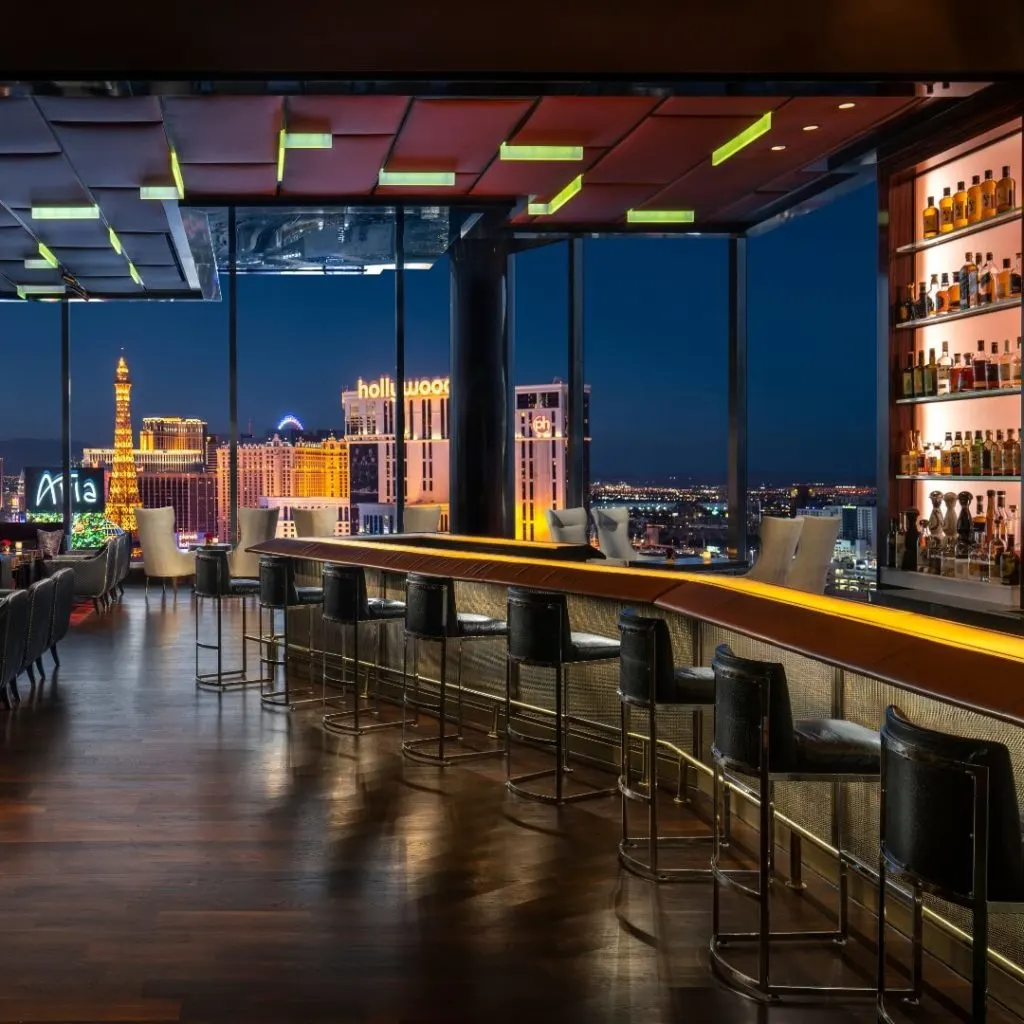 While many of the hotels on the strip offer impressive views of the city, there are a few standouts.
My top pick for best view in Las Vegas is the High Roller, the largest ferris wheel in the world. My favorite time to go is in the evening so you can see Las Vegas lit up at night.
The Top of the World restaurant at The Stratosphere is well-known for its view from the top of the Strip and serves a decent dinner.
SkyBar at Waldorf Astoria Las Vegas and the Eiffel Tower observation deck and restaurant at Paris Las Vegas have great mid-strip views, as well.
Take a day trip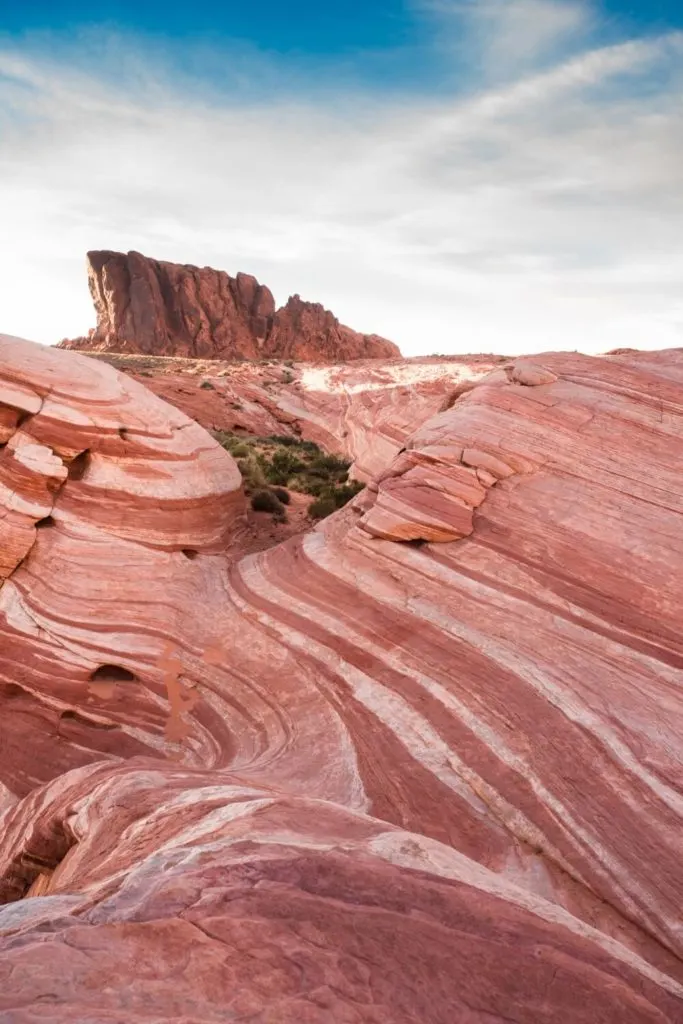 If you need a break from the glitz and glamour of your time in the city, consider taking a day trip.
There are lots of parks nearby Las Vegas if you want a bit of the outdoors, such as:
Colorado River
Death Valley National Park
Grand Canyon National Park, including Grand Canyon's West Rim & the Grand Canyon Skywalk
Hoover Dam
Lake Mead
Red Rock Canyon National Conservation Area
Zion National Park
Valley of Fire
Road trips through the Nevada desert and surrounding area, such as driving historic Route 66, are another fun option.
For more ideas, check out my post about day trips from Las Vegas.
Visit the Springs Preserve
Location: 333 S. Valley View Blvd
Phone: (702) 822-7700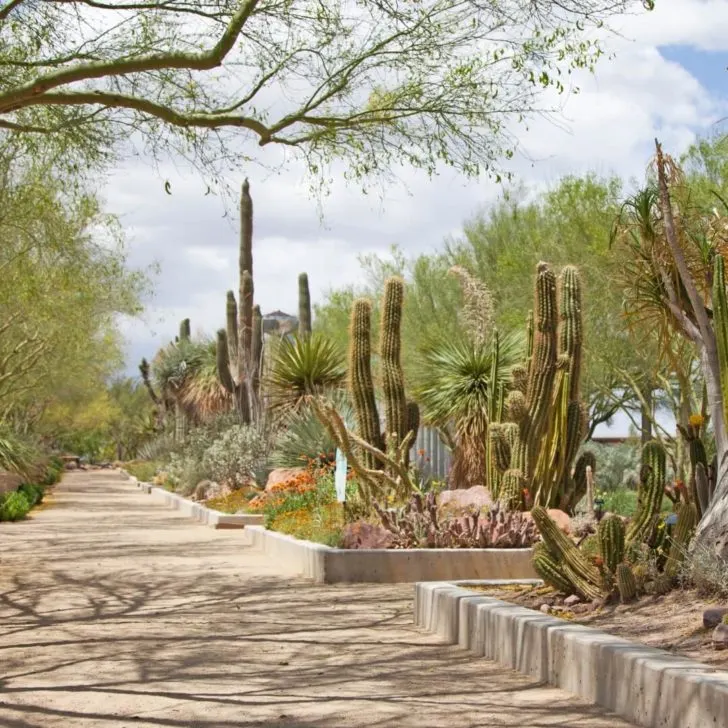 Speaking of the outdoors, a hidden gem in Las Vegas is the Springs Preserve.
There are multiple attractions of interest here, such as the desert botanical gardens, walking trails, and kiddie train rides, and Boomtown 1905, a recreation of Vegas in its early years.
In addition, Nevada State Museum and Origen Museum are also located at the Springs Preserve.
The Origen Museum covers the natural origins of Vegas, while the Nevada State Museum has a variety of exhibits specific to the state of Nevada.
Catch a show or concert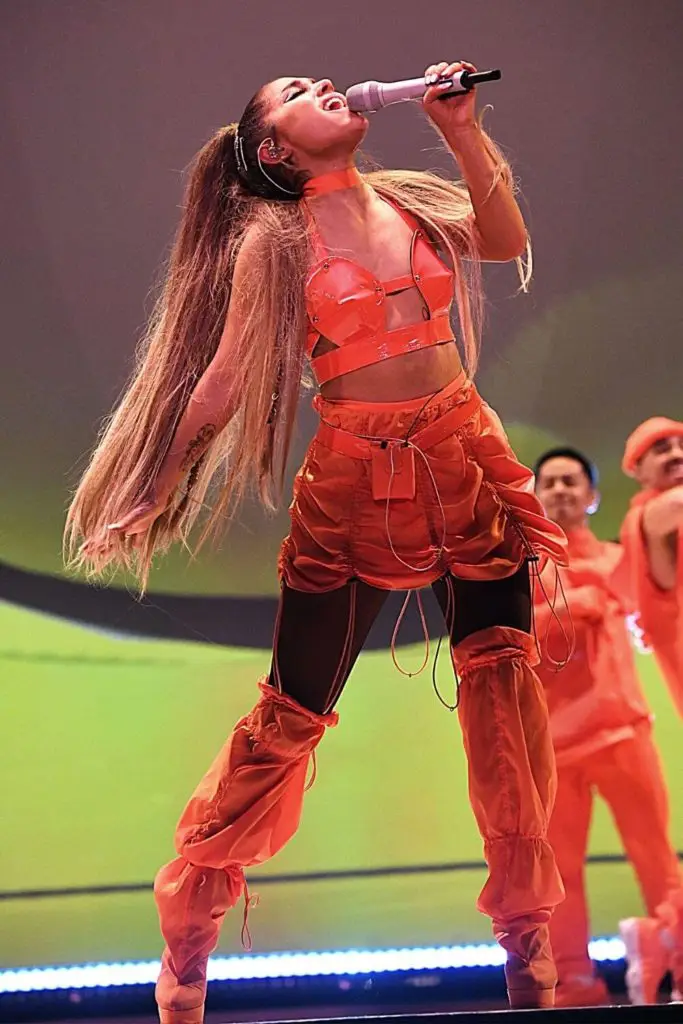 Las Vegas is filled with a wide variety of shows that are funny, flashy, weird, and enticing.
There are Broadway-style shows, concerts, comedians, magicians, festivals, and so much more. Cirque du Soleil also puts on several excellent shows in Vegas.
To whittle down which show or concert to see, check out my list of the best shows in Vegas.
See a concert at Red Rock Canyon
Sure, you could see a concert at a swanky venue or nightclub in Vegas, but for a truly unique experience, add seeing a concert at Red Rock Canyon to your bucket list.
Not only are the acoustics stellar, but you'll be surrounded by stars – literally and figuratively!
Famous concerts at Red Rock Canyon in the past have included The Beatles, Pearl Jam, Dave Matthews Band, John Denver, James Taylor, U2, Paramore, and Zac Brown Band.
See a sports game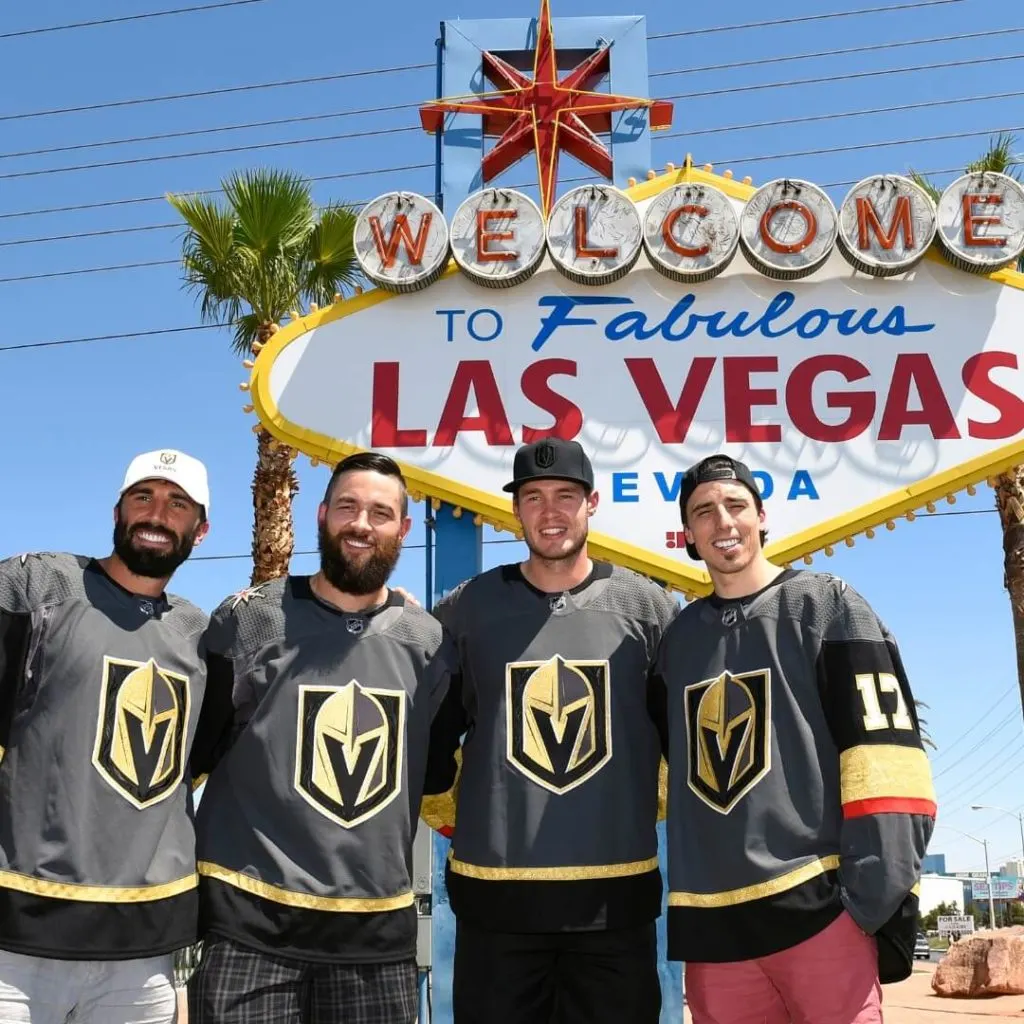 Surprisingly, Las Vegas didn't have any professional sports teams until a few years ago! Now you can catch a football, hockey, soccer or women's basketball game.
These are the local teams to look out for:
NFL Las Vegas Raiders
NHL Las Vegas Golden Knights
USL Las Vegas Lights
WNBA Las Vegas Aces
The UFC, or Ultimate Fighting Championship, also runs most matches out of Las Vegas.
What are your favorite things to do in Las Vegas?
Are you ready to book your trip now that you know all the awesome things you can do?
Use the search box below to find the best deals on hotels in Las Vegas.
And remember what they say… What happens in Vegas, stays in Vegas!
Next up, check out these posts:
---
About the author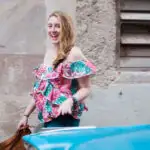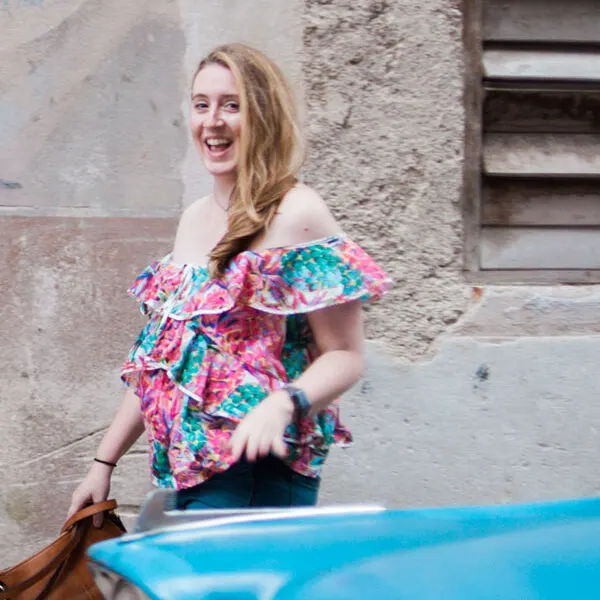 Meg Frost is a Boston-based travel blogger that helps people embrace technology to make vacation planning and traveling wicked easy, affordable, and fun.
She holds an M.A. in Journalism from Northeastern University and B.S. in Communication & American Studies from University of Miami.
---
This post was originally published March 25, 2017. It was last updated December 24, 2022.