There are plenty of things to do in Las Vegas, but sometimes you just want to get out of the city for a day while you're there.
Las Vegas is an awesome base for taking day trips to some of the most beautiful parks and attractions in the western US.
If you're in Las Vegas for more than a night or 2, I highly recommend setting aside time for a day trip. Need some ideas?
Check out these 13 fun day trips from Las Vegas.
Area 51
If you're in Vegas, chances are weird and bizarre is something you're open to.
If so, Area 51 is one of those day trips from Las Vegas that'll be right up your alley.
This itinerary includes a road trip along the Extraterrestrial Highway, aka Route 375. Stop in the town of Rachel, which is a little over 2 hours north from Las Vegas, for organized tours.
Who knows, maybe you'll spot a UFO or meet an alien?
Bryce Canyon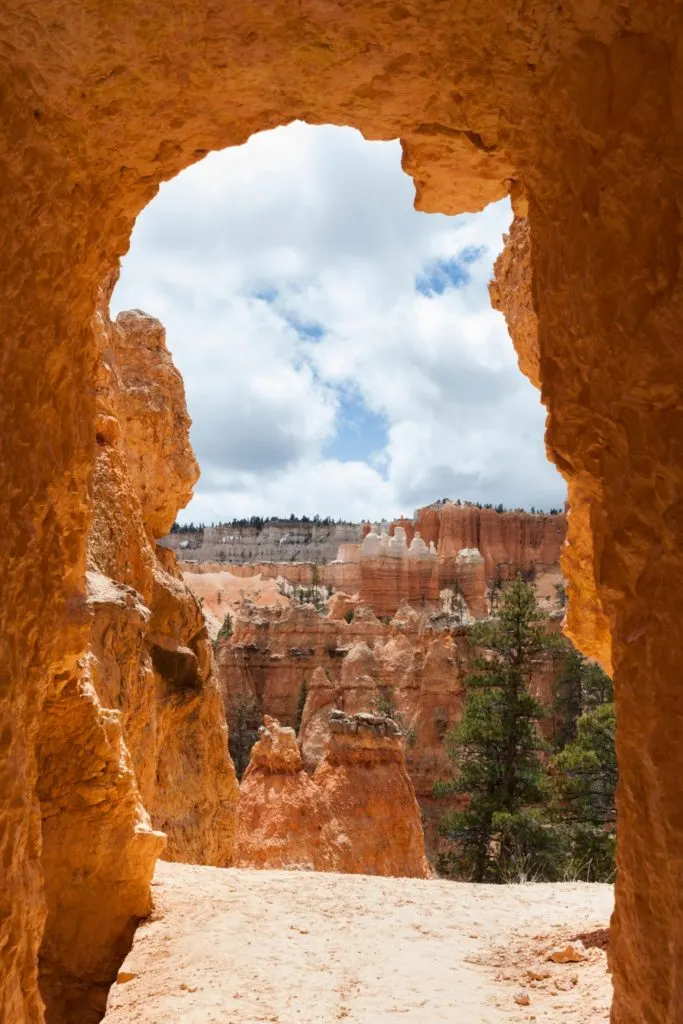 Bryce Canyon National Park in Utah is one of several U.S. National Parks you can visit on a day trip from Las Vegas.
It's about a 4 hour drive, so it'll be a long day – but it's totally worth it!
Bryce Canyon sets its self apart from the more popular canyon destination, Grand Canyon National Park, due to its spike-like rock formations called hoodoos.
They're kinda spooky and beautiful at the same time, no?
Death Valley National Park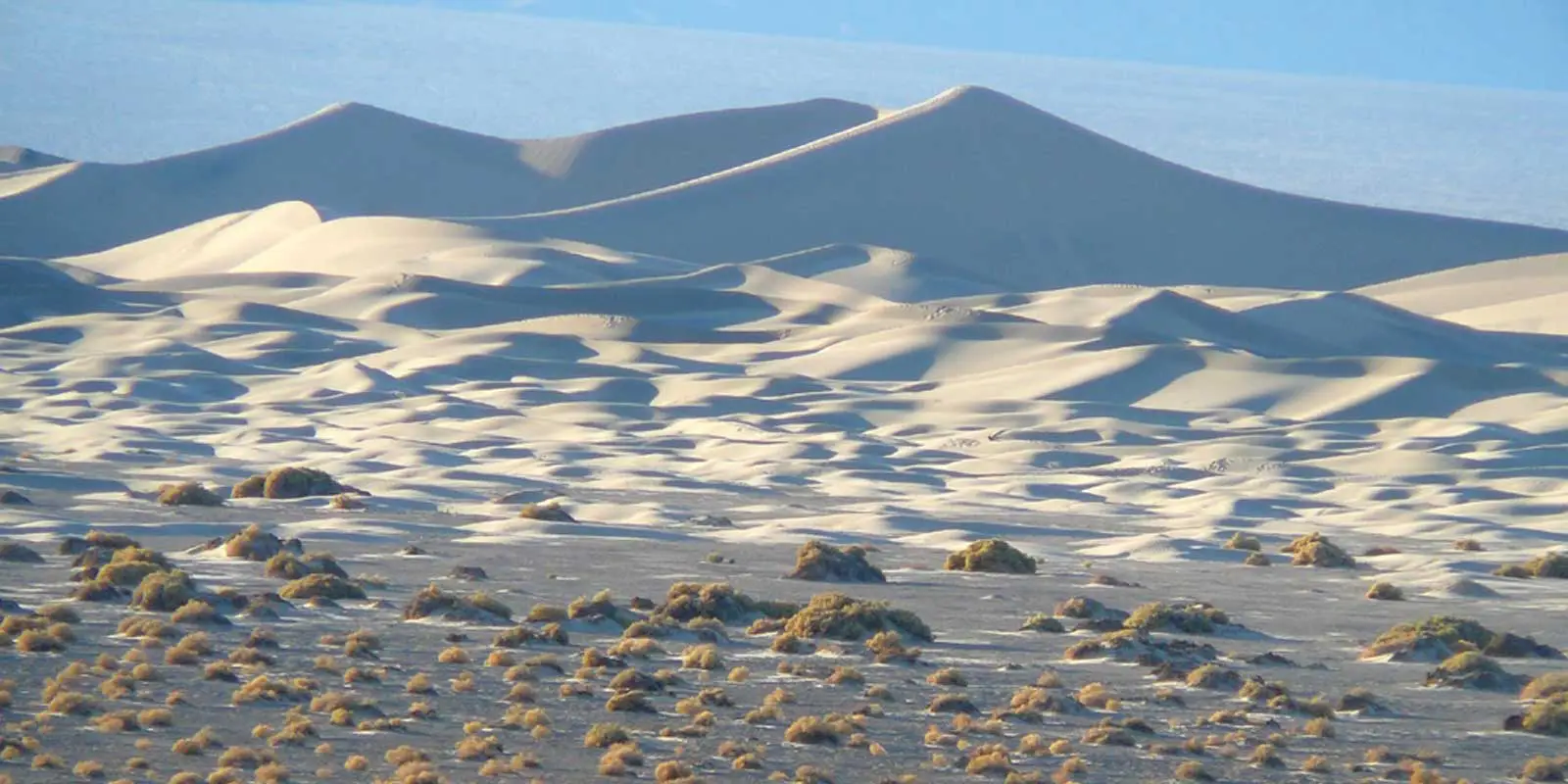 Death Valley National Park is a vast desert in the U.S. that is one of the hottest places in the world.
If you make the 2-hour trek out here, make sure you prepare for the intense elements. Bring lots of water, sunscreen, and a shady hat.
Grand Canyon trips from Las Vegas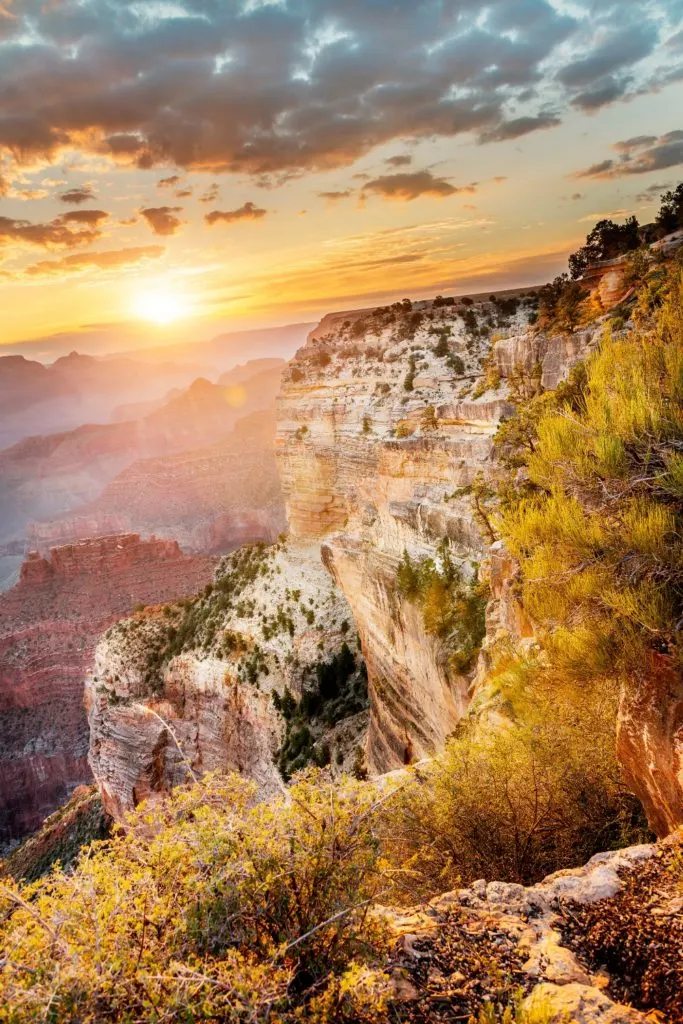 Grand Canyon National Park is probably the US National Park Service's most well-known park.
I've been twice, and personally I think it deserves more than a day trip. However, it can absolutely be done in a day from Las Vegas.
There are 2 Grand Canyon day trips Las Vegas that are popular: Grand Canyon Deluxe Helicopter Tour from Las Vegas and the Grand Canyon West Rim Bus Tour w/ Hoover Dam & Optional Skywalk. Both tours leave from the Las Vegas strip.
NOTE: The Skywalk is not part of the official Grand Canyon National Park. It is located on Hualapai land.
Hoover Dam
Located in Boulder City, the Hoover Dam is a mere 45 minutes from Las Vegas, making it one of the shortest days trips from Las Vegas.
If you don't want to be gone all day, this is a great day trip for you!
That said, if you want to stretch your time here, pencil in some time on the Black Canyon National Water Trail.
This trail is a 30-mile stretch along the Colorado River that features beaches, hot springs, caves, and wildlife spotting.
Permits are required for accessing it from the Hoover Dam area, and the easiest way to do that is on a tour.
Lake Mead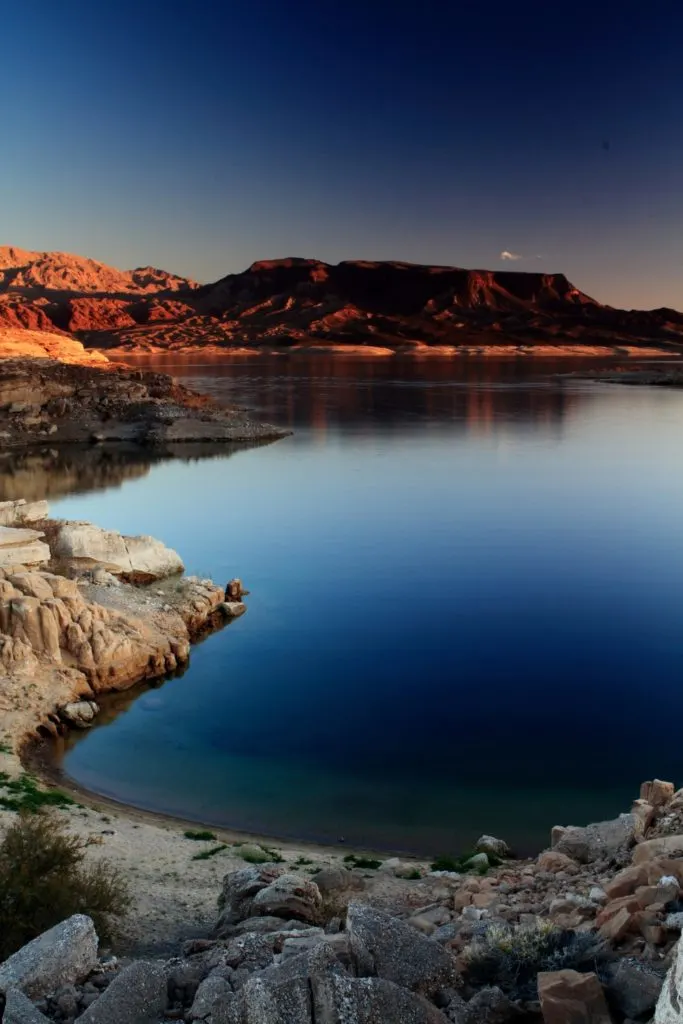 If you're looking for a day trip in the great outdoors, but want a short commute, Lake Mead National Recreation Area is the perfect pick.
Located next to the Hoover Dam, Lake Mead National Recreation Area offers plenty to do, such as picnicking, hiking, camping, and boating.
Mojave National Preserve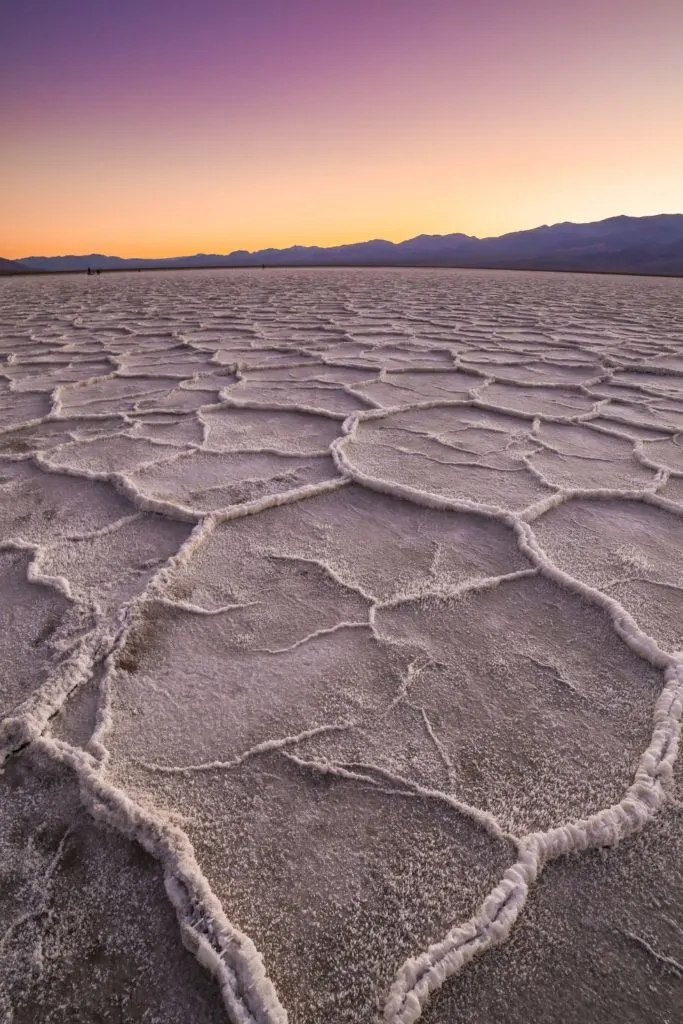 Mojave National Preserve in California is a little over 1.5 hours from Las Vegas, making it another good pick for an outdoorsy day trip within reach.
The Mojave National Preserve has camping, hiking, horseback riding, and other outdoor activities.
There are also ghost towns surrounding some areas of the Mojave Desert that might be worth a visit for you.
Mount Charleston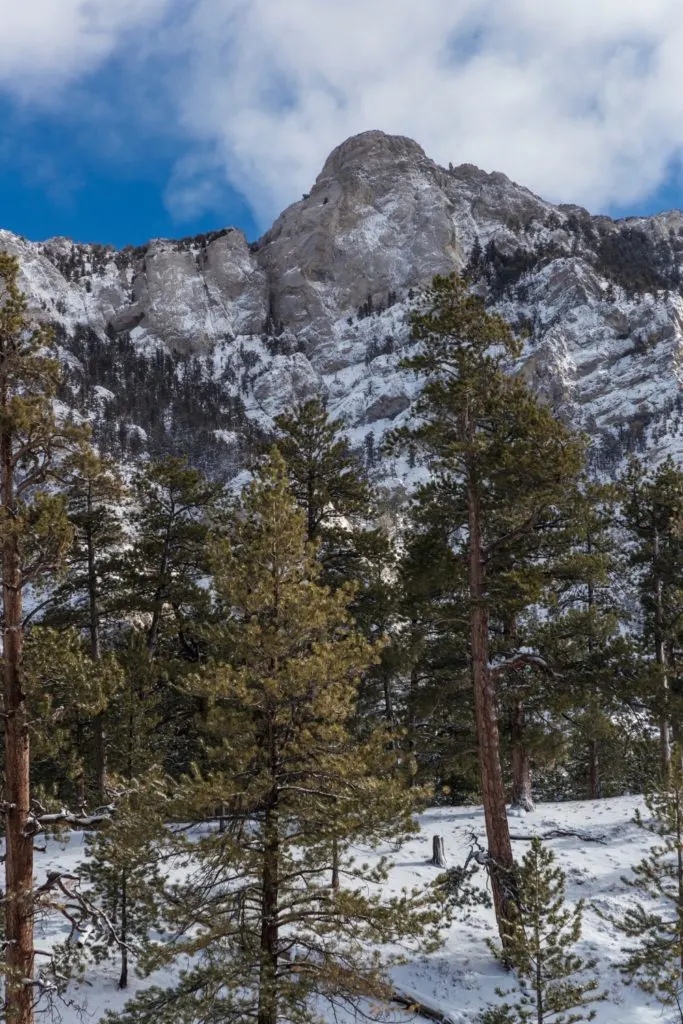 Not only does Mount Charleston offer hiking, but skiing as well. Who knew you could go from sandy, dry Las Vegas to skiing in a day?
Mount Charleston is about an hour Northwest from Las Vegas. Better pack your skis next time you head to Las Vegas!
Red Rock Canyon National Conservation Area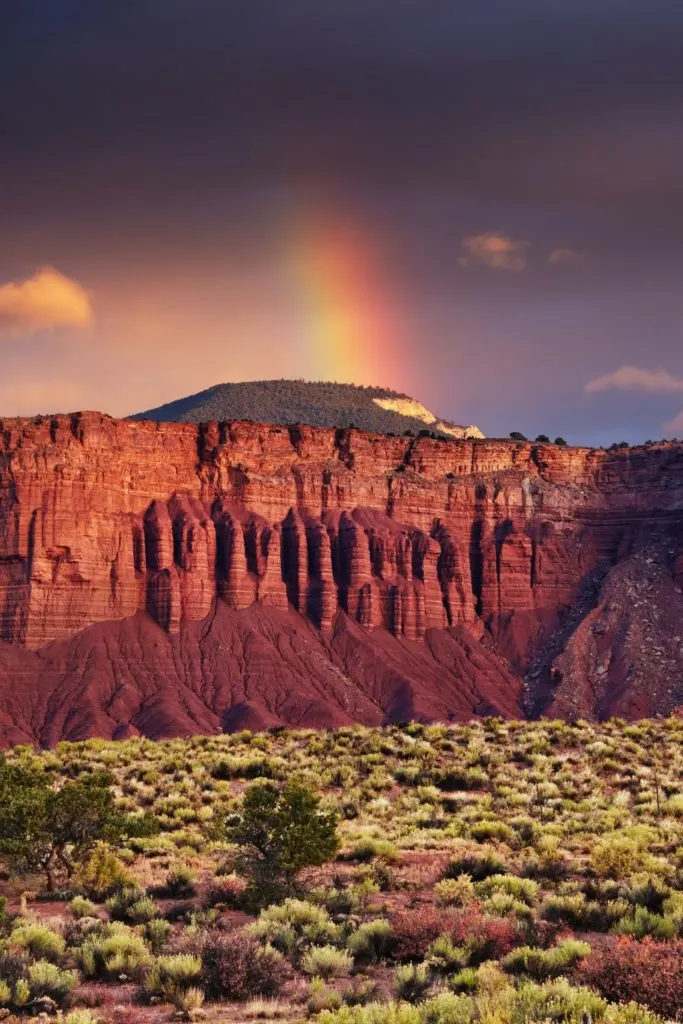 There are a ton of things to do in Red Rock Canyon, a mere 17-miles from Las Vegas.
You can go rock climbing, hiking, biking, horseback riding, and much more. You can even get married there!
Route 66 road trip
Get your kicks on Route 66 in a road trip through some of the most interesting small towns in the west, such as Seligman, AZ.
Seligman was allegedly the inspiration for the fictional town of Radiator Springs in Disney's hit movie, Cars.
Seven Magic Mountains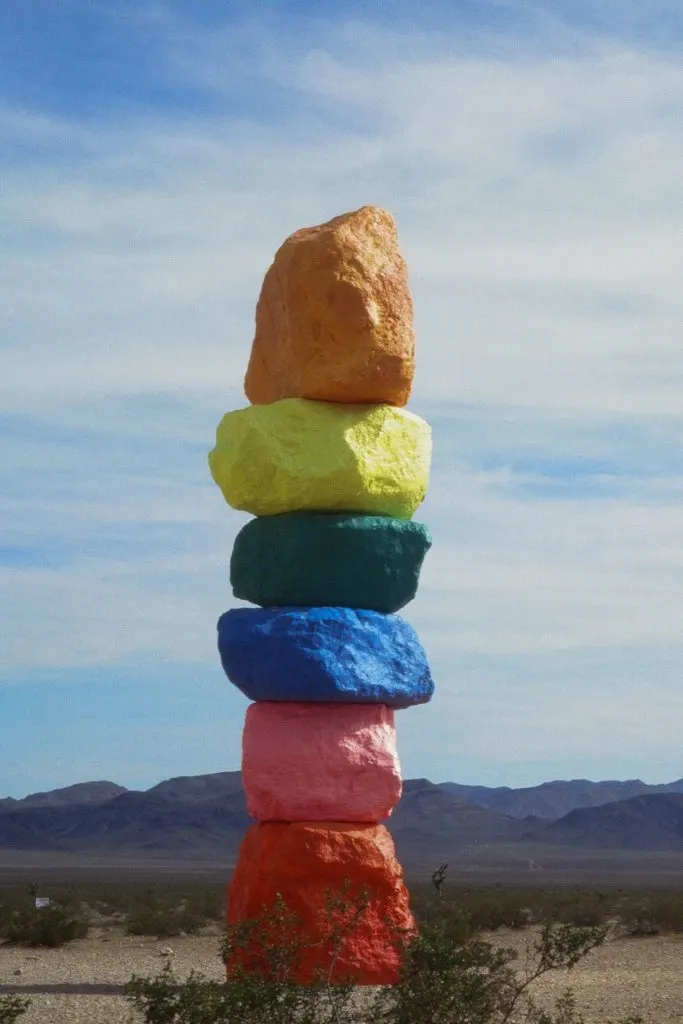 Seven Magic Mountains is a public art installation by Swiss artist Ugo Rondinone. It includes 7 pillars of colorfully-painted boulders stacked vertically over 30 feet high in a wide-open field.
It's a super quick day trip, as it's only 10 miles south of Las Vegas. Plus, all there is to do there is admire the art and take some fun photos.
This fun public art installation was only supposed to be available for 2 years, but it has been so popular with visitors to Vegas that it is still standing more than 6 years later. Rondinone has expresses the desire to keep it installed permanently.
Valley of Fire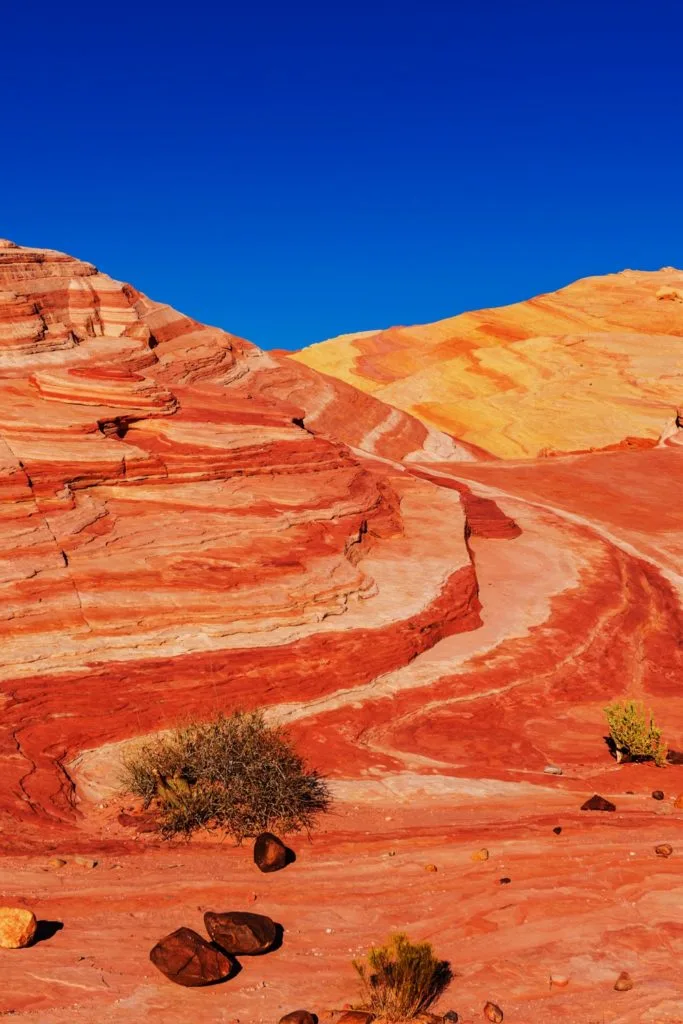 The Valley of Fire gets its name from the bright red Aztec sandstone that swirls through limestone almost like marble. It is a sight to see!
This beautiful park is only about an hour Northeast from Las Vegas.
Zion National Park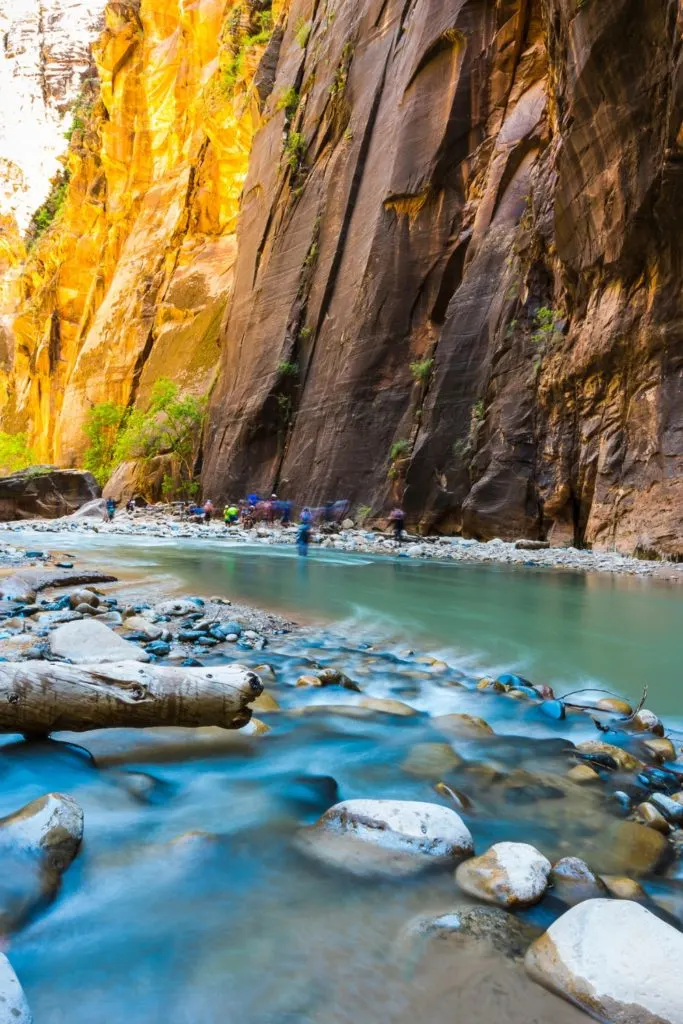 Zion National Park is about 2.5 hours Northeast from Las Vegas.
It's not a super short day trip, like Red Rocks, but shorter than the Grand Canyon or Bryce Canyon for sure.
There are lots of fun outdoor activities at Zion National Park.
Hiking and climbing or canyoneering are the most popular.
But you can also just admire the beautiful scenery on a leisurely walk, too.
Which day trips from Las Vegas are on your itinerary?
Let me know in the comments below what your favorite day trips are.
Up next, check out more of my favorite travel tips for Las Vegas and beyond:
---
About the author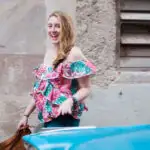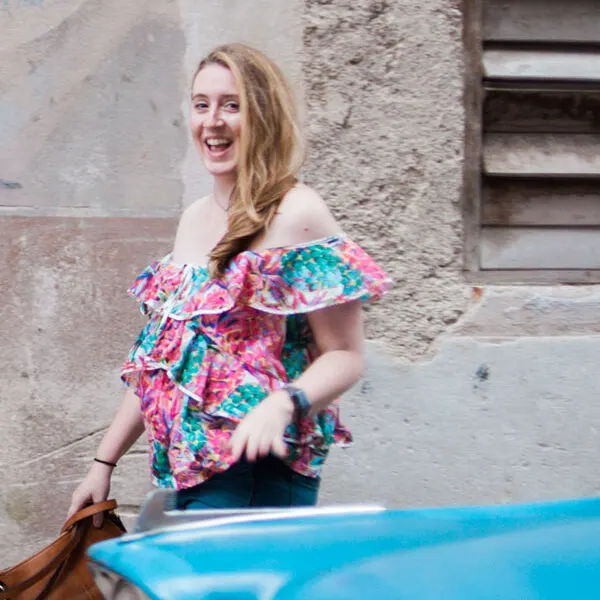 Meg Frost is a Boston-based travel blogger that helps people embrace technology to make vacation planning and traveling wicked easy, affordable, and fun.
She holds an M.A. in Journalism from Northeastern University and B.S. in Communication & American Studies from University of Miami.
---
This post was originally published on March 2, 2017. It was last updated November 2, 2022.