While I'm all for a good party, when it comes to resort pools I just want to kick back and relax. Yes, dolls, even when I'm in Vegas!
If you're looking to book a Las Vegas getaway with lots of chill time, check out these 18 best pools in Vegas that aren't day clubs. Plus, all the scoop on when pools open and close throughout the year.
The Jupiter Pool at Caesars Palace
The Jupiter Pool at Caesars Palace is designed with families that have kids in mind.
There are floaties, yard games, bubbles, kid-approved snacks, and lots of cabanas that are perfect for an afternoon nap.
Call 702-731-7280 to confirm availability and hours.
Beach Club Pool at Flamingo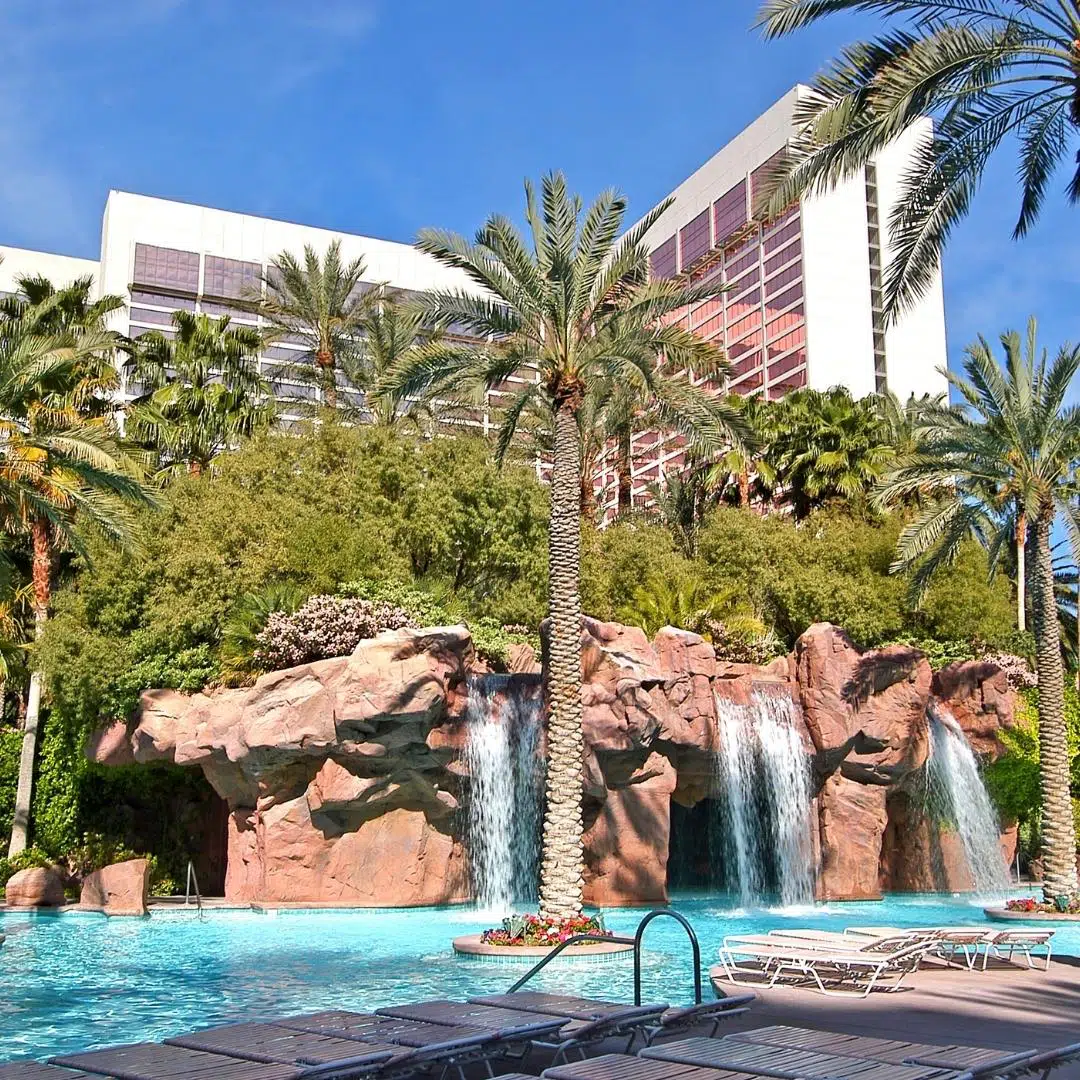 If you're visiting Las Vegas with kids, the Beach Club Pool at Flamingo features a lagoon with waterfalls and a water slide, both of which are sure to be a hit with big and little kids alike.
The Beach Club Pool is free of charge for Flamingo and LINQ guests, but open to the public with a cover charge. It is also closed during the Winter months.
Call 702-697-2888 to confirm availability or cover charge pricing.
Mandalay Bay Beach at Mandalay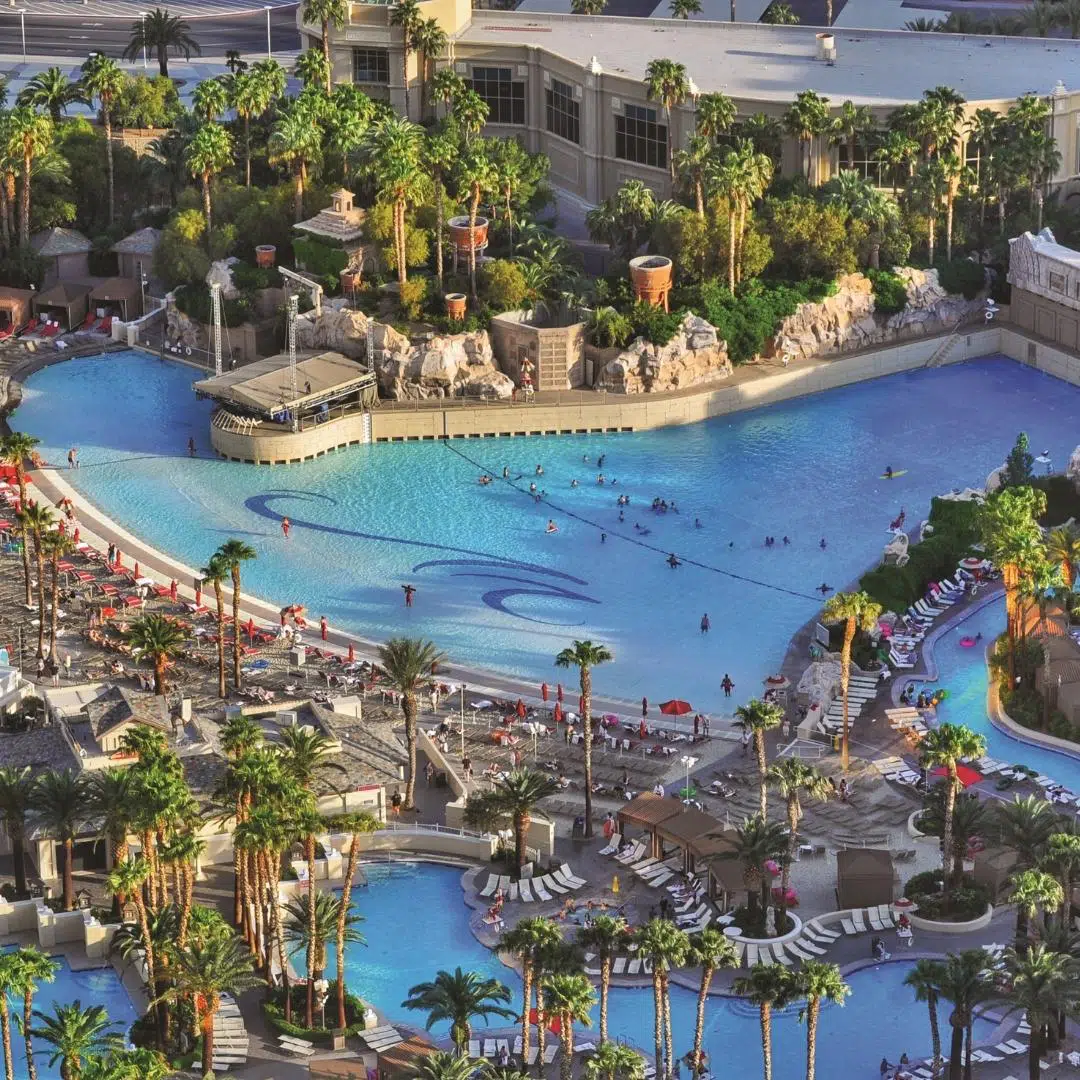 The Mandalay Bay Beach area boasts 11 acres with palm trees, a sand beach, wave pool, lazy river, and several additional swimming pools.
The beach, wave pool, and lazy river close during the Winter months. However, the rest of the pools are open year-round!
Call 877-305-3136 to confirm availability and hours, as they change throughout the year.
MGM Grand Pool Complex at MGM Grand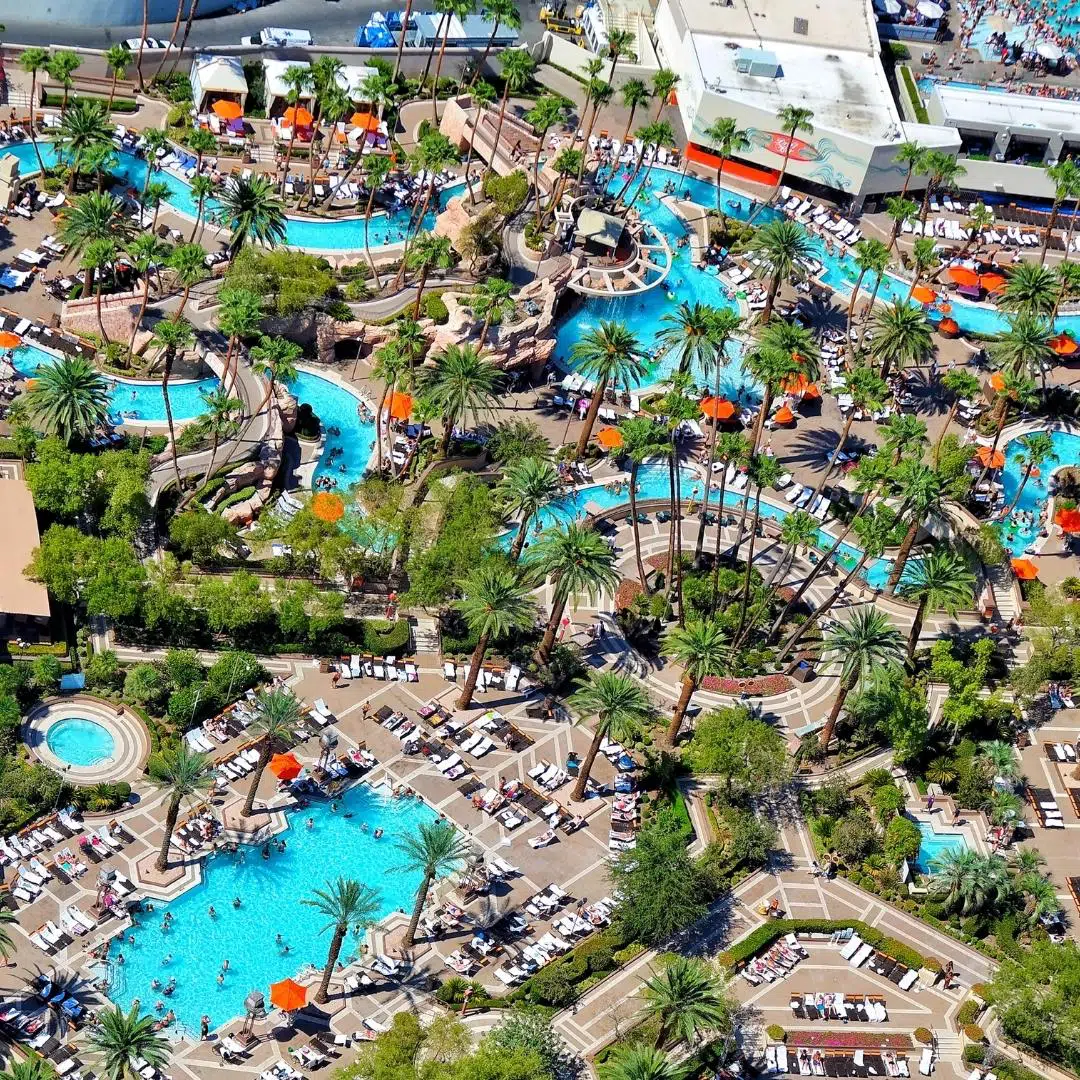 The MGM Grand Pool Complex has 5 bars, 1 restaurant, 4 pools, 3 hot tubs, and a 1,000 foot lazy river, all sprawled across 6.5 acres.
The lazy river and food & drink service are closed during the Winter months. However, the pools and hot tubs are open year round.
During pool season, the MGM Grand Pool Complex is open from 8 AM to 8 PM, while the Lazy River is open from 9 AM to 6 PM.
The complex is free for guests to use and non-hotel guests can visit Monday through Thursday for a fee of $25. Non-hotel guests age 3 and under are free.
MGM Grand has blackout dates for non-hotel guests, and can also turn away non-hotel guests based on capacity. Be sure to call 702-891-3086 ahead of visiting if you are not a hotel guest.
The Boulevard Pool at The Cosmopolitan of Las Vegas
One of the most epic views of the Vegas strip is from the Boulevard Pool at The Cosmopolitan. It features cabanas, daybeds, and lounge chairs.
But the best part is that they play movies on Monday at 8 PM. They call it a dive-in movies. How cute is that?
The movies are free for 2 hotel guests and Identity reward members and 1 military member & a guest (with valid ID). It is also open to locals for $10 (with ID) and $15 for non-locals.
The Boulevard Pool is closed during winter while it is transformed into an ice skating rink. You can read more about it here.
Soleil Pool at Paris Las Vegas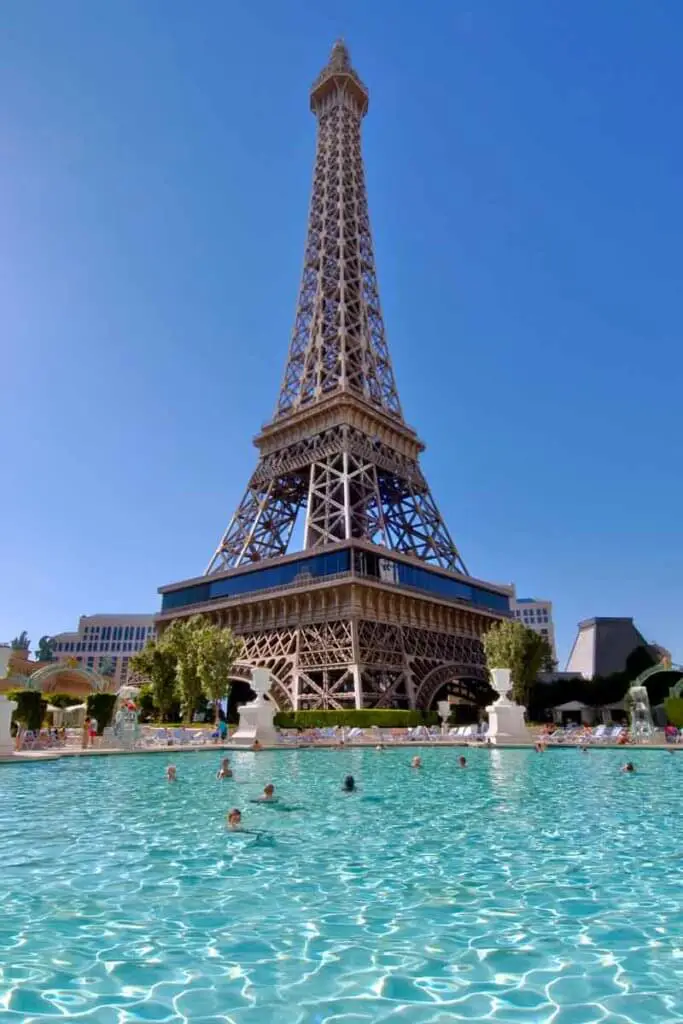 Located directly under the replica of the Eiffel Tower, amongst a French-style garden, is the Soleil Pool at Paris Las Vegas.
Cabanas and villas are available to rent, while lounge chairs are free. In addition, the Soleil Pool is available to Paris Las Vegas hotel guests only.
The Soleil Pool is closed during the Winter months, but open from 9 AM to 6 PM during other seasons.
The Scene Pool Deck at Planet Hollywood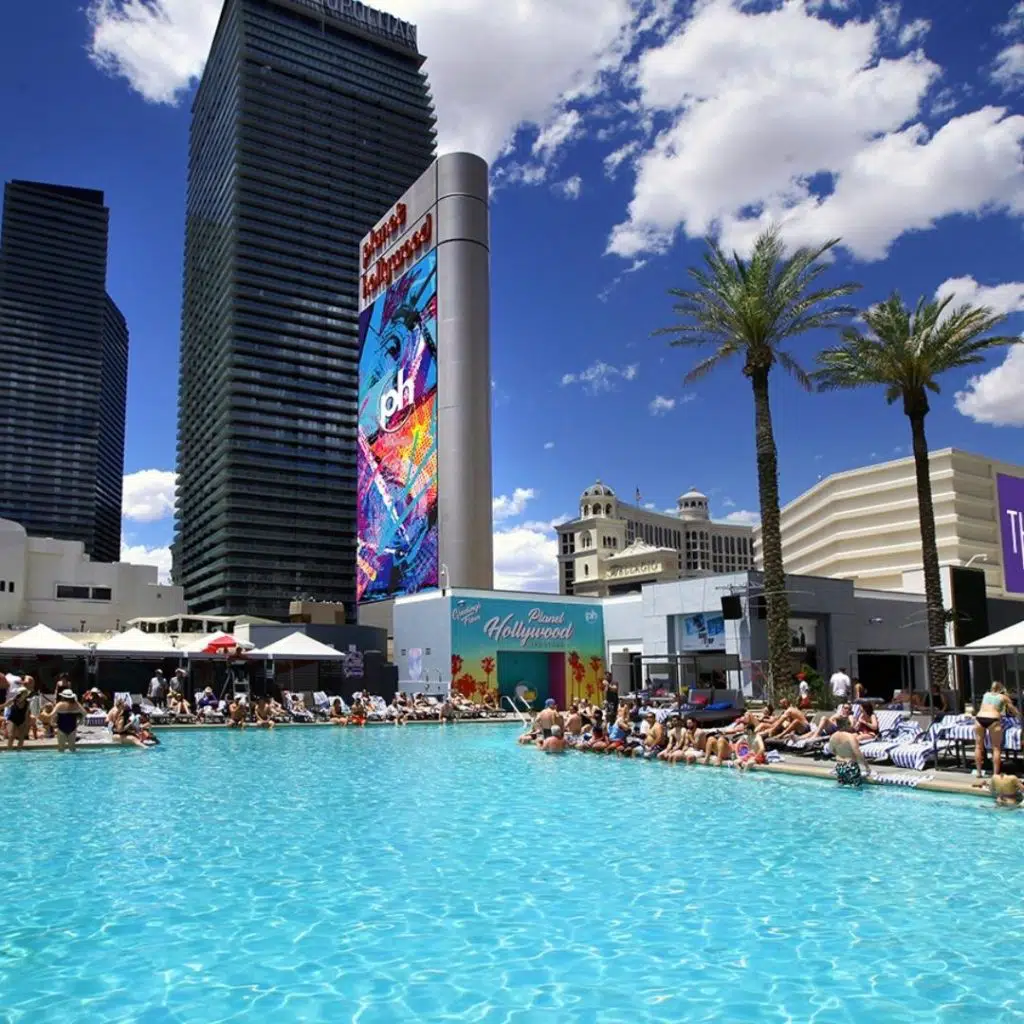 The Scene Pool Deck at Planet Hollywood can get loud with music, but it stops short of day club territory.
There are 2 pools, one that is 21+ and another that is all ages. Both are open from 9 AM to 7 PM.
In addition, there's a surfing simulator called the FlowRider. It's open from 10 AM to 6 PM and costs $25 per 30 minutes.
Guests of other Caesars properties can access The Scene Pool Deck for free by showing their hotel room key. Non-hotel guests have a $10 cover charge, unless they are renting a cabana.
The Mirage Pool at Mirage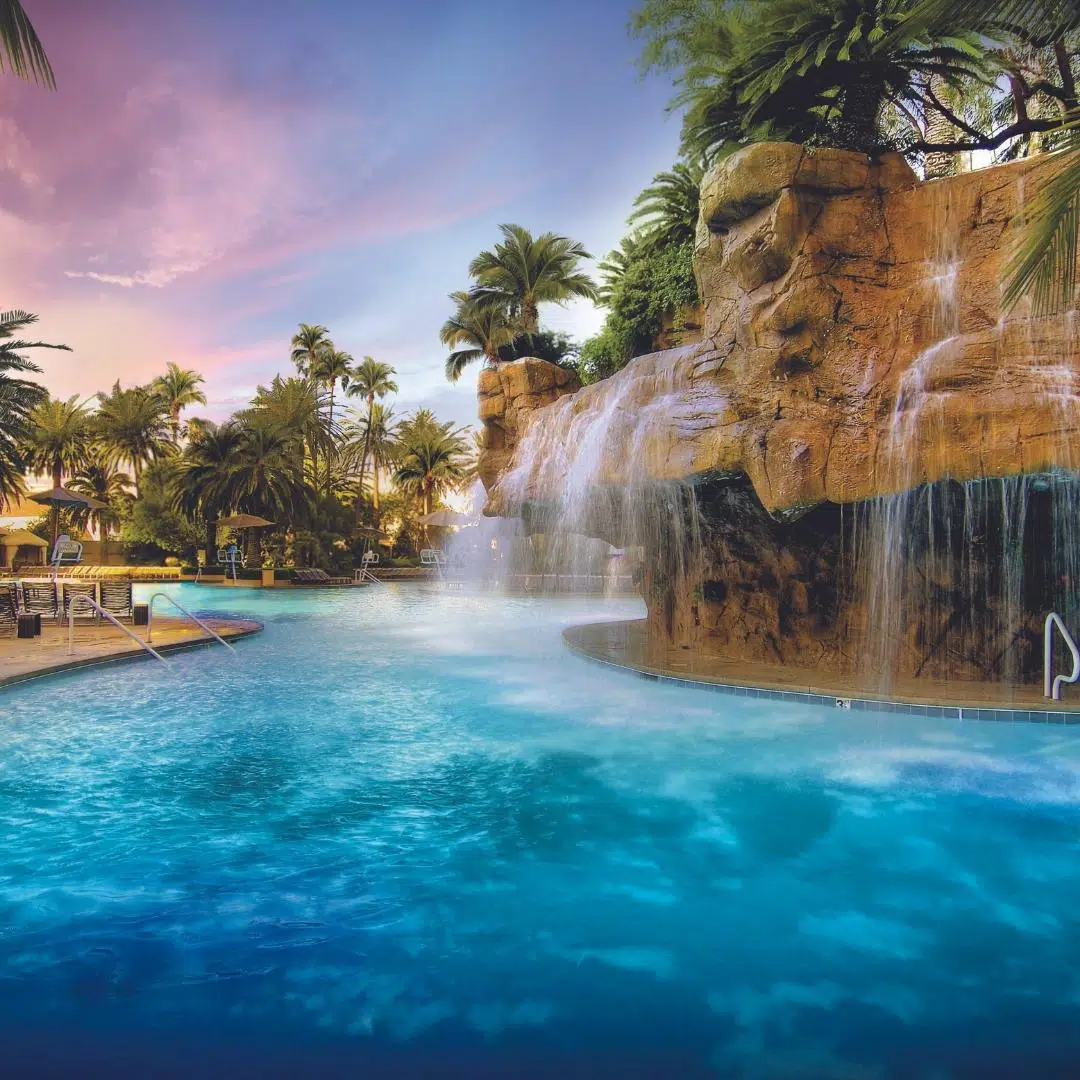 In addition to being heated, this lagoon-like saltwater pool at the Mirage includes waterfalls and hidden nooks.
There are also 2 whirlpools and a smaller, hidden saltwater pool, called the Private Oasis.
The best part about the Mirage pool area is that it is open year round. The general pool area is open from 8 AM to 8 PM, while the Private Oasis is open from 10 AM to 6 PM.
NOTE: The Mirage was sold to Hard Rock in 2022. It is still open and operating as the Mirage, but will be under renovation until about 2025.
The Venetian Pool Deck at the Venetian
The Venetian Pool Deck was renovated in 2019 and is an absolute stunner.
It features 4 pools, 1 hot tub, lounge chairs, and a splash pad for kiddos spread across 2 acres. Plus, it's open year round and heated in the cooler months.
For a premium experience, upgrade to a cabana with a private plunge pool!
The Venetian Pool Deck is open from 10 AM to 4 PM. Hours are often expanded in the Summer months.
The Tank at Golden Nugget
The Golden Nugget's main pool, aka The Tank, features a waterfall, lounge chairs, and private cabanas.
But the best part is the $30 million, 3-story water slide that cuts right through a 200,000 gallon shark tank.
The slide is see-through, so you'll feel like you're right in the tank with the sharks!
Tours of the shark tank are available twice a week on Wednesdays and Sundays at 1:30 PM. The tour is led by a Marine Biologist and currently costs $50 per person.
The Golden Nugget pool areas are closed during most of the Winter season, but often opens up some time in mid-February.
During pool season, the Tank is open from 9 AM to 7 PM, though hours vary throughout the year.
Non-hotel guests can use the main pool at an additional charge: $25 Monday through Thursday and $40 Friday through Sunday. Children under age 6 are free. Pricing is subject to change at any time.
To confirm dates and hours, contact the resort directly at (702) 385-7111.
Sky Villa pools at Palms Casino Resort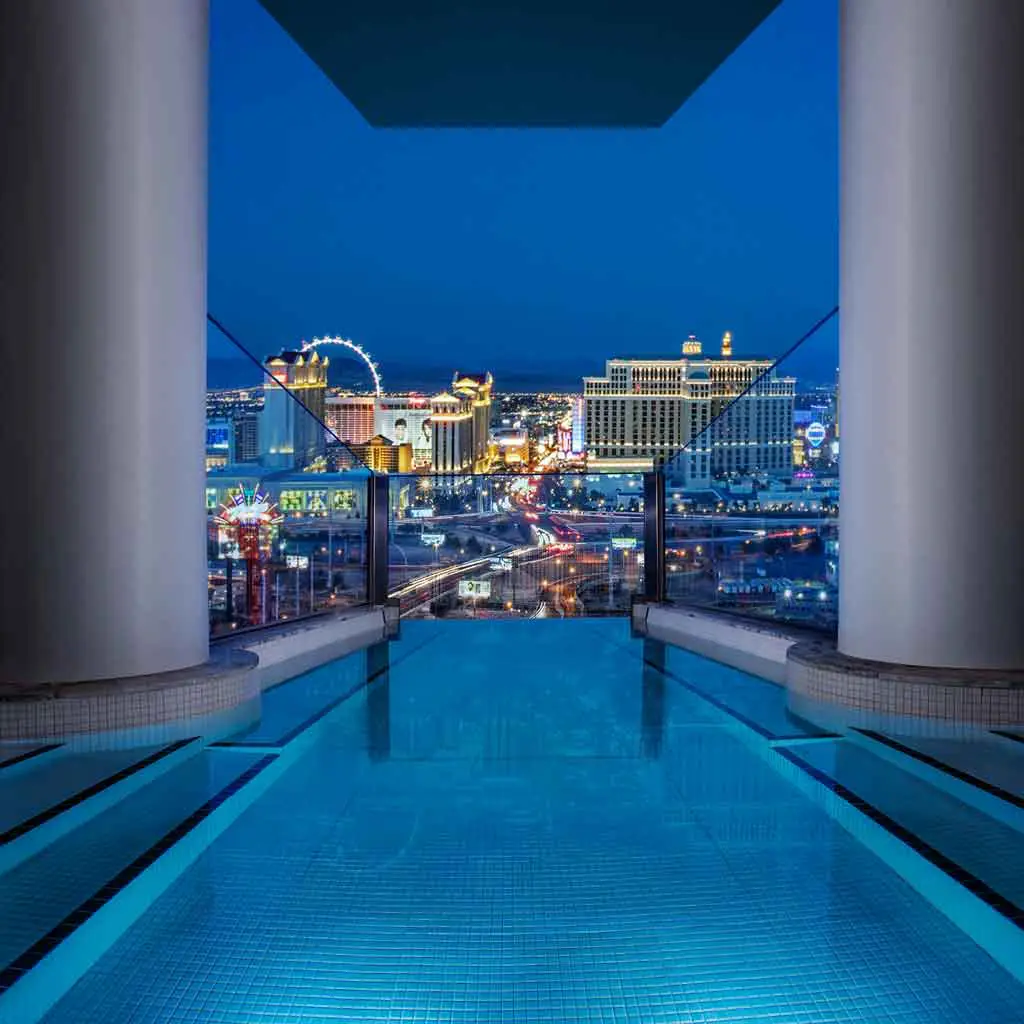 The best infinity pools in Vegas are at the Palms Casino Resort's Sky Villas that overlook the city skyline.
To top it off, not all of the Sky Villas are alike, so that's not the only cool feature to come with it! Some of the villas have personal saunas, swings, personal butlers, and more.
Could a pool be any more baller??
The GO Pool at Flamingo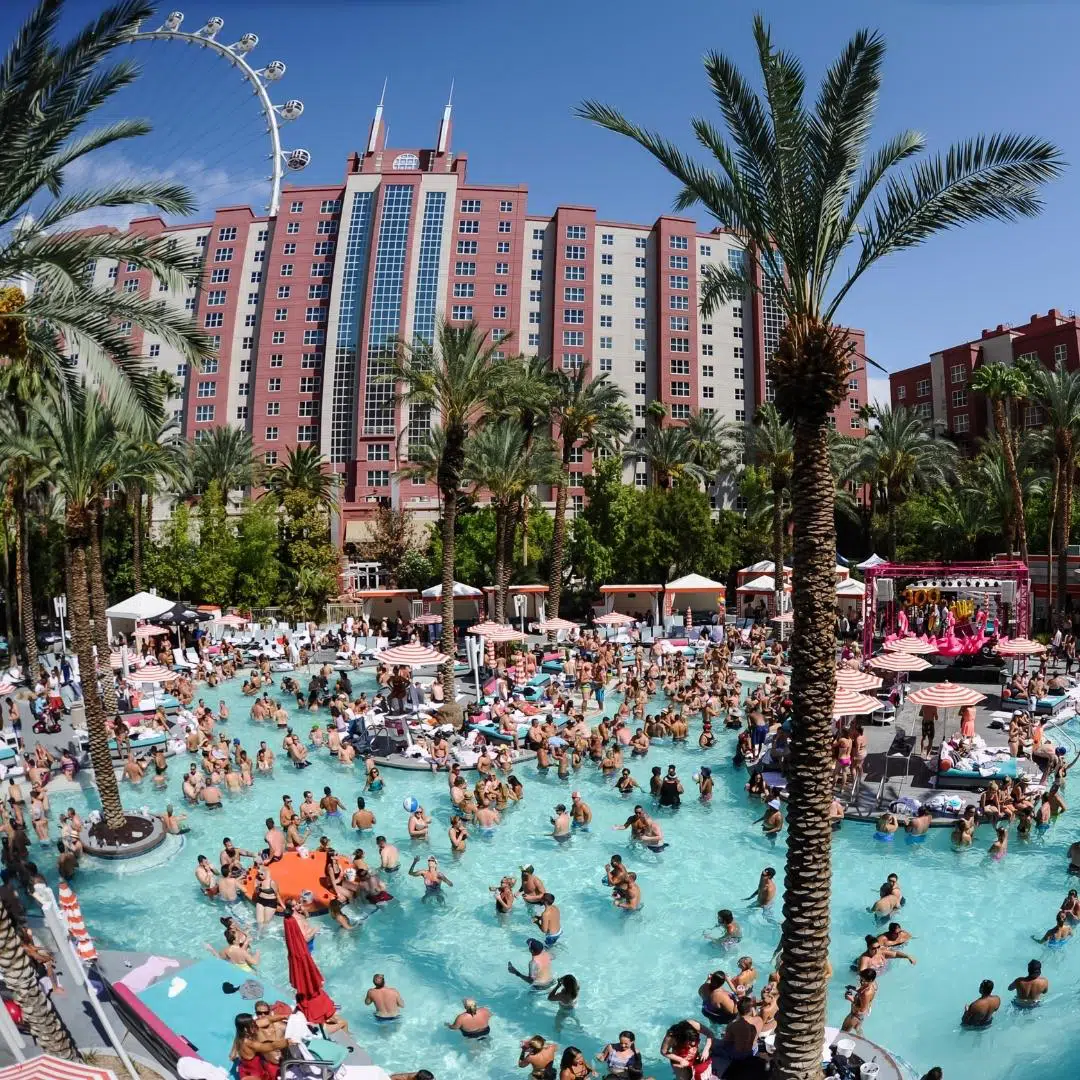 This 21+ pool is free for hotel guests AND the public from Sunday through Friday.
On Saturday and Sunday, the GO Pool is free for hotel guests until 10 AM and $11 after.
For the public, the cover charge on Saturday and Sunday varies from $20 and over, depending on whether there are special events, like their popular LGBTQ parties.
The Hangout at Golden Nugget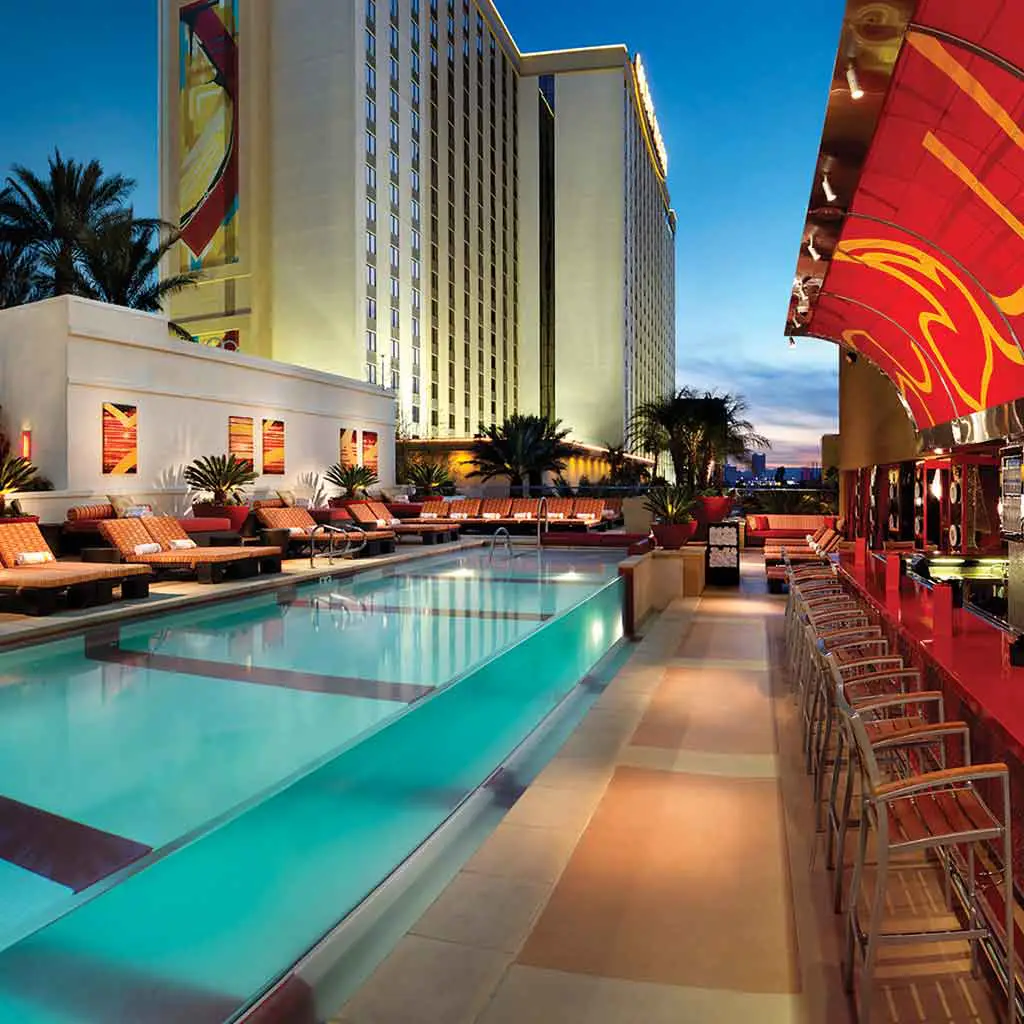 On the top floor of the Golden Nugget Pool Complex is an adults-only spot called The Hangout.
The Hangout is 21+ and features an infinity pool, cabanas, day beds, and a bar.
It is open from 10 AM to 6 PM, with hours subject to change.
The Hangout closes for roughly 2 months in the Winter and typically opens in mid-February.
Influence, The POOL at LINQ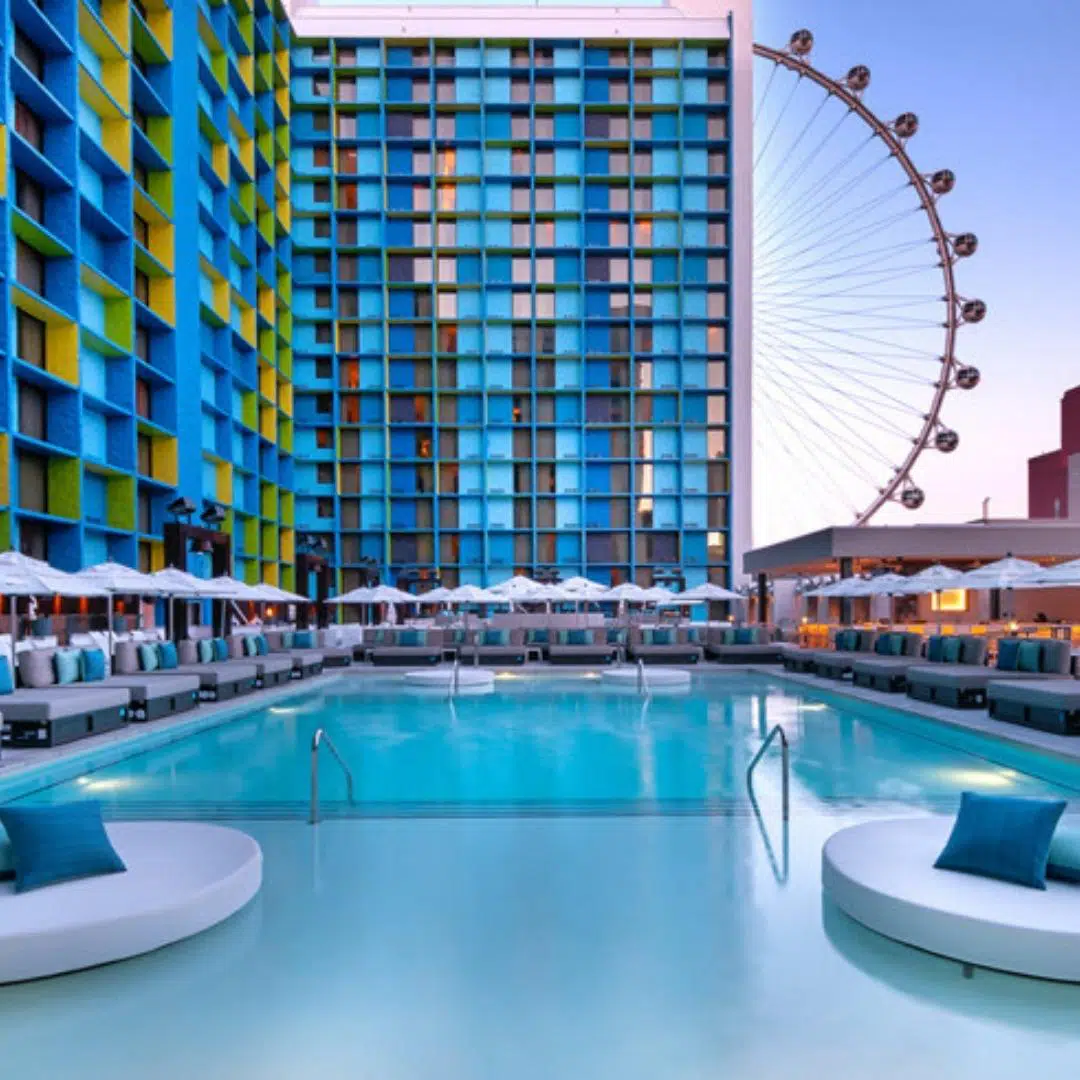 Next up is Influence, The POOL at LINQ, a popular choice with 20-somethings who want a cheap, but cool place to stay with a fun hangout spot where they can cool off.
A cool feature at Influence is that you can book rooms that open up to the pool deck that have a private lounge area attached. No need for a cabana or daybed, plus you don't have to wait in line for the bathroom, ha!
The pool is open to adults 21+ only. If you're traveling with anyone under 21, you can use the Flamingo Beach Club next door for free.
Influence is open 9 AM to 6 PM. It is free to hotel guests, $10 for guests of other Caesars resorts, and $20 for the public. It occasionally has free entry to the public, as well.
Call 702-835-5713 to confirm cover charge and hours.
Stadium Swim at Circa
Nestled into downtown Vegas, Stadium Swim is a massive complex with 3 levels, 6 pools, and a 40-foot tall HD television screen. It boasts a capacity of 4,000.
Stadium Swim is open year round, even on holidays. They often host fun events, like Game Day and bikini contests. Admission starts at $20.
Bare Pool Lounge at Mirage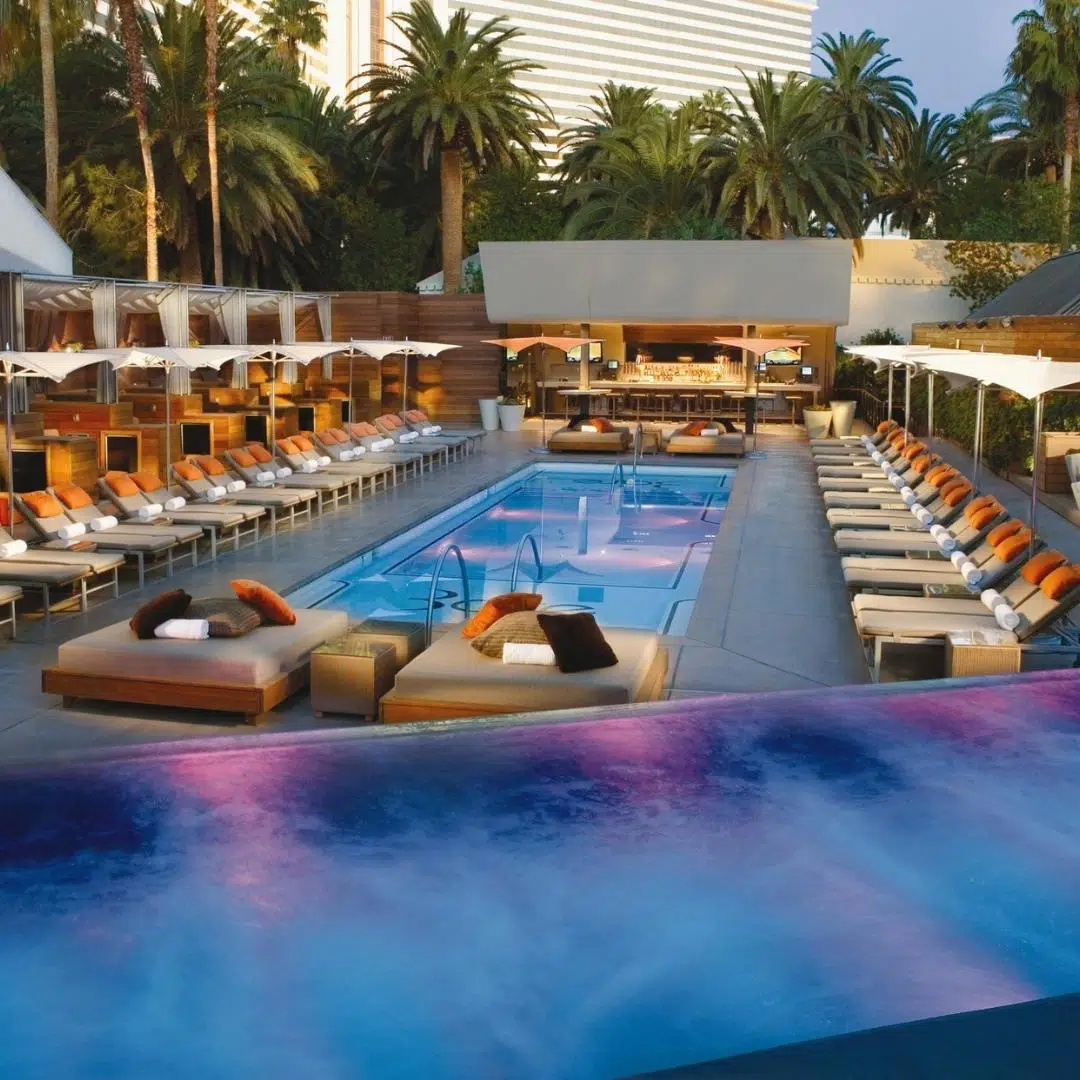 The Bare Pool Lounge is 21+ and separate from the general pool area at The Mirage. It is open only Thursday through Monday, except for special or private events.
It is available free of charge before 12 PM for Mirage guests. After 12 PM, the cover charge is $20 for men and $10 for women.
The same cover charge applies to the public, though locals are free on Mondays.
NOTE: The Mirage was recently sold to Hard Rock and will be under renovations until sometime in 2025. It will remain open as the Mirage until then.
Moorea at Mandalay Bay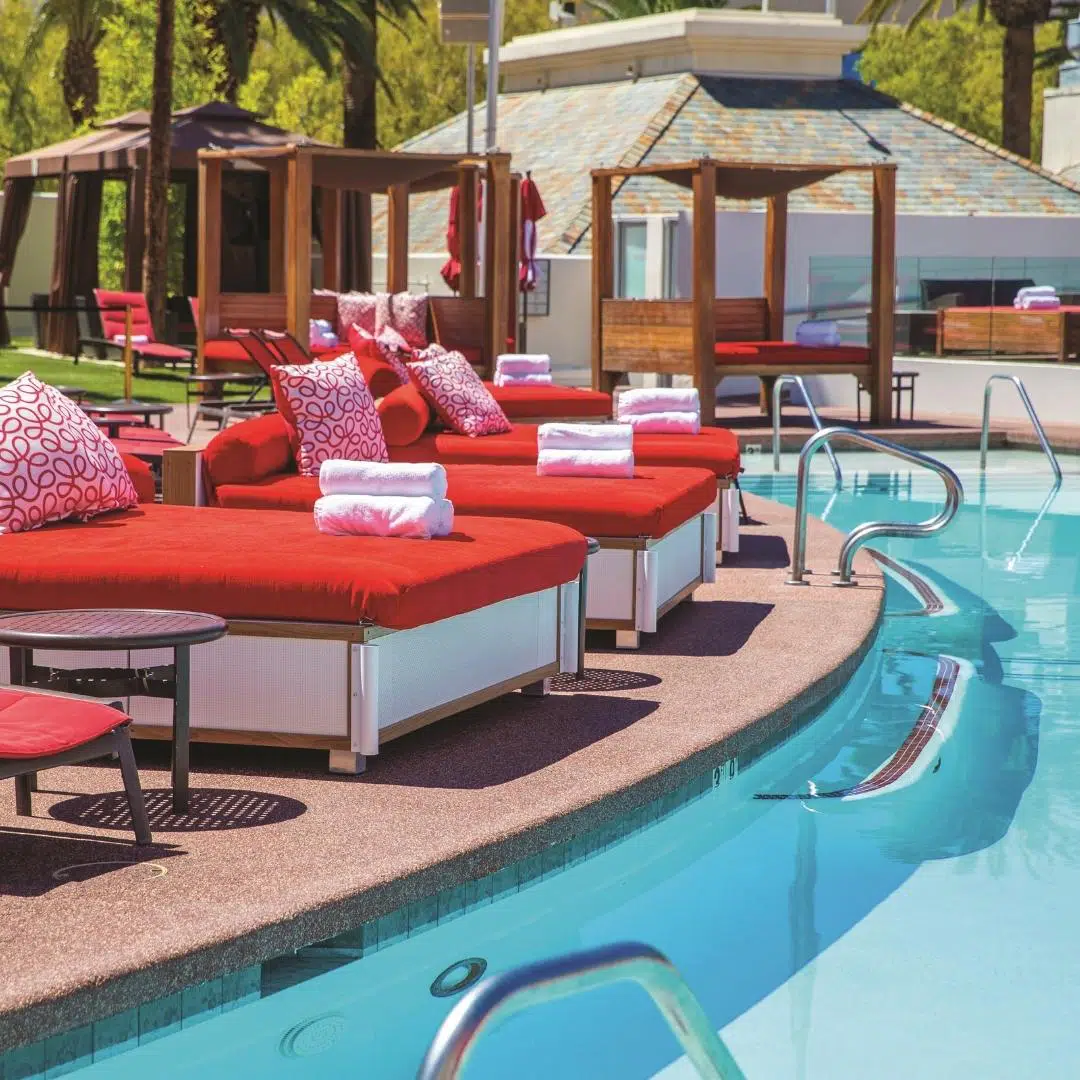 In addition to the massive main pool area, Mandalay Bay Beach has a 21+ pool area called Moorea.
Moorea is a topless optional area, or "toptional" as the Mandalay Bay marketing team likes to call it.
The cover charge wildly varies from free to $40. Call 877.632.7700 to confirm availability and cover charge.
Delano Beach Club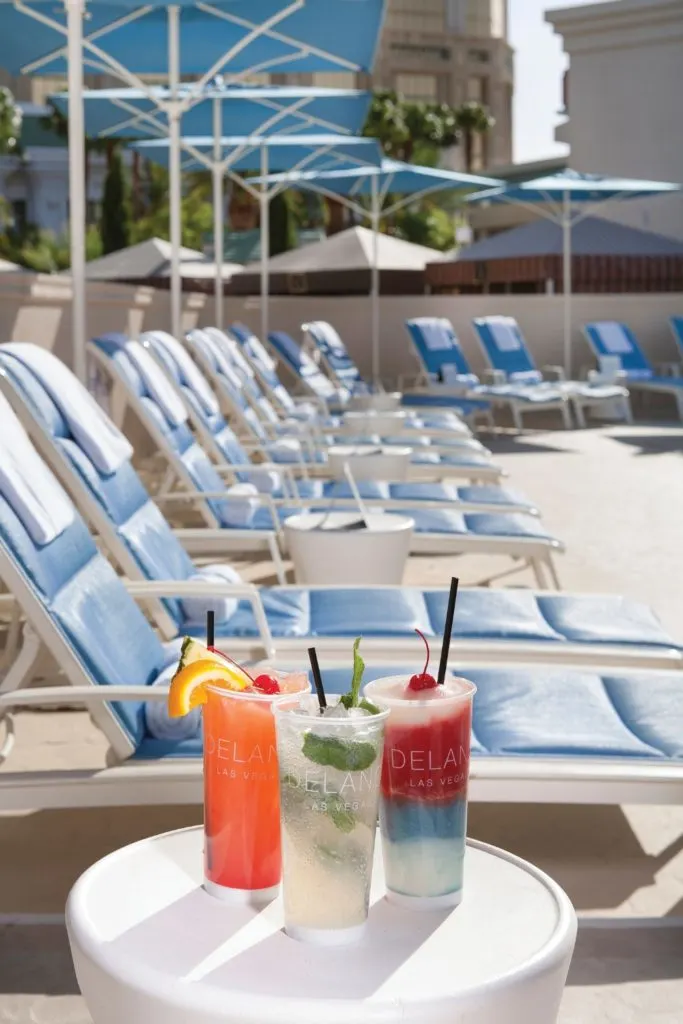 Located at Mandalay Bay's Delano resort, the Delano Beach Club is a secluded pool open to guests of the Delano only. So if you want to play here, you'll have to stay here!
This fun pool features an in-water life-sized chess board, complete with playing pieces. Suddenly I want to learn how to play!
Bellagio Pool Deck at Bellagio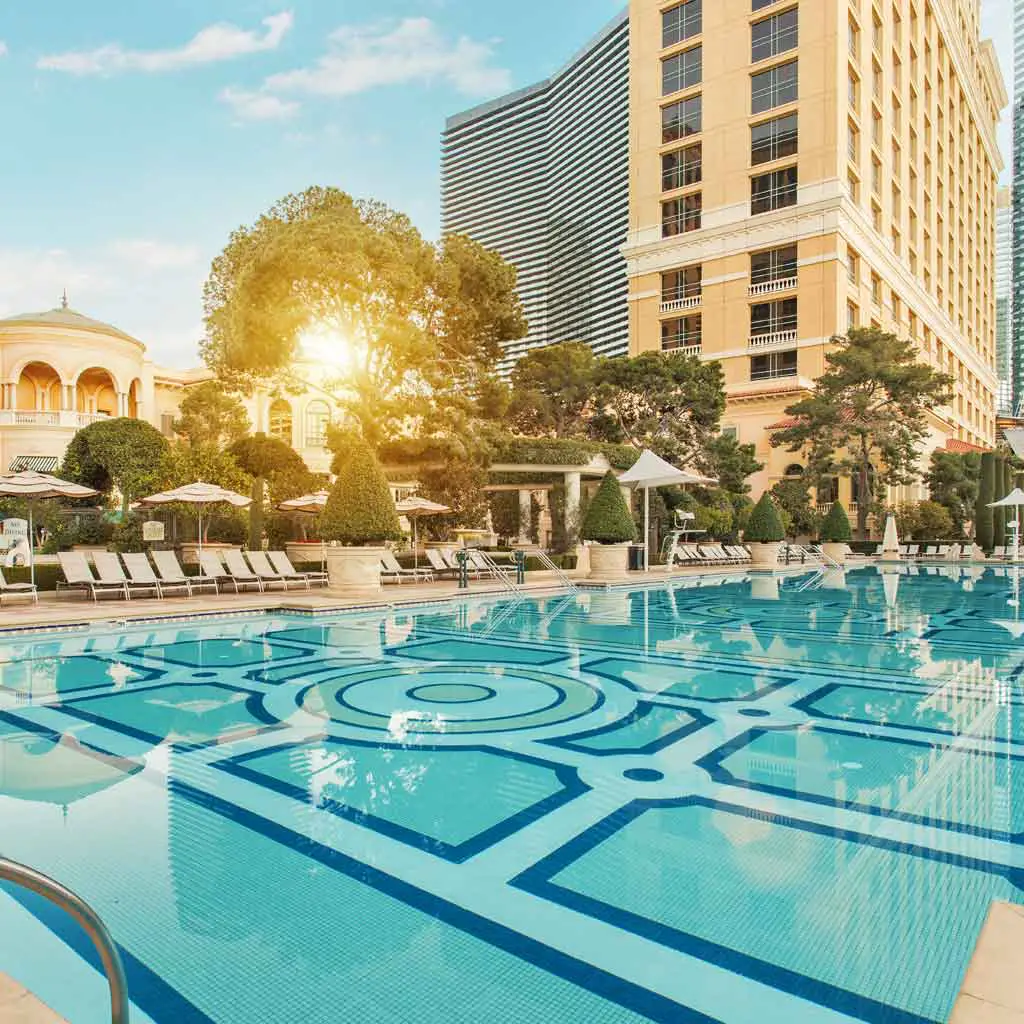 Bellagio has 5 pools available, such as the Terrace Pool seen below.
Each area at Bellagio is so impeccably designed that you'll feel like you've been transported to the backyard of a Mediterranean mansion!
Access to the pool area is free for hotel guests, with fees for additional services and items, such as cabanas, lounge chairs, massages, food, and drink. Non-hotel guests are not permitted.
The Bellagio pools and jacuzzis are open from 9 AM to 4 PM, though hours are subject to change.
Garden of the Gods Pool Oasis at Caesars Palace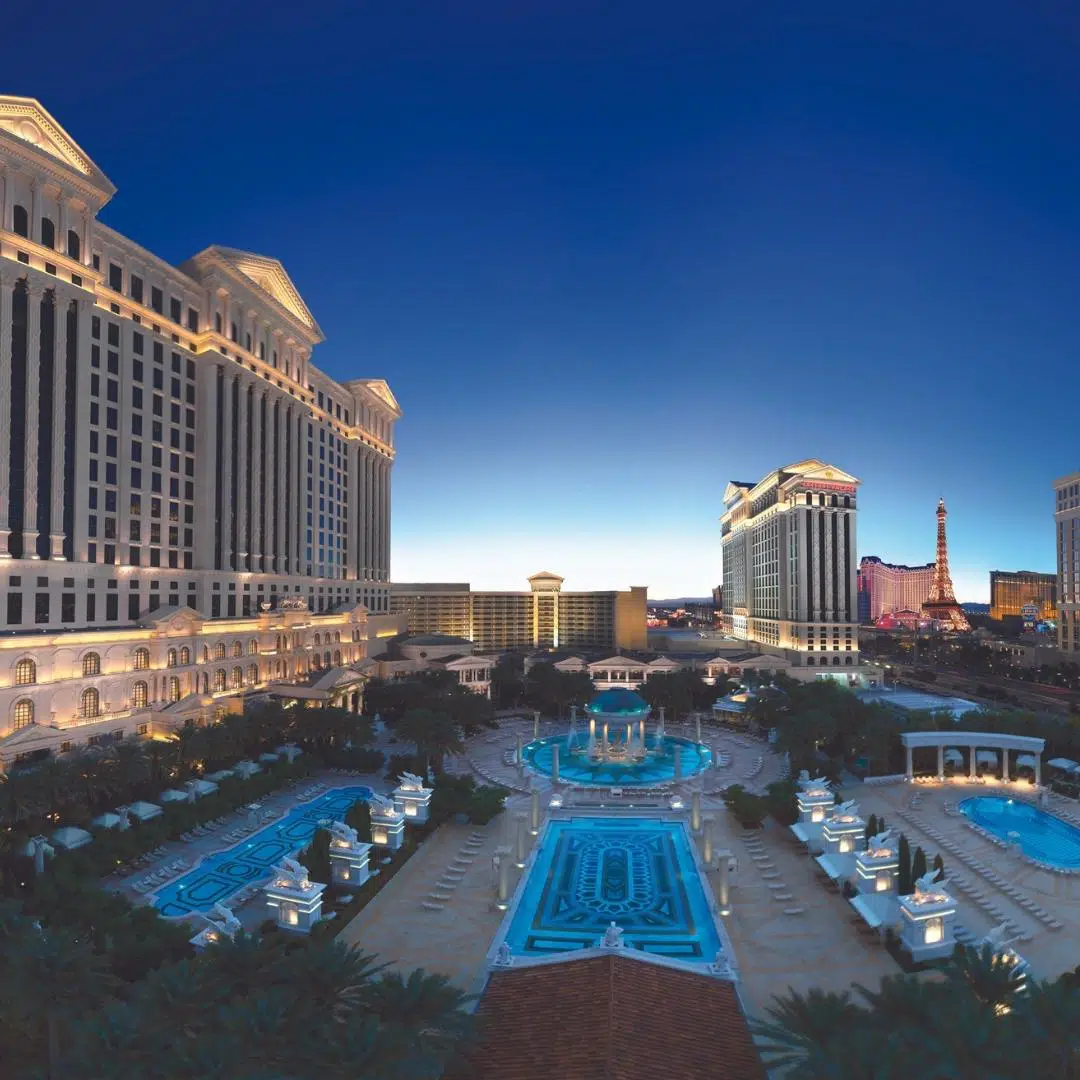 The Garden of Gods Pool Oasis at Caesars Palace spans 5 acres and includes 7 pools, each with a unique vibe.
One of my favorite features at Garden of the Gods is the ability to place mobile orders for food and drink.
To place a mobile order, all you have to do is text PALACE to 227466. Then you'll get a text message with a link to the menu and ordering system.
After you place your mobile order, you can retrieve it at the Snackus Maximus order pickup area.
Fingers crossed that Caesars Palace figures out a way to have mobile orders delivered straight to you in the future!
Garden of the Gods is available for free to Caesars and Nobu Hotel guests. Non-guests can enjoy the area for a $20 cover charge.
Psst – here's how I'd spend 1 perfect day at Caesars Palace.
When do pools open and close in Vegas?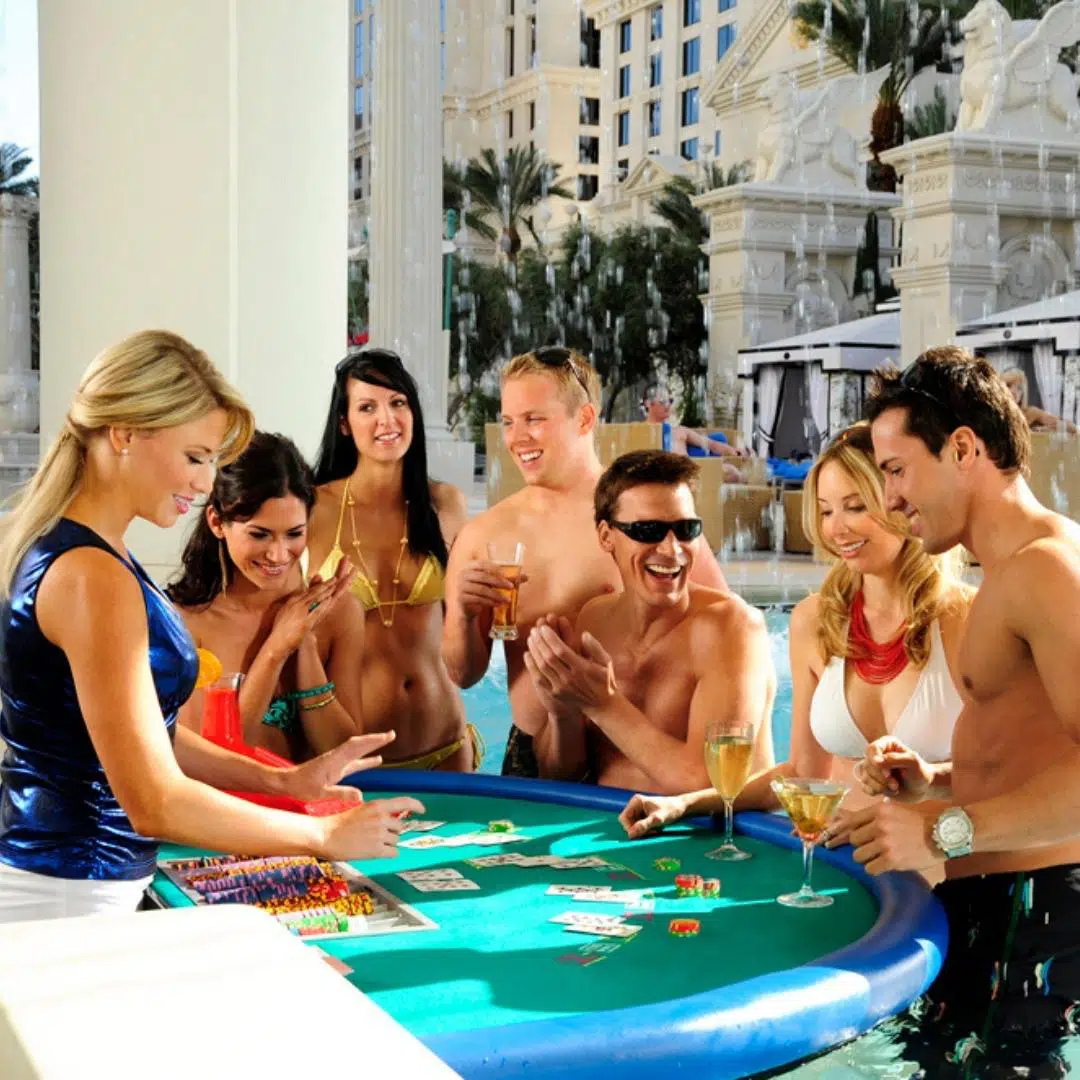 Before you jump to book your Las Vegas resort based on the pool, make sure it'll actually be open during your visit.
Yes, Las Vegas weather is nice year round, but it can get too chilly for outdoor pools during the late fall and winter months.
Each resort differs on when they open and close their pools for the winter season. In general, most resorts will have their pool open from spring through mid-fall.
If you're planning to visit Las Vegas outside that time or in the shoulder season, double check with your preferred resort about whether their pool will be open before you book.
Which of the best pools in Vegas is your favorite?
So which Vegas resort are you going to book based on their pool? I know, it's so hard to choose a favorite between all the great pools in Las Vegas!
For more Vegas tips, check out these posts:
---
About the author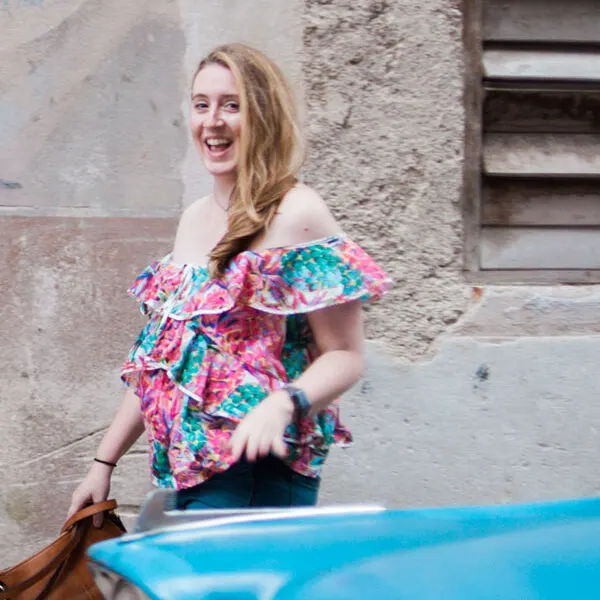 Meg Frost is a Boston-based travel blogger that helps people embrace technology to make vacation planning and traveling wicked easy, affordable, and fun.
She holds an M.A. in Journalism from Northeastern University and B.S. in Communication & American Studies from University of Miami.
---
This post was originally published March 4, 2017. It was last updated March 11, 2023.