Las Vegas may not have invented dayclubs or pool parties, but they definitely have some of the best pool parties in the world.
While I'm all for a good party, when it comes to pools I just want to kick back and relax. Yes, dolls, even when I'm in Vegas!
If you're looking to book a Las Vegas getaway with lots of relaxing pool time, check out the 10 best pools in Vegas that aren't dayclubs.
This post includes affiliate links. If you click on or make a purchase from an affiliate link, I might make a small fee at no extra cost to you.
When do pools open in Vegas?
Before you jump to book your Las Vegas hotel based on the pool, make sure it'll actually be open for use!
Yes, Las Vegas weather is nice year round, but it can get too chilly for outdoor pools sometimes, too.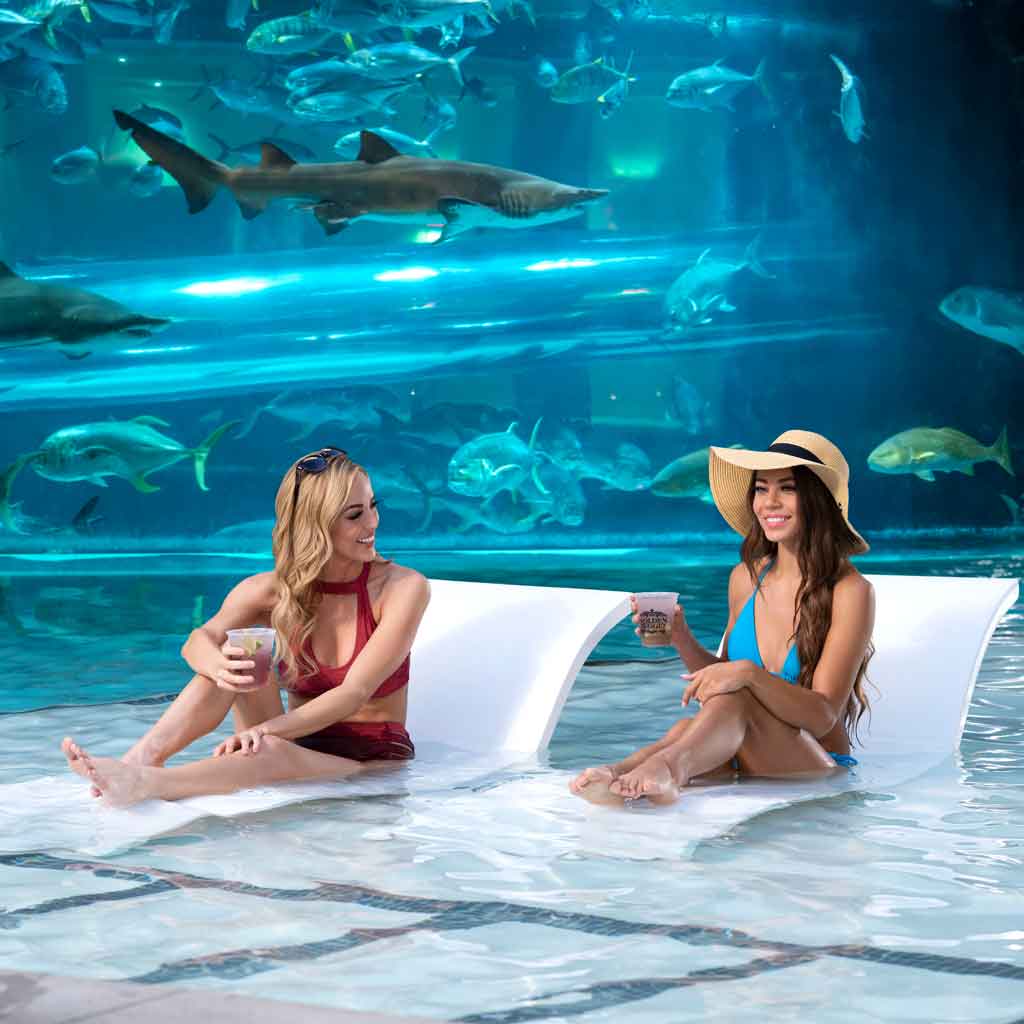 Each hotel differs on when they open and close their pools for the Winter season. In general, most hotels will have their pool open from Spring through mid-Fall.
So if you're planning to visit Las Vegas outside that time or in the shoulder season, and you're counting on pool time, double check with the hotel about whether their pool will be open before you book.
Mediterranean bliss at Bellagio
Bellagio has 5 pools available, such as the Terrace Pool seen below.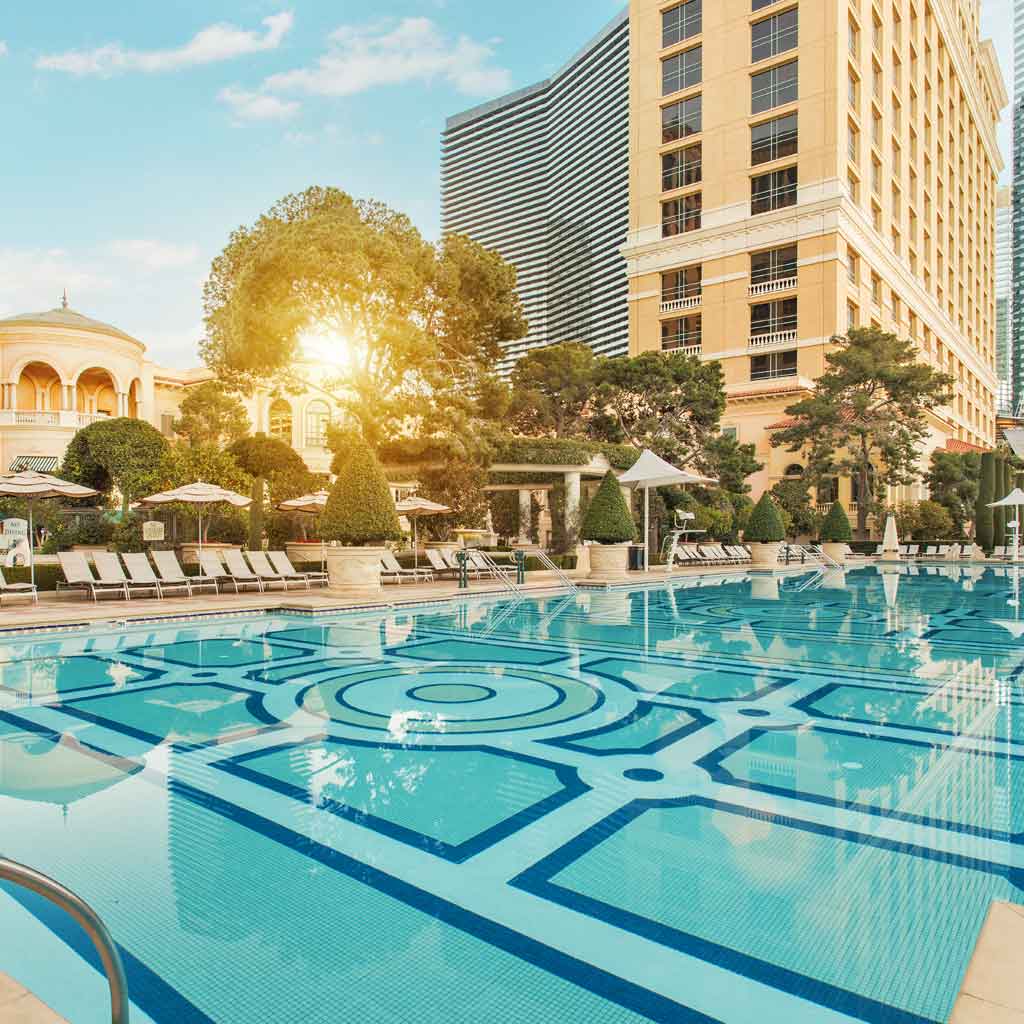 Each pool area at Bellagio is so impeccably designed that you'll feel like you've been transported to the backyard of a Mediterranean mansion!
Access to the pool area is free for hotel guests, with fees for additional services and items, such as cabanas, lounge chairs, massages, food, and drink.
The Bellagio pools and jacuzzis are open from 7 AM to 8 PM. Cabanas are available from 9 AM to 5 PM.
Bellagio Cypress Premier Lounges
The adults-only pool area, known as Cypress Premier Lounges, is set amongst lush gardens for extra privacy from the main pool area.
It includes access to daybeds or lounge chairs with side tables, a personal host, Evian misters, infused water, magazines, and playing cards.
The Cypress Premier Lounges are open from 9 AM to 6 PM.
Bellagio Chairman Cabana VIP Package
Guests can also reserve the Chairman Cabana package, which comes with 2 cabanas with 10 lounge chairs, water, fruit, non-alcoholic drinks, misters, and a large, private jacuzzi.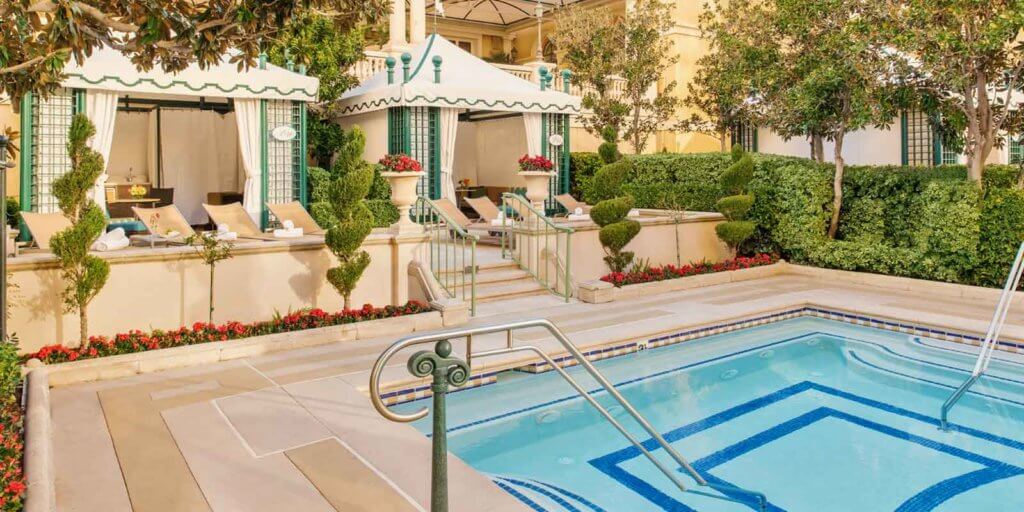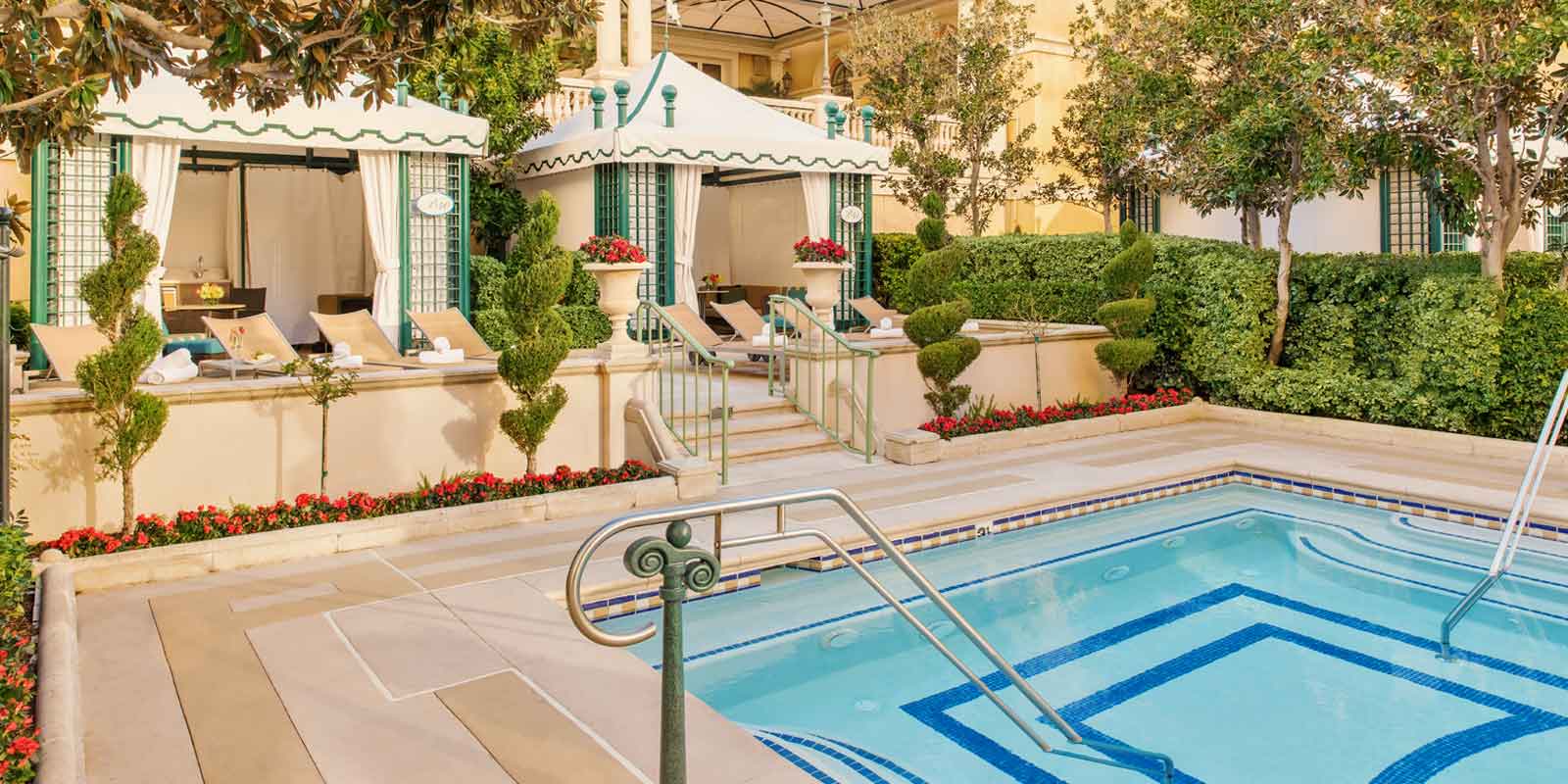 The Chairman Cabana package costs around $1800 per day for a maximum of 25 people.
A pool for every mood at Caesars Palace
The Garden of Gods Pool Oasis at Caesars Palace spans 5 acres and includes 7 pools, each with a unique vibe.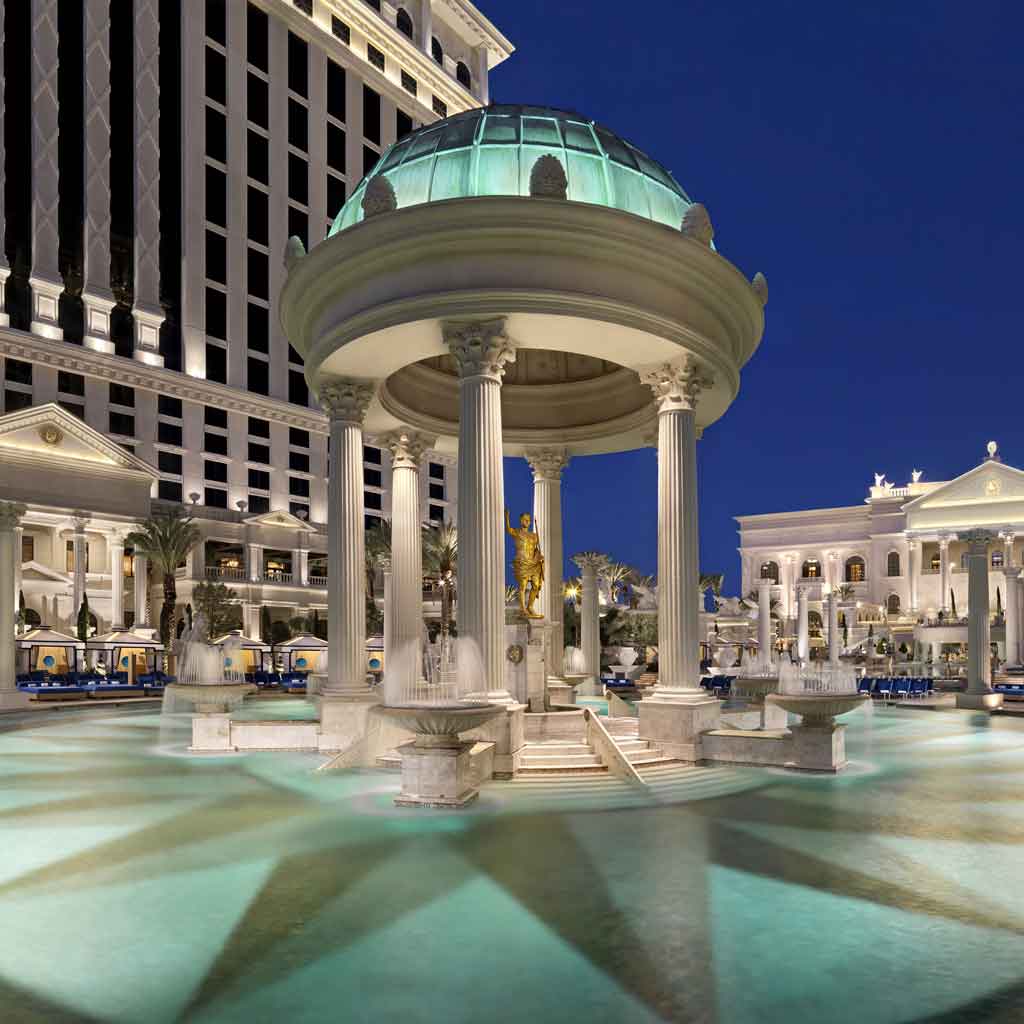 All of the pools are available for free to Caesars and Nobu Hotel guests. Non-guests can enjoy the pool area for a $20 cover charge.
The Garden of the Gods Pool Oasis is open from 8 AM to 7 PM.
Mobile order at Caesars Palace
A unique feature at the Caesars Palace pool area is the ability to place mobile orders for food and drink.
To place a mobile order, all you have to do is text PALACE to 227466. Then you'll get a text message with a link to the menu and ordering system.
Once you place your mobile order, you pick up your order at the Snackus Maximus order pickup area.
Fingers crossed that Caesars figures out a way to have mobile orders delivered straight to you, at least to those with reserved lounge chairs, daybeds, or cabanas.
Garden of the Gods Pool Oasis at Caesars Palace
Now onto the actual pools at the Garden of the Gods Pool Oasis!
If you decide that you want to rock out during the day while in Vegas, Caesars has 1 pool that is a party spot: the Venus Pool.
But don't worry – it is segregated from the other pools so that you won't be bothered by the day club-ish vibes..
Plus, the remaining 6 pools available at the Garden of Gods Pool Oasis are all pretty chill compared to the Venus Pool!
Moving on…
The Fortuna Pool includes swim-up blackjack tables for those of you who want to keep up your lucky streak, but also get in some pool time. There's also a pool bar situated in this area.
The Fortuna Pool is nicely shaded thanks to the Bacchus Pool situated above it!
The Bacchus Pool is invite-only, as it's often reserved for celebrities and high rollers.
However, you can sometimes buy your way in by renting a cabana. Cabanas at the Bacchus Pool cost around $750-900 per day for up to 8 people.
The Apollo Pool is super chill and very reminiscent of a fun, backyard party. They even have a grill going on the weekends during the summer!
This is the pool that gets the best sun, making it great for sunbathing. Just don't forget to wear sunscreen!
The Jupiter Pool is the best pool in Vegas for families with kids.
There are floaties, yard games, bubbles, kid-approved snacks, and lots of cabanas that are perfect for an afternoon nap.
The Neptune Pool is the more social of the 6 pools, but isn't a day club or full-on pool party. During the Summer they have a DJ on the weekends. It's a good compromise between a typical pool scene and a day club.
The best part is that the Neptune Pool has an assortment of millennial-friendly pool floats available! ::swoon::
The Temple Pool is the pool that Caesars is well-known for, thanks to the gorgeous Roman-inspired temple in the middle of the pool.
If you're looking for a more relaxing experience for your day at the pool, the Temple Pool is where you want to be.
Best pool in downtown Vegas: Golden Nugget
The Golden Nugget's main pool, aka The Tank, features a waterfall, lounge chairs, and private cabanas.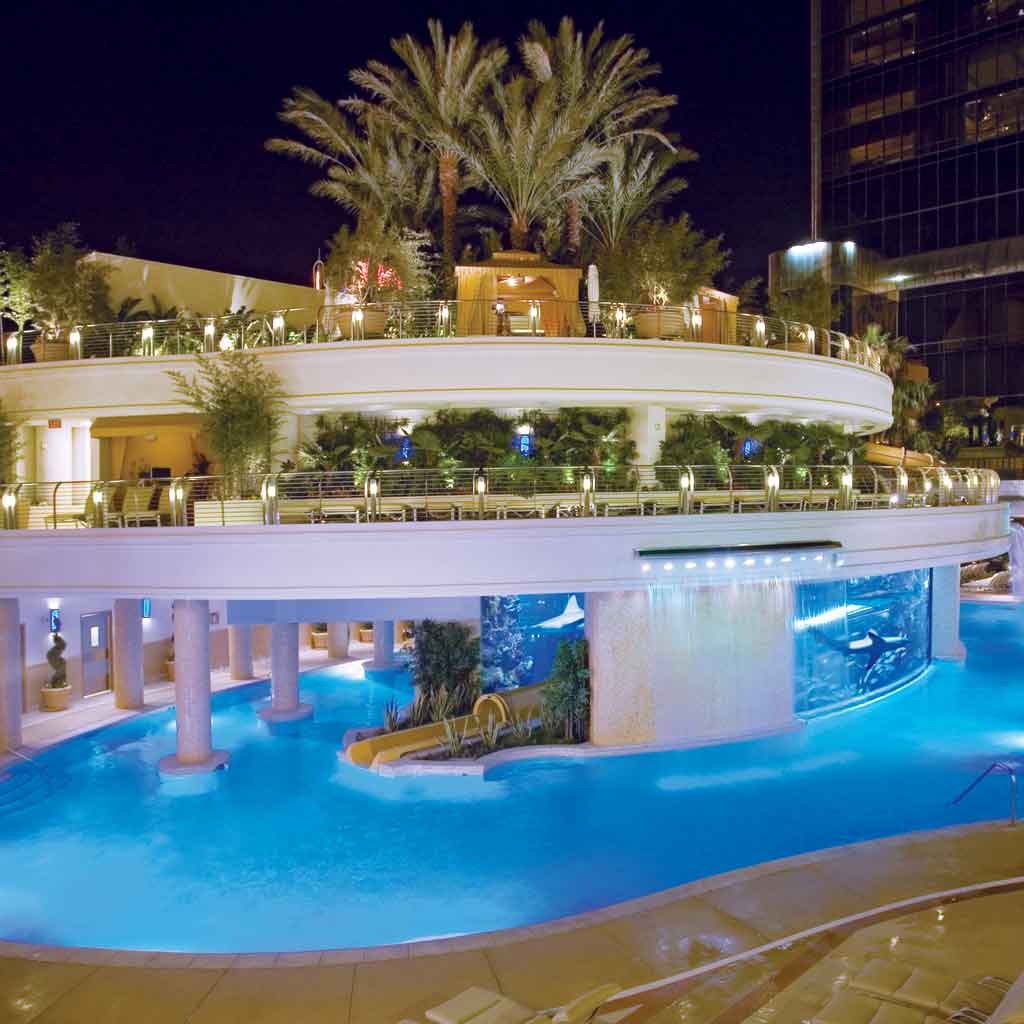 But the best part is the 3-story water slide that cuts right through a 200,000 gallon shark tank. The slide itself is see-through, so you'll feel like you're right in the tank with the sharks!
Tours of the shark tank are available twice a week on Wednesdays and Sundays at 1:30 PM. Pricing for the tour is currently $50 per person and are led by a Marine Biologist.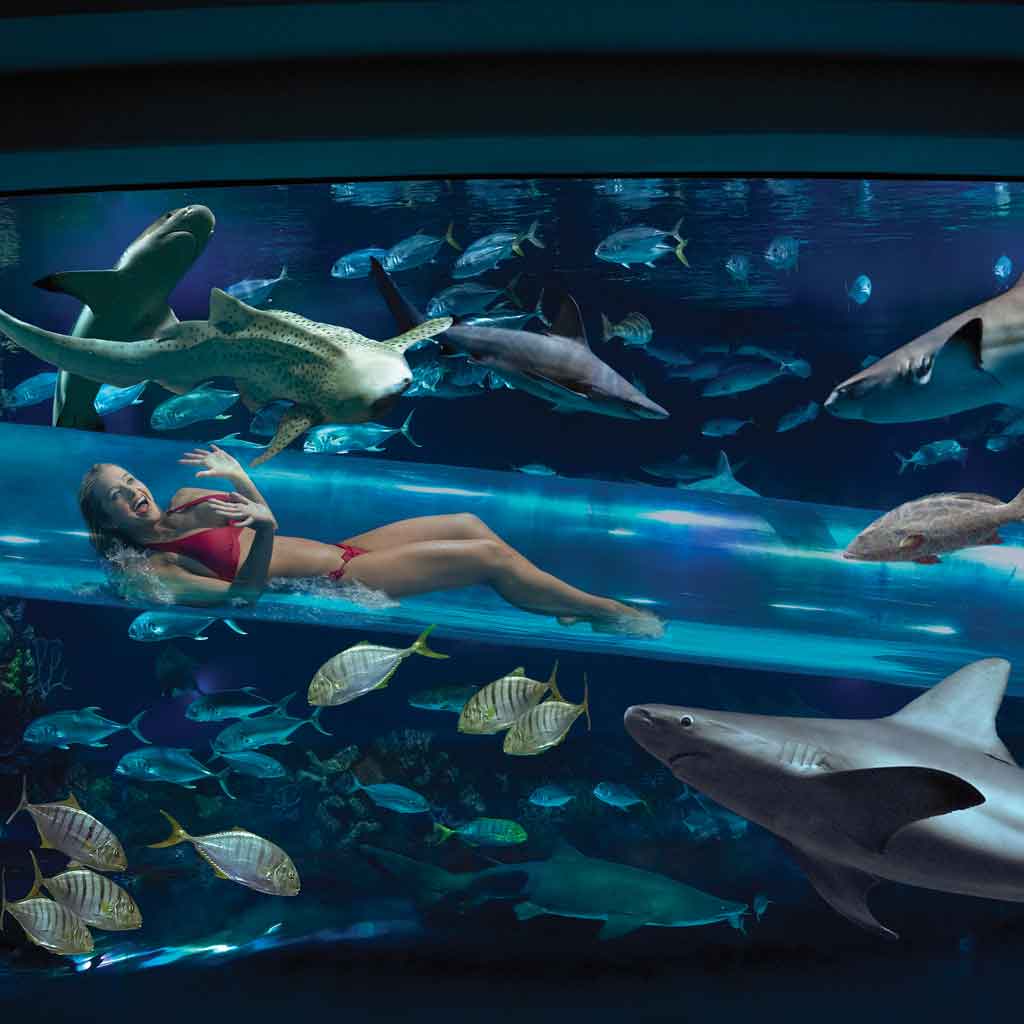 The Tank is open from 9 AM to 7 PM, though hours vary throughout the pool season, so it's best to confirm with the hotel directly.
Non-hotel guests can use the main pool at an additional charge: $25 Monday through Thursday and $40 Friday through Sunday. Children under age 6 are free. Pricing is subject to change at any time.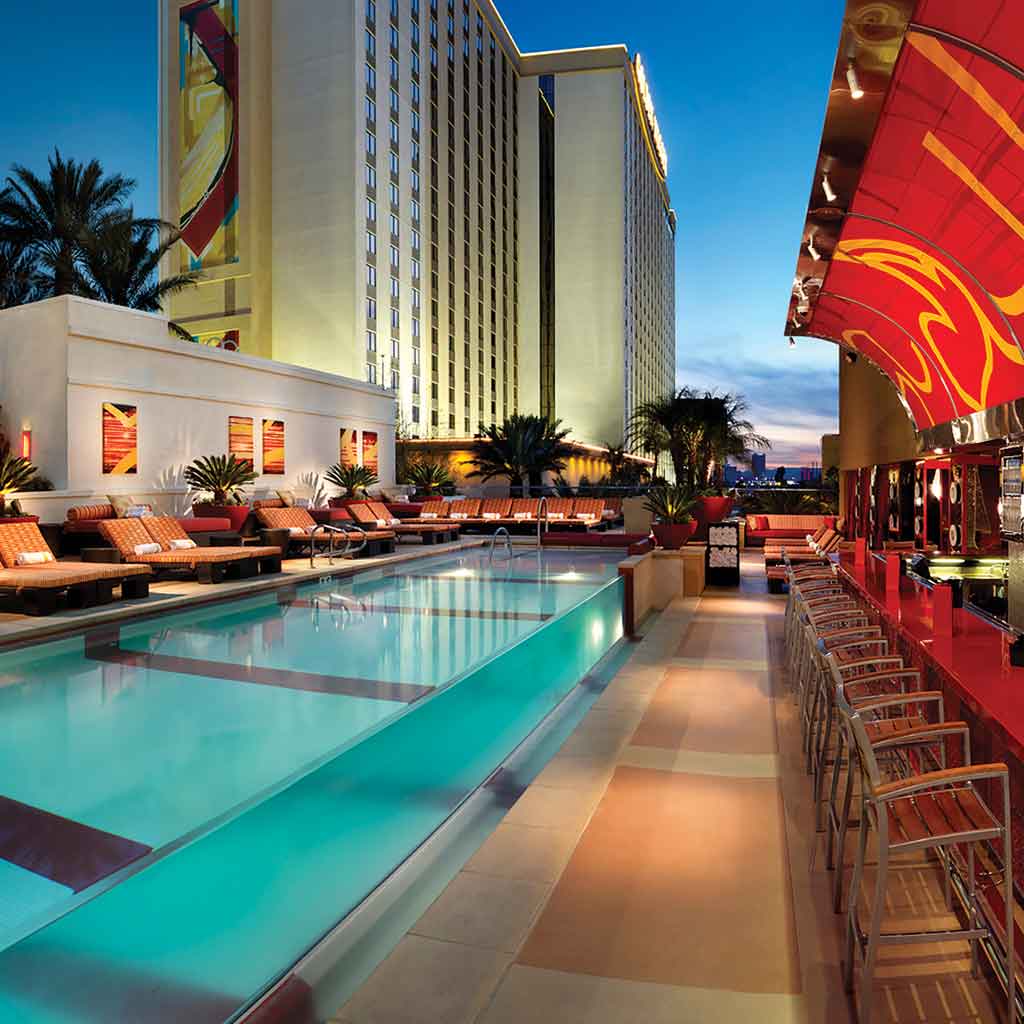 On top of the third floor of the main pool area is an adults-only infinity pool and bar called The Hangout. The Hangout is open from 10 AM to 6 PM, with hours subject to change throughout the pool season.
The Golden Nugget pool areas are open roughly March through November. For exact dates, contact the resort directly at (702) 385-7111.
It's like a tropical beach on the Vegas strip at Mandalay Bay
Mandalay Bay Beach is an 11-acre pool experience like no other. It's more like a water park in some ways. There is a wave pool, lazy river, sandy beach area, shopping, and a jogging track.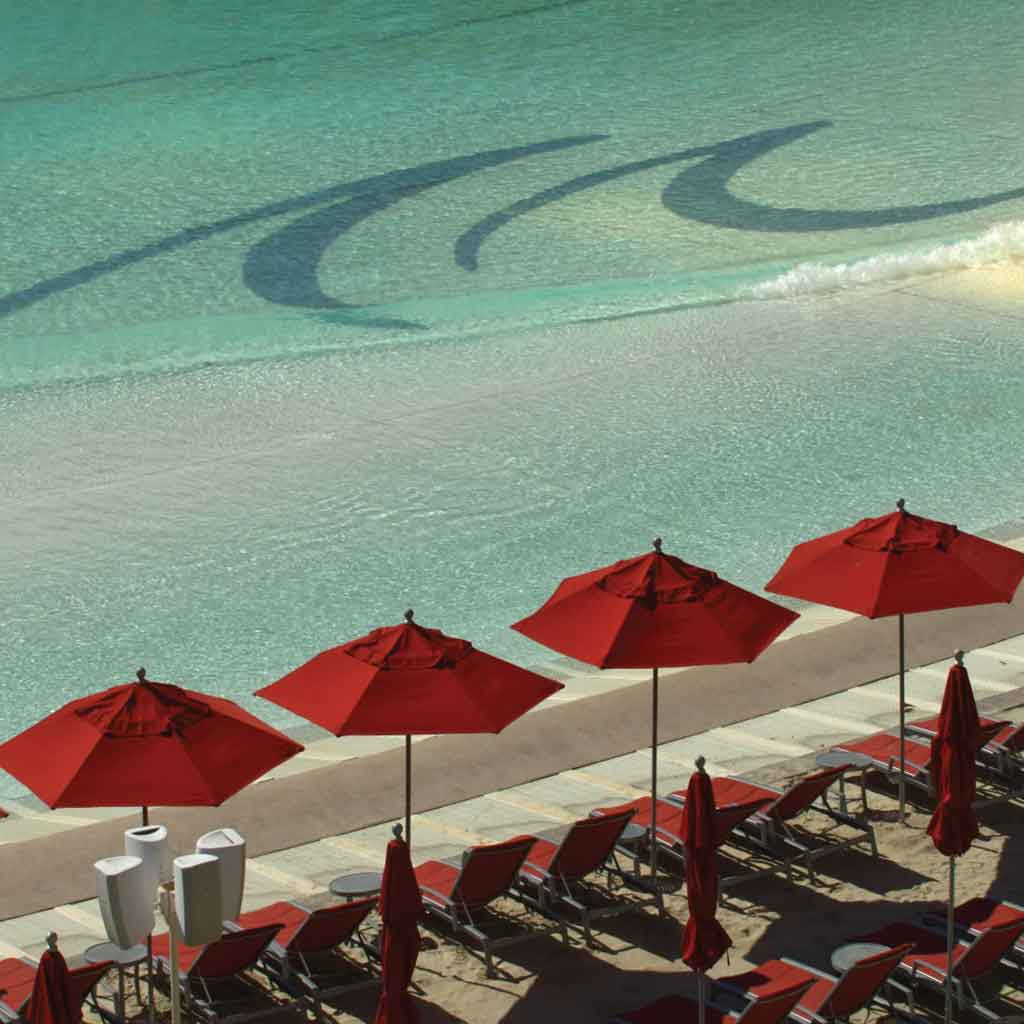 Daylight is the one area within Mandalay Bay Beach that is considered a dayclub. But, considering the size of Mandalay Bay Beach, there are certainly plenty of non-club pool experiences available.
The main attractions at Mandalay Bay Beach are the 1.6 million gallon wave pool with sandy beaches and the Lazy River.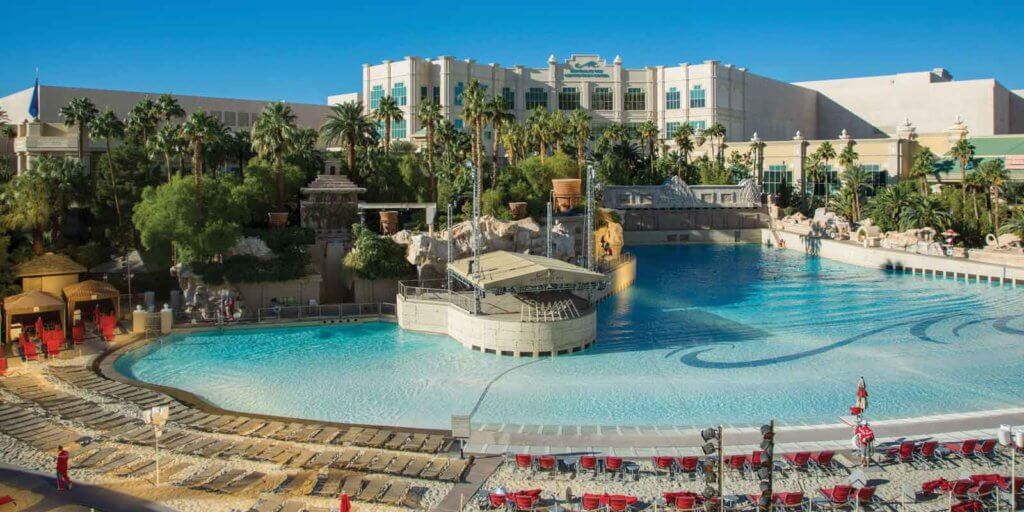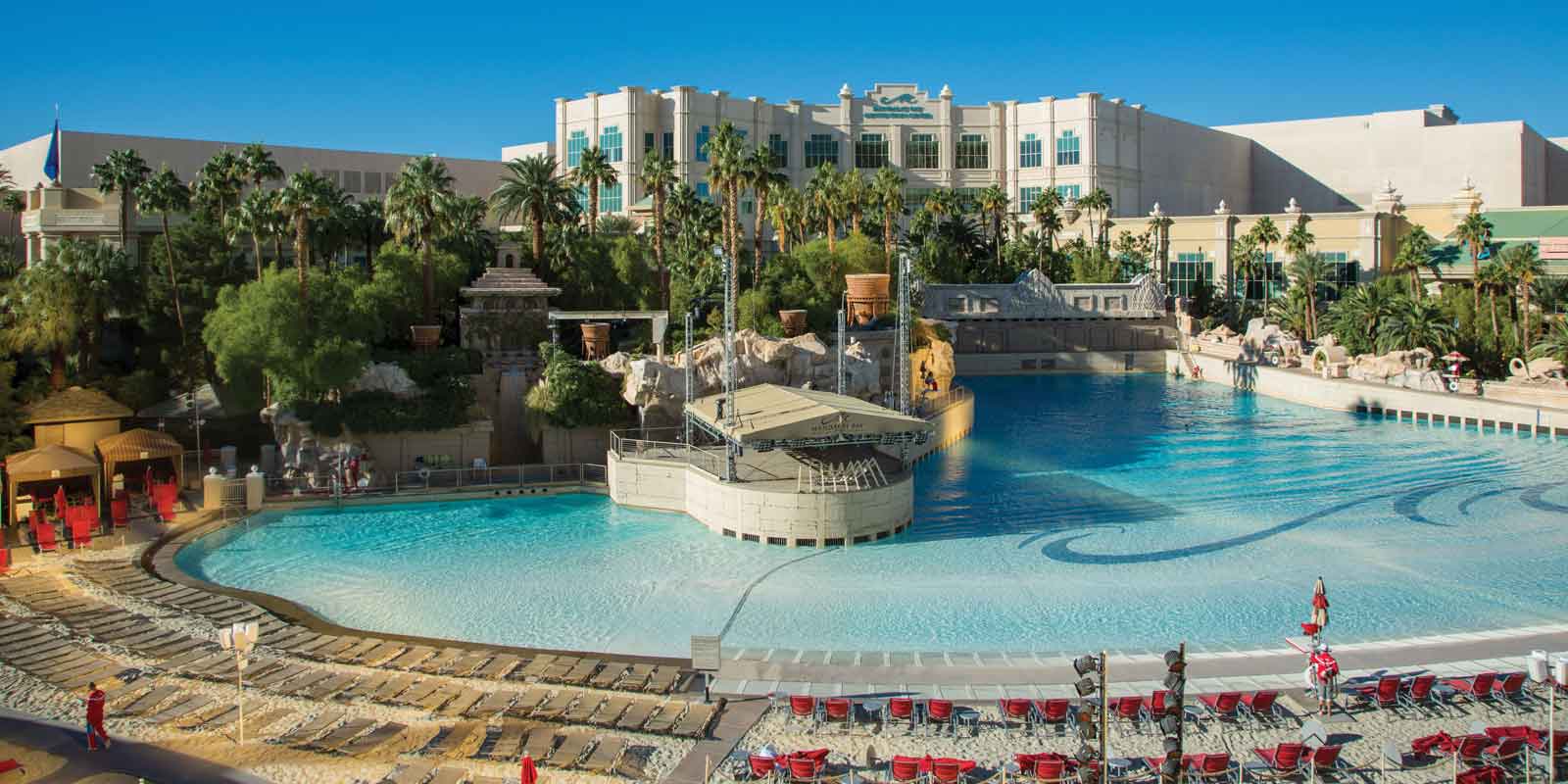 In addition, there is the East Lagoon and West Lagoon swimming pools.
Guests can rent daybeds, cabanas, and beach bungalows near either of these 4 water attractions.
During the Summer months, Mandalay Bay Beach hosts concerts on a stage overlooking the wave pool. In the past, they've featured acts like Weezer and Ziggy Marley.
Moorea adults-only pool
In addition to the massive main pool area, Mandalay Bay Beach has a 21+ adults-only pool area called Moorea.
Moorea is a topless optional area, or "toptional" as the Mandalay Bay marketing team likes to call it. An additional fee is required, even for hotel guests.
Mandalay Bay Beach details
Mandalay Bay Beach is open from 8 AM to 6 PM and is free to access, save for fees mentioned above, for guests of Mandalay Bay, Delano and Four Seasons resorts.
Non-hotel guests can enjoy the Mandalay Bay pool area Monday through Thursday for a fee. Adults are $20 and children 4-16 are $10. Children 3 and under are free.
Mandalay Bay blocks non-hotel guests on select days throughout the year, so if you're not staying there be sure to call 877-305-3136 to make sure you'll be able to visit.
Float on a lazy river at MGM Grand
While MGM Grand is home to one of Vegas' best pool parties/day clubs, Wet Republic, it also has a larger pool complex that is free of grinding co-eds.
The MGM Grand Pool Complex includes 4 swimming pools, 3 whirlpools, a 1,000 foot long lazy river, 5 bars, and 1 restaurant, all sprawled across 6.5 acres.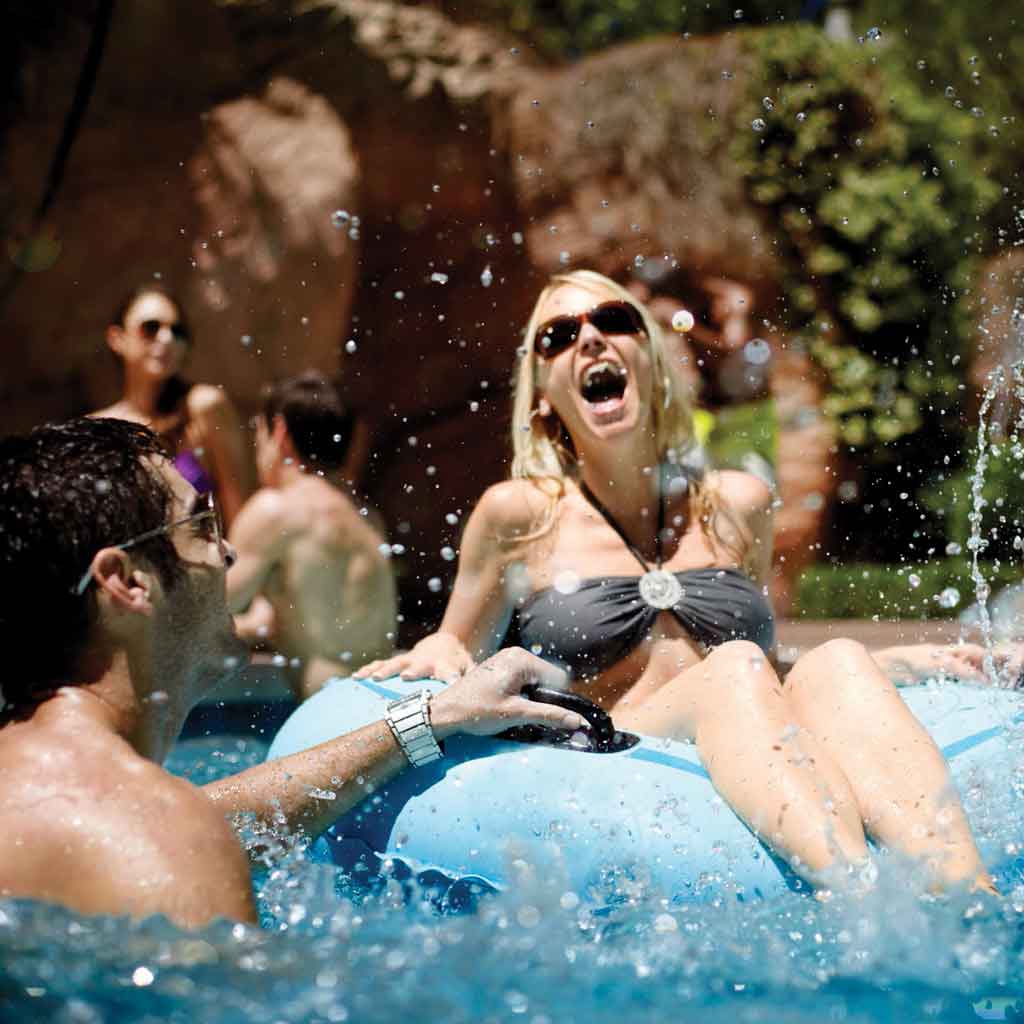 The MGM Grand Pool Complex is open from 8 AM to 8 PM, while the Lazy River is open from 9 AM to 6 PM.
The pool area is free for guests to use and non-hotel guests can visit Monday through Thursday for a fee of $25. Non-hotel guests age 3 and under are free.
MGM Grand has blackout dates for non-hotel guests, and can also turn away non-hotel guests based on lack of capacity. Be sure to call 702-891-3086 ahead of visiting if you are not a hotel guest.
The pools are open year round at Mirage
Mirage is known for its top-optional dayclub, Bare Pool Lounge. But don't worry – there's also a relaxing pool area available.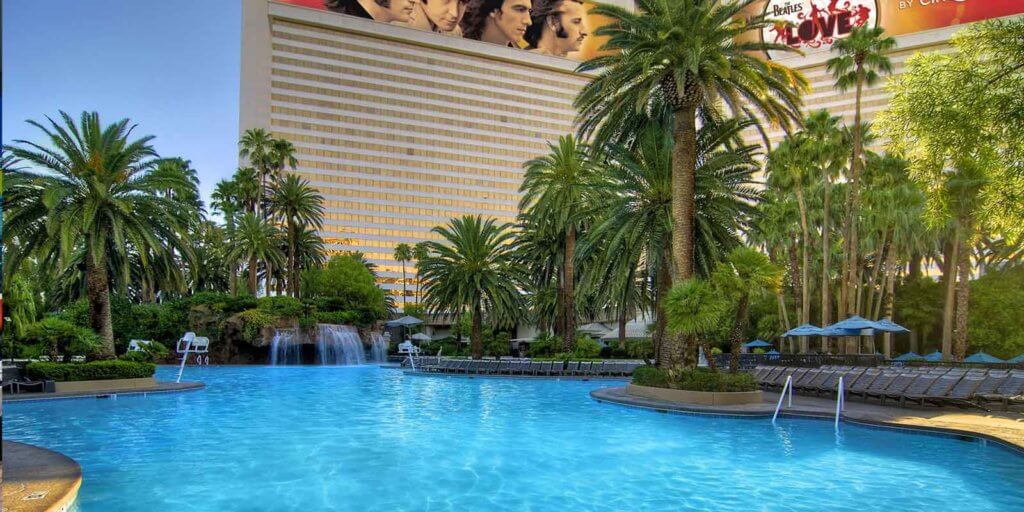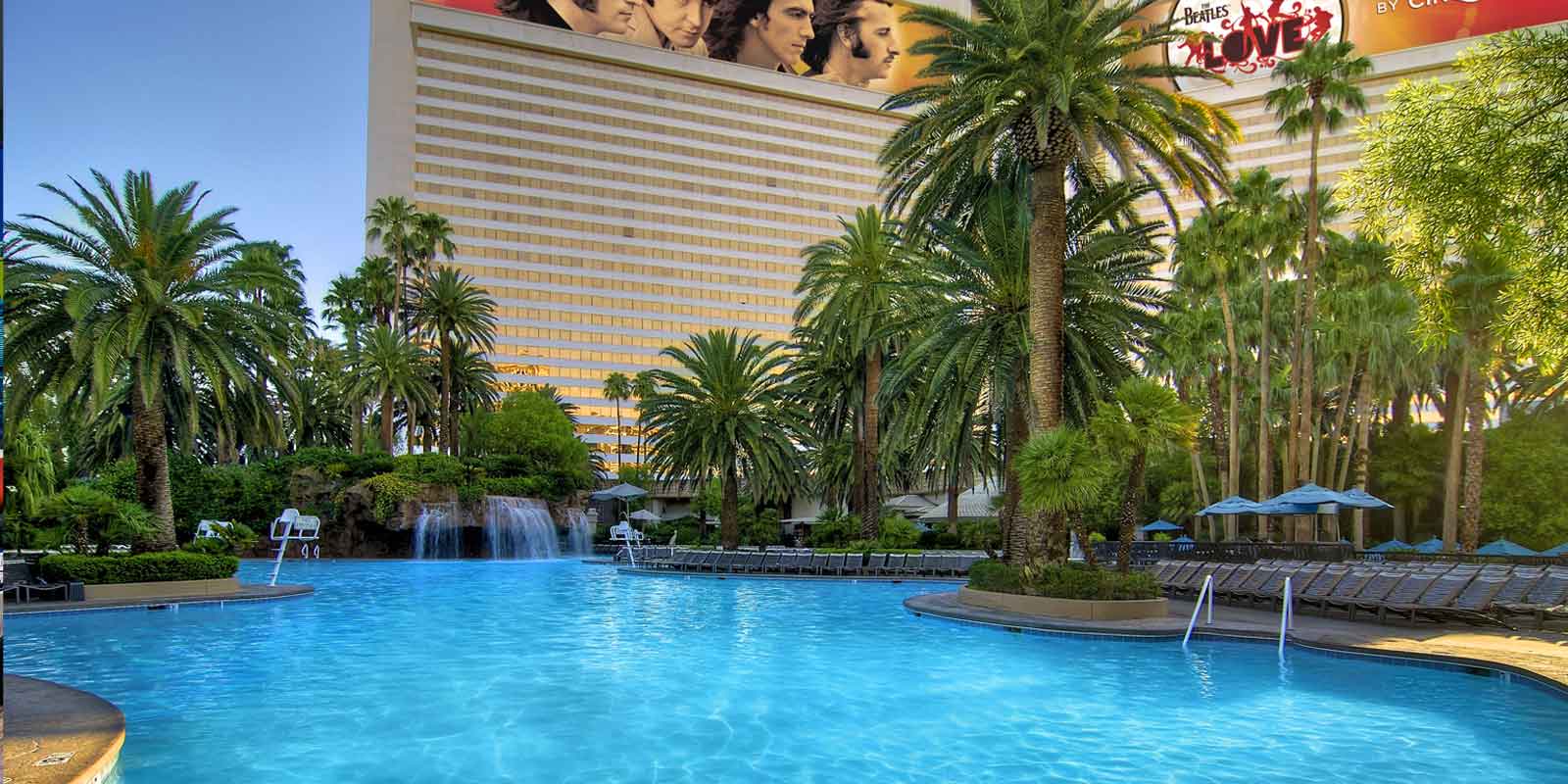 Cool off in the lagoon-like saltwater pool at the Mirage, complete with waterfalls and hidden nooks. Two whirlpools and a smaller, hidden saltwater pool, called the Private Oasis, are also available for hotel guests.
The best part about the Mirage pool area is that it is open year round. Don't worry – it's heated!
The Mirage pool area is open from 8 AM to 8 PM, while the Private Oasis is open from 10 AM to 6 PM.
There's a pool for every need at the Palazzo and Venetian resorts
The Venetian and The Palazzo are technically 2 resorts, but guests of each resort can crossover to the other to use the pools. The pools are open for roughly 9 months out of the year, from May through January.
First up, as with many of the pools featured in this listicle, there is a dayclub option available: TAO Beach. TAO Beach is topless optional.
Between the 2 resorts, there are 3 main swimming pool areas: The Palazzo Pool Deck, The Venetian Pool Deck, and The Venezia Pool Area.
Daypasses for non-hotel guests are not available.
The Palazzo Pool Deck & The Aquatic Club
The Palazzo Pool Deck is open from 8 AM to 8 PM. It includes 3 swimming pools, 1 lounge pool, and 3 hot tubs.
The Aquatic Club, located at the far end of the Palazzo pool deck, features several small pools.
It's a nice alternative for groups looking for a fun pool area without the raucous club surroundings. The atmosphere here is more like a retro backyard pool party than a nightclub.
On Fridays and Saturdays, there is a DJ for most of the day. On Saturdays, there's a free braid bar, too.
The Aquatic Club is only available to guests of the Palazzo and Venetian resorts. It is open Friday through Sunday, from 11 AM to 6 PM.
The Venetian Pool Deck
The Venetian Pool Deck was renovated in 2019, opening to guests in early July.
It features 4 pools, 1 hot tub, and a splash pad spread across 2 acres. It is open from 8 AM to 8 PM.
The Venezia Pool Area
The Venezia pool area is open from 6:30 AM to 10 PM. It includes 4 swimming pools with a relaxing ambiance.
The Palms Casino Resort
The Palms Casino Resort has 2 pool areas, one of which is a day club called KAOS.
The pool at Palms Place Tower is a more relaxing environment, with a pool built for lounging and cooling off, and a jacuzzi for relaxing after a night out.
The ultimate pool experience, however, goes to The Palms' famous Sky Villas. The Sky Villas include private infinity pools that overlook Las Vegas. Could a pool be any more baller??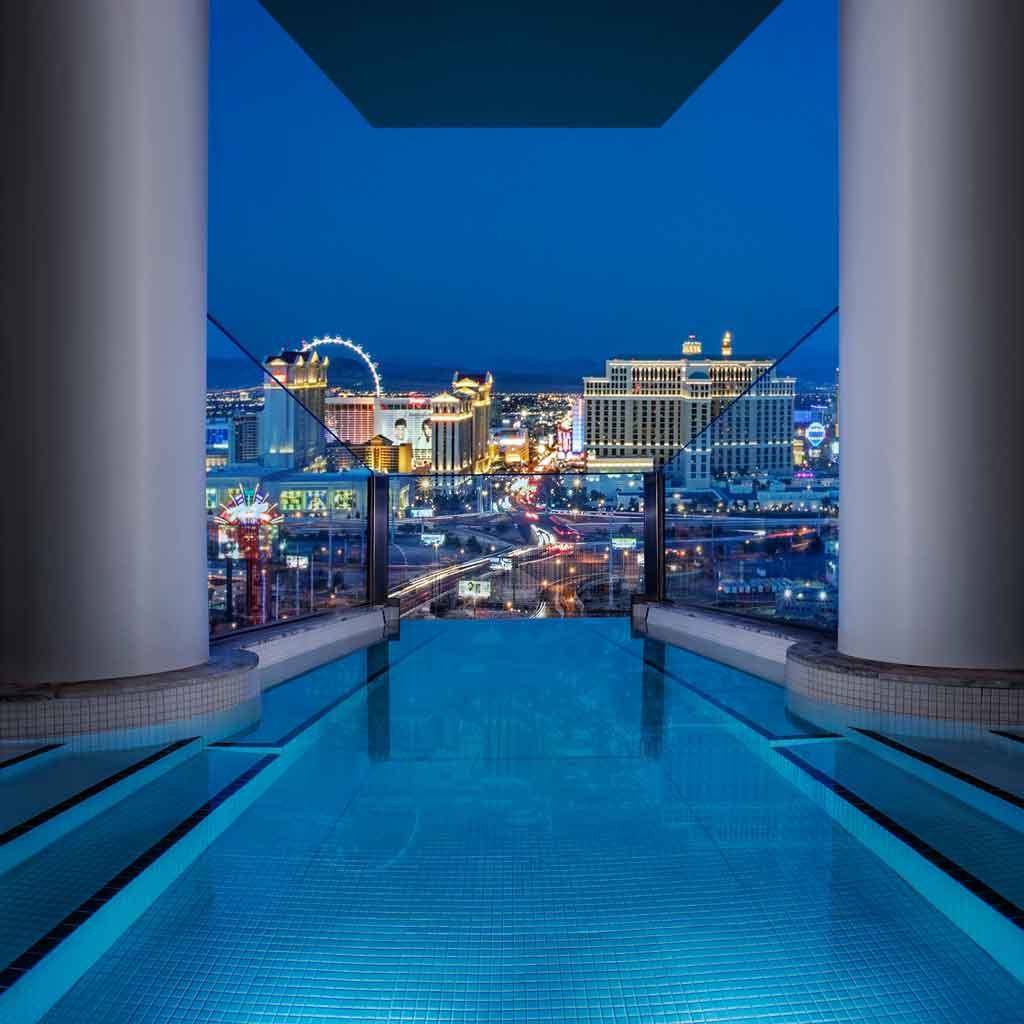 Pool with the coolest view: Soleil at Paris Las Vegas
Located directly under the replica of the Eiffel Tower, amongst a French-style garden, is the Soleil pool area at Paris Las Vegas.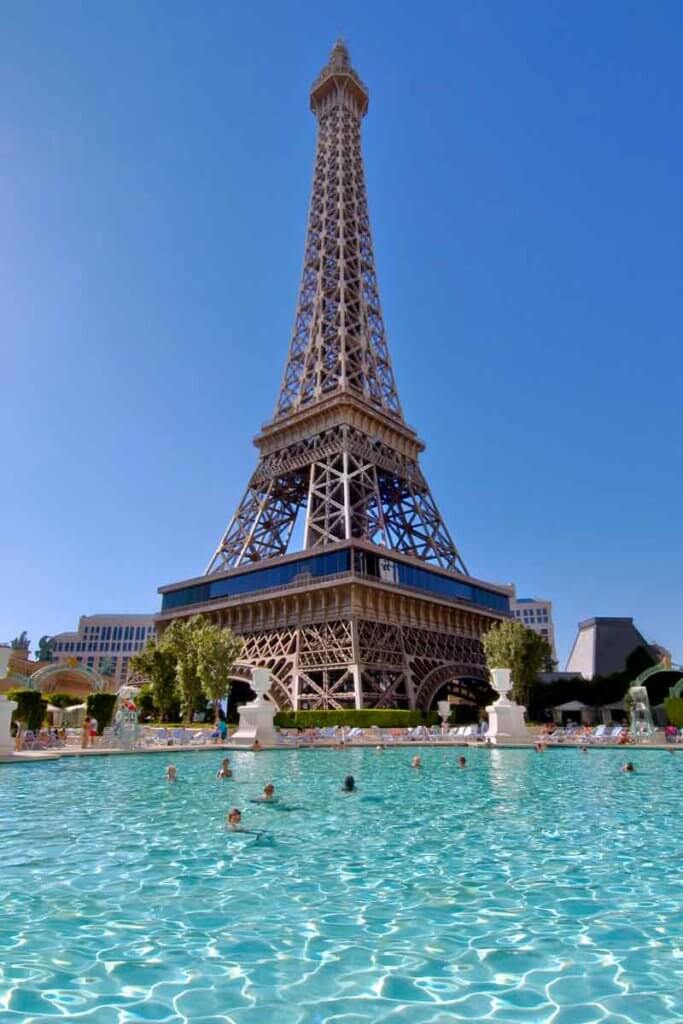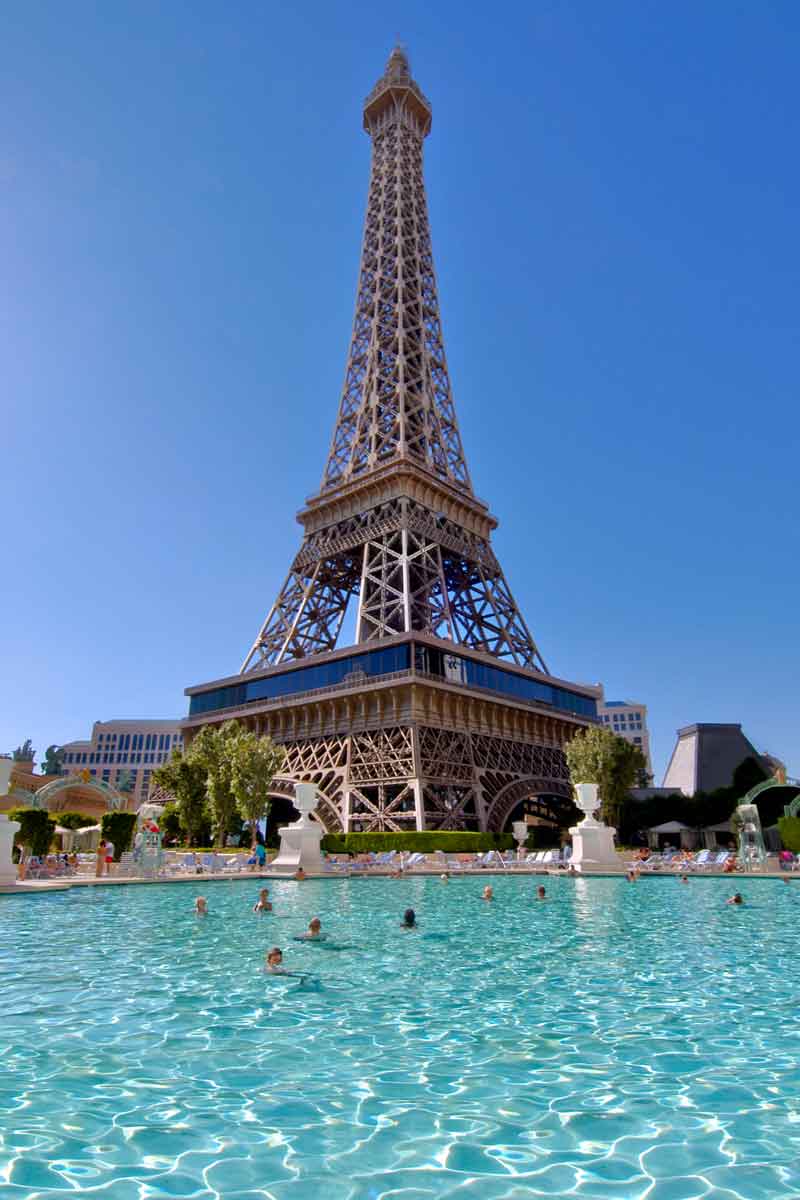 The Soleil pool is open from 9 AM to 6 PM. It is available to Paris Las Vegas hotel guests for free and is NOT available to non-hotel guests.
Hotel guests can upgrade their experience at Soleil by renting cabanas or villas (like mini pool houses!). Lounge chairs are free and are available first-come, first serve.
Hang 10 on the FlowRider at Planet Hollywood
The Scene Pool Deck at Planet Hollywood can get loud with music, but it stops short of dayclub territory.
There are 2 pools, one that is 21+ and another that is all ages. Both pools are open from 9 AM to 7 PM.
There is also a FlowRider surf experience, the first of its kind on the Strip. On the FlowRider, you can experience surfing via freestanding wave. The FlowRider is open from 10 AM to 6 PM. It costs $25 per 30 minutes.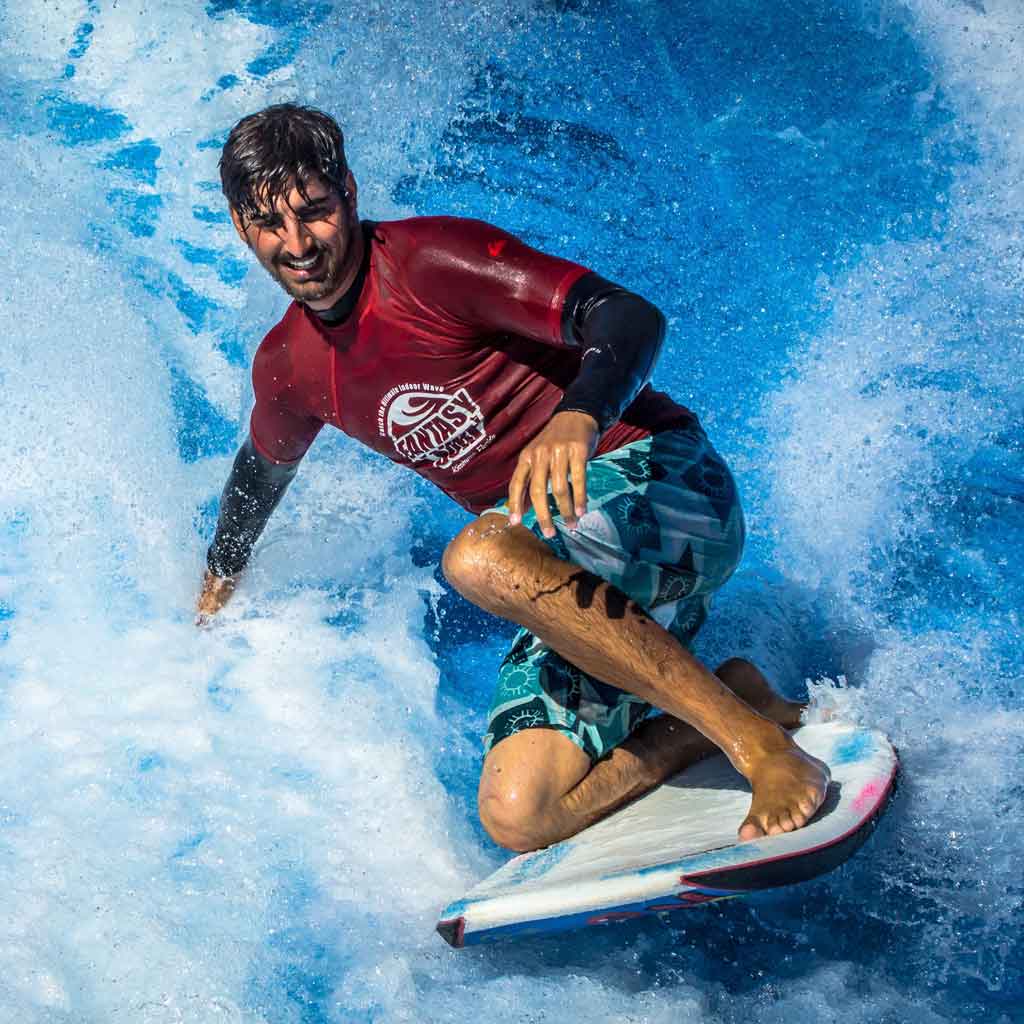 Overall if you want a fun pool with music, The Scene is a great pick. If you want a relaxing pool atmosphere, I recommend staying at another property on this list.
Hotel guests can use the pools for free, except for the FlowRider. Guests of other Caesars properties can also use the pools at The Scene Pool Deck for free by showing their hotel room key.
Non-hotel guests have a $10 cover charge, unless they are renting a cabana.
Which of the best pools in Vegas is your favorite?
So which hotel are you going to book based on their pool? I know, it's so hard to choose a favorite between all the great pools in Las Vegas!
Let me know in the comments below which pools you'll be hanging out at this year.
Use the search box below to find the best deal across multiple booking sites for your Vegas vacation.
This post was originally published on March 4, 2017. It was most recently updated on July 30, 2019.