While you may not be into the party scene, that doesn't mean you don't enjoy an adult beverage now and then, right?
Whether you're into craft beer, cocktails, wine or the finest liquor, you'll find plenty of places to quench your thirst in Las Vegas.
Keep reading this post to find the best bars on the Las Vegas strip for mouthwateringly delicious drinks.
Alexxa's Bar
Part of the Hexx family, one of my favorite places to get brunch in Vegas, Alexxa's bar serves up casual fare with a thoughtful drink menu.
Alexxa's is a prime spot for people watching from its rooftop patio alongside Las Vegas Blvd.
There are also daily happy hour specials from 4 to 7 PM.
That said, the best reason to head to Alexxa's are for a sangria flight or shareable punch bowl cocktail!
That is, assuming you invite me to be the one to share with!
Alexxa's Bar is located at the corner of Paris Dr. and Las Vegas Blvd S at the Paris Las Vegas hotel. Look for the yellow and white striped awning.
AmeriCAN Beer & Cocktails
AmeriCAN Beer & Cocktails is like a fun backyard party transplanted to the middle of the Las Vegas strip.
This fun bar at the LINQ Promenade features canned craft beers from every state in the USA, fun games like giant Jenga, and big screen TVs playing sports games.
Aureole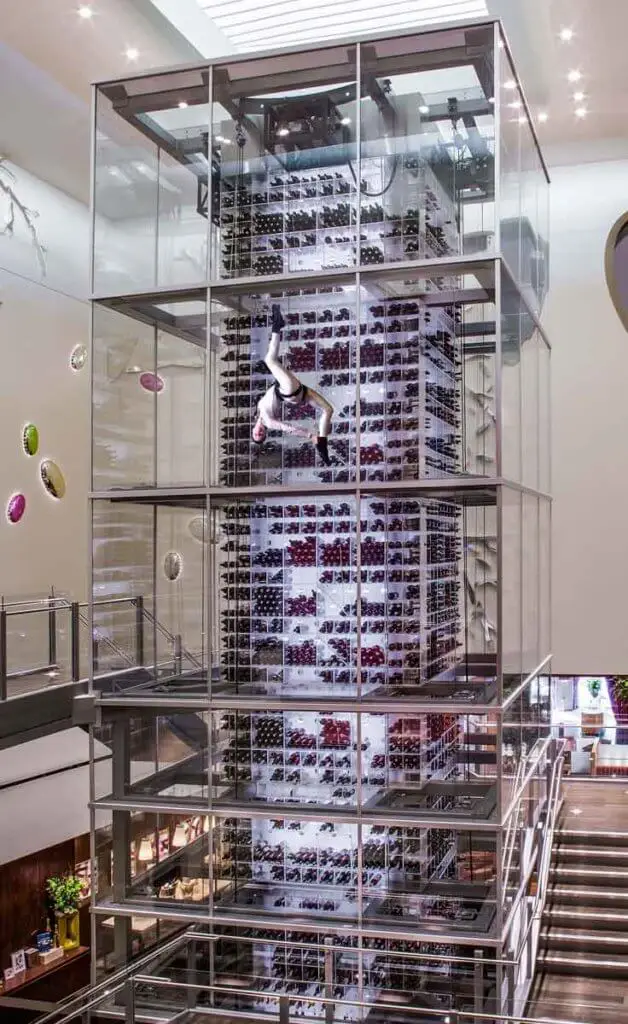 Winos will definitely want to head to famous chef Charlie Palmer's Aureole at Mandalay Bay for a good meal and a glass (or bottle…no judging here!) of wine.
What makes the Aureole stand out from other fine dining on the Las Vegas strip is its 42-foot glass-enclosed tower of wine.
Wine angels suspended by a harness and cables retrieve and stock the wine, almost a bit Cirque du soleil in a way.
This Michelin-starred restaurant is only open for dinner from 5:30 PM to 10:30 PM. Guests are able to enjoy wine or cocktails starting at 5 PM.
Beerhaus at The Park Las Vegas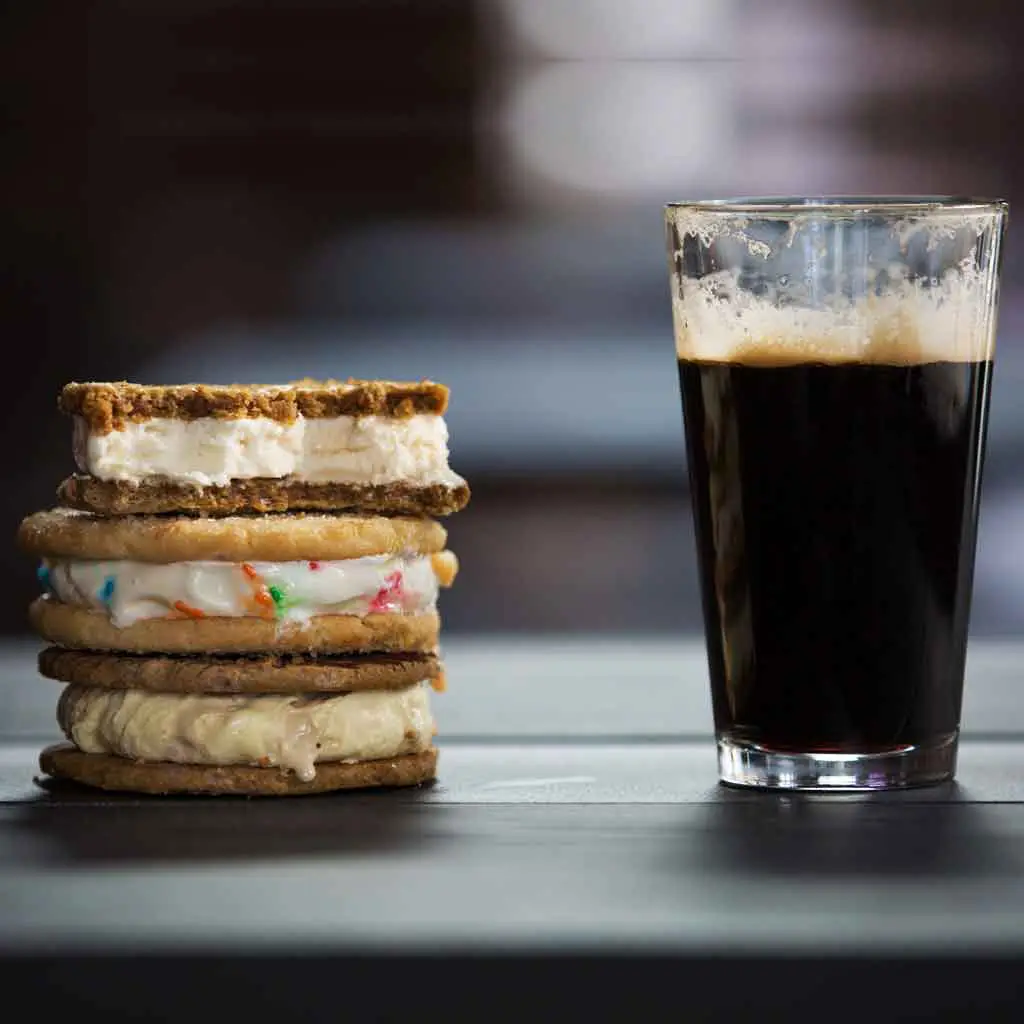 Head to Beerhaus for a great beer selection, burgers, dogs, and plenty of fried pub appetizers like wings, Frito pie, and fried pickles.
Beerhaus is located at The Park, between the New York-New York Hotel & Casino and Park MGM.
Its location makes it a great pick for casual grub if you're headed to the T-Mobile Arena for an event.
The Budweiser Beer Park
The Budweiser Beer Park might seem a bit out of place with other venues at Paris Las Vegas.
That is, until you actually get to Beer Park and see that it is one of the best rooftop bars in Las Vegas.
The vibe at Beer Park is very casual, with typical American bar food and frat-house type games like beer pong and pool.
In my opinion, the best time to hit up Beer Park is Saturday or Sunday for brunch and a little hair of the dog, if you know what I mean.
Bound at The Cromwell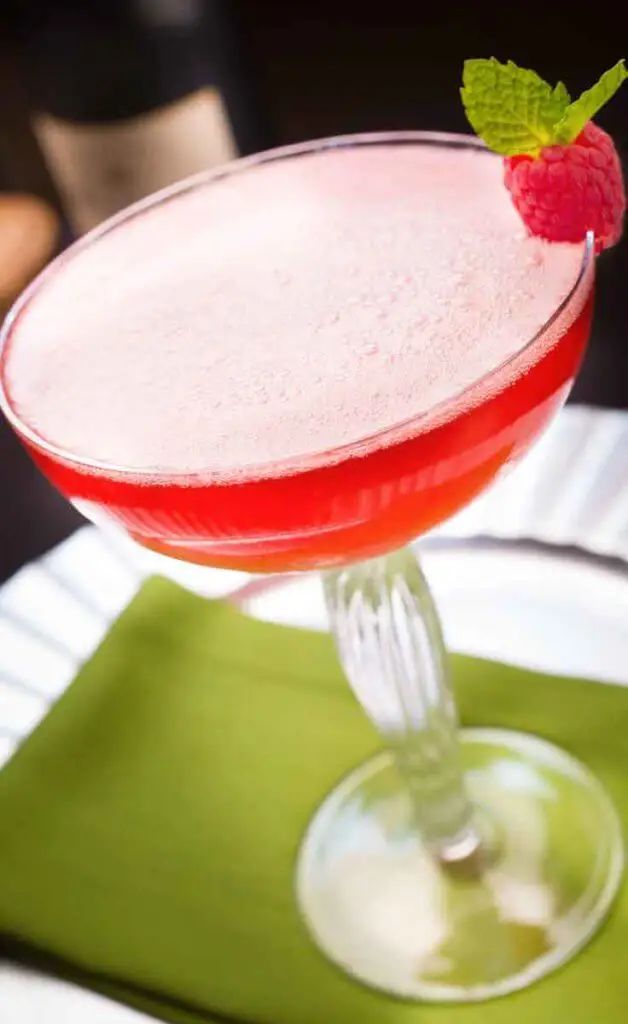 If you are a fan of cocktails, getting a drink at Bound, the lobby bar at The Cromwell, is a MUST.
Most lobby bars in Vegas are more miss than hit, but that is not the case at Bound.
The cocktails at Bound are super creative, plus you can book a class to learn how to make a few of them!
If you need a quick bite to eat, you can order food via text message and have it delivered to the bar.
Just text LVCROMWELL to 555-888 (yes, that's the #!) and you can order snacks like pizza and street tacos.
Catch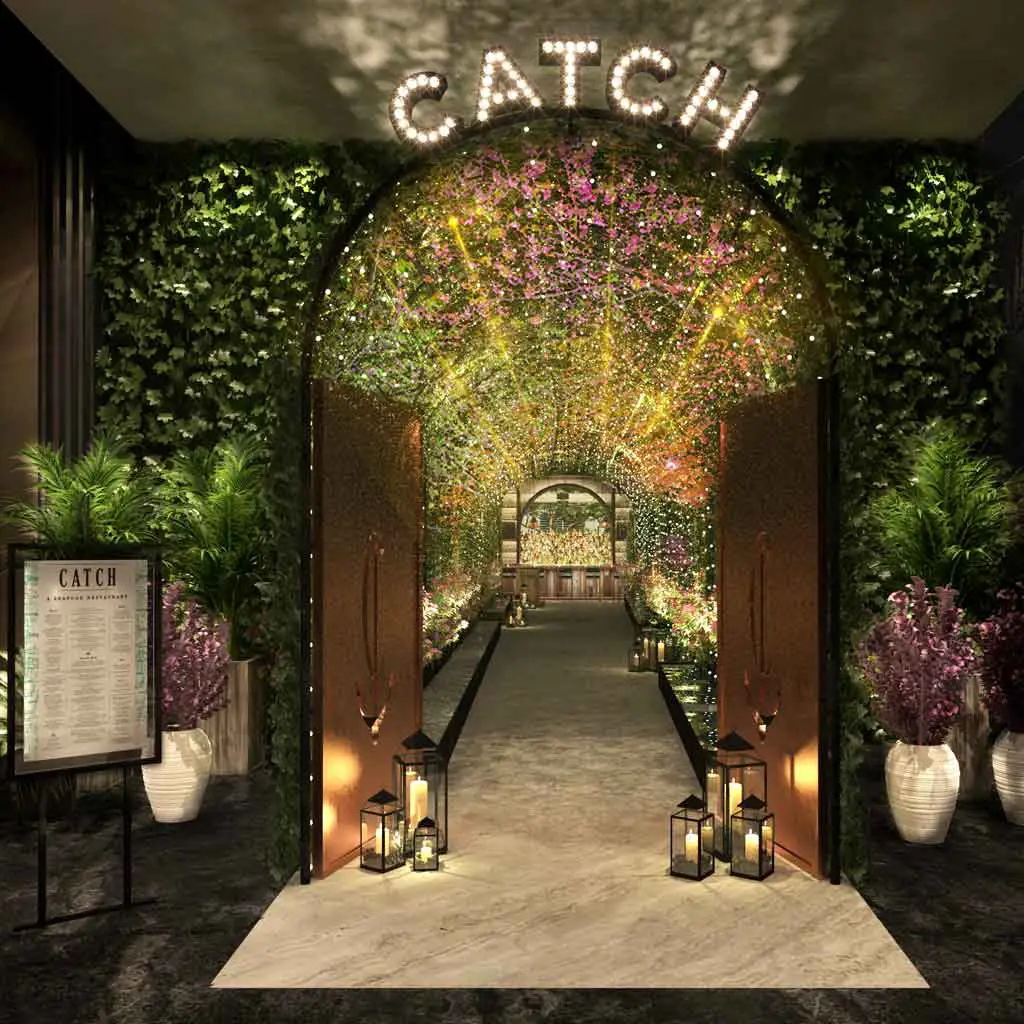 For delicious food, creative cocktails, and stunning scenery, head to Aria's newest restaurant, Catch.
The menu at Catch features sushi, seafood, and steak, which is pretty standard for fine dining in Vegas.
Its cocktails and scenery are what drew me in.
Walking in to Catch almost feels like you're transporting through a rabbit hole to Wonderland, with twinkling lights, gorgeous plants, and delicate flowers everywhere.
It's truly an instagrammer's dream.
And then there are the cocktails. If you didn't gasp when you saw the photo above, I'm not even sure why you're reading this post!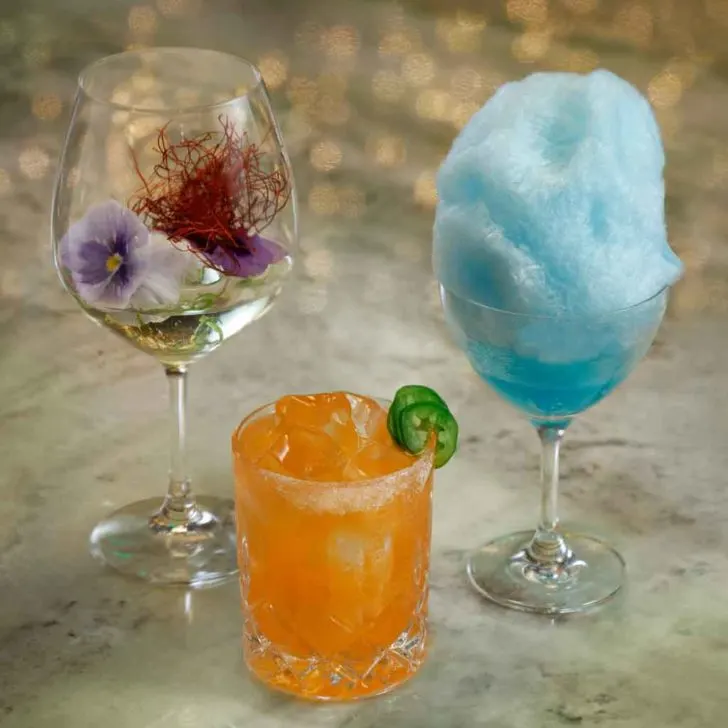 I'm loving the Catch-22 cocktail, which is unique to the Catch Las Vegas location.
The Catch-22 cocktail starts with a puff of baby aqua cotton candy and is then dissolved with a mixture of yuzu juice and vodka.
Yummm…tart and sweet, perfect after a hot Vegas day.
TIP: If you're just interested in checking out just the cocktails at CATCH, the lounge area is only open Thursday through Saturday from 10 PM to 3 AM. Dining hours are Monday through Sunday from 5:30 PM to 11:30 PM.
The Chandelier Lounge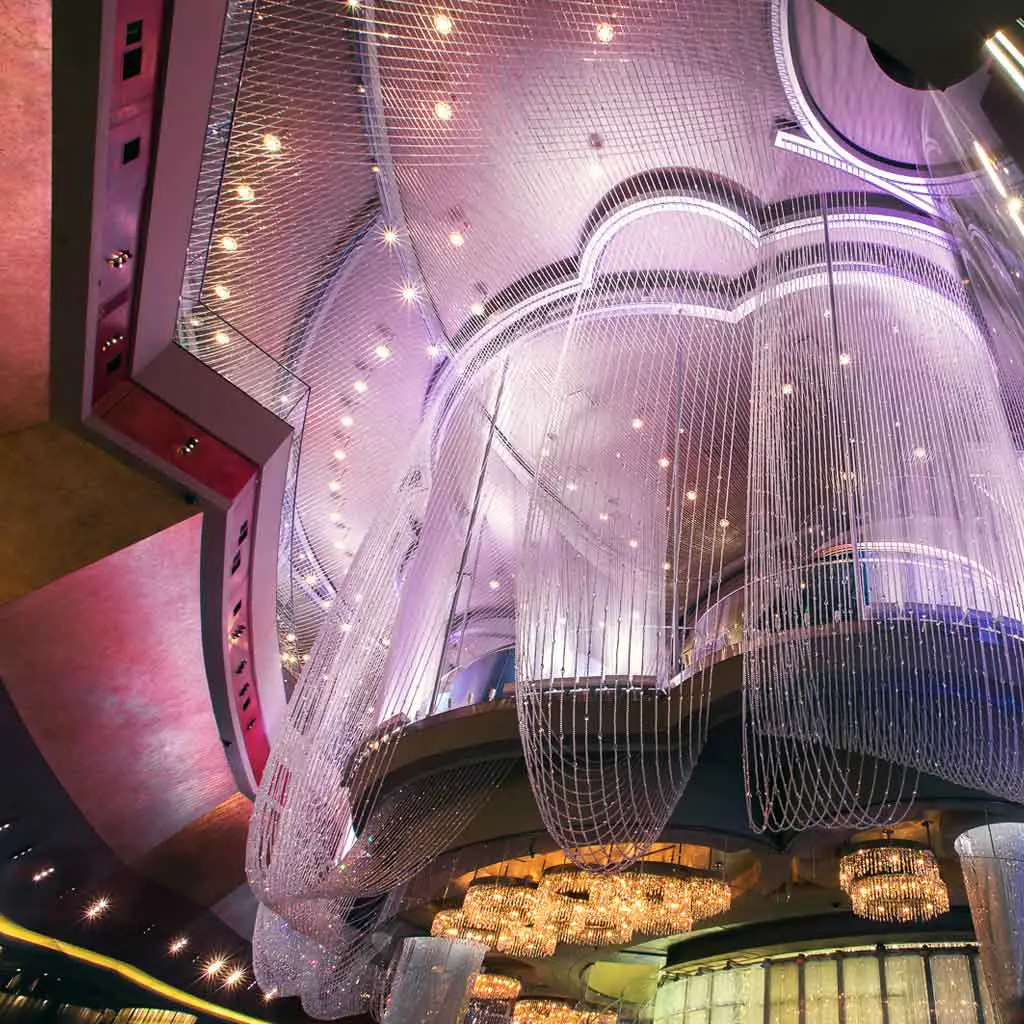 The Chandelier is the super swanky, 3-floor lounge at The Cosmopolitan that looks like a giant chandelier.
Each floor at The Chandelier has its own vibe, so if you're ready to switch things up, just change floors!
The bottom floor is your classic central casino bar. Head up to the middle floor, inside the chandelier, for craft cocktails.
The top floor is a great meeting spot for pre or post dinner drinks, as many of The Cosmopolitan's superb restaurants are on the same floor.
The Dorsey Cocktail Bar
If you're very important, have many leather bound books, and your apartment smells of rich mahogany, The Dorsey is for you.
I kid. But really, The Dorsey looks like a swanky library filled with important books, with plenty of intimate seating available.
It's a great place if you're looking for somewhere quietish to catch up over a cocktail.
Ghost Donkey
Ghost Donkey is the newest bar at The Cosmopolitan of Las Vegas, located in the Block 16 market.
Ghost Donkey specializes in tequila and mezcal. Guests can order mixed drinks, by the glass or a tasting flight.
Although new and small, Ghost Donkey has quickly become known for the best margaritas in Las Vegas.
The food menu at Ghost Donkey is tiny, but perfect. It consists of nachos and only nachos. YUM.
Hazel Coffee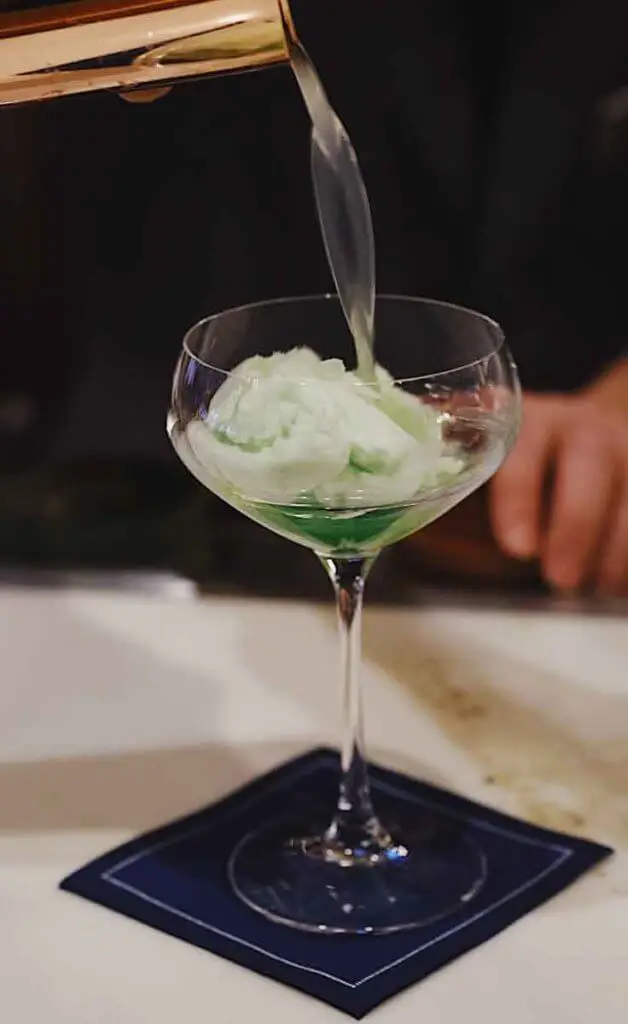 If you need an afternoon pick-me-up, but can't decide on coffee or a cocktail, head to Hazel Coffee at Mandalay Bay.
Hazel Coffee serves up cocktails and specialty coffees, so there is no need to decide among your group on whether to hit up a cafe or lounge.
This spot will satisfy everyone's needs!
The High Roller
For a unique way to celebrate happy hour, head to the High Roller at the end of the LINQ Promenade.
Special tickets can be purchased for the Happy Hour pod, which includes a 30 minute ride with open bar.
The Happy Hour pod is available from 12 PM to 1 AM.
Price ranges from $40-52, not including fees or taxes, and is dependent on the time of day that you go.
Holsteins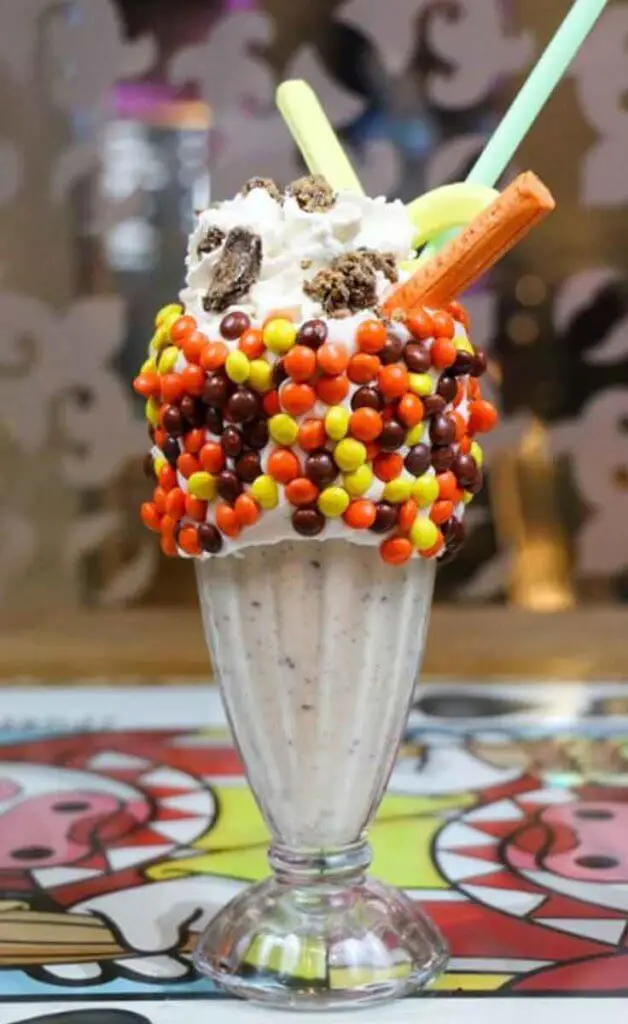 The boozy milkshakes at Holsteins Shakes and Buns are perfect for when you need a cool-me-down treat, adult style.
My favorite is the Donutella shake, which includes Patrón XO cafe and a Nutella glazed donut, but the most popular is the Drunken Monkey (pictured above).
If you're feeling a bit peckish, their burgers are super satisfying, as are the sweet potato fries.
Juniper Cocktail Lounge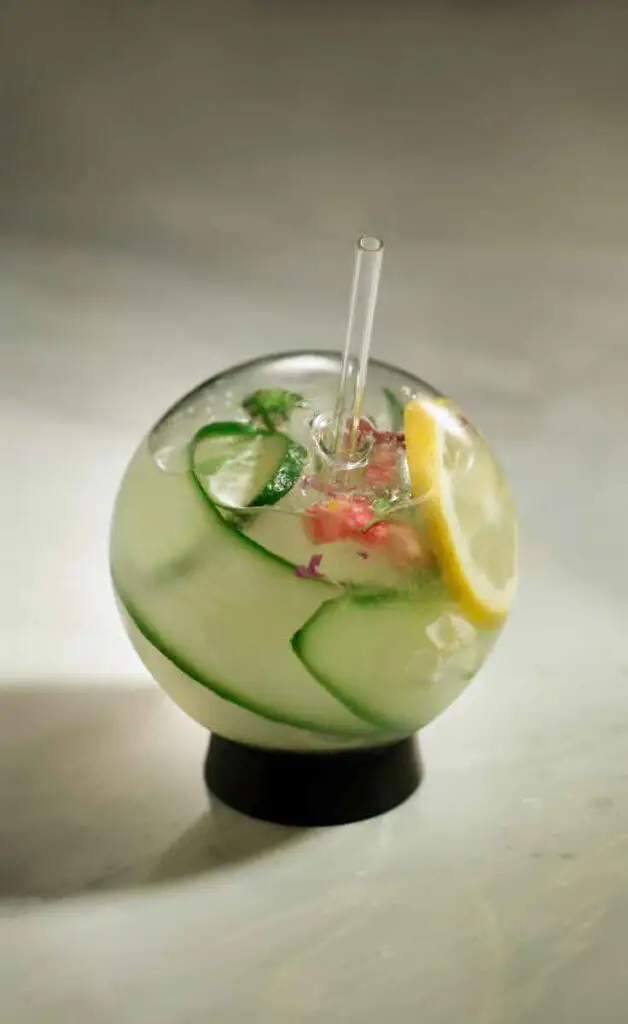 I have to hand it to MGM. They really did a great job with revamping what was originally the Monte Carlo into one of the newest hotels on the strip, the Park MGM.
And that massive revamp is what brought us the Juniper Cocktail Lounge, which specializes in gin-based cocktails.
In fact, Juniper has the largest collection of gin in all of Vegas!
While you can choose from Juniper's lovely cocktail menu, I highly recommend talking to the bartender and asking them to make a cocktail based on your preferences.
It'll be a fun way to explore their ginormous stock of gins from around the world.
Minus5° Ice Bar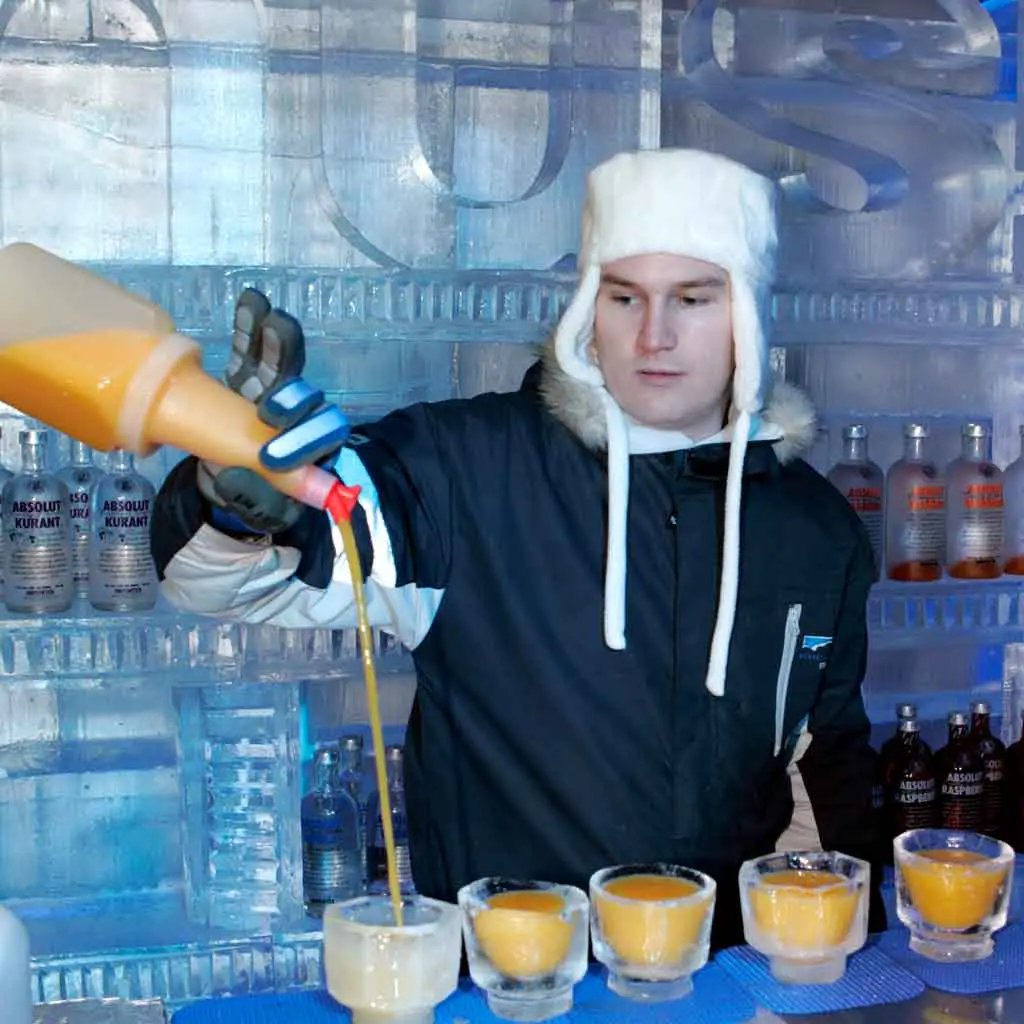 Minus5° Ice Bar is a fun place to beat the Vegas heat.
You can keep cool, knock back a brew or 2, and take fun photos for your Instagram.
There are 3 Minus5° Ice Bar locations on the Strip: Mandalay Bay, The Venetian Resort, and the LINQ Promenade.
Mr. COCO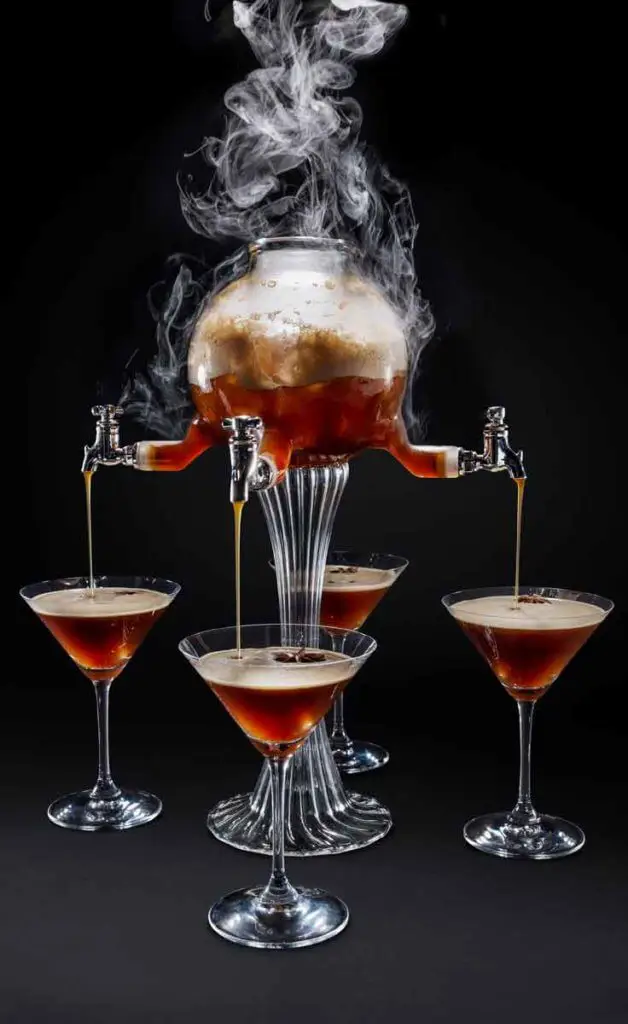 For a quietly entertaining and classy evening, check out Mr. COCO in the Fantasy Tower at the PALMS.
Yes, the PALMS is located slightly off-strip, but barely so, so I'm gonna stick it here anyway.
Mr. COCO features internationally-inspired small plates, caviar, and cocktails.
When you arrive at Mr. COCO, you'll be greeted with an amuse-bouche cocktail before being seated. How fun is that!?
Further promoting the classy and stylish atmosphere at Mr. COCO is a nightly piano performance.
The NoMad Bar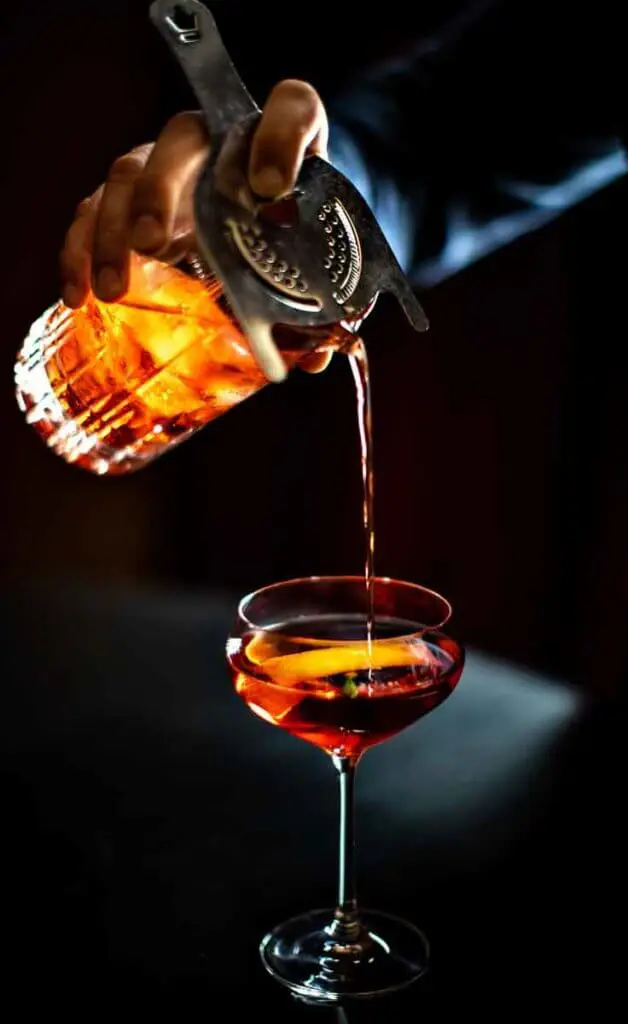 Sitting atop Park MGM is the Las Vegas outpost of the NoMad Hotel chain.
This super fashionable hotel brand is known for sophistication and luxury, so you KNOW their bar has got to be great.
If you're in Vegas to see Lady Gaga, Bruno Mars or Janet Jackson, who all have had shows in the immediate area, pre-show drinks at the NoMad Bar will add even more magic to your night out.
Not sure what to get from their super interesting cocktail menu?
I highly recommend the Dr. Feelgood or Start Me Up cocktails. Or you could always go with a classic Manhattan (pictured above).
On the Record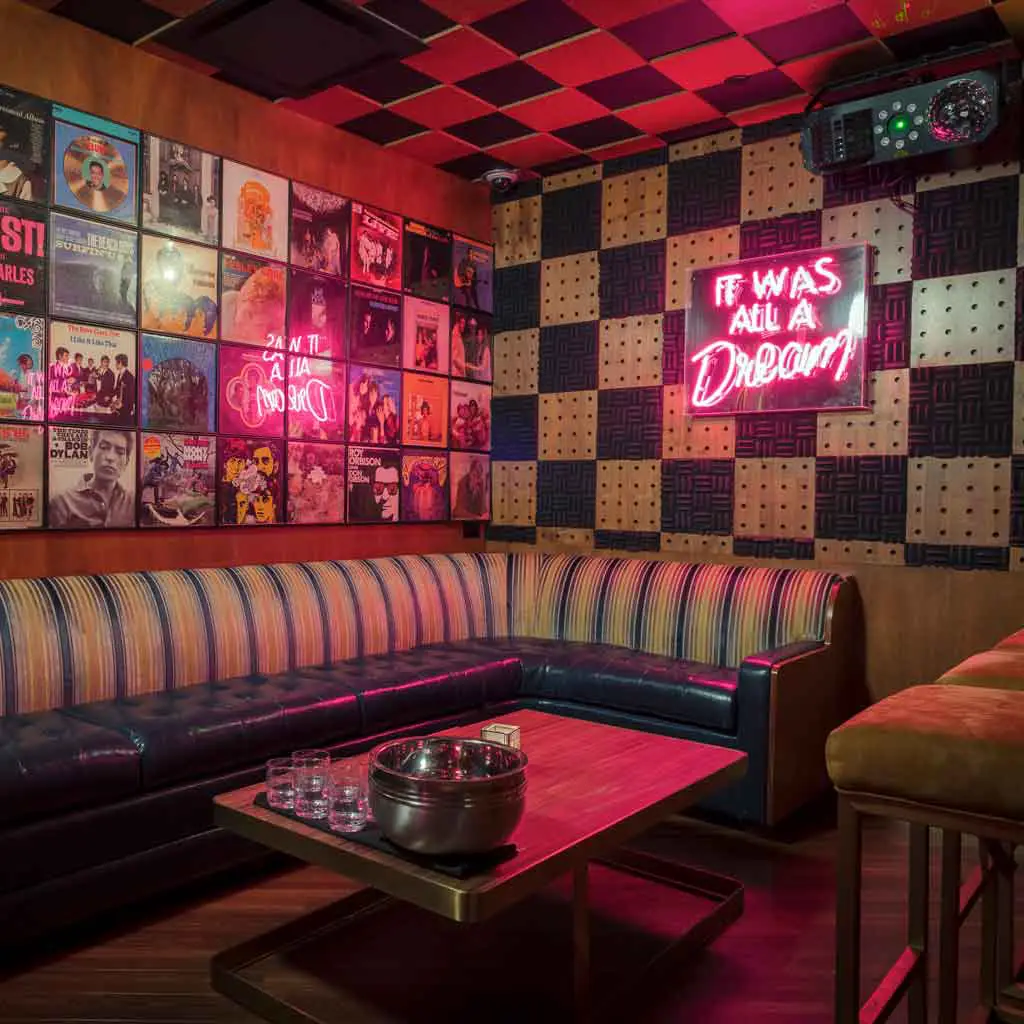 Hidden behind a faux-record store entrance at Park MGM is the super fun and hip bar, On the Record.
If you're not a fan of the megaclubs in Vegas, but love to go dancing, On the Record is the perfect spot.
On the Record has 3 hangout areas, one of which is outside, and hosts up to 750 people each night.
Yes, that's a lot of people, but the megaclubs, like Marquee, can host thousands.
Trust me, it'll feel more intimate than it sounds!
Rhumbar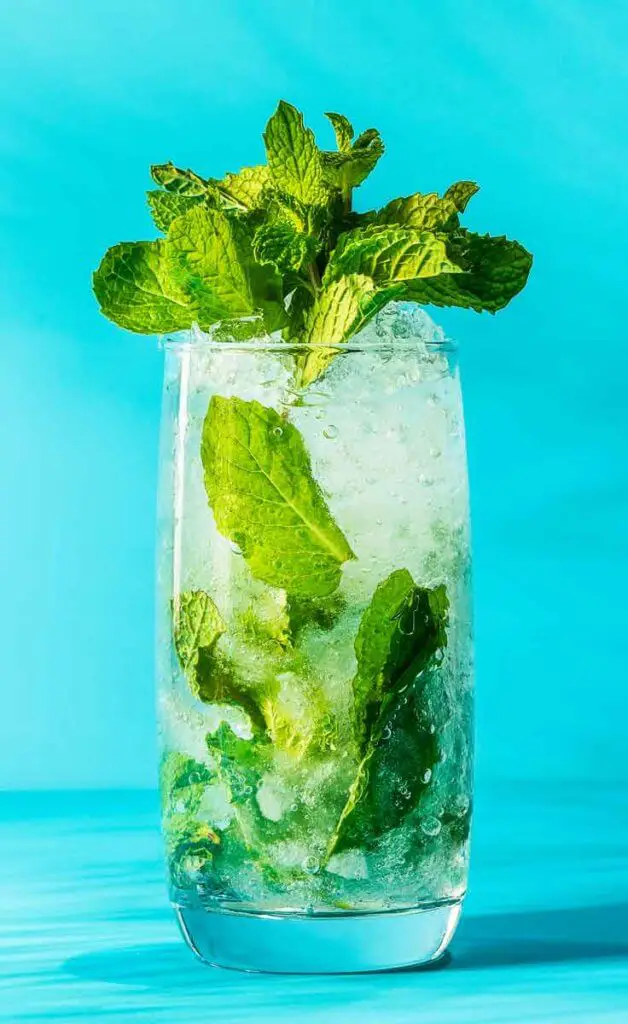 Soooooo… technically Rhumbar is billed as a cigar bar.
However, any time I've gone to Rhumbar, I haven't been bothered by cigar smoke.
There's a teeny bit of a Little Havana vibe at Rhumbar, with an outdoor patio complete with misters to keep you cool in the Vegas heat, a top notch cigar menu, and seriously legit mojitos.
While Rhumbar is open at night, I prefer to head here for an afternoon cool-down – a mojito, of course!
Rose. Rabbit. Lie.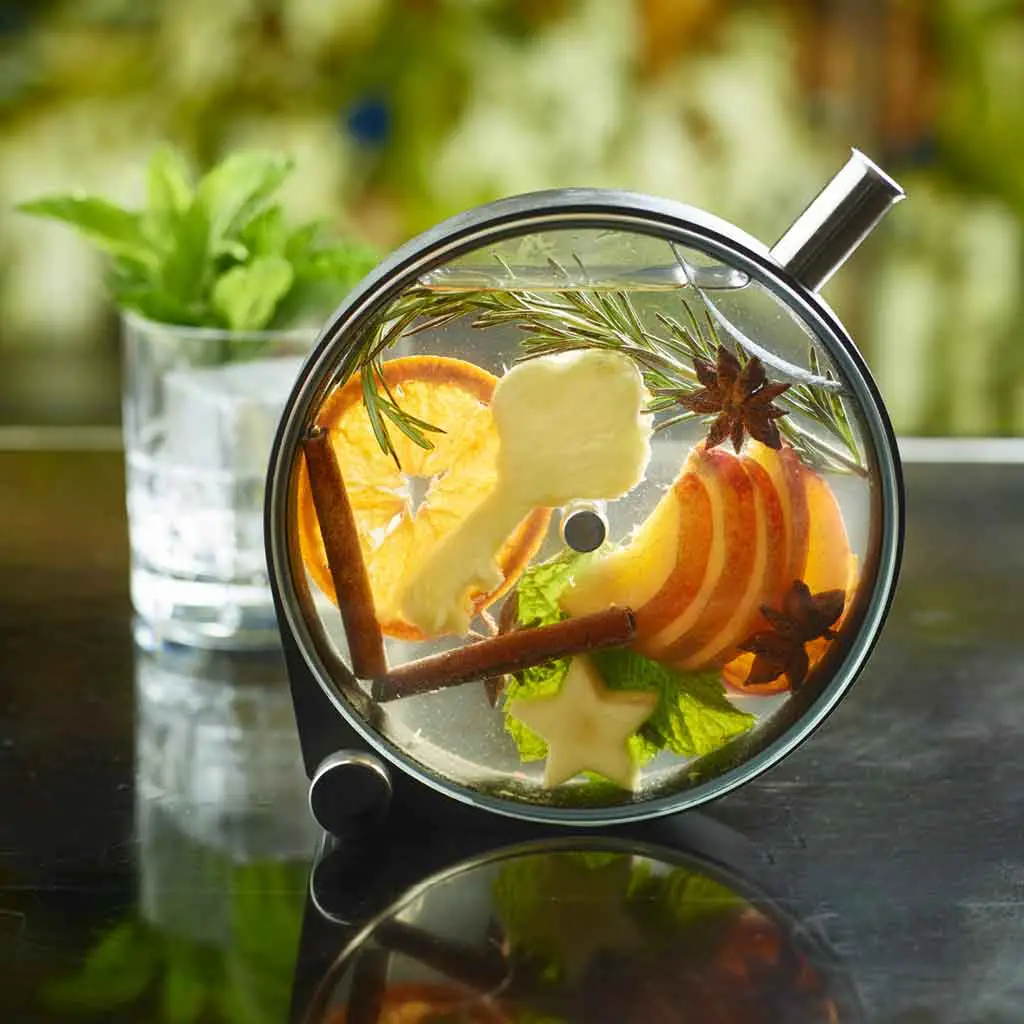 Rose. Rabbit. Lie. focuses on small, shareable plates and handcrafted cocktails, all with some kind of quirky twist.
There's also a special category on the menu for dishes that feature caviar, such as caviar tacos or a caviar tasting flight.
While you're dining, you'll likely experience pop-up performances happening around you.
What the performances will be is anyone's guess, as they are never the same.
So if you've been once, you won't experience the same night again!
Rosina
Looking for one of the best champagne bars in Las Vegas?
Look no further. The booths at Rosina have Champagne call buttons, so you know they take bubbly seriously.
Champagne isn't the only specialty at Rosina, though.
There's a not-so-secret Manhattan menu, where you can either pick the original or one of several twists on the classic whiskey cocktail.
Rosina also features a super chill vibe with a playlist of blues, jazz, R&B, and soul music.
Sadelle's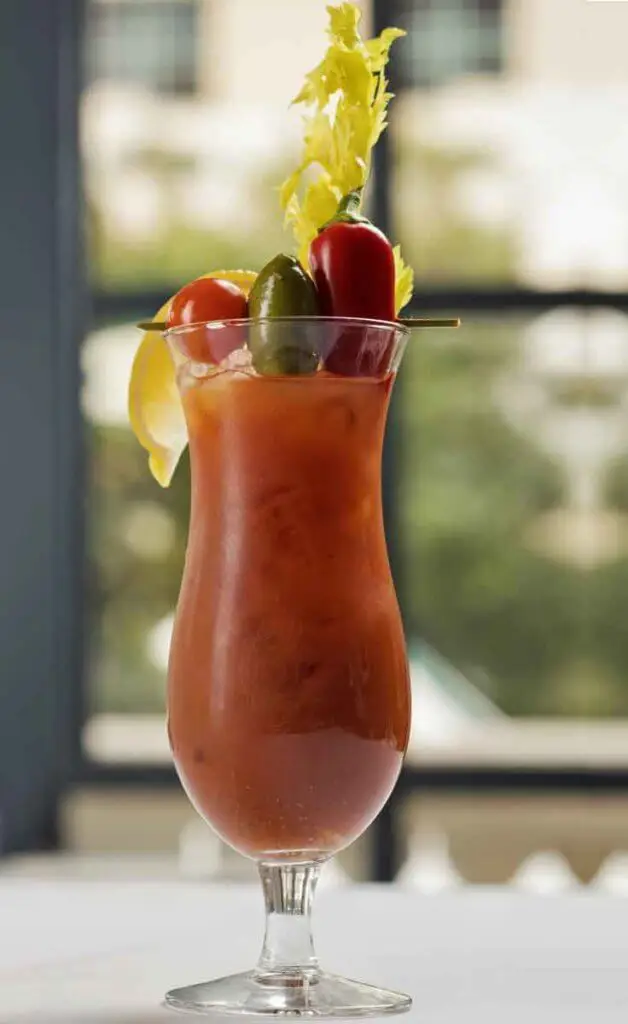 Who doesn't love a stacked up Bloody Mary every once in a while?
If that's what you're craving, head to Sadelle's at the Bellagio.
Sadelle's is perfect for brunch cocktails or breakfast-for-dinner cravings, as they serve breakfast all day.
Oh and don't worry, they've got mimosas too!
Scotch 80 Prime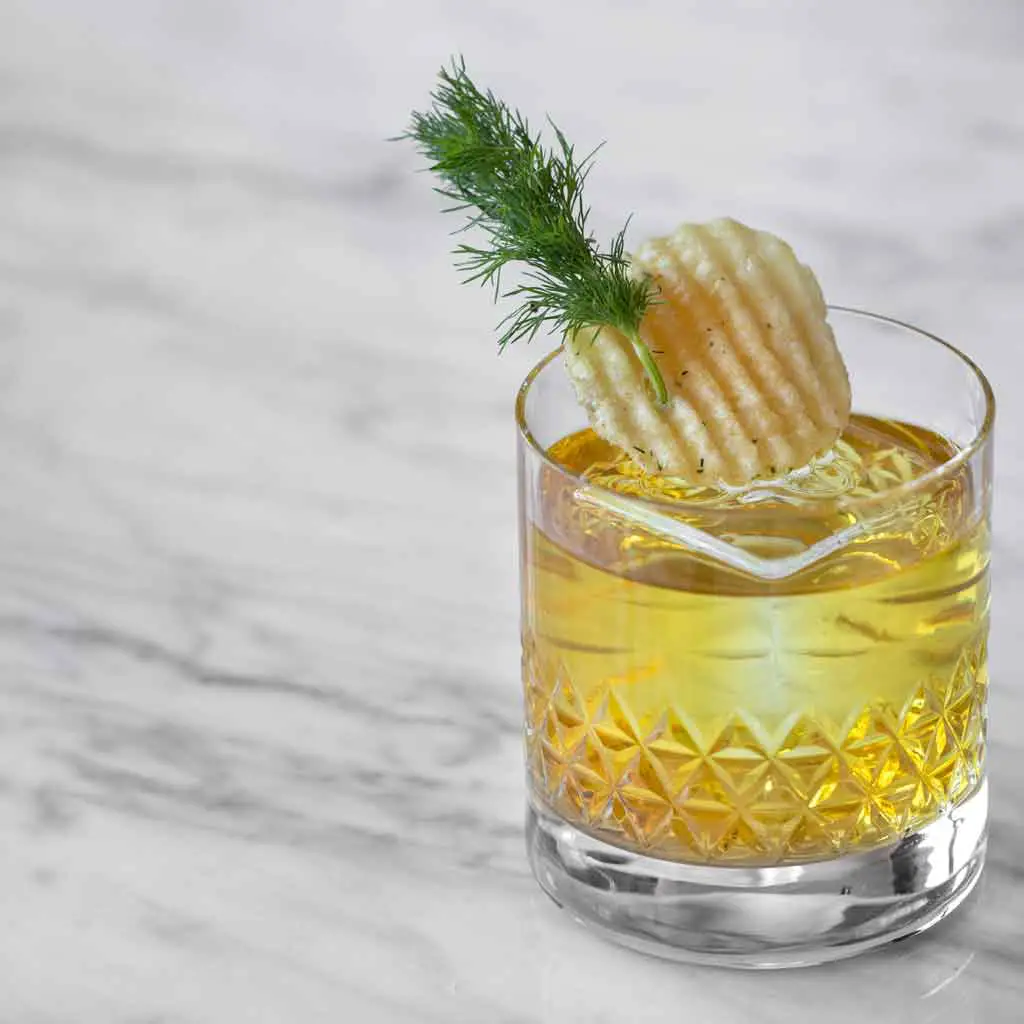 If you're a whisky fan, I highly recommend reserving a table for dinner at Scotch 80 Prime at the PALMS Casino Resort.
Scotch 80 Prime has one of the biggest collections of rare and vintage whisky in the USA.
Guests can dine in or outside at this fine establishment, while sipping on Dalmar Cigar Malt Reserve, Macallan 49yo 1952 (cask 1250) single malt, and the like.
SkyBar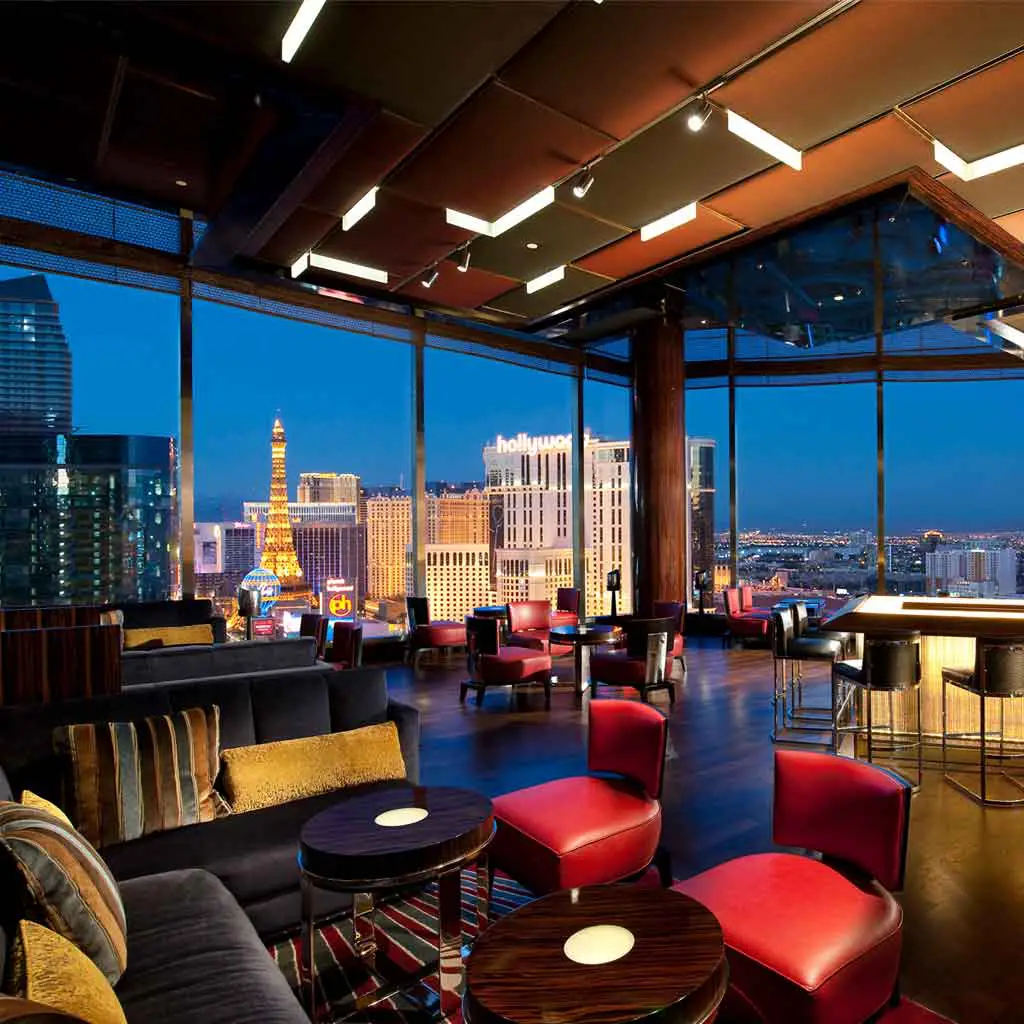 All the way up on the 23rd floor of the Waldorf Astoria Las Vegas are the most spectacular views of any bar in Sin City.
SkyBar is the reincarnation of the Mandarin Oriental's Mandarin Bar, which I've recommended in the past for classic martinis and stellar views.
The cocktail menu at SkyBar is brand new and curated based on the history of the Las Vegas strip.
Cocktails include Boulder Dam, Prohibition, Atomic, and Sinatra, for example.
NOTE: The Waldorf Astoria Las Vegas was previously known as the Mandarin Oriental Las Vegas. Ownership of the hotel transitioned to Hilton, the Waldorf Astoria parent company, in 2018.
Tom's Urban
Head to Tom's Urban at The Park for a Bacon Bloody Mary, stuffed with cream cheese-filled celery and bacon.
It's one of the best Bloody Marys in Las Vegas and is practically guaranteed to make you feel refreshed after a night of partying.
Tom's Urban also features beer flights and punch bowl cocktails meant to be shared with groups of 6+.
Caesars Palace
One of Vegas' newest hot spots comes courtesy of Lisa Vanderpump, famed restaurateur and star of the Bravo TV shows, The Real Housewives of Beverly Hills and Vanderpump Rules.
Vanderpump Cocktail Garden is like a beautiful, flowery English Garden transplanted to the Vegas strip.
There's lots of posh pink, garden green, and ornate gold accents.
Plus, there are towering trees, scaling plants, and pretty flowers everywhere.
The garden concept spills into the menu with lavender hued cocktails, rosé infused sponge cake, and plenty of botanical garnishes.
What do you think the best bars in Las Vegas are?
Now that you know where to get the best drinks in Las Vegas, where are we meeting for drinks? Leave a comment below to let me know!
Up next, check out my post about the best things to do in Vegas and best hotels in Vegas so you can plan your vacay!
---
About the author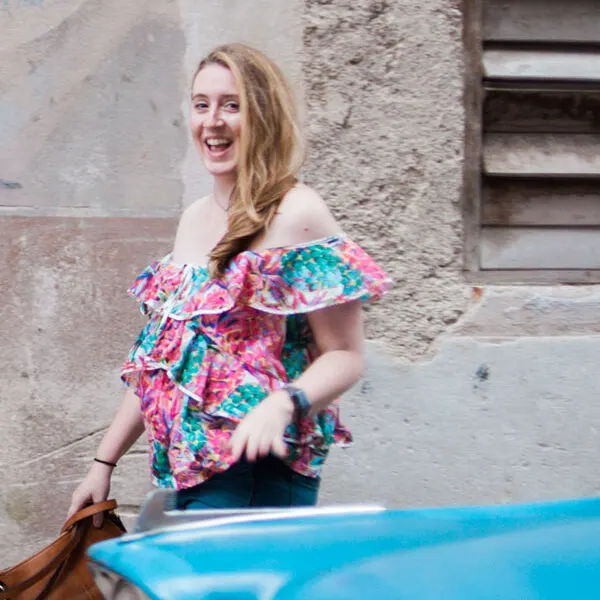 Meg Frost is a Boston-based travel blogger that helps people embrace technology to make vacation planning and traveling wicked easy, affordable, and fun.
She holds an M.A. in Journalism from Northeastern University and B.S. in Communication & American Studies from University of Miami.
---
This post was originally published on March 18, 2017. It was last updated on July 29, 2021.