Deciding where to stay in Las Vegas is tough because it can really make or break your trip.
Chances are high that you'll spend most of your time in or near your hotel, so think about your Vegas vacation goals before you book!
When it comes to where to stay in Vegas, I've done all the research for you so you don't need to spend too much time thinking about that part. Keep reading for the top 10 best hotels in Las Vegas, NV.
Aria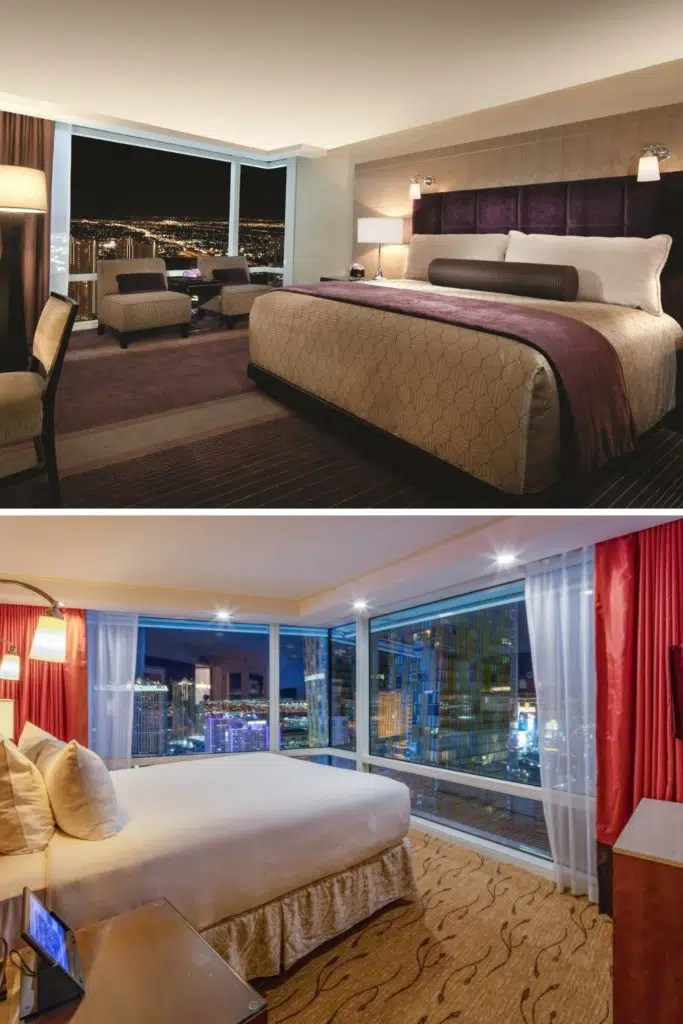 One of the most technologically advanced hotels on the Strip is Aria.
Each room comes with a tablet that allows guests to control the lights, curtains, temperature, and music.
Maintenance is also automagically notified when the tech needs servicing so guests don't even have to worry about remotes that need new batteries or burned out light bulbs.
Aria has over a dozen restaurants and eateries, several of which offer mobile ordering. Does anyone else love the convenience of mobile ordering like me??
Bellagio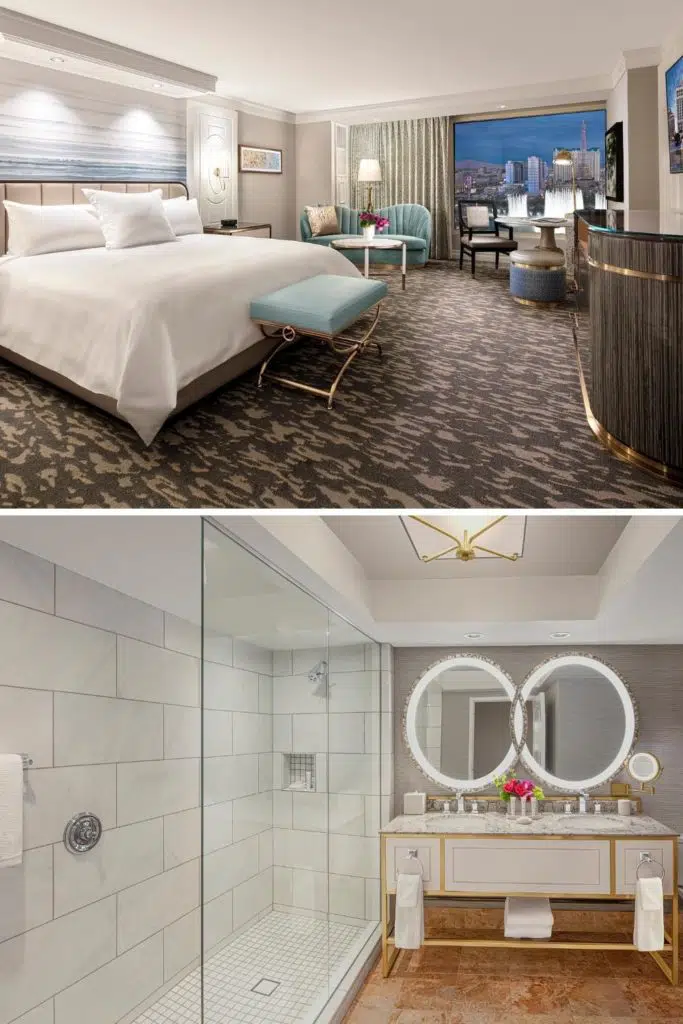 Inspired by Italian luxury without being hokey or too over-themed, Bellagio has just under 4,000 rooms, including 512 suites.
In early 2021, all 2,658 rooms in the main tower were remodeled with new closets, double sinks, a larger shower, and a new look-and-feel (see the King room below!). Who doesn't love a new room?
The restaurants at Bellagio are all top-notch and its pools are some of the best on the strip. Bellagio is also home to Cirque du Soleil's top Vegas show, O.
In addition, there is a free dancing fountain show every night and a grandiose floral display that changes several times per year.
Last, but not least, Bellagio is located at the center of the strip, making it the perfect jumping-off point for exploring the Vegas strip.
Caesars Palace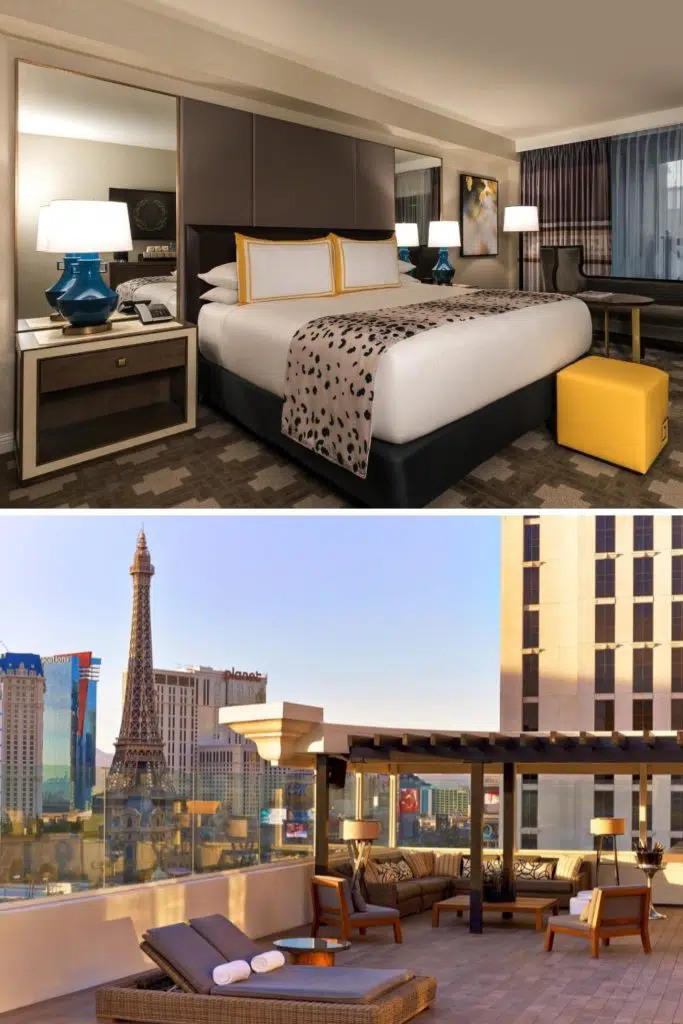 You probably know Caesars Palace from the riotous comedy flick, The Hangover. But don't be fooled – it's quite luxurious!
Caesars boasts 3,980 rooms, including more than 300 suites. In addition, Nobu Hotel, a boutique hotel within the Caesars Palace complex, includes 182 rooms, 18 suites, and 1 villa.
With many of its rooms recently refurbished, Caesars Palace is looking better than ever, living up to its name as the home of an ancient Roman leader.
Caesars is one of the resorts you truly don't ever need to leave. It has multiple pools, is connected to a shopping center, and hosts some amazing Vegas shows such as Absinthe, Usher, and Sting.
And the restaurants? Where do I even start?
Nobu, MR CHOW, Searsucker, Vanderpump Cocktail Garden, and Gordon Ramsay Hell's Kitchen are just a handful of the amazing restaurants located at Caesars.
I'd be surprised if you ever ran out of things to do or places to eat while there!
TIP: If you want to live it up like the guys in The Hangover, book a suite in the Forum Tower.
The Cosmopolitan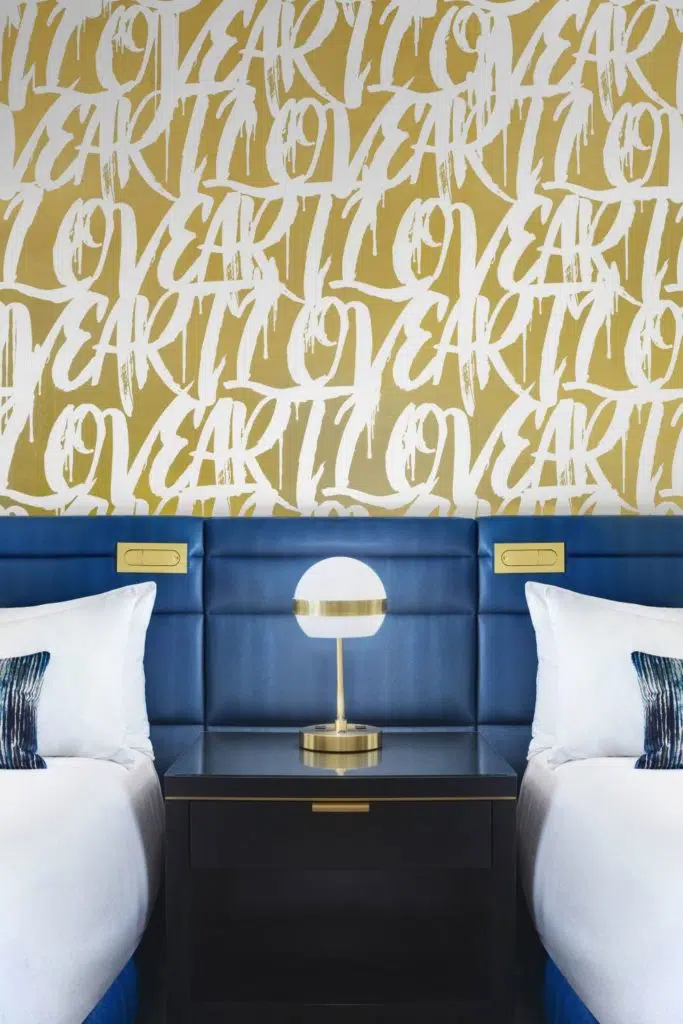 One of my most favorite hotels in Las Vegas is The Cosmopolitan Las Vegas, located right next door to Bellagio.
The super hip Cosmopolitan has just over 3,000 rooms and suites, most of which were remodeled in 2018.
The Terrace suites have balconies with views of the strip, some of which have direct views of the Bellagio fountain.
A few special touches at The Cosmopolitan include a Dry Bar hair salon, Marquee dayclub & nightclub, a Turkish-inspired spa, and Block 16 food hall (among other restaurants!).
The Cromwell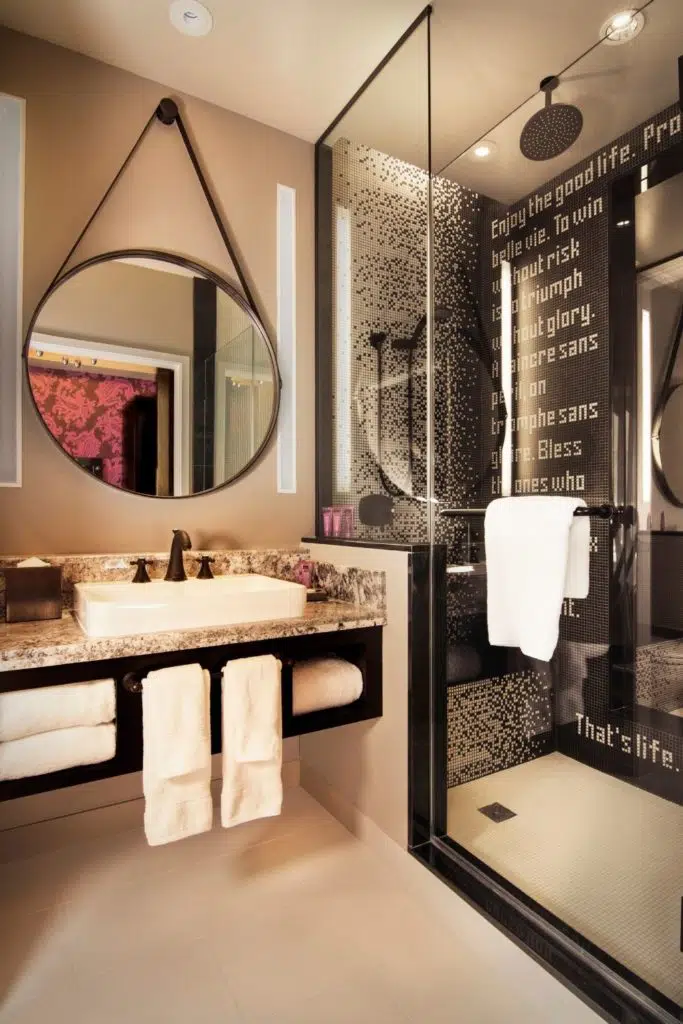 The first standalone luxury boutique hotel on the strip, The Cromwell has 188 rooms and 19 suites.
It's a great spot for a long weekend celebrating something big, like a milestone birthday or bachelorette.
The Cromwell is home to Drai's Nightclub & Beach Club, so you can party hard any time of the day if that's your thing.
It's also home to Giada De Laurentiis' first restaurant, GIADA, which serves traditional Italian fare with a modern twist.
LINQ
There are surprisingly quite a few hotels in Vegas that are great for budget travelers.
The LINQ is the best place to stay on the strip when traveling on a budget, though. It doesn't sacrifice style nor atmosphere despite regularly going for less than $100 per night.
They also have these super cool rooms with a patio that opens up to the pool area, so you don't ever have to fight for a good poolside chair.
It's also connected to one of my favorite spots on the strip, the LINQ Promenade.
At the LINQ Promenade, there's zip lining, a ferris wheel, multiple restaurants, shops, and a bowling alley that doubles as a music venue.
Given its cheap prices and proximity to entertainment, it's quite popular with the college and young professional crowd.
The Waldorf Astoria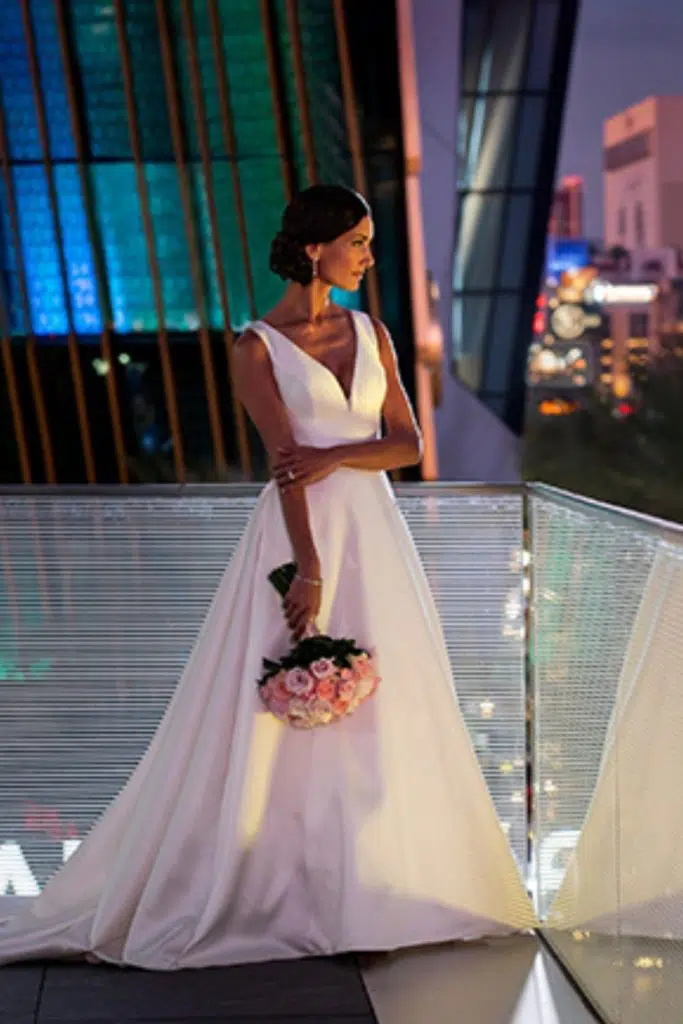 The Waldorf Astoria Las Vegas lives up to its luxurious reputation and Live Unforgettable spirit.
The rooms are so nice that you'll probably not want to leave, making the Waldorf Astoria perfect for a romantic getaway.
All rooms are decorated with posh furnishings and have giant soaking tubs. Most rooms have floor to ceiling windows with city or strip views, as well.
MGM Grand SkyLofts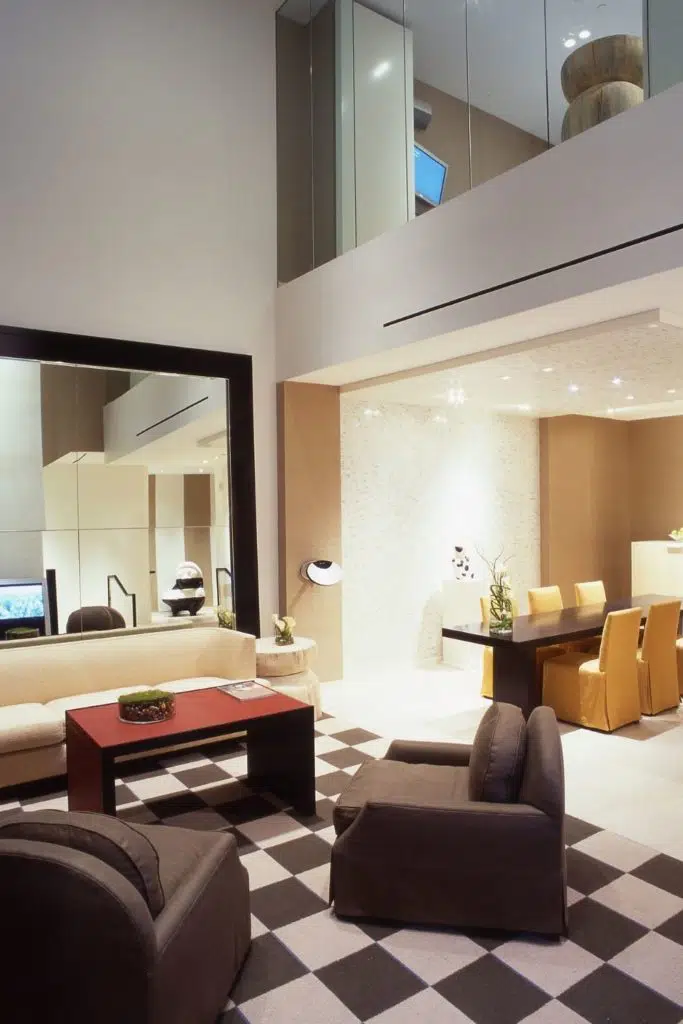 Anchoring one end of the strip is MGM Grand, the largest hotel in the US with over 5,000 rooms.
The real gem of this resort, however, are the SKYLOFTS. The lofts run from 1,400 to 6,000 square feet for $750 to $8000 per night.
The lofts come with 24 hour personal butler service, an infinity tub, a steam room, free packing/unpacking and clothes pressing, free gaming system rentals, and tons of other goodies.
The SKYLOFTS aren't cheap by any means, but if you can swing it, they would be perfect for a group trip like a bachelorette.
Park MGM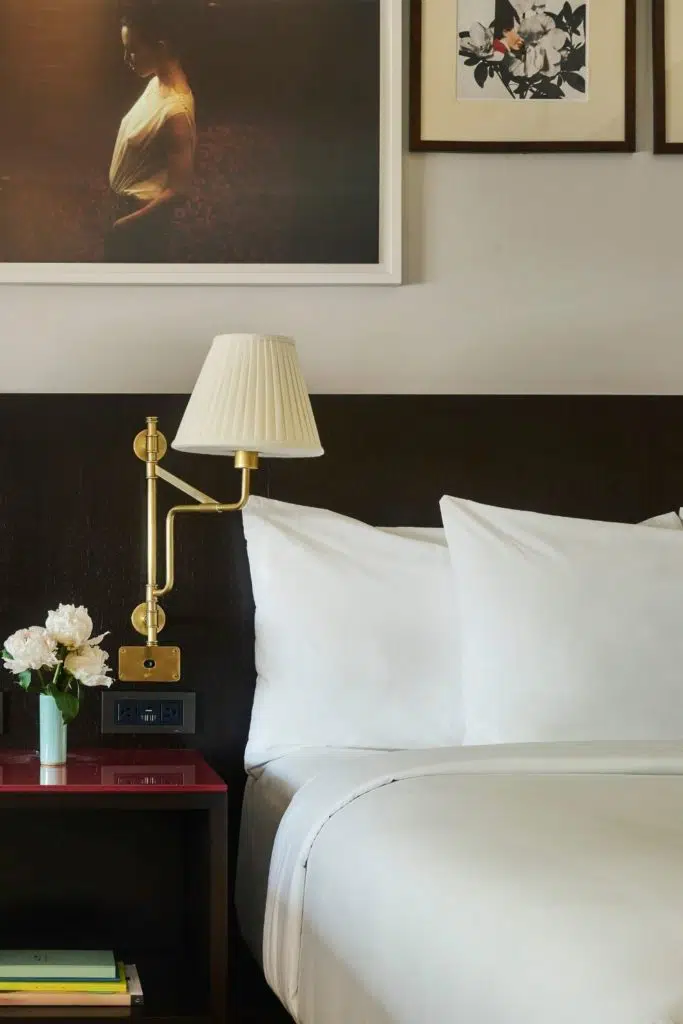 The Park MGM is one of the newest hotels on the strip, having opened in 2018 in the former Monte Carlo hotel.
It is the first and only smoke-free hotel on the strip, so if you've avoided Vegas due to smoking in the casinos, Park MGM is the perfect spot for you.
It's also a great spot if you're in town for a concert or event at the T-Mobile arena, located next door. Lady Gaga, Bruno Mars, and Aerosmith all have regular engagements at the Park MGM theater, too.
If you're more of a boutique hotel kind of person, NoMad Las Vegas takes up the top 4 floors of the Park MGM building as a hotel-within-a-hotel.
The Venetian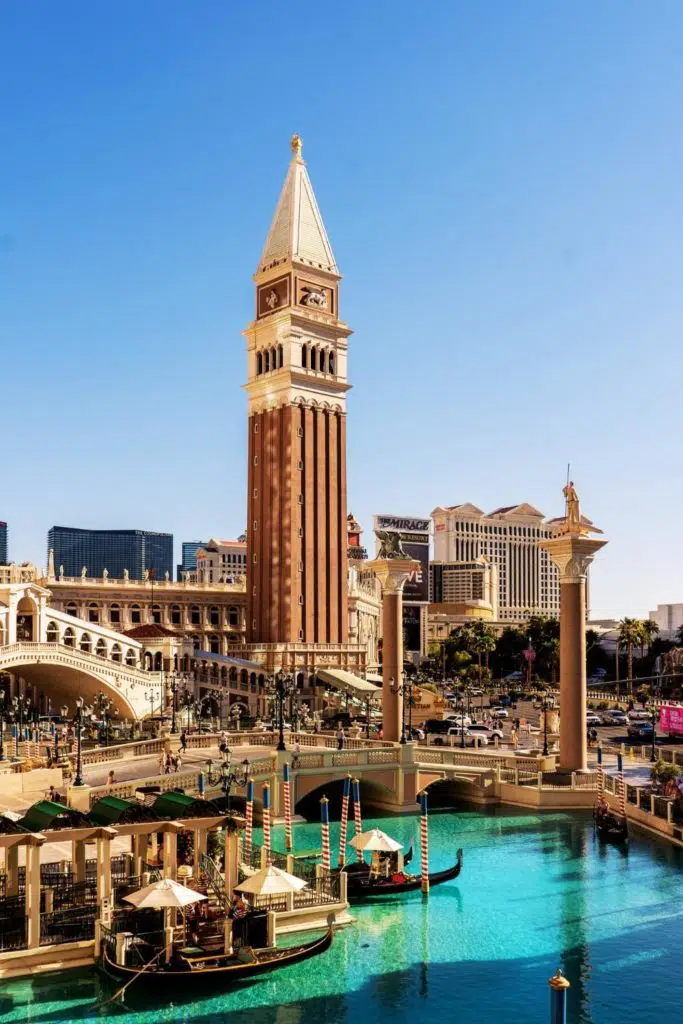 The best all-suite hotel on the Strip is The Venetian. It's centrally located and is home to multiple restaurants and shops. And of course, the famous gondola rides, just like in Venice, Italy.
If your idea of nightlife is more lounge than club, The Venetian is the spot for you with 3 excellent cocktail lounges: The Dorsey, Electra, and Rosina.
But if you want to rock out, head to Kamu Ultra Karaoke lounge where you and your friends can sing the night away in private karaoke suites.
Last but not least, if you change your mind and want to hit the dance floor, head to Tao Nightclub.
Where will you stay in Las Vegas?
Let me know what your favorite hotel in Vegas is or where you're dreaming of staying in the comments below. Up next, check out my post about the best things to do in Vegas so you can start planning your fun!
---
About the author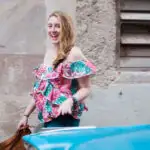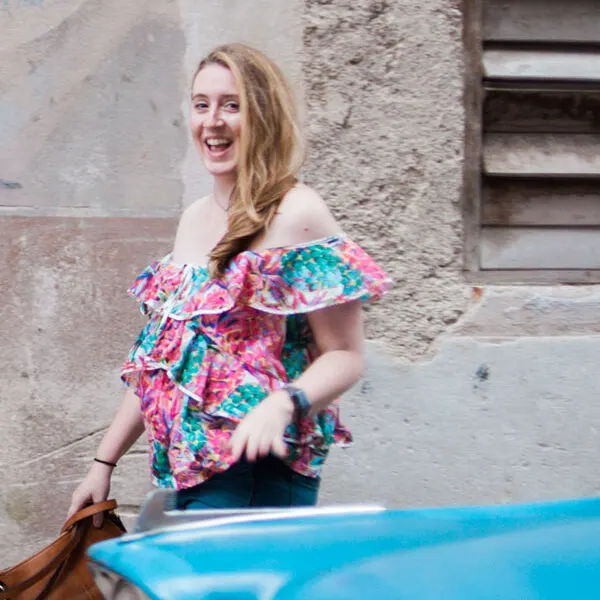 Meg Frost is a Boston-based travel blogger that helps people embrace technology to make vacation planning and traveling wicked easy, affordable, and fun.
She holds an M.A. in Journalism from Northeastern University and B.S. in Communication & American Studies from University of Miami.
---
This post was originally published on March 14, 2017. It was last updated on November 28, 2023.