Boston is a wonderfully walkable city where you'll come across charming neighborhoods, beautiful parks, and plenty of food trucks.
From a food truck devoted entirely to bacon to a grocery market on wheels, these 10 food trucks in Boston are guaranteed to keep your belly full.
The Bacon Truck
Be ready for bacon topped everything at The Bacon Truck, with a side of bacon. And sometimes pickles.
Bon Me
Back in 2010, when Boston was finally ready to boost the food truck movement, they held a contest to find the best food truck. And Bon Me was the winner.
Bon Me offers a menu full of untraditional takes on basic Asian dishes like Vietnamese bahn mi, Japanese ramen, and Thai iced tea.
Chicken & Rice Guys
The options are simple, but delicious: rice bowl or salad bowl with choice of a protein (halal chicken, tofu, beef, and lamb or all 3 meats) and a sauce (BBQ, garlic, hot or mint, jalapeño, and cilantro).
The portions are hearty and the rice is freaking delicious. Can you tell they're one of my favorite food trucks in Boston?
Clover
Clover's menu is based on what's local and in season, so it changes often. Expect sandwiches, plated meals, sides, and fresh drinks (mmm…carrot lemonade!).
Clover closed its food truck program in favor of brick-and-mortar locations. Stay tuned while I search the city for a worthy replacement!
The Cookie Monstah
Home-baked cookies and a thick slab of Richardson's ice cream = The Cookie Monstah. The only problem? Deciding which flavor to get!
Fresh Truck
Plot twist: Fresh Truck is actually a school bus turned grocery store!
Fresh Truck's goal is to bring fresh produce and healthy snacks to neighborhoods across the city that don't have ready access to a grocery store and inspire Bostonians to eat healthy.
Fresh Truck is hands-down one of the most unusual food trucks in Boston.
Redbones BBQ
Good BBQ is hard to find in Boston, believe it or not. Redbones is the best in the area and luckily they have food trucks in addition to their brick and mortar locations.
Drool over St. Louis style ribs and classic BBQ sides like mac salad, cole slaw, and cornbread.
Roxy's Grilled Cheese
I'm sitting here writing this while noshing on a three cheese grilled cheese and truffle fries from Roxy's. Let me tell you, friends. It's delish.
They've got a handful of creative grilled cheese options, fries, lemonade, and of course, tomato soup. Perfect for a chilly day.
Taco Party
Meatless tacos? Yup! Taco Party serves up only vegetarian and vegan tacos and sides. Pair tacos with chips and guac and you've got a filling meal!
Quebrada Baking Co.
Satisfy your sweet tooth with a pastry or baked good paired with an iced coffee from Quebrada Baking Co.
What are your favorite food trucks in Boston?
Let me know what your favorite food trucks are in Boston in the comments below.
Up next, check out my other Boston travel guides:
---
About the author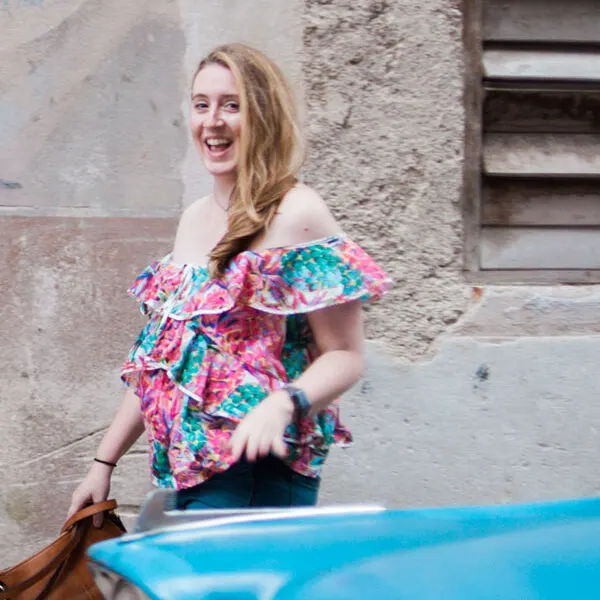 Meg Frost is a Boston-based travel blogger that helps people embrace technology to make vacation planning and traveling wicked easy, affordable, and fun.
She holds an M.A. in Journalism from Northeastern University and B.S. in Communication & American Studies from University of Miami.
---