Whenever possible, I try to travel without checking my luggage.
Due to the varying policies between airlines about what size luggage counts as carry on size, I like to have a few options in my closet.
Plus, let's be honest, cute is sometimes as important as functional!
If you're in the market for new a carry on, keep reading for the best carry on luggage options available today.
1. Consider dimensions and weight limits with your airline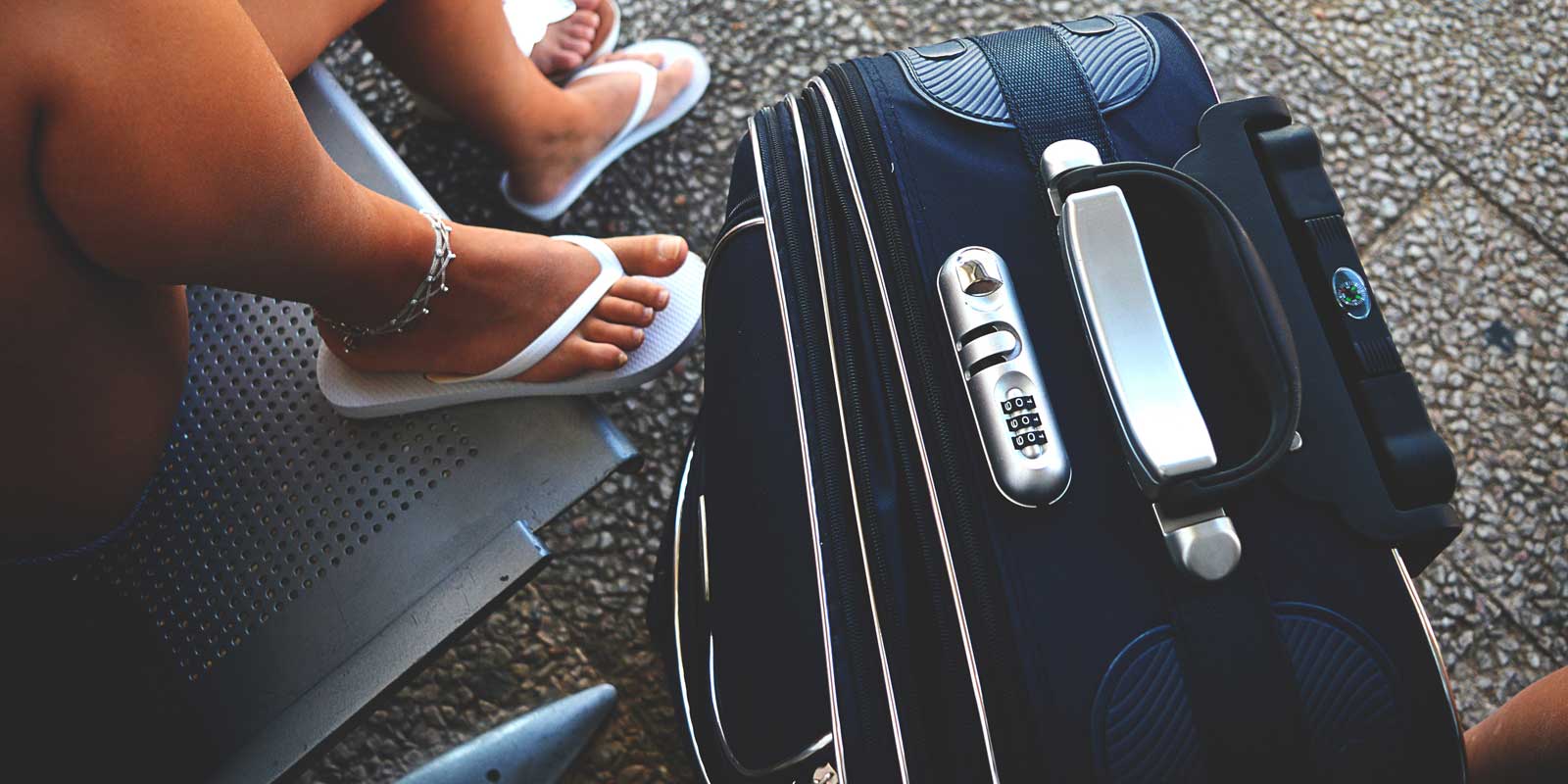 Carry on luggage dimensions and weight restrictions vary wildly from airline to airline.
It's always best to check with the airline directly, as dimension and weight limits can change, too.
In general, US domestic airlines typically have more generous dimensions and weight restrictions (or no restrictions at all!) than international airlines.
For example, Southwest Airlines dimensions for carry ons are restricted to 24 x 16 x 10 inches with no weight limit.
On the flip side, Singapore Airlines dimensions for handluggage (aka carry ons) are restricted to 45 linear inches in total with a 15 pound weight limit.
That 15 pound weight limit might not sound unreasonable at first, but when you're trying to travel with only a carry on, it makes a big difference!
2. Backpacks
If you'd rather not drag your carry on through the airport, a backpack might be the way to go.
I have 2 backpacks in my luggage closet: one that holds almost as much as an actual suitcase (Burton Canyon backpack) and a smaller one that is better suited as a day pack (North Face Women's Borealis backpack).
Here's a few more options if you're looking for a carry on backpack.

3. Totes
If backpacks aren't your style, go with a tote!
If I'm traveling somewhere warm and don't need a full carry on suitcase, I usually go with a tote. Backpacks sometimes make my back hot and sweaty. TMI, perhaps, but surely I'm not the only one!
The carry on tote I'm currently using is the North Face Laryssa tote. Here's a few similar options.
4. Hardshell carry on luggage
If you're traveling with something delicate, like expensive camera equipment or glass souvenirs, you might want to use a hard shell carry on.
Same goes for a bag that you might end up checking on the way home because you bought a few bottles of wine in Italy or mezcal in Mexico.
That extra layer of protection can make a big difference, especially when it might get jostled around by baggage handlers.
5. Spinner luggage
If you frequent busy airports, carry on spinner luggage is a dream while navigating through crowds.
Instead of having to drag your carry on suitcase behind you, you can walk with it by your side, kind of like holding the hand of a toddler. Awww.
6. Under seat carry on luggage
Yes, it is possible to get a carry on bag with wheels that fits under your seat!
So if you aren't a tote or backpack kind of person, these mini rolling carry ons are for you!
7. Lightweight options
Most airlines have a weight limit, even for carry ons.
If you regularly travel with heavy items, such as heavy souvenirs or heavy shoes, investing in lightweight luggage is wise.
8. Collapsible options
I sometimes pack an extra carry on if I expect to return from a trip with lots of souvenirs and gifts.
Collapsible luggage is great for this purpose, as it'll be compact enough to put in checked luggage while still leaving room for clothes and such.
And if you're wondering, yes. Yes, I have packed a full-sized carry on suitcase in my checked bag.
This was many years ago, before there were more restrictions on luggage size and weight, as well extra fees for checking luggage or overweight luggage.
Do yourself a favor and get something lightweight and collapsible or limit yourself to an extra tote or backpack.
9. Garment bags
Whether you're traveling for a wedding or a business engagement, these carry ons will help keep your suit or dress in tip-top shape.
10. Colorful options
Go bold with a bright graphic print or polka dots for a unique carry on.
If bold prints are too much for your taste, but you still want to stand out, pick a bold color, such as hot pink or aqua.
The best part about bold luggage is that it's easier to spot between the sea of solid black luggage!
Something tells me the crazier the luggage, the less likely it'll be stolen or misplaced, too.
11. Vintage carry on luggage
Show your sophisticated side by selecting a suitcase with a timeless, vintage print or design.
Think world maps, floral prints, or classic colors, such as pink, light blue, off white, or navy blue.
If you're not a fan of luggage with a graphic print, look for options with vintage like accents, such as rose gold trim or nailheads.
12. Metallic options
If your style is more on the sleek side, look for something in a metallic color or shiny finish.
Classic gold or silver never goes out of style, while a pearly pink is a lovely twist.
13. Carry on luggage sets
If you prefer matching luggage sets, there are tons of options available.
You can even buy 2-piece luggage sets that include a tote and carry on suitcase!
14. Designer carry ons
Designer is a bit subjective. In the world of luggage, this might mean brands that are exclusively dealing with luggage, so they might be unknown to you.
Rest assured, all of these designer brands are high quality and highly recommended.
Burton
If you've browsed through my travel resources page, you probably already know I have a love affair with Burton luggage.
Burton has a fantastic lifetime guarantee policy: if your luggage is damaged, they will repair or replace it!
Also, their rolling luggage uses skateboard wheels, which means they roll smooth and more quiet than usual rolling luggage.
Delsey
Delsey luggage is another brand admired by travel influencers. It's especially popular among fashion influencers, as well.
Why? you ask. If you're looking for something that is as functional as it is cute, Delsey is the designer luggage brand for you.
Delsey's designs are classic, yet fashionable, and most models include inventive features, like a built-in luggage scale or TSA lock.
Samsonite
Samsonite is probably one of the most well-known luggage brands.
True, Samsonite's luggage is not luxurious, which is what you probably think of when thinking about designer carry on bag.
But, it is dependable, has a plethora of options and features.
Samsonite also has different price points within their own inventory, so no matter what your budget is, you'll surely find something great!
What do you use for carry on luggage?
Let me know about your favorite carry on luggage in the comments below.