Are you ready to take your travel photography to the next level? Consider adding drone photography to your line up.
In this post, I'll go over the best camera drones at select price points, plus 8 things you need to know before you buy one.
What to know before you buy a camera drone
Start small
As fun as flying a drone is, it's not as easy as it looks!
Factor in the hefty price tag for most drones and you'll be thinking twice about making this purchase.
Instead of backing off, consider purchasing a cheaper toy or hobby drone in a similar size and weight to the drone that you have your eye on for practicing.
That way you'll get any newbie crashes out of the way with the cheap drone and not totaling your expensive drone.
It's kind of like buying a used car when you first get your license, then upgrading to a shiny new car once you have more driving hours under your belt.
Check the technical specs
If you're looking to buy a drone with a built-in camera, be sure to look at the specs to make sure they'll produce the quality of images and videos you want.
A drone with a built-in camera that's super cheap likely has a low megapixel camera, doesn't record video, or only records video in standard definition quality.
If you're spending all this money for a drone, do your homework and know what you're getting before you plunk down the change.
Image Quality
Look for the number of megapixels (or MP) the camera is capable of.
In a nutshell, images are made up with tiny dots. The more dots there are, the more detailed and higher quality the image is.
A million dots equals 1 megapixels. This sounds like a lot, but you can't get a standard 4×6 photo print with a camera below 3MP.
It's hard to recommend a minimum threshold when it comes to image quality, as it really depends on what you plan to do with the images.
There are a number of factors that affect image quality as well, such as lighting, use of digital zoom, and post-editing cropping.
More than a decade ago, I took a photography class and my professor recommended absolutely no less than 3MP for those using a digital camera.
At the time I wanted to get in on digital cameras, and 3.2MP was all I could afford. I was able to get ok photos, but not great.
Thankfully cameras, even smartphone cameras, offer more megapixels these days, so you shouldn't need to settle for the absolute minimum.
If you know you'll want to edit photos, and can afford a better quality, definitely aim for higher than 3MP.
Bottom line: If you're solely posting to social media, you don't need a large number of megapixels. If you plan to print large images, then you definitely want a larger number of megapixels.
Video Quality
When it comes to video quality, 720p (aka standard HD) is the lowest video quality I recommend.
If video is mainly what you'll be using for the drone, aim higher – 1080p or 4K, if you can swing it. Some drones are starting to come out with 6K, too.
If you're just starting out and know you'll want better quality eventually, consider getting a drone that you can attach a camera to.
That way you can replace the camera as needed.
Make sure it has in body image stabilization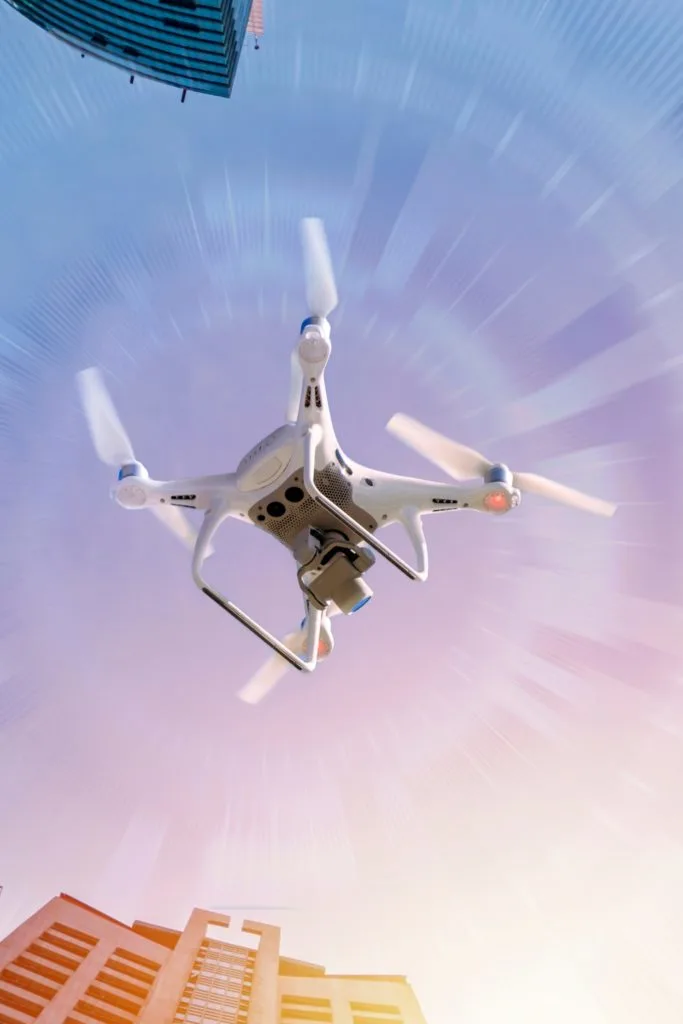 In addition to the camera's image and video specs, you'll also want to find out if the camera is fixed or mounted on a gimbal.
If the camera is fixed, video will be super shaky and basically useless.
If the camera is mounted on a gimbal, the camera will be able to stabilize itself as the drone moves, resulting in smoother motion in videos.
Don't cheap out on the memory card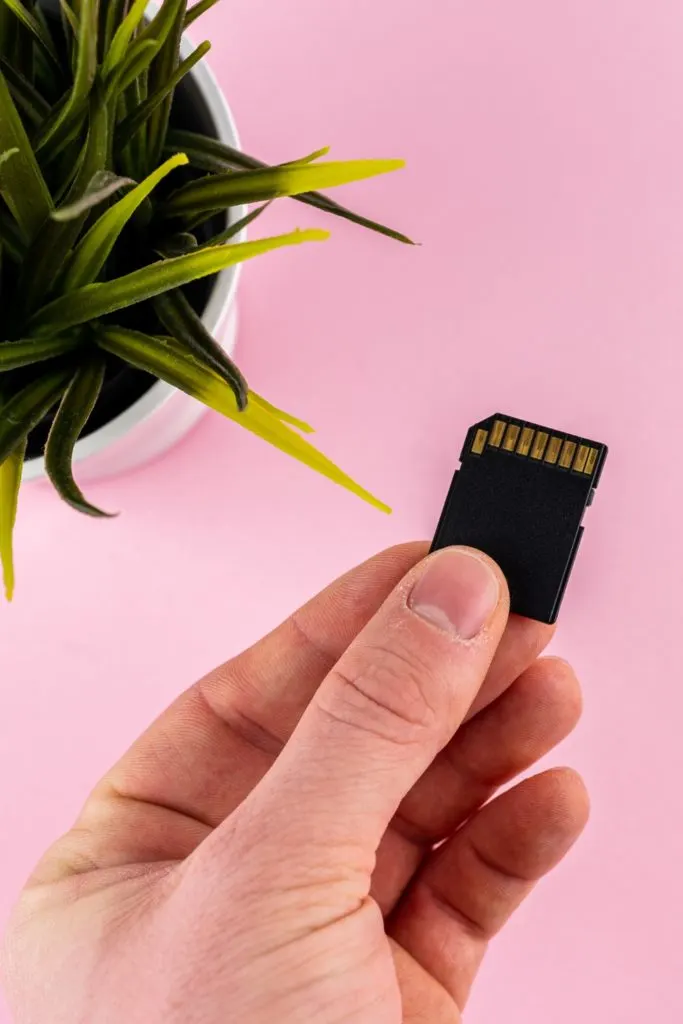 A lot of people cheap out when it comes to memory cards for their camera. Don't make this mistake!
Memory cards aren't compatible with all cameras and their capabilities.
One spec to keep in mind is the speed in which photos or videos can be written on the card.
For example, if your drone is capable of recording 4K video, you'll want a microSD memory card with a fast video writing speed (10 or higher).
If the highest it can record is HD, you'll want 6 or higher.
The card itself will have the specs written on it. For video speed, look for V#, such as V10.
Another spec to keep in mind is the amount of space on the card. Richer files types take up more storage space than lower quality file types.
For example, a 4K video file will take up more space than the same video recorded in HD.
Make sure your card has enough space to accommodate the quality of photos and videos you plan to capture.
A third thing to consider when it comes to memory cards is whether the card is tough enough to withstand the circumstances you'll be filming in.
For example, will you need something dustproof, waterproof, or shockproof?
If you know you'll be filming in tough conditions or are filming adventurous activities, you'll want to invest in a card that can keep up.
At the end of the day, your best bet is to check with the maker of the drone or camera (if you're mounting a camera to the drone) to see what memory card specs are recommended for optimum performance.
Always get extra batteries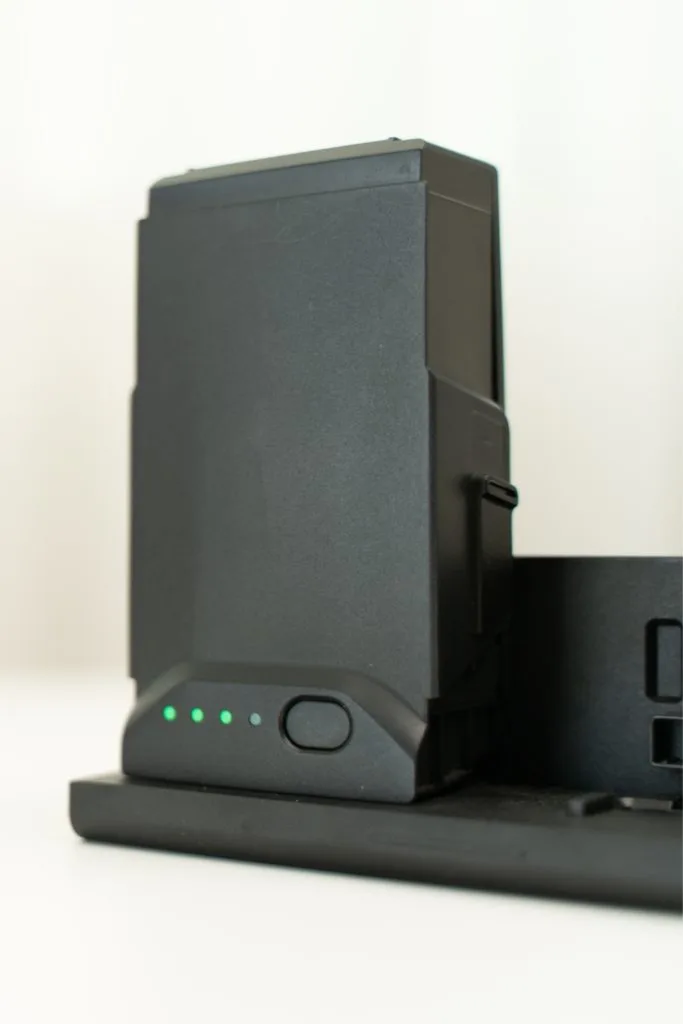 There's no beating around the bush on this – drones are a drain on battery life.
For example, the GoPro Karma drone's battery lasts about 20 minutes of flight time before it needs to be recharged.
I strongly suggest getting a backup battery, or several, so that your drone doesn't die before you get all the shots you want. It's best to be prepared!
Buy the spare parts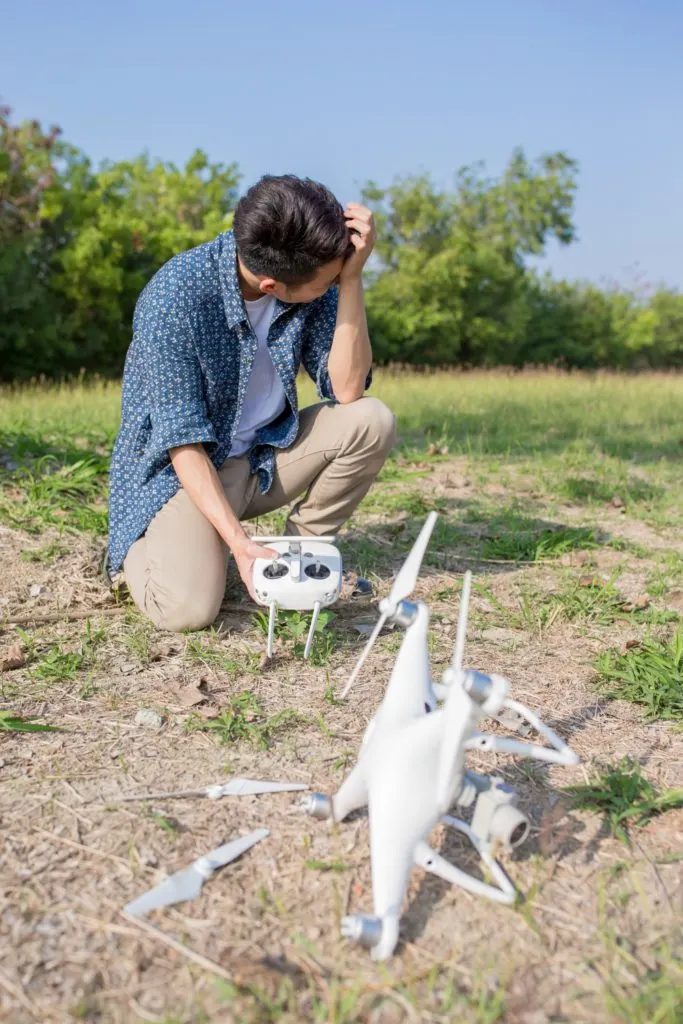 No matter how experienced you are with flying a drone, you can't control mother nature (read: wind!).
Your drone is bound to crash or have an accident at some point.
Hopefully it won't be bad enough to destroy the drone, but it might damage a part, such as the propeller.
Therefore, you might want to travel with spare drone parts so that you can fix your drone on the go.
Why risk missing out on filming epic footage due to a bent propeller?
Take an aerial photography class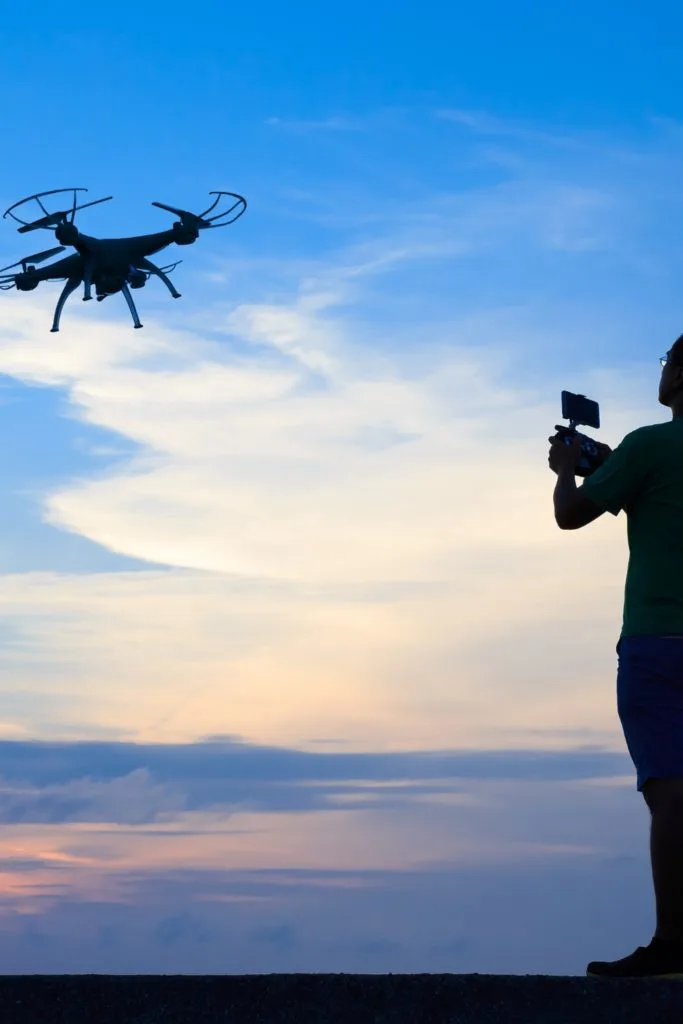 Consider taking a class, whether it be a drone flight simulator or in-person training with a more experienced drone pilot.
A class is a great way to learn how to use your drone effectively.
Aside from protecting your investment in an expensive drone, a class will help you learn how to get magnificent photos and video using your drone.
Most online learning providers include aerial photography classes, such as Lynda.com, Udemy, and CreativeLife. YouTube often has professional quality tutorials, as well.
You might also want to consider checking schools in your area, such as a community college, if you prefer hands-on, in-person training.
DJI, one of the best drone brands out there, is touring the US and hosting an in-person day class in select cities.
This class focuses more on strategy for capturing amazing photos and video, rather than how to use your drone.
But, it still might be quite helpful in learning how to get the most out of your drone.
Best camera drones for your money
Now that we've gone over all the things you need to consider before you buy a drone, let's go over my top picks.
Best drone under $1000
One of the coolest and most innovative camera drones out there right now, the DJI FPV. And at $999 retail, it squeezes in under $1000.
This fully immersive drone includes goggles that you wear while operating – kind of like a virtual reality game. I love this idea because it blocks out distractions that can affect your footage or cause you to lose your drone!
In addition, the DJI FPV has a super-wide 150° view, which is perfect for bird-like aerial video.
The only con I can think of is that is has a max flight time of 20 minutes. But, if you plan your shots well-enough, that shouldn't be too big of a hindrance.
Best drone under $500
For content creators, like myself, a great investment is the DJI Mini 2, which retails for $449.
This tiny drone can fit in the palm of your hand, so it's super portable and travel-friendly.
Despite that, it can film 4K video, with flight time up to 31 minutes. Plus, it can sustain up to 18-23 mph winds.
Lastly, it has several pre-programmed flight modes to make your life easier!
Best drone under $300
As mentioned earlier in this post, if you're just starting out with drone photography, be mindful of how much you're plunking down.
An option under $300 will be more than enough for most travelers and content creators that are new to drones.
The DJI Mini SE, which retails for $249, is nearly the same size as most smartphones, which means you can drag it around everywhere with you!
The only con to this option is that it doesn't film in 4K. That said, it does film HD 2.7K, which is often more than needed for most content creators.
What are your top tips for buying camera drones?
Up next, check out more of my favorite travel and photography tips:
This post was originally published November 17, 2017. It was last updated November 17, 2022.