I love to use dry shampoo to freshen up my mane after a long flight so I can hit the ground running when I land.
It's is also great for those days when I wake up late and don't have time to wash and style my hair.
Or, let's be honest, those days when I'm just too tired or lazy to wash and style my hair.
In short, dry shampoo is a dream-come-true hair product, especially when traveling.
Not sure where to start when it comes to finding the best brand for you? I've tried over a dozen brands, so come check out my guide on the best dry shampoos before your next trip.
An introduction to dry shampoo
Let's back up for a minute, because some of y'all might be brand new to this brillian hair product.
Dry shampoo is a hair styling product that absorbs oil from your scalp to freshen up your hair in between washes. It's typically a spray, but can also be a powder or mousse consistency.
It basically makes your hair feel like you just stepped out of a salon with a fresh wash and blowout.
Can I use dry shampoo every day?
Sorry lazy girls, dry shampoo isn't meant to help you go weeks without a proper wash.
Extreme overuse of dry shampoo prevents the oil on your scalp from doing its job of keeping your hair healthy, which in turn can damage your hair or cause hair loss.
It's best to save this hair product for an occasional touch up, like post-flight, going from beach to dinner, or impromptu meetups with new friends.
Can you bring dry shampoo on a plane?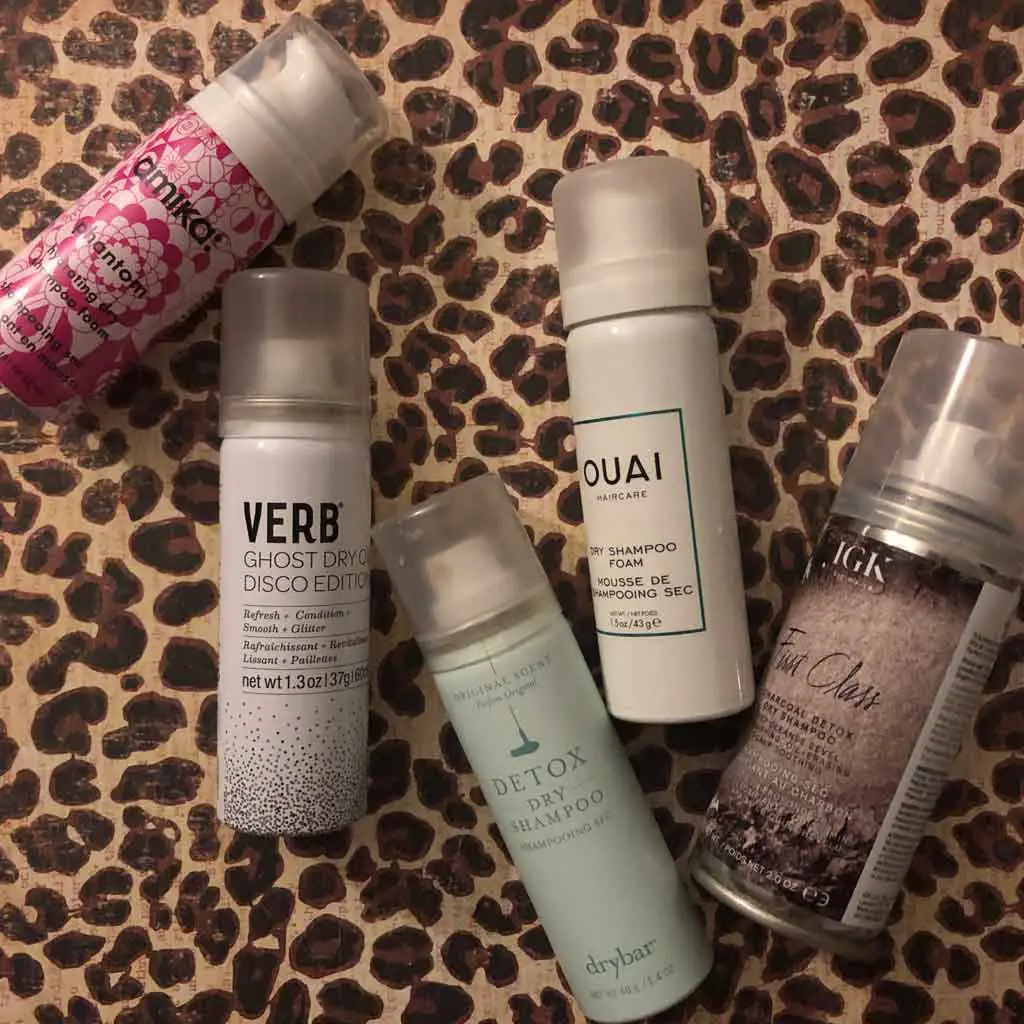 Yes, per the Transportation Security Administration (TSA), you can take dry shampoo on a plane, regardless of whether you pack it in carry on or checked luggage.
There is more to it than a firm yes or no, however.
Which may lead you to wonder, Is dry shampoo a liquid?
And the answer to that would be – yes, the majority of dry shampoos are liquid.
There are a few dry shampoo options in powder form, but the spray and mousse forms are considered liquid.
So if your preferred dry shampoo is a spray or mousse form, you have to follow the TSA liquid rules.
That means if you want to bring dry shampoo in your carry on, it has to be 3.4 ounces or less and placed in a clear, quart sized bag.
TIP: Even if the canister says it's a spray powder, the spray is still considered liquid in consistency.
Canisters that are larger than 3.4 oz must go in checked baggage.
Lastly, even if your dry shampoo is aerosol, you can still take it on a plane.
Just make sure it is 3.4 ounces or less if you want to put it in your carry on. Otherwise, it'll need to go in your checked bags.
Which dry shampoo is the best?
To be honest, whether a dry shampoo is best truly depends on your hair. We don't all have the same hair texture, color, or other hair qualities that can make or break the effectiveness.
A bit about my hair: I have dark blonde naturally wavy hair with average thickness. I get highlights and lowlights done (ugh, dang gray hairs and vanity!).
According to this curl type chart from Glamour, my hair is type 2A.
I've tried over a dozen types of dry shampoo over the years. Some have worked well, some have been ok, and others did absolutely nothing for my hair.
But, that doesn't mean the brands that worked for me will work for you and vice versa!
Bottom line: If you're committed to finding a dry shampoo, you might have to test a few before you find one that works well with your hair.
My favorite dry shampoos
OK, so now that my disclaimer about hair types is out of the way, I'll fill you in on which dry shampoos are my favorite.
There are 3 dry shampoos that are my go-to options:
Amika Perk Up dry shampoo
Drybar Detox dry shampoo
Living Proof Perfect Hair Day dry shampoo
I love the Amika Perk Up dry shampoo, especially since I can easily get it in travel size at Sephora.
Amika Perk Up never leaves a white residue, there's no strong smell, and it refreshes my hair quite well. I don't ever feel like I need to spray a ton of it, either.
Also, the Pucci-esque design on the can makes me happy! That counts for something, right!?
Lately I've been using the Drybar Detox dry shampoo the most. It's also the brand that my long-time hair stylist uses!
Drybar Detox comes in 2 scents and is available in standard and travel size canisters. I use the Original scent, which is fresh, but not overpowering.
Drybar Detox does a great job at refreshing and adding volume to my hair without leaving a powdery residue. I've often been able to get 2 days without washing my hair when using this dry shampoo, too.
I like to add in a few sprays of the Drybar Triple Sec texture spray to revive my wavy hair, as well.
I often use Living Proof Perfect Hair Day shampoo and conditioner, which goes a long way when it comes to ensuring good second-day hair.
I got hooked on this shampoo after getting a deluxe sample kit at Sephora right before a trip to Florida in September. Despite the heat and humidity, my hair still looked pretty good with minimal styling.
Given my success with this hair care product line, I tried the Perfect Hair Day dry shampoo. And no surprise - it's just as great!
It refreshes my second-day hair very well, doesn't leave any residue or chalky color, and gives my hair some volume.
Other dry shampoos I've used and like
While I don't use the 3 brands below in regular rotation, they all worked well when I used them, so I still recommend trying them.
I got the IGK First Class Charcoal Detox dry shampoo in a sample kit from Sephora.
For me, the IGK First Class Detox dry shampoo worked best if I used it on my hair before I went to bed, rather than in the morning.
This seems counterintuitive, but I noticed it needs extra time for the powder to settle in. Otherwise it can make your hair look a little dusty.
I received a travel-sized sample of the R+Co Death Valley dry shampoo in one of my monthly Birchbox boxes and was pleasantly surprised at how much I liked it.
It has a coconut-y scent that isn't overpowering. Further, my second-day hair still felt great at the end of the day.
One of my sisters, who has Type 1 hair (aka straight), hasn't had luck with dry shampoo in the past, but swears by this one.
For special occasions, I recommend Oribe Gold Lust dry shampoo, which will add a little shimmer on top of refreshing your locks.
While I won't be adding this to my regular rotation of dry shampoos due to its higher cost, I will definitely use it for special events in the future.
Dry shampoos that didn't work for me, but might for you
As I mentioned earlier in this post, just because some dry shampoos didn't work for me, doesn't mean they won't work for you, which is why I'm still mentioning these products.
First things first, none of these brands were terrible. But for my hair, other brands did a better job.
I still think these 3 brands are worth a try, as they all had good points that might work for your hair.
I love the Not Your Mother's brand and sometimes use their Curl Defining Detangler on my wavy hair.
That said, Not Your Mother's Clean Freak dry shampoo was just ok. When I initially tried it, they only had one formula, but they have since expanded their line.
Given its low price and overall good reputation, this is a brand worth trying. A 3-pack is less than 1 can of the brands I typically use!
I've actually been thinking about retrying Not Your Mother's Clean Freak now that they have more formulas!
Ouai dry shampoo is a foam, rather than a spray. I was intrigued by the change in consistency, but unfortunately I ended up disliking this aspect of it.
Given that it's a foam, it will make your hair damp after you apply it. My hair dries way too slowly, so I couldn't just plop it in and go. Boo!
Additionally, it had a strong flowery scent. For some, that will be a plus, but for me it just made my eyes water.
That said, I love other Ouai hair products, such as the Wave Spray. Given the good reputation of this brand, it might be worth trying for you.
I had high hopes for Tresemme's Fresh Start dry shampoo, as it seemed to be an excellent cost-effective choice.
However, the foam consistency and overwhelming scent dampened the experience for me, just like it did with Ouai Air Dry Foam.
In general, other Tresemme products have worked well for me and the brand has a good reputation, so I think it's still worth a try if you're looking for a cheap dry shampoo.
Also, despite these negative points, once my hair dried, it looked like I had freshly washed and styled, similar to how my favorite brands worked.
So, if you can put up with the foam and flowery scent, I recommend giving Tresemme Fresh Start a try!
What is your favorite hair product to use when traveling?
Do you love this amazing hair product as much as I do? Let me know your favorite dry shampoo in the comments below.
---
About the author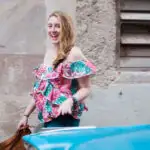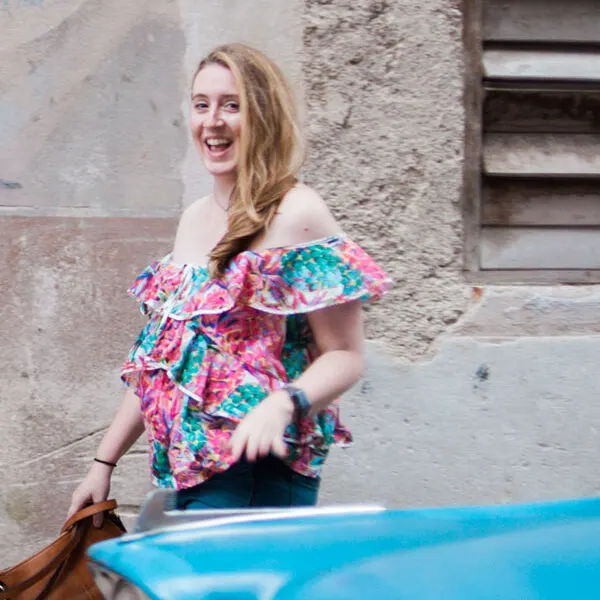 Meg Frost is a Boston-based travel blogger that helps people embrace technology to make vacation planning and traveling wicked easy, affordable, and fun.
She holds an M.A. in Journalism from Northeastern University and B.S. in Communication & American Studies from University of Miami.
---
This post was originally published on September 22, 2017. It was last updated September 22, 2023.