Snorkeling in Waikiki is a great way to see some amazing marine life when visiting the island of Oahu.
Check out this short and sweet guide to snorkeling in Waikiki to learn all of the best spots, plus the best tours.
Is Waikiki good for snorkeling?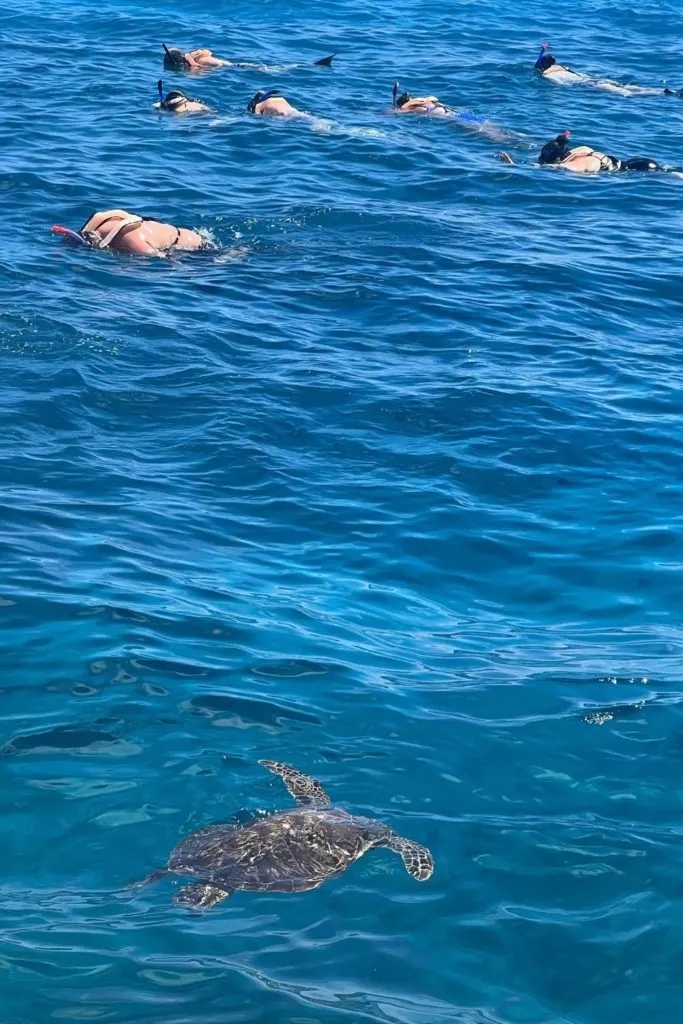 Yes, Waikiki is a great place to snorkel. There are many reefs in the area and plenty of fish to see. I've even seen green sea turtles, or honu, while snorkeling there!
If you have your heart set on seeing Manta Rays, though, chances of seeing one in this area are pretty low.
Aside from that, box jellyfish frequent this area for a few days around a full moon (source).
Outside of this timeframe, it's rare to see them, so as long as you're mindful of when you are going, you won't have to worry about encountering these stinging creatures!
The Best Places for Snorkeling in Waikiki
Waikiki is one of the most popular places in Oahu for tourists and locals thanks to its proximity to the city life in Honolulu and easy access to beautiful beaches and hiking.
There are 2 distinct areas that are perfect for snorkeling in Waikiki: Turtle Canyon and the Waikiki Marine Life Conservation Area. Let's go over both so you can decide which is best for you!
Turtle Canyon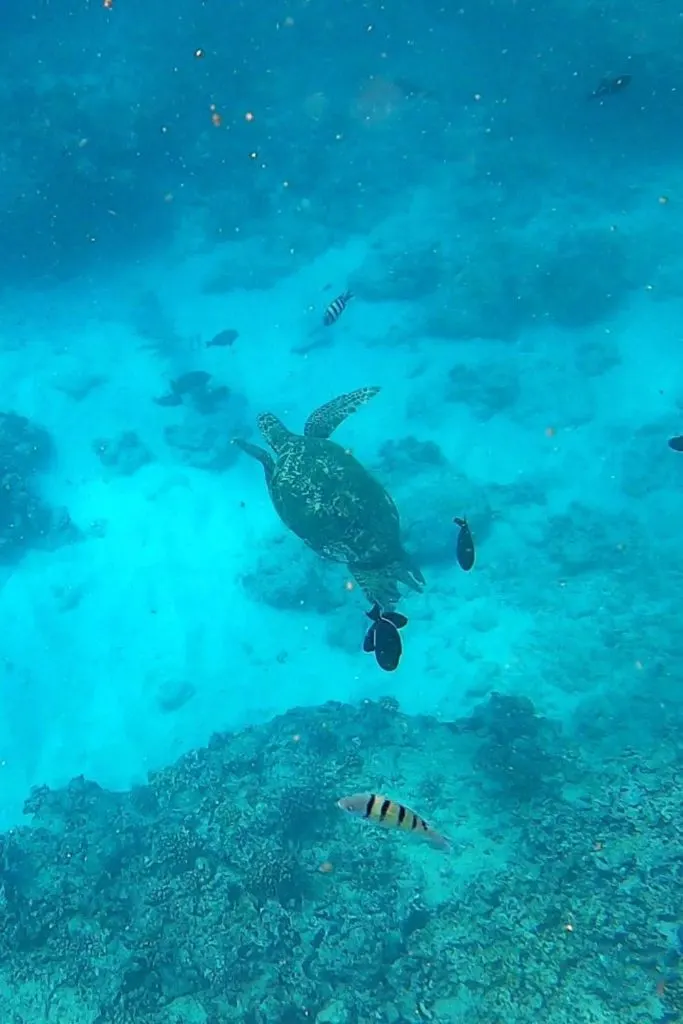 Turtle Canyon is a small-ish reef off the coast of Waikiki Beach. It's a popular spot for snorkeling because it is common to see green sea turtles, or honu in the Hawaiian language, around this reef.
If you are lucky enough to see a honu, do not touch them. In fact, it's best to keep your distance. The state of Hawaii Division of Aquatic Resources recommends keeping at least 10 feet away (source).
This endangered species is protected by both the federal Endangered Species Act and Hawaii state law. Violators can b hit with steep fines.
Since Turtle Canyon is not located directly off the beach, you'll need a boat or other marine vessel to get there.
If you don't have access to one, there are tons of tours that head here pretty much every day!
Waikiki Marine Life Conservation Area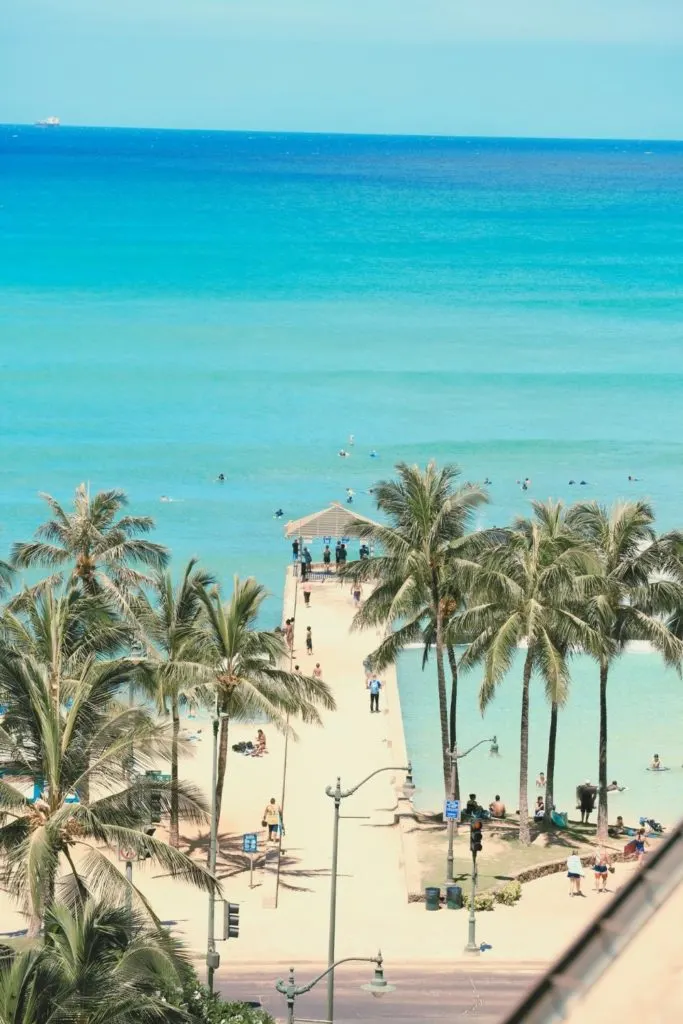 On the eastern end of Waikiki Beach, there is a reef flat with tons of fish and other marine life.
This area, known as the Waikiki Marine Life Conservation Area, is overseen by the State of Hawaii Division of Aquatic Resources.
It stretches between the Waikiki Wall (aka Kapahulu Groin) and the defunct Natatorium War Memorial, and about 500 yards out and around (source).
Visitors can access this protected area from Queens Beach, Kapiolani Park Beach, and Sans Souci Beach.
While swimming and snorkeling are ok in this area, please be mindful of the laws that protect this marine environment.
Fishing, or any activity that harms or kills marine life, is prohibited. In addition, you cannot remove sand, rock, water, or any other geological specimen.
Frankly, you shouldn't be doing this anywhere in Hawaii. It is disrespectful to the land and can cause damage, such as erosion. But in this area, it is banned and can lead to fines.
The Waikiki Marine Life Conservation Area is not far from the Diamond Head trails. Wouldn't it be fun to go for a hike in the morning, then cool off while snorkeling afterward??
TIP: Kaimana Beach, just outside the protected area on the other side of the Natatorium, is a decent option for snorkeling, too!
Best tours for snorkeling in Waikiki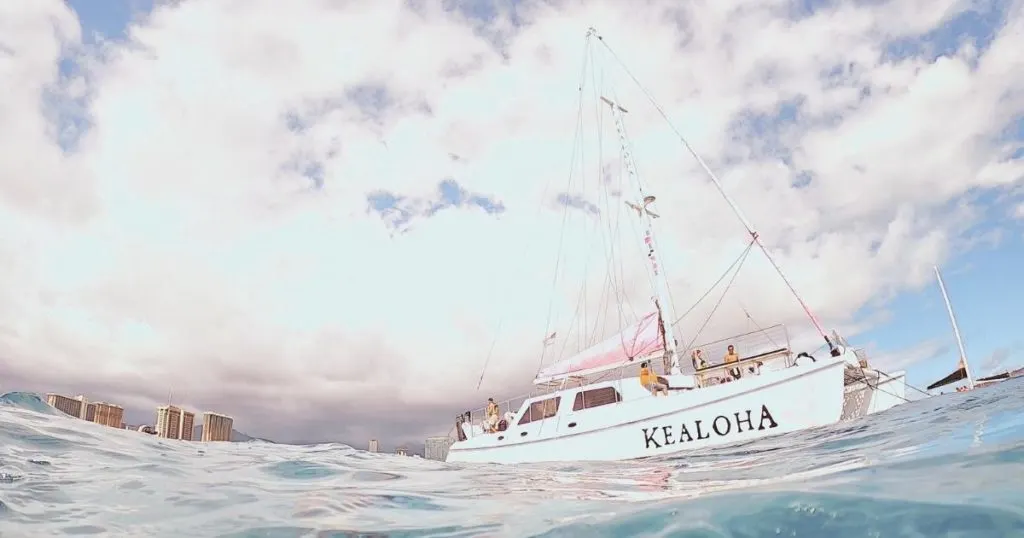 Most, if not all, snorkeling tours head out to Turtle Canyon.
This is probably because there is free, easy access to the Waikiki Marine Life Conservation Area. On the other hand, getting to Turtle Canyon requires a boat, which most visitors (or locals) don't have access to.
If you're looking for a tour that goes to Turtle Canyon, I recommend Pink Sails Waikiki.
On a recent trip to Oahu, my family and I joined them on their Turtle Snorkeling Adventure tour.
This 2-hour tour includes access to snorkeling gear, plus snacks and drinks are available for purchase below deck. They were also great at hyping up the group and engaging with guests, which is much appreciated!
Where's your favorite spot to go snorkeling in Waikiki?
Whether you want to see how many fish you can spot or just enjoy being underwater, snorkeling offers an amazing opportunity for exploration. I hope this guide helped you find the perfect spot to marvel at the marine life in Hawaii!