As a super Auntie who loves to shower her nieces and nephews with gifts, coming up with ideas for travel gifts for kids was so much fun.
It also gave me tons of ideas of gifts I could give her for Christmas and her birthday for years to come.
But, I'm here to help you find cool travel gift ideas, not me.
So let's get to my recommendations.
Keep reading for my top travel gifts for kids for kids, from babies and toddlers to tweens and teens.
Travel accessories
Let's start off with the basics.
If your kid loves to travel, they're gonna need cool travel accessories.
It might sound like a boring gift, but kids will surprise you.
The top 3 travel accessory gifts for kids that I recommend are kids luggage, travel pillows, and luggage tags.
Kids luggage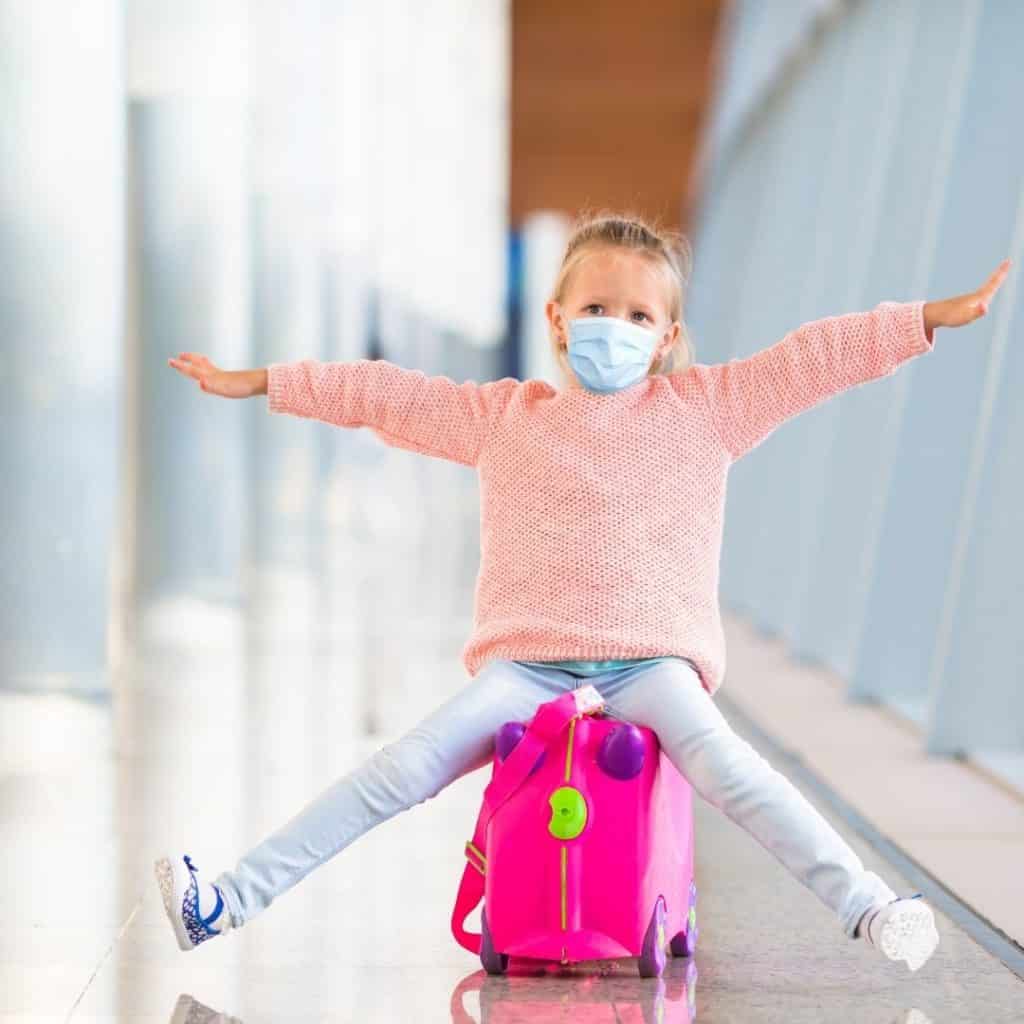 Kids that love to travel don't want boring luggage.
They want luggage that is THEIRS, whether it be their favorite color, adorned with their favorite cartoon character, or splashed with their monogram.
Give them some airport cred (that's a thing, right? like street cred?) with a new piece of luggage.
For toddlers, the absolute coolest luggage comes from Trunki.
This fun suitcase doubles as a ride-on toy, which will keep them entertained and occupied in a busy, boring airport.
For elementary school-aged kids, aim for kids luggage with cartoon characters, kid-approved prints, or their favorite color.
They'll feel so cool and proud that you won't have any problem convincing them to tote their suitcase themselves.
For tweens and teenagers, go for trendy prints, bright colors, or a smart suitcase to keep their tech gadgets fully-charged at all times.
Aim for something that can take them into young adulthood without feeling embarrassed to run through the airport with it.
Luggage tags
One of my favorite stocking stuffers for kids that love to travel is a fun luggage tag.
Think bright colors, metallics, quirky shapes, and fun sayings.
Another cool kids luggage tag is the Calpak Power Luggage Tag that doubles as a power bank!
Travel pillow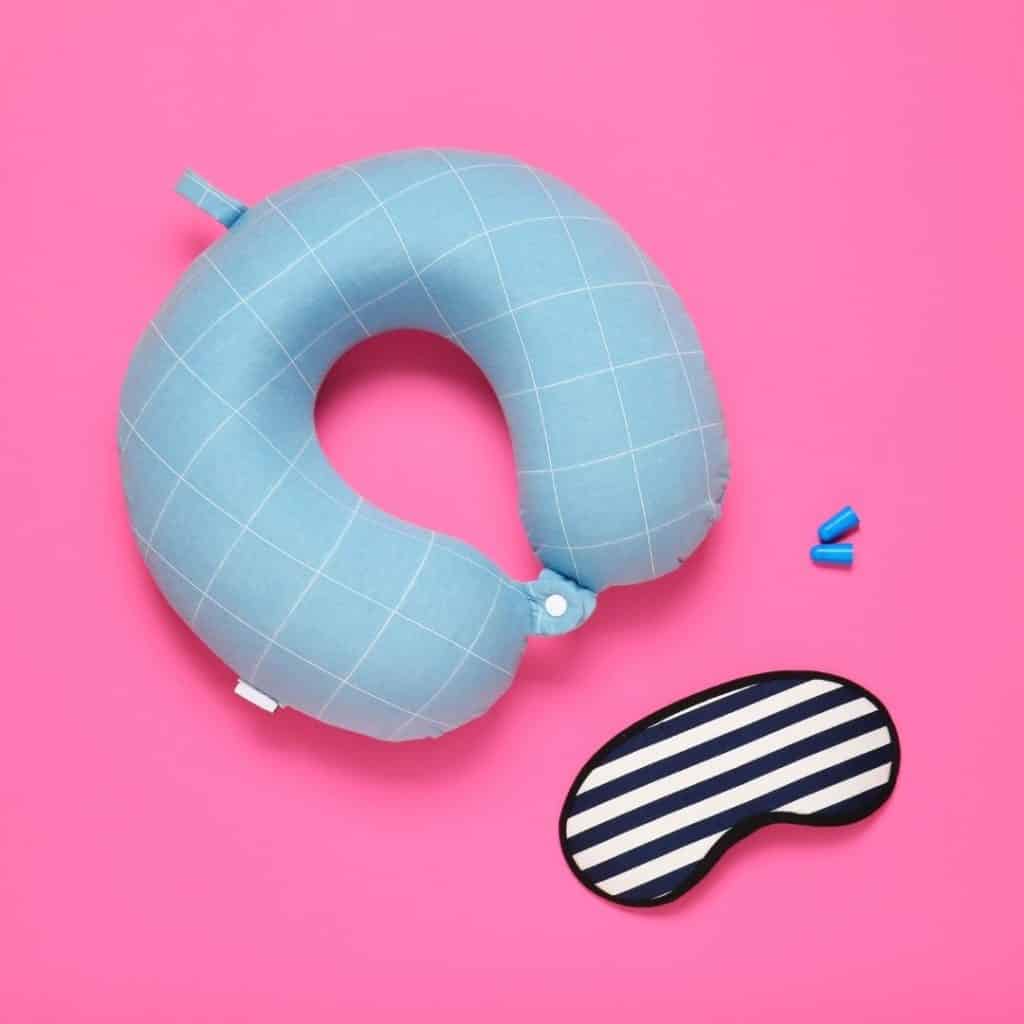 Travel can be rough, especially on kids.
Props to those of you who travel with multiple kids in tow!
If the flight or car ride is going to be long or around their bedtime, avoid extra crankiness by bringing a kids travel pillow.
They'll rest better and therefore hopefully wake up without any crankiness.
Travel-themed indoor toys
Puzzles, 3D model kits, LEGO building bricks, dolls, a board game, an activity book or coloring book are all classic indoor toys that most kids have at least 1 of.
Whether it's a rainy day or they just feel like hanging out indoors, these toys all have travel-themed options.
Check out the widget below for my favorite options.
Digital camera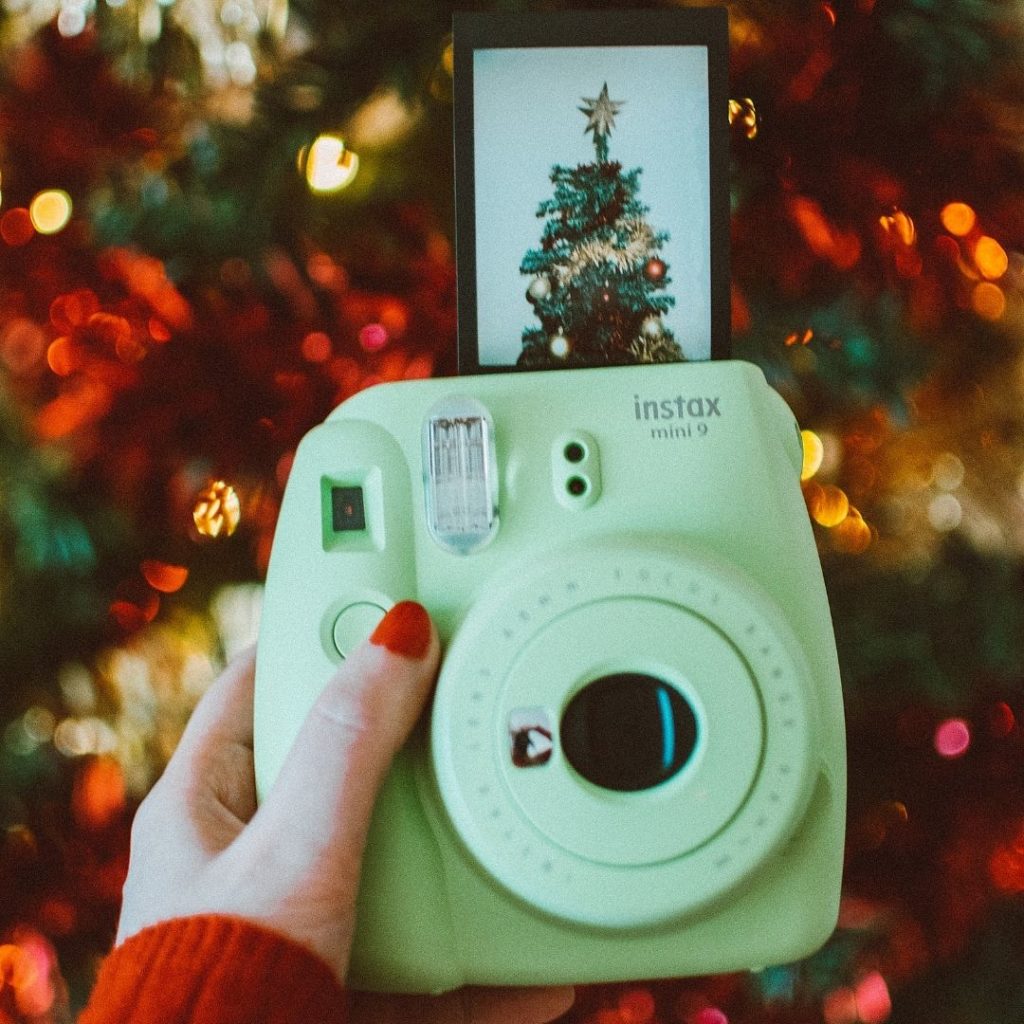 Digital cameras are becoming more affordable as the years go by.
Some of the digital cameras created specifically for kids are better than my 2000-era digital camera in a lot of ways.
Here are my favorite cameras for kids.
The VTech Kidizoom Digital Camera is perfect for toddlers through elementary school age kids.
It's super durable, so you don't have to worry about it breaking easily or needing lots of maintenance.
And while the quality isn't on par with professional cameras, it's pretty decent for a toy!
Another fun camera for kids is the FujiFilm Instax Mini camera (pictured above).
It's basically the Polaroid camera for the current generation!
This camera comes in fun, candy-like colors, as does its instant film and accessories, like carrying bags and straps.
I recommend this camera for tweens and teens.
Last up, for older kids and teens that are expressing interest in photography or videography, spring for a GoPro HERO 10 or 11.
The quality is on par with many dSLR and mirrorless cameras, but it's durable and travel-friendly.
Plus, there are tons of fun GoPro accessories available for capturing unique shots.
Check out my post about custom photo gifts for more fun photography-related gift ideas.
iPad or Tablet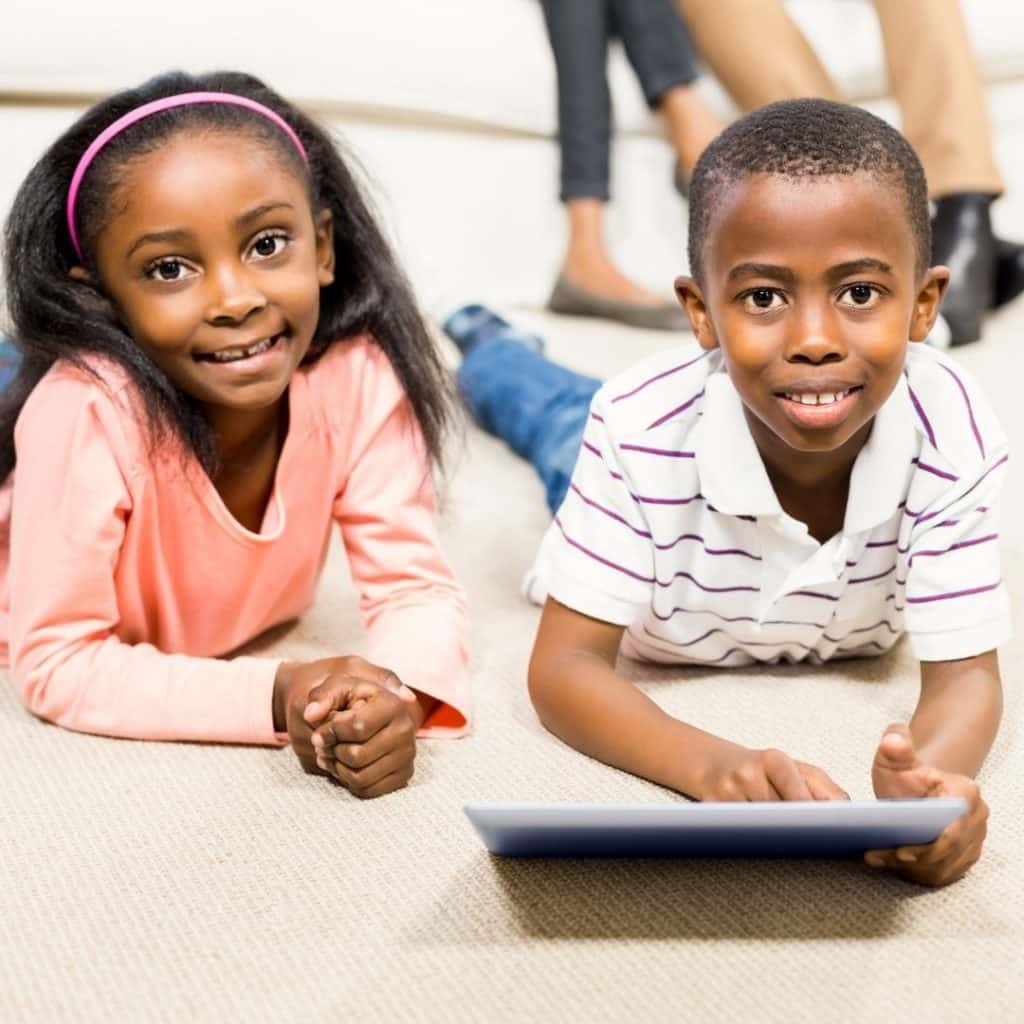 Another big ticket gift that would be great for encouraging memory keeping, travel photography, and learning in general is a tablet.
My top 2 favorite tablets for kids are any version of iPads and the Kindle Fire HD Kids Edition.
Both products have built-in parental controls to help keep kids safe while they browse the internet and use apps.
You can also set up time limits so your kiddo isn't on their tablet 24/7.
Travel journals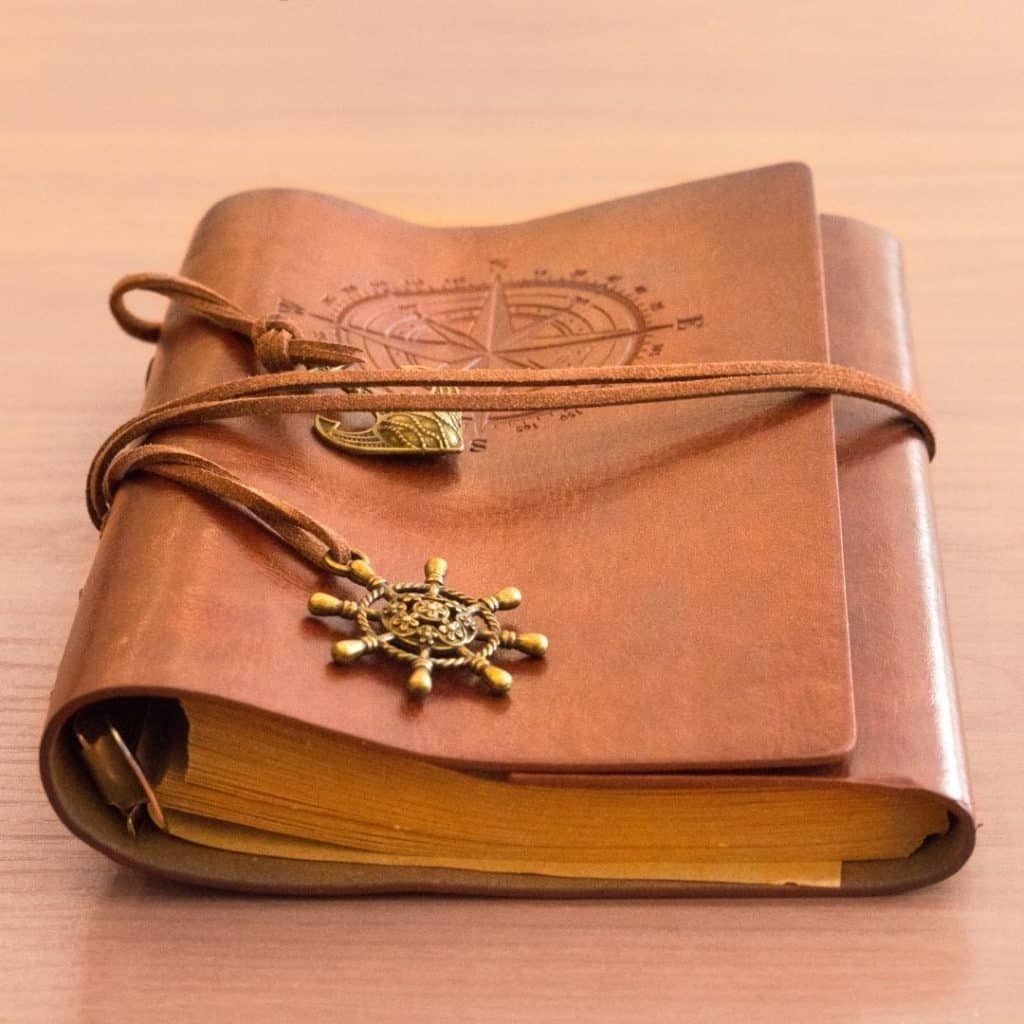 For a more budget-friendly memory keeping gift, a travel journal is perfect.
I absolutely adore the Lonely Planet Travel Journal for Kids.
It includes prompts to get the creative thinking skills going and by the end of their journey, they'll have a fun scrapbook-like journal to remember their trip by.
For a fun alternative, how about a subscription to a travel journal app?
Road trip gifts for kids
Get through an upcoming road trip with fun new accessories or toys to keep the kiddos occupied.
Card games, travel-sized games, Crayola color wonder kits, and car organizers (so their toys are always within reach) all make great gifts for kids going on a road trip.
P.S. Yes, car organizers alone are a boring gift, but use it as a gift basket and fill it up with fun stuff instead of wrapping it up or using a gift bag.
Below are my favorite road trip gifts for kids.
For more road trip tips, check out my post about apps for road trips.
Shopkins World Vacation
My niece, who loves to travel, is nuts for the Shopkins.
If you aren't familiar, they are tiny plastic collectibles shaped like food and other objects.
One year they produced a collection called the World Vacation series, which was, you guessed it, based on food and other fun objects from around the world.
There are miniature French crepes, a German pretzel, an Italian gondola, a Japanese kimono, a Chinese tea pot, and so on.
Recently they launched a collection called Lost Luggage with mini suitcases, clothing items, and other travel accessories.
It even comes in a suitcase-shaped collector's box. So cute!
Funko Pop! Around the World
I bet all kids know what Funko Pop! figures are.
While these adorable giant-headed figures are usually based on pop culture figures, they also have a line based on cultures from around the world.
The collection is called Pop! Around the World and there are 12 figures to collect:
Barkingham the Bulldog from England
Carmen the Iberian Lynx from Spain
Douglas the Beaver from Canada
Finley the Fox from Ireland
Hansel the Pig from Germany
Nora the Polar Bear from Norway
Ozzy the Koala from Australia
Pasha the Snow Leopard from Russia
Priya the Elephant from India
Rosa the Xoloitzcuintli from Mexico
Toshi the Shiba Samurai Dog from Japan
Tula the Toucan from Brazil
Each figure comes with a pin and you can purchase a passport-shaped pin holder that holds 12 pins.
Funko Pop! also has several Pan Am flight attendant figures.
Toy globe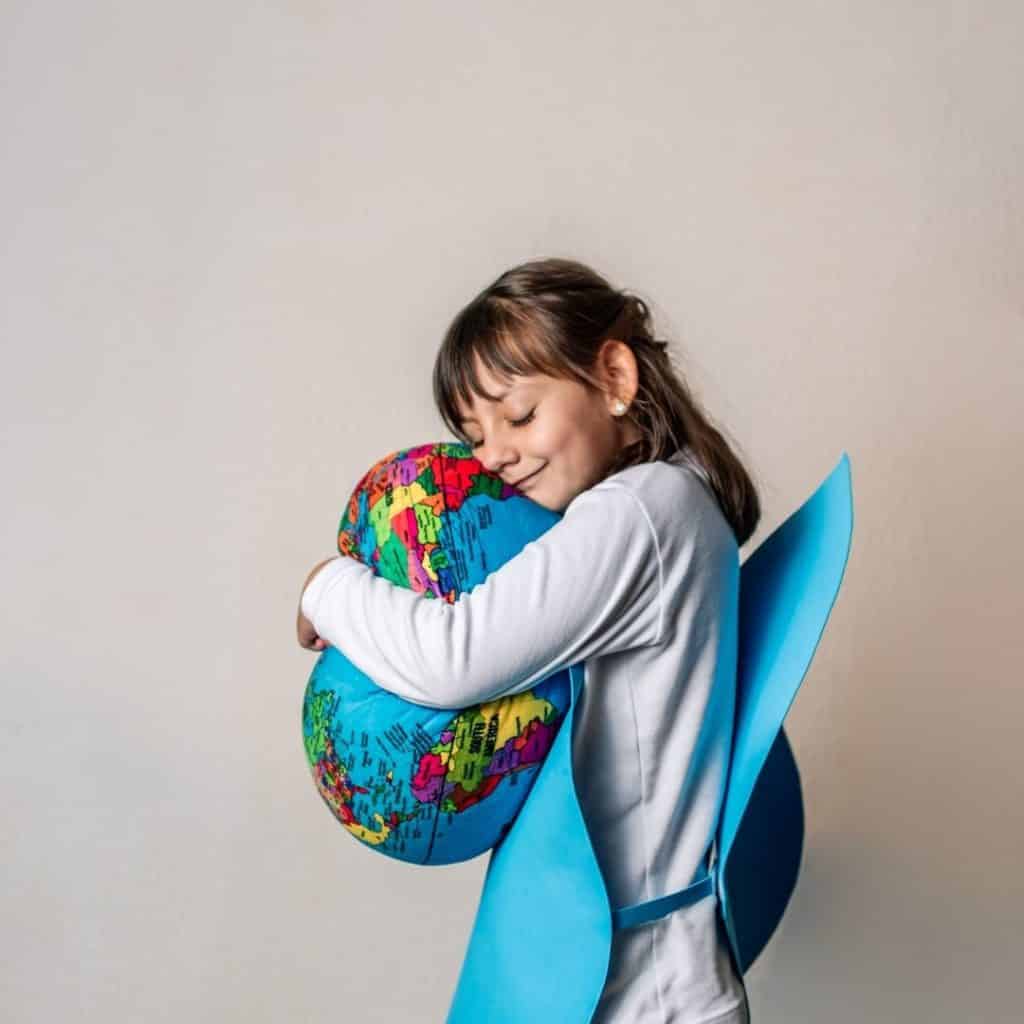 A globe for daydreaming about all the places in the world they can travel to is a gift that will last a long time.
There are even globes that include educational games that teach about each region or country.
My mom has one at her house for my niece to play with.
She loves to tap on a new country to learn about it, especially ones that people she knows are traveling to.
Kids maps and atlases
Maps and atlases are another perfect for kids who are seriously interested in learning more about the world around them.
Plus, they are clearly more compact than a globe, so if you're looking for something that won't take up too much space, here ya go.
Travel books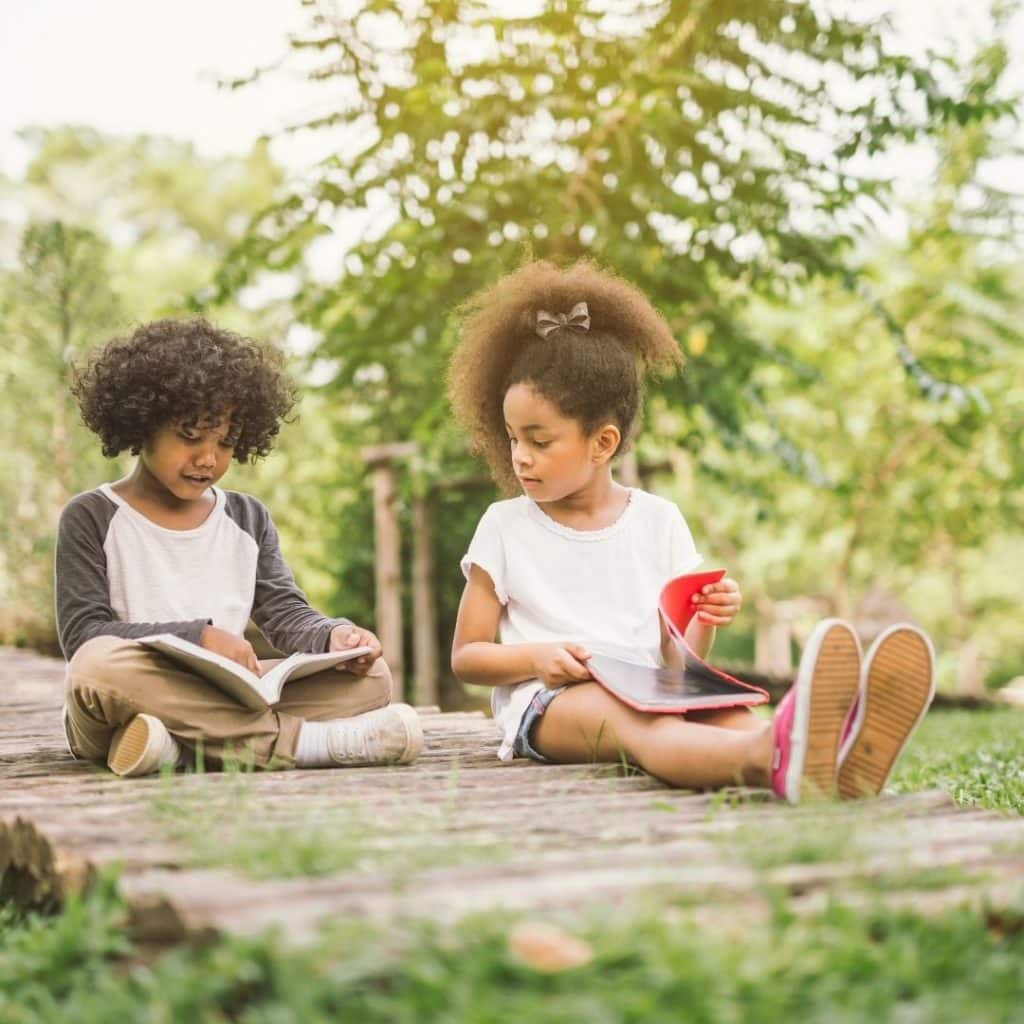 Books are one of my go-to gifts for kids.
There are so many directions you can go with this gift idea, depending on the age group.
You can get books about different cultures, books written in a language they are learning, travel guides for kids going off on an exchange program, and so on.
Outdoor travel and camping gifts for kids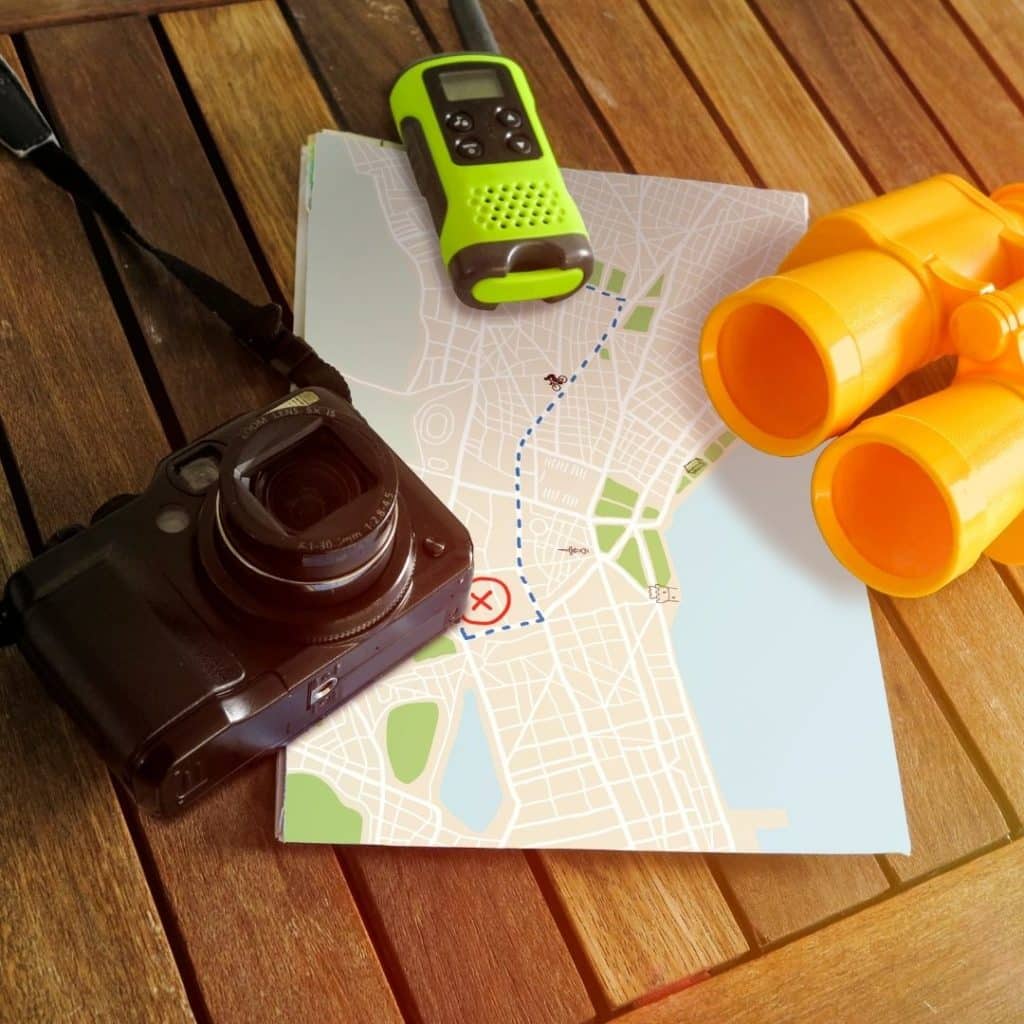 Encourage kids to explore the great outdoors with some gear of their own.
Consider fun camping and hiking gear, water bottle, snow gear, beach or pool toys, portable bikes or ride-on toys, fun rain gear, and more.
Check out the widget below for my favorite outdoorsy gifts for kids.
For more fun ideas, check out my posts about camping essentials and camping gifts for kids.
Little Passports monthly subscription box
Subscription boxes are the gift that keeps giving year round, bringing joy every month.
I researched a ton of options, and there was one box that stood above the rest: Little Passports.
Little Passports has 5 subscription options to choose from, 2 of which are solely travel themed.
The World Edition option is designed for kids age 6-10.
Each month features a different country and is filled with hands-on activities and souvenirs representing that country.
The USA Edition option is designed for kids age 7-12.
Each month features 2 new US states, an activity journal, stickers, and access to additional online activities.
Both boxes are a great way to introduce younger kids to the world around them in a unique way.
What are your favorite travel gifts for kids?
Last, but not least, the gift that any kid would absolutely love are travel experiences. From school vacations to somewhere fun or a Sunday Funday within a drive's reach, you can't go wrong!
Let me know which travel gifts your kids want this year or what Santa left them under the tree!
Up next, check out these posts:
This post was originally published September 29, 2017. It was last updated November 2, 2022.