I have a slight obsession with giving the perfect gift when it comes to baby shower gifts, Christmas gifts, graduation gifts, Mother's Day, Father's Day, birthdays, and other special occasions.
I know I'm not alone with this – after all, you're reading this post for the perfect gift idea, right?
Well, I promise I have some great ideas for you – and they all use your cherished photos.
Keep reading for my 13 favorite custom photo gifts for any special occasion.
Get photo prints of your fave pics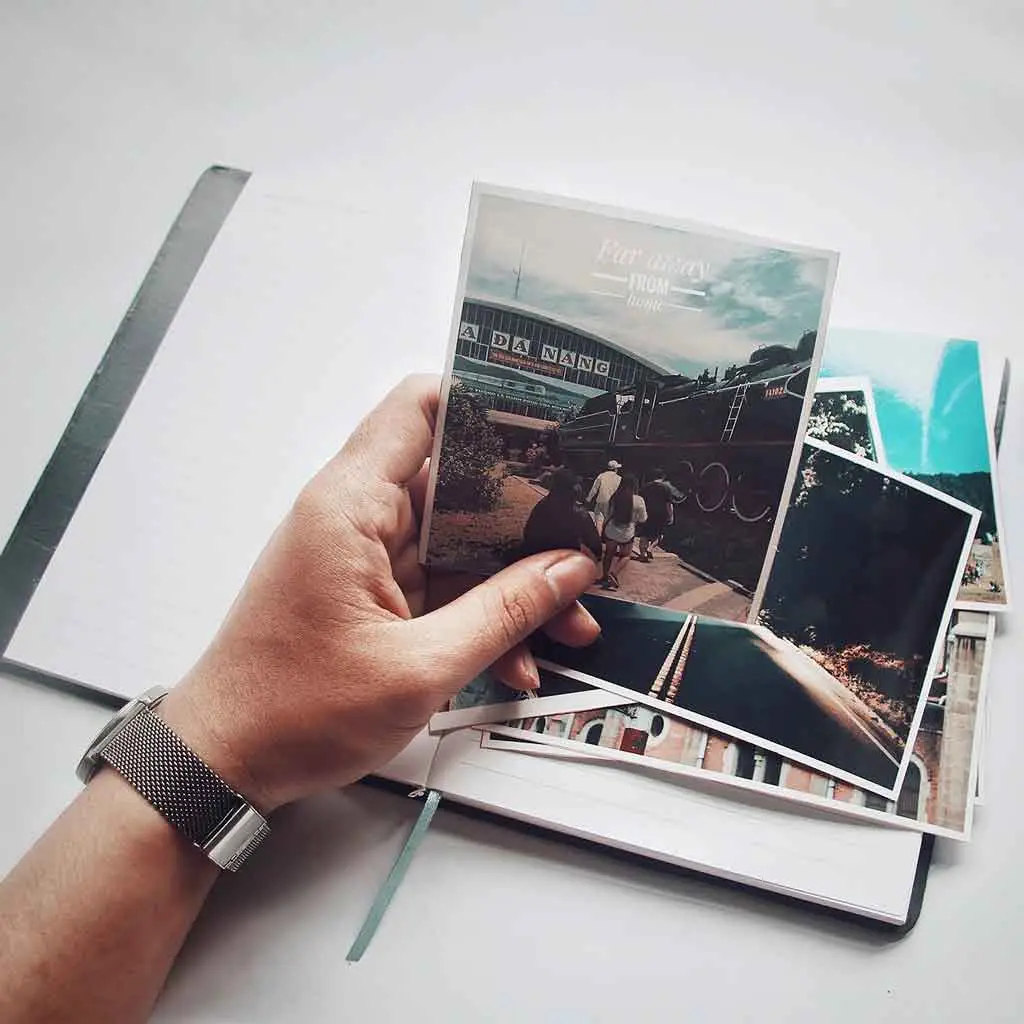 Let's start with the most obvious photo gift that you can make: photo prints.
Yes, it's basic. But it's also affordable, customizable, and a great way to preserve your special memories.
You don't have to stick to standard 4×6 inch prints, though. You can print a massive photo and frame it for a touching and thoughtful gift, too.
My sister's boyfriend sneakily took a photo of one of my mom's favorite spots in Bar Harbor and got a large print and frame for her Christmas gift one year. It remains one of her favorite gifts to this day!
There are tons of places to get photos prints, but there are 3 places that stand out due to affordability, size options, and quick turnaround: Costco Photo Center, Shutterfly, and Snapfish.
Of the 3, Costco Photo Center is my favorite spot for getting photo prints, as I can usually get 1 hour turnaround on my order if I'm nearby a Costco store.
Create a custom keychain
A cute and thoughtful gift for Mother's Day or Father's Day is a custom keychain with a photo of the parent's little ones on it.
That way, every time they leave the house for work or to run errands, they have a photo of their mini loved ones with them nearby.
Print personalized business cards
I realize business cards might be an odd gift, but if your best friend or loved one is starting their own business, a gift card to purchase customized business cards is one of the most useful and unique photo gifts you can gift them.
MOO has a service that lets you make business cards using your favorite photos. It's a great way to add an interesting visual element to your card.
Plus, if you use pictures of your face, it will help people remember you.
MOO makes it super easy to use your Instagram photos with a built in tool that helps you connect your Instagram account and import your favorite photos for use.
This is exactly what I did when I created my first set of business cards for my blog.
I've gotten tons of positive feedback from fellow bloggers and travel companies who said it helps them remember me above other bloggers they may have met at large conferences, meetings, and so on.
Design memorable photo calendars
Photo calendars are super easy to create and make great gifts!
My favorite photo calendar creator software is Mixbook.
With Mixbook, you can create different layouts each month, including full bleed single photos, Instagram like grids, and other photo grids (à la Instagram's Layout app).
Add photos to each month to correspond with your favorite trips from years past or all the trips you'll be making in the year ahead.
Stay organized with a custom daily planner
Despite my love for tech, I still love to use a print day planner to help me stay organized day to day, especially during the holiday season when my personal and business plans get a bit hectic.
A customized planner using travel photos would be a fun gift to help a loved one keep organized in the upcoming year.
One year I got an Erin Condren planner and customized the cover using 18 of my favorite travel photos.
I was a little nervous that some of the photos wouldn't print well or that the photos on the cover would be pixelated or grainy.
But to my surprise, it came out perfect! The photos weren't blurry and the colors printed exactly as I saw them on my laptop.
My customized planner cover added a smile to my face every time I reached for it, which also made me realize why people are so bananas over this company!
Take notes in a personalized notebook
Now that I have a day planner with a fun photo-filled cover, I feel like I need a notebook that brings me just as many big smiles. Enter Shutterfly.
Shutterfly has a ton of notebook cover designs that you can fill with 1 to many photos.
Create an Instagram-like grid, fill an entire cover with 1 photo (perhaps an engagement photo for your destination wedding notebook?), or design a scrapbook-like collage.
The possibilities for this photo gift are nearly endless!
Print custom stickers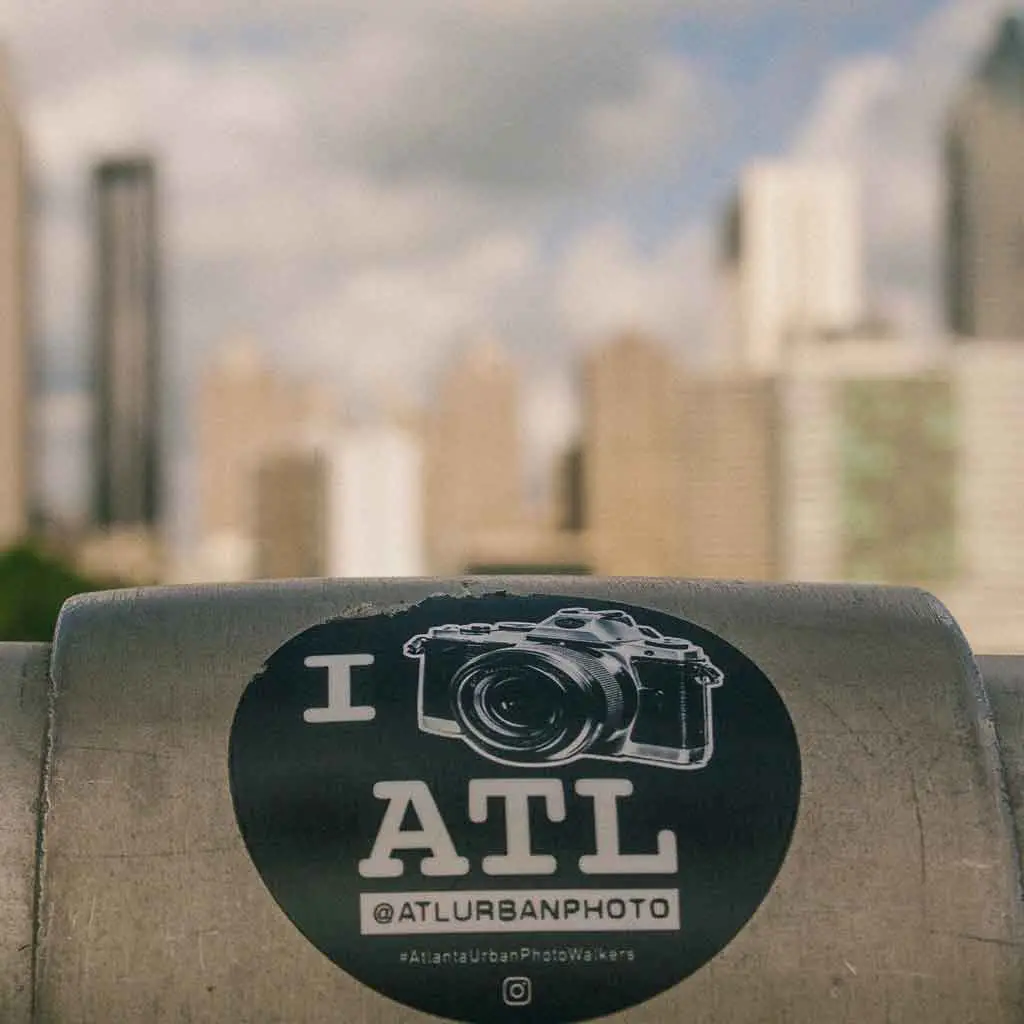 MOO and Social Print Studio both offer the ability to print small stickers using Instagram photos.
Custom stickers would be a great addition to a customized day planner, notebook, or calendar.
For example, custom stickers with a child's face could be used for their appointments, play dates, and other events.
If you print out a business logo, you could give the stickers away as a freebie at a conference or trade show, too.
Gift a photo collage
One of my favorite graduation gifts I got was a photo collage from my dance team coach. I graduated 20 years ago and still have it! It has photos from special moments throughout the season on it.
This would be a great gift for a high school graduation gift, too – especially to gift a friend or family member going away for college.
Create fun greeting cards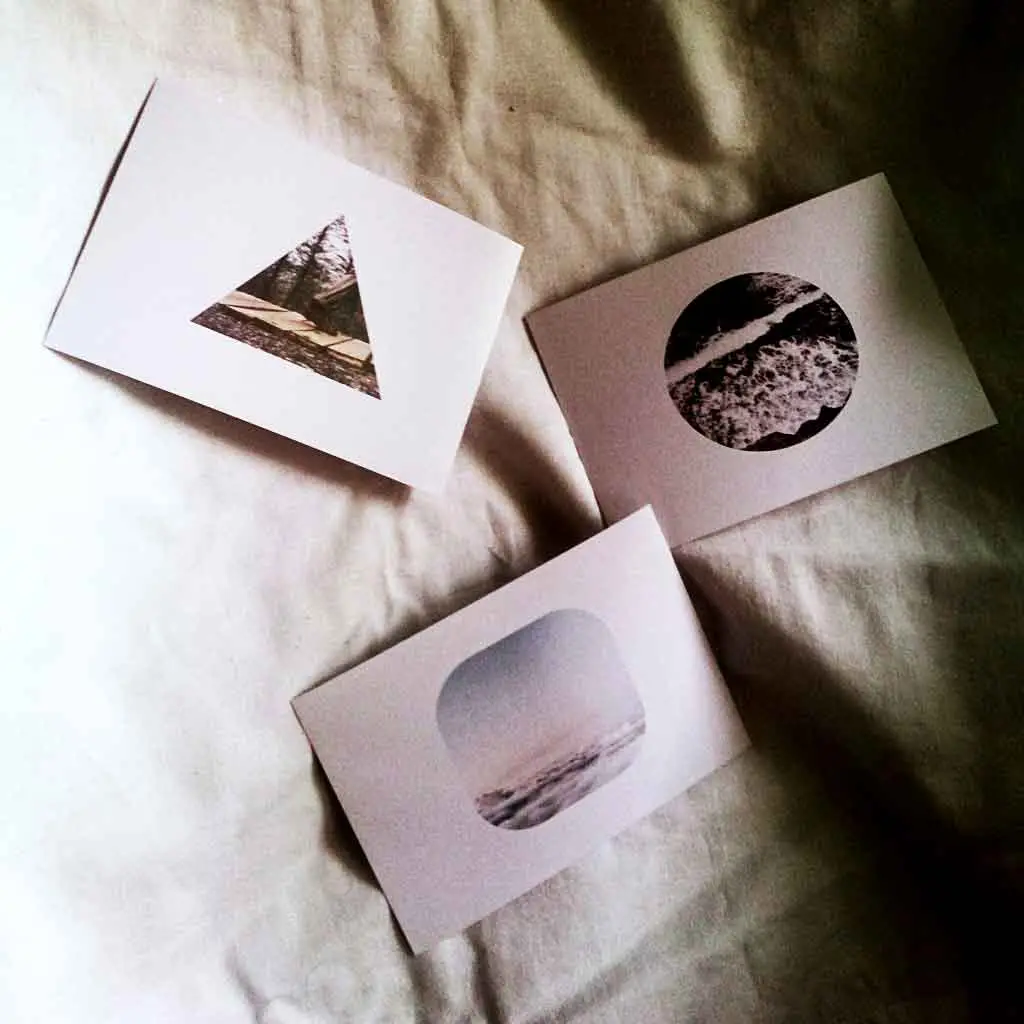 There are a number of companies that will let you connect your Instagram account so you can easily create greeting cards using any photo on your grid.
A few popular online photo services that print greeting cards AND allow easy integration with Instagram are Costco, Mixbook, Shutterfly, and Snapfish.
Using your Instagram photos is a great way to quickly create customized Christmas and holiday cards, as you've already trimmed your Instagram feed down to your best photos from throughout the year.
Gift customized Christmas ornaments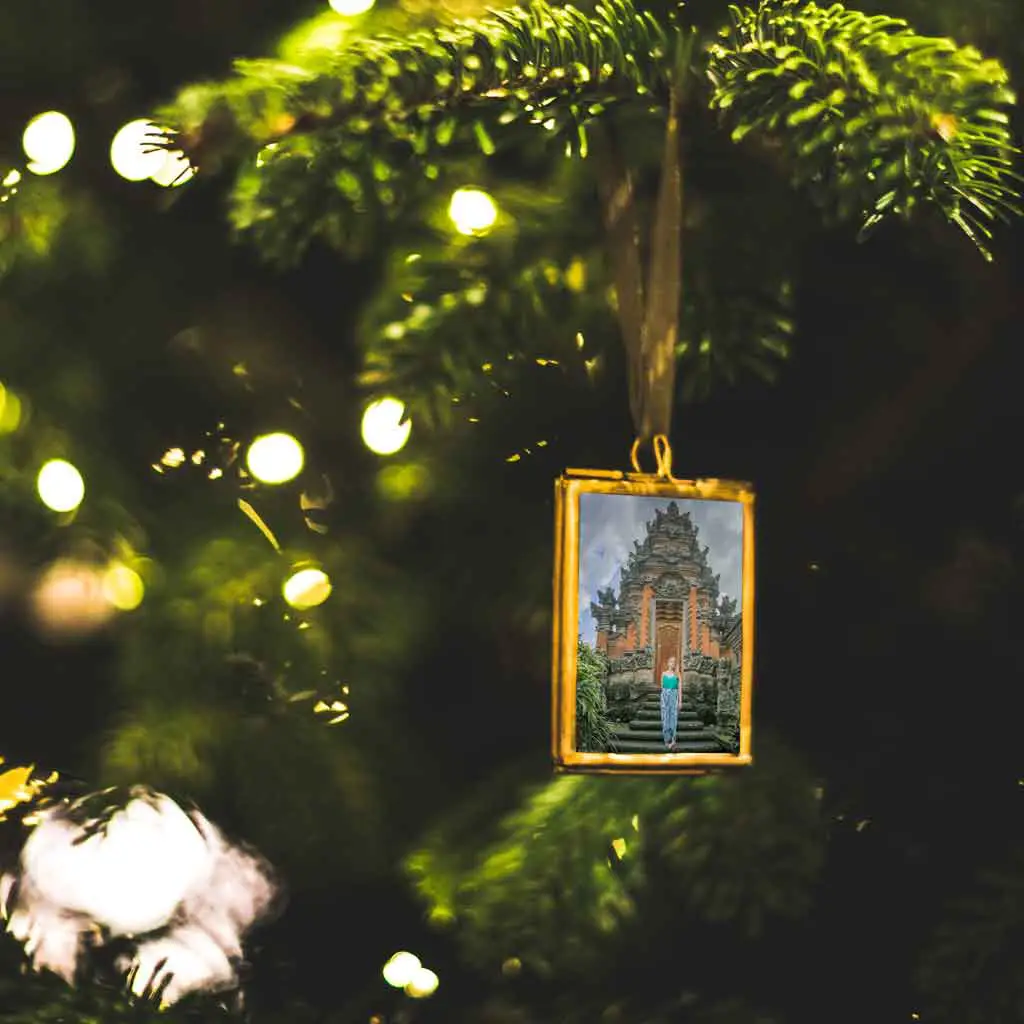 Start a new Christmas tradition by making an ornament with a photo from your favorite trip in the past year.
It will be a fun way to relive your past trips each time you take out the ornaments to decorate your Christmas tree.
Snapfish has a bunch of cute designs available for creating custom Christmas Ornaments with Instagram photos.
If you don't celebrate Christmas, select a more generic design option and use your ornament to decorate your office cubicle or school locker.
Another option is to buy ornament frames (try Michael's Crafts and Target) and print photos to put inside. That way you can switch up the photo now and then!
Protect your tech with personalized covers
If you love Instagram, make a phone case with a special photo or group of photos. Casetify has this option on lockdown.
Aside from iPhone and Android smartphone covers, Casetify also enables you to make custom iPad covers, Macbook covers, and Apple Watch bands from your Instagram photos.
I swear by Casetify for my iPhone cases. I drop my phone ALL THE TIME and have never had a cracked screen on any of my iPhones thanks to their durable cases.
Say it with a personalized tote bag
How about a canvas tote bag with a photo from a special memory?
This would be so fun to do for bridesmaid gifts or bachelorette gift bags, don't you think? You could add a photo of the bride and bridesmaid or guest to make it personalized to each giftee.
Shutterfly and Snapfish both offer tote bags as an option for customizable gifts.
One of the best gifts: photo books!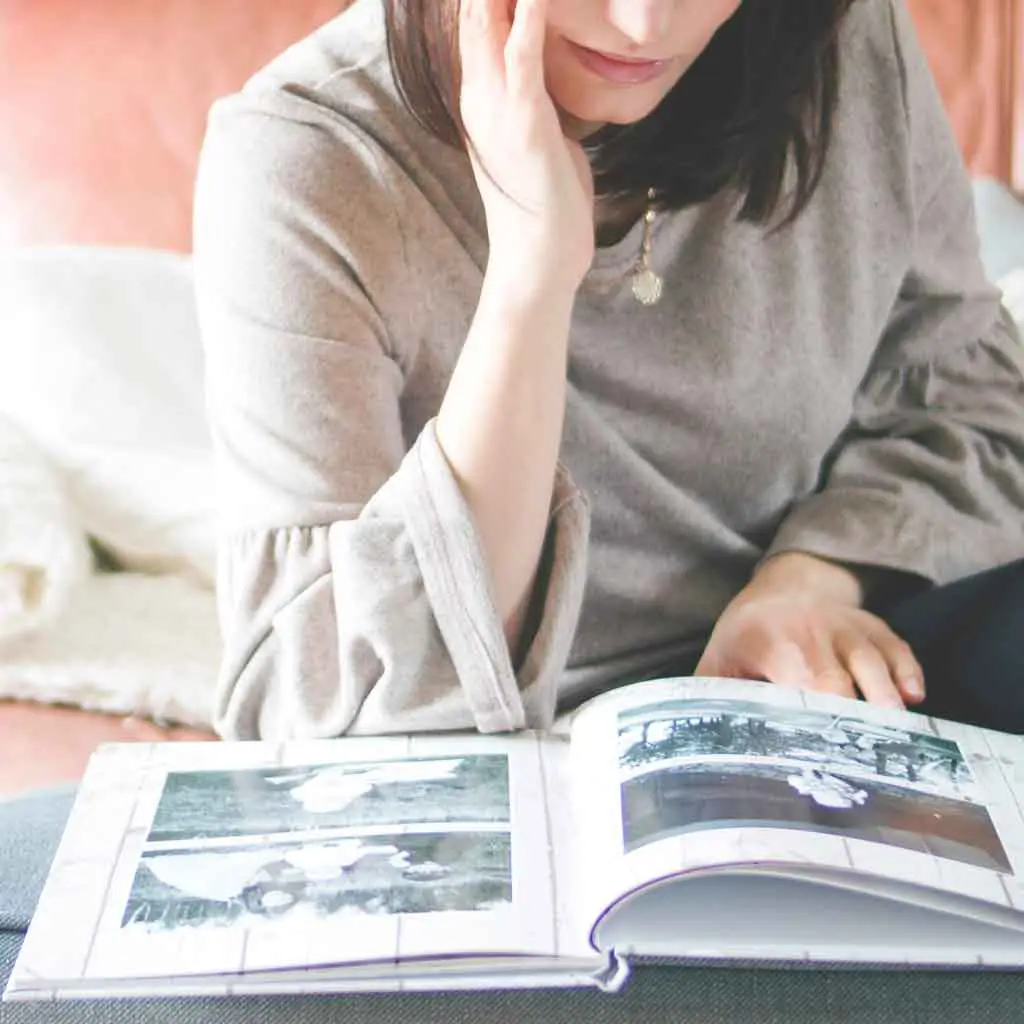 Hands down, Mixbook is my favorite way to create custom photo books.
I've tried a few photo book and photo album services, but Mixbook takes the cake.
The Mixbook software is easy to use, has plenty of design options (but not too many that it's overwhelming), and their products have reasonable prices.
Over the years, I've given these as personalized gifts, usually with photos of favorite memories from vacations I've taken with friends or family members, and they are always a hit!
Check out my post about custom photo gifts for more tips on what else you can gift using travel photos.
Put together an old-school scrapbook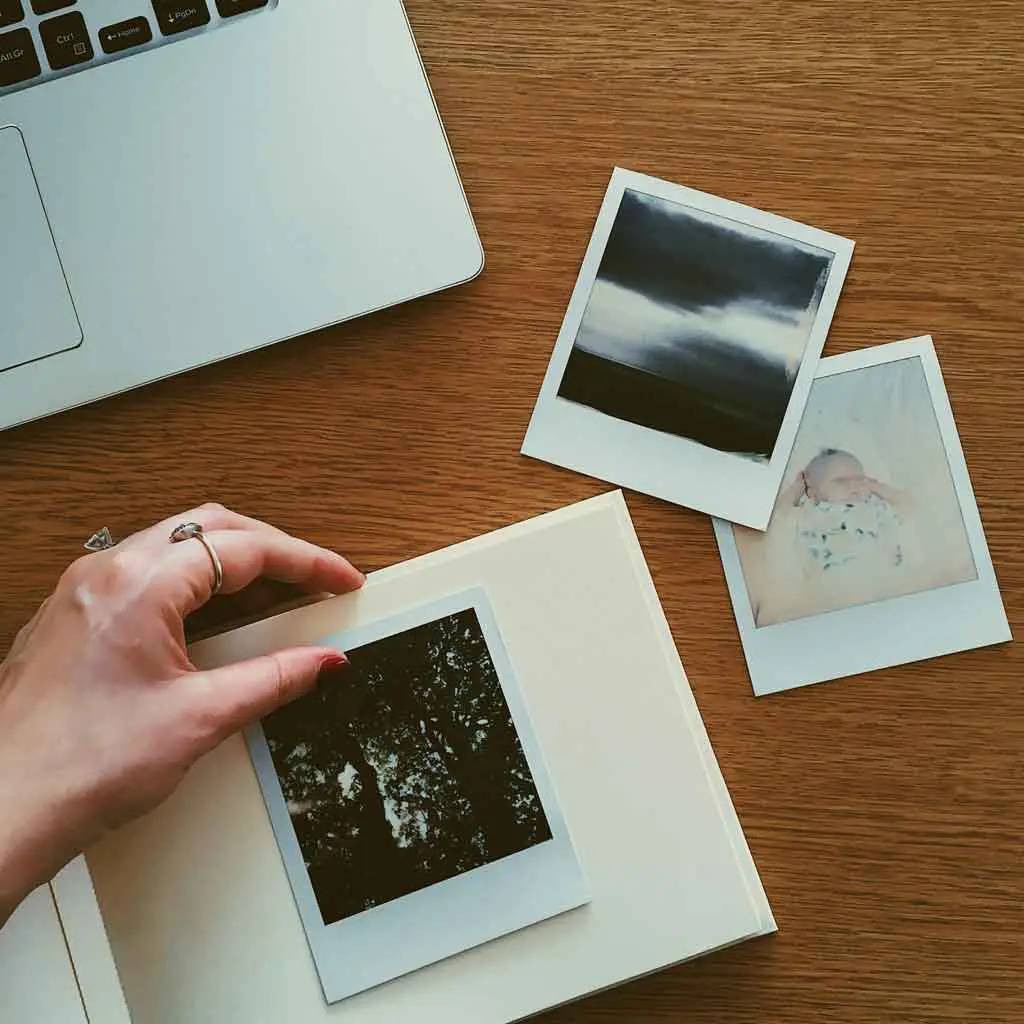 Making old-school scrapbooks can be a super nostalgic gift and a great way to spend quality time with someone.
First, gather your favorite photos or print them using an Instax photo printer.
Then, head to your nearest craft store for a 12×12" photo album, printed scrapbook paper, photo corners, and other embellishments.
Where it goes from there is entirely up to you!
You can arrange the photos in a grid, like a traditional photo album, or go all-out with stickers, ribbons, etc.
Design custom photo blankets
Yes – you can totally make a blanket with photos on it! Costco is my favorite option for making custom photo blankets.
My sister had one made as a Christmas gift one year for our grandmother.
The quality of the blanket was top notch. All of the photos printed on the plush fleece blanket clearly and nothing was distorted.
But the best of all, my grandmother said it was the best gift she got!
Snapfish also prints blankets (and pillows!), but I do not have or know anyone who has tried this yet.
Given my experience with Snapfish's other photo printing services, I'd say it's a safe bet.
Decorate your home with custom wall art
Wall art not only makes for a great gift for your loved ones, but it's great for decorating your own living space or office space, too!
Mixtiles is the easiest way to get your Instagram photos from your phone to your wall.
There are only 4 steps:
Download the Mixtiles app
Connect your Instagram account
Select the photos you want to print
Submit your order
The photo tiles are 8 by 8 inches and you can easily attach them to your wall without damage. Mixtiles perfect for apartments and dorms because they do not need nails or hooks.
Mixtiles cost $11 per tile. Shipping is free no matter how many tiles you order.
A Mixtiles alternative is Photosquared, which also creates 8×8 inch photo tiles from Instagram photos.
Photosquared also sells preprinted artwork, so if you don't have any photos you want to print they've got you covered.
A set of 4 Photosquared tiles is $48, with additional tiles for $8 each. Shipping is free.
If you like the tile look, but want larger, more sturdy options, I recommend canvas prints from Costco Photo Center, Shutterfly, or Snapfish.
Didn't find the photo gift you had in mind?
I've created a wide selection of photo gifts over the years, so I've had a chance to test out services from lots of different providers.
I recommend checking out the following sites for more photo gift ideas: Costco Photo Center, Mixbook, Shutterfly, and Snapfish.
---
About the author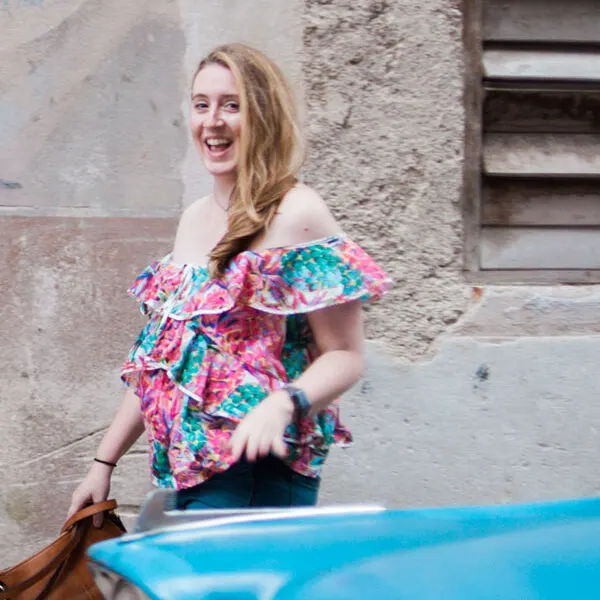 Meg Frost is a Boston-based travel blogger that helps people embrace technology to make vacation planning and traveling wicked easy, affordable, and fun.
She holds an M.A. in Journalism from Northeastern University and B.S. in Communication & American Studies from University of Miami.
---
This post was originally published on September 8, 2017. It was last updated on December 26, 2022.