Need some festive ideas for decorating your Christmas tree this year? Celebrate your love of travel with a travel themed Christmas tree!
Keep reading for my favorite Christmas tree themes for travel lovers.
Tips for fake Christmas trees
Given the amount of traveling I do between Thanksgiving and Christmas, I just can't keep up with maintaining a real tree.
For this reason, I didn't have a Christmas tree in my apartment until 2016. 2016 is now known as the year I finally broke down and got a fake one.
I'm with ya…I loathe fake Christmas trees. But I learned a few things you can do to select a good fake tree, as well as enhance it.
How to improve a fake Christmas tree
Pick as full a Christmas tree as your home can fit. This will help hide the ugly metal branches.
Take the time to fluff the branches to help fill in empty spaces. Spread the mini branches in a star-like pattern, with branches spread to the left, right, top, and bottom.
To further fill in the empty spaces, there are a few good options. One is to wrap an evergreen garland around the trunk to hide the metal or plastic trunk.
Another idea to disguise a sparse fake tree is to twist a wide ribbon around the tree, stuffing it into the layers as you go, rather than letting the ribbon sit on the outside of the tree.
Lastly, be sure to add lots of trimmings and ornaments. If need be, add colored bulb ornaments that match your travel themed Christmas tree.
To make up for the lack of natural evergreen scent, get a tube of Scentsicles.
Scentsicles are Christmas tree scented sticks that can be hung on fake trees, like an ornament. I hide the Scentsicles toward the trunk of the tree so they can't be seen.
The scent can be overpowering at first, so if you don't like strong scents, you could use a evergreen-scented candle when you're at home instead.
Either option might seem like an extra cost, but in my opinion it really helps sell the idea of a fake tree and adds a festive vibe!
Lastly, if you travel during the Christmas season and prefer to stick to a small tree, consider adding fairy lights instead of regular ones, as they are sized better for tabletop trees. It looks so much better!
My favorite travel themed Christmas tree ideas
To make your Christmas tree the best ever, go with a travel theme. Here are my 4 favorite ways to decorate a travel themed Christmas tree.
Disney World or Disneyland
If you're a fan of Disney's theme parks, a Disney Christmas tree would be an adorable addition to your home during the holidays.
My mom is just as big a fan of Disney as I am and she decorates her tree with a Disney theme from top to bottom!
To put together a Disney Christmas tree, add ornaments from all the Disney parks you've been to.
Add a few picture frame ornaments with photos from each of your Disney trips, too.
Lastly, a Disney tree topper is a must! My mom has a star with Tinkerbell for her Disney Christmas tree. I've seen Disney princess angels, too.
Another idea for a Disney Christmas tree is to stick to a favorite character or group of characters.
For example, a Cinderella tree might have lots of crystal, silver, and blue ornaments, mixed in with Cinderella and her friends, as well as silver ribbon or light blue beads.
A Minnie Mouse tree definitely needs red and white polka dot bows and Minnie Mouse ornaments.
A Star Wars themed Christmas tree just might need mini light sabers or baby Yoda sitting at the top of the tree, alongside character ornaments.
Beach destinations
How about theming your tree after your favorite beach destination or beaches in general?
You could add a bunch of ornaments shaped like starfish, jellyfish, boats, a sun, palm trees, tropical fish, flip flops, sunglasses, and so on.
If you're designing your tree after a specific beach, hang travel Christmas ornaments from local artisans or Etsy shops, as well.
Travel destinations
If you travel to a specific place regularly, consider designing your Christmas tree theme after that destination.
For example, a Paris tree might have lots of silver and pink, Eiffel Tower ornaments, a fleur-de-lis topper, and romantic ribbon or beads.
A New England themed Christmas tree might have faux blueberry or cranberry beads and ornaments with lobsters, lighthouses, bears, moose, fishermen, and Boston sports on them.
General travel theme
If you're just as obsessed with seeing ALL of this beautiful world, like I am, a generic travel themed Christmas tree will be perfect for you.
Keep your tree trimmings simple and go nuts with ornaments that relate to travel destinations and travel in general.
Picture frame ornaments with photos from your travels are a fun way to show off where you've been, too.
It's rather easy to find travel ornaments. I got a bunch from Target when I first got my Christmas tree, as well as a few from a Christmas market in Paris, France.
I also pick up destination ornaments during my travels, such as the gorgeous New Orleans themed Santa Claus ornament I bought on a recent trip or the gorgeous hand painted bauble from Mexico.
If you don't find any while you search for souvenirs during your travels, browse the airport gift shops. You're bound to find something, like the fun Seattle ornament I picked up at the airport in 2022.
If you don't have travels planned between now and Christmas, there are plenty of local stores and online shops where you can get fun travel themed ornaments.
Amazon, Target, and Macy's all have a treasure trove of travel themed Christmas ornaments. You can find them in store or on their websites.
Another spot to check for ornaments are local flea, craft markets, and the website Etsy.
Lastly, you can always create your own ornaments, whether they be hand painted, assembled, or photos from your favorite spots.
Travel memories
If you have so many travel photos that you don't know what to do with, why not decorate your tree with them?
Picture frame ornaments can be found at low cost, so the tricky part will likely only be finding a site or store that can print your photos small enough to fit in each frame.
Check out my post about photo gifts for tips on my favorite places to get my travel photos printed.
When I got my first Christmas tree, I also picked up a few picture frame ornaments.
I also got a frame ornament with the current year and added a picture from one of my trips.
I loved seeing it every time I walked by my Christmas tree that I think I'll be adding a new one every year.
Last but not least, keep trimmings low key so your travel photo ornaments are the main star.
Tree trimmings
It seems everyone has a preference when it comes to trimmings for their Christmas tree.
I do not to use garland, tinsel, beads, or ribbon on my tree. Since my tree is not too big, I think trimmings would overpower the awesome travel themed ornaments hanging on the tree.
For those of you who think trimmings are a must, a travel themed ribbon could be a lot of fun!
Check your local craft or fabric store, such as Joann or M&J Trimming, for fun ribbon, like a map print, palm trees, etc.
If your ornaments have a cohesive color palette, you could use garland, ribbon, or beads in a color within that palette, as well.
Tree topper
Sure, you could just get a plain star or angel to put on the top of your tree.
Or you could be super extra and get a Christmas tree topper that matches your Christmas tree theme more closely!
Perhaps a Disney character as an angel for a Disney parks themed tree, or a plane for a general travel themed tree. The opportunities are nearly endless!
Tree skirts and collars
Whether your tree is real or fake, a Christmas tree skirt or collar is great for hiding ugly Christmas tree stands. It's also a fun way to tie together a Christmas tree theme.
Travel themed Christmas tree skirts or collars aren't super easy to come by. If you're crafty, you could put something together with a vinyl iron-on or sticker. Another option is to peruse Etsy for shop that does custom orders.
At the end of the day, though, it might be best to get a neutral tree skirt to let the decorated tree shine.
For example, I use a tan faux fur tree skirt with my travel Christmas tree. It's super luxe and the faux fur adds to the wintry and festive aesthetic.
Travel themed Christmas decor
Once you get your Christmas tree all set, you'll probably want to spread the Christmas cheer elsewhere in your home! Perhaps a wreath for your front door, scented candles, and a few holiday knick-knacks?
Depending on your theme, you could also decorate with items that aren't explicitly Christmas decorations.
For example, if you have a Parisian themed Christmas tree, you can extend the theme to the rest of your home with toile curtains, pillows with french sayings, perhaps an Arc du Triomphe replica. You get the idea!
How will you decorate your Christmas tree this year?
I hope you found some magical Christmas tree theme ideas for your tree this year.
Now that we've decked out your tree, it's time to shop online for gifts to put under it!
Check out my posts with ideas on stocking stuffers for travelers, Christmas gifts for travelers, gifts for kids who like to travel, and travel tech gifts.
---
About the author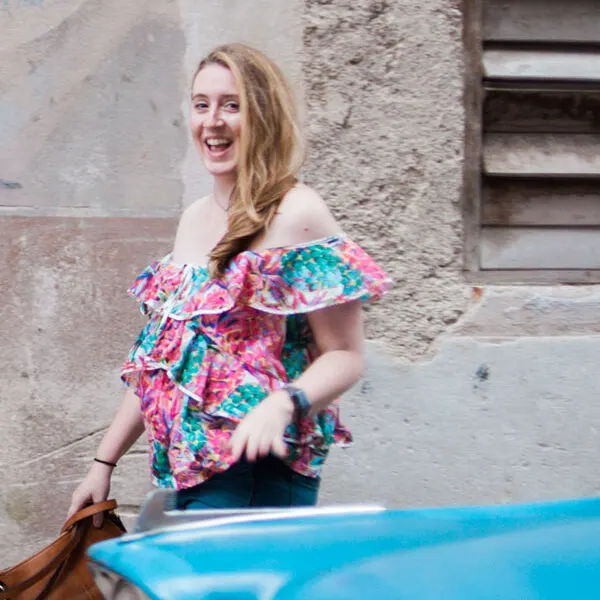 Meg Frost is a Boston-based travel blogger that helps people embrace technology to make vacation planning and traveling wicked easy, affordable, and fun.
She holds an M.A. in Journalism from Northeastern University and B.S. in Communication & American Studies from University of Miami.
---
This post was originally published November 3, 2017. It was last updated December 26, 2022.