My favorite way to end a day in Honolulu is with a sunset cruise in Waikiki. With so many options available, it can be hard to choose between them all.
Check out this post for my top picks for the best sunset cruise in Waikiki, including cocktail, dinner, and private sunset cruises.
The best booze cruises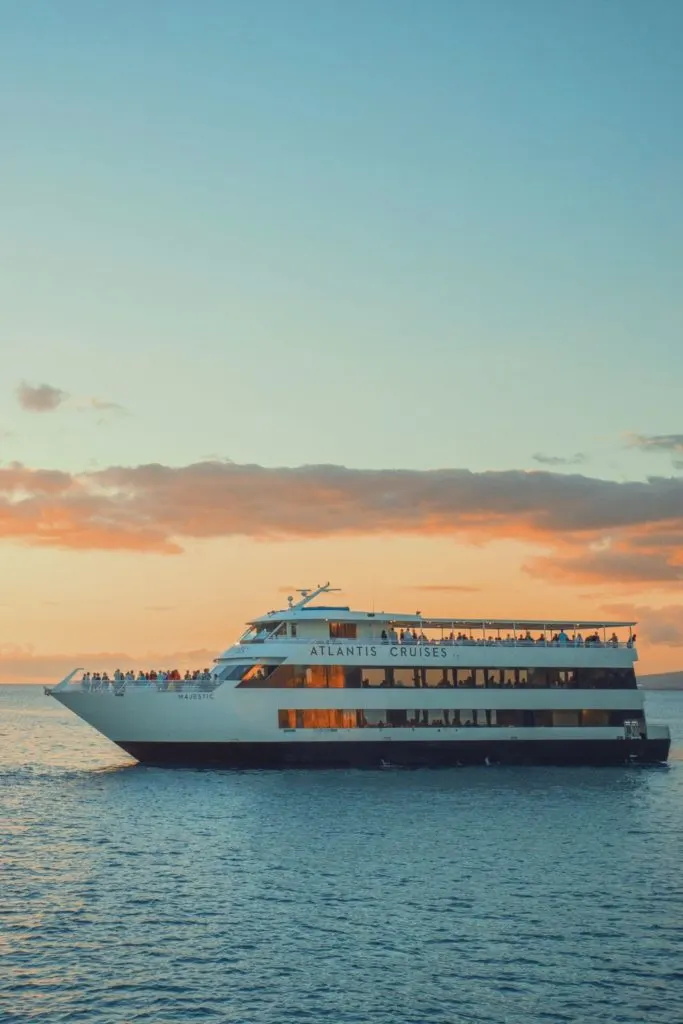 Atlantis Adventures runs a sunset cocktail cruise on their massive 3-deck boat, the Majestic, which includes an air conditioned lounge.
The Majestic is a more formal cruise option, making it the perfect pick for a date or anniversary celebration.
Tickets start at $65 for the regular sunset cocktail cruise and $79 for the fireworks cocktail cruise. Both cruises include a welcome drink when boarding, with additional drinks available for purchase.
That said, children are welcome, with child tickets starting at $32.50 for the regular sunset cruise and $39 for the fireworks cruise.
The Atlantis Adventures Majestic cruises leave out of the Aloha Tower Marketplace. Parking validation is provided with a ticket purchase.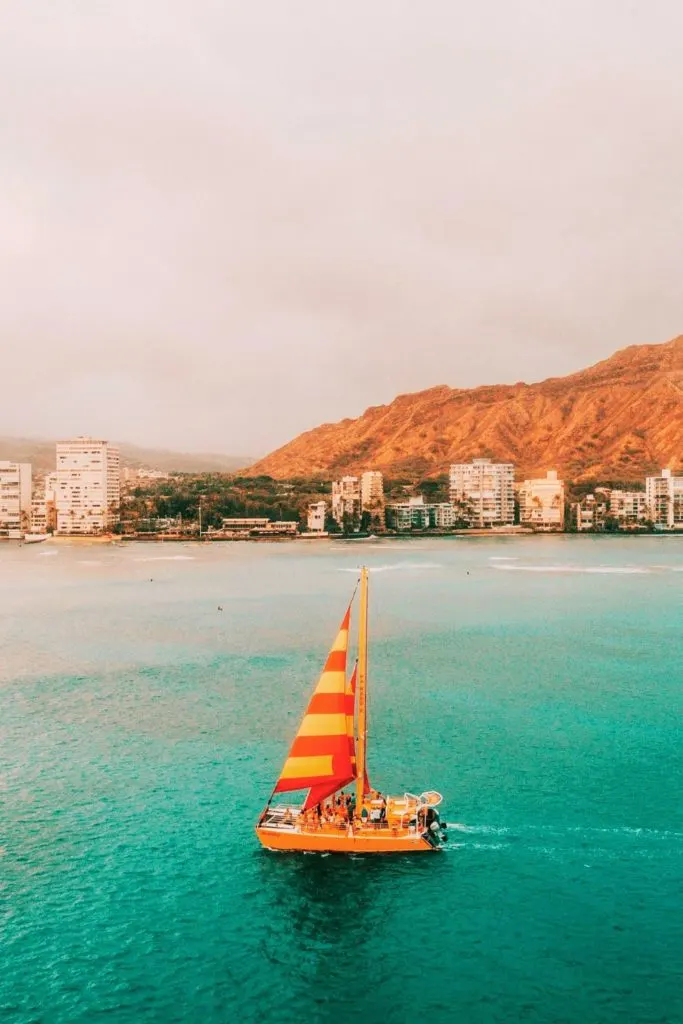 For a less formal option, I recommend Na Hoku II, which leaves directly from Waikiki Beach, in front of Duke's. Tickets are $60 and include an open bar.
TIP: Children are also welcome on the Na Hoku II, but they strongly discourage it due to it being open bar.
The best dinner cruise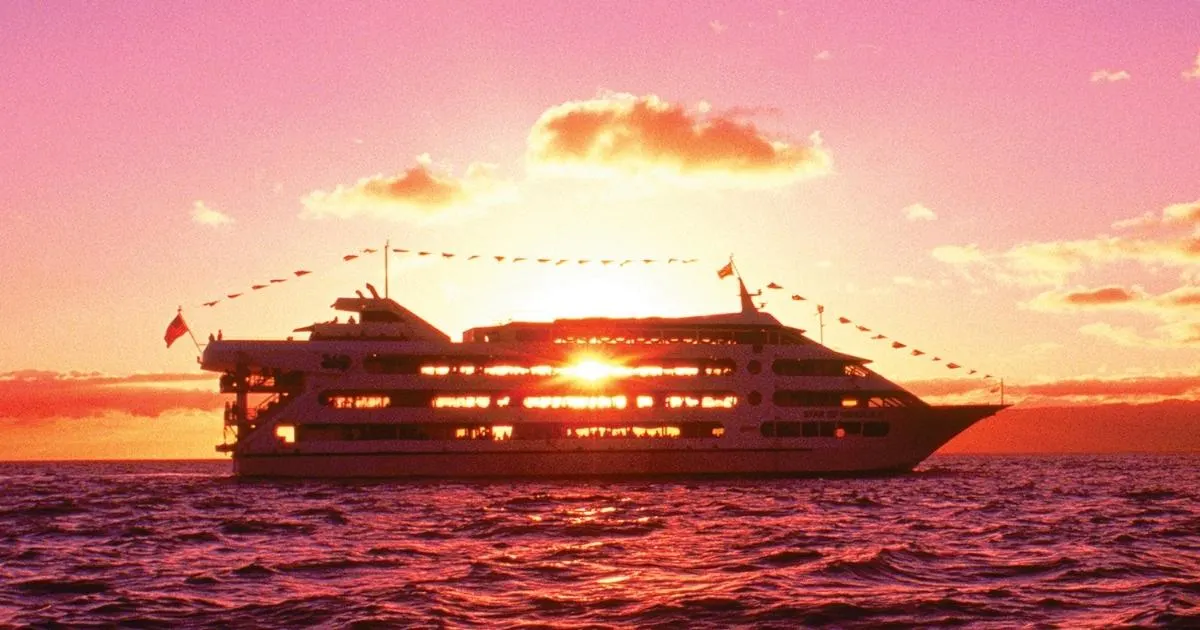 For a sunset dinner cruise, check out the Star of Honolulu, which has 3 delicious gourmet dinner options – buffet, casual, and deluxe.
The buffet option includes a mai tai and a buffet that includes roast beef, misoyaki BBQ chicken, fresh catch of the day, and other local dishes. Buffet tickets start at $109 for adults and $65 for kids.
The casual option includes a welcome mai tai, a 3-course crab, steak, and BBQ chicken dinner, plus a dinner show. Casual dinner tickets start at $127 for adults and $76 for kids.
Lastly, the deluxe option includes a champagne toast, 2 premium beverages (such as a mai tai), a 5-course lobster and tenderloin steak dinner, and a dinner show. Deluxe dinner tickets start at $166 for adults and $99 for kids.
As with most sunset tours in Oahu, the Star of Honolulu extends their Friday cruise to include the weekly fireworks show. They also offer holiday specials, such as their Oahu Valentine's Day dinner cruise.
The best option for private cruises
If you're visiting with a big group or want some privacy for a romantic night out with your boo, check out Honolulu Sailing Co, which offers private sunset cruises out of Kewalo Basin Harbor.
Honolulu Sailing Co. offers charters aboard 2 yachts or their 51-ft. catamaran, all of which can host up to 12 guests.
Pricing starts at $594 for 6 guests. For more guests, you must call to inquire about pricing.
They also offer private dinner sunset cruises, which require at least 1 week notice to book via phone.
If you're looking for a romantic dinner cruise option, this is a great option – especially for celebrating anniversaries, engagements, milestone birthdays, and other big occasions.
My fave sunset cruise in Waikiki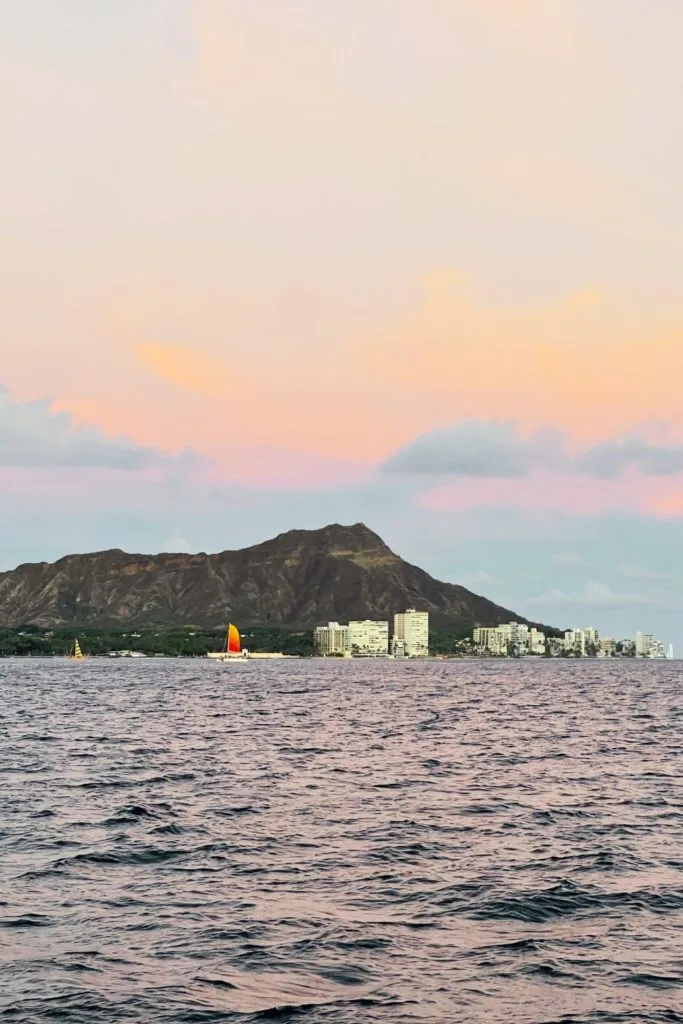 The best sunset cruise in Waikiki is with Pink Sails Waikiki, which leaves out of Ala Wai Boat Harbor nearby the Prince Waikiki Hotel.
The Pink Sails Waikiki sunset cruise leaves earlier than others to allow guests time to go swimming before heading further out into the Pacific to watch the sunset. It's one of the only boat tours to offer this!
There is also a bar on board where you can get cocktails, wine, and beer. You better believe my mom and I indulged a bit (her, a mai tai and me, a local brew)!
And to top it all off, unlike other activities in the Waikiki area, parking is only $1 per hour, payable via the ParkWhiz app.
My mom, brother, and I booked the Pink Sails Waikiki Sunset Cruise on a whim and had so much fun that we booked their Turtle Canyon snorkeling cruise when we got back to our hotel.
For double the fun, book one of Pink Sails Waikiki's Friday Fireworks boat tour. You'll see the sunset and the best view of the free Hilton Hawaiian Village fireworks, too.
They offer 2 fireworks cruises: the sail catamaran or the 2-deck power catamaran, which includes an option for early boarding so you can snag the best seat.
TIP: Arrive 30 minutes before the cruise is due to leave for a safety briefing and to fill out the liability waiver. To fill out the waiver, scan the QR code on the sign set up where the queue starts. The quicker you fill out the waiver, the sooner you can get on the catamaran and get a good seat!
What are your favorite sunset cruises in Waikiki?
If you've been on a sunset cruise in Waikiki, drop your recommendations in the comments below.
---
About the author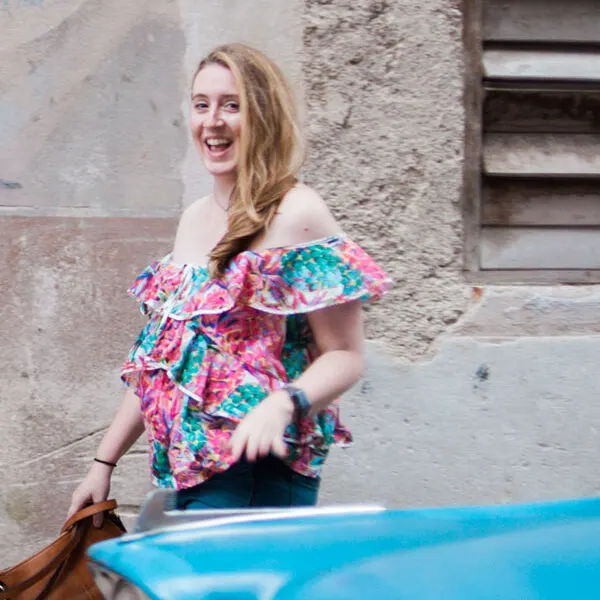 Meg Frost is a Boston-based travel blogger that helps people embrace technology to make vacation planning and traveling wicked easy, affordable, and fun.
She holds an M.A. in Journalism from Northeastern University and B.S. in Communication & American Studies from University of Miami.
---
This post was originally published on September 23, 2022. It was last updated on October 27, 2022.