Trips to the beach are always a staple of my Summer vacations and occasionally during the Winter to escape the snow and cold temps for a few days.
If you're looking to book a beach getaway in the US, look no further! I've rounded up the absolute best beach vacations in the US.
Now let's get to it, so you can book your trip ASAP!
Cannon Beach, OR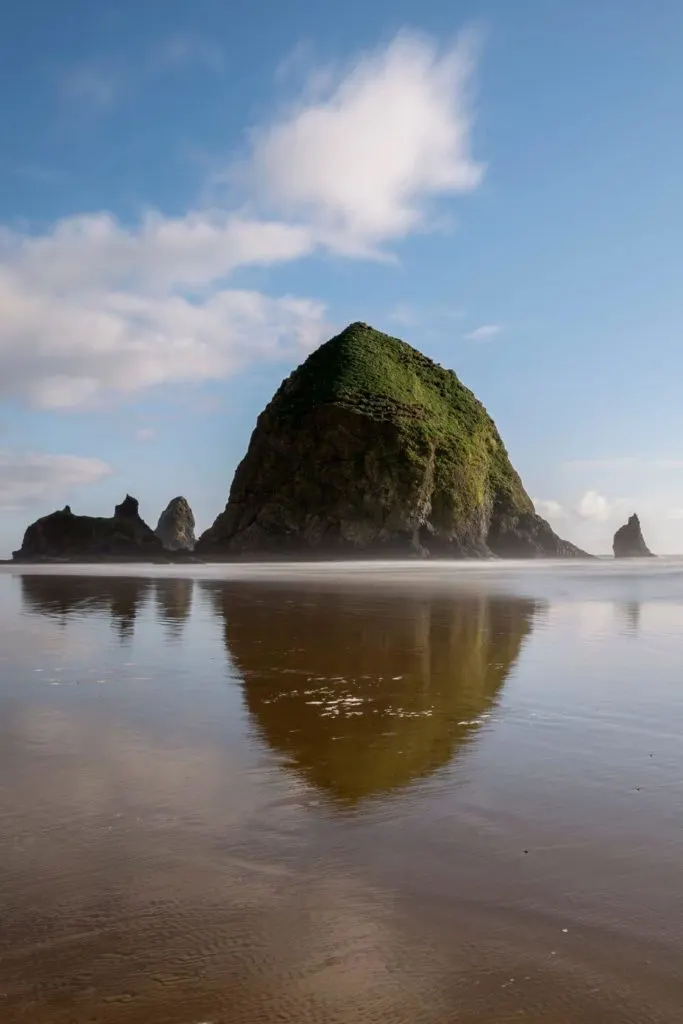 One of the most picturesque beaches in the Pacific Northwest, Cannon Beach is perhaps best known for Haystack Rock.
Haystack Rock was formed from lava flows that originated all the way from Wyoming's Yellowstone Super Volcano! Today it is a National Wildlife Refuge and is home to many seabirds, such as the tufted puffin.
Located right off the Pacific Coast Highway, Cannon Beach is also a great base for exploring some of Oregon's state parks, of which there are 4 within 10 minutes driving distance:
Arcadia Beach State Recreation Site
Ecola State Park
Hug Point State Recreation Site
Oswald West State Park
Carova Beach, NC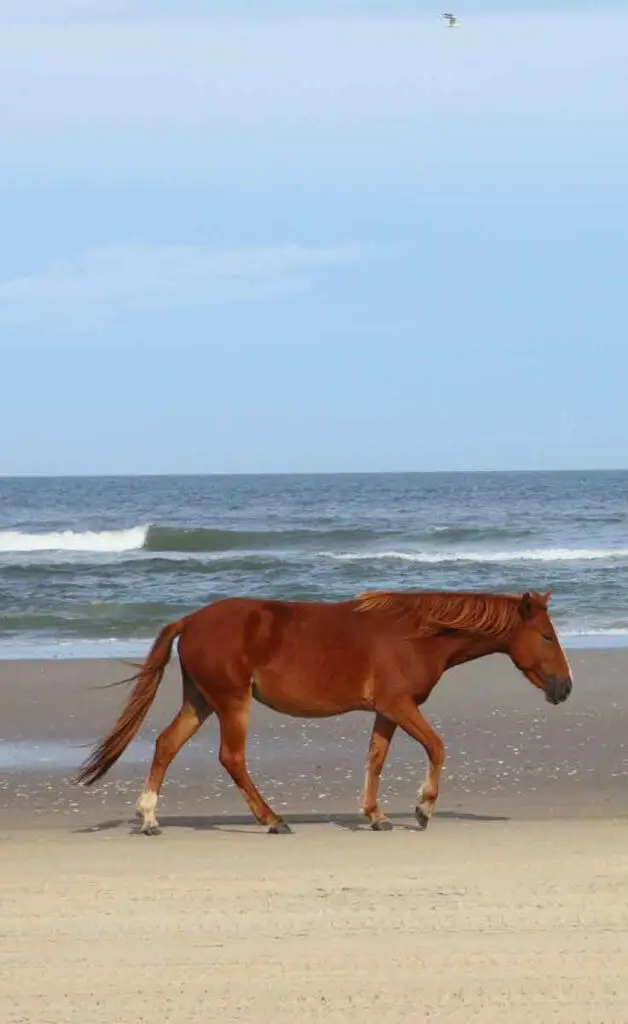 As much as I love going to the beach, I hate going to overcrowded beaches!
Nestled in the northern corner of North Carolina's Outer Banks is Carova Beach. Carova Beach is so secluded that there aren't any paved roads.
One of the most amazing and unique features to Carova Beach are its wild Mustang horses.
Yes, horses run free here, so chances are you'll see one of these majestic creatures trotting along the beach.
Please respect the wildlife and stay a respectable distance away. Technically speaking, we are on THEIR territory and should act accordingly.
Chatham Lighthouse Beach in Chatham, MA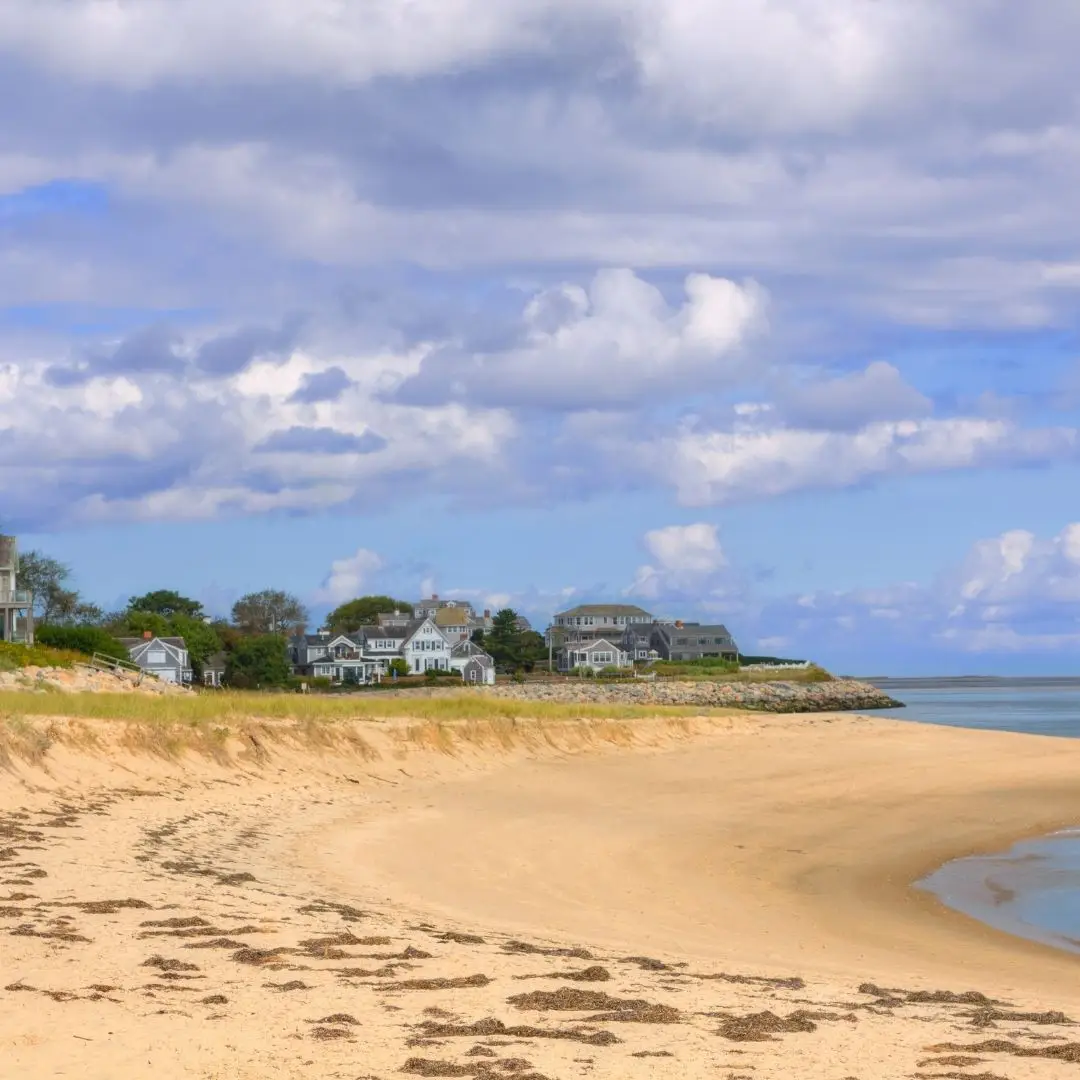 Given that the sun rises along the east coast of the US, you're almost always guaranteed for a lovely sunrise at east coast beaches.
One of the best spots for a beach sunrise the US is Chatham Lighthouse Beach in Chatham, MA. This Cape Cod beach faces directly east, making it prime sunrise viewing.
If you're visiting Boston, getting to Chatham on Cape Cod can be hectic thanks to traffic – especially in the Summer. Check out my tips on the best ways to get from Boston to Cape Cod for a smooth journey.
TIP: Arrive 30-60 minutes ahead of the anticipated sunrise time in order to take full advantage of this gorgeous show from Mother Nature.
Clearwater Beach, FL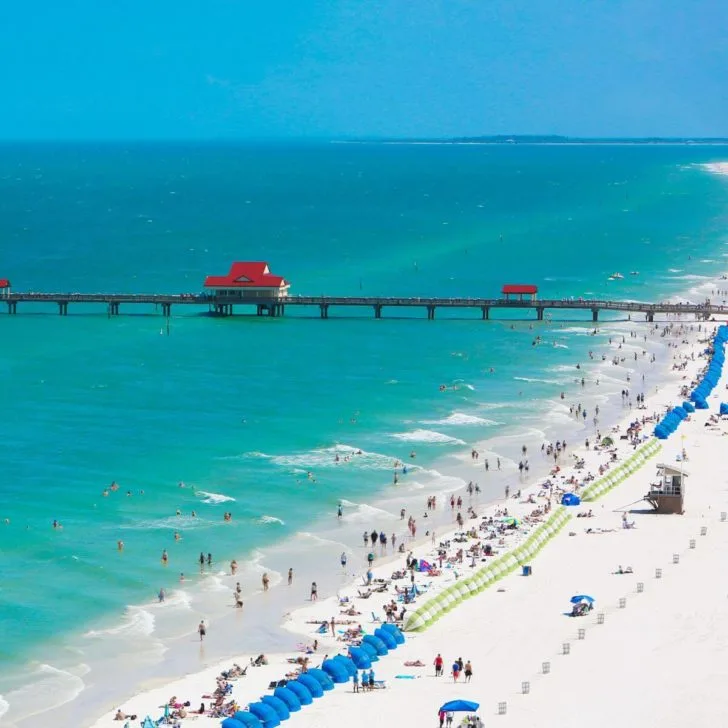 One of the most popular beaches in the US is Clearwater Beach, right outside of Tampa, Florida.
Boasting 35 miles of soft, sandy beach, Clearwater Beach is another fabulous family vacation spot.
Aside from the beach, be sure to put a visit to the Clearwater Marine Aquarium on your itinerary.
This aquarium's main goal is to rehabilitate injured marine animals and is perhaps best known for inspiring the 2011 film, Dolphin Tale, which is about one of its resident dolphins, Winter.
In addition, there are many other excellent beaches and towns to visit in the area, such as St. Petersburg, aka St. Pete, Caladesi Island State Park, Honeymoon Island State Park, and Tampa, home to Busch Gardens Tampa Bay.
Coast Guard Beach in Eastham, MA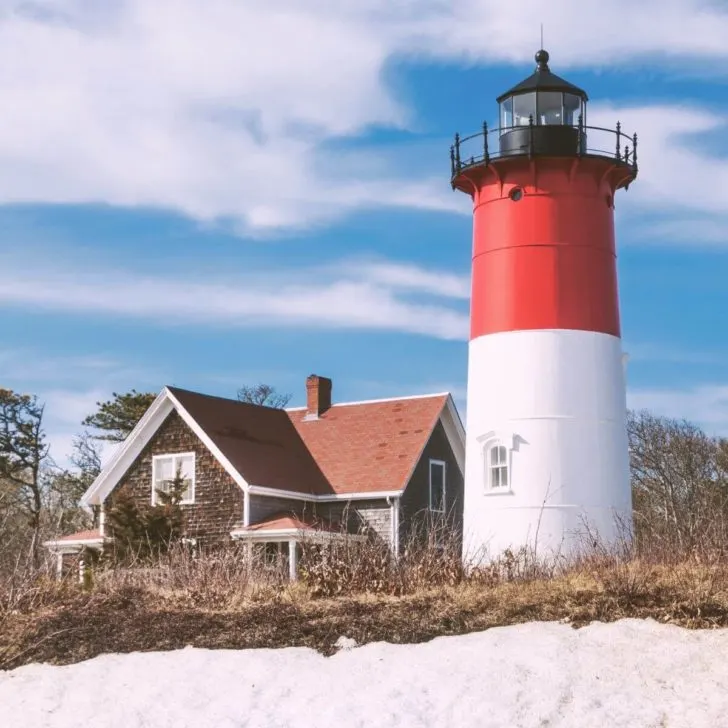 Coast Guard Beach in is the perfect destination for a relaxing getaway.
Located on the 40-mile long Cape Cod National Seashore, Coast Guard Beach is a stunning stretch of shoreline complete with shimmering waters and soft white sand – a real slice of paradise!
Visitors can take long walks along Nauset Marsh or play some beach volleyball with friends and family, a la Top Gun.
Swimming is also quite popular at this beach, plus you can access the Nauset Bike Trail nearby.
Coast Guard Beach is an ideal way to enjoy coastal scenery, luxury, and nature at its finest – all in one place.
For more tips on things to do, check out my post about activities on Cape Cod.
Coligny Beach Park on Hilton Head Island, SC
Coligny Beach Park lies on the shore of Hilton Head Island in South Carolina.
This beach is relaxed and inviting, a place to luxuriate in the warm sand and listen to the waves collide against the shore.
Whether you want to take a dip in the ocean or take advantage of the outdoor activities Coligny has to offer, there's something for everyone.
From sunbathing to cycling to taking out a Hobie Cat, Coligny Beach Park packages relaxation with adventure, creating the perfect haven for vacationers from near and far.
Coronado Beach in Coronado, CA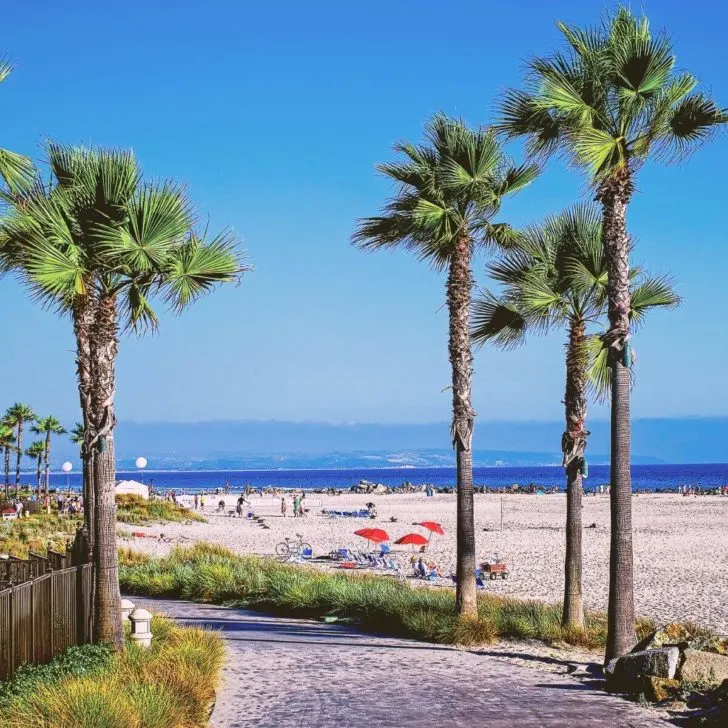 Coronado Beach is the perfect destination for tourists looking to get out of San Diego and experience the pristine beaches in California.
Located just south of San Diego, Coronado Beach is notable for its powdery white sand and beautiful views. It's truly an ideal location for people looking to relax by the ocean!
Plus, if you have a dog, you can visit nearby Coronado Dog Beach, where your pup is welcome to tear it up in the sand and cool off in the water.
Whether you're seeking a little peace and quiet or want to explore Coronado's unique offerings, Coronado Beach promises something special for everyone.
Daytona Beach, FL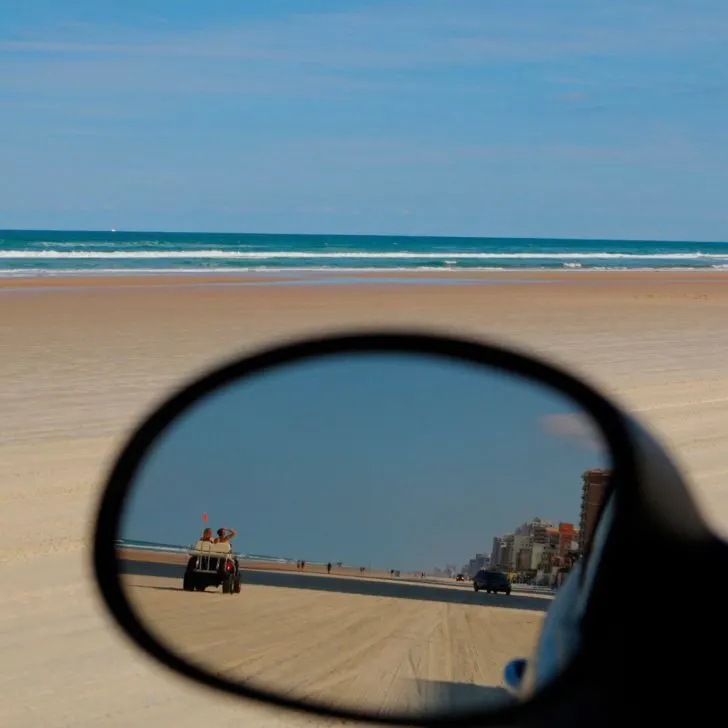 Perhaps one of the most popular beach vacations in the US is Daytona Beach in Florida.
Daytona Beach boasts 23 miles of shoreline and is packed with all of your usual beach activities, like swimming, surfing, jet skiing, and paddle boarding.
This white sand beach is unusual in that most of the shoreline is hard packed sand that can be driven (and parked!) on.
It is well-known for its many festivals and events, such as Bike Week and Spring Break, both in March, as well as Biketoberfest® in October.
In addition, you can visit the Ponce Inlet Lighthouse, the tallest lighthouse in Florida, for spectacular aerial views of the Daytona Beach area.
Lastly, the Daytona International Speedway hosts many races, but most notably the Daytona 500 Nascar race in February.
Driftwood Beach on Jekyll Island in Georgia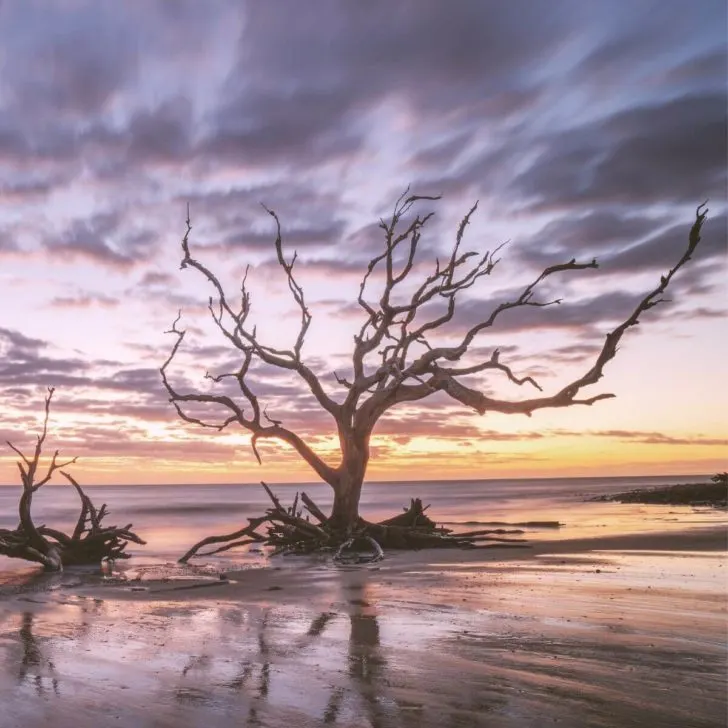 Driftwood Beach on Jekyll Island in Georgia is a sight to behold and one of those places you won't believe until you've seen it with your own eyes.
The beach is strewn with petrified oak trees, aka driftwood, like a real-life abstract sculpture, each trunk seeming to pose dramatically in a different direction.
To top it off, Driftwood Beach also affords sweeping views of the ocean; peaceful yet captivating.
Some would say an evening spent strolling among these unusual giants ranks as among the best spent anywhere on Earth!
Hanauma Bay State Park on the island of Oahu in Hawaii
Hanauma Bay State Park on Oahu is a must-visit for all snorkeling enthusiasts looking for the perfect spot to snorkel in the picturesque Hawaiian islands.
Not only can you enjoy lounging on the pearl white sand, but Hanauma Bay is famous for it's stunning coral reef and teeming marine life, making it a great spot for snorkeling adventures.
Best of all, reservations are required, along with an entrance fee, which helps ensure that Hanauma Bay stays protected as a designated nature preserve.
Henderson Beach State Park in Destin, FL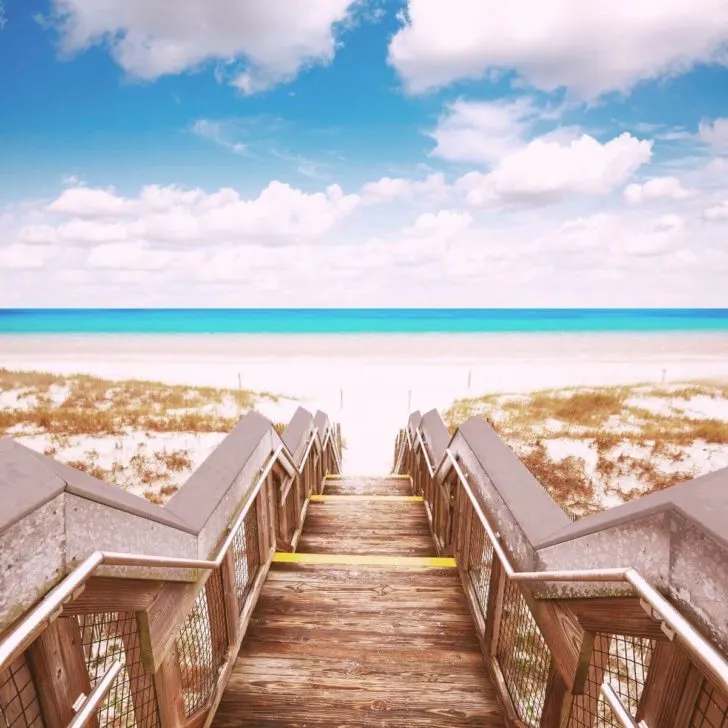 Henderson Beach State Park is a beach vacation like no other.
With picturesque crystal-clear waters, white sand beaches and the pristine greenery that comes with any state park, what's not to love?
Not to mention, the perfect waves for all levels of surfers, plus several boardwalks so you can enjoy some nature-watching as you take a stroll.
Pack your bags and get ready for one of the best beach vacations in the United States – Henderson Beach State Park will not disappoint!
Huntington Beach, CA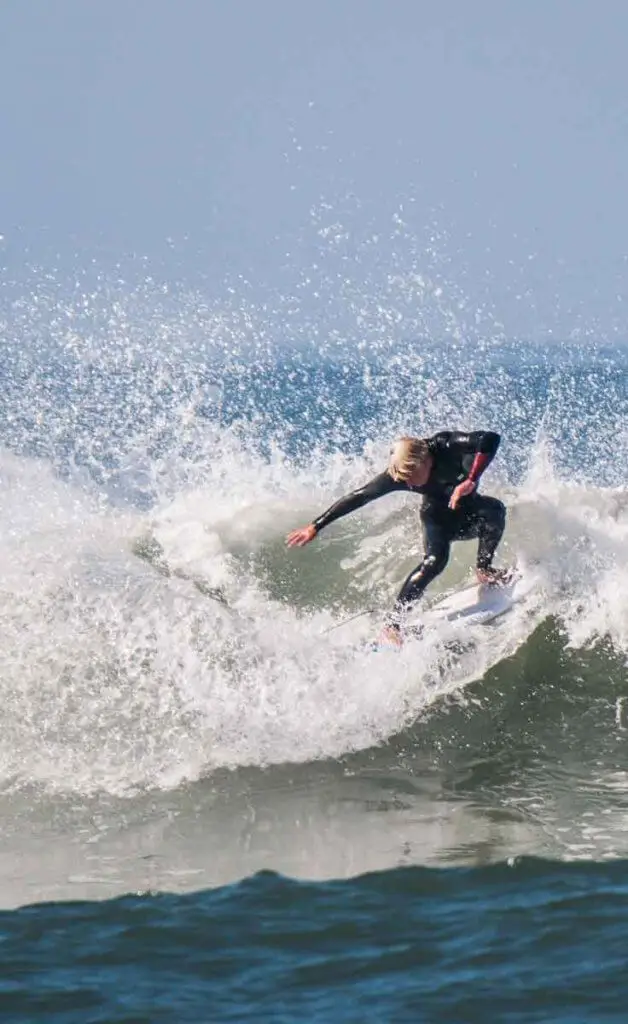 Surfing has long been an activity in Polynesian cultures, eventually making its way to California before spreading across coastal areas of the US.
One of the most well-known and popular beaches for surfing in the US is Huntington Beach, CA. In fact, Huntington Beach is often referred to as Surf City USA!
This California beach has 10 miles of gorgeous coastline with prime waves. It hosts several big surfing events throughout the year, such as the US Open of Surfing.
In addition to surfing, Huntington Beach is a great spot for riding bikes, skateboarding, beach volleyball, and stand up paddleboarding.
La Jolla Cove in San Diego, CA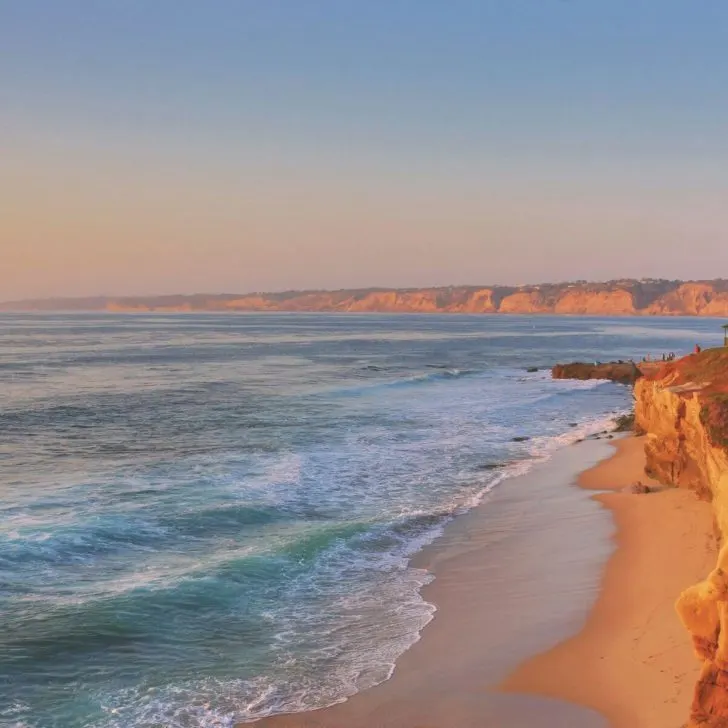 La Jolla Cove in San Diego is a little slice of heaven!
La Jolla Cove is part of the San Diego-La Jolla Underwater Park, so there are plenty of unique marine life to see, just remember to wear your reef-safe sunscreen.
The abundant marine life, coral reefs, and crystal clear waters make it perfect for snorkeling, scuba diving, and swimming.
Fishing, however, is NOT allowed, since it is a marine reserve.
Lake Havasu, AZ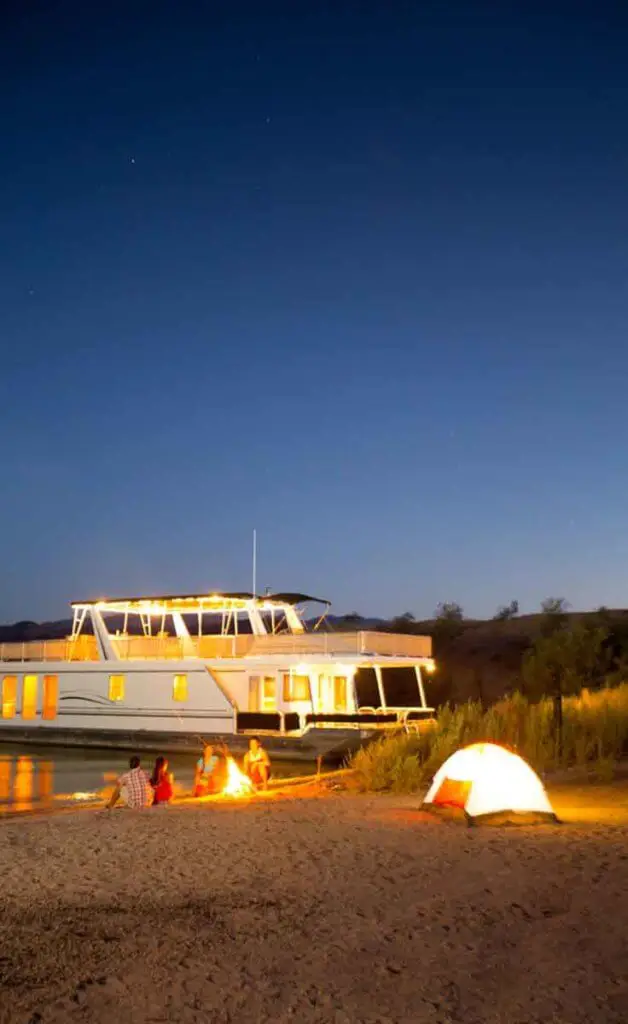 While a nice quiet and secluded beach vacation is on many peoples' bucket lists, I'm sure just as many want to experience a party beach, too.
Lake Havasu, located in western Arizona along the California border, is one of the best party beaches in the US.
It's well known for its wild boat parties and has become a big Spring Break destination over the past decade or 2.
There's a variety of outdoor activities available nearby, such as camping, hiking, off roading, and fishing.
In addition to its fun atmosphere, Lake Havasu has stellar weather. There's nothing worse than booking a beach vacation and then having to sit inside all week due to rain.
Lake Havasu has more than 300 days of sunshine each year, so the chances of a rained-out vacation happening is pretty slim!
Lake Michigan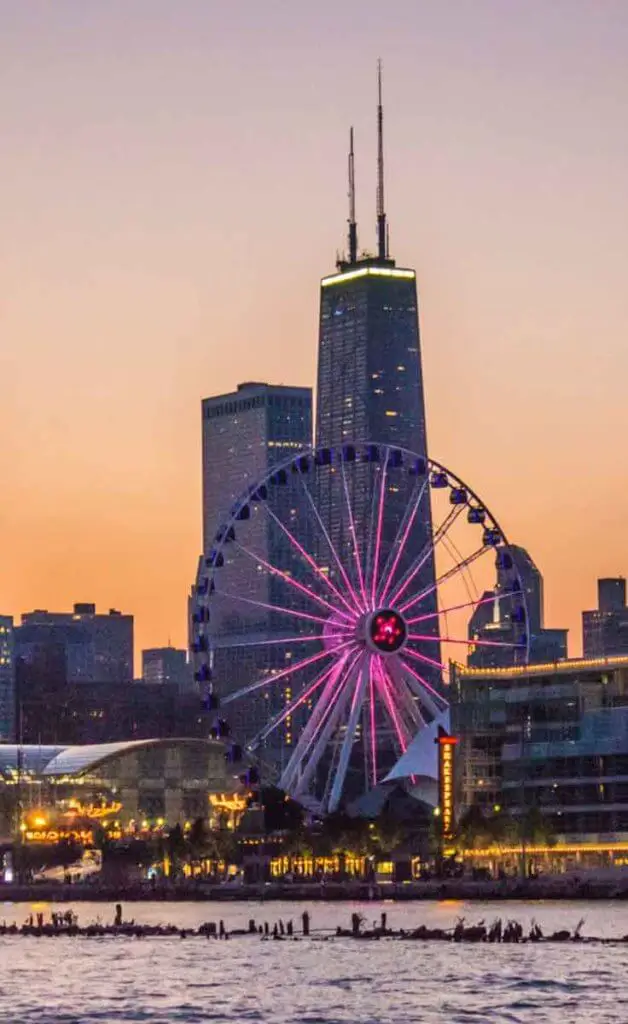 Speaking of lake beaches – the outer coastline of the US aren't the only areas with stellar beaches!
Lake Michigan spans 4 states (Illinois, Indiana, Michigan, and Wisconsin) with an abundance of beaches to choose from.
In Chicago, Illinois alone, there are 26 free, public beaches along Lake Michigan. My top pick of these is the North Avenue Beach.
I love the mix of beach and outdoor fun blended with the amenities of a big city at North Avenue Beach. Not to mention the big city skyline in the background!
Little Corona del Mar Beach in Newport, CA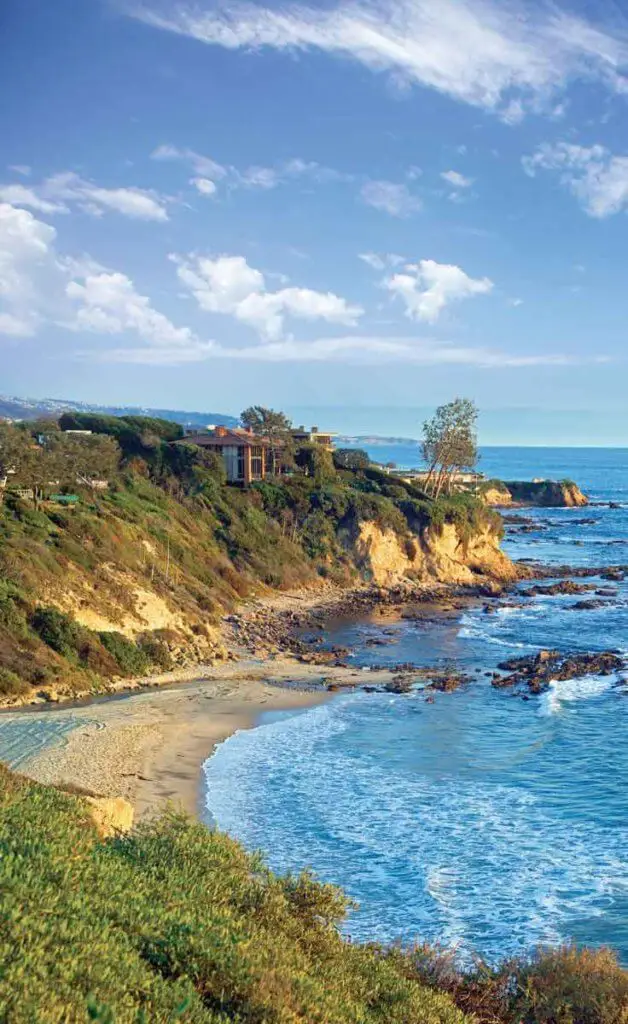 Since the best beach sunrises are on the east coast, the best beach sunsets are naturally on the west coast of the US.
One of the most beautiful beach sunsets in the US is at Little Corona del Mar Beach, located between Newport Beach to the north and Laguna Beach to the south.
Little Corona del Mar Beach is located in a rocky alcove, creating a private, romantic setting – perfect for viewing sunsets with your sweetie.
Like sunrise, arrive 30-60 minutes ahead of scheduled sunset time.
You might also want to stay put 30-60 minutes past sunset time in order to take full advantage of the changing colors and levels of light.
TIP: Pack a flashlight to help guide your way back to your car or bike!
Little Hunter's Beach in Maine's Acadia National Park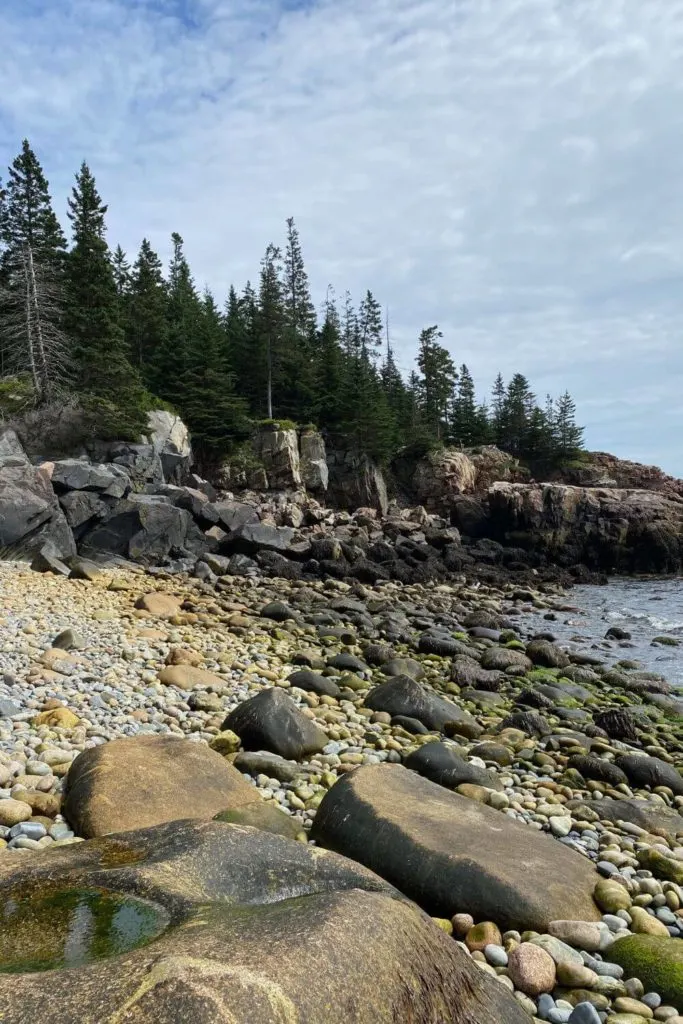 Little Hunter's Beach in Acadia National Park is made up of rocks smoothed over by the ocean's tide.
While it's not your typical beach vacation destination, it is unique and well worth a visit in my opinion.
It's not well marked on maps or the Ocean Loop road, which makes it hard to find. However, this just means that there's a higher chance that you'll have the beach all to yourself.
Little Hunter's Beach is one of my favorite beaches in the US to sit and read or think, given that there is never a crowd.
It's also a great spot for a quiet picnic lunch – but please don't forget to dispose of your trash appropriately!
Myrtle Beach, SC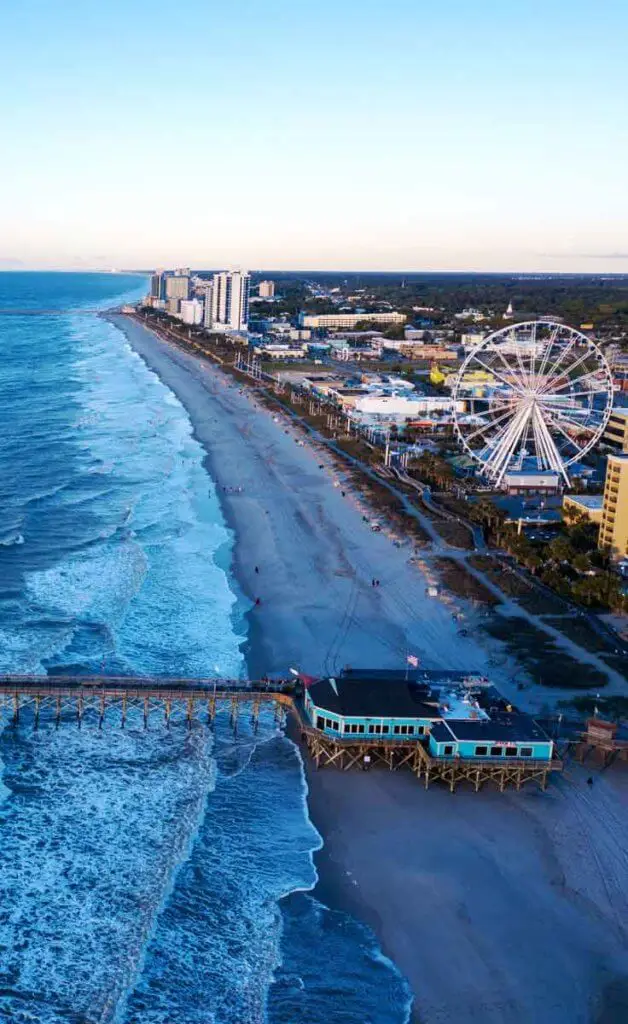 The Myrtle Beach area in South Carolina is one of the best spots for a family beach vacation in the US.
Myrtle Beach has a variety of activities aside from the usual beach activities, such as golf (LOTS of golf, like ~100 different courses!), fishing, museums, water parks, and amusement parks.
Beach-friendly wheelchairs are available for FREE at 6 public beaches in the area, making it a great spot for families with people that use wheelchairs.
Also, through the Adaptive Surf Project, people with autism, paralysis, Down Syndrome, and other disabilities, can experience surfing in North Myrtle Beach.
Lastly, Myrtle Beach is very dog friendly, with lots of hotels and restaurants that allow pups to join you.
So yep – when I say this beach destination is family-friendly, I wasn't exaggerating!
Ocean City Beach in Ocean City, MD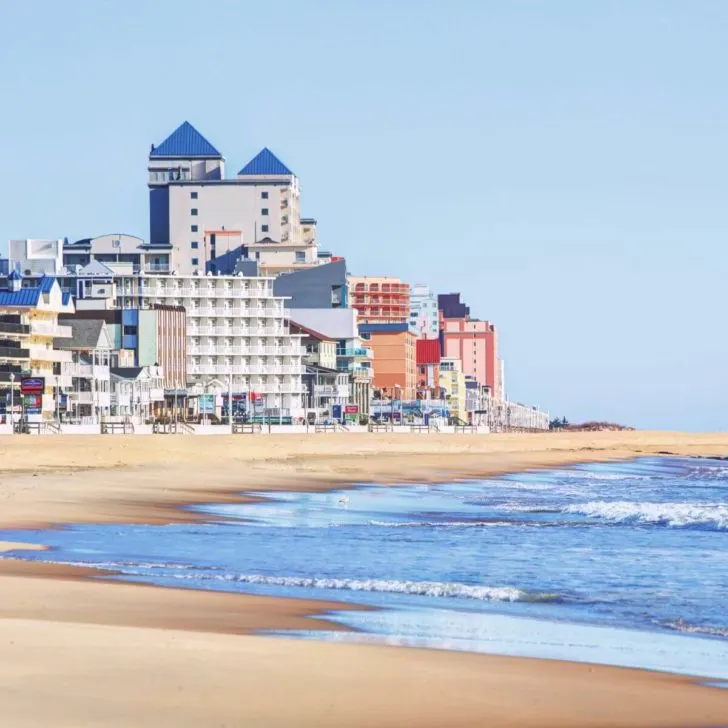 Ocean City Beach is a great place to make lasting family memories while spending quality time together.
This 10-mile stretch of sandy beaches is sure to provide something for everyone: the beach-goers who want sun and waves, the families looking for a fun packed day, and those with more relaxed sensibilities.
Ocean City Beach is always accessible for everyone thanks to its boardwalk access, beach access mats, and beach wheelchairs available for rent.
Plus, it's easy on the wallet too with plenty of free activities. There are also plenty of food stands, restaurants, and snack stops for when you get hungry.
Pfeiffer Beach in Big Sur, CA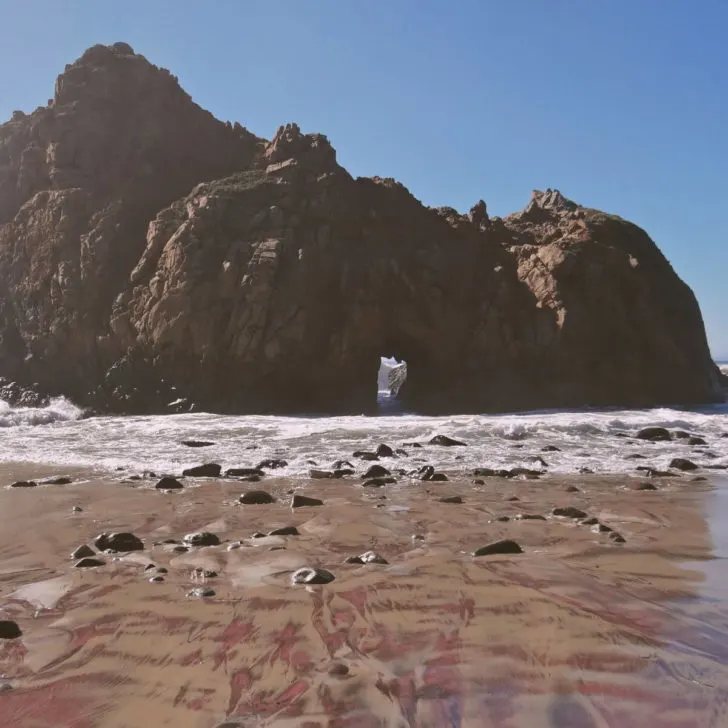 Pfeiffer Beach in California has become quite the renowned spot among beachgoers and photographers.
The breathtaking views and serene atmosphere are second to none. But the real head turner? Pfeiffer's famous purple sand!
That coupled with the majestic presence of Keyhole Rock is sure to leave you feeling both visually and spiritually fulfilled.
It's a destination that "sands" apart from the rest – pun intended!
Poipu Beach Park, Kauai, Hawaii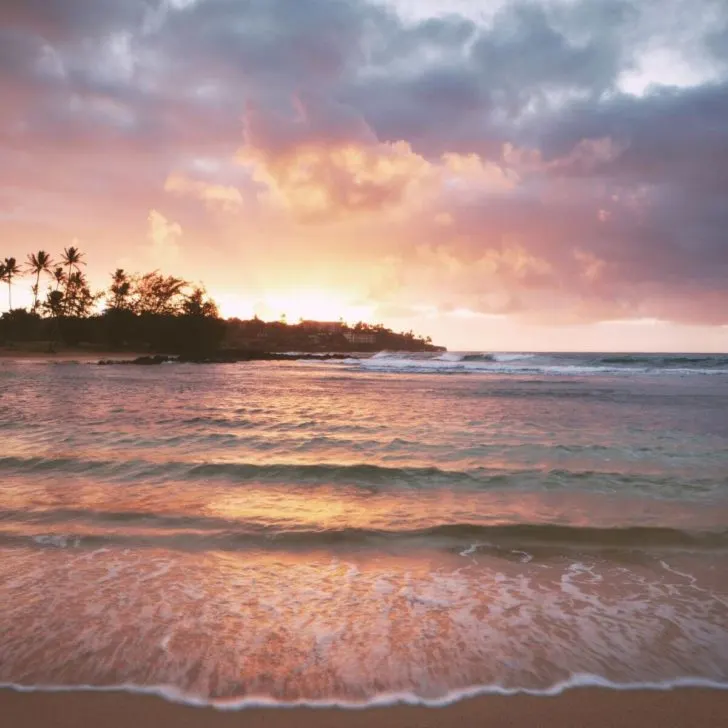 Poipu Beach Park on the island of Kauai is the ideal place to take your family for a beach vacation in Hawaii.
Whether you want to swim, relax on the sand or spot turtles, Poipu's natural beauty is sure to make a lasting impression.
People of all ages will love spending time here and soaking up the sunny atmosphere, making Poipu one of Hawaii's most family-friendly beaches.
But this paradise isn't just for humans. It's also a great place for turtles, so you can count on having some friendly visitors during your trip! Just be sure to keep your distance and only watch from afar, quietly and respectfully.
Punalu'u Beach on Hawaii's Big Island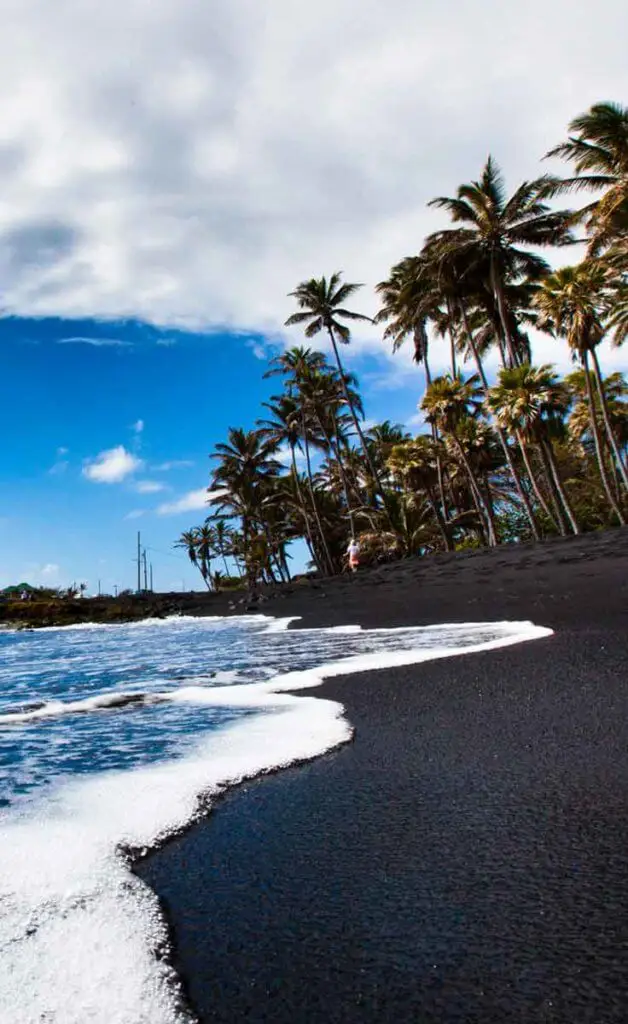 One of the most beautiful colored sand beaches in the US is Punalu'u Beach on the Big Island of Hawaii.
The rich black sand at this beach is a result of volcanic lava that cools in the ocean, forming volcanic rock.
The unique way Punalu'u Beach is formed is what makes it my top pick for colored sand beaches in the USA.
If you're visiting a different island in Hawaii, check out my tips on island hopping in Hawaii for ideas on how to get to Punalu'u Beach on the Big Island.
Race Point Beach in Provincetown, MA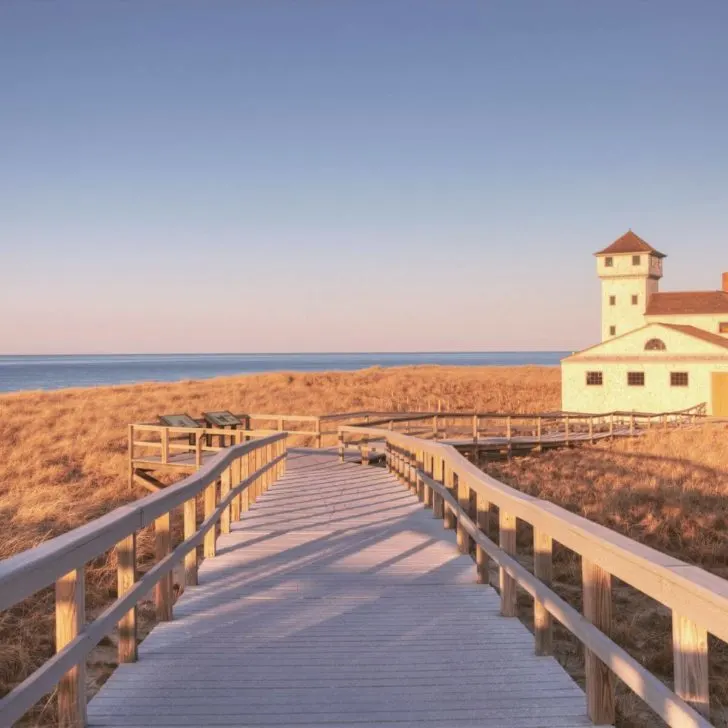 Race Point Beach is a treasure of the renowned Cape Cod peninsula.
Located in the LGBTQ+-friendly beach town of Provincetown, Massachusetts, Race Point Beach offers breathtaking vistas of dunes, sweeping vistas of the Atlantic, and miles upon miles of unforgettably sandy shores.
This beach holds a soft spot in my heart, as my grandparents lived nearby when I was growing up and we'd always go here – especially after a storm to watch the waves.
That said, it's not so great for swimming. But it is great for beach picnics, making sand castles and sculptures, and lounging in the sun.
Smathers Beach in Key West, FL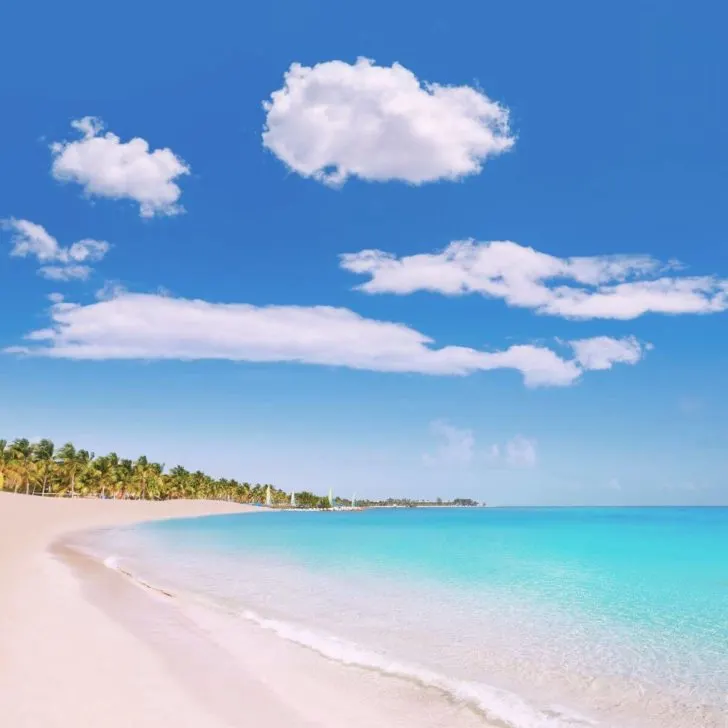 Smathers Beach in Key West is the best place to be in Florida's most southern point.
With crystal clear waters, white sandy beach, and plenty of sunshine, Smathers Beach offers activities for everyone.
Whether it's relaxing under a palm tree, swimming in the refreshing waves, or playing some friendly beach volleyball, this beach is always buzzing with activity.
Along with great amenities such as restrooms and showers combined with a stunning natural beauty, Smathers Beach should definitely be at the top of your itinerary when you come to Key West!
South Beach in Miami Beach, FL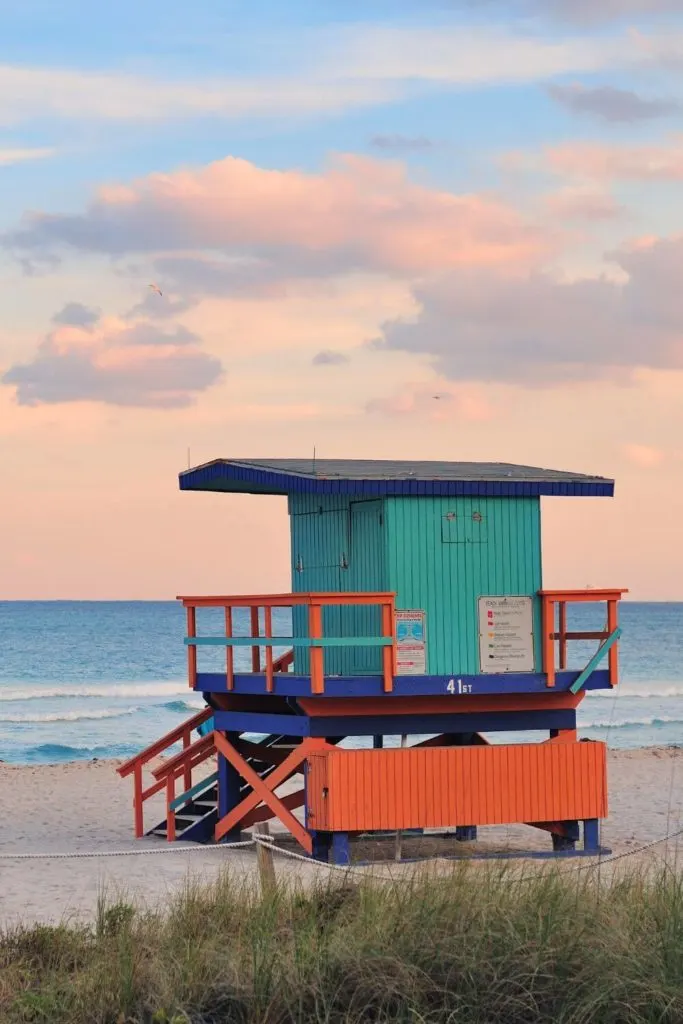 The Miami area has some of the most stunning beaches in Florida, but none top the glamorous of them all – South Beach in Miami Beach.
Aside from sunbathing, this beautiful beach is packed with some of the best nightclubs and lounges in the area.
It is also home to well-preserved art deco architecture, which you can see in many of the cute boutique hotels along Ocean Drive.
Lastly, take a stroll down the open-air pedestrian mall, Lincoln Road, where you can shop to your heart's content, sit down for a meal, grab ice cream, or even see a movie.
Venice Beach in Los Angeles, CA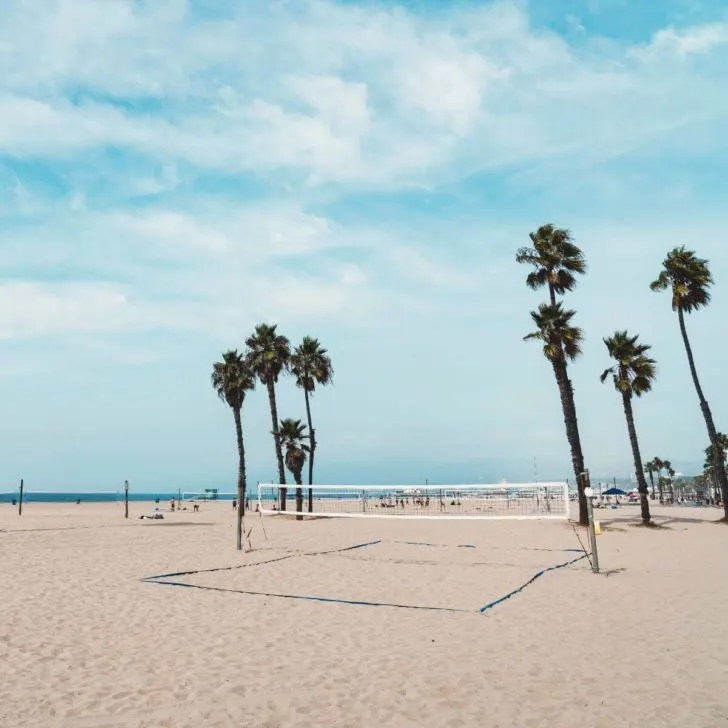 One of California's most popular beaches is Venice Beach, which is part of Los Angeles.
Perhaps best known for its outdoor gym, Muscle Beach Gym, and waterfront skate park, Venice Beach is home to some of the most interesting people, shops, and restaurants.
Also popular here are beach volleyball, rollerblading, basketball, and biking. There are even bike rentals through the Santa Monica Breeze Bike Share program.
It was originally designed as a tribute to Italy's famous city of canals, Venice. California's Venice Beach also has canals, but these days, its lively beach scene has taken the top spot of things to do.
Virginia Beach, VA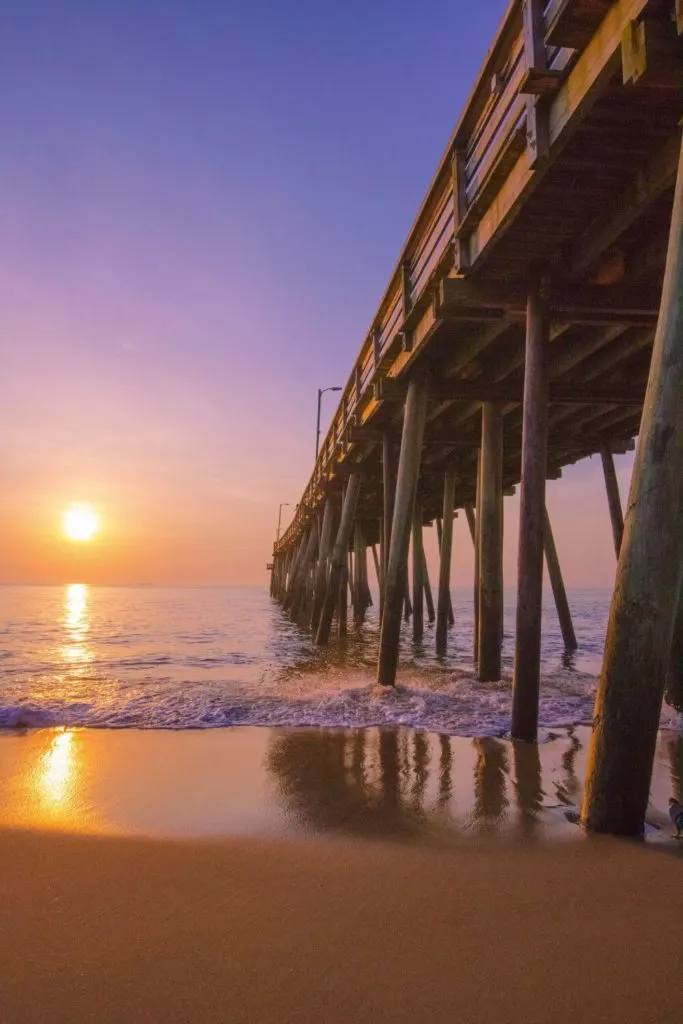 Another east coast beach that is a popular beach vacation spot is Virginia Beach in southeastern Virginia.
It is a wonderful family destination, with tons of activities outside of the usual beach staples, like swimming, surfing, SUP, and fishing.
While here, be sure to check out the Virginia Aquarium, Cape Henry Lighthouse (America's first lighthouse!), Virginia Museum of Contemporary Art, Virginia Military Aviation Museum, and First Landing State Park.
Waikiki Beach, HI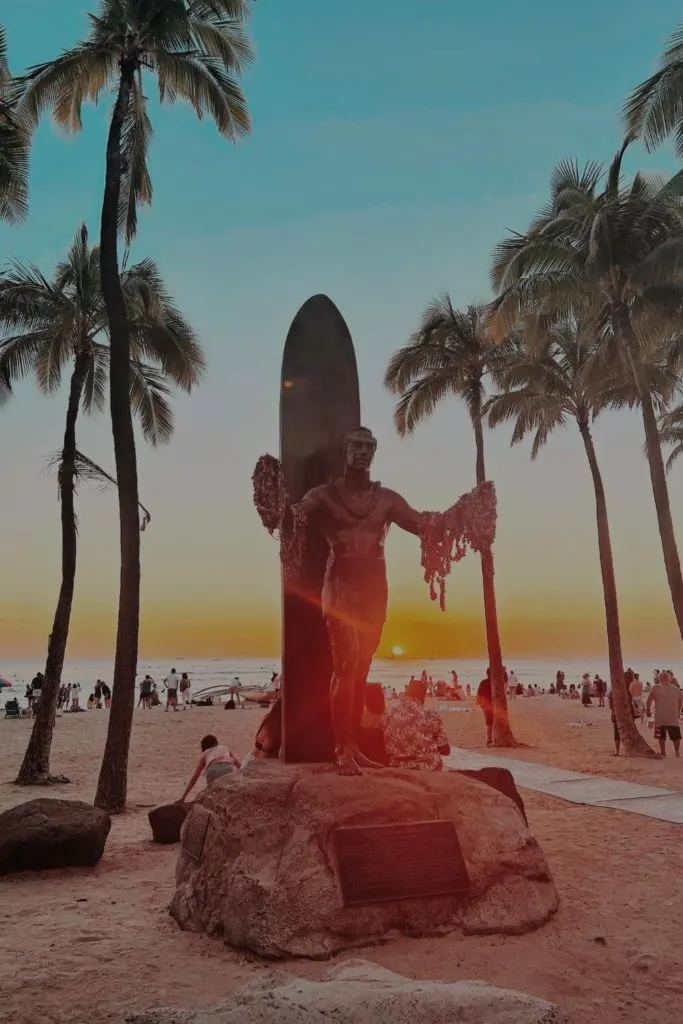 One of the most famous beaches in the US is Waikiki Beach in Honolulu, on the Hawaiian island of Oahu.
Popular activities at Waikiki include surfing, snorkeling, swimming, paddle boarding, sun bathing, and watching the sunset.
Waikiki has over 4 million visitors each year, so it is quite easy to find hotels and vacation rentals in the area for any budget.
Also nearby are plenty of shops and restaurants, the Honolulu Zoo, and Waikiki Aquarium.
Plus, it is a great base for visiting other popular attractions on Oahu, such as Manoa Falls Trail, Pearl Harbor, Kualoa Ranch, and Waimea Valley.
Where are your favorite beach vacations in the US?
With so many different beach destinations all across the United States, it is truly no surprise why beach vacations are so popular.
From the colorful Atlantic coastline, to the breezy Gulf Coast and Pacific shoreline, there's a spot out there for every beach lover.
Whether you're young, old, a family on vacation or a couple looking for some much-needed rest and relaxation, life can be found between tides at one of America's pristine beach areas.
So ask yourself: where do you want to spend some time by the water? Why not start researching your next getaway today?
Let me know where your favorite spot is in the comments below!
---
About the author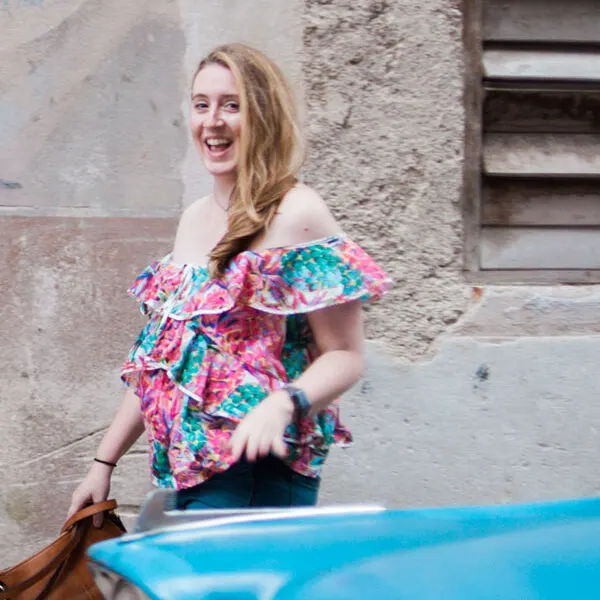 Meg Frost is a Boston-based travel blogger that helps people embrace technology to make vacation planning and traveling wicked easy, affordable, and fun.
She holds an M.A. in Journalism from Northeastern University and B.S. in Communication & American Studies from University of Miami.
---
This post was originally published July 9, 2016. It was last updated March 17, 2023.