There's one thing you should always do when visiting Honolulu: watch the beautiful Hawaii sunset on Waikiki Beach.
But the big question is, where's the best place to see it? Keep reading this post for my top tips on where to watch the sunset on Waikiki Beach.
Where to watch the sunset on Waikiki Beach
Maybe it's obvious, but in case it's not – if you post up pretty much anywhere along Waikiki Beach, you'll catch a great show during sunset. It's easy, it's free, and it has one of the best sunsets on Oahu.
I recommend arriving to your chosen spot at least 30 minutes ahead of the scheduled Waikiki sunset time to get the full show.
OK, now that we have that all out of the way, keep reading for more prime sunset viewing spots.
Royal Hawaiian Mai Tai Bar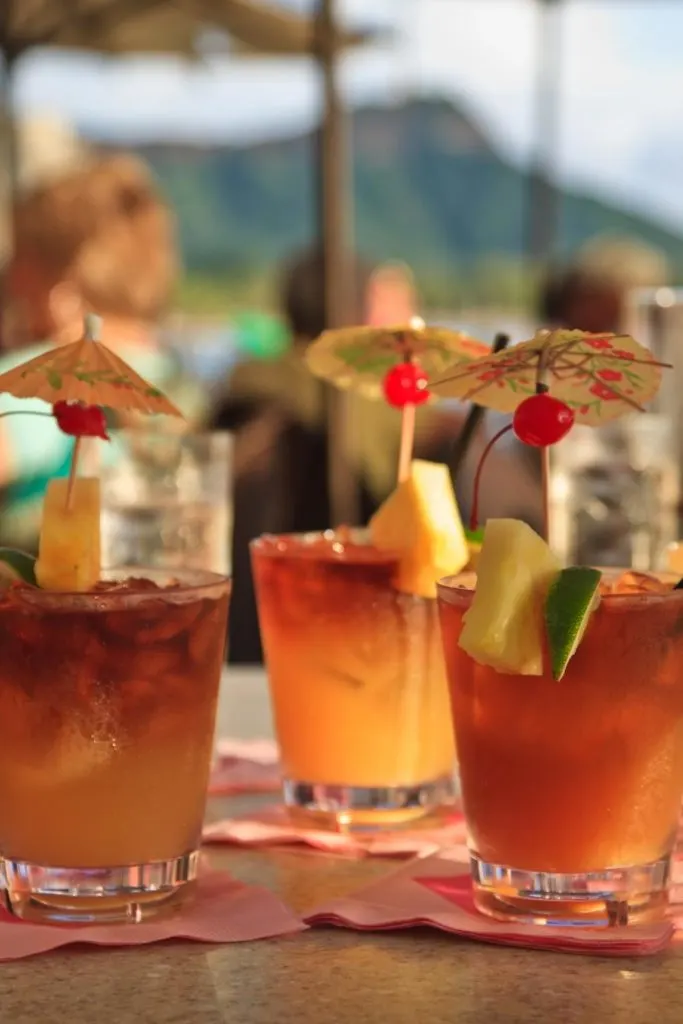 Head over to Mai Tai Bar at the Royal Hawaiian, right on Waikiki Beach for cocktails and pupus (or full-on dinner!), all while the sun puts on an epic show.
This open air bar has the best sunsets of any bar on the beach, hands down.
Plus, the cocktail menu heavily features spirits from local distilleries – gotta love a bar or restaurant that features local ingredients!
TIP: If you can't get a seat, head down the beach to the Moana Surfrider Beach Bar or House Without a Key at the Halekulani Hotel for similar vibes.
Ala Moana Beach Park
If you want to watch the sun setting from the beach, but not directly on über crowded Waikiki Beach, head down to Ala Moana Beach Park.
From this vantage point, you'll get great views of the Honolulu city skyline with the skies ablaze on one side and the sun setting over the ocean on the other.
To top it off, unlike Waikiki Beach, there's public parking available right there.
Fort DeRussy Beach Park seawall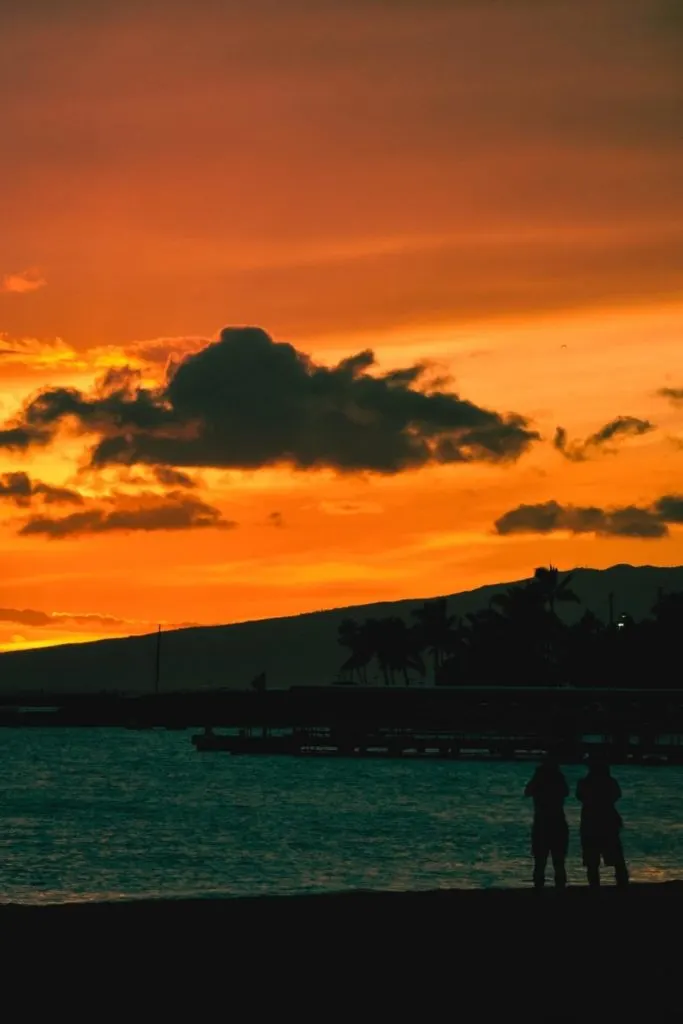 On the south end of Fort DeRussy Beach Park, there's a large rock seawall and boardwalk that's perfect for watching the sun setting on Waikiki Beach.
Treat yourself to a shave ice or banana soft serve sundae from Banan Waikiki Shore, then post up on the seawall or beach while you watch the sun go down.
NOTE: The seawall is very rocky – please proceed with caution if you want to sit on the rocks to avoid injury or falling into the ocean.
The Waikiki Wall (aka Kapahulu Groin)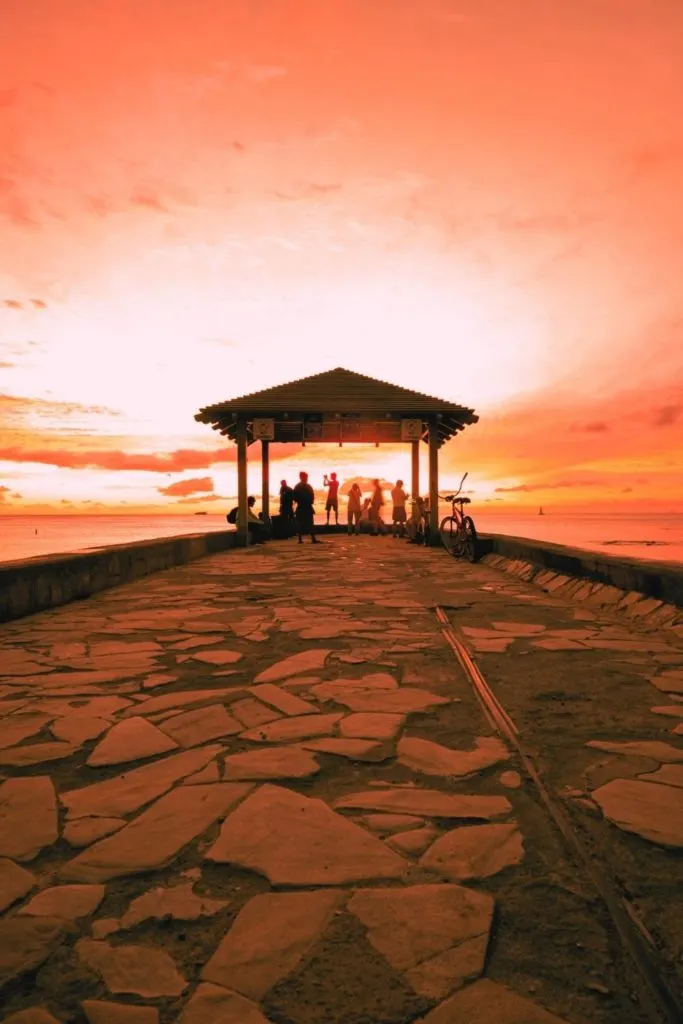 On the opposite end of the Waikiki Beach area, between Kūhiō Beach and Queens Beach, is the Waikiki Wall, more formally known as the Kapahulu Groin.
This beautiful stone walkway jets out into the ocean with a shaded pagoda at the end, making for an idyllic sunset photo.
TIP: Prior to 2020, Honolulu would show free family-friendly movies once a month at Queens Beach, next to the Waikiki Wall. Here's to hoping it comes back soon for an extra special night out – for free!
Taking a sunset yoga class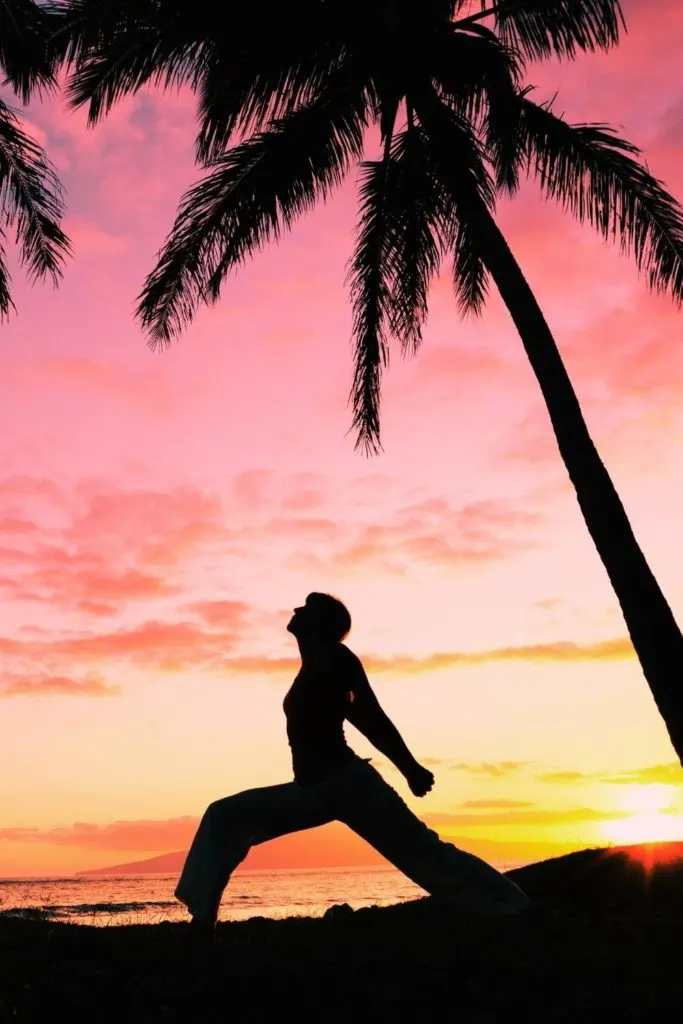 What a beautiful way to close out your day: doing yoga overlooking the ocean during sunset.
Beach Sunset Yoga Hawaii runs daily sunset yoga classes next to the Waikiki Aquarium.
While it's not directly on the beach, the park where it takes place overlooks the ocean, making it a great place to take in the sunset.
To book a class, check out the Beach Sunset Yoga Hawaii website.
Helicopter tour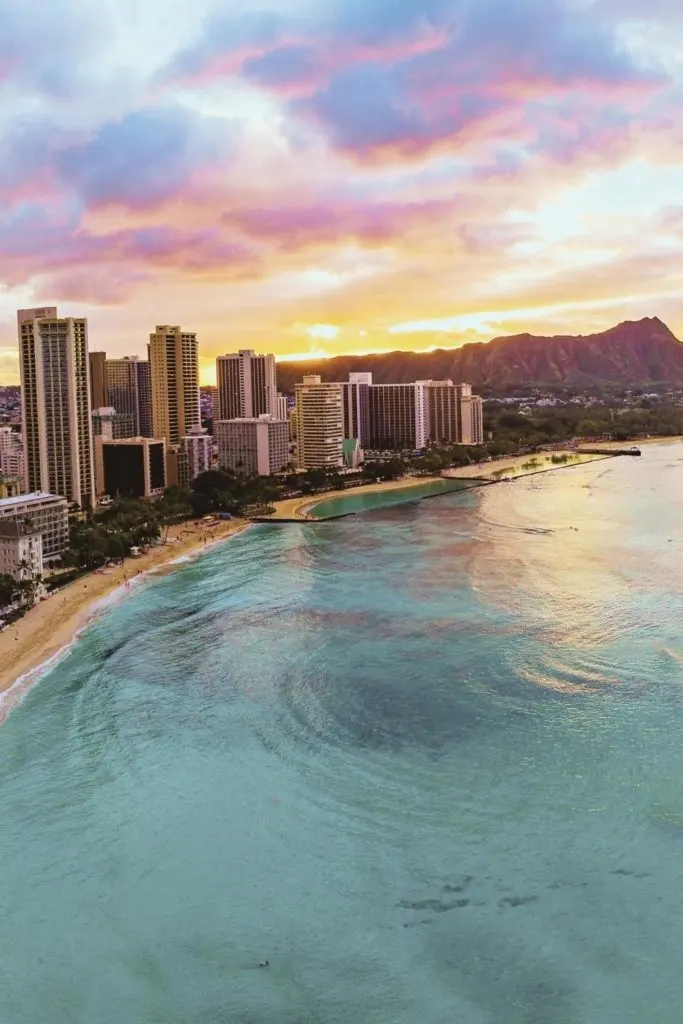 Take in gorgeous Waikiki and the surrounding areas from a Helicopter tour during sunset. Can it get anymore epic than that!?
Check out Rainbow Helicopter's Waikiki sunset tour. At $350, it can be pricey, but oh is it worth it!
This tour covers the entire island, including Diamond Head, Makapu'u Lighthouse, Sacred Falls, Dole Plantation, North Shore beaches, and more. It all ends after viewing the sunset over Pearl Harbor.
But that's not the best part. This is an experience you'll no-doubt want to remember, so they've got some pretty epic add-ons to really make it a memory of a lifetime.
You can make the flight private, which would be perfect for an in-flight proposal. For daredevils, you can make the flight doors-off. And to top it all off, you can add a photographer and get a video of the flight.
Sailing on a sunset cruise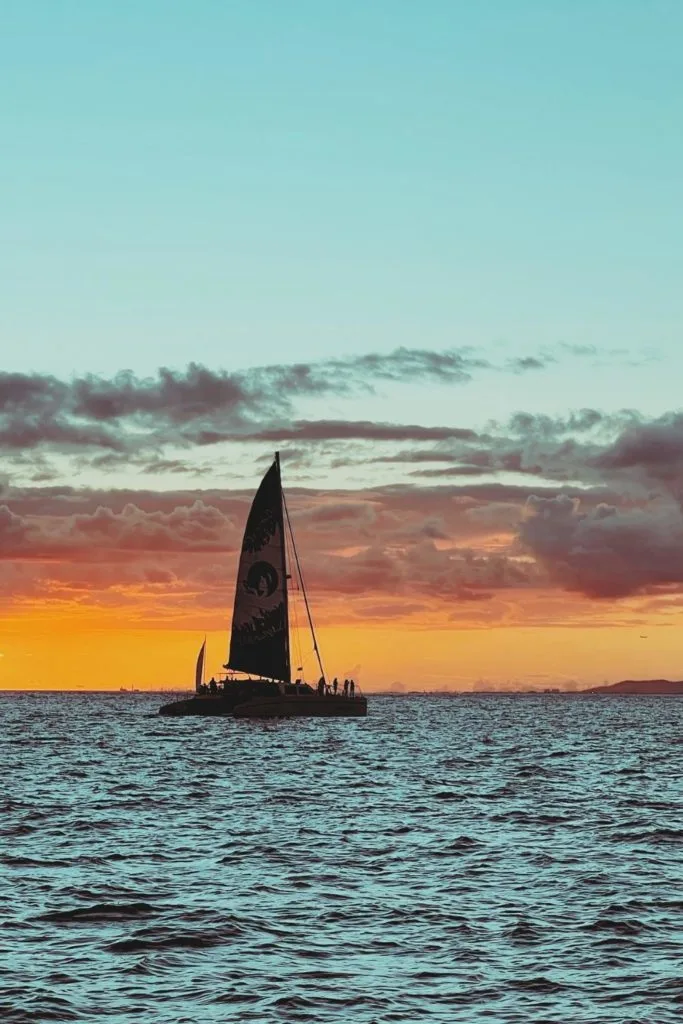 Without a doubt, the absolute best place to watch the sunset on Waikiki Beach is on a sunset cruise.
There are tons of tour companies leaving out of the Waikiki area that will take you out for a leisurely boat ride so you can watch the sunset from a unique vantage point.
There are sunset dinner cruises, booze cruises, themed cruise parties, and boring boat rides (let's be honest – they're out there!).
My top pick goes to Pink Sails Waikiki's sunset cruise, which leaves out of the Ala Wai Boat Harbor, near the Prince Waikiki Hotel. They also have an excellent fireworks cruise, which includes the sunset!
You can read more about my experience in my post about the best sunset cruises in Waikiki.
Where's your favorite place to watch the sunset on Waikiki Beach?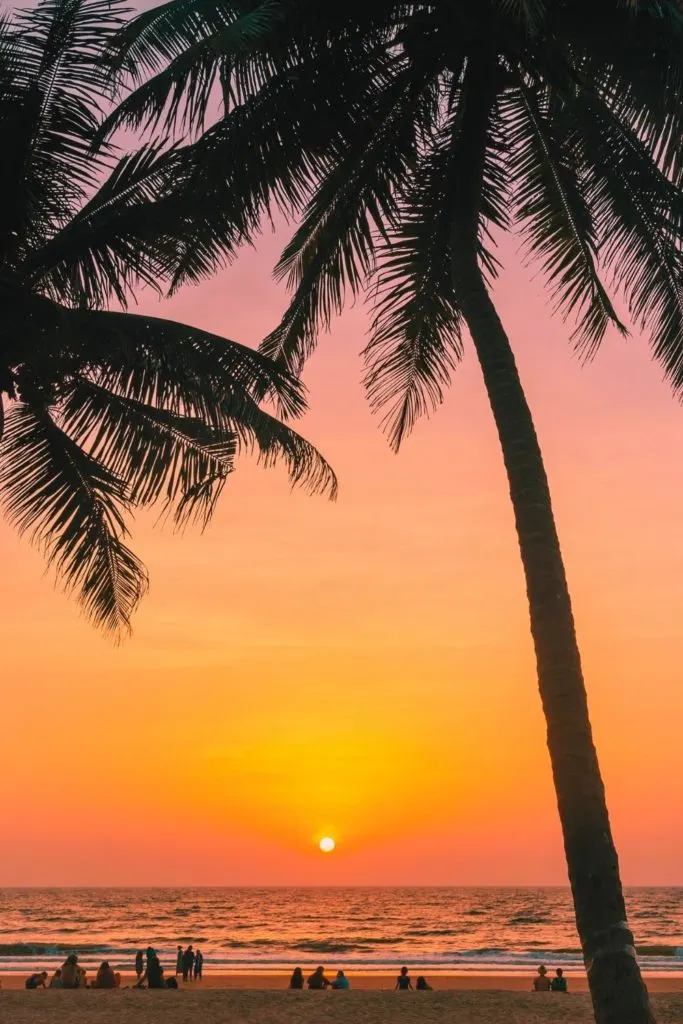 Drop your favorite sunset viewing spots in Waikiki Beach in the comments below.
---
About the author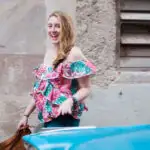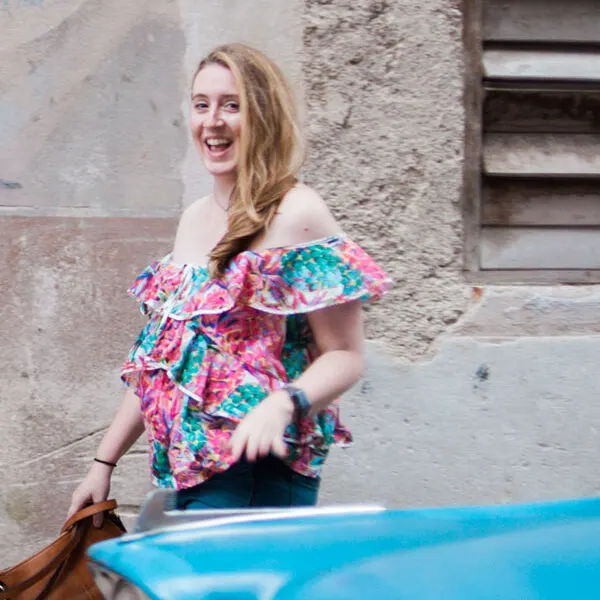 Meg Frost is a Boston-based travel blogger that helps people embrace technology to make vacation planning and traveling wicked easy, affordable, and fun.
She holds an M.A. in Journalism from Northeastern University and B.S. in Communication & American Studies from University of Miami.
---
This post was originally published on September 23, 2022. It was last updated on March 10, 2023.