Palm trees are synonymous with chill vibes, sunny skies, and all things Summer.
So naturally, you're gonna want to capture it all on photo and video and share it all online, right?
Check out this post for the 50 best palm tree quotes and captions for Instagram, TikTok, and other social media.
Palm tree puns & jokes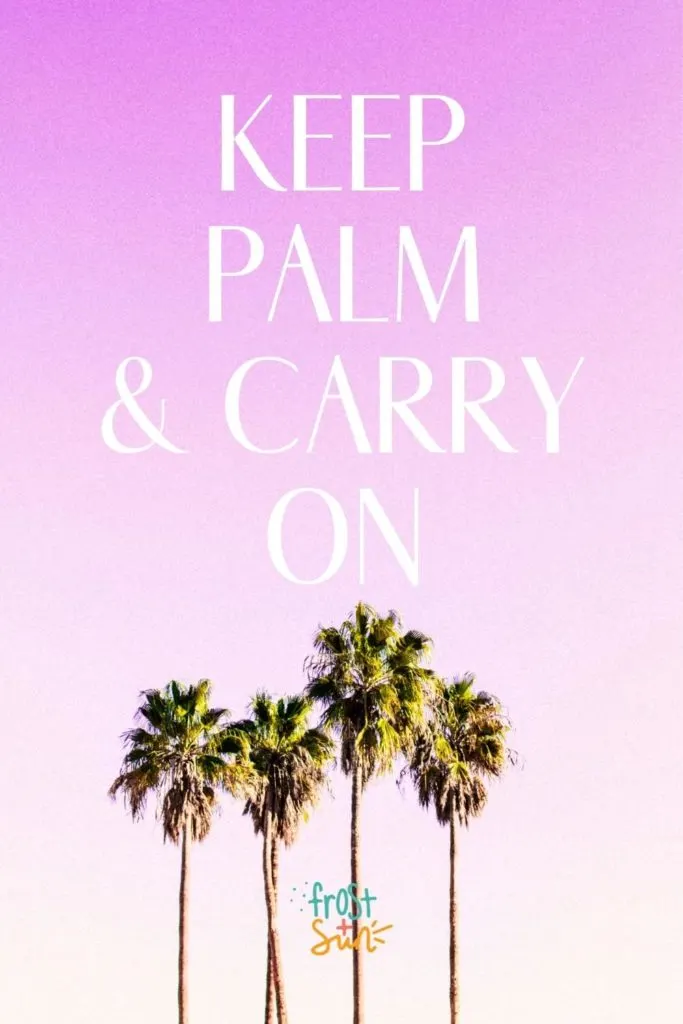 Cheesy humor is never a bad idea when it comes to Instagram or TikTok captions.
Try these puns and jokes for your tropical, palm tree studded photos and videos.
---
Face palm.
Palm reader.
That's shady.
Talk to the palm.
It's a shore thing!
Throwing shade. 🌴
She's kinda shady.
Chillin' with my fronds.
Palm before the storm.
Shake your palm palms.
Keep palm and carry on.
I'm Havana a good time.
Nobody likes a shady beach.
Girls just wanna have sun 🌞🌴
Only palm trees are allowed to be shady.
What kind of tree can you hold in your hand? A palm tree.
Palm tree quotes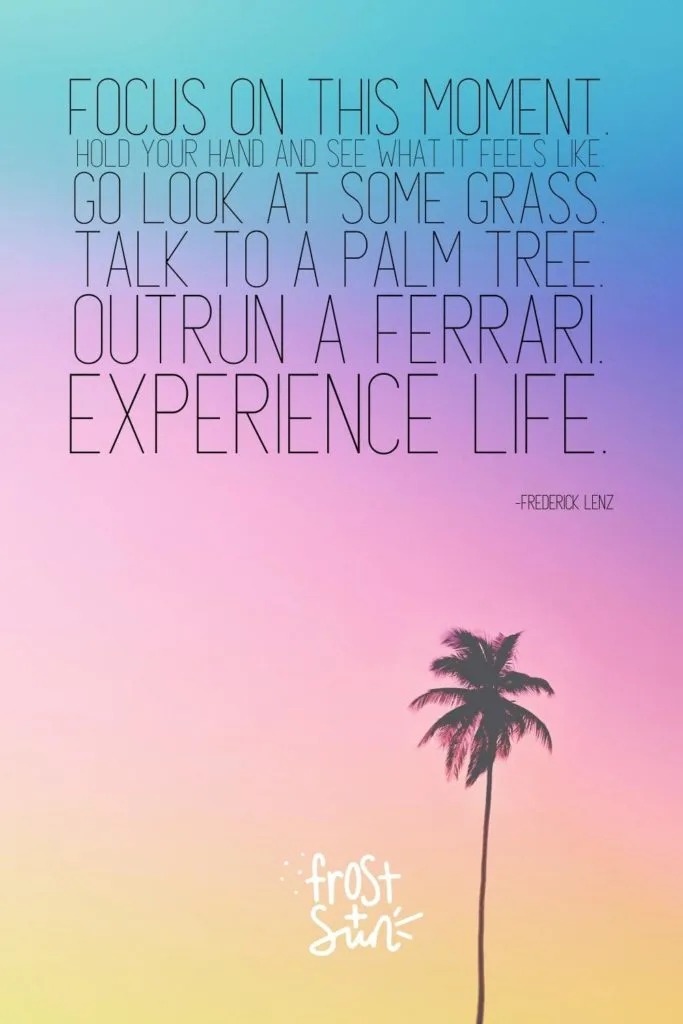 Sometimes the words of others express how we're feeling better than we can at the moment.
These quotes are perfect for your palm tree photos and videos on social media.
---
Lights are glowing in the palm trees. – Jimmy Buffet, singer
I remember when the palm trees were short and Tomorrowland was modern. – Taylor Negron, actor
A big storm wouldn't be a big storm without some palm trees blowing around. – In Limbo by A. D. Aliwat
For me, exotic means beaches, palm trees, sand, and frolicking in the ocean. – Priyanka Chopra, actress
I like to laze in the shade of a palm tree with a good book or float in a warm sea at sundown. – Cherie Lunghi, actress
I suddenly realized I was in California. Warm, palmy air. Air you can kiss – and palms. – On the Road by Jack Kerouac
It is the nature of the strong heart, that like the palm tree, it strives upward when it is most burdened. – Philip Sidney, poet
Venice Beach is incredibly calm at night. No streetlights. No traffic. Hummingbirds in the garden. Palm trees everywhere. – KT Tunstall, singer
I know they have palm trees in Southern California. I mean, I'm not a complete moron. I've watched 90210 and everything. – Shadowland by Meg Cabot
Focus on this moment. Hold your hand and see what it feels like. Go look at some grass. Talk to a palm tree. Outrun a Ferrari. Experience life. – Frederick Lenz, spiritual teacher
A slight breeze cooled the Hawaiian Spring air, swaying the branches of palm trees, which cast black silhouettes against the purple and orange colors of the twilight sky. – Capturing the Sunset by Victoria Kahler
Some beach, somewhere. There's a big umbrella casting shade over an empty chair. Palm trees are growin' and warm breezes blowin'. I picture myself right there, some beach, somewhere.- Some Beach by Blake Shelton
That word is willing. It's an attitude and spirit of cooperation that should permeate our conversations. It's like a palm tree by the ocean that endures the greatest winds because it knows how to gracefully bend. – Stephen Kendrick, screenwriter
Palm tree captions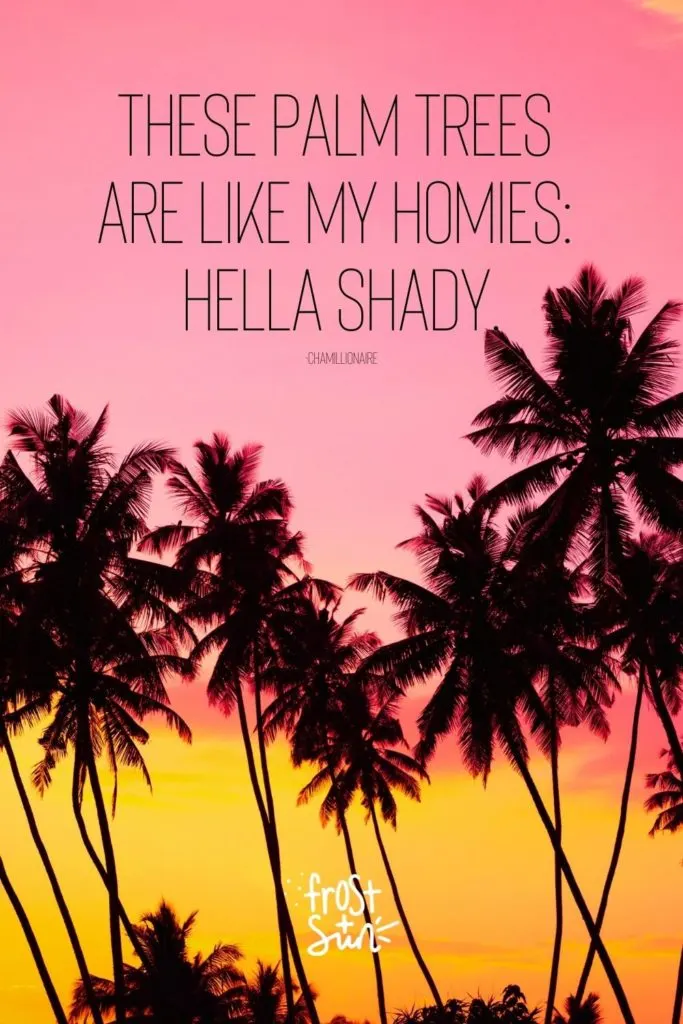 These short and sweet palm tree captions pair perfectly with beach photos, Instagram reels, and TikTok captions featuring palm trees.
---
🌞🌴🥥⛱👙🩴🌊⛵️🤿🐠
Paradise 🏝
Palm tree hugger.
Coconuts & palm trees.
Find me under the palms.
Palm trees & vitamin sea.
Palm trees & 80 degrees.
Wild & free, like a palm tree.
Follow the palm trees home.
Sunny days under the palm tree.
Happiness is found under a palm.
Under the shade of the palm trees.
Leave your worries under the palm tree.
All I need are palm trees & ocean breeze.
These palm trees like my homies, hella shady. – Chamillionaire, rapper
The palm tree that sways in the breeze stays standing the longest.
The righteous shall flourish like a palm tree. – Psalm 92:12, The Bible
Don't let something else dull your sunshine – unless it's a palm tree. – Meg Frost, blogger
I'm a sucker for turquoise sea, white beaches, and palm trees. – Bruno Tonioli, choreographer
The dance of the palm trees, the ocean's calling, the first rays of the sun and heaven is here. – Michael Dolan, actor
Advice from a palm tree: Reach high, stand tall and proud, soak up the sun, be flexible, find your oasis, and weather life's storms.
Which ones are your favorites?