Roses are red, violets are blue – it's time to step up your Instagram game with some seriously stunning rose captions!
Whether you want to repost a gorgeous flower photo from the Botanical Gardens or highlight the bouquet of roses your special someone gifted you – I've got 100 captions that will truly make your Instagram posts bloom!
Show off your romantic side with these clever and romantic lines, and watch as likes flood in for the floral pics.
So grab a cup of tea, flip through those petal-packed photos on 'Gram, and get ready to kickstart your Social Media success with my list of amazing rose captions for Instagram.
Literary rose quotes
Speaking of our favorite writers, oftentimes our world's best writers know exactly what to say. It is, after all, their profession and craft.
Check out these literary rose quotes from books, poems, and interviews.
---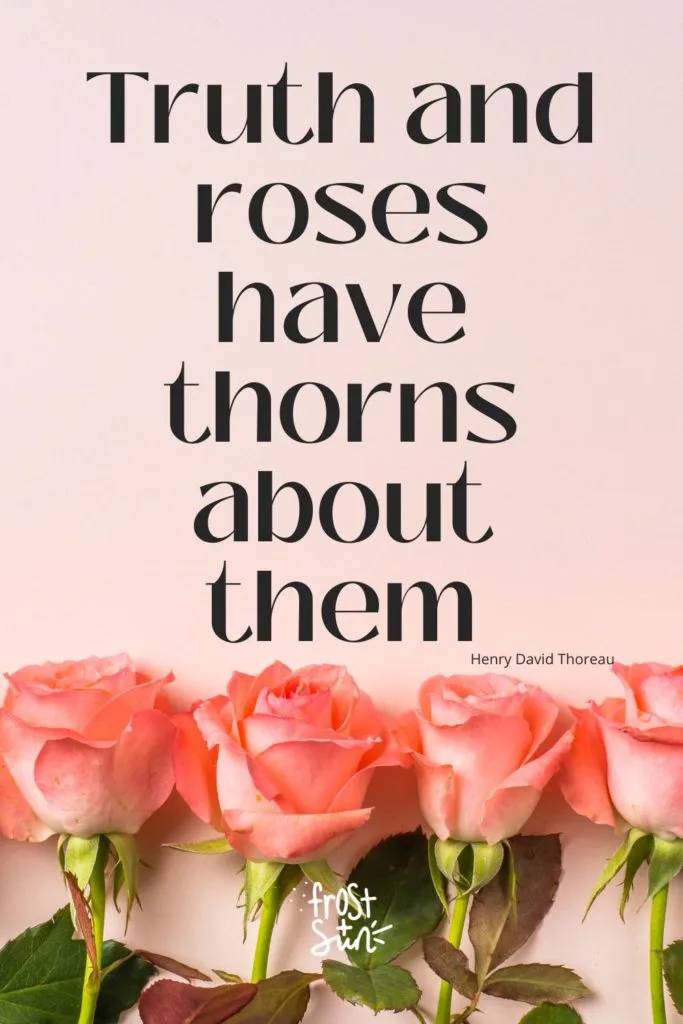 It's the time you spent on your rose that makes your rose so important. – The Little Prince, Antoine de Saint-Exupéry
Since you are so kind as to think of me, be so kind as to bring me a rose, for as none grow hereabouts, they are a kind of rarity. – Beauty & the Beast, Jeanne-Marie Leprince de Beaumont
Sudden a thought came like a full-blown rose, flushing his brow. – The Eve of St. Agnes, John Keats
Truth and roses have thorns about them. – Thoreau and the Art of Life: Precepts and Principles, Henry David Thoreau
The voice of your eyes is deeper than all roses. – E. E. Cummings
Did you hear about the rose that grew from a crack in the concrete? Proving nature's law is wrong, it learned to walk without having feet. Funny it seems, but by keeping its dreams, it learned to breathe fresh air. Long live the rose that grew from concrete when no one else even cared. – The Rose That Grew From Concrete, Tupac Shakur
The rose is a rose from the time it is a seed to the time it dies. Within it, at all times, it contains its whole potential. It seems to be constantly in the process of change. Yet at each state, at each moment, it is perfectly alright as it is. – Warrior of the Light, Paulo Coelho
What a lovely thing a rose is! – The Navel Treaty, Arthur Conan Doyle
Love thou the rose, but leave it on its stem. – Edward G. Bulwer-Lytton, writer and politician
Real beauty is in the fragility of your petals. A rose that never wilts isn't a rose at all. – Crystal Woods, author
One of the most tragic things I know about human nature is that all of us tend to put off living. We are all dreaming of some magical rose garden over the horizon instead of enjoying the roses that are blooming outside our window today. – Dale Carnegie, writer
You may break, you may shatter the vase, if you will, but the scent of the roses will hang round it still. – Thomas Moore, writer
A rose's rarest essence lives in the thorn. – Rumi, poet
God gave us memory so that we might have roses in December. – J.M. Barrie, writer
It will never rain roses. When we want to have more roses, we must plant more trees. – George Eliot, writer
Rose quotes for Instagram
Sometimes a quote from a favorite musician, writer, or historical figure conveys exactly what you want. Check out these rose quotes for Instagram inspiration.
---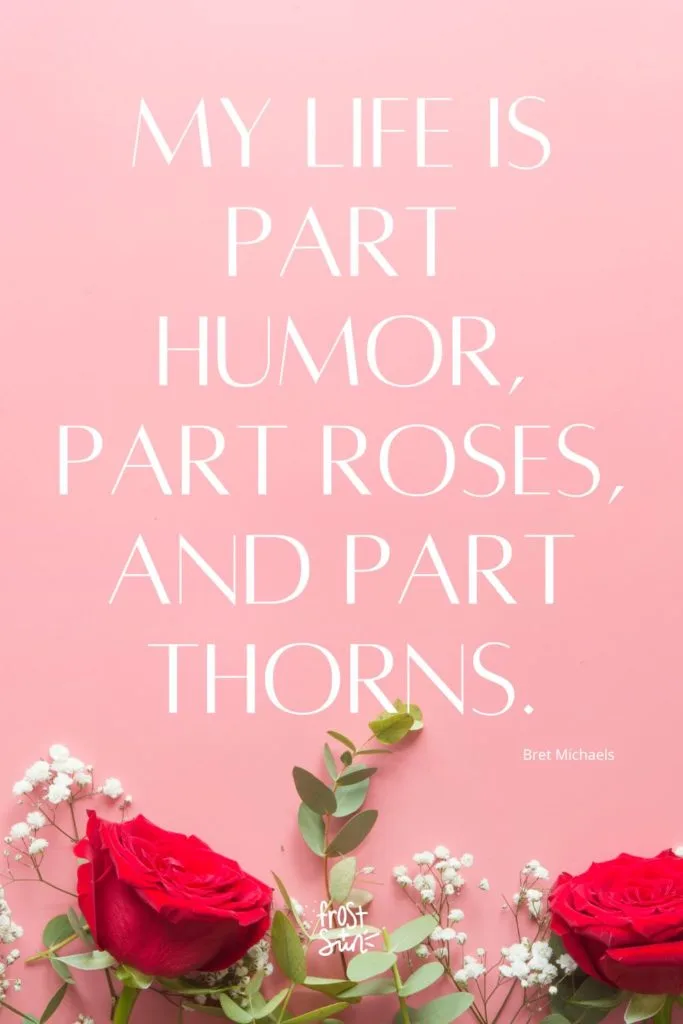 My life is part humor, part roses, and part thorns. – Bret Michaels, lead singer of Poison
When I finished the trilogy of Pirates of the Caribbean movies, I had a gear shift and thought – I need to take a moment to smell the roses. – Orlando Bloom, actor
Some people are always grumbling because roses have thorns. I am thankful roses have thorns. – Jean-Baptiste Alphonse Karr, journalist and writer
There's no gift more classic and more beautiful than roses. – La La Anthony, presenter and actress
There is nothing more difficult for a truly creative painter than to paint a rose, because before he can do so he has first to forget all the roses that were ever painted. – Henri Matisse, artist
I'm the type of guy who likes to be there 24/7. I'm Mr. Roses. – AJ McLean of The Backstreet Boys
We've got to learn how not to look at creed or color. Look at how beautiful a bouquet of roses looks like – different color roses all look beautiful. We have to learn how to let our beauty of the color of our roses shine to the world. – Charles Bradley, singer
I would say go ask any couple that's been married for 30, 40, 50 years. It hasn't always been roses. – Jason Aldean, singer
I love to smell like roses, literally all day! – Rachel Roy, fashion designer
Flowers die and wine gets consumed. Both are lovely. I appreciate both. Wine and roses. – Padma Lakshmi, TV presenter
I don't think anyone looks into their family tree and expects it to come up smelling of roses. – Martin Freeman, actor
I once had a rose named after me and I was very flattered. But I was not pleased to read the description in the catalog: no good in bed, but fine up against a wall. – Eleanor Roosevelt, former First Lady of the United States of America
Where flowers bloom, so does hope – and hope is the precious, indispensable ingredient without which the war on poverty can never be won. – Lady Bird Johnson, former First Lady of the United States of America
We can complain because rose bushes have thorns or rejoice because thorn bushes have roses. – Abraham Lincoln, former President of the United States
This is rather different from the receptions I used to get fifty years ago. They threw things at me then but they were not roses. – Susan B. Anthony, women's rights activist
As you walk down the fairway of life you must smell the roses, for you only get to play one round. – Ben Hogan, athlete
If the rose puzzled its mind over the question of how it grew, it would not have been the miracle that it is. – J. B. Yeats, artist and athlete
Jean Horton: Are you telling me to go out and smell the roses? / Cissy Robson: Oh no. We're telling you the roses are long gone. But the chrysanthemums are magnificent. – Quartet (2012)
Rose song lyrics
Let us not forget some of the most beautiful song lyrics that use roses or rose symbolism to convey meaning and feeling. These lyrics make perfect rose captions for Instagram.
---
La vie en rose. – La Vie en Rose by Édith Piaf
Every rose has its thorn. – Every Rose Has Its Thorn by Poison
And then you buy me roses and it's fine. – Roses, Lana Del Rey
…I got you this rose and I need to know -Will you let it die or let it grow? – Roses, Shawn Mendes
'Cause with my family we know where home is and so instead of sending flowers, we the roses. – Roses, Kanye West
There is a rose that grows in the moonlight. And just like desire, creeps up in the night. – Roses and Moonlight, Sheryl Crow
Those were rose-colored times on rides with your eyes closed. Those were rose-colored times on rides with your eyes open wide. – Rose-colored Times, Lisa Loeb
I know you'd like to think your shit don't stank, but lean a little bit closer, see roses really smell like poo-ooh-ooh. Yeah, roses really smell like poo-ooh-ooh. – Roses, Outkast
You never promised me a rose garden, you never said it would be easy, you never promised me a leisure lifetime. You only said you'd never leave me. – Rose Garden, Stevie Nicks
I wanna lay you down in a bed of roses, for tonight I'll sleep on a bed of nails. Oh, I wanna be just as close as the Holy Ghost is and lay you down on a bed of roses. – Bed of Roses, Bon Jovi
You are the rose of my heart. You are the love of my life. A flower not fading nor falling apart. If you're tired, rest your head on my arm. Rose of my heart. – Rose of My Heart, Johnny Cash
Baby, I compare you to a kiss from a rose on the gray. Ooh, the more I get of you, the stranger it feels. Now that your rose is in bloom, a light hits the gloom on the gray. – Kiss from a Rose, Seal (and yes, it's gray, not grave!)
Oh Rose, you're my rose. More beautiful to me than any flower. You're my world, everything that I desire. It started with a spark, now it's a fire. In other words you mean everything to me. We both belong together. Say you'll be forever my rose. – Rose, Billy Ocean
Roses are shining in Picardy in the hush of the silver dew. Roses are flowering in Picardy, but there's never a rose like you. And the roses will die with the summertime and our roads may be far apart, but there's one rose that dies not in Picardy, 'Tis the rose that I keep in my heart. – Roses of Picardy, Frank Sinatra
Rose captions for Instagram
Sometimes short and sweet is just what you need when it comes to showing off a spectacular photo of roses, whether they be a bouquet gift or from a stroll around a rose garden.
---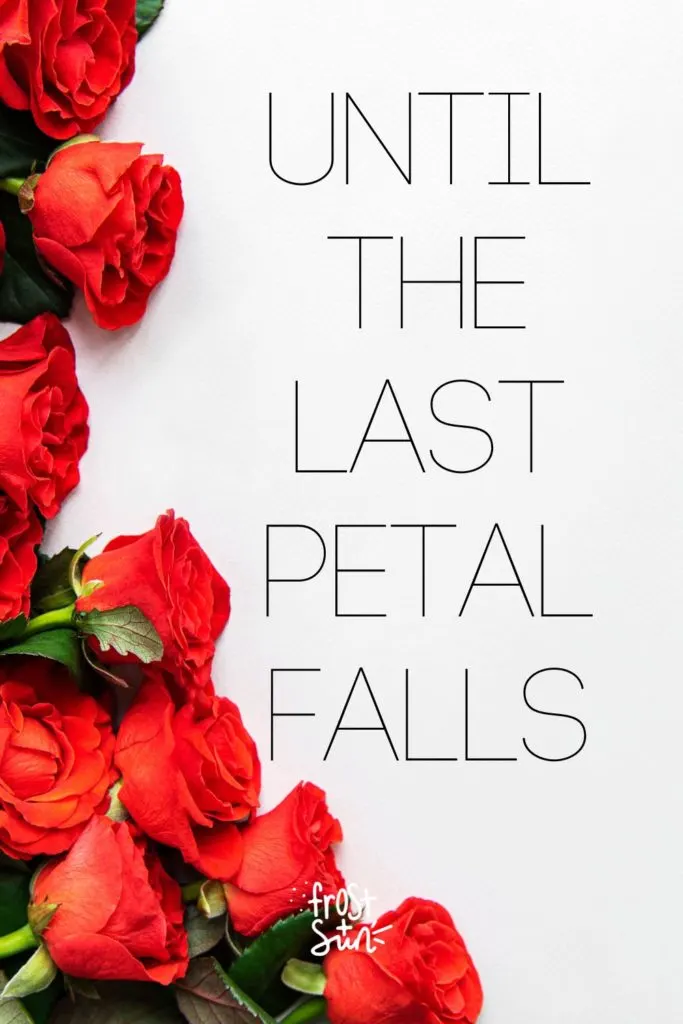 I accept this rose.
I accepted the rose.
Bloom, baby, bloom.
Will you accept this rose?
Take time to smell the roses.
Roses are red. Violets are blue.
Happiness blooms from within.
Roses fall, but the thorns remain.
In a field of roses, she is a wildflower.
In a world full of roses, be a sunflower.
Nobody's life is a bed of roses. – Yoko Ono, artist
A rose is a rose is a rose. – Gertrude Stein, writer
A woman without love is like a rose without a scent.
Until the last petal falls – inspired by Beauty & the Beast
One rose is enough for the dawn. – Edmond Jabès, writer
True love is like little roses. Sweet, fragrant in small doses.
The gardener who loves roses is slave to a thousand thorns.
But he who dares not grasp the thorn should never crave the rose. – Anne Brontë, writer
Of all the flowers, methinks a rose is best. – The Two Noble Kinsmen by William Shakespeare
Smell the roses. Smell the coffee. Whatever it is that makes you happy. – Rita Moreno, actress
There is simply the rose; it is perfect in every moment of its existence. – Ralph Waldo Emerson, writer
Sweet Spring, full of sweet days and roses, a box where sweets compacted lie. – Virtue, George Herbert
A true poet does not bother to be poetical. Nor does a nursery gardener scent his roses. – Jean Cocteau, writer
Meaning of the color of roses
Many flowers have a traditional meaning or purpose when given as gifts – and roses are no exception.
In fact, the specific color of roses hold specific meanings.
One might have a favorite color rose regardless of the meaning. But if you're not sure what color to get someone, use this guide, along with some quotes that match their meaning.
Red rose quotes
Red roses have long been associated with love and passion, hence why red roses are so popular to gift your partner on Valentine's Day and anniversaries.
---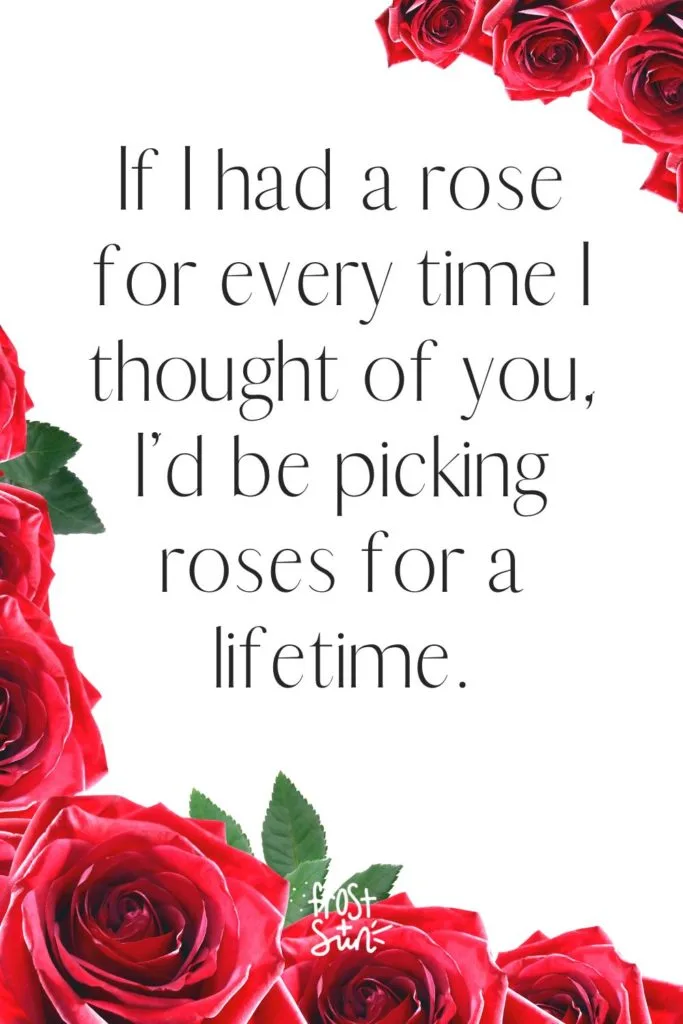 This love is the rose that blooms forever – Rumi, poet
Love and a red rose can't be hid. – Thomas Holcroft, writer
One rose says more than the dozen. – Wendy Craig, actress
My love is like a red, red rose. – A Red, Red Rose, Robert Burns
A woman is like a rose. If you take good care of her, you will see love blossom.
If I had a rose for every time I thought of you, I'd be picking roses for a lifetime.
Love is the only rose whose thorn's prick is sweet. – Matshona Dhilwayo, author
I'd rather have roses on my table than diamonds on my neck. – Emma Goldman, writer
What's in a name? That which we call a rose by any other name would smell as sweet. – Romeo & Juliet, William Shakespeare
The rose is the flower and handmaiden of love. The lily her fair associate, is the emblem of beauty and purity. – Dorothea Dix, nurse
The red rose whispers of passion, and the white rose breathes of love. O, the red rose is a falcon, and the white rose is a dove. – John Boyle O'Reilly, poet
Can anyone remember love? It's like trying to summon up the smell of roses in a cellar. You might see a rose, but never the perfume. – Arthur Miller, playwright
The rose she had offered was truly an enchanted rose, which would bloom until his 21st year. If he could learn to love another and earn her love in return by the time the last petal fell, then the spell would be broken. If not, he would be doomed to remain a beast for all time. – Beauty & the Beast (1991)
Purple and pink rose quotes
Pink roses are another color that can symbolize many things: joyfulness, thankfulness, but above all, femininity.
I think they are the perfect gift for a female friend, especially to express thanks or to cheer her up during a difficult time.
Purple is often associated with royalty, but also the mystical (think tarot, witches, etc). It's also a traditionally feminine hue.
In my opinion, these are another perfect gift for a female friend or someone whose favorite color is purple!
---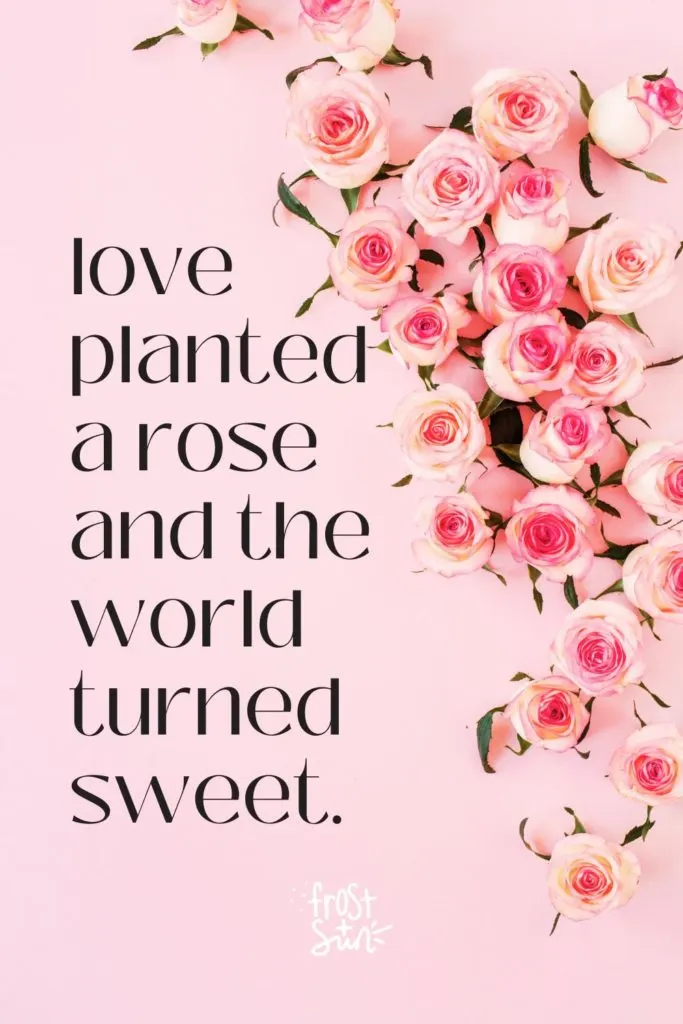 Love planted a rose and the world turned sweet. – Katharine Lee Bates, author
The fragrance always stays in the hand that gives the rose. – Hada Bejar, actress
Women are as roses, whose fair flower, being once displayed, doth fall that very hour. – Twelfth Night by William Shakespeare
Orange and yellow rose quotes
Yellow roses are traditionally the rose of friendships, so they're perfect to gift your bestie on their birthday or just because.
This sunny color also symbolizes happiness and cheerfulness, so yellow roses would make a great gift for a happy and joyful occasion, as well.
Similar to yellow roses, orange roses are meant to express joy and happiness. They are another lovely color to choose when sending roses to a friend.
---
The world is a rose. Smell it and pass it on to your friends.
True friendship is like a rose. We don't realize its beauty until it fades.
But friendship is the breathing rose, with sweets in every fold. – Oliver Wendell Holmes, former justice of the US Supreme Court
When I was a little girl, my grandfather, who I was very close to, used to grow yellow roses. He had yellow roses going all the way up his drive. – Natalie Dormer, actress
White rose quotes
White roses can symbolize many things: eternity, peace, innocence, and even death.
They are often a popular choice for brides, as white is a traditional bridal color, too.
I personally think that a bouquet of white roses is simple, chic, and surprisingly long-lasting.
---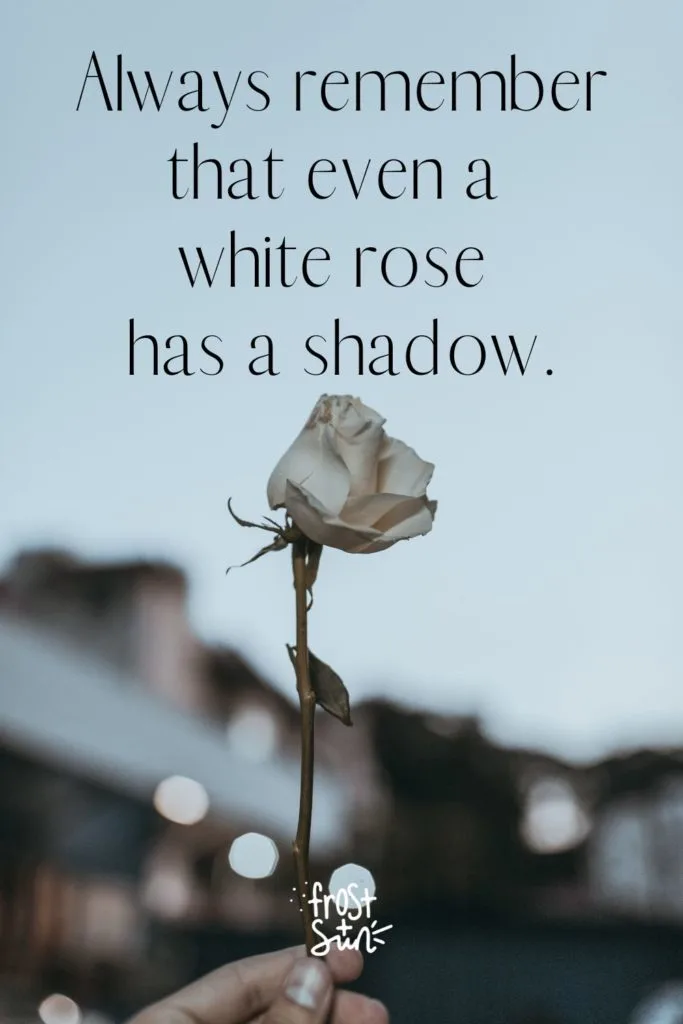 Always remember that even a white rose has a shadow.
The rose and the thorn and sorrow and gladness are linked together.
I can't have white roses. They symbolize death. – Nina Arianda, actress
The will I raise aloft the milk-white rose. For whose sweet smell the air shall be performed. – William Shakespeare, playwright
Lady Ascot: Imbeciles! The garden is planted with white roses when I've specifically asked for red. / Alice: You can always paint the roses red. / Lady Ascot: What an odd thing to say. – Alice in Wonderland (2010)
Black rose quotes
Many people associate black with morning, so black roses often symbolize death.
However, with death often comes a new beginning, so depending on who you are gifting black roses to, they could also symbolize hope.
---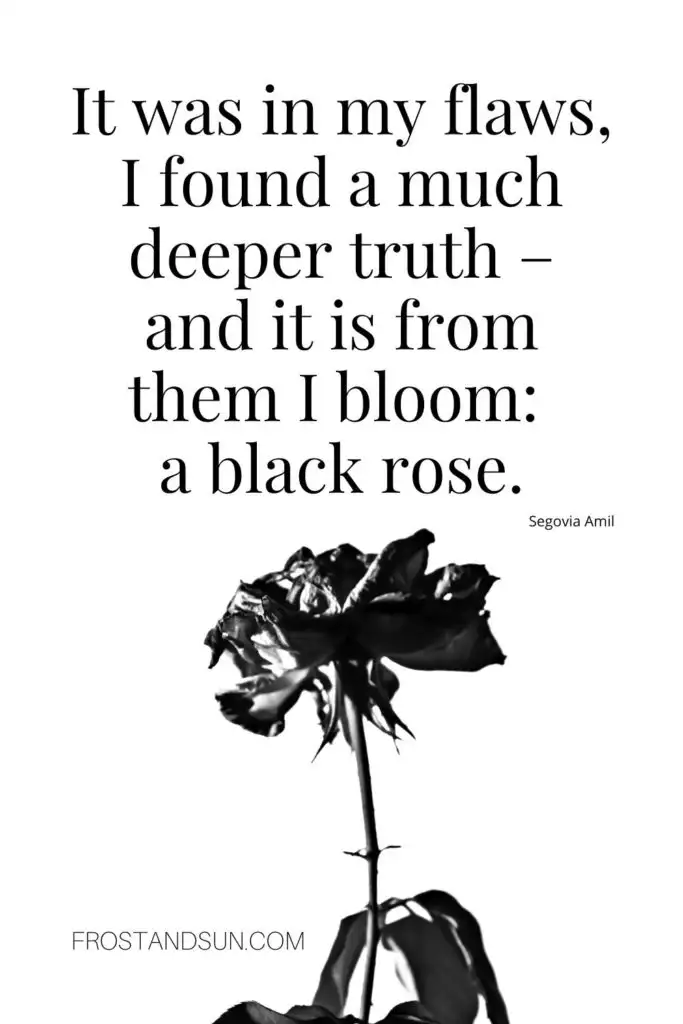 There's a black rose growing in your garden.
A revolution is not a bed of roses. – Fidel Castro
Like a black rose, her darkness was beautifully fatal.
She was like a black rose, such a beauty in a sadness.
It was in my flaws, I found a much deeper truth – and it is from them I bloom: a black rose. – The Black Rose by Segovia Amil
And I can feel you reaching through the cracks. A simple change of seasons and you're back. All the roses in the garden fade to black. – Roses by Carly Rae Jepsen
Never send a rose unless dyed black as a warning. And if one is sent to you, destroy it along with the sender. Emotionally of course. It's not like we kill people on purpose. – Rose McGowan as Courtney in Jawbreaker (1999)
What are your favorite rose captions for Instagram?
Share your favorite rose captions for Instagram below.
If you haven't quite found what you need, check out more caption ideas for your travel Instagram posts:
---
About the author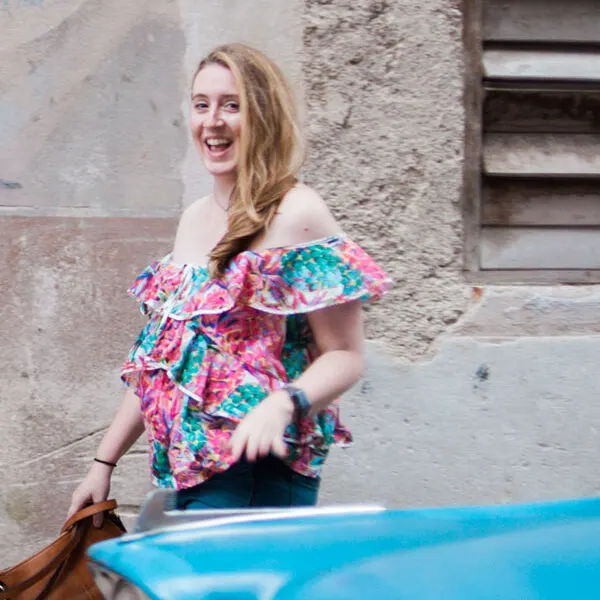 Meg Frost is a Boston-based travel blogger that helps people embrace technology to make vacation planning and traveling wicked easy, affordable, and fun.
She holds an M.A. in Journalism from Northeastern University and B.S. in Communication & American Studies from University of Miami.
---
This post was originally published July 24, 2022. It was last updated August 17, 2023.