I'm more of a night person than a morning person – unless it means skipping the snooze button so I can head somewhere nice to watch the sunrise and capture the beauty with my camera.
If you're also a sucker for capturing dawn, I've got tons of Instagram caption ideas for you.
In this post, I have over 100 sunrise captions for Instagram, including sunrise quotes, literary quotes about the sunrise, romantic quotes about the sunrise, and sunrise song lyrics.
Pair these sunrise captions with your best photos of the sun rising.
---
Rise & Shine.
Good morning!
Breaking dawn.
Sun more time.
S is for Sunrise.
Beat the sunrise.
Greeting the sun.
Up before the sun.
Today is a new day.
Like father, like sun.
At the break of dawn.
Good morning, Beautiful.
Just another sunrise picture.
I love waking up with the sun.
Softly as in a morning sunrise.
Ain't no sunrise when she's gone.
Smile! A brand new day awaits you.
There she is, the sun in all her glory.
Today is brought to you by this sunrise.
Dreaming of this [insert location here] sunrise.
I'm only a morning person for sunrises like this.
What can you say about such a beautiful sunrise?
Today is brought to you by sunrises and [fill-in-the-blank]. Ex. Today is brought to you by sunrises and mimosas.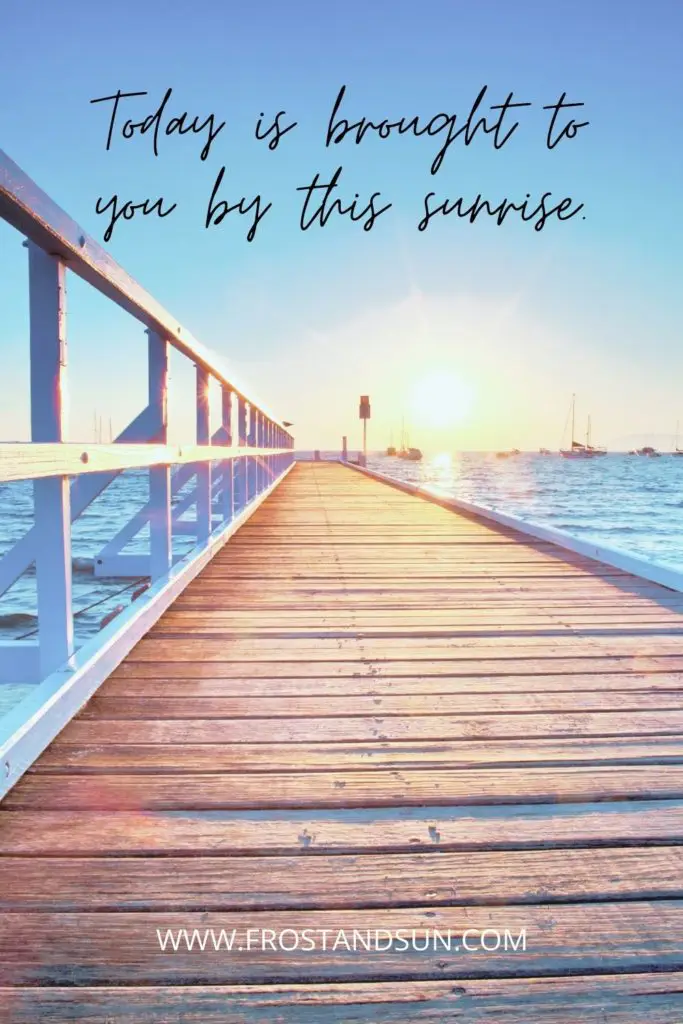 Morning sky.
Sunrise vibes.
Welcome, Sun.
Got that sunrise glow.
Obligatory sunrise pic.
Proof perfection exists.
Good morning, Sunshine.
The biggest star in the sky.
Goodbye, Moon. Hello, Sun.
Look how bright she shines.
Man, I feel bad for vampires.
Can you believe this show is FREE?
This is your sign to wake up with the sun.
Oh, you know, just another boring sunrise.
Tell me, what is the best sunset of your life?
Look at the sun blessing the sky. – Meg Frost
Life is short. Don't sleep through another beautiful sunrise.
If today is anything like this sunrise, it's gonna be a good day.
Start your day off right: with [fill-in-the-blank] and the sunrise.
Sunrises & [fill-in-the-blank] are my favorite part of the morning.
I've never regretted waking up early to watch the sun rise up into the sky. – Meg Frost
It's a new day, brother. – Don Cheadle as James Rhodes, The Falcon & the Winter Soldier
Oh, look! Another glorious morning. Makes me sick! – Bette Midler as Winifred Sanderson, Hocus Pocus
Song lyrics about the sunrise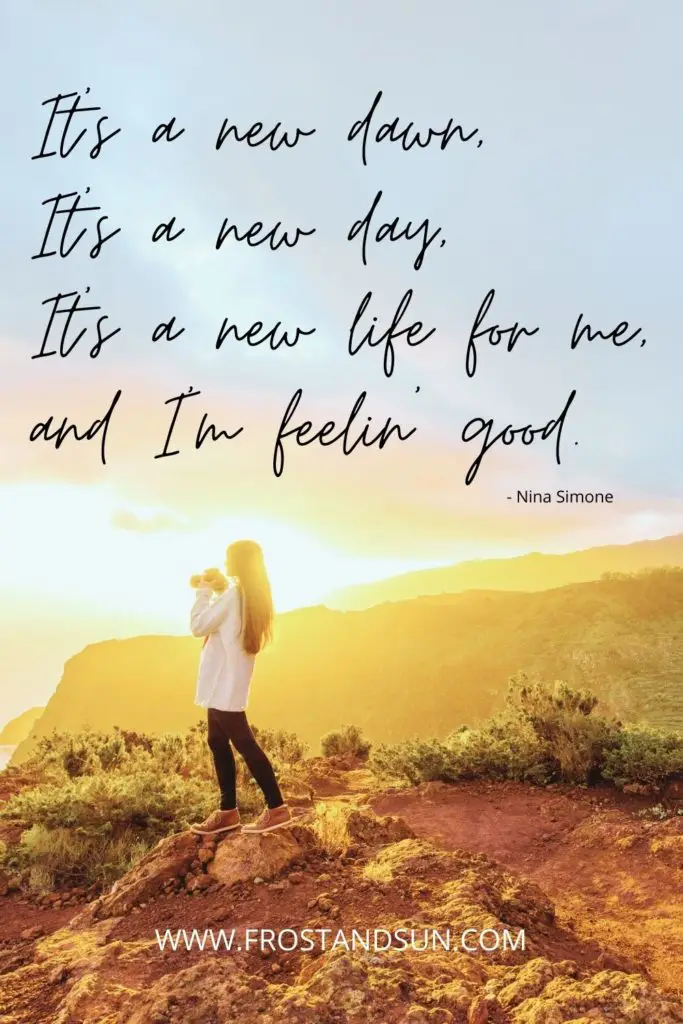 These song lyrics about the sunrise are perfect for Instagram captions.
---
I woke up like this. – Flawless, Beyoncé
It's another tequila sunrise. – Tequila Sunrise, Eagles
It's a beautiful day. Don't let it get away. – Beautiful Day, U2
Sunrise. Sunburn. Sunset. Repeat. – Sunrise, Sunburn, Sunset, Luke Bryan
Here comes the sun and I say, it's alright. – Here Comes the Sun, The Beatles
It's a new dawn, a new day, and I'm feelin' good. – Feeling Good, Nina Simone
Every new beginning comes from some other beginning's end. – Closing Time, Semisonic
On this perfect day, nothing's standing in my way, on this perfect day, nothing can go wrong. – Perfect Day, Hoku
I look at you and the world's alright with me. Just one look at you and I know it's gonna be a lovely day, a lovely day. – Lovely Day, Bill Withers
Sunrise quotes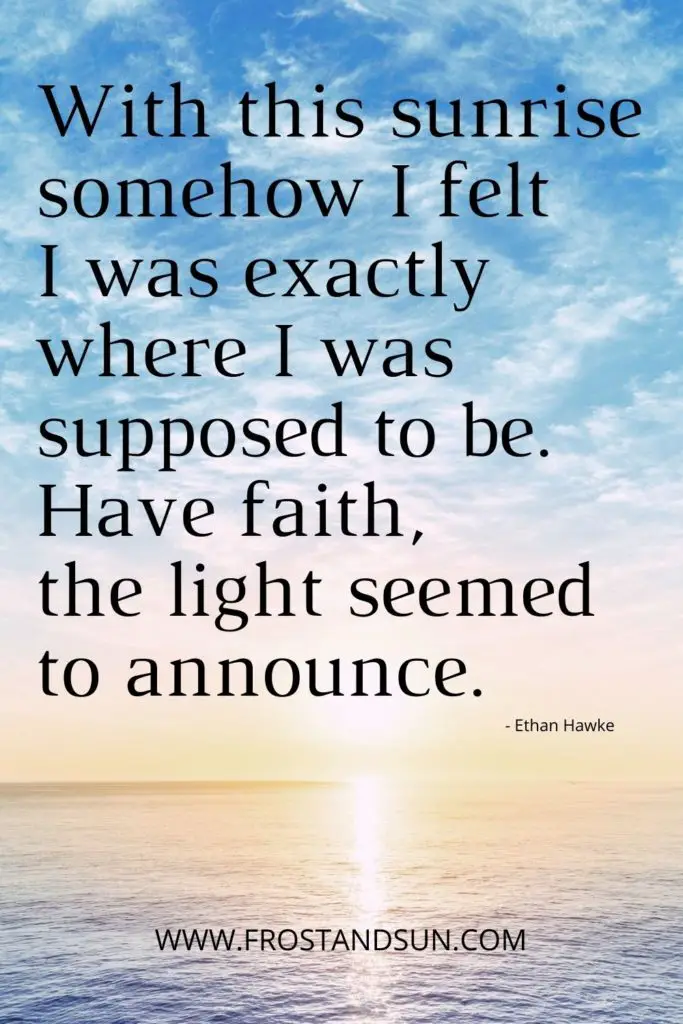 Borrow these sunrise quotes when you don't have the words in you to craft the perfect sunrise caption.
---
My sun sets to rise again. – Robert Browning
Morning will come, it has no choice. – Marty Rubin
The newness of this day is divine. – Lailah Gifty Akita
The darkness is at its deepest just before the sunrise. – Voltaire
Every day a million miracles begin at sunrise. – Eric Jerome Dickey
The grand show is eternal. It is always sunrise somewhere. – John Muir
The breeze at dawn has secrets to tell you. Don't go back to sleep. – Rumi
Today is a blank page in your story. What will you write in it? – Sonya Parker
Our eternal message of hope is that dawn will come. – Martin Luther King, Jr.
With the new day comes new strength and new thoughts. – Eleanor Roosevelt
It is man's consolation that the future is to be a sunrise instead of a sunset. – Victor Hugo
Opportunities are like sunrises. If you wait too long, you miss them. – William Arthur Ward
There was never a night or a problem that could defeat sunrise or hope. – Bernard Williams
The secret to a good morning is to watch the sunrise with an open heart. – Anthony T. Hincks
There's a sunrise and a sunset every single day, and they're absolutely free. Don't miss so many of them. – Jo Walton
There is always a way and always hope in the next sunrise, and in the next second, and in the next minute. – Ziggy Marley
In the twilight of the morning, all life silently waits for the sunrise. The sun must rise for the darkness to sink! – Mehmet Murat Ildan
With this sunrise somehow I felt I was exactly where I was supposed to be. Have faith, the light seemed to announce. – Ethan Hawke
I love sunrises and sunsets. But what I really love is the space that I have in-between them to do something incredible. – Craig D. Lounsbrough
Rest but never quit. Even the sun has a sinking spell each evening. But it always rises the next morning. At sunrise, every soul is born again. – Muhammed Ali
What I know for sure is that every sunrise is like a new page, a chance to right ourselves and receive each day in all its glory. Each day is a wonder. – Oprah Winfrey
Watch the sunrise. Watch the sunset. How does that make you feel? Does it make you feel big or tiny? Because there's something good about feeling both. – Amy Grant
Literary quotes about the sunrise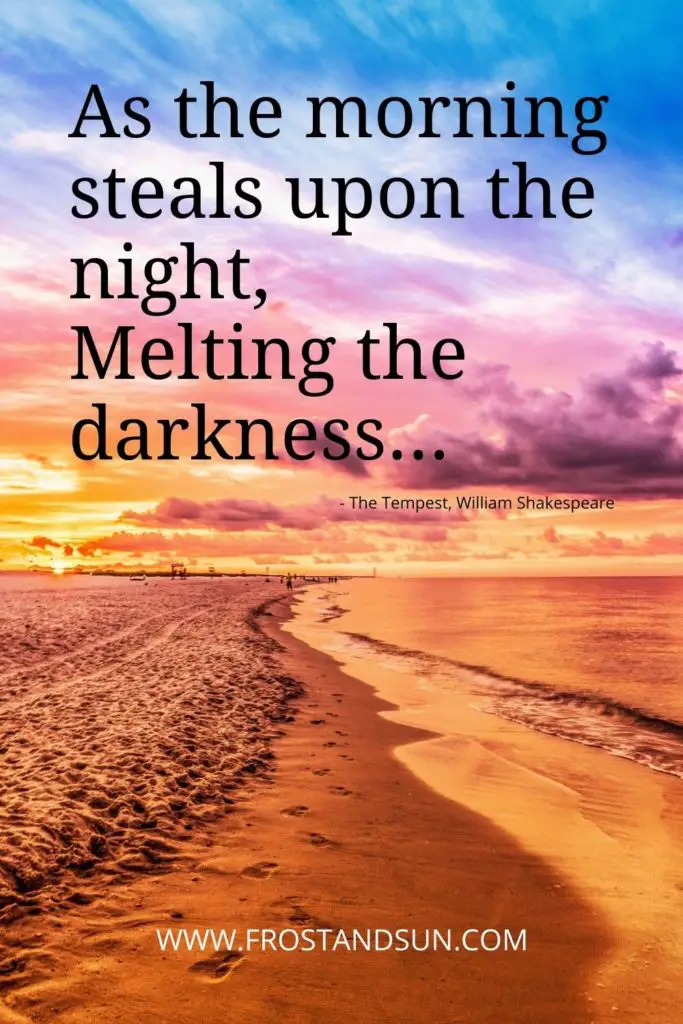 If books are more your thing, borrow one a literary quote for your sunrise captions.
---
The morning was full of sunlight and hope. – The Awakening, Kate Chopin
O Sunshine! The most precious gold to be found on earth. – Roman Payne
The nearer the dawn the darker the night. – Henry Wadsworth Longfellow
An early morning walk is a blessing for the whole day. – Henry David Thoreau
The morning steals upon the night, / Melting the darkness. – William Shakespeare
Just like the days, no two sunrises are ever the same. – Out on My Own, Jonathan P. Lamas
For a girl with such a dark mind, you're a little too in love with the sunrise. – Sherry Namdeo
At sunrise everything is luminous but not clear. – A River Runs Through It, Norman Maclean
The dawn is not distant, nor is the night starless; love is eternal. – Henry Wadsworth Longfellow
The next morning dawned bright and sweet, like ribbon candy. – Garden Spells, Sarah Addison Allen
Just Sunrise — Lest Day — Day's Great Progenitor — – Renunciation — is a piercing Virtue — , Emily Dickinson
Dawn seemed to follow midnight with indecent haste. – Harry Potter and the Deathly Hallows, J.K. Rowling
Fortunately, the sun has a wonderfully glorious habit of rising every morning. My Side of the Mountain, Jean Craighead George
The sunrise, of course, doesn't care if we watch or not. It will keep on being beautiful even if no one bothers to look at it. – The Last Chapter, Gene Amole
What breaks in daybreak? Is it the night? Is it the sun, cracked in two by the horizon like an egg, spilling out light? – The Year of the Flood, Margaret Atwood
O sky above me, you modest, glowing sky! O you, my happiness before sunrise! Day is coming: so let us part! – Thus Spoke Zarathustra, Friedrich Nietzsche
Morning is an important time of day, because how you spend your morning can often tell you what kind of day you are going to have. – Lemony Snicket, Daniel Handler
There were hints of sunrise on the rim of the sky, yet it was still dark, and the traces of morning color were like goldfish swimming in ink. – The Muses Are Heard, Truman Capote
Romantic quotes about the sunrise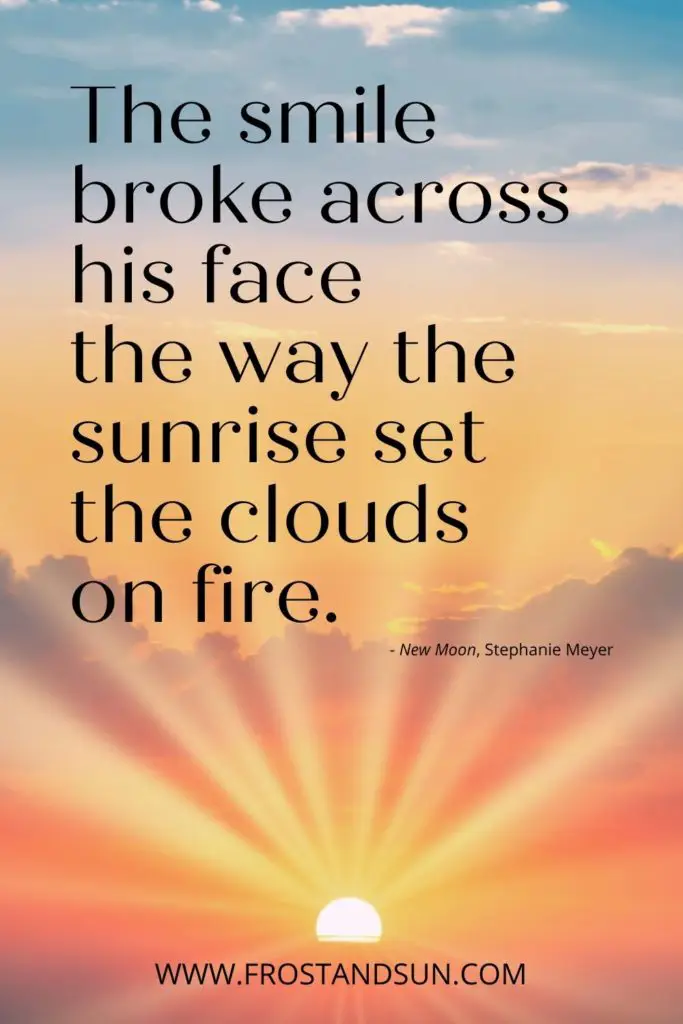 For a little something sweet or for couples photos, these romantic quotes about the sunrise are perfect.
---
Another beautiful sunrise with this one.
Greeting the day with my love and the Sun.
Morning without you is a dwindled dawn. – Emily Dickinson
Your light is more magnificent than sunrise or sunset. – Rumi
Sunrise, sunrise. Looks like morning in your eyes. – Sunrise, Norah Jones
He who kisses joy as it flies by will live in eternity's sunrise. – William Blake
Romance makes a radiant sunrise out of every moment. – Thomas Kinkade
Write it on your heart that every day is the best day in the year. – Ralph Waldo Emerson
The smile broke across his face the way the sunrise set the clouds on fire. – New Moon, Stephanie Meyer
If you prefer a longer caption, here are a few writing prompts about sunrises to help get you started.
---
# best sunrises I've ever witnessed.
# photography tips for capturing the sunrise.
Are you team sunrise or sunset? I'll go first in the comments.
# best places in [insert location] to watch the sunrise.
# reasons why I prefer watching sunrises over sunsets.
Why I love waking before sunrise. [Inspire your followers by explaining why you're an early riser.]
When was the last time you woke up early to watch the sunrise? [Tell a story about the last sunrise you witnessed.
Share your favorite sunrise captions and IG links below so we can help each other grow.
For more Instagram caption ideas, check out these posts:
---
About the author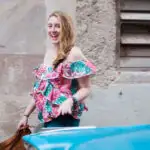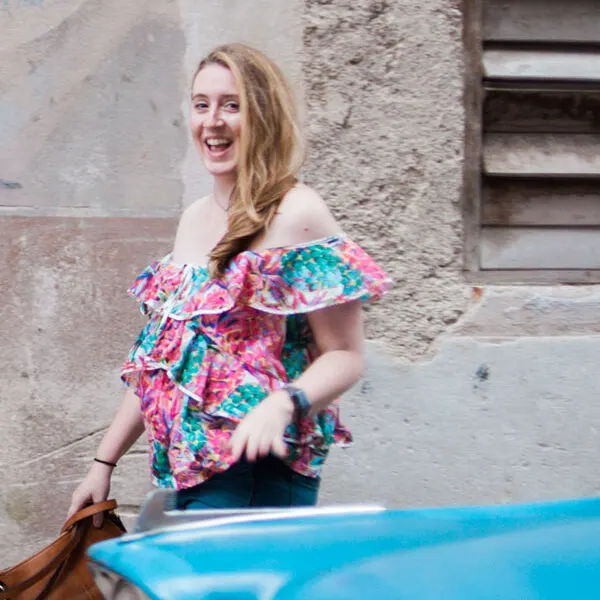 Meg Frost is a Boston-based travel blogger that helps people embrace technology to make vacation planning and traveling wicked easy, affordable, and fun.
She holds an M.A. in Journalism from Northeastern University and B.S. in Communication & American Studies from University of Miami.
---
This post was originally published on June 19, 2021. It was last updated on January 12, 2022.