If you're reading this post, you're probably already down with Instagram and post only the best of the best of your travel photos.
Your Instagram feed has your most treasured snapshots and memories, so why not let them live elsewhere too?
Check out these fun things to do with Instagram photos from your travels.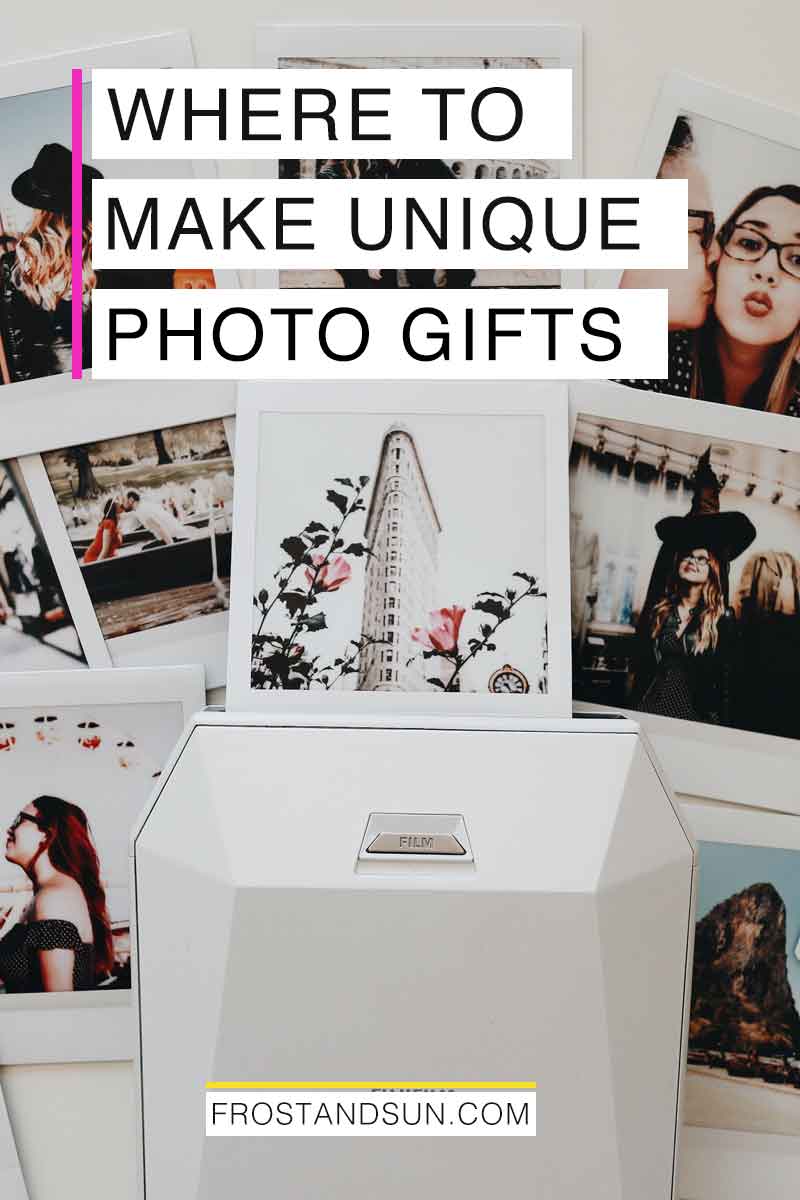 Create business cards
Get creative with your MOO business cards by using a few of your favorite Instagram photos on the back.
At MOO you can even get square business cards, which is perfect for Instagram influencers or social media marketing entrepreneurs.
MOO makes it super easy to use your Instagram photos with a built-in tool that helps you connect your Instagram account so that you can import your favorite photos for use.
Make greeting cards
There are a number of companies that will let you connect your Instagram account so you can easily create greeting cards using any photo on your grid.
A few popular online photo services that print greeting cards AND allow easy integration with Instagram are Costco, CVS, Mixbook, Shutterfly, Snapfish, and Walgreens.
Using your Instagram photos is a great way to quickly create customized Christmas and holiday cards, as you've already trimmed your Instagram feed down to the best of your travel photos from throughout the year.
Create a daily planner cover
One year I decided to jump on the Erin Condren day planner bandwagon.
Erin Condren has an option to create your own cover with your Instagram photos!
I happily selected 18 photos that reminded of my favorite places and people and wished for the best.
Unsurprisingly, the cover turned out great. No pixellated photos or dull colors!
My customized planner cover adds a smile to my face every time I reach for it, which made me realize why people are so bananas over this company.
Create a calendar
My favorite photo calendar creator is Mixbook.
With Mixbook, you can create different layouts each month, including full bleed single photos, Instagram-like grids, and other photo collage grids (à la Instagram's Layout app).
Add photos to each month to correspond with your favorite trips from years past or all the trips you'll be making in the year ahead. Photo calendars are super easy to create and make great photo gifts!
Create a notebook
Now that I have a daily planner with a fun photo-filled cover, I feel like I need a notebook that brings me just as many big smiles. Enter Shutterfly.
Shutterfly has a ton of notebook cover designs that you can fill with 1 to many photos.
Create an Instagram-like grid, fill an entire cover with 1 photo (perhaps an engagement photo for your destination wedding notebook?), or design a scrapbook-like collage.
The possibilities are nearly endless!
Create a photobook
Hands down, Mixbook is my favorite way to create an Instagram photo album.
I've tried a few photobook and photo album services, but Mixbook takes the cake.
The Mixbook software is easy to use, it has plenty of design options (but not too many that it's overwhelming), and their products are well-priced.
Make wall art with Mixtiles or Photosquared
Mixtiles might be the easiest way to get your Instagram photos from your phone to your wall.
Download the Mixtiles app, connect your Instagram account, select your photos, and submit your order.
Currently, a set of 3 tiles is $49, with more tiles priced at $9. Shipping is free. Tiles are 8×8 in. and can easily be attached to your wall without damaging them.
They're perfect for apartments and dorms because they do not need nails or hooks.
A Mixtiles alternative is Photosquared, which also creates 8×8 tiles from Instagram photos.
In 2018, a set of 4 tiles is $44, with more tiles for $9 each. Shipping is always free.
Make a photo blanket
Yes! You can totally get a blanket made from Instagram photos.
Costco is one such photo printing service that includes blanket throws as an option. My sister had one made as a Christmas gift one year and it came out wonderfully.
Snapfish also prints blankets (and pillows!), but I do not have or know anyone who has tried this yet.
That said, based on my experience with Snapfish's other photo services, I'd say it's a safe bet.
Print Instagram photos as big or small as you want
There are tons of places to get photos printed that also integrate with Instagram seamlessly.
My top 3 are Costco, Shutterfly, and Snapfish. Aside from great prices and quick service, all 3 options offer different sizes, including square Instagram-like prints.
Make custom stickers with Instagram photos
MOO and Social Print Studio both offer the ability to print small stickers using Instagram photos.
Wouldn't this be a fun way to decorate your Instagram customized day planner or decorate an envelope for a letter to a pen pal from your travels?
Protect your tech with an Instagram iPhone case
If you love Instagram, get a phone case made with one of your photos or a grid of photos. Casetify has this service on lockdown.
Aside from iPhone and Android smartphone covers, Casetify also enables you to make custom iPad covers, Macbook covers, and Apple Watch bands from your Instagram photos.
Create custom Christmas ornaments with Instagram photos
Start a new Christmas tradition by getting an ornament made with a photo from your favorite trip in the past year.
It will be a fun way to relive your past trips each time you take out the ornaments to decorate your Christmas tree.
Snapfish has a bunch of cute designs available for creating custom Christmas Ornaments with Instagram photos.
If you don't celebrate Christmas, select a more generic design option and use your ornament to decorate your office cubicle or school locker.
Get paid for Instagram posts
And here's the not-so-easy tip on things to do with Instagram photos from your travels: get paid for Instagram posts.
If you post great content, crack the Instagram algorithm, and build yourself an engaged following, eventually you'll be able to get paid for Instagram posts.
TIP: enhance your Instagram photography with these fun iPhone photo accessories.
The upside is obvious: making money from doing 2 things you love – travel and photography.
The downside: less creative and editorial control over what you post.
Unless you're a celebrity already, I wouldn't bank on Instagram being your sole income stream or even your main source of side hustle cash.
That said, the bigger and more engaged your community becomes, the more companies will be hiring you to get their products or services in front of your community AND for you to figure out how to do it for them (ie, fun videos, photo series, Insta stories, etc).
What are your favorite photo gifts to make?
Let me know in the comments below which photo gifts you love to make and give to your friend and family.