No matter what the gift giving occasion is, these gifts for surfers will have your favorite surfer stoked!
My love language is definitely gift-giving. I love to find the perfect gift – which is no easy feat if you're unfamiliar with the gift receiver's passions.
If you're looking for gifts for surfers, this post will help you narrow down your choices, plus you can shop right from the post!
Surf map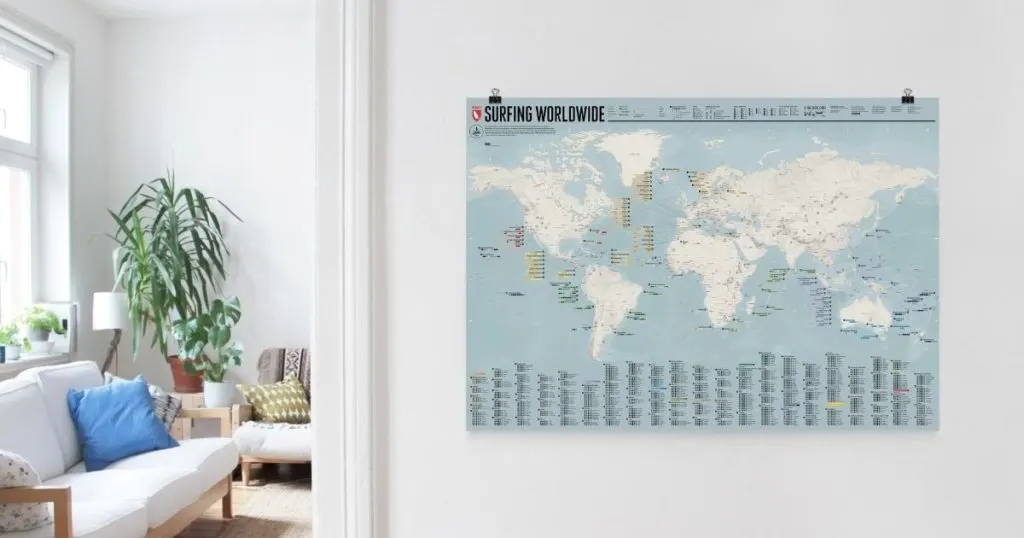 For the traveling surfer, a surf map is a fun way to track all the places they've surfed around the world.
Plus, by using a different colored pinhead, they can plan future surf trips and retreats, too!
Water resistant car seat cover
Protect your car seats from wet swimsuits and equipment with a water resistant car seat cover. No more soggy bums from sitting in a spot where a surfer (or their stuff) just sat.
My top pick goes to Booty Barrier, who makes a universal-sized, washable, water resistant seat cover in super fun prints.
Their seat covers are made from recycled plastic bottles making them eco-friendly. Plus, they are sweat and stink proof!
Best of all, they are compatible with side airbags, so using them won't compromise your safety if you were to get into a car accident.
Basic surfing accessories
As with any sport, there are plenty of accessories that can help support your practice. Check out these surfing accessories, all of which make great gifts – especially in a customized gift basket or as stocking stuffers for Christmas.
Sunglasses
Protect your eyes from the elements with sunglasses designed specifically for surfers from LIP Sunglasses.
LIP Sunglasses sells 2 excellent models that are optimized specifically for water sports such as surfing: Surge and Typhoon.
In both models, the polarized, scratch-resistant lenses offer 100% UVA and UVB protection.
Venting is built in to prevent fogging and the lenses wrap around so as to not block peripheral vision. A removable leash is also included to prevent loss if they happen to fall off.
Lip balm w spf
I am a stickler for wearing SPF at all times. In my opinion, it's the fountain of youth!
Nonetheless, the one SPF product I always hated wearing, even at the beach or out on the water, is lip balm with SPF.
That is, until I tried SunBum Sunscreen Lip Balm with SPF 30. This super affordable lip balm doesn't leave a chalky white residue on your lips like most lip balm with SPF!
SunBum Sunscreen Lip Balm goes on smooth, leaves your lips super moisturized, and comes in a multitude of tropical flavors, like banana, coconut, mango, and pineapple.
Sunscreen
Speaking of SPF, sunscreen is a must when hitting the waves. Any ol' sunscreen won't do, though. Aim for a reef-safe sunscreen that is kind on your skin and to marine life.
SunBum wins in this category, as well. They produce a large line of sunscreen in both sunscreen and lotion form, all of which are reef-safe. Plus, they have after sun, skin, and hair care products.
Ear plugs
Keep your ears healthy with a good set of ear plugs.
Board shorts
Board shorts are similar to swim trunks in that they are meant for water sports and activities, so they are made of quick-to-dry material.
However, there are some differences between the 2. They are meant to be worn low on the waist with a tie closure and don't have an elastic waistband.
Length-wise, most board shorts are long to help protect the legs. However, for women's board shorts, it's easy to find a variety of length options.
Swimsuit
While male surfers can get away with board shorts as their swimsuit, women will need a bikini, rash guard top, or one piece.
Look for something made with lycra or nylon, both of which are super stretchy and quick to dry.
Cut-wise, you'll want something that isn't going to ride up or cause discomfort. Sporty cuts are your best option as they are designed for action.
If you're gifting someone else, have them pick out a suit themselves or get them a gift card for their favorite swimsuit brand, such as Billabong, Hurley, O'Neill, Roxy, and Rip Curl.
Rash guard
A rash guard serves multiple purposes for surfers and beach goers.
Its main use is to prevent scrapes and irritation from sand, boards, waves, etc. In addition, a good rash guard is SPF rated so it provides sun protection.
Wetsuit
Avoid hypothermia (and, uh, death!) when surfing in cold water with a proper wetsuit.
Be sure to check with your surfer friend on where they like to surf so you can determine the best type of wetsuit for their needs.
The colder the water, the thicker the wetsuit they'll need. Plus, if it's 65°F or below, they'll need a full wetsuit, not just a long sleeve neoprene swimsuit or jacket.
For the real brave ones who surf in 60°F or below, they'll likely need neoprene booties and a surf hood, too!
Beach towel
A good beach towel for a surfer will be large enough to quickly towel off, dry quickly, and be made with eco-friendly materials and inks.
Changing poncho
Sometimes there just isn't a place to change after a surf sesh. To avoid mooning your friends while changing in your car or getting your car all wet and sandy, use a changing poncho!
All you have to do is slip it over your head and you can pull your arms in to quickly strip off your wet swimsuit or trunks and pull on a dry outfit.
Dry bag
A bikini bag or dry bag is essential for a surfer go bag. Its basic function is to stash wet swimsuits, trunks, and rash guards, but many bikini bags can double as a toiletry bag, too!
TIP: Stuff the bag with other surf accessories, like lip balm, a wide tooth comb, leave-in conditioner or hair detangling spray, sunscreen, and an Apple gift card (for a surfer app or new tunes) for a unique present for surfers.
Yoga lessons
Yoga is a great practice for surfers for a few reasons.
First, yoga can improve and maintain your core strength, which is crucial for surfers.
Second, it's great for improving flexibility, which in turn can help improve surfing skills.
Lastly, and perhaps most importantly, it is one of the best ways to learn and improve mindfulness and focus, which are absolutely essential skills for any level of surfing.
A pack of yoga lessons is a great way to help support a surfer's practice!
Custom board
A custom surfboard is one of THE best gifts for surfers. It's likely to bring tears of joy and happiness to their eyes!
This one will set you back a pretty penny, but if you're looking for a big gift, a custom board is the way to go.
I don't recommend this as a surprise gift, unless you know exactly what customizations are desired.
Otherwise, have the gift-receiver select the customizations from their favorite online surfboard shop OR take them to their dream board shaper to place an order.
This is not a last minute gift, FYI, as it takes time to build a board from scratch.
Plus depending on where you're getting the custom surfboard, you'll likely have to wait in line (or pay extra for a rush job).
Surfboard accessories
Aside from a good surfboard, there are all kinds of accessories needed. Whether you're looking for a small or large gift, here are some great gifts for surfers.
Surfboard bag
A surfboard bag is crucial for keeping your board protected from dings that can impact how well your board rides.
Surf wax & comb
Surf wax is used to add a grip layer on the surfboard so surfers don't slip while paddling or surfing. A surf wax comb is used to remove the wax, as it has to be removed before a new layer can be added.
Surf wax and a comb is one of the most essential surfboard accessories there is, so any surfer will appreciate it as a gift.
When buying surf wax, be sure to pick one for the right water temperature, as wax used for the wrong temp won't create a good enough grip!
Grip deck
In addition to surf wax, a grip deck is added to surfboards to ensure the surfer doesn't slip off while riding.
Surfers tend to be picky about their gear, so if you're gifting for an experienced surfer, it's best to ask them which grip they want!
Surfboard leash
A surfboard leash does exactly what the name suggests: it leashes the surfboard to the surfer so it can't drift away when a surfer falls. Without it, the board could get lost or worse – hit someone as it drifts away.
Surfboard repair kit
Surf rack
Transport a surfboard safely with a rack for your car or bike. (Yes, there are surf racks for bikes!)
Surfboard mount for home
Keep care of your surfboard at home (and show off all your cool boards) with a surfboard mount.
Surf gadgets
After working in the tech industry for nearly 20 years, I've amassed a fair share of tech toys, many of which double as great surf gadgets!
All of these surf gadgets will up your surf game and make great gifts for surfers, too.
Shark deterrent band
Some of the best places to surf are home to one of the ocean's biggest predators – sharks! Shark attacks are rare, but not impossible. An easy way to protect yourself against an attack is with a shark deterrent band by SHARKBANZ.
SHARKBANZ makes a super lightweight, universal-size band that can be worn on the ankle. This band comes in several colors and works up to 330 feet – so if you're into other water sports, such as snorkeling or scuba diving, you can use it for that too.
Best of all, it doesn't require charging or batteries, so it will always be protecting you and won't die mid-surf.
GoPro camera
The GoPro camera was originally created and tested by surfers – no joke! Not only is it durable and waterproof, but it is tiny and travel-friendly.
With all the surf gear you have to lug around, especially when traveling, adding a GoPro camera to capture the waves is no big deal!
I recommend springing for the latest model, the GoPro HERO 11, to get the most bang for your buck. For 360° coverage, go for the GoPro Max.
GoPro accessories
There are a couple of GoPro accessories that are perfect for capturing surfing video from the surfers' perspective. I recommend the surfboard mount, bite mount & floaty, and the floating hand grip.
Apple Watch Ultra
Surfline app subscription
Surfline is perhaps the most respected surf app out there. It provides short and long range surf forecasts, live feeds of the most popular surf breaks around the world, and surf news feeds.
The coolest feature, though, is Cam Rewind, where you can track your sessions via compatible watches, such as the Apple Watch. And if your session is at one of the breaks where Surfline has a live video feed, you can snag video.
Surf retreat
If your fave surfer loves to travel, gifting them a spot at a surf retreat is the perfect blend of their 2 loves.
Retreats typically include surf lessons, yoga sessions, outdoorsy activities, and best of all – making new friends!
Popular locations for surf retreats include California, Hawaii, Australia, Bali, Costa Rica, Morocco, Portugal, and Sri Lanka.
Plug in your desired location + "surf retreat" (ex: Hawaii surf retreat) and your search will return dozens of options.
A bit of poking around the interwebz to find potential retreats, and researching your top picks, will help you narrow down which retreat will best suit your needs.
Surf photo shoot
A photo shoot is a great way for an up-and-coming surfer to boost their social media channels.
Shooting surfing takes a great amount of skill (and lots of expensive gear), so be sure to seek out someone who specializes in surf photography or videography.
Also, if the gift-receiver is sponsored or part of a pro team, there may be stipulations in their contract when it comes to photo shoots and videos, like using specific photographers or only shooting during specific time periods.
You never know what will be included – so be sure to check the fine print before plunking down the cash!
TIP: After you get the photos back, turn right around and create a photo book or some other custom photo gift!
What are your favorite gifts for surfers?
Drop your recommendations for the best gifts for surfers in the comments below. Happy shopping!