Have you ever wanted to capture the perfect sunrise or sunset timelapse but didn't know where to start?
Or how about creating a Hollywood blockbuster-style video for IGTV or YouTube but without the Hollywood budget?
And now that TikTok is taking over the internet, which mobile app is best for creating viral clips?
Look no further – I've found the best video editing apps to cover all your content creation needs.
Best app for storyboarding
Before you even film, much less edit, you need to create a storyboard to outline what you want your video to be like. That's where Previs Pro editing app for iPhone and iPad comes in.
Getting your concept outlined ahead of time will ensure you get all the shots you need before it comes to post-production, aka video editing.
Previs Pro is free, but you can get expanded capabilities with a monthly, annual, or lifetime subscription.
Best app for gathering feedback
Peer feedback is a great way to improve your skills in any area, even video editing.
With Frame.io, you can edit and post your clips for peer feedback.
Frame.io is a great way to see what you might want to improve before sharing elsewhere or get tips to keep in mind for future videos.
Best app for quick GoPro edits
I'm a huge fan of GoPro cameras and accessories.
I use the GoPro Hero 6 and Hero 8 cameras for most of my on-the-go photography and videography.
The GoPro Quik app is perfect for super busy content creators.
This app can take your footage from throughout the day and automatically create a clip, set it to music, and prep it to share on social media, like YouTube, Instagram, and Facebook.
This app is a lifesaver when you're on super busy press trips or at an event where you'd rather network than hide away in your hotel room editing a video.
Transform photos into animations
I'm a huge fan of the Enlight suite of photo and video editing apps, as they make next-level editing super simple to do.
Enlight Motionleap is no exception.
Formerly known as Pixaloop, Motionleap lets you add animation to photos with just a tap or two.
With Motionleap, you can make waves splash, skies float by, hair blow in the breeze, and other fun animations.
Motionleap is the app you need to transform meh photos into animated artwork.
P.S. If you love this app, you'll also love Enlight's all-in-one editing app, Videoleap, too!
Create quick and easy videos
If you want to create a quick video of your recent trip and can't be bothered with more complicated editors, I recommend Adobe Spark Video.
Adobe Spark Video keeps the learning curve small by sticking to slideshow-type clips.
Sure, slideshows aren't the fanciest type of content, but they're quick and easy to make!
This app is also great for creating videos for Mediavine, which can help you earn more money through the Mediavine ad program.
Create videos optimized for social media
If your main type of content is video, you're going to want to check out InShot.
This app optimizes video for YouTube, TikTok, and Instagram.
Inshot includes basic video editing capabilities, plus filters for color grading and correction, royalty free music. You can also add text and virtual stickers.
Easily edit green screen clips
One of the best chroma key apps for creating green screen clips is Motion Ninja. It can also be used to make animations.
Motion Ninja is free, but has extra features available in the premium version, which is a $20 one-time fee.
Edit videos with a 1980s VHS camcorder vibe
For a kitschy, but fun 80s effect, check out the Rarevision VHS – Retro 80s Cam app.
Recording and editing videos with this app will be like the vacation movies of your youth (if you're millennial, like me) or an alternate universe in Stranger Things.
This app is perfect for 80s-themed TikTok videos or Instagram Reels!
Add fun video filters
Another fun video editing app that would be perfect for TikTok videos and Instagram reels is Mixatron.
Brought to you by Funny or Die, Mixatron has all kinds of fun filters, like Paranormal, Heist or Where Are They Now? so you can remix your clips to add a bit of silliness.
Add Hollywood-like special effects
Add blockbuster-style special effects like laser beams, flash bangs, dragons, sea monsters, and even Star Wars to your videos with the Action Movie FX app.
The best part is that you can get this app for FREE.
You can add extra video effects for a small price, with some packs starting as low as $1.99.
I can totally see some of y'all creating blockbuster-worthy movie trailers for your blogs or to tease big projects!
Best app for professional level edits
Every content creator has a favorite video editing software for their computer. Mine is Adobe Premiere Pro.
When I'm on the go, I can access a lot of the same capabilities in Adobe Premiere Pro with the Adobe Premiere Rush app.
The Adobe Premiere Rush app is free to download and use.
You can export up to 3 files before you have to upgrade to a subscription ($9.99/mo).
What I love about the free version is that you can access ALL of the features so you can truly test out the app to see if it is worth paying for after several projects.
Best video editing app for groups
I'm a huge fan of collaboration over competition.
There's more than enough room in our industry for us all to succeed, so why not have fun and help each other out at the same time?
You agree? Awesome!
When it comes time to collaborate on a video with your content creator friends, I highly recommend the Storyo app.
With the Storyo app, everyone can share their clips and create a single edit, all within 1 app.
On top of the group editing tools, you can use metadata from each others' social media accounts to fill out your story.
You can add weather reports, Facebook posts, and stock clips to supplement what you've captured on your own.
Storyo is clearly a super fun video editing app for content creators, but also fun for family and friend group trips!
What are your favorite video editing apps?
Once you're done creating your videos, you're going to need video thumbnails.
Check out my post on photo editing apps to create fun images for your video thumbnails and promo graphics.
Once you're done, drop your video links below so we can check out what you've created and share the love!
For more travel and tech tips, check out these posts:
---
About the author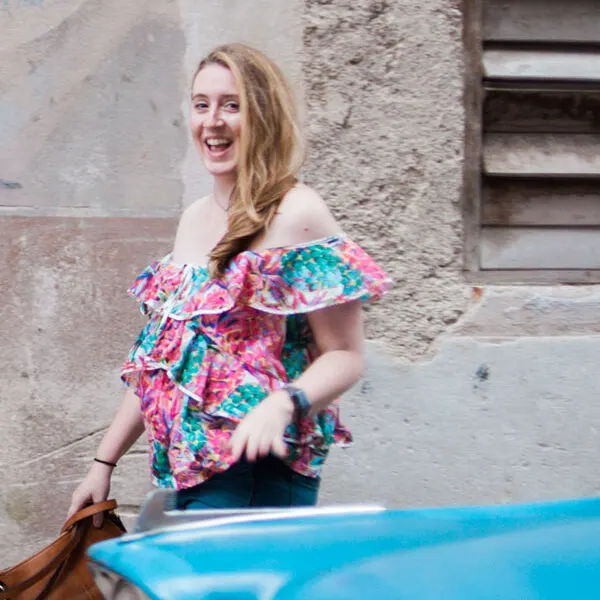 Meg Frost is a Boston-based travel blogger that helps people embrace technology to make vacation planning and traveling wicked easy, affordable, and fun.
She holds an M.A. in Journalism from Northeastern University and B.S. in Communication & American Studies from University of Miami.
---
This post was originally published on April 8, 2017. It was last updated on November 2, 2022.