Now that you've captured some amazing photos using your favorite camera app, it's time to have some fun editing them.
I found 28 photo editing apps that will help you edit photos like a pro even if you aren't one.
Add a vintage filter
Transform your modern day photos into vintage snaps with TinType.
This fun editing app replicates daguerrotypes, tin types, and other photo aesthetics from the first days of photography.
Add color to black and white photos
Add a pop of color to black and white photos with Color Pop Effects.
Color Pop Effects is a fun way to make colorful items standout, like balloons, bright blue eyes, a beautiful piece of jewelry, flowers, etc.
Add a text overlay
If you want to add text to a photo without a ton of other bells and whistles, check out Over.
Over is free, but you'll get the most out of it by adding premium packs that unlock extra fonts for as low as $1.99.
Animate your photos
Make your photos more noticeable by animating them with Ripl.
This app works similar to text overlay apps, such as Over, but adds animated effects, such as sliding the text onto the photo.
Ripl is great for advertisements and announcements (hint hint, fellow bloggers!).
Edit photos like a pro
For professional photo editing capabilities, check out Adobe Lightroom, Polarr, or VSCO.
These photo editing apps have some quick and easy editing capability, while others might have a learning curve.
Regardless, if you're serious about producing killer photos, I recommend learning how to use at least one of these well.
Enhance your photos with 1 tap
If you don't have the time or patience to edit a photo with a pro-like photo editing app, there are plenty of apps out there with filters that can easily enhance your photos.
Instagram is super easy to use with one-tap, preset filters.
A Color Story is awesome for enhancing colors and whitespace in photos.
Fake a blurry background
Ever wonder how photographers can snap a photo that blurs everything you don't want to see? It's all about focusing.
To fake focus in a photo, check out AfterFocus.
Fix up your selfies
Let's face it, sometimes we get a great selfie except for an errant strand of hair, spinach in our teeth, or a giant zit on our chin.
Don't delete them! Fix them up with Adobe Photoshop Fix or FaceTune 2.
Plan the perfect landscape shot
Plan amazing landscape photos with PhotoPills.
PhotoPills can help you plan the best time to shoot the sun, moon or milky way.
It can also help you determine the best natural light for your location, capture scenery in low light, and plan sunrise or sunset timelapses.
If you can't get enough of nature or landscape photographs, you NEED this app!
Add special effects to your photos with ease
Turn your photos into paintings with a variety of art filters available in Prisma.
Create artwork by superimposing your photographs with shapes, text, and art filters with Enlight Photofox.
Add Snapchat like filters
If you love Snapchat's fun filters, but only care about taking photos you can share elsewhere, check out Photo Lab.
The app is free, but there is a PRO version available on Android for $9.99 and iOS for $10.99.
Create a collage
Make fun photo collages with text, frames, filters, and stickers with A Beautiful Mess, Photofy, or POTO.
Make a photo grid
Showcase a few of your favorite photos in 1 image by creating a photo grid with Layout by Instagram or Pic Stitch.
Make a Photo Slideshow
Create a slideshow of your trip photos with Animoto.
Play with layers
Create fun photomontages using Fused, Juxtaposer, or Pixomatic.
Imagine yourself hanging off the Empire State building like King Kong or catching some rays on top of a plane wing.
The options with these photo editing apps are hilarious and endless!
Turn Photos into Comics
Give your pics a Lichtenstein-like feel with Halftone. Or create comic book strips with Halftone 2.
What are your favorite photo editing apps?
Let me know in the comments below what your favorite photo editing apps are!
Next up, check out more of my top travel and tech tips:
---
About the author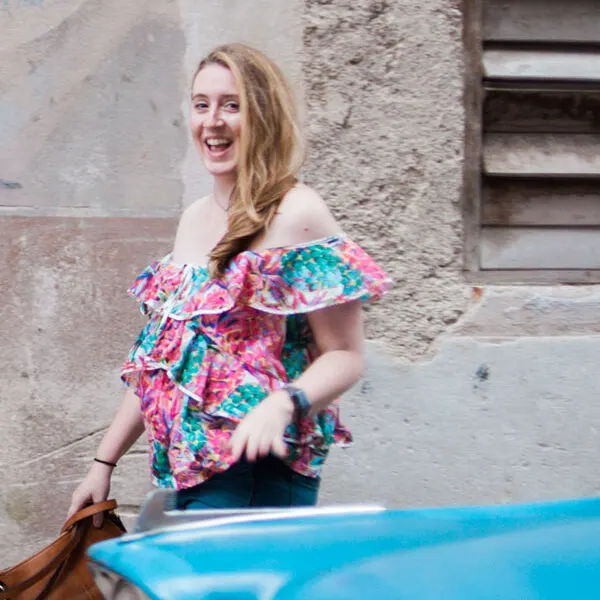 Meg Frost is a Boston-based travel blogger that helps people embrace technology to make vacation planning and traveling wicked easy, affordable, and fun.
She holds an M.A. in Journalism from Northeastern University and B.S. in Communication & American Studies from University of Miami.
---
This post was originally posted on April 6, 2017. It was last updated on February 17, 2021.