Hawaii might seem like a tiny state, but it is jam-packed with things to do. Don't believe me? Here are more than 60 things to do in Hawaii.
Wildlife encounters in Hawaii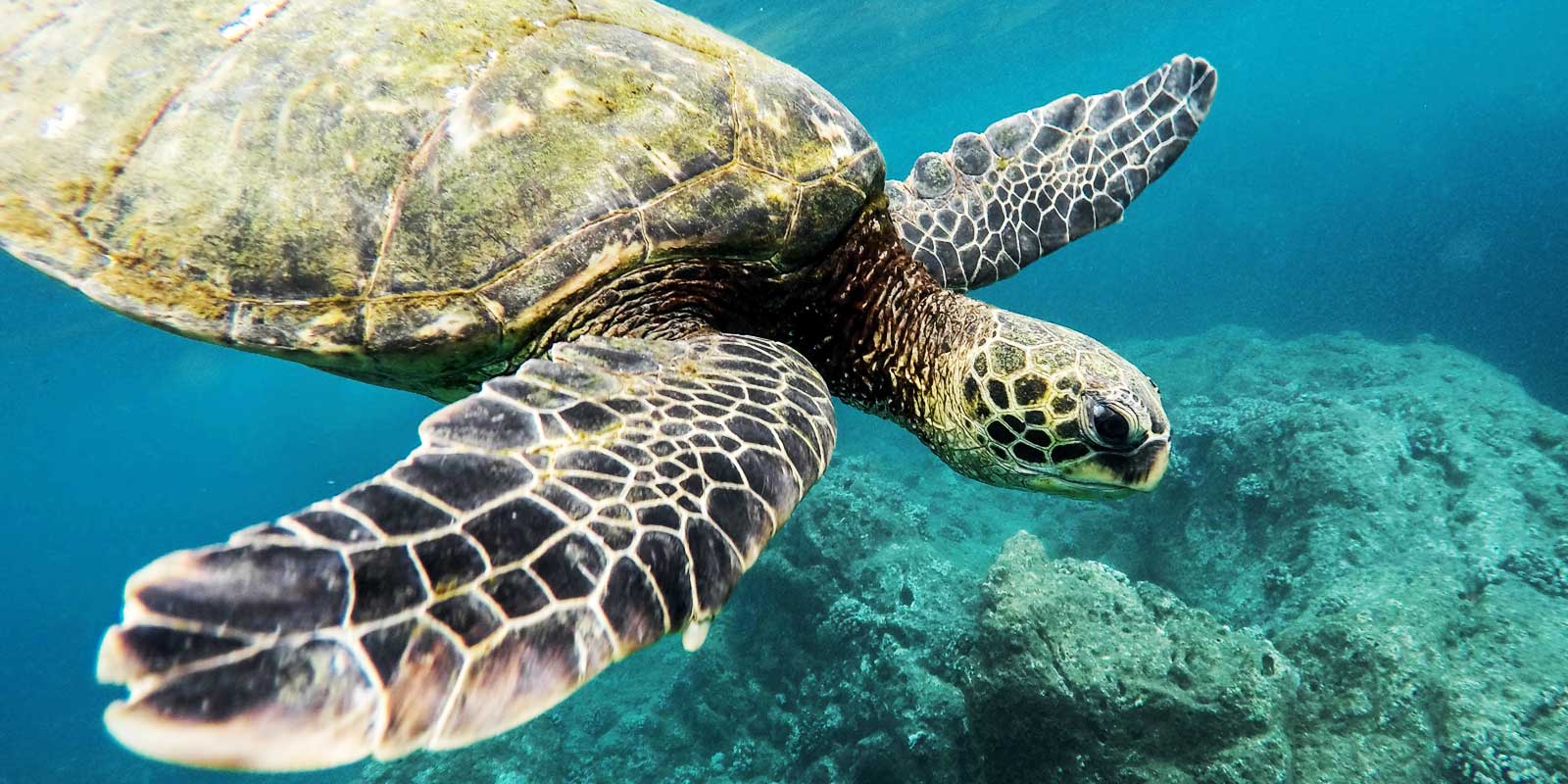 There are a number of things to do in Hawaii if you're a fan of animals and other wildlife.
A few animals you might come across while out in the water or on the beaches are Hawaiian monk seals, Hawaiian green sea turtles, Hawksbill sea turtles, dolphins, humpback whales, and manta rays.
Don't forget about leisurely trail rides via horseback, too!
Swim with dolphins in Hawaii
Swimming with dolphins in Hawaii is a controversial topic – and for good reason. Many times, the dolphins are close to shore because it's where they rest!
The National Oceanic and Atmospheric Administration (NOAA) recommends choosing a tour operator that adheres to their guidelines for ensuring dolphins health and well-being.
If you happen to see one while out in the ocean alone, please stay a respectable distance away and observe with your eyes only!
See the native seals of Hawaii
Hawaiian monk seals are one of Hawaii's endangered native species. There are just over 1,000 Hawaiian monk seals left in the wild, but they are slowly gaining in numbers.
These seals stick mainly to the western part of the Hawaiian islands, but can be seen near the main islands, such as Kauai, on occasion.
Many of the areas that Hawaiian seals are known to hang out in are roped off, given their endangered status. So if you do decide to set out to see some Hawaiian monk seals, please keep a respectful distance and mind the ropes.
See Hawaii via horseback
Experience the beautiful scenery of Hawaii via horseback.
Aside from riding trails, you can also visiting an authentic paniolo ranch, where you can learn more about the history and everyday lives of a Hawaiian cowboy and explore the ranch on horseback.
A third option is taking a mule ride, which are typically offered at larger parks, such as Kalaupapa National Historical Park.
See manta rays up close in Hawaii
I always thought manta rays were not that big until I saw one in person. They're HUGE!
If you have a chance to take a dive tour to witness these elegant creatures in their own environment, do it!
It is recommended to do so at night, as it is easier to attract manta rays with underwater lights, which pretty much guarantees you'll have a good sighting.
Visit a remote, protected marine refuge in Hawaii
Beyond the main islands of Hawaii are over 1200 miles of smaller islands and atolls that are part of Papahānaumokuākea, a protected marine refuge.
Papahānaumokuākea used to allow people to visit certain areas, but public visits are not allowed at the moment. However, they are working to restore access, which is why I'm including it on my list.
To see if the refuge has opened access to the public, check out the U.S. Fish & Wildlife Service's page for the Midway Atoll.
Meet Hawaii's good luck symbol aka sea turtles
Fin, noggin', duuuuuude!
Hawaiian green sea turtles, also known as Honu, are a symbol of good luck and guidance in Hawaii.
If you have a chance to go snorkeling or scuba diving, chances are high that you'll witness one.
Hawksbill sea turtles are another type of sea turtle you might see. Aside from snorkeling and scuba diving, you can also see sea turtles at wildlife centers or on the beach.
Both types of sea turtles are protected under the Endangered Species Act. If you see a sea turtle in the wild, please stay a respectable distance away. Do not touch or bother it, which includes no use of flash photography.
Experience shark week in Hawaii
If you've ever wanted to swim with Jaws, here's your chance! There are several companies across the islands that offer cage diving with sharks, such as North Shore Shark Adventures.
Whale watching in Hawaii
From December through May, humpback whales "vacation" in Hawaii. That is, they migrate to the warmer waters to breed and give birth.
You can often see humpback whales while riding the ferry that runs between Maui and Lanai. This area has a high concentration of whales, upping the odds of seeing one.
If you'd prefer a whale watching tour, I recommend linking up with one in Maui or Lanai, such as the Pacific Whale Foundation.
Explore food and drink in Hawaii
Hawaii has an interesting blend of cultures that make up its local cuisine: Japanese, Chinese, Polynesian, and more. Pineapple is one of its biggest food exports, with coffee high up there too.
Even if you're not a "foodie," exploring Hawaii's food scene should be high up on your list of things to do in Hawaii.
Tour a kona coffee plantation in Hawaii
Kona coffee, grown in the Kona region of Hawaii Island (aka Big Island), is distinct due to the fact that it grows in volcanic soil. Many of the farms and plantations that grow kona coffee offer tours, such as Greenwell Farms.
To learn about the history of coffee growing in Hawaii, check out the Kona Coffee Living History Museum.
This unique museum features reenactments of life on a coffee farm during the 1920s.
Visit a farmer's market in Hawaii
If you're looking to try authentic Hawaiian cuisine or dishes unique to Hawaii's background, head to a farmer's market.
The farmer's markets in Hawaii aren't just for produce. You can also get prepared meals here, like kalua pork or Japanese fusion plates.
Take a food tour in Hawaii
Join a food tour to sample food from a variety of restaurants. I recommend doing this activity at the beginning of your stay. It's a great way to decide which restaurants you want to revisit later in the week.
Food tours are also a great way to sample authentic cuisines that you aren't sure you'll like but are still curious to try (spam, anyone?).
Visit a pineapple plantation in Hawaii
Believe it or not, pineapples are not native to Hawaii! However, its climate is great for growing this tasty fruit, so it easily became a cash cow for Hawaii. A few pineapple plantations offer tours, such as the Dole Plantation.
Taste meat in a can, aka Spam
Spam is practically a delicacy in Hawaii. Yes, really!
Spam gained its popularity in Hawaii during World War II and has remained popular ever since. It's used in all kind of dishes: breakfast plates as a "steak," faux sushi (spam musubi), and much more.
Learn about the history of sugar cane farms in Hawaii
Sugar cane was once one of Hawaii's most exported foods, but its last sugar cane farm stopped growing it in 2016.
If you are interested in learning more about sugar cane growing in Hawaii, check out the Alexander & Baldwin Sugar Museum.
Historical and cultural activities in Hawaii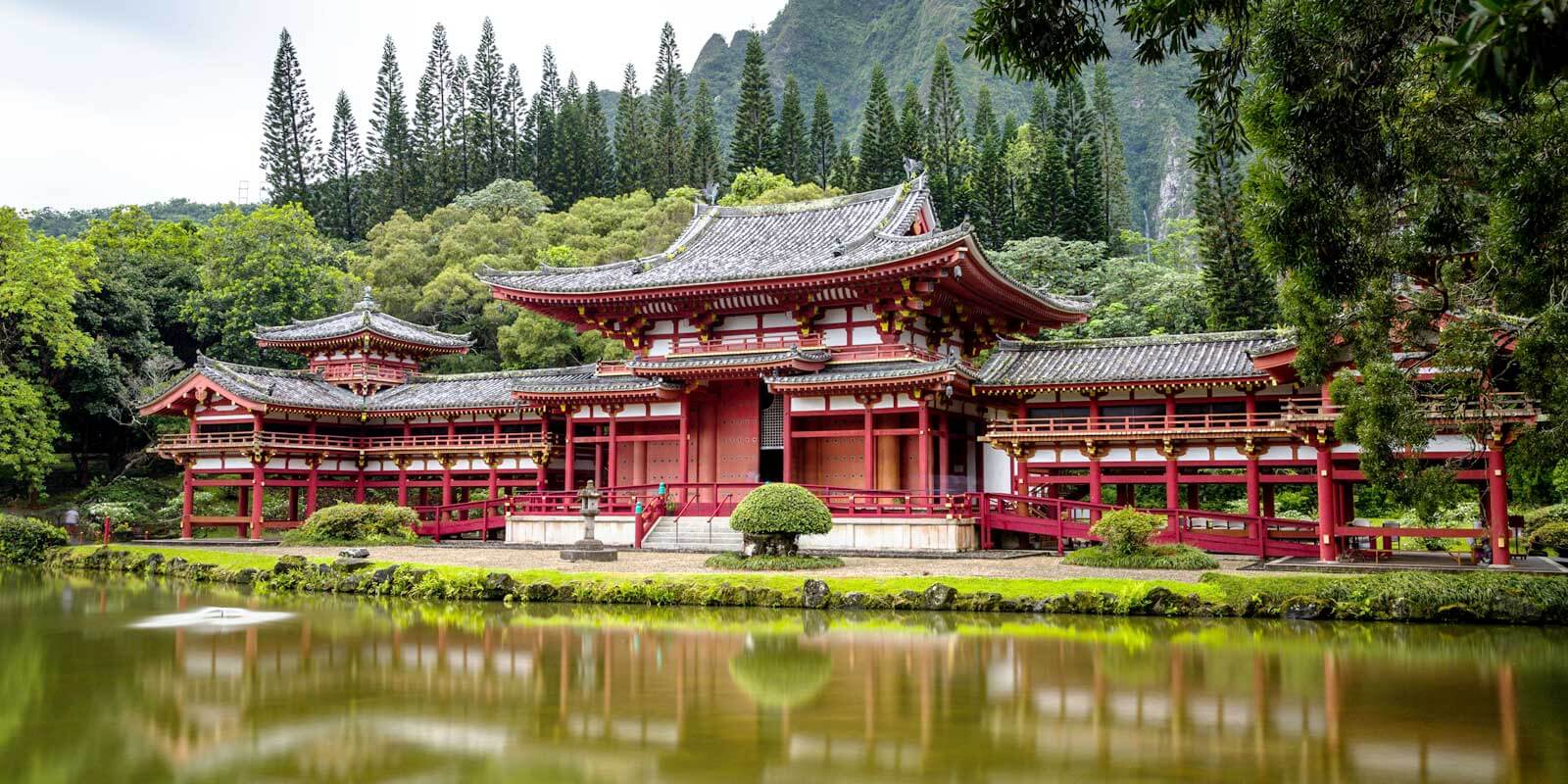 Given Hawaii's distance from the mainland US and its young age as a state (less than 60 years!), Hawaii is like a whole new world to many who visit.
You could spend an entire week exploring Hawaii's history and culture and still have more things to do!
Celebrate at a Hawaiian luau
A luau includes authentic Hawaiian food, music, and dance. It started out as a way to celebrate big events, but has since morphed into a popular form of entertainment for tourists.
You can find luau performances (which include authentic Hawaiian food) pretty much anywhere along the main islands.
Visit the Bernice Pauahi Bishop Museum
The Bishop Museum is the largest cultural history museum in Hawaii. It was started in honor of Princess Bernice Pauahi Bishop, one of the last members of the royal Kamehameha family.
The museum has a large collection of artwork and artifacts from the Kamehameha family, gardens, a planetarium, a science center, and even a hall of fame for Hawaiian athletes and sports.
Vibe to Hawaiian music
Hawaiian music is not just drums and ukeleles!
Hawaiian music also includes different types of guitars and guitar playing styles, as well as flutes and bows.
Hawaii also has its own twist on other genres, like Hawaiian hip hop and Jawaiian, the Hawaiian version of reggae.
Take a moment to switch your radio from today's Top 40 hits to check out classic and modern Hawaiian music while you're visiting.
Head to the Honolulu Museum of Art
The Honolulu Museum of Art has a diverse collection of art, from Japanese woodblock prints to 17th century American artwork. Their second location, Spaulding House, is devoted to contemporary art.
Visit the only royal palace in the US
'Iolani Palace, located in Honolulu, is the only royal palace still standing in the U.S. It is the former home of the Kamehameha monarchy, which was overturned in 1893.
The palace became a museum in 1978. Aside from touring the palace and marveling at its artifacts, you can also see the Royal Hawaiian Band in concert.
Classes are also available, in subjects such as royal history of Hawaii and Hawaiian quilting.
See the Hawaiian Stonehenge
The Kukaniloko Birth Site, often referred to as the Hawaiian Stonehenge, is an ancient birthing site on Oahu surrounded by rocks that form a circular shape. In short: It's where women of Hawaiian royalty gave birth.
Anthropologists and historians also believe Kukaniloko may have served as a calendar to track the planets and stars.
Learn how to dance the Hula
A Hula lesson or 2 won't make you a master hula dancer, but learning how to hula sure looks fun! Many hotels offer lessons right on property or can direct you to the best in the area.
Learn how to make a Hawaiian lei
Forget the cheap fabric or plastic lei from the party store! Learn how to make traditional leis using real flowers.
Learning how to make a lei is a great way to learn about and appreciate the history of this iconic garland worn around the neck.
Explore US military history in Hawaii
World War II kicked off after the Japanese attacked the American naval base at Pearl Harbor, Oahu, on December 7, 1941.
Today, Pearl Harbor houses a memorial honoring the more than 1,900 people killed in the attacks.
Known as the WWII Valor in the Pacific National Monument, visitors can see the USS Arizona memorial, browse an exhibit gallery, shop in the bookstore, and pay respects at the Remembrance Circle.
Aside from the Pearl Harbor memorial, military history enthusiasts might also enjoy the Pacific Aviation Museum, the USS Missouri battleship, the USS Bowfin Submarine Museum or the U.S. Army Museum of Hawaii.
Learn about Polynesian cultures
If you are interested in learning about other Polynesian cultures, such as Fiji, New Zealand, or Tahiti, the Polynesian Cultural Center is the place to go.
Here you can visit replicas of Polynesian villages, attend a luau, shop for handmade crafts, watch demonstrations of food, sport, dance, and more.
Ever play tag as a kid? This is base.
Pu'uhonua O Hōnaunau was a place of refuge for warriors and citizens in need, as well as anyone who broke a law that was punishable by death.
If a law-breaker reached Pu'uhonua O Hōnaunau before being captured, they could not be harmed. Almost sounds like a deadly game of tag, Hunger Games style.
Today, Pu'uhonua O Hōnaunau is a national park protected by the US National Park Service and is open to the public.
See Hawaii's coolest statues and sculptures
There are plenty of interesting and quirky statues throughout the Hawaiian islands to look out for. In my opinion, the top 3 to see are Ki'i statues, the Elvis statue, and Sky Gate.
Ki'i statues are wooden statues that act as guardians. There are 2 well-known ki'i statues at Pu'uhonua O Hōnaunau.
The Elvis statue, located in Honolulu, was built by the TV Land television channel in honor of Elvis having performed the first satellite concert in Hawaii.
Sky Gate is a twisted sculpture that displays wavy shadows on the ground. However, 2 days of the year, the sun is directly above the sculpture, which changes the warped shadows into a perfect circle.
Learn about tsunamis
The Pacific Tsunami Museum, located in Hilo, tells the story of the lands and people hit by tsunamis. The museum covers tsunamis that have occurred worldwide, not just those that have affected Hawaii.
See the fanciest cemetery in the US
The Valley of the Temples Memorial Park, located on Oahu, is probably the fanciest cemetery I've ever heard of.
The most impressive part is the gorgeous replica of the Byodo-In Buddhist Temple in Japan. Or maybe it's the wide open spaces not typically seen in American cemeteries.
Outdoor and adventure activities in Hawaii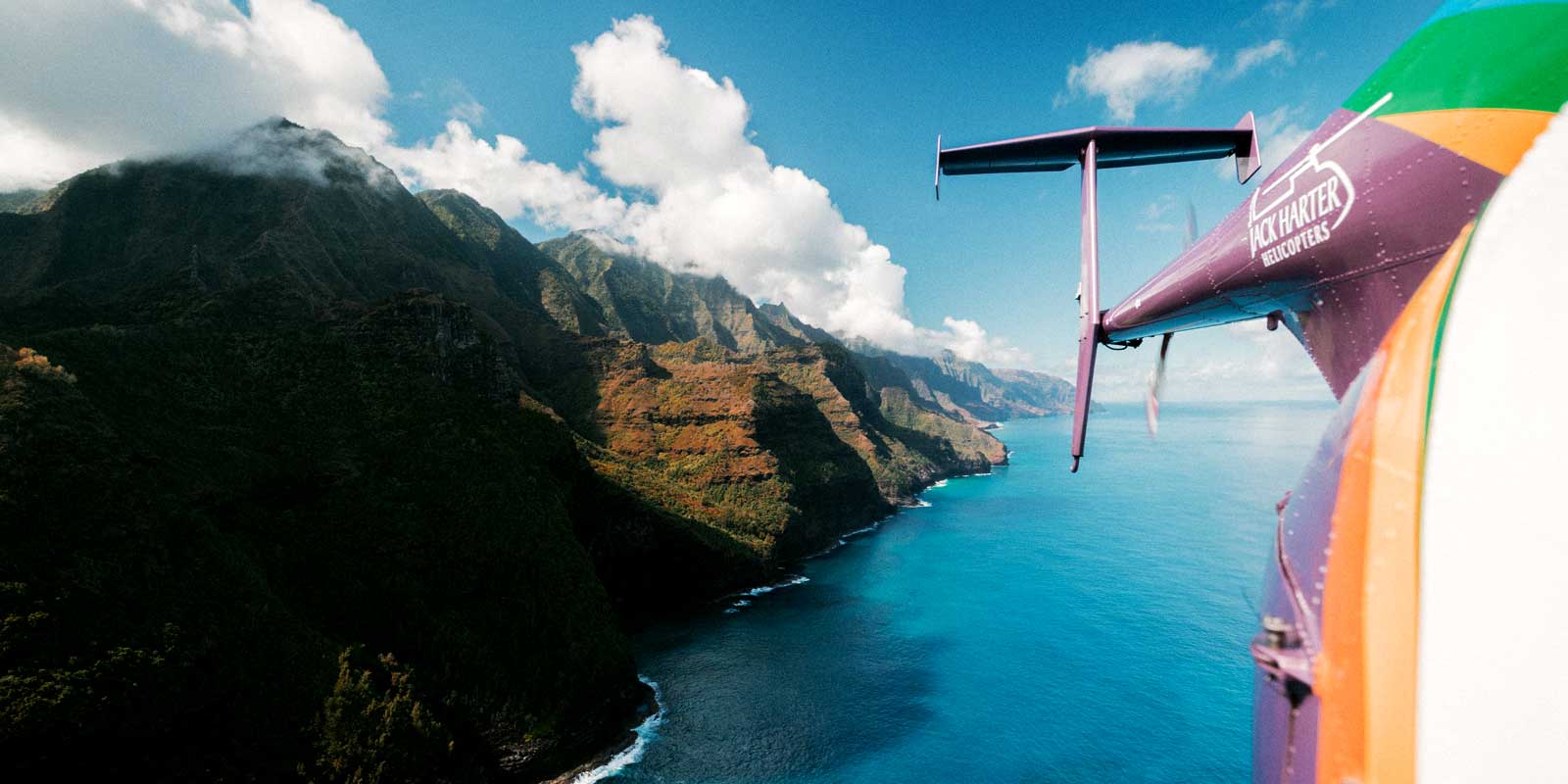 Hawaii's varying landscape allows for many outdoor and adventure activities at a variety of thrill levels.
From biking to skydiving, there are plenty of outdoor things to do in Hawaii.
Biking in Hawaii
Rent a bike and ride to the beach or local restaurant. Or join a mountain bike tour through Hawaii's luscious green mountains.
Camping in Hawaii
Camping is not only a great way to spend time outdoors, but also a great way to save money on lodging!
Hawaii's state parks allows camping in most locations. Hawaii Volcanoes National Park, Nāmakanipaio, and Kulanaokuaiki allow camping as well.
Go for a drive in Hawaii
Hawaii has several gorgeous scenic routes across the islands. The most famous perhaps, is Hana Highway in Maui.
Often called the Road to Hana, this drive takes you through many scenes: a volcano, waterfalls, desert, ranches, and more. Driving the Road to Hana is a great way to see all the different scenery of Hawaii.
For more scenic drive ideas, check out the Hawaii Department of Transportation's Hawaii Scenic Byways site.
Witness a whale's blowhole made of rock
The Halona Blowhole is a rock formation at Hanauma Bay in Oahu. When the wind is just right, it blows the water through the rocks like a whale's blowhole. It kind of reminds me of Thunder Hole at Acadia National Park!
The Halona Blowhole is a popular spot to watch for humpback whales and Hawaiian green sea turtles.
See Hawaii from the sky
An aerial tour of Hawaii via helicopter is a fabulous way to see the islands in a unique way. It's a great way to see how diverse the landscape is, as well.
Hiking in Hawaii
Hawaii's varying landscape makes for many interesting hiking trails.
Hawaii Volcanoes National Park has several hiking trails worth exploring.
The most famous hike in Hawaii is the Stairway to Heaven. It is technically closed to the public due to damage to the stairs with no fix date in the near future.
However, many people still take the risk (ie, injury and hefty fines) in search of one of the world's most amazing high-up views.
Island hopping in Hawaii
Don't stick to just 1 island during your stay! Each island has a unique vibe worth exploring. I highly recommend island hopping during your stay, even if it is only for a day trip.
The floor is lava, literally
Play a real-life game of The Floor is Lava by exploring Hawaii's lava tubes. Lava tubes are tunnel-like caves that form due to lava that once flowed through. Once the lava stops, the tunnel stays!
The Kazamura lava tube, located on the Big Island, is the longest lava tube in the world.
There are over 100 entrances to the Kazamura tube, but all are on private land. Therefore the only way to access this wonder is via Kilauea Caverns of Fire entrance or with permission from one of the private land owners.
Off road tours in Hawaii
As many areas on some of the islands are not paved, 4-wheel drive is necessary. A great way to get around in these areas is via ATVs or 4-wheelers.
One of the more popular tours is Kualoa's ATV movie site tour on Oahu, where you can see remote places where popular movies and TV shows were filmed, like Hawaii Five-O, Jurassic Park, and Lost. Kualoa's ATV tour is offered in 1 or 2 hour options.
Parasailing in Hawaii
Get a bird's-eye view of Hawaii while parasailing. The view does not compare to a helicopter or seaplane ride, because there is no glass with a glare from the sun!
Skydiving in Hawaii
Fly like the tropical birds of Hawaii in a tandem skydive over a Hawaiian island.
There are too many options to list here, but I did find at least 1 option on the major islands. So if skydiving's on your vacation bucket list while in Hawaii, you're set!
Stargazing in Hawaii
Given Hawaii's remote location the night skies are extra clear, making it a prime spot for stargazing.
Mauna Kea, located on the Big Island, is the best spot for stargazing. Some people say it's the best in the entire world, not just in Hawaii!
Stargazing at Mauna Kea can be done at the summit or a little over 2/3 of the way up at the Visitor Information Station.
Hang out in Hawaii's natural parks
Hawaii is covered in natural parks. Hawaii Volcanoes National Park is a must-do if you plan to visit the Big Island, but there are 4 more national parks, monuments and trails across the islands to see, too!
On top of that are more than 50 state parks, such as Polipoli Springs State Recreation Park, where there is a hiking trail through redwood trees. Activities across these parks are vast, ranging from camping and hiking to historical sites and beaches.
Pockets feeling empty after buying your flight and booking your hotel? Here's how you can get a free US National Parks pass.
Visit unusual beaches in Hawaii
Hawaii might have some of the world's best beaches, but they also have a few odd ones too.
On the Big Island, Papakolea Beach has green sand due to high concentrations of the mineral olivene.
Punalu'u Beach, located near Hawaii Volcanoes National Park, has rich black sand due to the nearby volcanoes.
On Maui, check out Kaihalulu Beach to see a rusty-red landscape reminiscent of Mars. Kaui's Hanapepe Bay has a beach made up from sea glass called, you guessed it, Glass Beach.
Witness Hawaii's active volcanoes
In a nutshell, Hawaii is made from volcanoes. Today, there are 3 active volcanoes across the islands. You can see 2, Maunaloa and Kilauea, at Hawaii Volcanoes National Park.
The third, Loihi, is located underwater and due to its continuous eruption is creating another island.
Now, don't get excited at the opportunity to invest in vacation property on untouched land just yet. Scientists say it's going to take hundreds of thousands of years to complete the island-making process.
See Hawaii's Grand Canyon
Even if you've already made it to Grand Canyon National Park, Waimea Canyon is still very much worth the visit. The dramatic views include lots of greenery contrasting against the red rocks and waterfalls!
Don't Go chasing waterfalls in Hawaii
Speaking of waterfalls, Hawaii's got TONS of 'em.
Many of Hawaii's waterfalls are located in Hawaii's state and national parks. Others are on private land, but can be peeped from helicopter tours, like Manawaiopuna, which was included in the film, Jurassic Park.
Rainbow Falls, located on the Big Island is another popular waterfall to visit. If it's sunny out, chances are pretty high that you'll see a rainbow!
Another waterfall I suggest chasing is the Wall of Tears on Maui. The Wall of Tears is actually 17 total waterfalls that rush down a thick green valley.
Ziplining in Hawaii
Ziplining is a popular activity at many tropical vacation destinations and Hawaii is no different.
If you're a Jurassic Park fan, check out Oahu Zipline's zipline tour through some of the areas where Jurassic Park was filmed.
Skyline Eco Adventures offers a zipline ride over a waterfall that looks absolutely amazing, too.
Get your 'me time' in
If you're in Hawaii for vacation, take some time to relax! Hang out at a hidden beach, get a massage, take a yoga class… no matter what your preference is, be sure to carve out some quiet time before you head back home.
It's not a trip to Hawaii if you didn't spend time at a beach
Hit one of Hawaii's many gorgeous beaches for a relaxing walk, sunbathing, or sandcastle-building.
For the greatest relaxing beach day, pick a beach that is off the beaten path or visit on a less-crowded day.
Play golf at one of Hawaii's many golf courses
Golf may be a sport, but it requires zen-like concentration, making it quite relaxing.
Hawaii has dozens of golf courses to choose from, such as The Palmer at Turtle Bay, Kauai Lagoons Golf Club, and the Manele Golf Course.
Hit the spa
You're on vacation, so you may as well take time to relax and pamper yourself. Indulge in a massage, face mask, mani/pedi or whatever else you wish. Oh, and leave the phone at the hotel!
Practice yoga in Hawaii
Yoga is fantastic for the mind, body, and soul. To amp up its benefits, try yoga outdoors, overlooking the beautiful Hawaiian landscape.
Beach Sunset Yoga Hawaii offers classes on Waikiki Beach, as well as a hike through the jungle to practice yoga while overlooking a waterfall.
Water Sports in Hawaii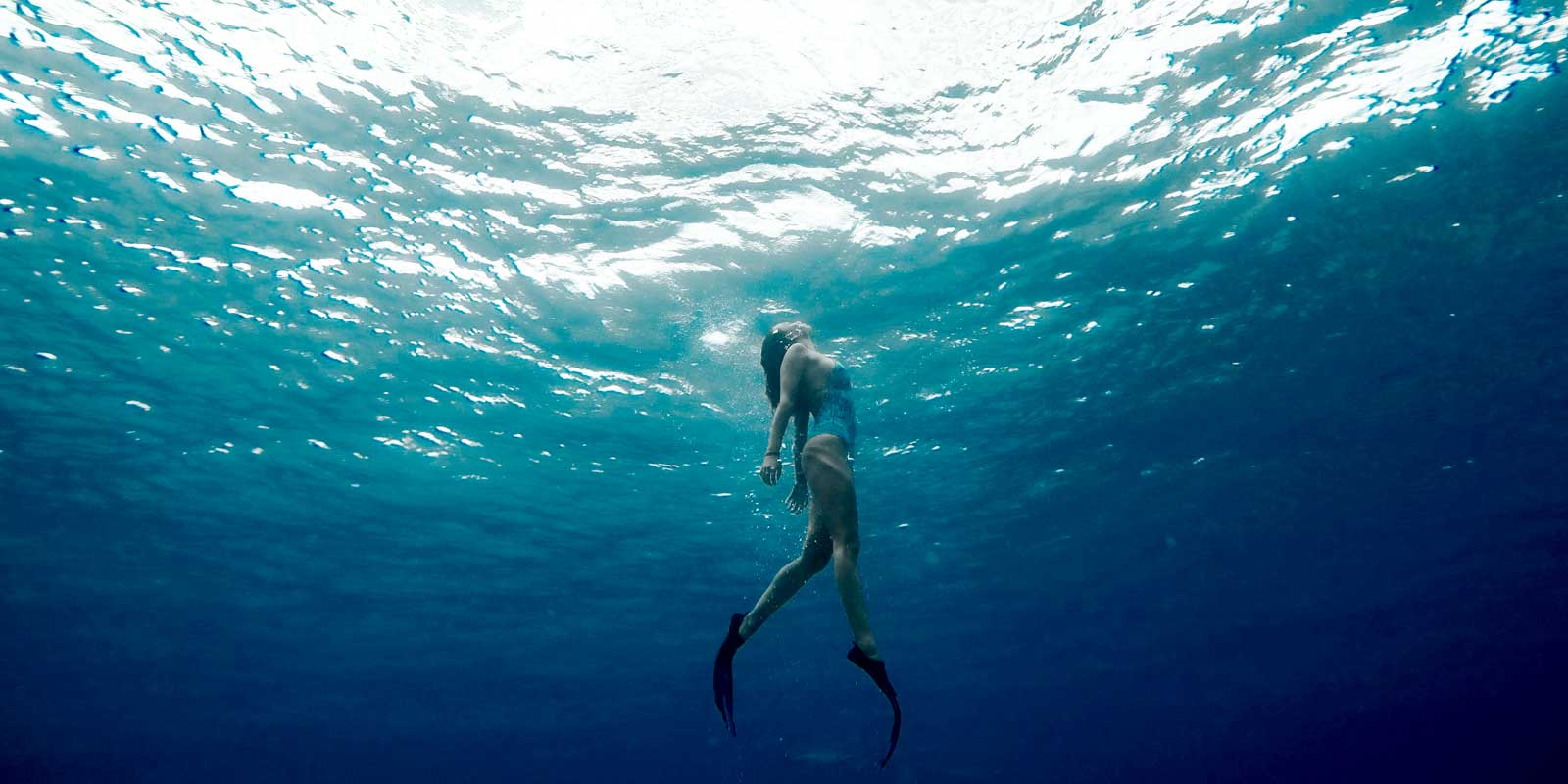 Water sports, like surfing, are probably the first activities that come to mind when deciding what things to do in Hawaii. It is a state made up entirely of islands, after all!
Boating in Hawaii
Whether you are looking to speed off on a speed boat à la James Bond or take a leisurely sail through the Hawaiian waters like Moana, Hawaii has plenty of boating opportunities. Kayaking and canoeing are also popular options.
Jump off cliffs in Hawaii
Cliff jumping is not for the faint of heart! It can be extremely dangerous, but if done under the right conditions and with proper safety measures, it can be quite a thrill.
I highly recommend partnering with a local tour company, as they can bring you to the best spots (safe, but still thrilling!) and teach you how to jump safely. Please do NOT cliff jump alone.
Deep sea fishing in Hawaii
Catch your dinner super fresh on a deep sea fishing trip. Hawaii is full of delicious seafood, such as mahi mahi, yellowfin tuna, and skipjack tuna, ready to grace your dinner plate.
Freediving in Hawaii
Freediving is similar to scuba diving, but there is no breathing equipment involved.
Divers train to hold their breath for long lengths of time in order to swim further under the water than you can with snorkeling.
This activity is more suitable for trained freedivers, but you can take lessons in Hawaii, too.
Get lost on a jet ski, just like DJ Khaled
Get your adrenaline rush and water fix all in one with this popular vacation activity. Renting a jet ski is fairly easy – just hook up with your hotel concierge to find one nearby. Your hotel might even have some on property!
Scuba diving in Hawaii
Hawaii is a gem of a location for scuba diving. There are lots of fish and sea animals to see, plus there are lots of plane and ship wrecks divers can explore.
As with freediving, there is some advanced training needed in order to scuba dive.
However, scuba diving lessons are available in many locations. I recommend asking your hotel concierge or travel agent for recommendations.
Snorkeling in Hawaii
Snorkeling is a great activity for those who want to test the waters of an undersea adventure, but aren't ready to jump into scuba diving or freediving.
It won't be hard to find a tour operator that offers snorkeling in Hawaii, as it doesn't require advanced knowledge to join.
Stand up paddleboarding in Hawaii
Stand up paddleboarding, aka SUP, has gained popularity over the past few years.
It can be tricky to get started with SUP, given that much of it is a balancing game. But, once you get going, it's like walking on water!
Learn to surf in Hawaii
Surfing is a way of life in Hawaii, so why not learn how to surf from some of the best!
Learning how to surf in Hawaii is a popular activity, some might even say touristy. But please don't let that dissuade you from hopping on a board!
Swimming in Hawaii
This one might seem obvious, but sometimes folks get so caught up in the other water sports, that they forget about swimming!
Whether it's the ocean, lake or pool, swimming in Hawaii can be quite relaxing, given the gorgeous scenery. Just think: sunset dips, afternoon swim breaks to cool off or lounging in a secluded lake or swimming hole.
What are your favorite things to do in Hawaii?