Ah Paris, the city of love! A city that immediately elicits romantic vibes and gushy feelings.
Whether you're visiting for a honeymoon in Paris or just on vacation with your boo, you'll definitely want to take advantage of Paris' romantic magic.
Not sure what to do? In this post, I'll share my top 10 tips on the most romantic things to do in Paris, France.
Visit the Love Lock Bridge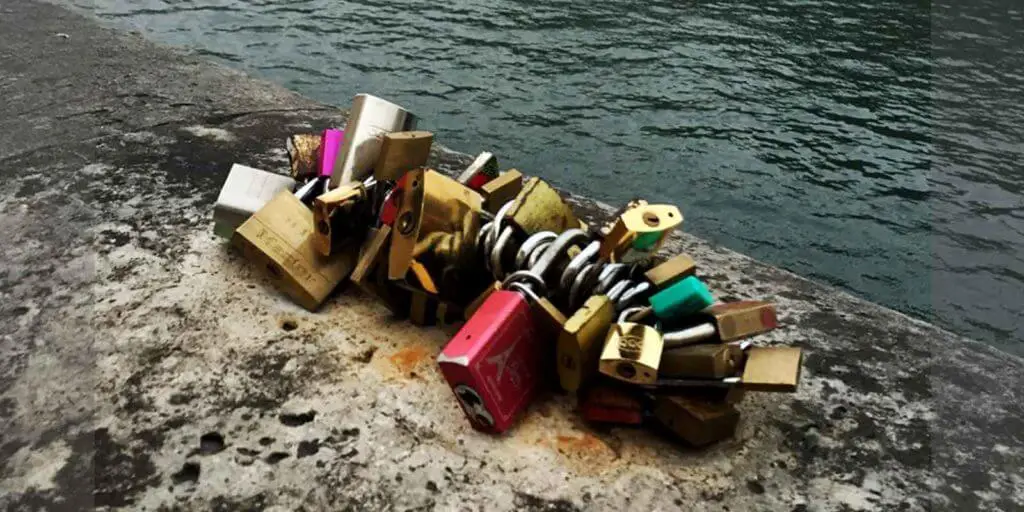 Since 2008, the Pont des Arts bridge in Paris was covered in padlocks left by lovers, somewhat like carving their initials in a tree.
While some saw the love locks as a nuisance, most saw the love locks as public art.
However, over the years, the weight of the padlocks caused structural issues with the bridge, and a portion of the railing collapsed into the Seine River.
The rails on the original Love Locks Bridge in Paris have since been replaced with panels to prevent new locks from being added.
Of course, no matter what the city does to prevent new locks from being added at the Pont des Arts bridge and elsewhere in Paris, locals and tourists find new spots to say "We were here."
Head on down to the Pont des Arts bridge to see if you can spot some of the new places where lovers have left their locks.
Until the city of Paris finds a way to allow the tradition to continue in a safe way, hold off on adding your own love lock.
TIP: Save yourself from sore feet by taking the Paris Metro on your hunt for love locks.
Watch the Eiffel Tower sparkle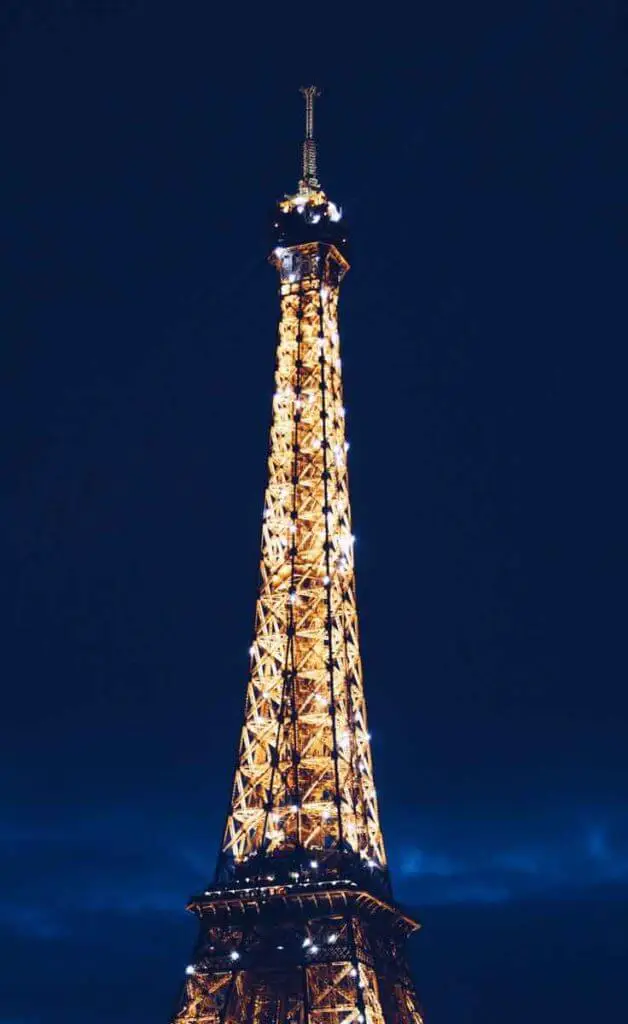 If you're looking for something to do at night, make your way to the Eiffel Tower to watch it sparkle.
Every hour, starting at dusk, the Eiffel Tower lights dance and sparkle like glitter.
It's a lovely sight to take in from Jardins du Trocadéro or from the top of the Arc de Triomphe.
Have dinner at a romantic restaurant in Paris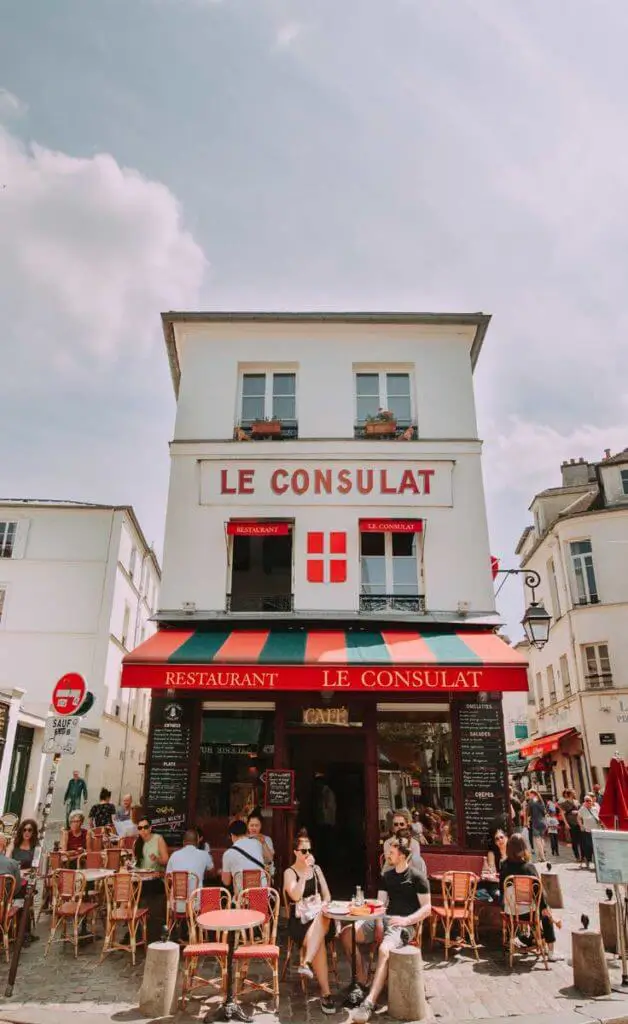 Get dressed up and treat yourselves to a fancy dinner for 2 at one of many romantic restaurants in Paris.
Restaurant le Jules Verne, aka the restaurant in the Eiffel Tower, is an easy pick with its spectacular views of Paris and delicious food.
Le Consulat, as seen above, is another excellent choice for a romantic meal in Paris.
It's in Montmartre, home to the Wall of Love, and features cozy outdoor seating.
Stroll through the parks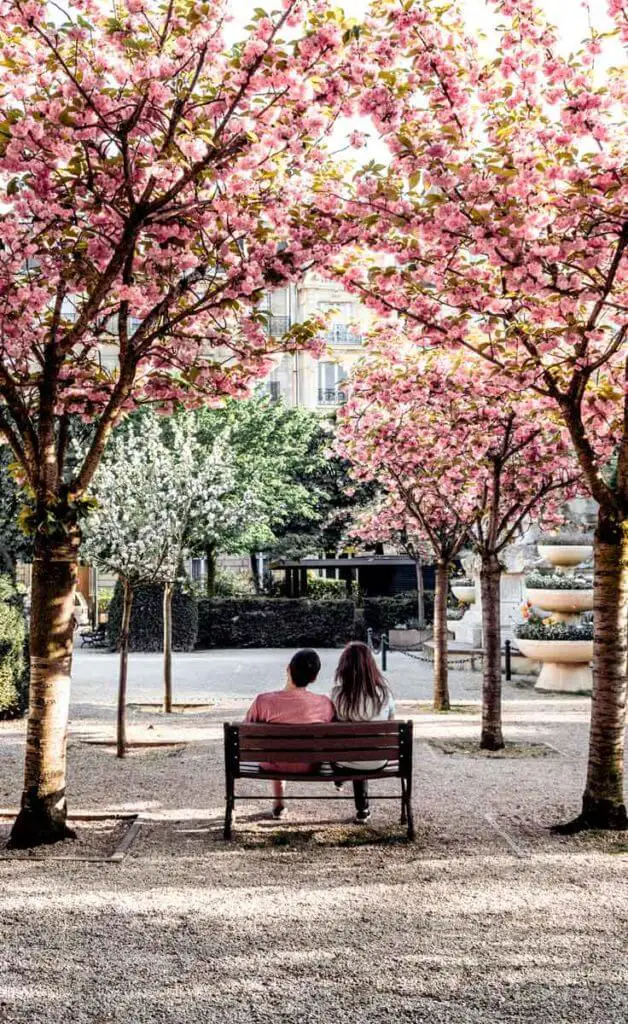 If you're visiting in the warmer months, spend an afternoon taking a leisurely stroll, hand in hand, through some of Paris' most beautiful gardens and parks.
Maybe you'll find a tree or 2 to hide behind to sneak a kiss or a snuggly selfie.
My favorite romantic park in Paris is Parc des Buttes-Chaumont.
This gorgeous park has lots of flowering cherry blossom trees, quaint bridges, and a lake with a small temple atop a large rock.
Explore a beautiful palace or castle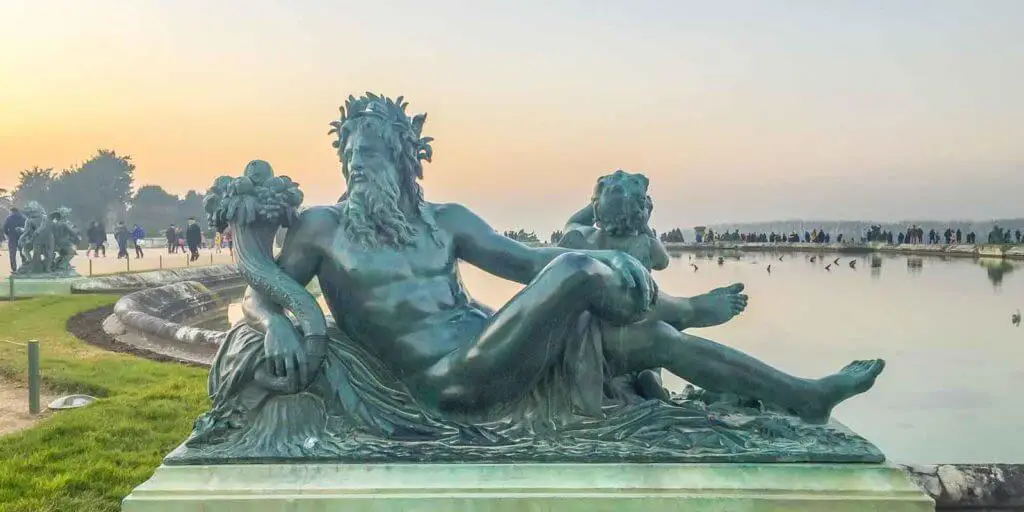 Spend a day at one of the many palaces near Paris, where you can pretend you're royals for a day.
The Palace of Versailles, once the home of the infamous Marie Antoinette, is my favorite pick for this romantic activity.
While the palace itself is lovely, visiting the Temple of Love is a must.
The Temple of Love, located away from the main palace, behind Petit Trianon, is an elegant structure with a replica of a statue of Cupid.
Legend says if you and your sweetheart kiss in the middle of the temple, your relationship will be strengthened.
Silly? Perhaps.
Fun? You bet!
Lastly, if you time your day right, you can watch the sunset over the lush landscape and gardens of Versailles. It can't get any more romantic than that!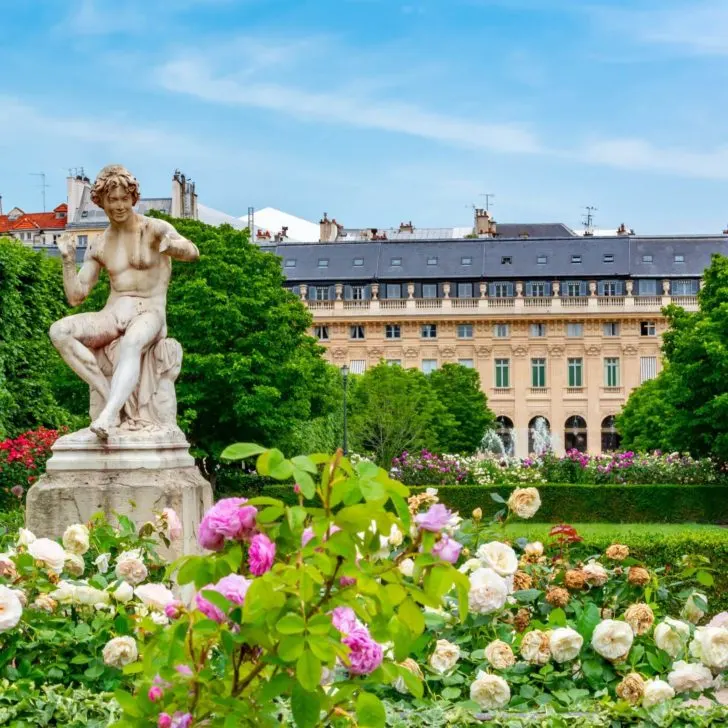 If you don't want to leave the city, Palais Royal in Paris also has beautiful gardens that you can walk through, hand-in-hand.
TIP: Many of the palaces in and near Paris are included as part of the Paris Museum Pass, a pre-paid Paris tourist card that can help you save money.
Do a sunset cruise on the Seine River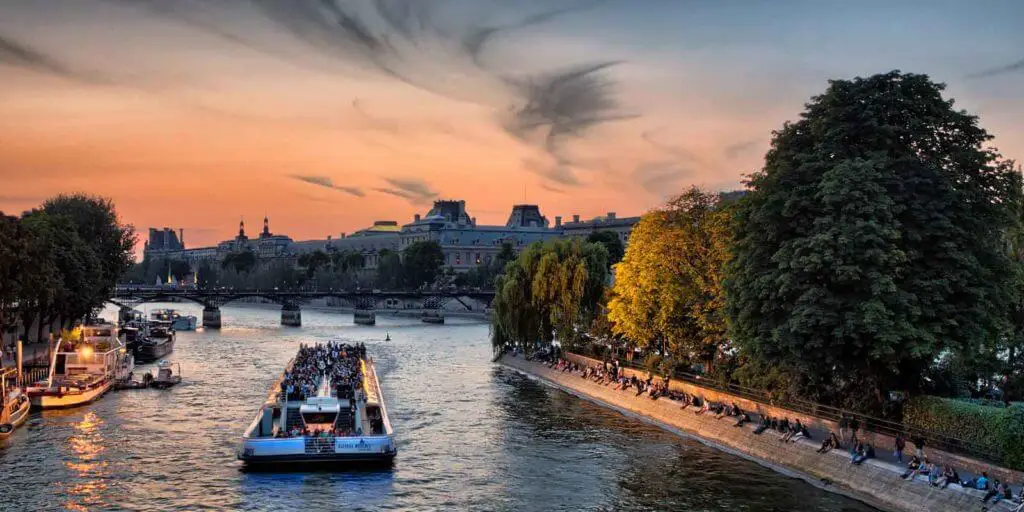 For a unique and romantic way to tour the city of Paris, join a river cruise along the Seine.
What makes this activity particularly romantic?
Many of these cruises include open-air rooftop seating, where you can also cuddle up and admire the view.
I recommend​ ​Bateaux Parisiens​ for Seine River cruises, as their boats have the coveted open-air rooftop seating.
Bateux Parisiens also offers dinner cruises, though you'd be inside for the majority of the tour.
Admire the best views in Paris together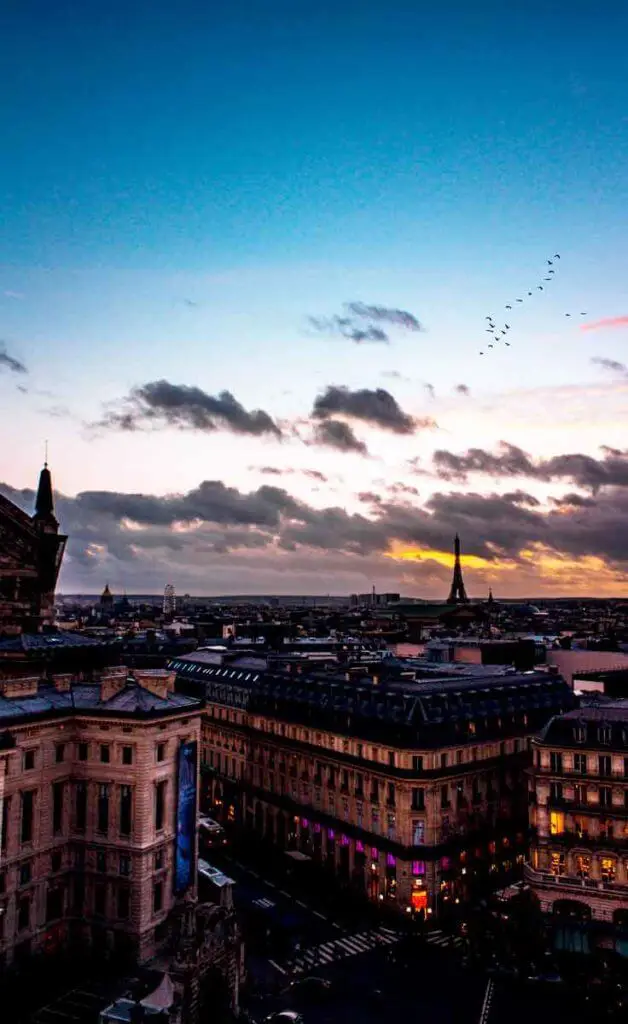 Admire the gorgeous Paris skyline with your sweetie from one of Paris' many spectacular viewing spots.
The 5 best views in Paris can be found at:
Arc de Triomphe
Eiffel Tower
Mont Valérien
La Basilisque du Sacré-Cœur
Tour Montparnasse.
The only dilemma is deciding whether you want a daytime or nighttime view!
See the Wall of Love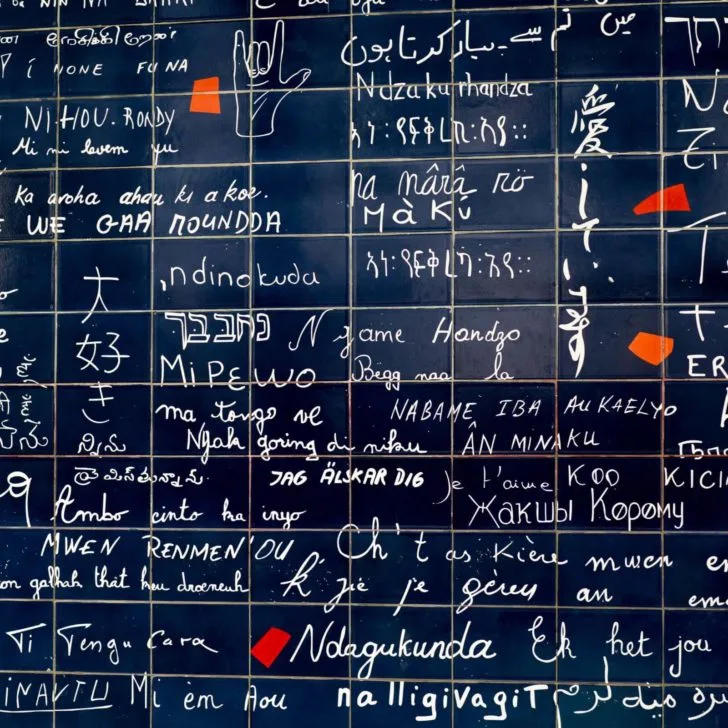 Visit the Wall of Love mural in Square Jehan Rictus park in Montmartre, a hip neighborhood in Paris, with your loved one. This mural features the phrase "I love you" in 250 languages. So cute!
Don't forget to get a selfie with the Wall of Love to remember your visit.
While you are in Montmartre, head on over to the Sacré-Coeur Basilica to see stunning views of Paris or find a cozy cafe for a romantic meal or break to share a sweet snack.
Musée de la Vie romantique
Located at 16 Rue Chaptel, Montmarte
The Musée de la Vie romantique, or Museum of the Romantic Life, is a small museum in the Montmarte neighborhood of Paris.
It is dedicated to romantic literature and art from the romanticism movement around 1800-1850 in Europe.
While this movement was more broadly about freedom and waxing poetic about the past, it doesn't exclusively represent the lovey-dovey kind of romance. That said, it does creep its way in often.
Entry to permanent collections is free, while entry to temporary exhibits has an entrance fee. The fee can change depending on what the exhibit is or by, so check their website (linked below) for the latest scoop.
Romantic photo shoot in Paris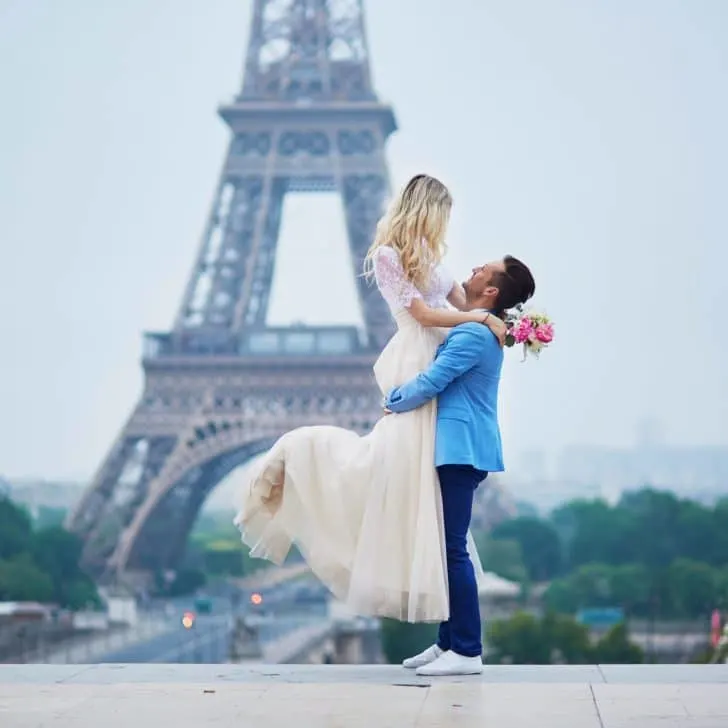 For a unique souvenir of your trip, schedule a romantic photo shoot in Paris.
Even if you're not on a honeymoon in Paris or newly engaged, a photo shoot is a fun way to see a few sights and get non-selfie photos of you and your boo.
Bonus points if you can get yourselves up early on vacation for sunrise photos with the Eiffel Tower in the background.
Totally worth it.
If you're not sure how to find a photographer in Paris, I recommend checking out Flytographer.
Flytographer is a company that helps match you with photographers in popular vacation spots, like Paris.
And I hope I shouldn't have to mention this, but NO, I'm not getting paid or compensated in any way to send you their way.
Have a picnic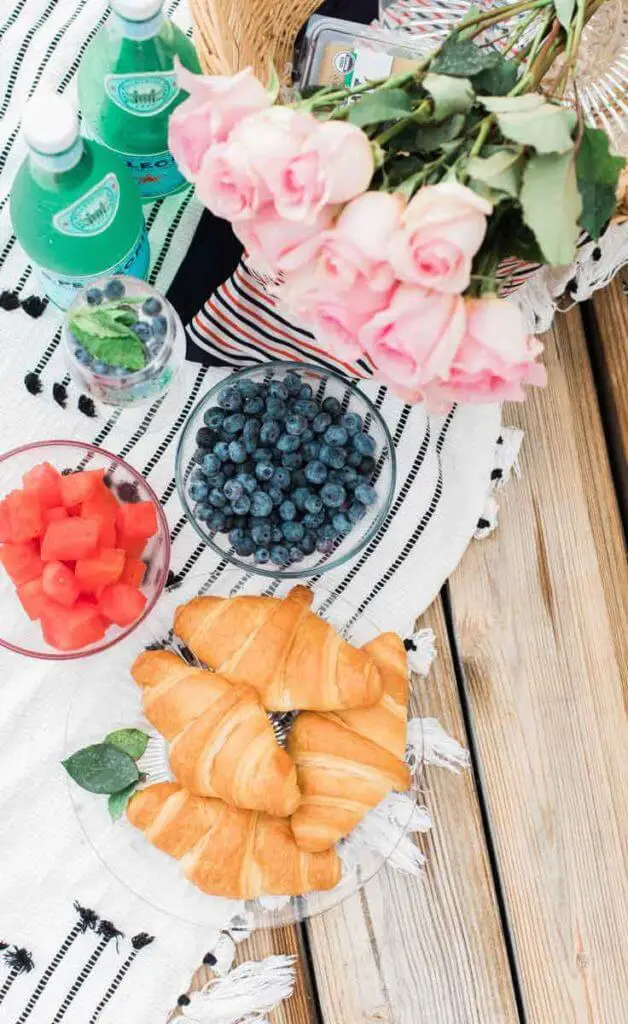 An activity you'll often see in Paris is couples and groups enjoying picnics in Paris' best parks and gardens.
Grab a blanket and few simple foods, like a baguette, french cheese, prepared salads, some sweet macarons, and sparkling water, and head to a park with your sweetie.
Picnic delivery
If you're looking for something more formal or less work, a number of cafes and independent businesses offer picnic kits for sale.
Zia Paris is one such café that provides pick-up service for Parisian picnic kits.
Located just blocks away from Parc du Champ-de-Mars, Zia offers picnics for 2, 4, or 6 people.
Zia's picnic kits include a baguette, cheese, charcuterie, wine or champagne, water, dessert, and a salad or sandwich made with seasonal ingredients.
A blanket, cutlery, and other necessities are also provided – all reusable or recyclable.
If you're setting up a Parisian picnic as part of an engagement, honeymoon, or anniversary, definitely check out Love Picnic.
Love Picnic also operates at the Champ de Mars park.
They have 4 menu options, as well as an add-on option for a photoshoot.
Love Picnic also specializes in helping you document a proposal – making your engagement surely one to remember.
Can you drink wine in Paris parks?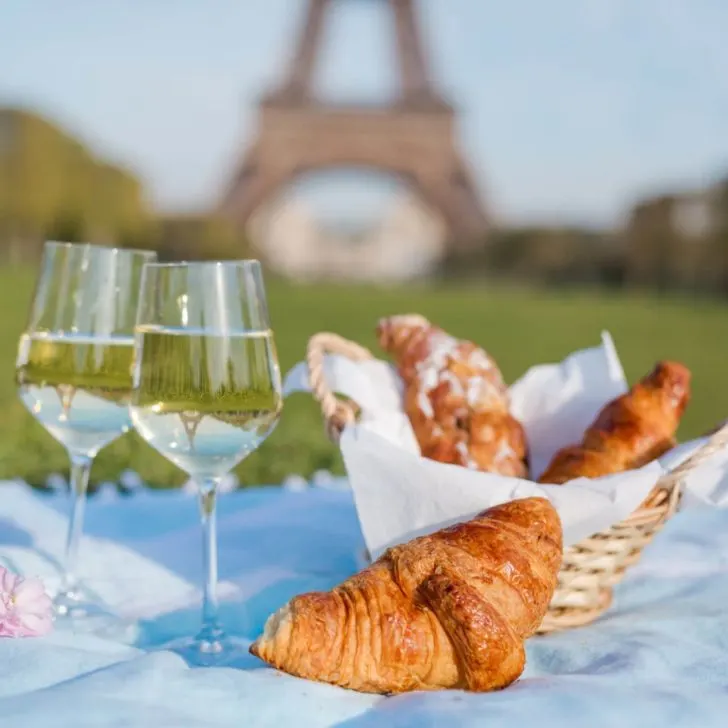 Before you set off on your picnic, be aware that Paris has some confusing laws when it comes to drinking wine in public.
Drinking in public is allowed in some areas of Paris, but not all.
Plus, it is often not allowed at night. In addition, open glass containers in general are not allowed in most parks.
In short, if you want to enjoy wine on your picnic in Paris, do so in the afternoon (before 4pm) and be sure to put your wine in a thermos or other non-glass container.
Best spots to picnic in Paris, France
Last up – location is everything for your picnic in Paris!
A few of the best spots for a picnic in Paris include:
Parc du Champ-de-Mars near the Eiffel Tower
Bois de Vincennes nearby the Château de Vincennes
Jardin des Tuileries nearby the Louvre and Musée de l'Orangerie
Jardin de Luxembourg, on the grounds of Luxembourg Palace
Bois de Boulogne
I picked these spots to picnic in Paris as they all have lovely scenery, excellent people watching, and are close to big attractions in Paris that you might be interested in visiting.
See a cabaret show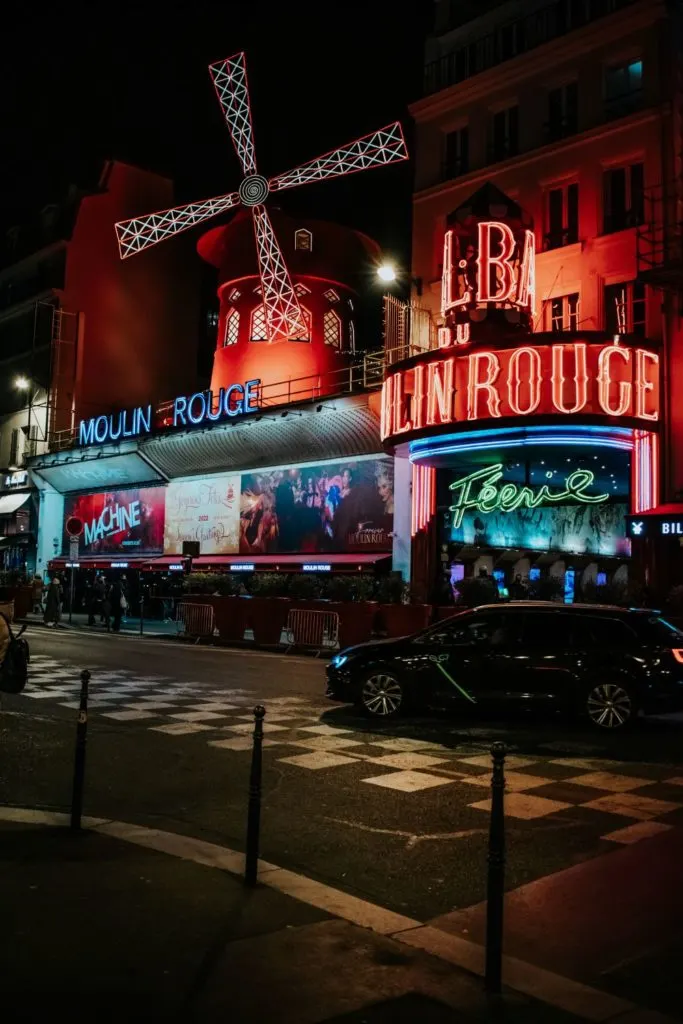 Head to a cozy nightclub for date night to remember: a cabaret show!
Cabarets are always performed in nightclubs, making it far more intimate than a show in a stadium or even a standard theater.
Perhaps the most well-known cabaret in Paris is Moulin Rouge, which introduced the French can-can dance. For a more seductive show, opt for Crazy Horse.
What is one of your favorite romantic things to do in Paris?
Let me know what your favorite romantic activities in Paris are in the comments below.
---
About the author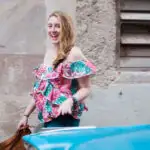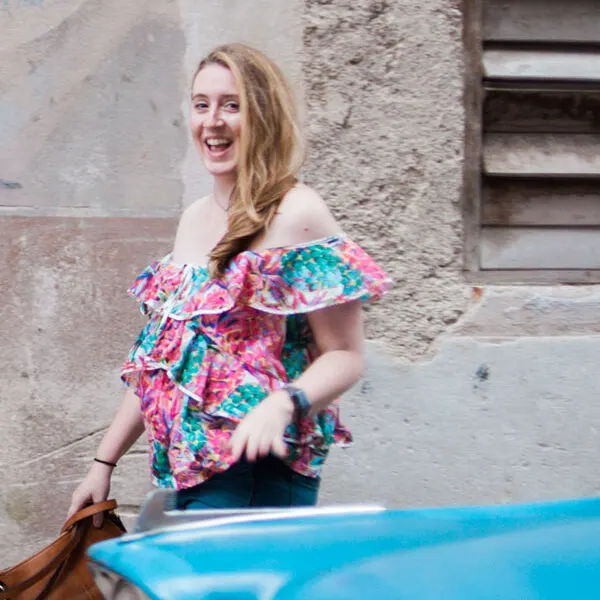 Meg Frost is a Boston-based travel blogger that helps people embrace technology to make vacation planning and traveling wicked easy, affordable, and fun.
She holds an M.A. in Journalism from Northeastern University and B.S. in Communication & American Studies from University of Miami.
---
This post was originally published February 9, 2017. It was last updated January 20, 2023.