I've written about all the great restaurants in Bar Harbor, but today we're going to get more specific: the best coffee shops!
This quaint town may be small, but it is full of unique espresso joints and cozy cafés that offer an array of fantastic drinks to satisfy any caffeine craving.
Whether you're looking for the perfect pour-over for a morning pick-me-up or a unique latte creation to make your afternoons more delightful, this list has got you covered!
So read on to discover the 10 best coffee shops in Bar Harbor, Maine.
2 Cats Cafe
Address: 130 Cottage St
Phone: (207) 288-2808
If you're a breakfast-goer or brunch enthusiast but want to ensure you can get a good cuppa with your meal, 2 Cats Café is where you want to go.
This adorable B&B and restaurant is always packed and for good reason. The food is delicious and filling and the coffee is actually good!
Their coffee menu is pretty simple – hot or iced, coffee or espresso, with a few flavors that can be added. Plus they have hot chocolate and tea.
I'm not sure if they do take-out for just coffee, as I've never tried to do so – so if that is what you're after, you may want to call ahead or just try another spot on this list.
Acadia Perk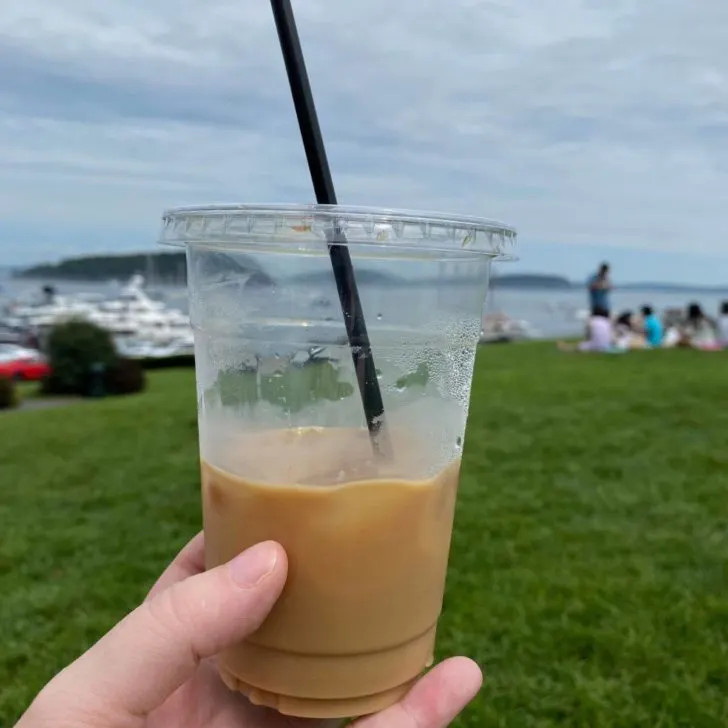 Address: 5 Firefly Ln
Phone: (207) 288-9306
If you're looking for your own Central Perk from the hit TV show Friends in Bar Harbor, look no further than Acadia Perk!
This local favorite promises to make you feel right at home with friendly baristas and a wide selection of delicious coffees and other hot drinks.
They are very well known for their inventive espresso drinks, both hot and iced, such as their famous blueberry macchiato. I mean, when in Bar Harbor, right?
Acadia Perk also sells their own coffee beans, which you can buy whole or ground.
Plus they are right next to one of my favorite ice cream shops, Mount Desert Island Ice Cream.
A Slice of Eden
Address: 59 Cottage St
Phone: (207) 801-9232
This cozy counter-service spot is perfect for an on-the-go breakfast or lunch.
Perhaps you need to fuel up with a breakfast sandwich or bagel and a hot coffee before a whale-watching tour or a hike in Acadia National Park.
Or maybe you want an iced coffee and a sandwich on your way for an afternoon at Sand Beach.
Whatever it is you're after, A Slice of Eden lets you customize the heck out of your order with a variety of spreads, toppings, coffee syrups, etc – and that is what I love about this place!
The Cup at Sweet Pea's Cafe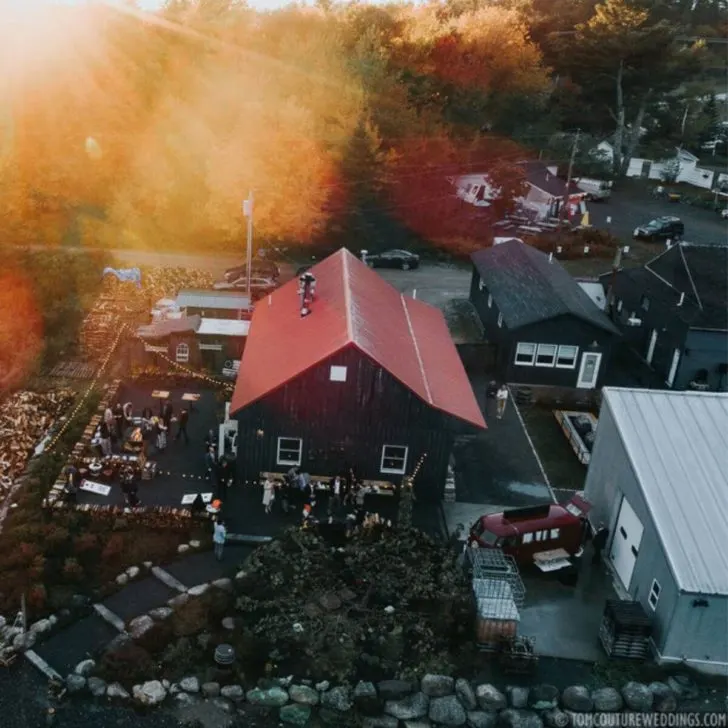 Address: 854 ME-3
Phone: (207) 801-9099
The Cup at Sweet Pea's is an absolute hidden gem in Bar Harbor. It often gets overlooked because it's not in the bustling downtown area. However, it is absolutely worth a stop, a detour even!
This lovely coffee shop is technically 3 stops in one: Bar Harbor Cellars (a winery), Sweet Pea's Cafe (a farm-to-table restaurant), and The Cup at Sweet Pea's Cafe.
What I love about this place is that in addition to the obligatory blueberry-flavored drinks and treats, they have other fun flavors, like lavender and eggnog, too.
Plus, in addition to pastries, you can get delicious sandwiches made with fresh ingredients.
Before you go, be sure to head into Bar Harbor Cellars to grab a bottle of local wine to take home.
Coffee Matter
Address: 1501 ME-102
Phone: (207) 288-4403
Over in my favorite part of Bar Harbor, Town Hill, is Coffee Matter and Mother's Kitchen.
If you're a real coffee connoisseur, you'll love this place! You can get pour-over, drip, French press, or nitro coffee.
Plus they have an assortment of espresso drinks, as well as Bullet-style coffee and matcha.
Stop by in the morning for a pastry and coffee or in the afternoon for a sandwich or soup and a coffee for the ultimate pick-me-up.
They have several vegetarian and vegan items on their menu.
The Stadium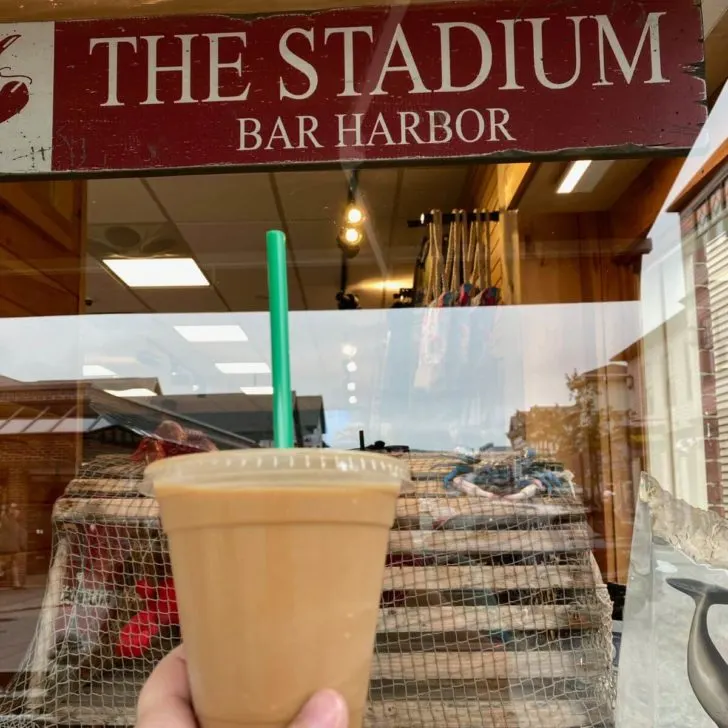 Address: 62 Main St
A good 5 years ago or so, there weren't many places to get a great cup of coffee or a latte in Bar Harbor – except at this tiny coffee shop called The Coffee Hound.
I was heartbroken when it closed, but when I returned for a visit in 2021, I learned that it had just merged with their sister restaurant, The Stadium!
Now The Stadium has all of your favorite drinks from this lovely shop, plus a larger food menu AND tons of excellent souvenirs (far better souvenirs than most of the shops, in my opinion).
TIP: The Stadium often makes popovers in the afternoon – but you can reserve yours in the AM! So if you don't want to head all the way over to Jordan Pond House, get one here with an iced cold brew or latte.
Sunrise Cafe
Address: 1 West St
Phone: (207) 288-3948
Another great option for a good coffee or espresso drink in downtown Bar Harbor is Sunrise Cafe.
They have a wide range of coffee-based drinks on their menu, from a regular cup of coffee to a flat white, as well as other options like tea and sundae-like milkshakes.
They're best known, however, for their crepes and blueberry pie. And if you ask me, both of those go perfectly with some java.
Their menu also includes breakfast sandwiches, avocado toast, lobster rolls, and regular sandwiches.
Pink Pastry Shop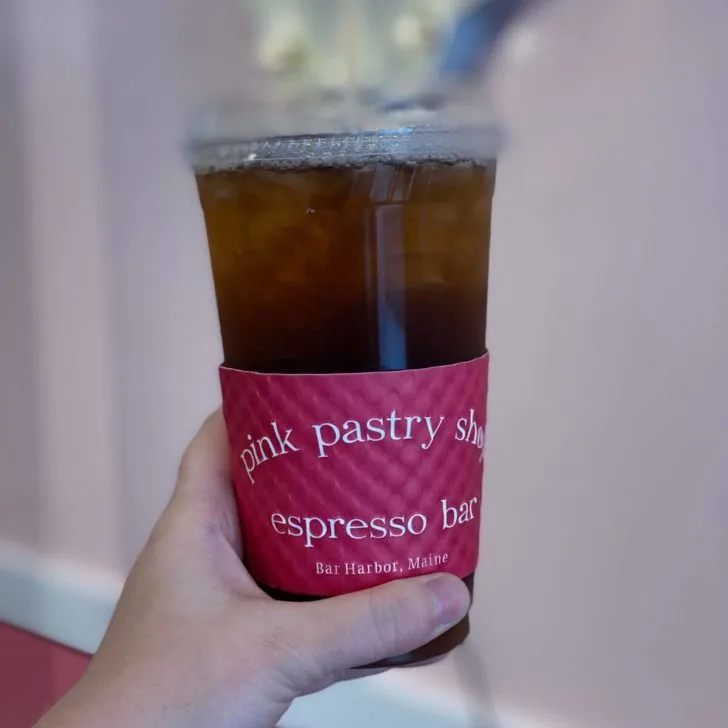 Address: 14 Cottage St
Phone: (207) 288-0110
As its name suggests, Pink Pastry Shop is all about pastries and baked goods.
They've got cookies, cake, croissants, cheesecake, quiche, muffins, and much more. They even have whoopie pies because after all, they are Maine's official state treat!
Plus they serve a variety of espresso drinks, coffee, lemonade, and iced tea.
On my visit, I got a broccoli quiche and a blueberry iced tea for a quick lunch before a hike.
It was the perfect amount of fuel I needed to power through my hike and the blueberry iced tea was super refreshing and tasty.
Hulls Cove General Store
Address: 3 Breakneck Rd
I'm probably going to get a lot of flack for this one, but it's a bit nostalgic for me!
The general store at the Hulls Cove General Store (which is also a gas station and post office) has a self-serve coffee bar with several flavors of Green Mountain Coffee.
A lot of the times when my family and I are there, we're camping. In tents. Without electricity.
Which means if we want hot coffee, we either have to get a fire going or pull the gas stove out to make a pot. It's a pain in the you-know-what.
So sometimes we just hop in the car and make our way here for coffee and a breakfast sandwich or giant muffin (which are actually pretty freakin' good).
It's nothing fancy, but it's quick, cheap, and open earlier than everywhere else on this list – and sometimes this is exactly what you need in the morning to get going!
Mount Desert Bakery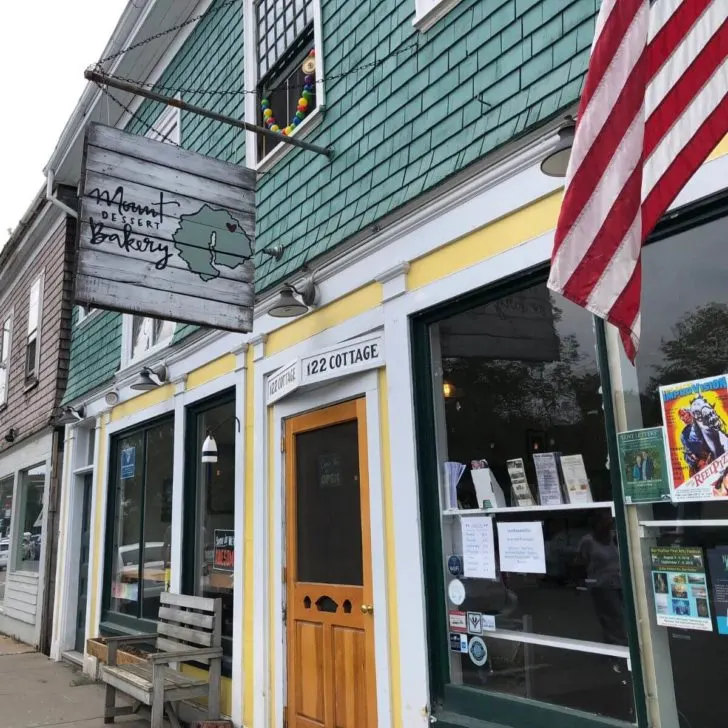 Address: 122 Cottage St
Phone: (207) 801-9191
I love this little place in downtown Bar Harbor called Mount Dessert Bakery, which is obviously a play on its location on Mount Desert Island. Love a good pun! They have a ton of breakfast and lunch options and of course, baked goods.
If you're not from New England, try the PB & Fluff sandwich. Us New Englanders call this a fluffernutter. It's a childhood classic made with marshmallow spread and peanut butter. I don't think anyone else in the area serves this!
They also have excellent paninis, cold sandwiches, and salads on the menu, plus bagels and breakfast sandwiches.
As for coffee, they have all your typical espresso-based drinks, plus lots of different flavored syrups to mix and match.
Choco-latte Cafe
Address: 240 Main St
Choco-latte Cafe is another excellent coffee shop in Bar Harbor.
They use locally roasted coffee beans and specialize in Mexican food and drink, which is an unexpected and very welcome twist!
I recommend the house latte, the Choco-latte, which is a latte with chocolate syrup, cinnamon, nutmeg, and ginger.
They also have a variety of hot chocolate, tea, iced tea, and lemonade drinks.
Aside from that, they have a small Mexican-based food menu with items like quesadillas and tacos.
They also make and sell homemade, bottled iced coffee concentrate – I wish they sold it down here in Boston!
Lastly, if you're in a rush, you can order your coffee and snack ahead of time online and it'll be ready for you to pick up with no need to wait in line.
What are your favorite coffee shops in Bar Harbor?
Whether you're in the mood for lattes, a cup of joe or a sweet pastry, Bar Harbor has something for everyone.
From 2 Cats Cafe to Choco-Latte, the options for coffee are plentiful and full of delicious surprises.
Now that you know about the greatest coffee shops in Bar Harbor, it's time for you to get out there and try them all!
What are your favorites? Stop by one of these great places and find out! Then grab a coffee (or two!) and tell us about it in the comments below.
Enjoy your stay in Bar Harbor and check out these guides if you need more help planning your trip:
---
About the author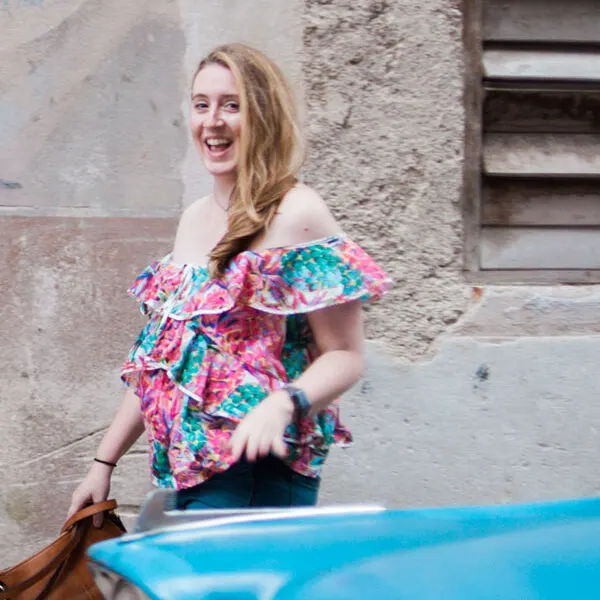 Meg Frost is a Boston-based travel blogger that helps people embrace technology to make vacation planning and traveling wicked easy, affordable, and fun.
She holds an M.A. in Journalism from Northeastern University and B.S. in Communication & American Studies from University of Miami.
---