My family has this thing where we have to get ice cream pretty much every night while we're on vacation.
Growing up we would vacation in Bar Harbor a lot since we had family there – and even when it was cold at night, we'd throw on a hoodie and end up somewhere for a scoop or two.
For a small vacation town, Bar Harbor actually has quite a few good spots for ice cream – and over the years, we've tried them all.
From classic flavors like vanilla and mint chocolate chip to unique flavors like lobster, there's something for everyone when it comes to frozen treats and desserts in this lovely New England vacation town.
Keep reading for the scoop on where to find the best ice cream in Bar Harbor, Maine.
Ben & Bill's Chocolate Emporium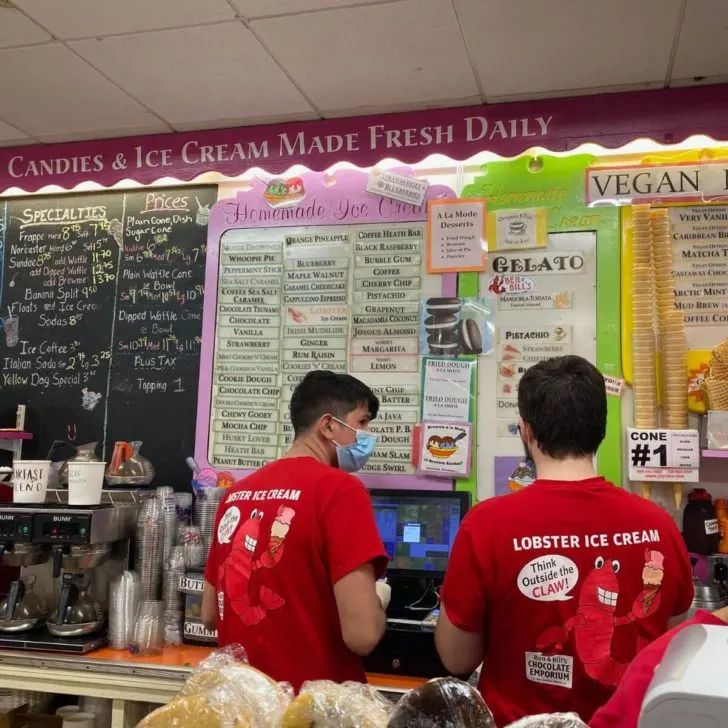 Address: 66 Main St
Phone: (207) 288-3281
Whether you want ice cream or some candy, a stop at Ben & Bill's Chocolate Emporium is a must.
This charming store offers more than just your run-of-the-mill flavors – they've got lobster ice cream!
It may sound strange, but lobster ice cream is surprisingly delicious. It has a perfect balance of lobster and creamy vanilla goodness and is sure to exceed all your expectations and have you wanting more.
If you're up for something different, but not quite as adventurous as lobster, I recommend the moose droppings, blueberry, peppermint stick, or whoopie pie flavors.
Brrrr Harbor
Address: 1317 State Hwy 102, Town Hill
So, it's technically not ice cream – but shave ice from Brrrr Harbor will cool you down just the same.
And you're probably thinking – Meg, wrong island! Shave ice is from Hawaii!
But nope, Bar Harbor has its own shave ice spot and it's a delicious, refreshing way to beat the Summer heat.
Customers can choose from a variety of flavors, such as classic strawberry and mango or more unique offerings like Maine maple, blueberry, chai, s'mores, and pumpkin pie.
This shop is located over in the Town Hill section of Bar Harbor, but there's some cute antique shops that way, plus the Atlantic Brewery, so you can make an afternoon of it.
Jordan Pond Ice Cream & Fudge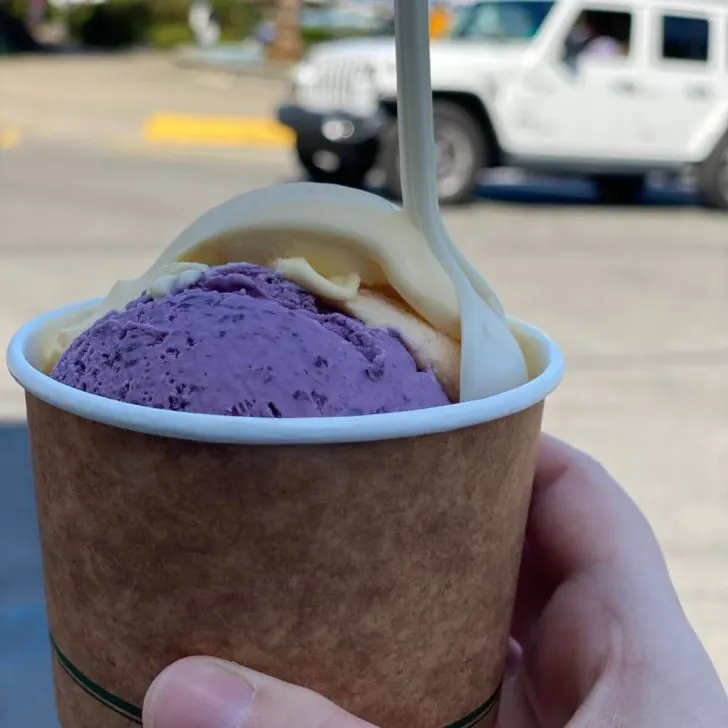 Address: 45 Main St
Phone: (207) 288-2422
For a truly special treat, head to Jordan Pond Ice Cream & Fudge.
Choose from delicious peach or blueberry ice cream or other fun flavors that are sure to bring a smile to your face.
Before you checkout, get some homemade fudge to take home with you, too!
CJ's Big Dipper
Address: 150 Main St, #1
Phone: (207) 288-2128
If you want something blueberry flavored, head to CJ's Big Dipper. They have blueberry soft serve, regular ice cream, slushies, and blueberry pie slices (which, of course, you can get with ice cream on top)!
They also have 30+ more flavors available if blueberry isn't your jam. Plus, they also have lots of non-dairy and gluten free options available.
From traditional vanilla to blue raspberry slush to specialty sundaes, CJ's Big Dipper is sure to make all your ice cream dreams come true in a sassy and unique way.
Mount Desert Island Ice Cream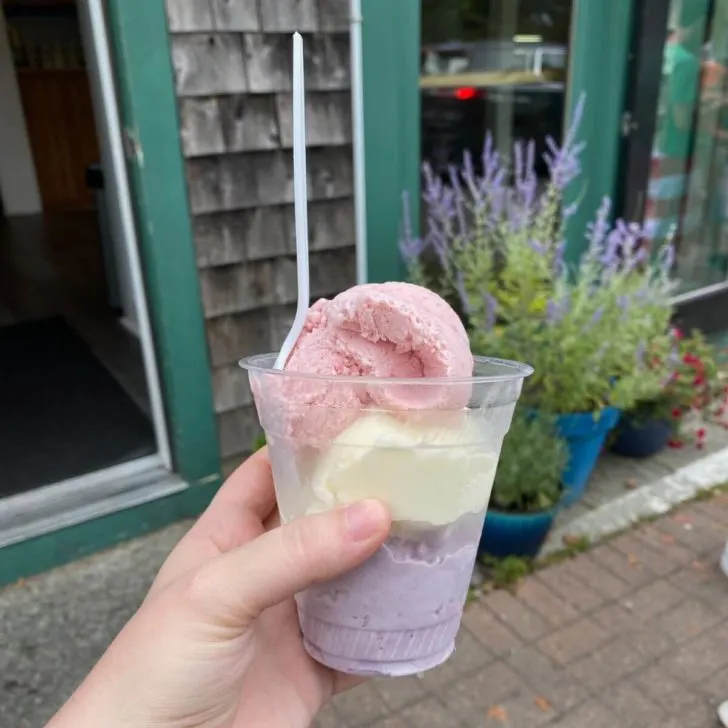 Address: 7 Firefly Ln & 325 Main St
Phone: (207) 801-4007 & (207) 801-4006
Mount Desert Island Ice Cream offers dozens of unique flavors, from classic favorites like chocolate and strawberry to more imaginative varieties such as Butterbeer, pumpkin cheesecake, and sea salted caramel.
Not only does this legendary spot have unbeatable flavor combinations, but their creamy texture is perfect for satisfying your most intense ice cream cravings.
Plus, if you can't decide what to get, you can get a sampler dish with several flavors to share.
This place is so popular, it has two locations in Bar Harbor, as well as in Portland (Maine), DC, and Matsumoto, Japan!
Udder Heaven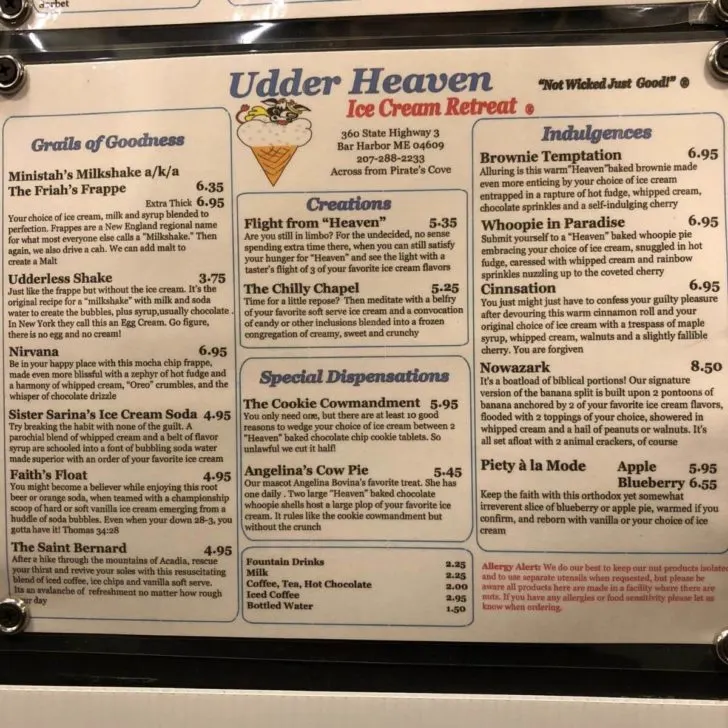 Address: 369 ME-3
Phone: (207) 288-2233
Another great ice cream spot in Bar Harbor is Udder Heaven, located across the street from Pirate's Cove Adventure Golf.
My family and I always go to Pirate's Cove at least once and head here afterward.
They have tons of fun flavors like lemon ginger, key lime pie, peanut butter and jelly, and Grapenut. Plus you can get milkshakes, floats, whoopie pies, pie slices, or cotton candy.
And if you want the full experience, be sure to turn your ice cream order into one of their famous sundaes!
Where are you going to get ice cream in Bar Harbor?
All of these shops offer some of the best ice cream around and Bar Harbor would not be complete without them.
So what are you waiting for? Grab your wallets and let's go get some ice cream!
---
About the author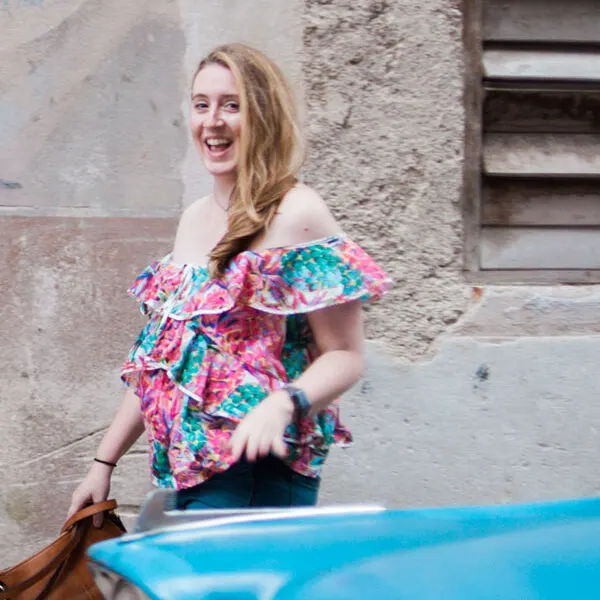 Meg Frost is a Boston-based travel blogger that helps people embrace technology to make vacation planning and traveling wicked easy, affordable, and fun.
She holds an M.A. in Journalism from Northeastern University and B.S. in Communication & American Studies from University of Miami.
---
This post was originally published March 4, 2023. It was last updated September 22, 2023.