Given that Bar Harbor, Maine has blossomed into quite the foodie scene, it's also a great place to enjoy a handcrafted cocktail, locally made brews, and bottles of blueberry wine.
If you're looking for an afternoon adult beverage or nightcap, head to one of these bars in Bar Harbor, Maine.
Atlantic Brewing Company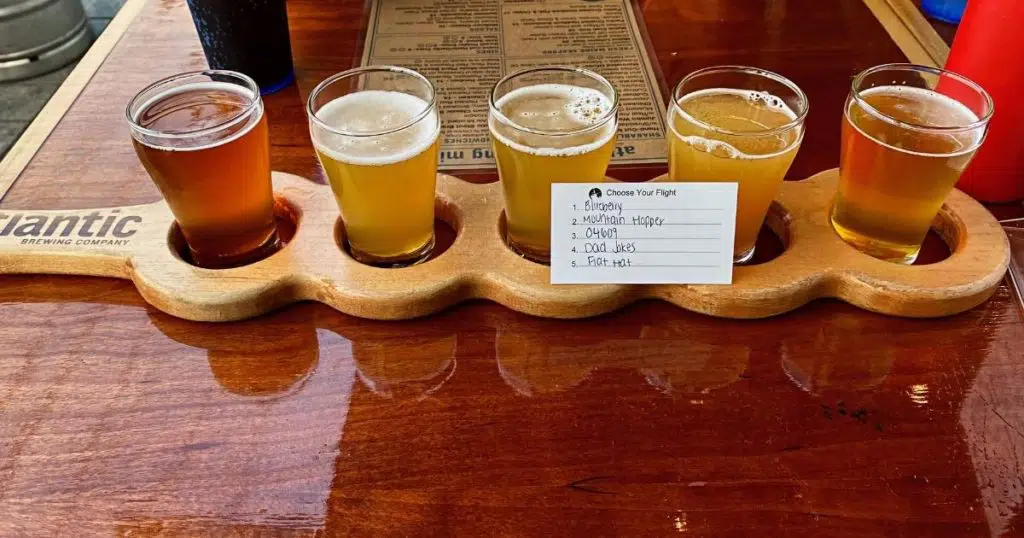 Atlantic Brewing Company hosts a free tour of their brewery 3 times a day in the afternoon from May to October.
The tour includes a free tasting of their beer, as well as flavored soda, like blueberry.
You can also visit their downtown Bar Harbor location, where they serve pub fare and small batch brews.
I recommend getting a beer flight, where you can choose a pre-made flight or choose your own.
Bar Harbor Cellars
Bar Harbor Cellars is located on Sweet Pea Farm, where they make their own wine.
I highly recommend buying a bottle of one of their blueberry wines, which make an excellent souvenir.
Finback Alehouse
Finback Alehouse is a gastropub in downtown with excellent food and craft brews. They also offer happy hour specials and dinner.
Try the house-made cold brew tequila as a shot after chowing down on one of their delicious meals.
Fogtown Brewing Company
Fogtown Brewing opened in Ellsworth in 2017 and later opened a tap room in downtown Bar Harbor where you can try their tasty brews alongside delicious food.
Their Bar Harbor location is open for lunch and dinner. On Sundays, they are open for breakfast only.
Geddy's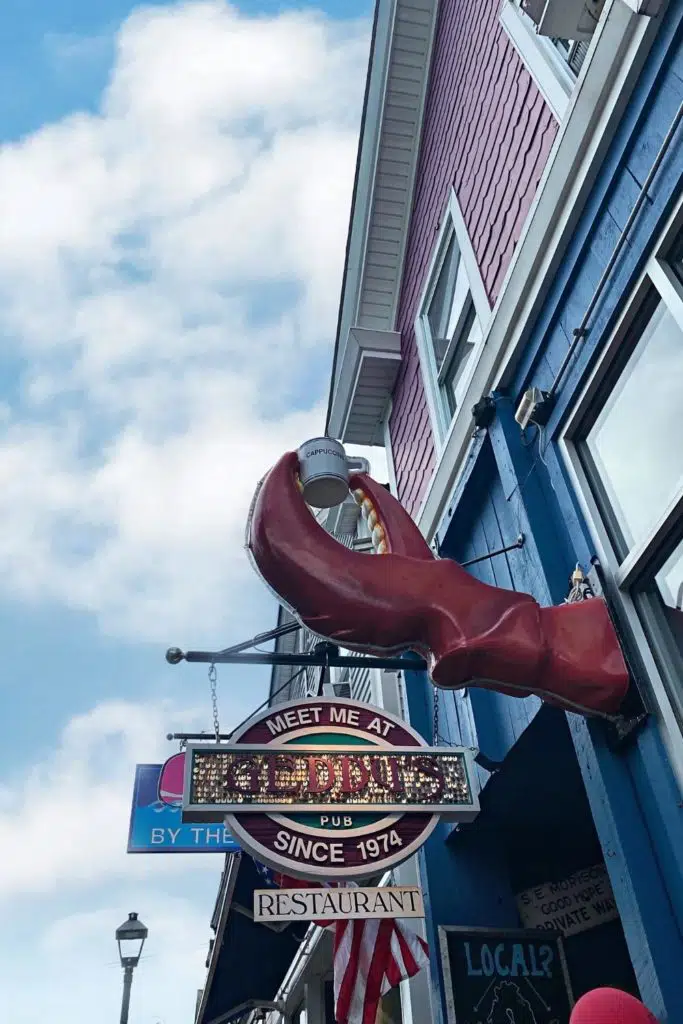 Geddy's is a funky pub in downtown with a great selection of local brews. They're open for lunch and dinner and feature locally caught seafood.
Geddy's is famous for their Volcano Bowl cocktail, which has vodka, gin, brandy, amaretto, Bacardi 151, mixed with pineapple and orange juice, then LIT UP!
Not what you'd expect at a New England bar, but like I said, it's a funky place!
Ivy Manor Inn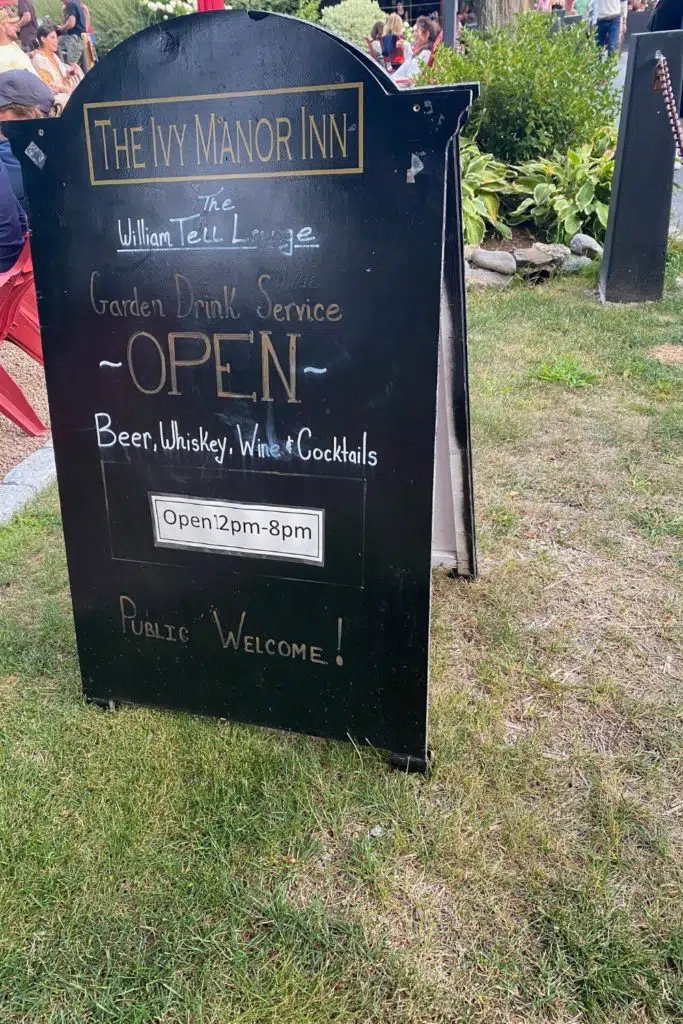 If you're more of a wine and snacks person, head to Ivy Manor Inn for Happy Hour on the Lawn.
It's the perfect spot to unwind with a drink and people watch before heading to dinner.
P.S. Yes, it's open to non-guests. So if you can't snag a room here, check out my post about the best hotels in Bar Harbor for more ideas on where to stay.
Jalapeños Cantina & Mexican Grill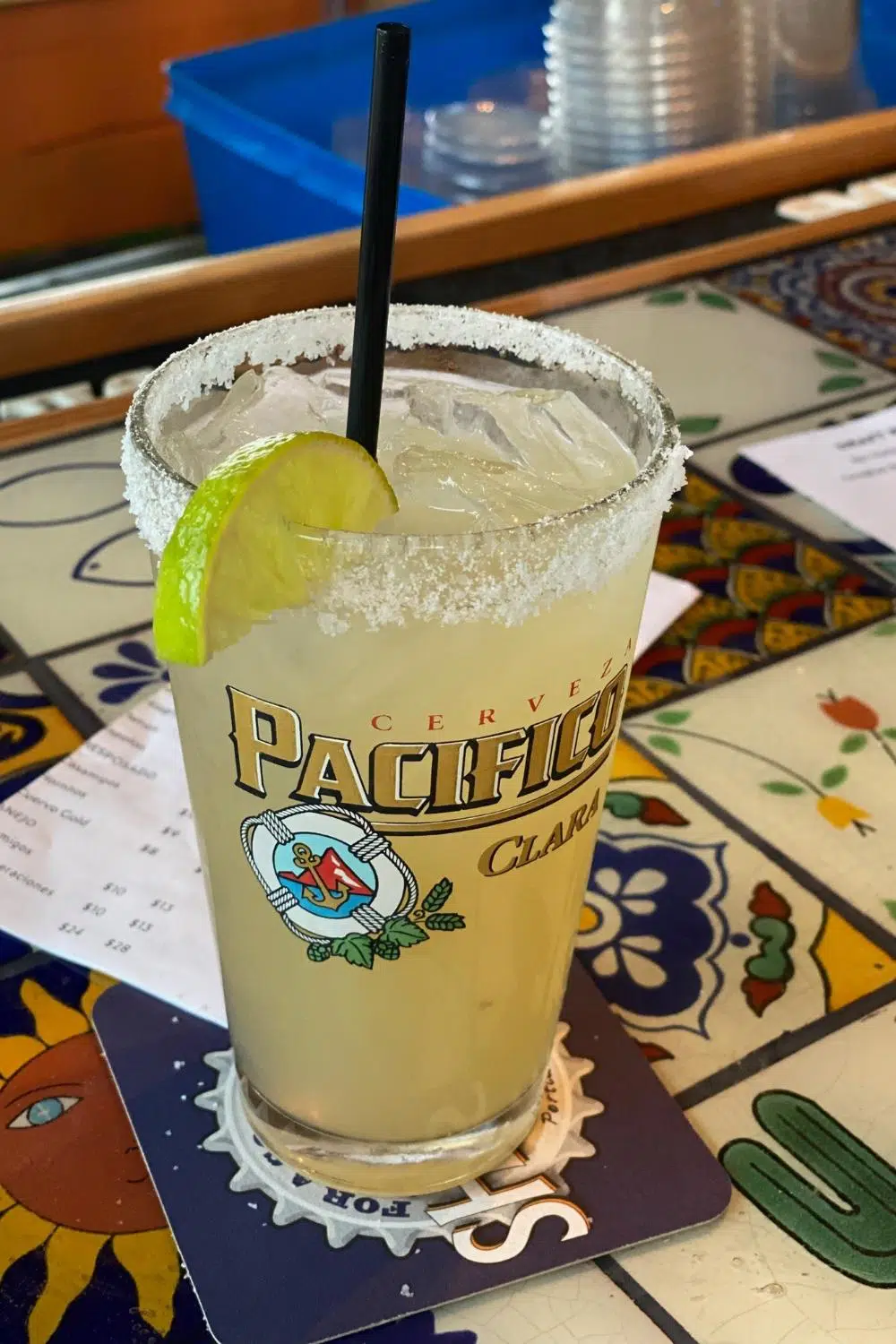 Yes, you really can get decent Mexican food and drink in Bar Harbor!
If you're just there for a drink – no problem. Head to the bar for a tequila flight or tall margarita.
The Blueberry Habanero margarita was delicious (and spicy!) and the house margarita was great, too!
Leary's Landing Irish Pub
Leary's Landing Irish Pub claims to be the closest Irish Pub to Ireland in the US.
They've got plenty of craft brews, seasonal cocktails, and whiskey on their menu.
Plus, they're open year round, unlike many restaurants and bars in Bar Harbor.
Paddy's Irish Pub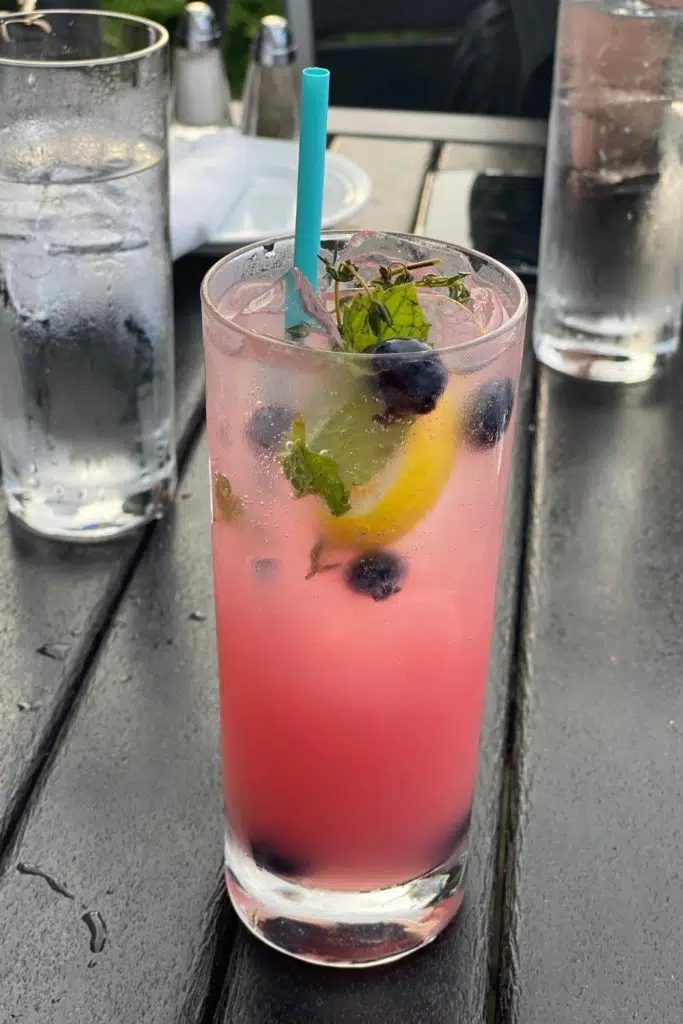 Another Irish Pub in Bar Harbor with beautiful views of Frenchman Bay is Paddy's Irish Pub.
I recommend getting a seat outside for optimal people watching and plenty of ocean breeze.
To top it off, order the blueberry mojito or a Maine-made brew.
Project Social
This cozy drink spot is across from the Bar Harbor Grand hotel at the corner of Hancock and Main Streets.
Project Social offers cocktails using fresh ingredients. They are also open for happy hour and dinner.
I recommend trying the Hardshore Gin & Tonic, Orono Wild Maine hard seltzer, or Blueberry mocktail.
Side Street Cafe & The Annex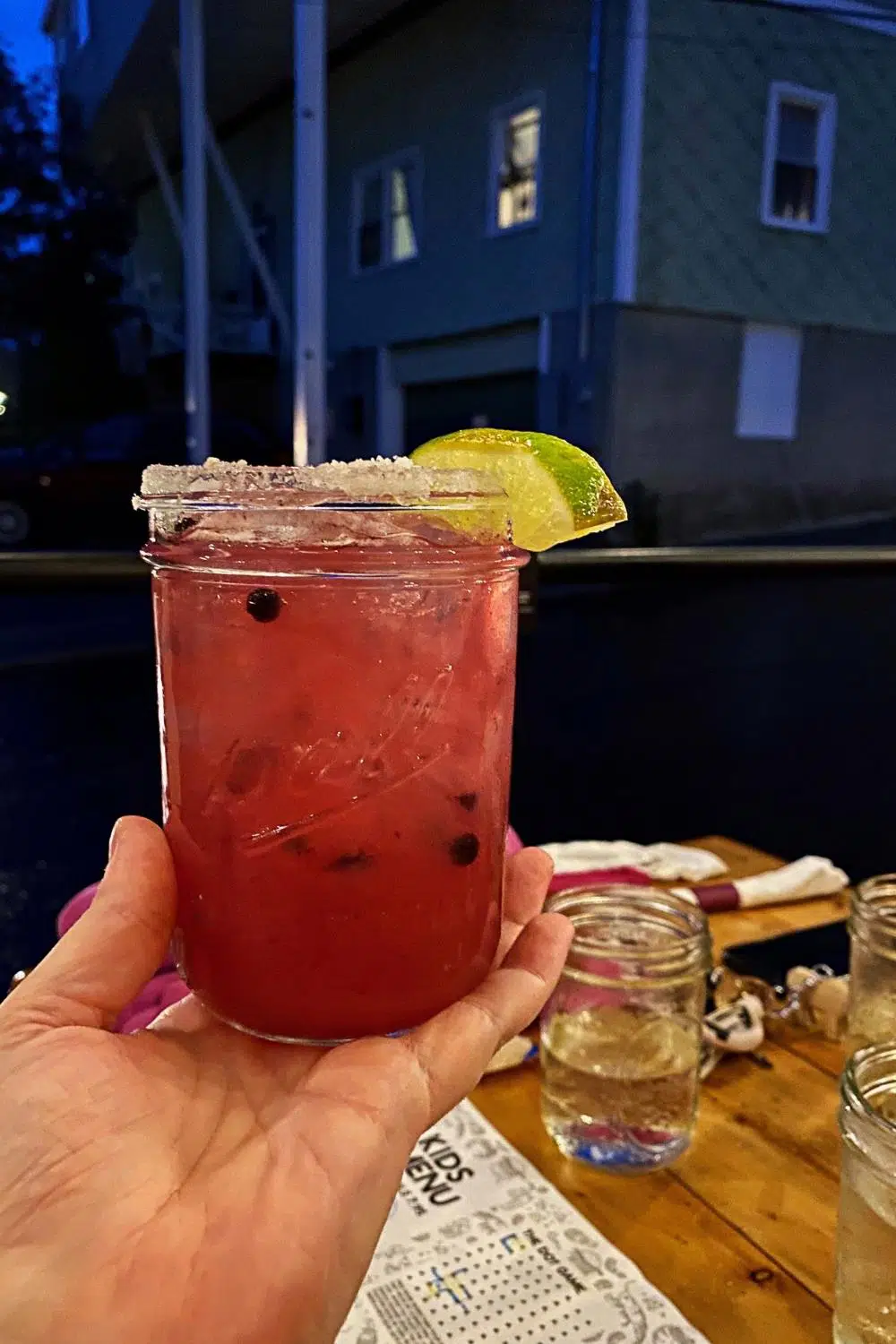 One of my favorite spots in Bar Harbor for both food and drinks is Side Street Cafe & The Annex.
This small spot is located on Rodick St., just a hop away from the bustling downtown Bar Harbor area.
I recommend trying the Mount Desert Island Iced Tea, Blueberry Margarita, or Allison Wonderland cocktails.
Thirsty Whale Tavern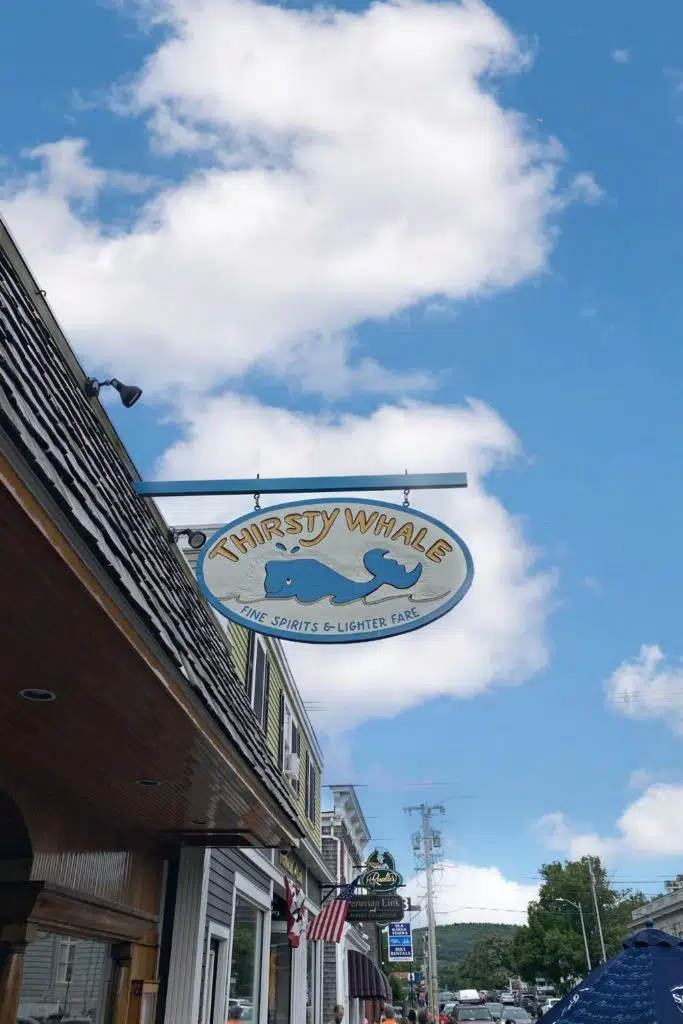 Classic pub fare with an outdoor patio and plenty of drinks to go around at the Thirsty Whale Tavern in downtown.
Their beer and cocktail menu has lots of selections featuring Maine breweries and distilleries.
I recommend the Cranberry Gin & Tonic made with Sweatgrass Cranberry gin or Sea Dog Wild Blueberry Ale, both from Maine-based businesses.
Wind and Wine By the Sea
Wind and Wine by the Sea isn't a bar, but I just have to include it because it's probably one of the cutest wine shops I've ever seen.
It's housed in a former garage, giving it a mom-and-pop farmhouse vibe.
The wine selection is quite impressive and includes lots of local and regional wines, plus a small (but well-curated) cheese selection.
Definitely consider stopping by to pick up a few bottles to take home or enjoy at your campsite or cottage.
What are your favorite bars in Bar Harbor, Maine?
Drop a comment below about your favorite bars in Bar Harbor.
For more travel tips for Bar Harbor and beyond, check out these posts:
---
About the author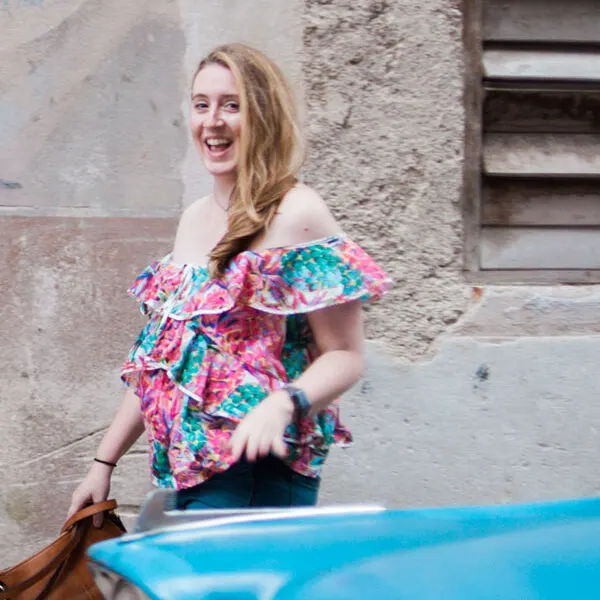 Meg Frost is a Boston-based travel blogger that helps people embrace technology to make vacation planning and traveling wicked easy, affordable, and fun.
She holds an M.A. in Journalism from Northeastern University and B.S. in Communication & American Studies from University of Miami.
---
This post was originally published on September 8, 2016. It was last updated November 2, 2022.