A successful camping trip depends on what you pack.And what you need to pack depends on a lot: the weather, how long your trip is, who you're traveling with, etc.
In this post, I'll share the best camping gear to pack on your next camping trip, from the essentials to the fun stuff.
Basic camping gear
The essential items that I bring on a camping trip are a tent, sleeping bag, collapsible chair and a backpack.
Camping tents
If you're not glamping in a rustic cabin, be sure to pack a good tent. A tent that is waterproof, not water-resistant, and includes a rain fly are the basic requirements you should aim for.
I also recommend bringing a waterproof, rip-stop tarp, which you can get at your local hardware or sporting goods store.
Set the tarp up above your tent by tying each corner to a tree or another sturdy object. Angle it down on one side, away from the tent, to allow rain and moisture to drain.
Some campers like to also add a tarp underneath their tent, especially if the ground is already wet.
Trust me on this tip! I learned the hard way on this. Waking up in an inch of rain on the floor of your tent is no fun!
Sleeping bags
Sleep well with a warm sleeping bag. Before you buy, make sure you are purchasing a sleeping bag built to withstand the nighttime temperatures of the location you'll be camping in.
The temperature information should be available in the production description if you are shopping online.
If you're shopping in store, look for the temperature information on the packaging or tag.
In addition to a sleeping bag, you might also want to consider a sleeping pad or air mattress if you're not used to sleeping outdoors.
Portable chair
A lot of campgrounds will include a picnic table with their campsites, but if you're camping with a group, you'll want more flexibility to sit around the campfire at night.
A portable, collapsible chair is just what you need.
I love this chair from Coleman that includes a cup holder and pockets for a book, camera, phone, flashlight, etc.
Durable backpacks
A durable backpack is great for packing your camping gear or to use as a hands-free day bag.
I recommend purchasing one from a company like The North Face or Burton, both of which offer lifetime guarantees for their luggage and bags.
Myself? I use the Borealis backpack from The North Face as a daypack and a larger backpack from Burton as a weekender or when I don't want to use traditional luggage.
Camping gear for food & drinks
The best camping gear I recommend for making meals and drinks while camping include a cooler, filtered water bottle, s'mores kit, and a coffee maker.
Are they all totally necessary? No…but for me, I always bring these items!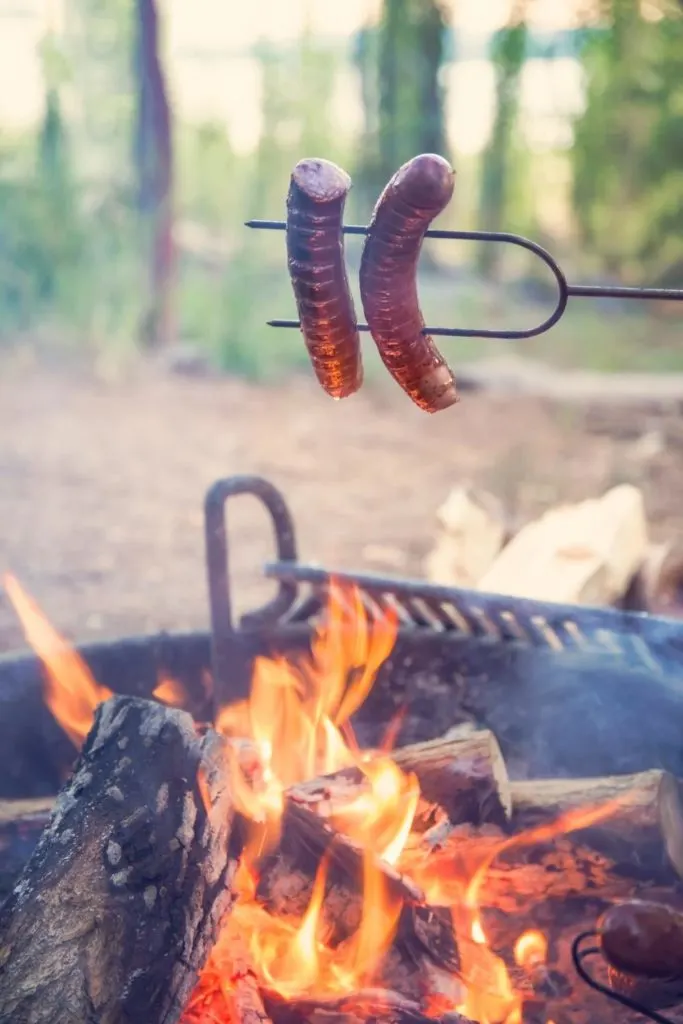 Coolers
Keep food from spoiling and your drinks cool with a packable cooler.
A soft-sided cooler is great for day trips, but if you plan to just store food at the campsite, I recommend a hard-sided cooler instead.
Filtered water bottle
Don't forget to stay hydrated! A filtered water bottle will help save you money, as you won't need to purchase tons of bottled water. Plus it's more environmentally friendly.
I carry the Camelbak filtered water bottle with me even when I'm not traveling!
S'mores kit
You can't go camping without making s'mores!
Classic s'mores include graham crackers, chocolate bars, and marshmallows.
Craving something different? Switch it up with flavored marshmallows, peanut butter cups or other twists on classic s'mores ingredients.
Coffee maker for camping
Just like s'mores, you can't go camping without coffee!
Sure, you could get by with a campfire friendly percolator, but if you'll be camping lots, consider investing in a propane-powered coffee maker.
Fun camping gear
Camping on its own is always a good time, but it never hurts to bring a few extra fun items. Here are my go-to picks for fun camping gear.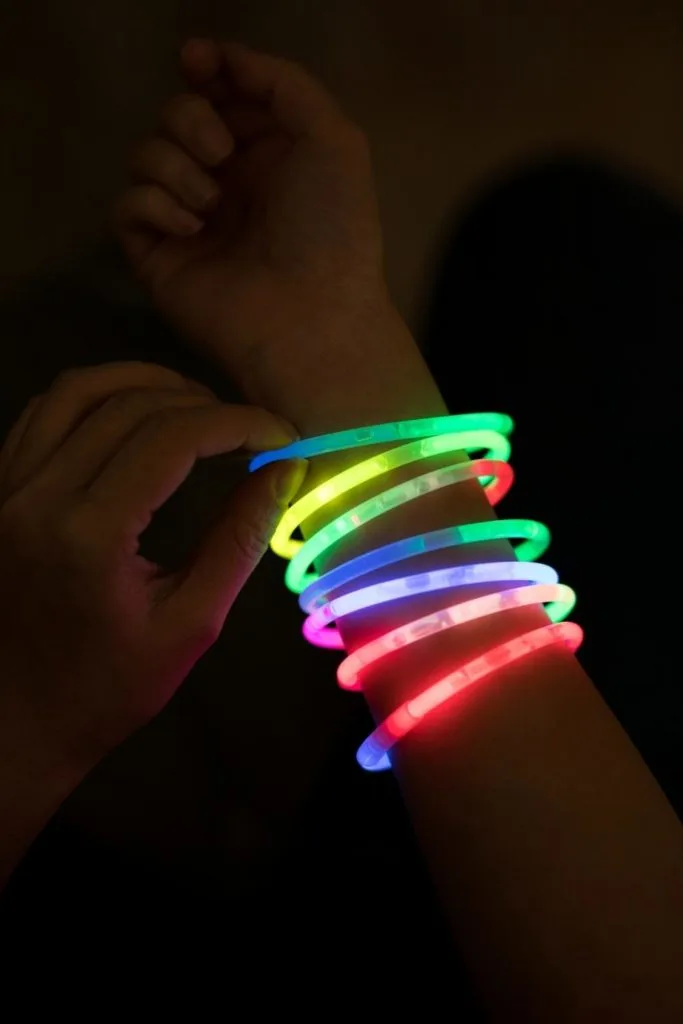 Glow sticks
Flash back to your childhood and bring along some glow sticks, necklaces, bracelets – whatever strikes your fancy.
Bonus: they double as a light source to help you find your way to the bathroom.
Travel games
Travel-sized games are great for camping trips, especially if you're trying to pack light. A deck of cards or a classic game, like Yahtzee, are great for all ages.
On my last camping trip, the adults couldn't wait to sit by the campfire and play Cards Against Humanity. This hilarious game guarantees a good time and is great for groups. It is definitely NOT for kids or the easily offended!
Check out my post on travel games for adults for more ideas on fun, travel-sized games that you can bring on your camping trip.
Mystical fire powder for campfires
After you're done making s'mores, throw a few packets of Mystical Fire on your campfire and watch the flames flicker in gorgeous colors like turquoise!
What other camping gear do you always pack?
Share your favorite gear in the comments below.
Next up, check out more of my favorite travel tips for camping:
---
About the author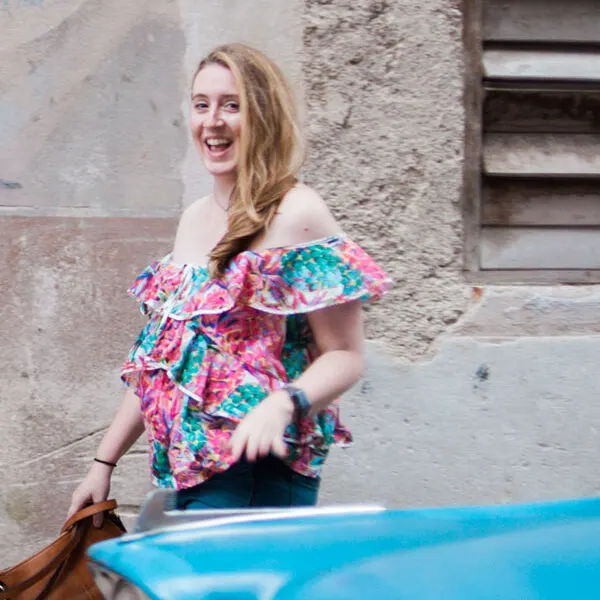 Meg Frost is a Boston-based travel blogger that helps people embrace technology to make vacation planning and traveling wicked easy, affordable, and fun.
She holds an M.A. in Journalism from Northeastern University and B.S. in Communication & American Studies from University of Miami.
---
This post was originally published September 26, 2016. It was last updated June 17, 2022.