I love camping during the Fall months when the temperatures aren't as hot and the nights don't get too cold.
Heading out for your first camping trip and not sure what to wear?
I broke it down into 3 essential categories to make putting together camping trip outfits super easy.
Base layers for camping outfits
Base layers are essential for putting together camping outfits.
Your layers should be thin enough to not be bulky, but provide a nice, warm layer. You'll start all of your outfits off with your base layers.
The right fabrics are key to these layers. Read more to find out what to look for for your base top, base bottom, and socks.
1. A waffle-weave henley tee
A long-sleeve henley tee makes for a great base layer. It's not too tight, but slim enough that it can be layered easily.
A waffled texture tends to dry more quickly than a flat texture.
If you'll be hiking, biking, chopping wood – basically anything that will make you sweat, reach for a waffle weave over other textures if you can.
2. Wool leggings
Some people prefer jeans or hiking pants while camping, but I prefer leggings.
In my opinion, leggings give more range of motion, plus you can throw a pair of sweatpants over them if you need more warmth.
Aim for a pair of leggings that are made from a wool blend. Wool leggings will be warmer than a plain cotton pair and will dry faster if you happen to get wet.
3. Wool socks
A good pair of socks when camping in the Fall months is essential! Wool socks will be warm, breathable and dry quick, too.
Warm layers for camping outfits
Add or subtract your secondary warm layers to your camping trip outfits depending on each day's weather.
1. A flannel shirt
I love flannel shirts in the Fall for layering!
Flannel shirts are not too thick but still provide warmth and can be tied around your waist if you don't need it at the moment.
2. A zip-up hoodie
I prefer zip-up hoodies over pullover hoodies when camping. They are easier to put on and the full zip allows you more control over how much coverage and warmth you want.
3. A lightweight puffy vest
A puffy vest is another great item for warm layers.
I prefer synthetic over down filling, mainly due to allergies. I also prefer a thinner puffy vest as they are easier to pack and don't limit motion.
Don't be fooled into thinking thicker is better! The type of fabric and insulation of the vest is what matters most.
Accessories for camping outfits
Don't go too overboard with accessories – you are camping, after all. Practicality wins in this scenario, but that doesn't mean your camping trip outfits need to be dowdy.
For example, look for hiking boots or trail sneakers in fun color combos or a backpack in an interesting pattern.
Bonus points: visibility will come in handy if you are lost, as well as to protect against a hunter thinking your light footsteps are from a deer.
1. Slip-On moccasins
I always pack more than 1 pair of shoes when traveling anywhere. Camping is no different.
For camping, I like to have at least 1 pair of slip-on shoes that are easy to put on and off when going in and out of the tent.
Slip-on moccasins with a cozy layer, such as shearling, will give extra warmth during the Fall months.
2. A hat
I never go camping without a hat! Hats can cover dirty hair, keep the sun out of your eyes and keep your head warm.
3. A backpack
Backpacks are so much easier to manage when camping versus traditional luggage, even when you can drive up to your campsite versus hiking to it.
4. Trail sneakers
A great pair of trail sneakers or hiking boots is a must when camping. They provide extra traction and support over an everyday sneaker.
What are your favorite camping outfits?
Drop your camping fashion tips in the comments below so we can all look good while still staying true to our outdoorsy adventure.
Up next, check out more of my favorite camping tips:
---
About the author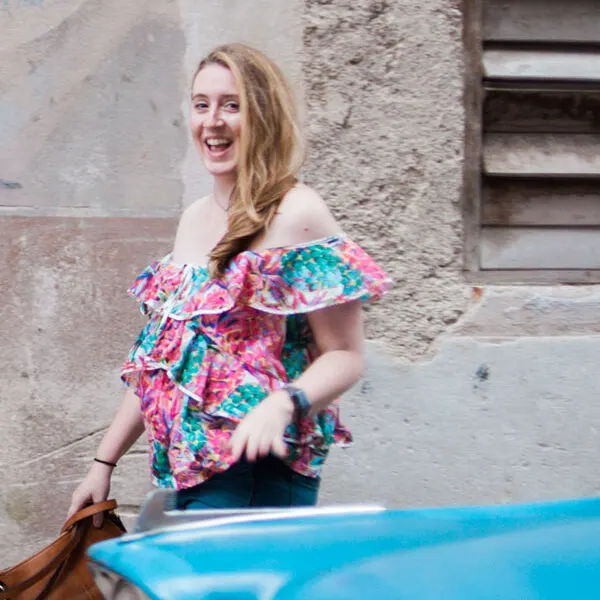 Meg Frost is a Boston-based travel blogger that helps people embrace technology to make vacation planning and traveling wicked easy, affordable, and fun.
She holds an M.A. in Journalism from Northeastern University and B.S. in Communication & American Studies from University of Miami.
---
This post was originally published September 30, 2016. It was last updated November 2, 2022.