Are you looking for the perfect Paris caption for Instagram?
Whether you've just returned from a trip to the City of Love, are planning one soon, or have been dreaming of visiting for years—travel photos always deserve an appropriate and inspiring caption.
Here you can find not just a great selection of words, but also many wonderful ideas that will make your friends and followers feel like they too are getting lost in the charms of this beautiful city.
From romantic sayings to silly quips and witty puns, I've collected more than 150 captions so you can precisely capture your enchanting experience in Paris with a quick copy + paste!
Best Paris captions for Instagram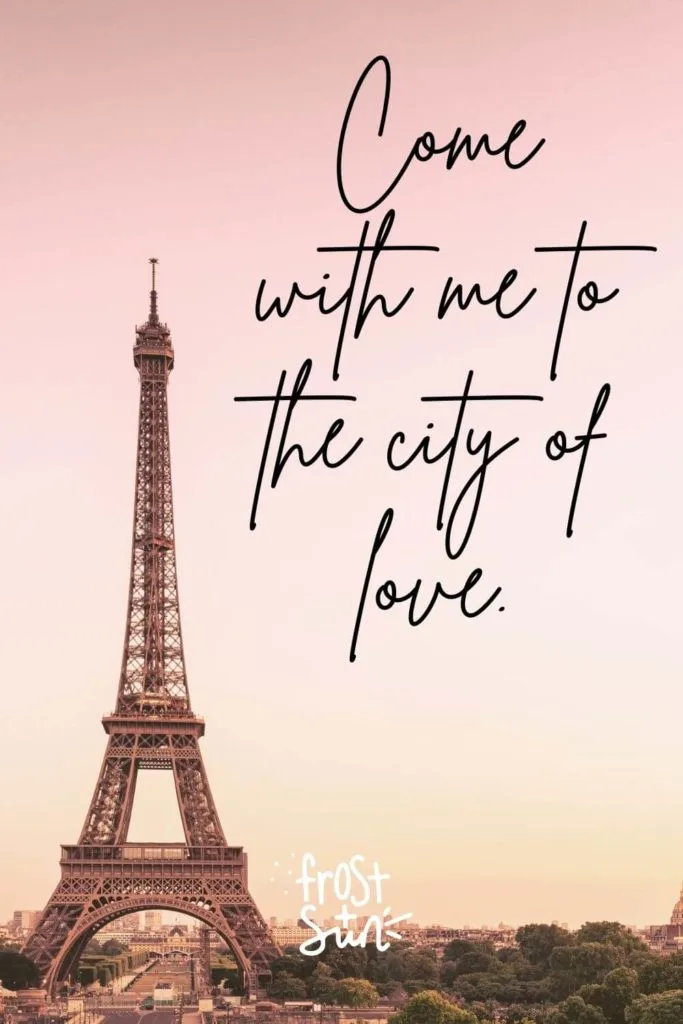 Ahhh Paris, the City of Light! As we all know, it's one of the most romantic cities in the world, and I'm so lucky to have experienced it.
From strolling along the cobblestone streets to watching a sunset atop the Eiffel Tower or admiring the Notre-Dame de Paris, there's no shortage of amazing sights here.
If you're looking for quick and easy Paris captions for your latest Instagram post, here are some of my favorites.
---
🥖🇫🇷🥂🥐🧀🍾
Ooh la la.
Light & love
Lost in Paris
City of Light
2 days in Paris
Rugrats in Paris
Passport to Paris
Meet me in Paris.
Love & macarons
Last train to Paris
Last tango in Paris
Pardon my French.
City of light & love
Paris when it sizzles
Midnight in Paris. ✨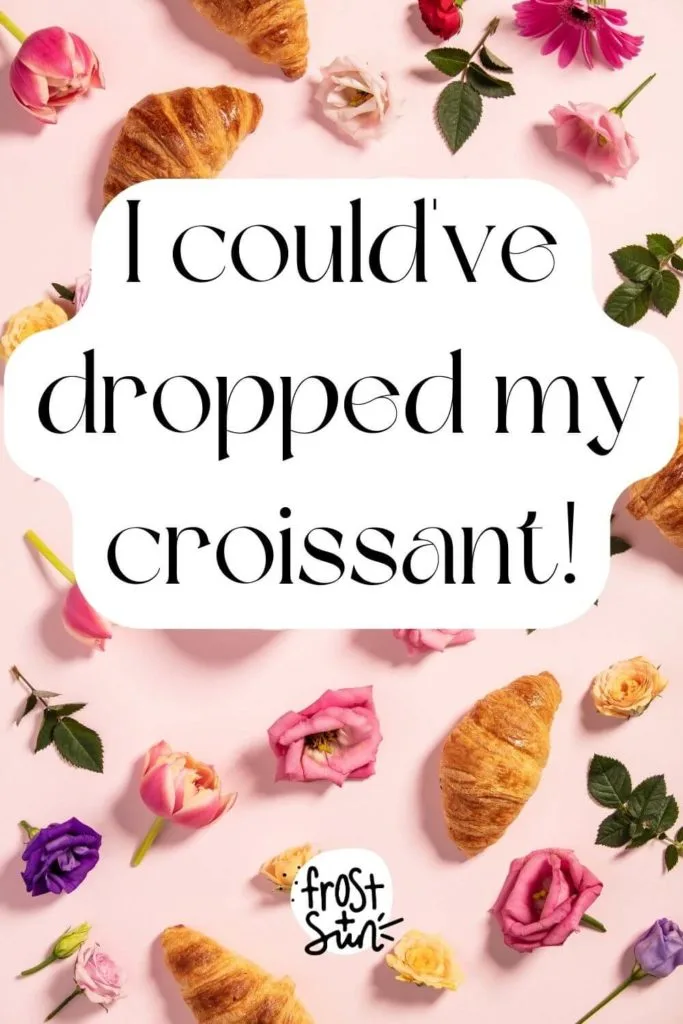 Let's get lost in Paris.
In Paris, be back never.
But first, champagne. 🥂
Macarons & champagne.
Paris, you have my heart.
Keep calm and go to Paris.
The phantom of the opera.
Life is like a box of macarons.
Paris is calling and I must go.
Living life one crêpe at a time.
The one where they went to Paris.
[Name] in Paris – a la Emily in Paris.
Girls just wanna have fun…in Paris!
Excuse my French, but I'm in France.
I got 99 problems, but Paris ain't one.
Some may dream in color, I dream in Paris.
A croissant a day keeps the worries away. 🥐
Good girls go to heaven. Bad girls go to Paris.
Never make plans with a croissant. They are flaky.
I could've dropped my croissant! 🥐 – Gotta love a sneaky Vine reference!
Eiffel tower captions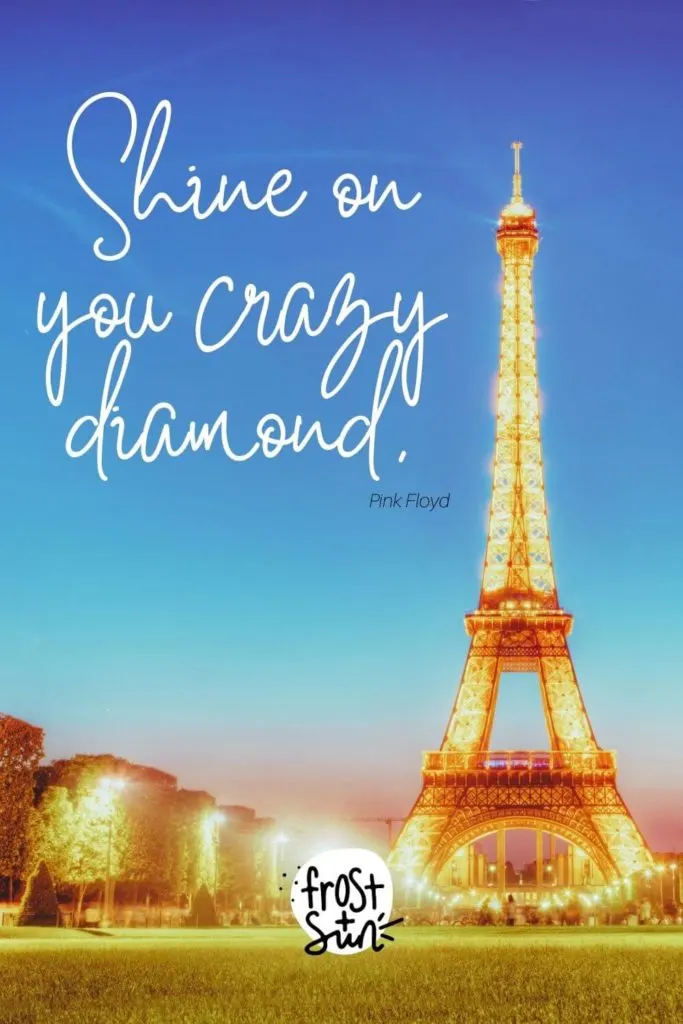 Did you even go to Paris if you didn't catch a view of or from the Eiffel Tower?
Swipe these phrases and quotes about this gorgeous tower for quick and easy posting.
---
The Iron Lady
She is the moment.
Look at her sparkle.
Bright lights, big city.
Under the Eiffel Tower
Meet me at the Eiffel Tower.
She's got style. She's got grace.
Shine on you crazy diamond. – Pink Floyd
Every time I look at the Eiffel Tower it blows my mind. – Brian Fallon
I like the Eiffel Tower because it looks like steel and lace. – Natalie Lloyd
The Eiffel tower was once thought impossible to build. – Hector Jesus Arencibia
I ought to be jealous of the tower. She is more famous than I am. – Gustav Eiffel
Paris quotes for Instagram
Ah Paris – Some call it the City of Love, while others call it the City of Light.
No matter which side of the spectrum you stand on, I'm sure you agree that Paris is quite the inspiring city.
---
There is but one Paris. – Vincent Van Gogh
A little bonjour goes a long way. – Lily Collins
Paris is always a good idea. – Audrey Hepburn
Paris is not a city, it's a world. – King Francis I
Give Paris one more chance. – Jonathan Richman
To err is human. To loaf is Parisian. – Victor Hugo
The bewildering beauty of Paris. – Allen Ginsberg
Breathe Paris in. It nourishes the soul. – Victor Hugo
To study in Paris is to be born in Paris. – Victor Hugo
To know Paris is to know a great deal. – Henry Miller
If you can live in Paris, maybe you should. – Alan Furst
We'll always have Paris. – Humphrey Bogart, Casablanca
Living in Paris was a crash course in chic. – Rebecca Romijn
Not every girl's lucky enough to go to Paris. – Sabrina (1954)
London is a riddle. Paris is an explanation. – G. K. Chesterton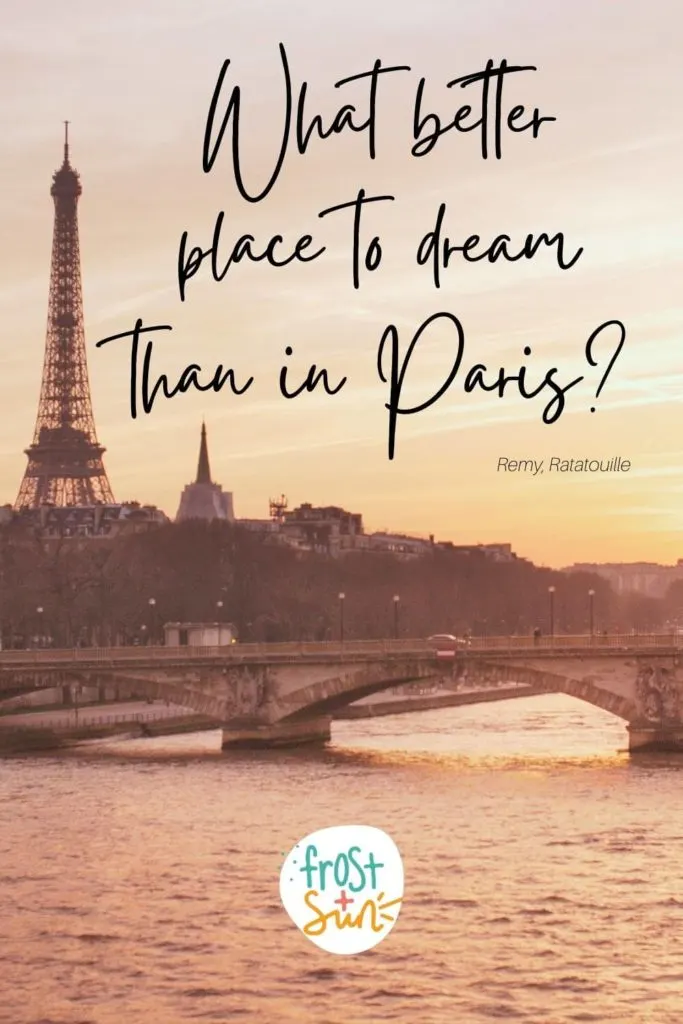 What better place to dream than in Paris? – Remy, Ratatouille
It's Paris. You don't come here for the weather. – Adrian Leeds
It's no secret that propels people like us to Paris. – Henry Miller
The American in Paris is the best American. – F. Scott Fitzgerald
If you're going to be sad, you may as well be sad in Paris. – Gossip Girl
Paris? All these times I've been underneath Paris? – Remy, Ratatouille
Paris seems like a big city, but it's really just a small town. – Emily in Paris
Paris exists to remind you that all your dreams are real. – Audrey Hepburn
In Paris, our lives are one masked ball. – Gaston Leroux, The Phantom of the Opera
I can never decide if Paris is more beautiful by day or by night. – Midnight in Paris
When good Americans die, they go to Paris. – Oscar Wilde, The Picture of Dorian Gray
It's just Paris. It's not some alternate universe where rules don't apply. – Emily in Paris
Though you may leave Paris, Paris never really leaves you. – Janice Macleod, A Paris Year
Paris is the most beautiful city in the world. It brings tears to your eyes. – Lee Radziwell
In Paris, I really do like to try to do nothing… but that's impossible. – Christian Louboutin
She wanted to die but she also wanted to live in Paris. – Gustave Flaubert, Madame Bovary
French captions for Instagram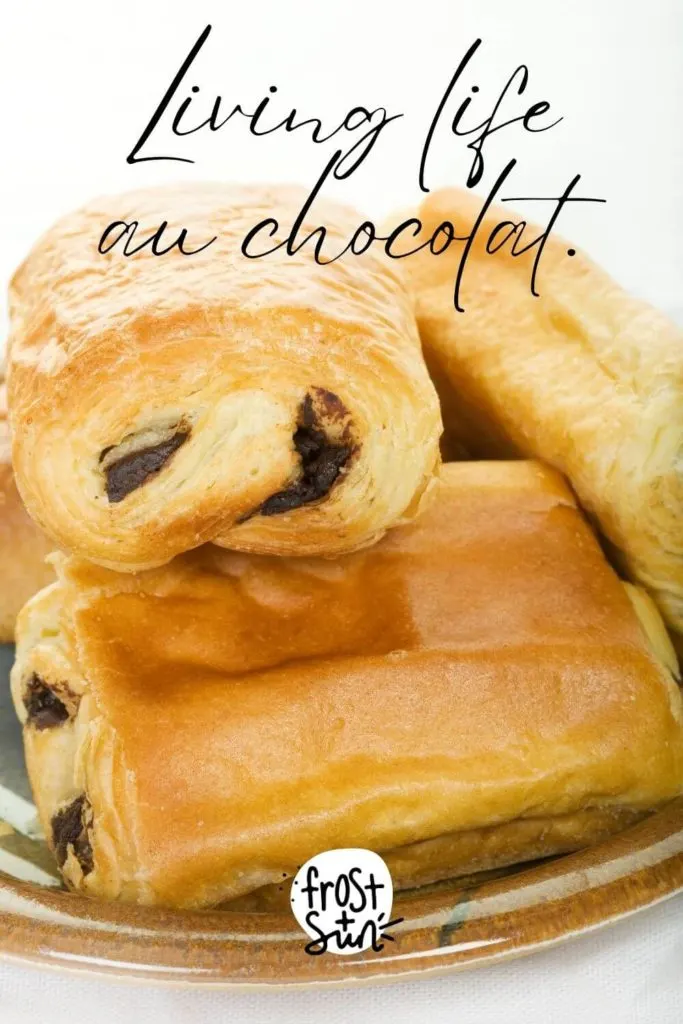 Show your appreciation with a touch of French flair by using one of these French captions for Instagram on all your Paris photos and reels.
---
Oui. (Yes.)
Allons-y (Let's go!)
Je t'adore (I love you.)
S'il vous plait. (Please.)
C'est la vie. (That's life.)
Bonne photo. (Great pic!)
Lâcher prise. (Letting go.)
Joie de vivre. (Joy of living.)
Belle âme. (Beautiful soul.)
J'ai un rêve. (I have a dream.)
Bon voyage. (Have a good trip.)
Au revoir, Paris. (Goodbye, Paris.)
Je t'aime, Paris. (I love you, Paris.)
Je ne sais quoi (I don't know what.)
La vie est belle. (Life is beautiful.)
Je ne regrette rien. (I regret nothing.)
Mon coeur est à vous. (My heart is yours.)
Crème de la crème. (The best of the best.)
Les Miserables (The wretched or miserable.)
Tenue du jour. / (Outfit of the day or OOTD.)
La vie en rose. (Life through rose-colored glasses.)
Voulez-vous coucher avec moi? (Do you want to sleep with me?)
Living life un chocolat at a time. (Living life one chocolate at a time.)
Les Mis (A shortened version of les miserables, often used to describe feeling sad or down.)
Fluctuat nec mergitur. / (This is the city's official motto. In English, it translates to: She is tossed by the waves, but does not sink.)
Paris love quotes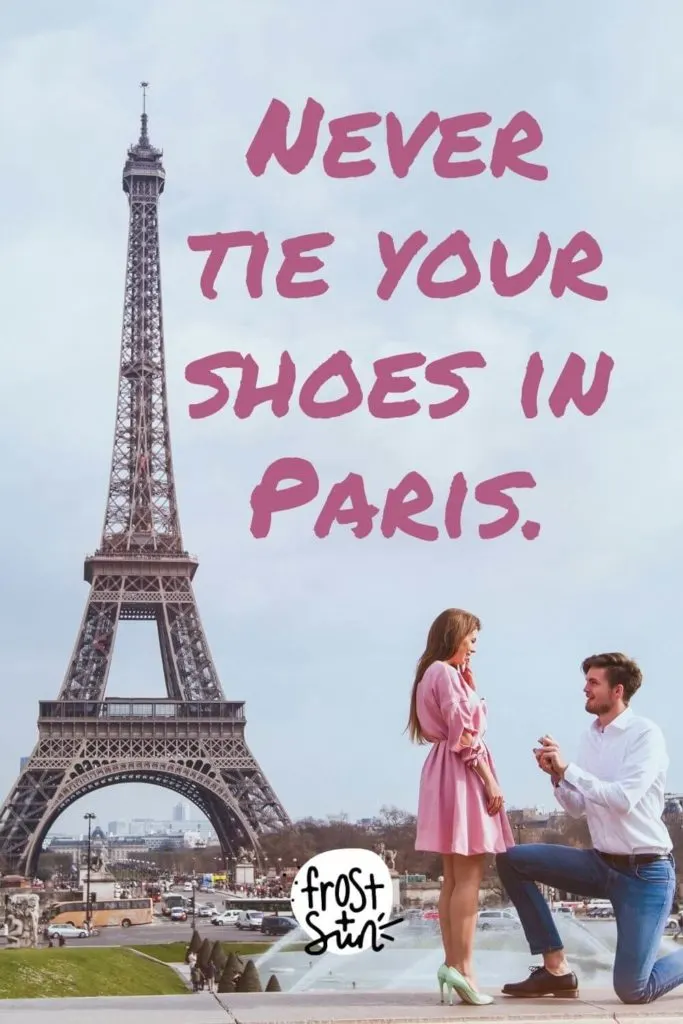 Can you feel the love tonight?
These captions and quotes are perfect for all of your lovey-dovey, romantic Parisian photos and reels on Instagram.
---
Love in Paris
Paris is for lovers.
The city of love. ❤️
Never tie your shoes in Paris.
Paris loves lovers. – Fred Astaire
Come with me to the city of love.
How original. They fell in love in Paris. – Sex and the City
Paris is not just a city for lovers, but a city to fall in love with.
Paris is complicated and beautiful, just like you. – Gossip Girl
Paris, I believe, is a man in his 20s in love with an older woman. – John Berger
It's true – you never forget your first love. And for me, that will always be Paris. – Caitriona Balfe
When I was 20, I went to Paris to try to meet French women. It didn't work. – Joseph Gordon-Levitt
Don't just stand there with your Eiffel Tower smile. Tell me you love me and tell me in French. – Jarod Kintz
I love Paris for the million reasons that everybody loves the city. It's an incredibly romantic and beautiful place. – Alan Furst
Beneath the Parisian sky, lovers walk about, their happiness built, upon a tune made just for them. – Fred Astaire, Paris Loves Lovers
Funny Paris puns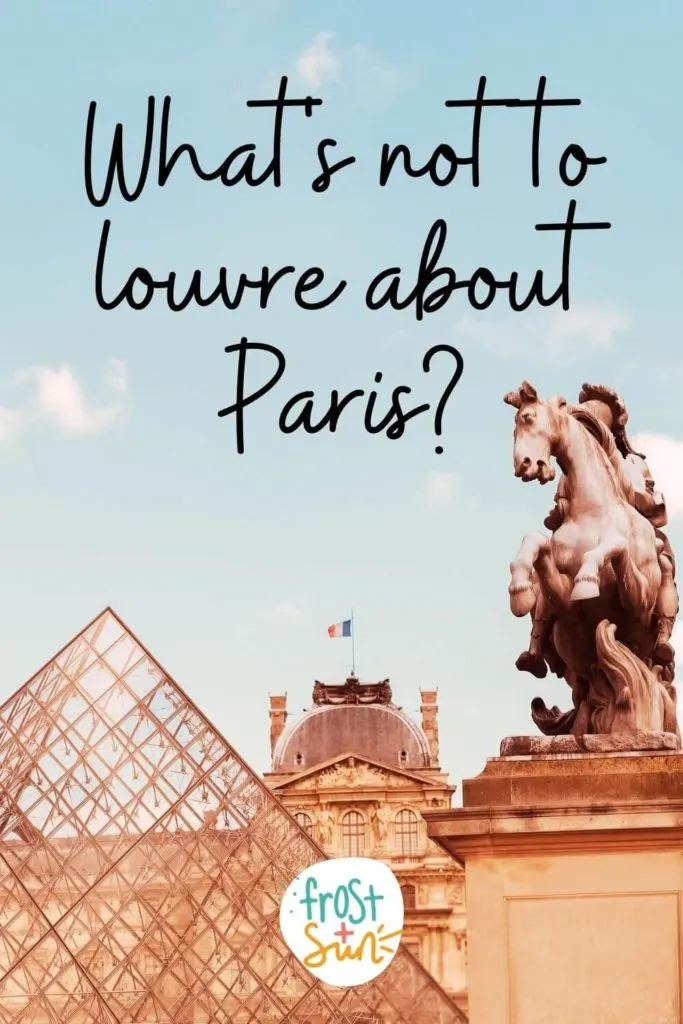 Love isn't the only thing you can find in the city of love – and these funny Paris puns are proof.
Not only do they make great instagram captions, but also great Instagram quote graphics!
---
Holy crêpe.
I louvre you.
Oh no, Eiffel!
I'm in Paris-dise.
Will you brie mine?
Eiffel in love in Paris.
This place is in-Seine.
You had me at bonjour.
I will never get bordeaux of Paris.
What's not to louvre about Paris?
I hope our paths will croissant again.
Eiffel in love with this city at first sight.
Just add three letters to Paris and you have Paradise.
Quotes about Paris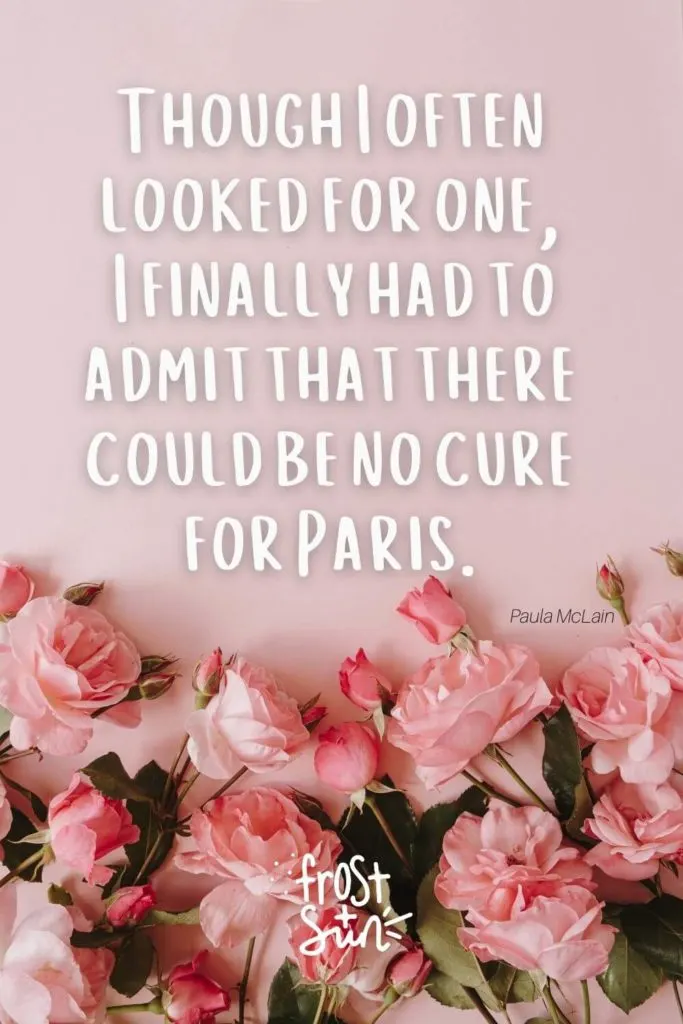 Still haven't found what you need for your Paris Instagram posts?
Or maybe you've been through all the ones above because you have a million photos of this gorgeous city? Because same.
Have at it with these quotes about Paris.
---
Paris is the city in which one loves to live. – Margaret Anderson
As an artist a man has no home in Europe, save in Paris. – Friedrich Nietzche
You stumble and you soar. And if you're lucky, you make it to Paris for a while. – Amy Howard
A walk in Paris will provide lessons in history, beauty, and in the point of life. – Thomas Jefferson
In Paris, everything's for sale: wise virgins, foolish virgins, truth and lies, tears and smiles. – Émile Zola
Though I often looked for one, I finally had to admit that there could be no cure for Paris. – Paula McLain
There are only two places in the world where we can live happy – at home and in Paris. – Ernest Hemingway
The last time I see Paris will be on the day I die. The city was inexhaustible and so is its memory. – Elliot Paul
The chief danger about Paris is that it is such a strong stimulant. – T.S. Eliot, The Letters of T.S. Eliot (1898-1922)
The streets of Paris had a way of making me stop in my tracks, my heart suspended. – Lauren Elkin, Flâneuse
When Spring comes to Paris the humblest mortal alive must feel that he dwells in paradise. – Henry Miller
The shopping, the food, the views! Paris is a city that entrances us all, and I am no exception. – Michael Kors
Paris is a woman but London is an independent man puffing his pipe in a pub. – Jack Kerouac, Lonesome Traveler
What an immense impression Paris has made on me. It is the most extraordinary place in the world. – Charles Dickens
In Paris, you learn wit, in London you learn to crush your social rivals, and in Florence you learn poise. – Virgil Thomson
Paris is a hard place to leave, even when it rains incessantly and one coughs continually from the dampness. – Willa Cather
Paris is the only city in the world where starving to death is still considered an art. – Carlos Ruiz Zafon, The Shadow of the Wind
That Paris exists and anyone could choose to live anywhere else in the world will always be a mystery to me. – Marion Cotillard
Paris is a place where, for me, just walking down a street that I've never been down before is like going to a movie. – Wes Anderson
Paris is a place in which we can forget ourselves, reinvent, expunge the dead weight of our past. – Michael Simkins, Detour de France
If you are lucky enough to have lived in Paris as a young man, then wherever you go for the rest of your life, it stays with you, for Paris is a moveable feast. – Ernest Hemingway, A Moveable Feast
Paris is a heaven for all woman's obsessions: hot men, great chocolates, scrumptious pastries, sexy lingerie, cool clothes but, as any shoe-o-phile knows, this city is a hotbed of fabulous shoes. – Kirsten Lobe, Paris Hangover
Paris was a universe whole and entire unto herself, hollowed and fashioned by history; so she seemed in this age of Napoleon III with her towering buildings, her massive cathedrals, her grand boulevards and ancient winding medieval streets as vast and indestructible as nature itself. All was embraced by her, by her volatile and enchanted populace thronging the galleries, the theaters, the cafes, giving birth over and over to genius and sanctity, philosophy and war, frivolity and the finest art; so it seemed that if all the world outside her were to sink into darkness, what was fine, what was beautiful, what was essential might there still come to its finest flower. Even the majestic trees that graced and sheltered her streets were attuned to her and the waters of the Seine, contained and beautiful as they wound through her heart; so that the earth on that spot, so shaped by blood and consciousness, had ceased to be the earth and had become Paris. – Anne Rice, Interview with a Vampire
What are your favorite Paris Captions for Instagram?
Now that you have a list of the cutest sayings, French phrases, inspiring quotes, and funny puns to use as Instagram captions for your photos and reels from Paris, it's time to start planning your next trip!
What are your favorite Paris captions for Instagram? Share your favorites in the comments below so we can all get some inspiration for our next visit.