Do you live in or plan to visit Boston in November this year? Then you're in the right place!
I've lived in Boston for nearly two decades and always make it a point to check out all the fun things this historic city has to offer.
Although the city slows down this time of year due to the cooler weather, there are still tons of cool things to do, from parades and shows to ice skating and football games.
In this post, I'm sharing the 17 best things to do in Boston in November, plus tips on weather and what to pack for those of you coming from out of town.
Keep reading to find out more about these exciting activities!
Attend a New England Patriots home game
As the NFL football season starts to wind down, be sure to check out a New England Patriots game at Gillette Stadium in Foxboro, just outside of Boston.
There's usually at least one home game at Gillette in November, sometimes two. Whatever's available, be sure to get your tickets early in the season.
Also, bundle up because it's an outdoor stadium and it's bound to be chilly!
Check the official Patriots Schedule for dates and tickets.
See the fall foliage
Savor the last of the gorgeous Fall foliage that New England is known for. The closer you get to the end of the month, the less chance you'll get to see the foliage in the trees.
By the end of the month, all the trees will be bare, so if this is on your bucket list, be sure to go early in the month or plan to visit in October.
Some of my favorite places to see the Fall foliage in Boston include Arnold Arboretum, Boston Public Garden, and Beacon Hill.
Watch the Veterans Day Parade
New to the city, at least in recent years, is a Veterans Parade that runs from the Boston Public Library in Copley Square to City Hall Plaza.
It will feature military veterans and their families, local school bands and music groups, as well as civic organizations.
For dates and times, please visit the City of Boston page for the Veterans Parade.
Holiday fun at Snowport
One of my favorite events during the holiday season in Boston is the Holiday Market at Snowport.
Located in the trendy Seaport neighborhood, this market features food vendors, bars, and lots of booths with gifts and Christmas baubles.
The market usually opens in early to mid-November. Check the Snowport website for dates and hours.
Do the Historic Holiday Stroll Tour
See Boston's historic Freedom Trail in a new light while learning about holiday traditions in the city.
This seasonal tour starts in mid-November and runs through most of December. Tours only run on select Fridays and Saturdays.
For more information and tickets, check out the Historic Holiday Stroll website.
Check out ZooLights at Stone Zoo
The Stone Zoo comes alive at night during the holiday season with its classic event, ZooLights.
This event includes holiday light displays throughout the zoo, as well as meet-and-greets with Santa and Mrs. Claus. You might even see some reindeer and other animals that live at the zoo.
ZooLights starts on November 17, 2023 and runs through January 7, 2023. It's closed on Thanksgiving and Christmas.
For tickets and more information, check out the ZooLights website.
Catch the Harvard-Yale rival football game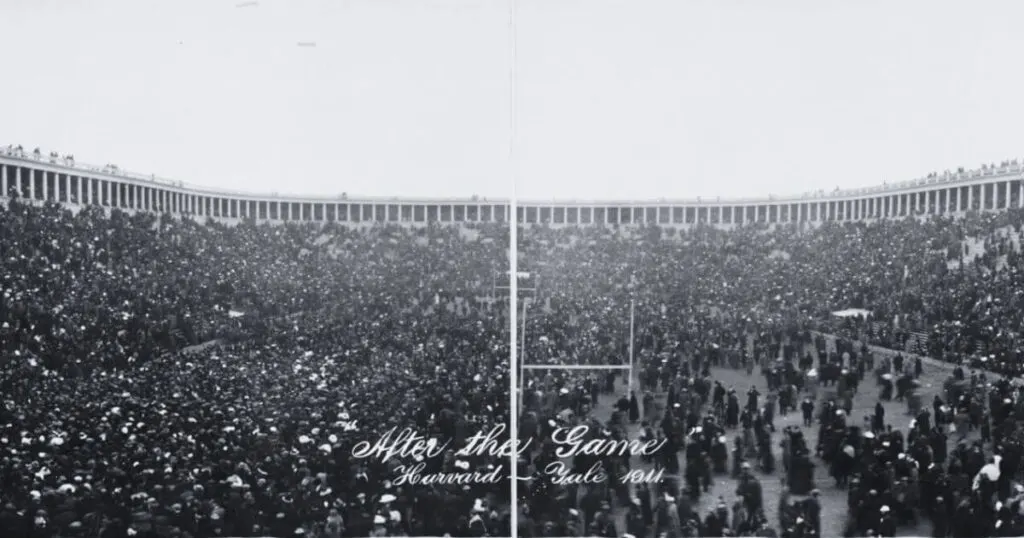 Every year, on the Saturday before Thanksgiving, Harvard University and Yale University face off in an Ivy League rival football game.
It is the second-oldest college rivalry game with the first event played in New Haven, CT in 1875 (source).
The teams take turns on where the game is played, alternating between New Haven at Yale and Cambridge at Harvard.
Go ice skating
'Tis the season for icy activities! There are tons of places to go ice skating in Boston, but there are two spots that are extra special this time of year: the Boston Common Frog Pond and the Rink at 401 Park.
Both ice skating rinks are outdoors and super popular with locals and tourists alike.
The Rink at 401 Park starts up in mid-November, while skating at the Frog Pond starts on the same day as the Boston Common tree lighting.
For more information, such as dates, hours, and prices, check the Rink at 401 Park and Boston Common Frog Pond websites.
See the Christopher Columbus Park trellis lights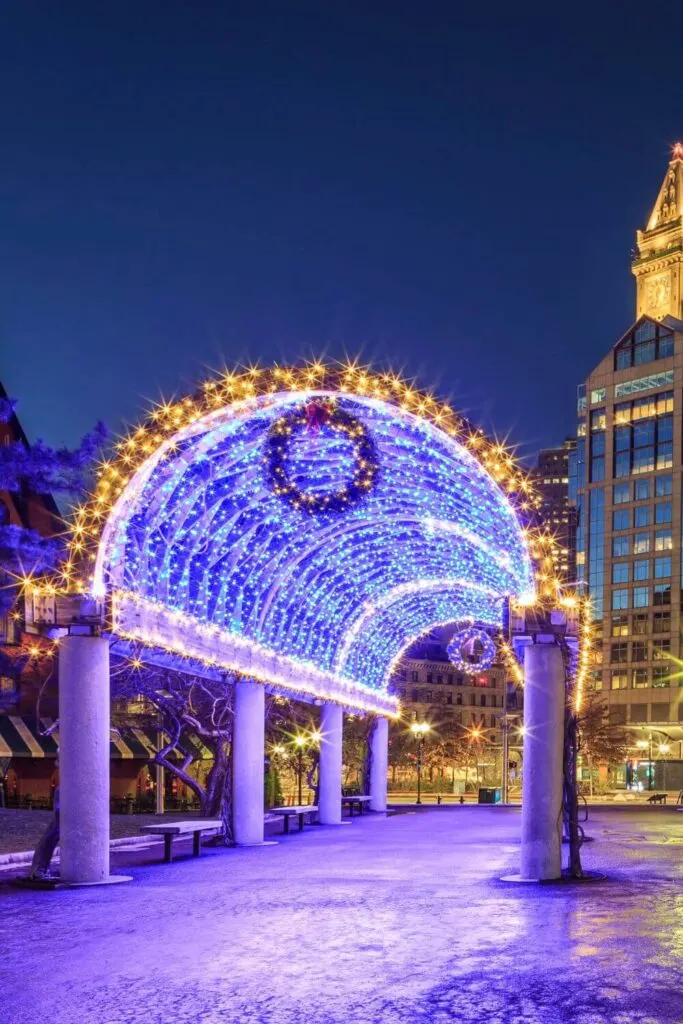 Get the holiday season started a bit early by attending the lighting of the Christopher Columbus Park trellis in Boston's North End waterfront neighborhood.
The event includes musical performances, a visit by Santa and Rudolph the Red-Nosed Reindeer, as well as hot cocoa, cookies, clam chowder, and other yummy treats.
If you can't make the official first lighting event (held on November 20, 2023), then stop by after dark for a beautiful photo with the lights.
Watch the Faneuil Hall tree lighting
Another pre-Thanksgiving holiday event is the Faneuil Hall Tree Lighting on November 21, 2023 from 4-7 PM.
The event includes a lighting of a 30-foot tree, along with decor all around the cobblestoned marketplace. I also hear that Santa Claus will be making an appearance!
Run the Franklin Park Turkey Trot
What's Thanksgiving without a 5K Turkey Trot?
In Boston, this event is held at Franklin Park and is open to runners, walkers, strollers, and even leashed dogs!
The event takes place on Thanksgiving Day at 9 AM.
For more details, such as registration, please visit the Franklin Park Turkey Trot website.
Watch Handel's Messiah
For more than 100 years, Boston's Handel + Hayden Society puts on the Christmas concert series called Handel: Messiah.
This year, the concerts will run November 24 through 26, 2023. For more information, including tickets, see the Handel: Messiah page.
Holiday shopping at the SOWA Winter Festival
Support small businesses from New England by shopping for holiday gifts at the SOWA Winter Festival.
An extension of the über-popular SoWa market, this indoor festival features more than 100 vendors selling food, drinks, jewelry, clothing, and other crafts.
The festival starts on Black Friday and runs through mid-December.
Check the SoWa Winter Festival website for dates and hours of operation.
Shop local at the Boston Public Market
Holiday shopping kicks off at the Boston Public Market on Black Friday and runs through Christmas Eve.
In addition to shopping, carolers, and wintery treats, a family-friendly holiday movie is featured every Saturday at 1 PM.
For more details, including hours and the movie schedule, see the BPM Holiday Market schedule.
Watch the Boston Ballet perform The Nutcracker
Each year the Boston Ballet puts on the classic holiday time ballet performance, Mikko Nissinen's The Nutcracker.
Performances typically start the day after Thanksgiving and run through New Year's Eve and take place at the Citizens Bank Opera House.
For tickets and dates, please visit Boston Ballet's page for The Nutcracker.
Have some family fun at Martin's Park
A relatively new tradition in Boston is the holiday event at Martin's Park in front of the Children's Museum in Boston's Seaport.
The event takes place on the Saturday after Thanksgiving and includes Santa Claus, Betty the Yeti, musical performances, and of course, the lighting of the ship and nearby area.
Celebrate the Boston Common Tree Lighting
Each year, the city holds a big event to kick off the Christmas season with a tree lighting ceremony on the Boston Common.
The event includes appearances by Mayor Michelle Wu, Santa Claus, Rudolph the Red-Nosed Reindeer, and often local celebrities.
This year, the celebration will be held on Thursday, November 30, 2023 at 6 PM.
Afterward, at 8 PM, Mayor Wu will also lead the lighting of the Commonwealth Avenue Mall, one of my favorite quiet spots in the city!
Weather in Boston in November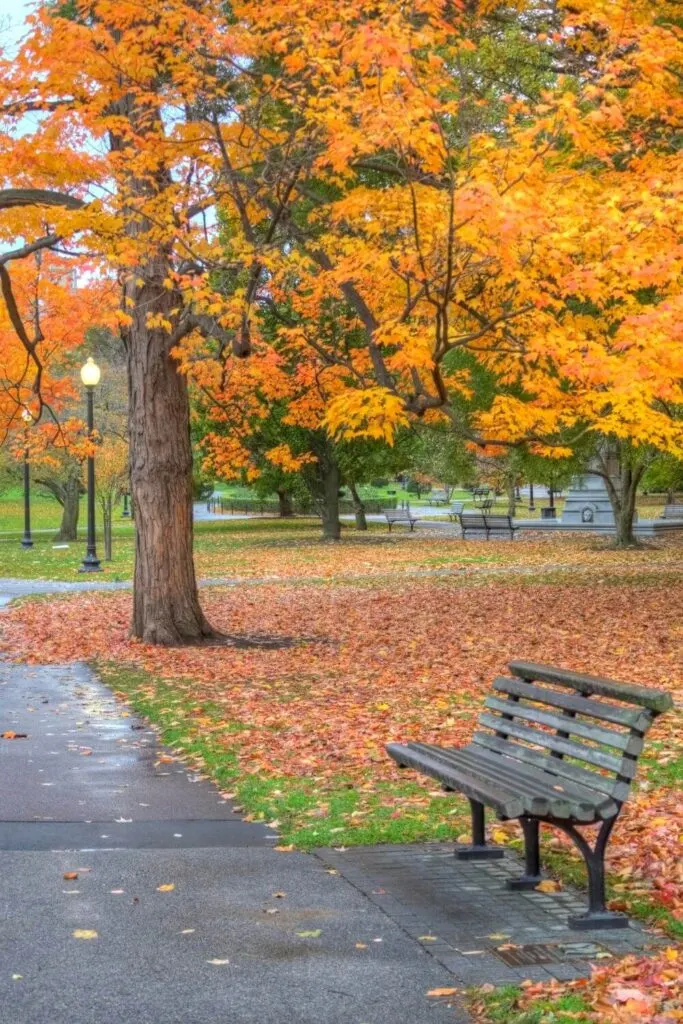 Now that you've picked out a bunch of things to do in Boston in November during your visit, let's talk weather so you know what to pack.
The weather in Boston in November is often cold with plenty of rainy, wet days mixed in.
According to data from the US Climate Data, the average high temperature in Boston in November is around 51℉, while the average low temperature is around 38℉.
The city also tends to receive a significant amount of rainfall during this month, with an average of 3.94 inches of precipitation.
Occasionally it'll snow in November, but more often than not that precipitation is rain.
It's worth noting that temperatures can vary widely in Boston during November, with some days feeling quite mild and others feeling quite chilly.
Layers are your best friend when thinking about what to pack for a trip during this time of year!
Most folks around here, myself included, have multiple coats and shoes to get through the late Fall and winter season. Think fleece jackets, puffy vests, warm boots, and a variety of rain gear.
Sweaters or sweatshirts to layer over lighter pieces like a flannel or long sleeve top, and of course, whatever your favorite bottoms are, whether it be jeans or leggings.
Boston is pretty casual, so athleisure wear is totally fine for most places you'll go, save for fancy restaurants or parties.
What are your favorite things to do in Boston in November?
November in Boston is an amazing time of the year! So why not take a trip and explore one of America's oldest cities this season?
To make the most of your visit to Beantown this autumn, be sure you take advantage of all the exciting activities I shared in this post.
Before you go, please let me know – what's your favorite thing to do in Boston in November? Let me know in the comments section below.
For more tips on what to do in Boston, check out these posts:
---
About the author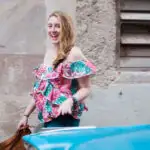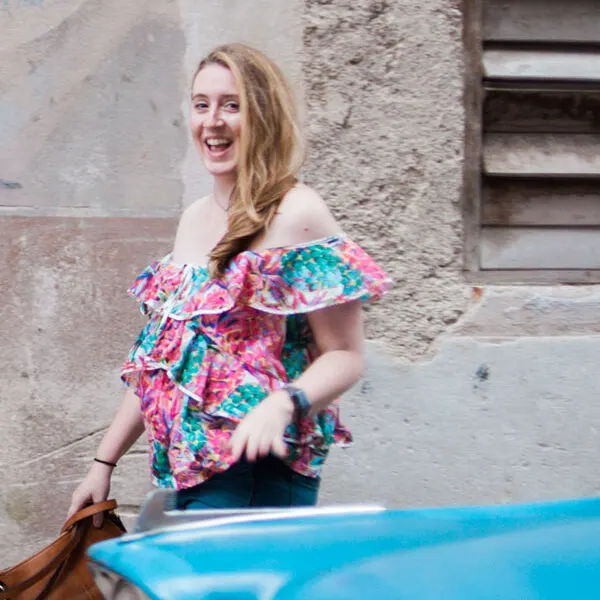 Meg Frost is a Boston-based travel blogger that helps people embrace technology to make vacation planning and traveling wicked easy, affordable, and fun.
She holds an M.A. in Journalism from Northeastern University and B.S. in Communication & American Studies from University of Miami.
---