Put your party pants on and get ready to visit New Orleans!
The city is known for its remarkable cuisine, upbeat music scene, and electrifying atmosphere.
Whether you're looking to explore the supernatural or just want to let loose, there's always something fun happening in NOLA year round.
So check out my guide now for tips on when it's the best time to visit New Orleans (hint: all times)!
Summer (June, July & August)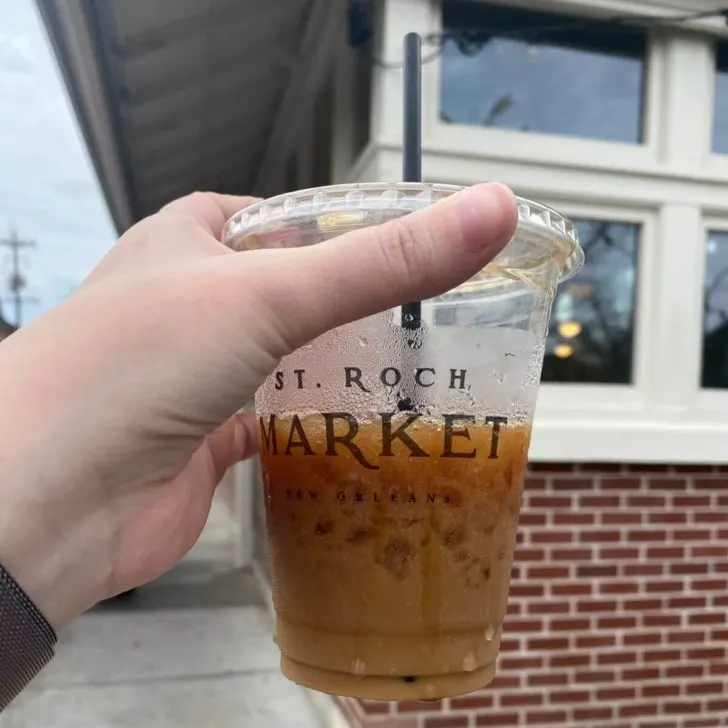 Summer in New Orleans is certainly not for the faint of heart!
With summer heat that can feel like walking into a sauna, to the potential of dodging storms while they make their way through the Gulf of Mexico during official hurricane season, no summer visit here could ever be defined as boring.
But, bravado aside, summer in many ways is the best time to experience everything this wonderful city has to offer.
Kicking off the steamy summer in June is New Orleans Pride with block parties, dance parties, parades, and tons more fun all month long.
Fourth of July weekend is the Essence Festival at the Caesers Superdome, a music festival featuring Black artists. What an epic way to celebrate the 4th!
Next up is Fidelity Bank White Linen Night, which takes place the first Saturday evening in August. This fun cultural event happens in New Orleans' Arts District.
It's basically a block party that celebrates the art galleries and artists in the area, plus there's food and drink.
And the name? Everyone is encouraged to wear their best white linen ensemble to the event.
Kicking off the transition from Summer to Fall is Southern Decadence, which always takes place in the days leading into Labor Day.
It's a bit like a pride party, as it was started and is hosted by the LGBTQ+ community, though tends to be mainly gay men.
There are dance parties, bar crawls, and of course, a big ol' parade in the French Quarter, including Bourbon Street, on the day before Labor Day. It is New Orleans, after all!
So open an umbrella for both sun and rain protection, slather yourself in sunscreen, and put hot and sticky New Orleans on your Summer bucket list. You won't be sorry you did!
Fall (September, October & November)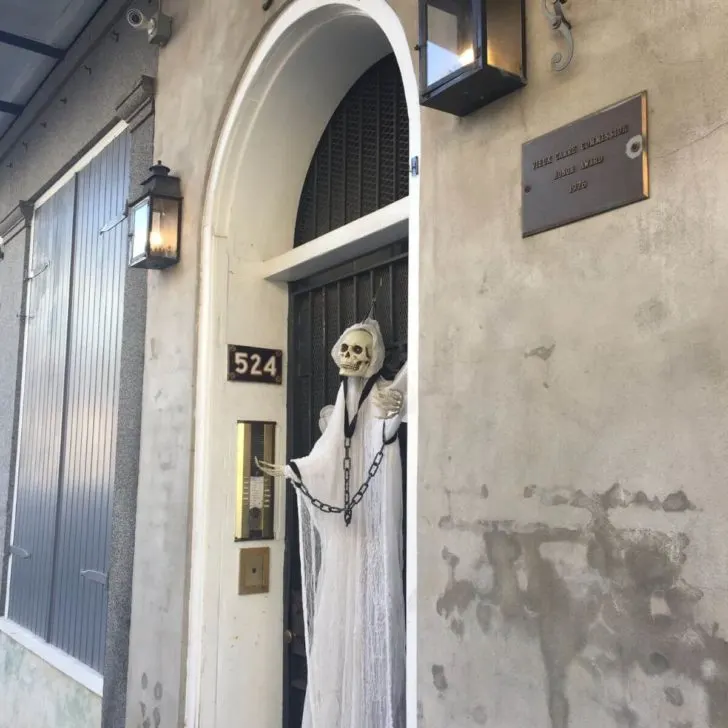 Visiting New Orleans in the fall is a treat to remember.
In September is the Beignet Festival, a 1-day charity event at City Park with incredible food and local musicians.
Proceeds benefit the Beignet Fest Foundation, which provides grants to local nonprofit organizations that serve New Orleans kids with developmental disabilities.
Around mid-October is the Crescent City Blues & BBQ Festival, a small blues and jazz festival paired with local BBQ vendors at Lafayette Square.
On Halloween weekend, you can catch the exciting Voodoo Music + Arts Experience at City Park.
This fun festival features a variety of bands, local food vendors, art installations, and a market.
Halloween itself is a spooktacular time of year in New Orleans where the city comes alive with decorations and people in costume everywhere you look.
You can even find extra spooky haunted tours and experiences, like seances in abandoned hospitals and Halloween costume parties.
Rounding out the fall season in New Orleans is the New Orleans Film Festival in early November, which is an Oscar award qualifying festival!
While there is a focus on Southern filmmakers, anyone can submit their film for consideration.
Fall is one of my favorite times to visit New Orleans, especially close to Halloween. Be sure to pack a costume and book your haunted tours ASAP!
Winter (December, January & February)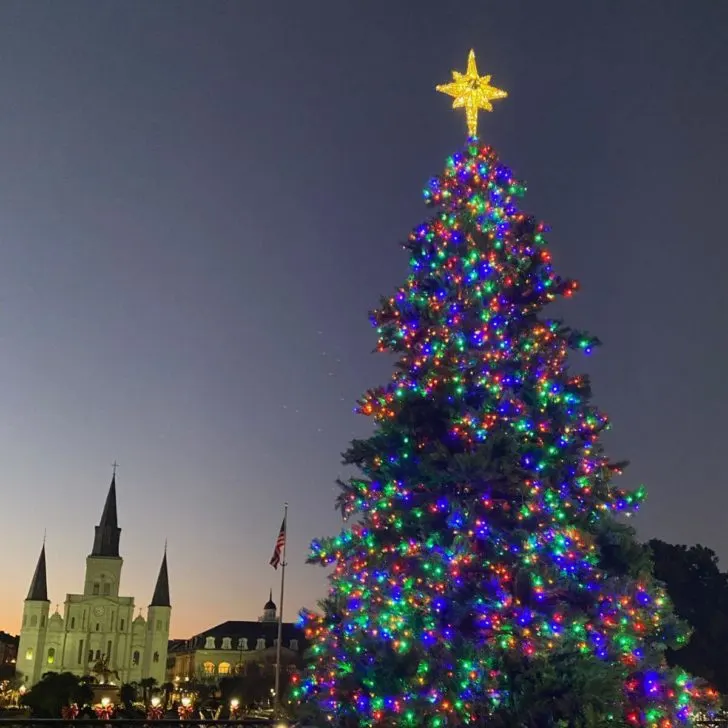 Visiting New Orleans during Christmas or the winter season is truly a one-of-a-kind experience.
New Orleans residents really know how to splash out when it comes to decorating their homes for the holidays, and Christmas is no exception.
Christmas lights twinkling off the old buildings combined with live jazz bands make for a surreal atmosphere, almost as if time has frozen itself.
As you approach the new year, don't miss out on celebrating New Year's Eve in true Big Easy fashion.
Also around this time is the Allstate Sugar Bowl college football game, usually held on New Year's Eve or Day. The 2 teams playing depends on who the top teams are that year from the SEC and Big 12 Conference.
Carnival season
But the most exciting thing to happen in the winter is the kickoff of Carnival season on Twelfth Night, aka January 6, aka Three King's Day.
This is when folks bring out the King Cake and the parties start leading up to Mardi Gras, aka Fat Tuesday.
Speaking of Mardi Gras, this even will happen on the day before Ash Wednesday, so it will be either the tail end of Winter or in early Spring.
Word for the wise – Mardi Gras isn't a single day celebration. It's nearly every day from January 6th, with Mardi Gras itself being the last day.
Why? Because Lent starts the next day, where many Christians will give something up, typically a bad habit or influence, until Easter.
So it's basically a way to get all the partying out of your system before a nice ol' reset.
Anyway, the parties can range from decadent, luxurious balls to partying in the street during your favorite krewe's parade.
Lastly, a word for the wise – it might be Louisiana, but it does get cold in the winter!
On my last visit, for New Year's, I didn't bring a winter jacket and ended up needing to buy one in the French Quarter because my sweater wasn't warm enough – and I'm used to the chilly weather as a New England girl! There were definitely lots of hot cafe au laits and beignets from Cafe du Monde that week!
Spring (March, April & May)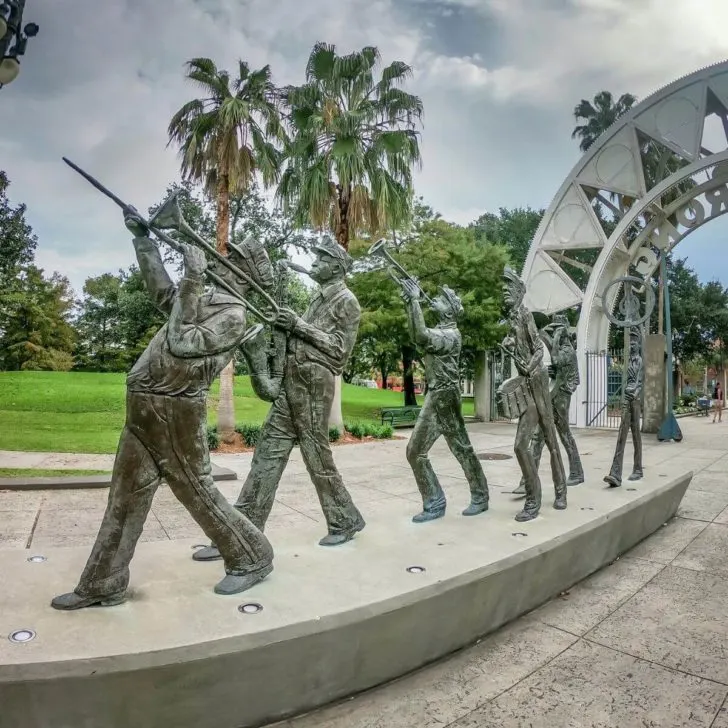 In my opinion, Spring is the best time to visit New Orleans, LA.
First off, Mardi Gras often falls right at the beginning (although as explained in the previous section, sometimes it's at the end of winter).
No doubt coming off the high of Carnival season and Mardi Gras, Spring brings multiple festivals.
In March is the New Orleans Bourbon Festival, which celebrates all things bourbon and whisky.
There are panels, tastings, and awards, kind of like a conference but a heck of a lot more fun!
In early April is the French Quarter Festival, a FREE music festival featuring mainly music styles from or popularized in Lousiana, such as blues, jazz, and zydeco.
The New Orleans Jazz & Heritage Festival is New Orleans' most well-known music festival. It takes place over 2 separate weekends, usually in April or April into May.
Don't be fooled by the name – artists within other genres, such as Soul, Rock, and Bluegrass, also perform.
TIP: If you're not into crowds, the time between Mardi Gras and the New Orleans Jazz & Heritage Festival is the best time to visit New Orleans for fewer tourists to dodge in the French Quarter.
Lastly, the weather in New Orleans during the Spring months is quite nice. It's usually warm, but not sweltering, and not too much rain yet, as it's not hurricane season.
When is your favorite time to visit New Orleans?
From incredible Cajun food to the iconic Mardi Gras celebrations, there truly is something for everyone in New Orleans.
Whether you're looking to explore the city and enjoy classic cultural sites by day or dance the night away in The French Quarter with friends, a trip to this vibrant city is guaranteed to leave you with lifelong memories.
All that's left now is for you to decide when you're going to take your adventure and where to stay.
Maybe you'll even find yourself returning every year, like so many already have, for more of what this unique city has to offer.
Have fun and enjoy this magical Southern city!
---
About the author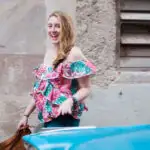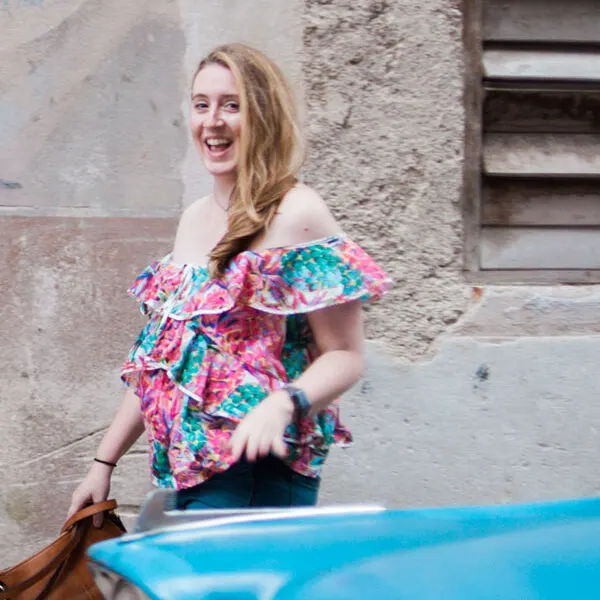 Meg Frost is a Boston-based travel blogger that helps people embrace technology to make vacation planning and traveling wicked easy, affordable, and fun.
She holds an M.A. in Journalism from Northeastern University and B.S. in Communication & American Studies from University of Miami.
---
This post was originally published October 20, 2016. It was last updated March 17, 2023.